Abc Juice is simply an acronym for Apple, beet, and carrot juice. The juice is famous for weight loss, skin, and health benefits. The juice is a delicious and vibrantly colored detox that is very refreshing too.
A is for apple, B is for Beet and C is for Carrot. Isn't that cool? Apple beet carrot juice also boosts your energy like a shot of vitamins and minerals. It consists of 5 very nutritional ingredients. Here's how NDTV Food enumerates its benefits.
I came to know about this ABC Juice from my mother and this has been quite famous in Indian society. But, we added it to our diet only recently, and we make it every 2-3 days through winter and early spring when fresh carrots and apples are plenty. In summer, we prefer cucumber juice which is very hydrating.
That being said, we have tried all variations that were possible. We've tried adding bitter melon too.
Jump to:
Prepare Ingredients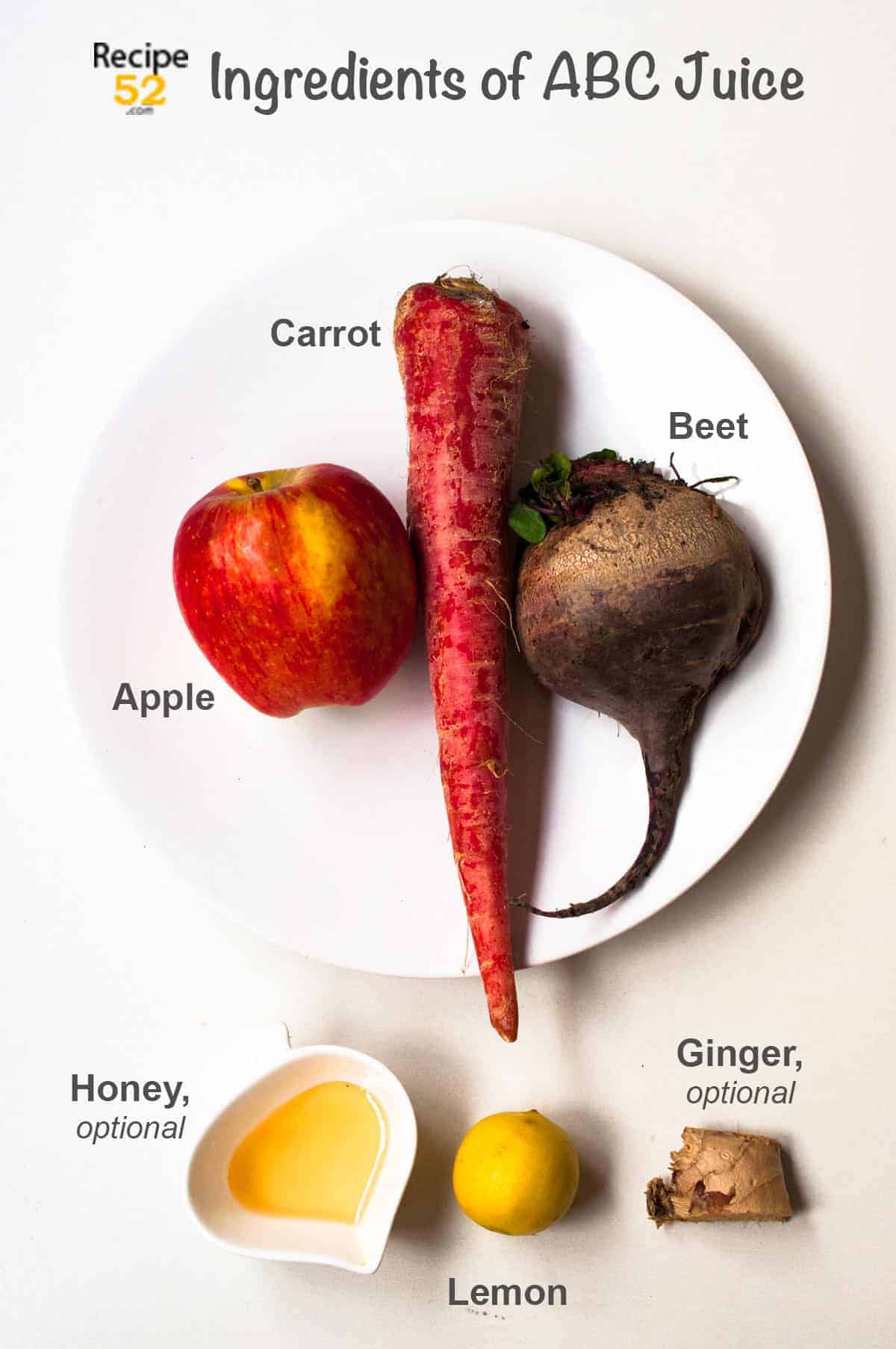 Five ingredients are the main in this ABC juice recipe but you can add more veggies too!
Apple: Winesap Apples are the best bet for juicing but I select any apple variety that tastes good and is juicy. You can find more information about apple varieties here.
Do not peel apples because that is not necessary. Just wash them thoroughly.
Beet: Use fresh, juicy, and crispy beets for juicing. I prefer soaking the beet in water for 5 minutes and then washing them thoroughly. I also use a brush to remove all the dirt.
Finally, chop off the head and tail. Beet is a hard veggie so cut them in large chunks. That'll save you from putting an extra load on the machine. Beet is ready to juice. No need to peel.
Carrot: We love red crunchy and juicy carrots that are plenty in winter. Wash them thoroughly. I also scrap them lightly with the back of my knife to remove the tiny roots.
Then chop off the head. Carrot is ready too. No need to peel. It is too tedious if you're making many servings and you'll most likely end up not juicing altogether.
Ginger: Wash thoroughly and cut ginger in chunks. You can peel these if you like.
Lemon: We'll need to squeeze a fresh lemon juice.
But if you do not have a juicer, I've got you covered you can still make delicious without a juicer. Just one extra step for that refreshing drink.
Instructions for Juicer
To make ABC juice in a juicer you just need to prepare ingredients and cut them so they easily fit in the juicer. Switch on the machine and do not forget to keep a jug under the spout.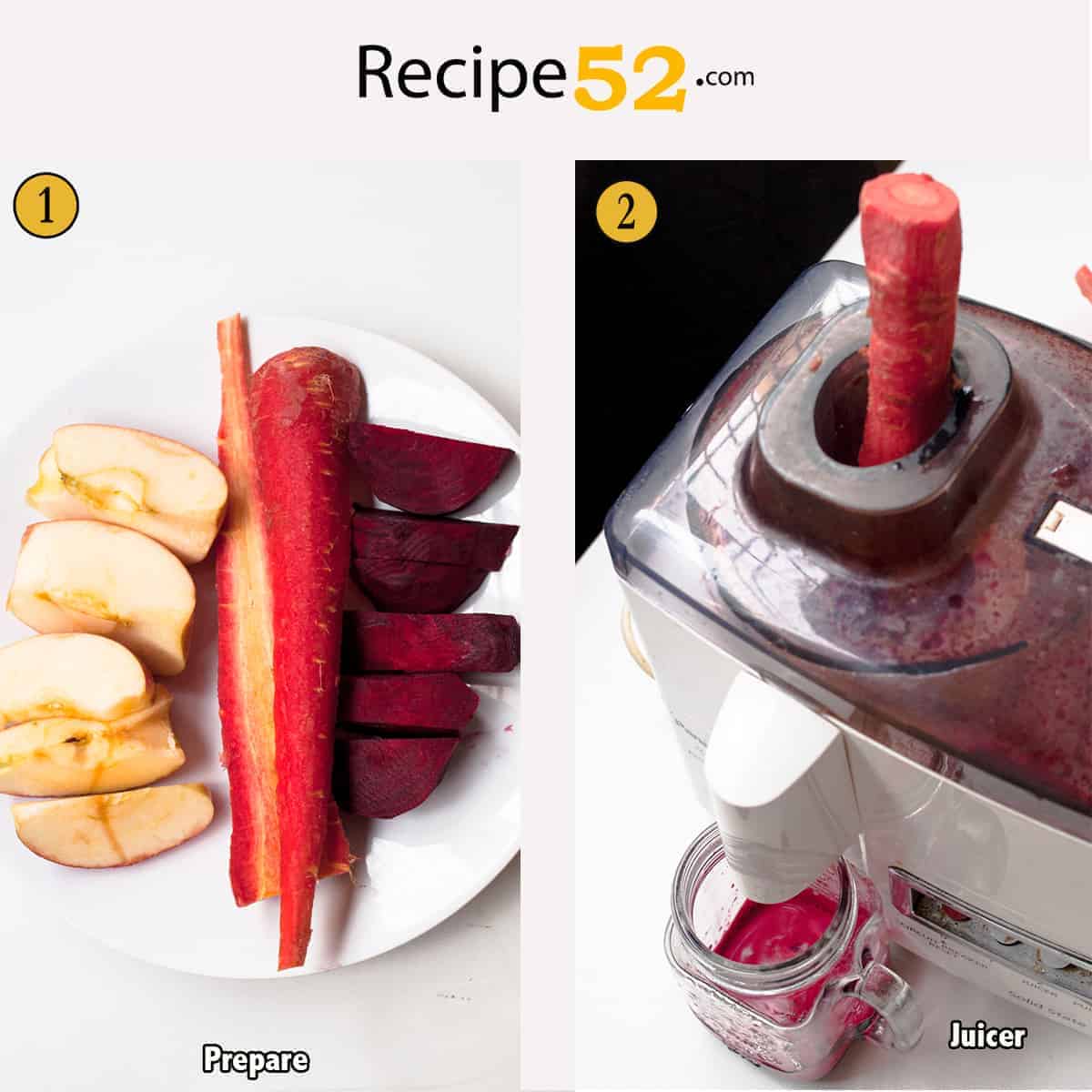 Chill the juice with some ice, you can add lemon juice and honey. But it tastes great on its own.
Instructions for Blender
Blending might seem tedious but actually, it's not that bad if making 1-2 servings. The good news is washing a blender and strainer is actually easier than washing a juicer. I do prefer a blender over a juicer for making spinach juice and orange juice.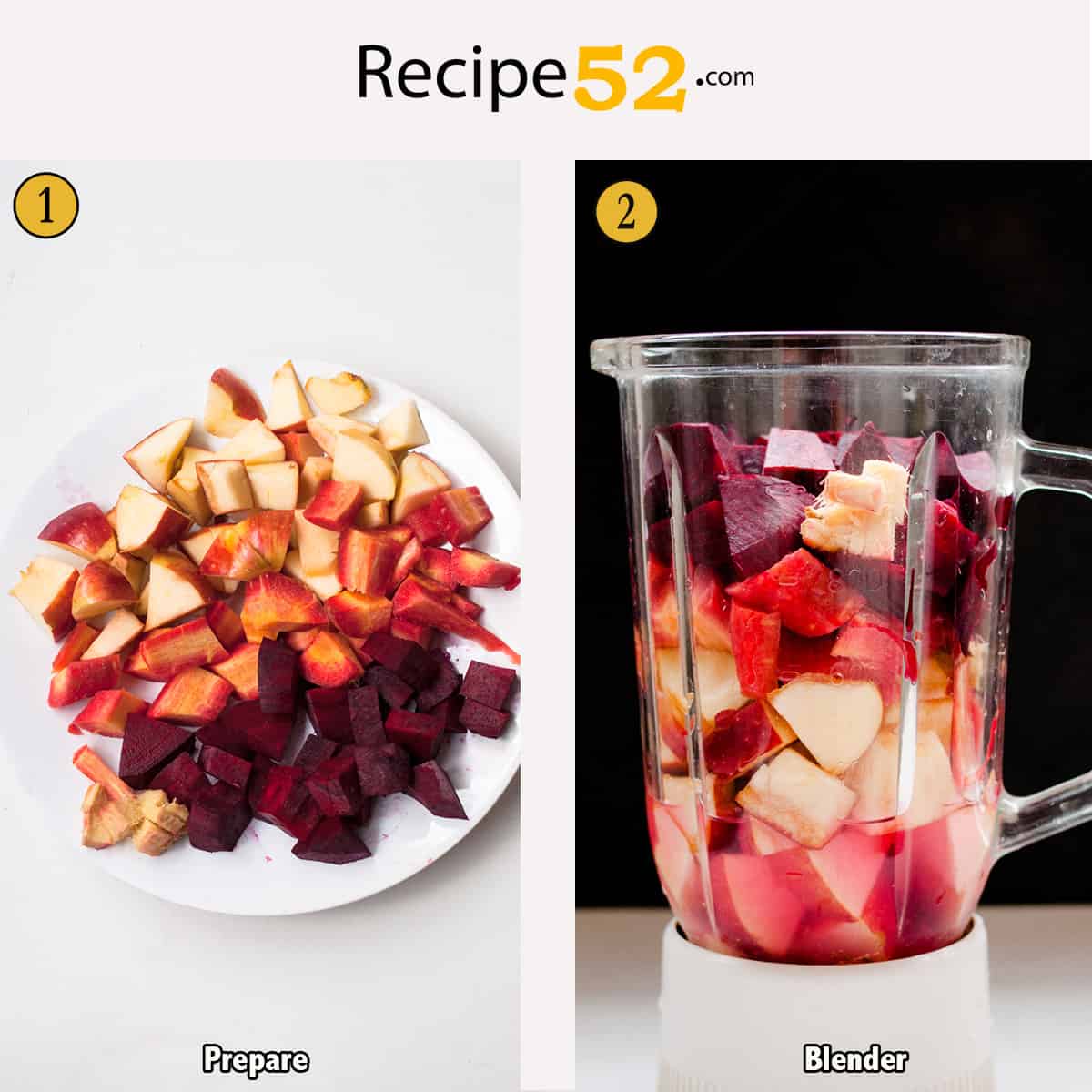 Now the trick is to chop the veggies in chunks so they blend quickly. Since you need to make sure that the veggies in the blender keep moving, you'll have to add little water.
Another big trick is to keep apples (which are the softest of three) in the base, then carrot, and finally beet that are hardest. So the apples blend quickly and form enough liquid for a beet to blend easily.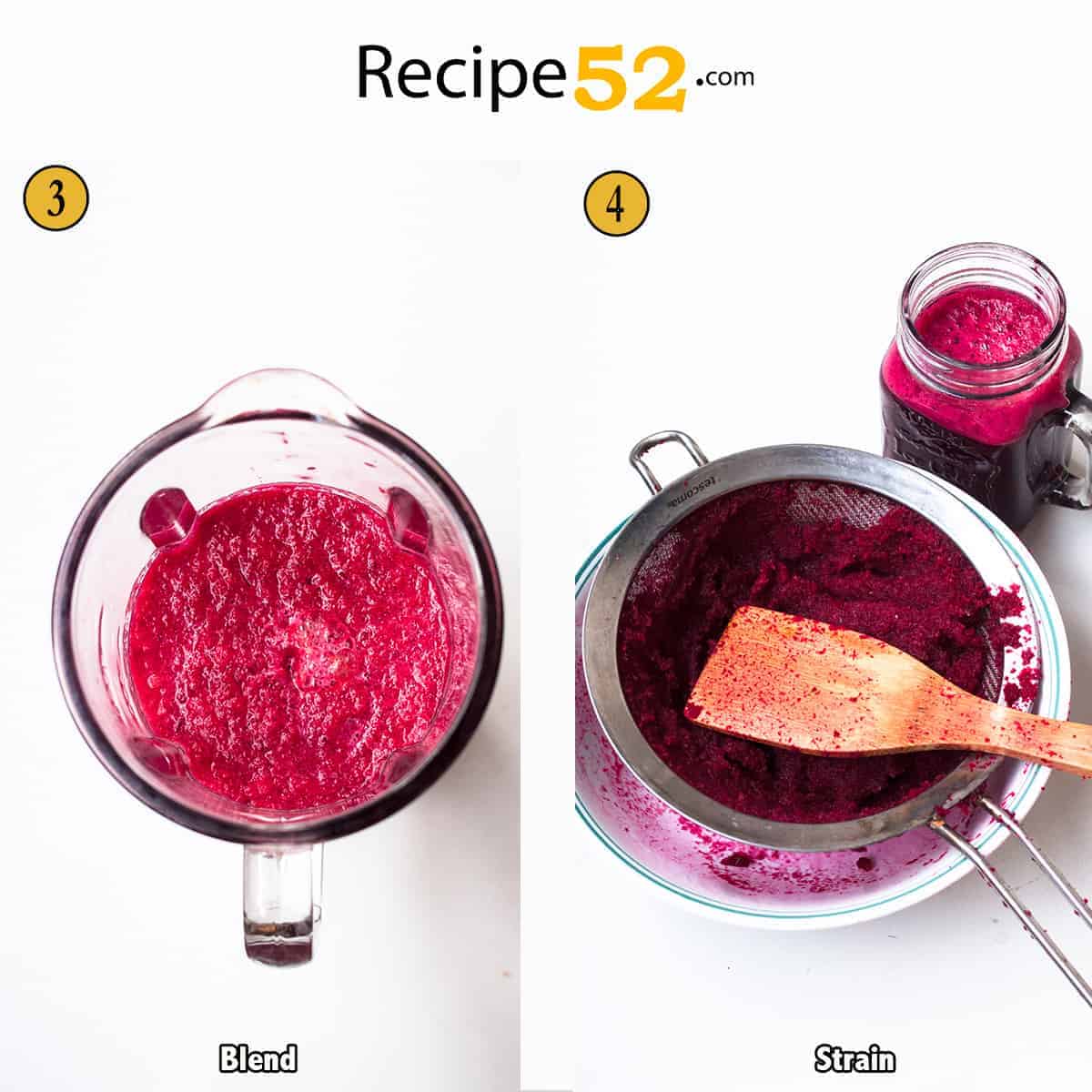 Blend the for about a minute until smooth.
Then transfer to a coarse strainer with a bowl underneath. Press the juice with a spatula. The pressing of juice from the strainer will take some time as carrots and beet are fibrous veggies. You can also do this with cheesecloth. If you want some fiber, add a little pulp to the juice. What is amazing here is that even with the addition of water the juice tastes amazing.
Chill the ABC juice with some ice, and flavor it with some lemon and honey. Enjoy.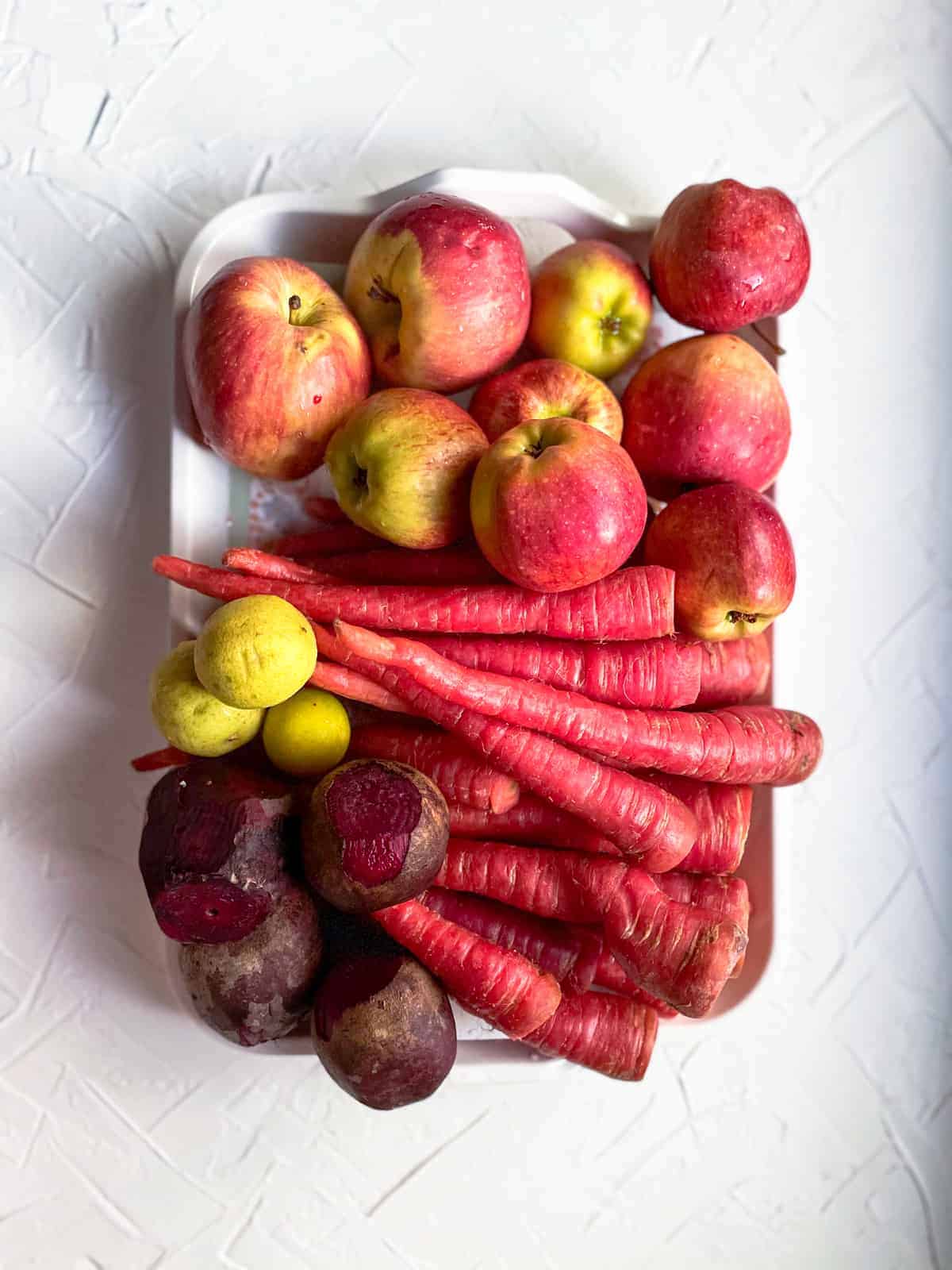 How to store?
Yeah, that's the ABC juice prep for the whole family of six. Abc juice tastes best if consumed within 2 hours. The fiber in the juice will settle down. That's ok. Just stir before serving.
Apple beet and carrot juice stay good for 48 hours in the fridge. After 48 hours, the juice starts to thicken and doesn't look good that's when you know it is bad to consume.
Why this combo works best?
Do not add any other fruit as mixing fruit and veggies is not a good idea. Fruits and veggies have different digestion timings and so it might disturb digestion and make the stomach upset and cause gastric troubles.
Carrots and apples are two exceptions to this case and can mingle with all fruits and veggies. Learn more about it at The Spruce Eats.
What else can go in this drink?
We added things that we had in hand and substituted one ingredient for another. Besides, in summer when fresh juicy carrots are not available, we would add cucumber instead of carrot. And cucumber also helps with weight loss. So you can add any greens like
baby spinach
very little bitter gourd
bottle gourd
celery stalks
kale
cucumbers
More ideas:
I told you, we tried everything with this juice. So we once served this to guests with some addition of lemon soda like 7 up and it taste so refreshing. Not a healthy option though.
We've tried mixing half of this juice with half of the non-alcoholic chilled beer. We love it. I think chilled club soda will taste great too.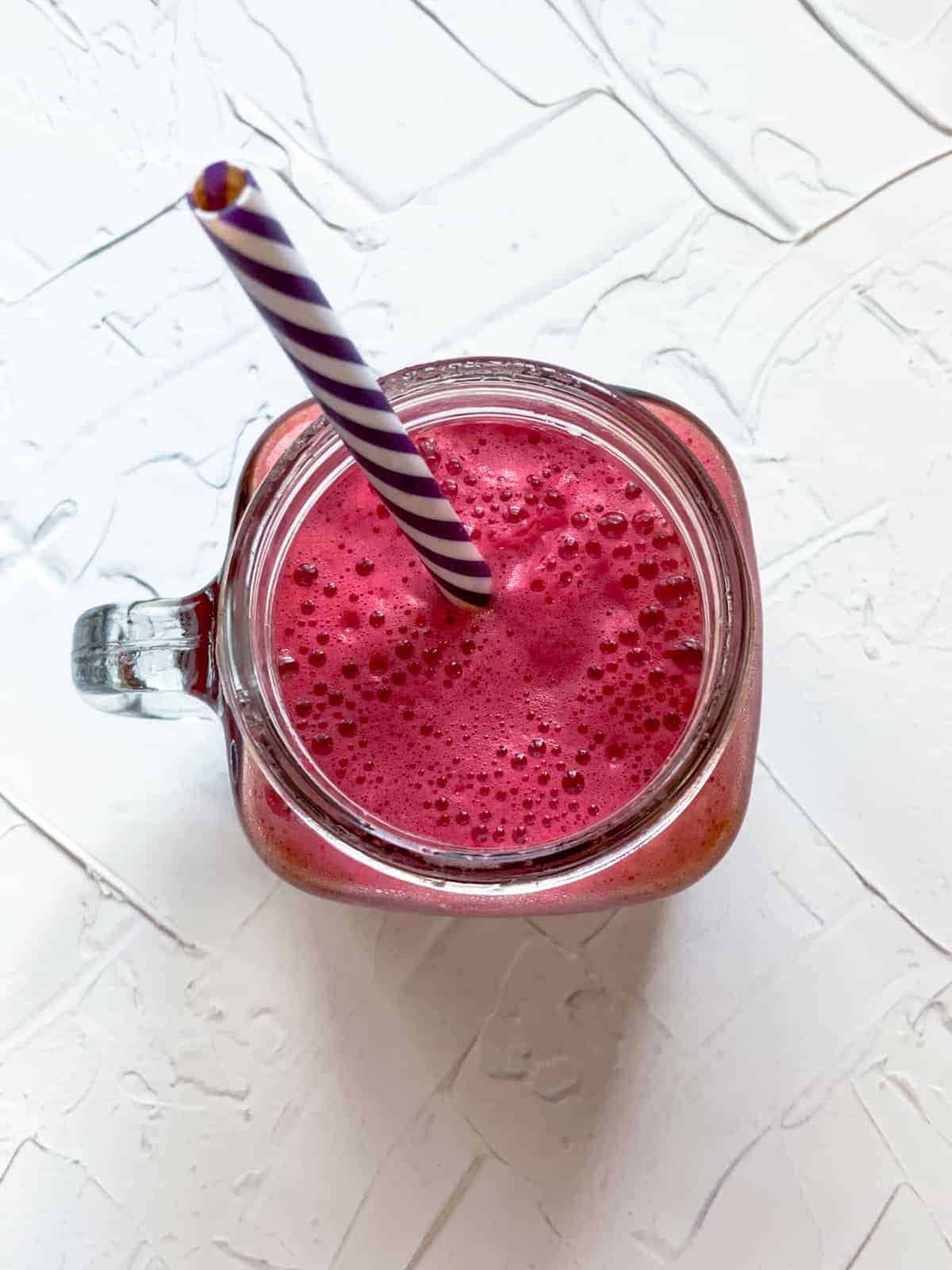 Recipe FAQs
What are the benefits of Apple carrots and beetroot?
Apple and beets are rich in iron while carrot is rich in vitamin A and antioxidants. Ginger helps with weight loss. Overall, the drink is very refreshing and energy-boosting. It also helps hydration. What's more, this drink has only one fruit which is the apple to add sweetness and make it super delicious.
What is the best time to drink apple beet carrot juice?
So the best time to drink any high-nutrient food is in the morning and on empty stomach. The absorption level of the body is highest and that's when you get the most health benefits. Another good time is before 5 pm in the evening.
Can I drink ABC juice daily? 
Yes, you can drink it daily. We consumed it for about a month on daily basis and sometimes we would water it down and consume it at intervals the whole day long like detox water.
Is carrot and beetroot juice good for weight loss?
Yes, this drink can help with weight loss too. We would add extra ginger to the drink for an additional weight loss boost. Because ginger helps cut fat in the body. Avoid adding any sweetener and scale down the apple in the recipe to make it a low-calorie drink.
Want more juice recipes? Check these!
If you try this recipe, I'd LOVE to hear your feedback in the comments. Most 5-ratings motivate me to do my best. Stay connected for more recipes and videos on Facebook, Instagram, Pinterest, and Youtube.
📖 Recipe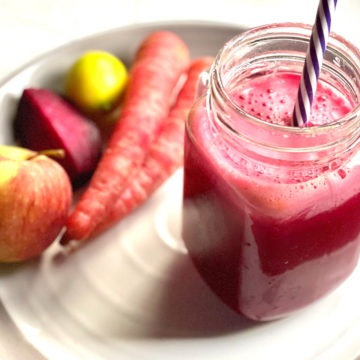 ABC Juice
Always keep veggies in the fridge to chill before juicing to extract cold juice. 
Print
Pin
Rate
Ingredients
½

large beetroot

1

large carrot

1

large apple

½

inch

piece ginger

,

peeled, optional

1

tablespoon

lemon juice

Ice cubes

,

as needed
More optional add ins
1

cup

spinach or kale

1-2

stalk celery

½

bitter gourd

Honey to taste

Black salt to taste
Instructions
Wash and prepare veggies
Wash and scrub beet. Chop off the leafy head and tail. Then roughly cut the beet in chunks and set aside.

Next, wash and scrape the carrot roots with the back of a knife. Chop off the head. Slice the carrot into half for easy juicing.

Wash and core the apple. Then cut the apple into four halves.
Juicer
Juice all the veggies in a juicer. Do a taste test. Adjust taste if needed by adding honey or little black salt.
Blender
Place all the veggies in a blender with half cup of water. Add more water if needed to keep the veggies moving.

Blend the mixture until smooth then transfer juice in a coarse strainer with a bowl underneath.

Extract juice in the bowl. You might need the move  and press the pulp in the strainer with a spatula to extract all the juice.

Discard the pulp and do a taste test. Add little honey or black salt to the juice if as needed. Enjoy chilled.
Notes
Storage:
Abc juice tastes best if consumed within 2 hours. The fiber in the juice will settle down. That's ok. Just stir and enjoys.
Apple beet and carrot juice stay good for 48 hours in the fridge. 
Variations:
Addition of lemon soda like 7 up and it tastes so refreshing and makes it a gourmet drink.
Mix half of this juice with half of the non-alcoholic chilled beer or club soda. We love it. I think chilled club soda will taste great too.
Nutrition Information
Serving:
400
ml
,
Calories:
223
kcal
,
Carbohydrates:
57
g
,
Protein:
3
g
,
Fat:
1
g
,
Saturated Fat:
1
g
,
Sodium:
107
mg
,
Potassium:
880
mg
,
Fiber:
9
g
,
Sugar:
42
g
,
Vitamin A:
13353
IU
,
Vitamin C:
68
mg
,
Calcium:
80
mg
,
Iron:
2
mg