Have loads of apples? Tart ones? Make this easy apple jam, it is a cinnamon-spiced, small-batch recipe with simple steps.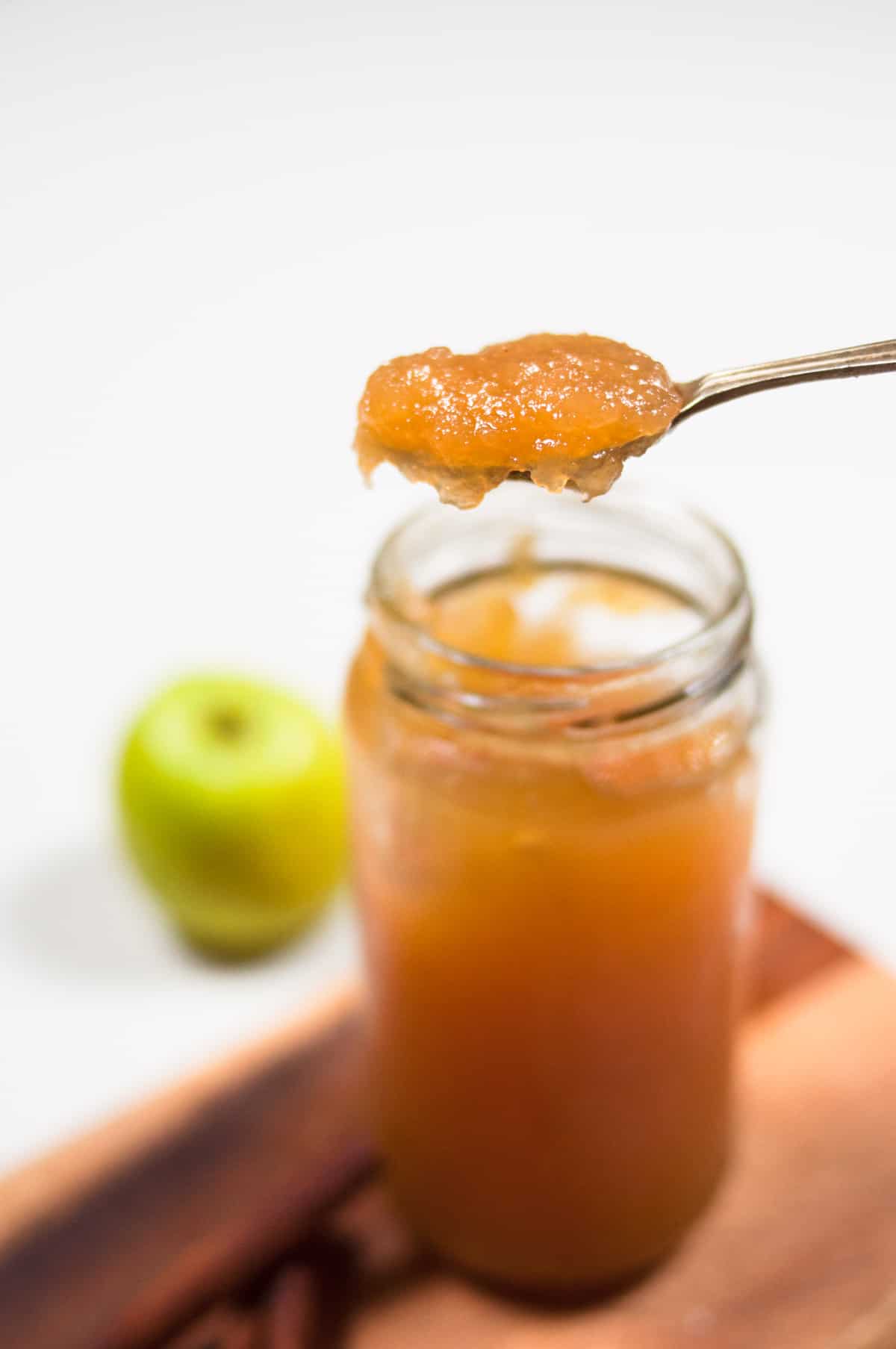 Do you see me holding that spoon? The green apple jam has such a refreshing aroma, it made it difficult for me to shoot photos without eating it.
Like I've done many without pectin jam recipes on this blog like plum jam (which is my favorite), peach jam, and mango jam. But green apples have an enticing fresh aroma.
Confession! My son hates all my homemade jams but I had put this apple jam in a commercial jam jar with the label intact. And imagine! He couldn't find the difference. If he can eat it, I bet any kid would love it. You might also want to try Applesauce by Ottawa Mommyclub.
The cinnamon and ginger lift the sweet and sour apple flavor. But you can play around with spices as you like. What is significant about tart apples is that they are rich in pectin and set quickly.
That's why the yield produced by apple jam is high in quantity as compared to my other jams like grape jam and orange jam in which the yield is half in comparison.
Jump to:
Ingredients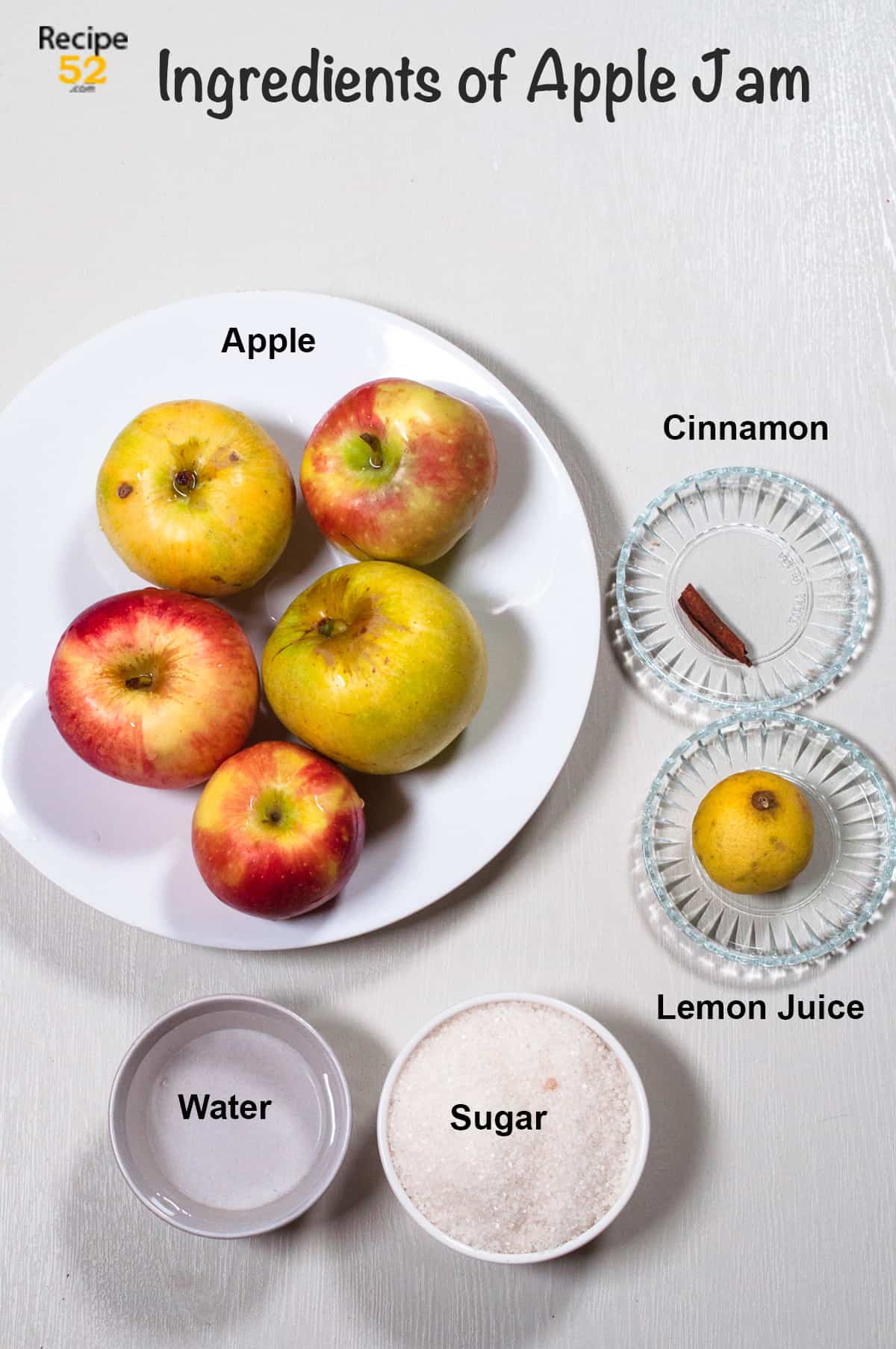 We need just four simple ingredients for this recipe.
Apple: Apple is the main ingredient so get your hand on slightly tart, fully ripened but firm green apples. I would recommend using Granny Smith alone or mixing it with Pink Lady and Sweet Tango, read more at Applesforthat.
The best characteristic of green apples is that they are naturally high in pectin and hence can be easily set in a jam without needing any artificial pectin. Find out about the best apple varieties at Heb.com
Sugar: This is a low sugar jam and I found 1.5 cups of sugar for 1 kg apples (2.2 pounds) makes a perfectly sweet jam that kids would enjoy equally.
The green apple jam attains a soft set easily with very satisfying spreadability. But if you like very low sugar, then add 1 cup only and have slightly less yield.
Traditionally, 1 cup of sugar is added to about ½ kg or 1 pound of fruit so if you like sweet jam like the store-bought jar, then scale the sugar up to 2 cups for 1 kg of apples.
Lemon: Lemon juice helps activate the pectin. Lemon is also high in pectin which helps set the jam. I personally prefer slightly sour jams so I add extra lemon juice for a sweet and sour flavor.
But this will depend on the taste of your apples. So feel free to add extra lemon juice if you like.
Cinnamon: I prefer adding whole cinnamon and removing it halfway while cooking. This gives a background flavor while cinnamon powder can alter the color of the jam.
Spices: Apart from cinnamon all other spices are optional. I like to add ginger as well. You may add other spices like cloves, cardamom, and/or nutmeg.
How to make it?
Prepping
Start with peeling and slicing the fully ripped but firm green apples. Protip: Do not use over-ripened apples, that will reduce shelf-life. Be sure to chop off dark spots and or soft areas in the apple.
Apples turn dark due to oxidization. To avoid this, place water and lemon juice in a wide-based, thick-bottomed pot.
As you slice each apple, keep adding the slices in the pot and mix it as you go to coast slices with lemony water.
For chunky apple jam, chop the apple to desired chunk size. Freeze two small plates or saucers for the Cold Plate Test.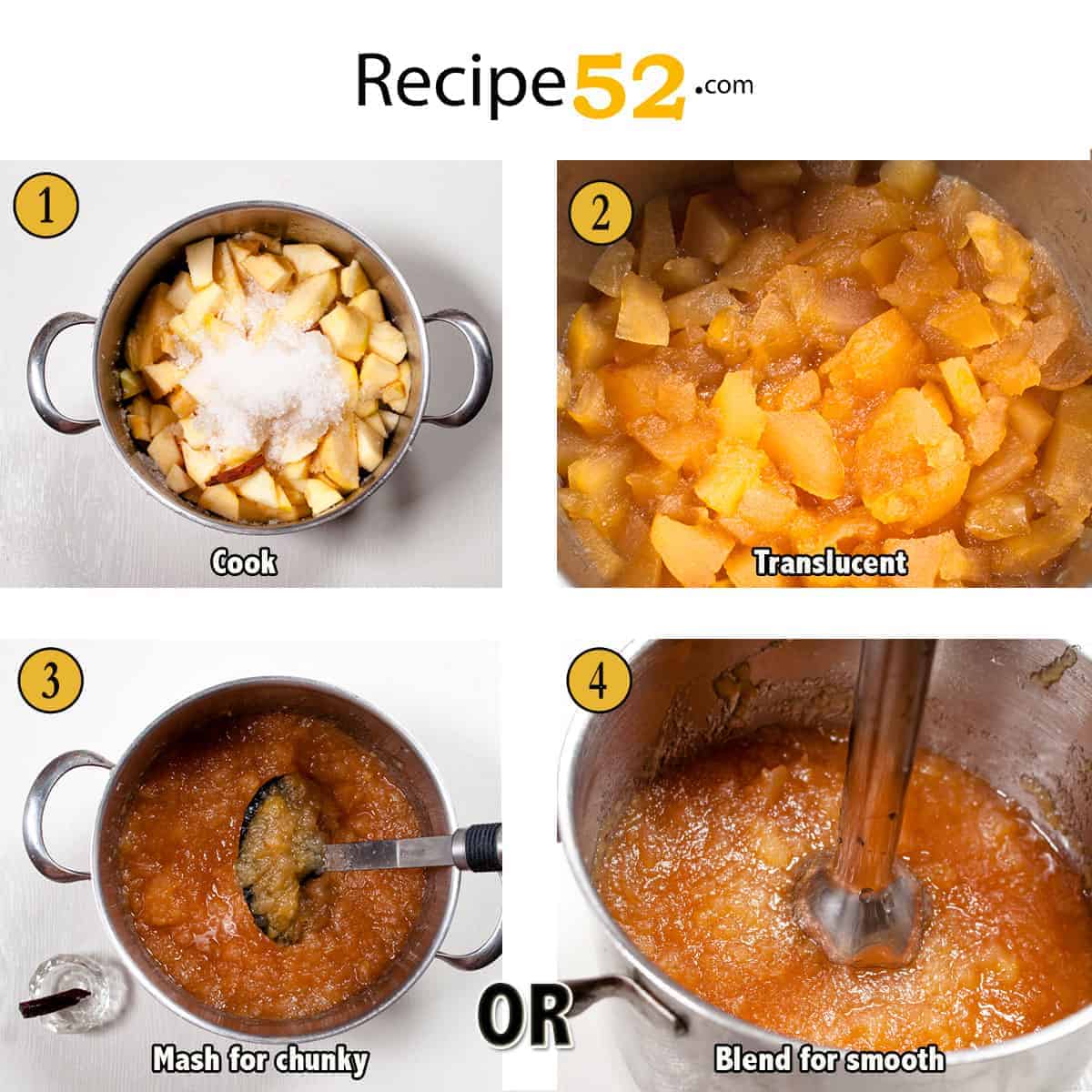 Making Apple Jam
Add sugar, cinnamon stick, and ginger. You can add more spices too for a spiced jam. The amount of sugar used depends on your taste preference. I would recommend 1.5 cups to make a moderately sweet apple jam.
Cover the pot and cook for 15 minutes on medium-low heat until apples turn translucent.
At this stage either mash for a pulpy jam.
For a smooth jam use an immersion blender. I prefer mashing jam. Then blitz with an immersion blender 2-3 times for a semi-smooth consistency, like in the jam photo. Protip: For chunky jam skip mashing or blending and do not cover the pot while cooking.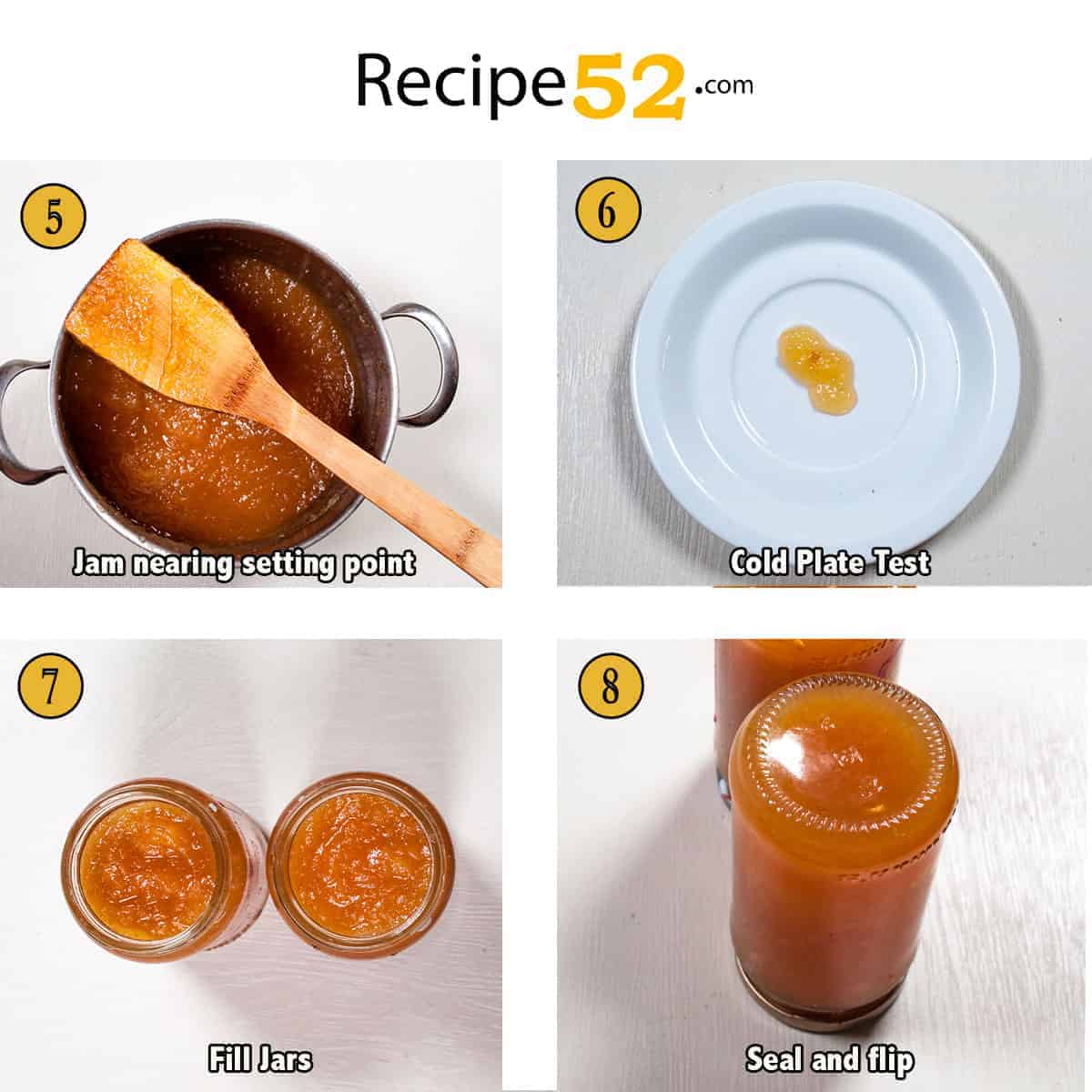 Cook the jam over low heat for about 20 minutes. Stir occasionally. Be more frequent when the jam approaches the setting stage as it requires more carefulness. You know your jam is near to its setting point when you draw a line using a spatula and it stays.
Test the jam on a cold plate to see if it's ready to set. Place a large drop of hot jam on a cold freezer plate and let it cool for 30 seconds. The drop will hold its shape without spreading. You shouldn't see any water separating around the drop.
Protip: If you want a thicker jam, simmer it longer. The cold plate test will show you how your jam will look once it has cooled. (Avoid using high heat while cooking because it can overheat the sugar caramelizing it which results in a bitter-tasting jam.
Fill clean and dry jars with hot apple jam. Place the lids on the jars and turn them upside down to prevent condensation and create a vacuum. Leave an only ½ inch gap on top of the jar between the seal and jam. I prefer filling 2-3 small jars.
Let the jam cool and set for 24 hours then put it in the fridge. You can use this recipe for canning as well. Just follow the sterilization and canning steps and followed by the water bath technique.
As it is a small batch of green apple jam, you can refrigerate 1 jar for immediate use. And freeze the other small jars for later use.
Variations
Apart from cinnamon and ginger, you can add spices like clove, and cardamom for extra flavor.
You can also substitute sugar with brown sugar if you like to make a healthier freezer jam.
You can switch 2 apples for pear in the recipe to make Pear & Apple Jam. Pear jam has a similar taste to apple jam which is why both these recipes are also called "sister recipes". So, you can make a combination of half apple-half Pear jam if you like, as it makes the jam richer in taste.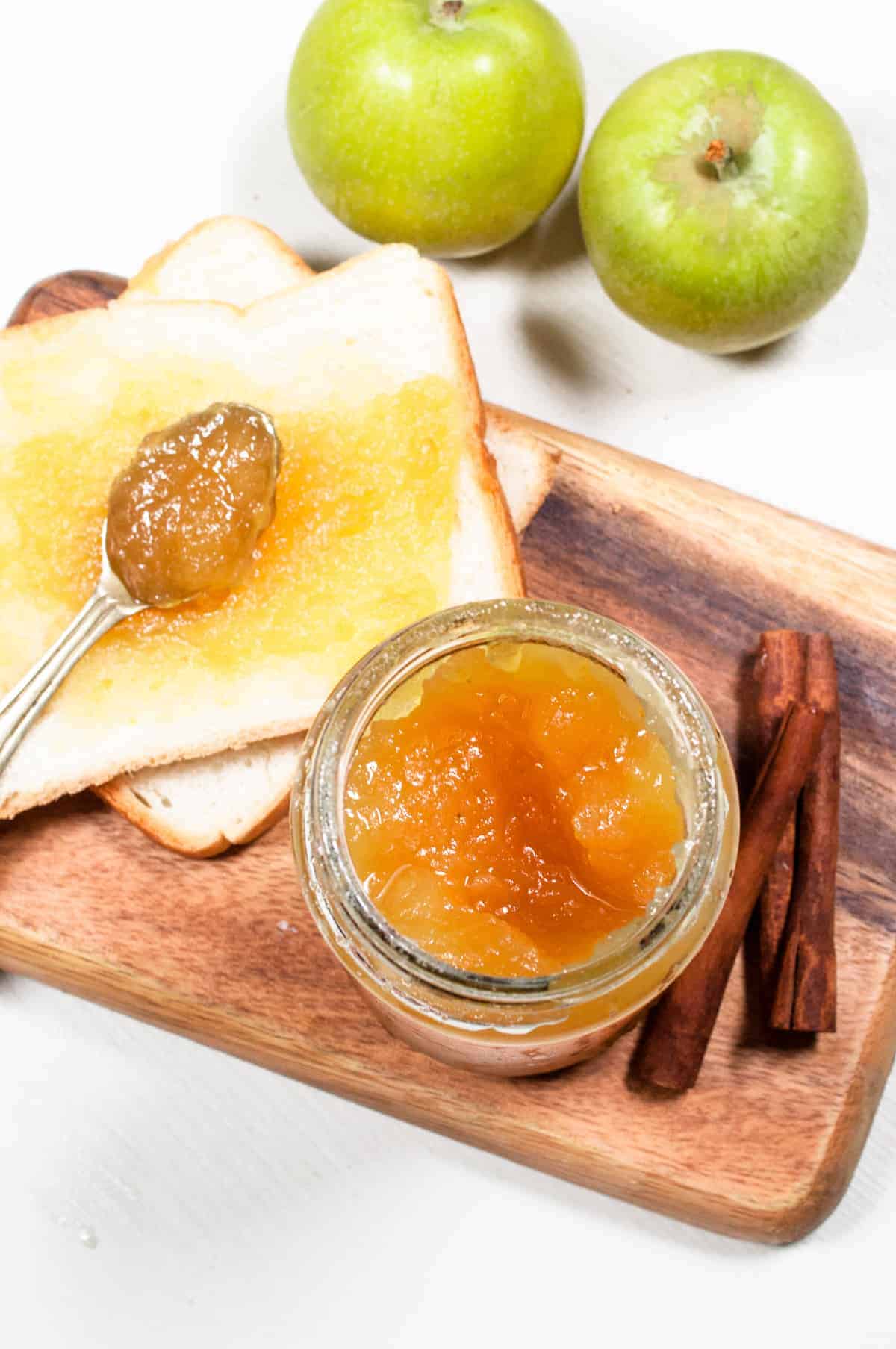 Using Apple Jam
Green Apple jam makes a delicious spread for your breakfast toasts as well as croissants. It is a rich flavorful topping for your desserts too.
It's great to use it as a spread on biscuits and rolls.
Make drinks like apple lemonade and mixed cocktails.
You can use it as pie fillings as well if less sugar is used in jam making.
Apple glaze and tarts are also some good options to use for your homemade jam.
Recipe FAQs
Do I need to peel apples for jam?
Yes! Apples have a thick peel which will not give a good texture to jam. If you don't peel the apples then you will have to strain the jam after cooking.
What spices can go in apple jam?
Spices like cinnamon, clove, nutmeg, and ginger would make an amazing combination with this green apple jam.
Expert Tips
To experience the best taste I will advise you to make sure that the apples used in the jam are not stale and chop off that darkened or soft part. Otherwise, the jam will not be preserved for long.
Check Freezer storage tips in recipe notes.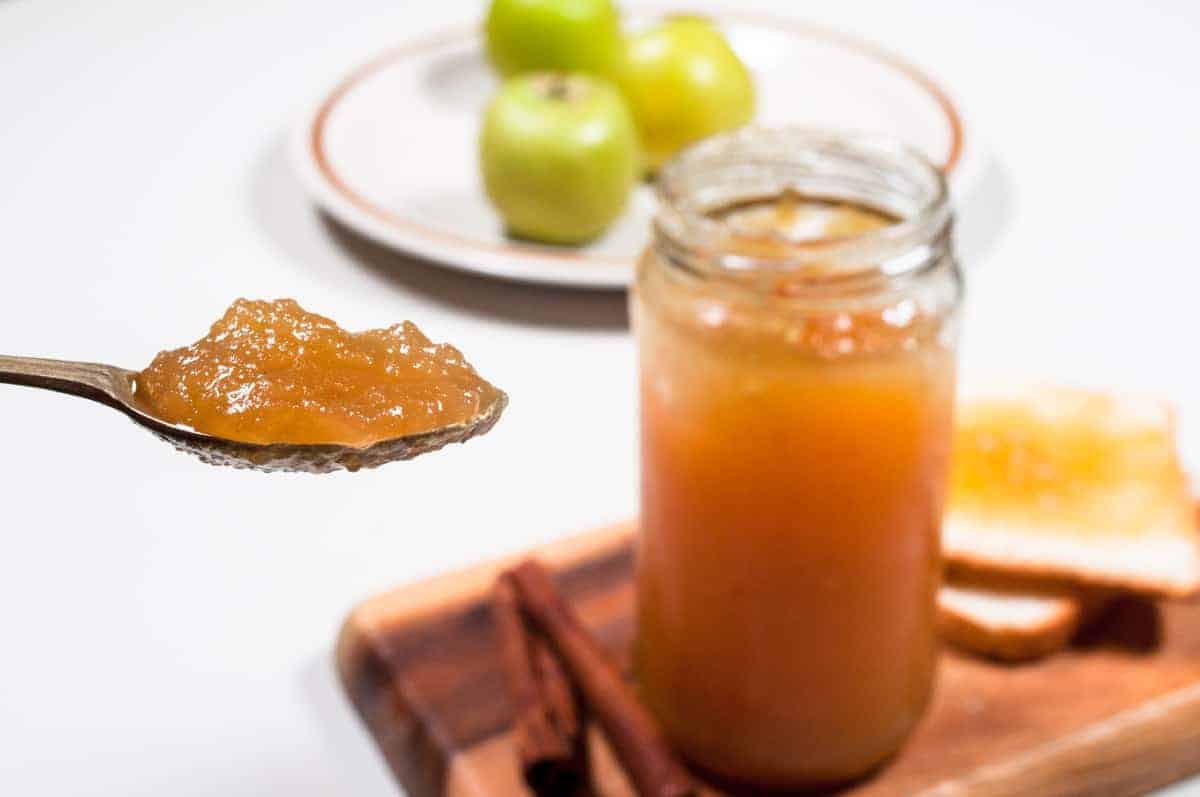 Wanna try more fruit jams?
If you try this recipe, I'd LOVE to hear your feedback in the comments. Your 5-ratings motivate me to do my best. Stay connected for more recipes and videos on Facebook, Instagram, Pinterest, and Youtube.
📖 Recipe
Apple Jam
This is a small batch quick recipe that can be doubled easily using 2X and 3X options. The flavors of cinnamon and ginger are deliciously delightful in jam.
Print
Pin
Rate
Servings :
30
spoon (500 ml)
Ingredients
1 kg (2.2 pounds)

apples

,

like granny smith, see notes

1½

cup

sugar

,

or 1 cup for low-sugar

2

tablespoon

lemon juice

,

more to taste
Spices of choice to be added along with sugar.
2-

inch

cinnamon

,

or ¼ teaspoon cinnamon powder

½

tablespoon

grated ginger

,

or to taste
Instructions
Prepping Apple
Place water and lemon juice in a wide-based, thick-bottomed pot. Peel, core, and slice each green apple keep adding the slices in the pot and mix it as you go to coat slices with lemony water to avoid browning.

Place 2 plates in the freezer for cold plate test.
Making Jam
Add sugar and spice, mix well. Cover and cook the jam for 15 minutes on medium-low heat until soft and translucent.

Mash the apple slightly for a pulpy jam or blend it for a smooth consistency. Stir frequently to avoid the caramelization of sugar.

When you see apple jam turns glossy and sheet off from the spoon. It is ready.

Protip: You can taste test the jam at this stage and adjust sugar or spices.
Jam Setting Test
Place a large drop of hot jam on a cold freezer plate and let it cool for 30 seconds. The drop will hold its shape without spreading. You shouldn't see any water separating around the drop.

Transfer hot jam to clean dry jars seal the lids and turn the jars upside down. Let it sit at room temperature for 12 hours then transfer to fridge or freezer.

Protip: Turning jars upside down creates a vacuum seal.
Notes
Sugar: 1.5 cup sugar give a low sugar, moderately sweet green apple jam that set well.  Always start will less sugar if unsure and taste test by applying the jam on bread.
Spices: You may add other spices like cloves, cardamom, and/or nutmeg.
Canning: If you wish to use this recipe for canning, follow the steps of sterilizing jars. Then follow the canning procedure of removing air bubbles and process in boiling water bath for 8 minutes. Let it sit in the bath for another 5 minutes after turning off the heat. Then remove to clean towels. Check seals after 12 hours and store any unsealed jars in the fridge.
Storing Jam: Apple freezer jams last for 4-6 weeks or more in the fridge without preservatives. Use a clean spoon to serve each time.
If you freeze jam, they can last up to 6 months or more.
If you intend to do canning and store jam at room temperature in the pantry. Then proper canning steps and store jam in the fridge after opening.
Nutrition Information
Serving:
1
tablespoon
,
Calories:
57
kcal
,
Carbohydrates:
15
g
,
Protein:
1
g
,
Fat:
1
g
,
Saturated Fat:
1
g
,
Polyunsaturated Fat:
1
g
,
Monounsaturated Fat:
1
g
,
Sodium:
1
mg
,
Potassium:
37
mg
,
Fiber:
1
g
,
Sugar:
13
g
,
Vitamin A:
18
IU
,
Vitamin C:
2
mg
,
Calcium:
3
mg
,
Iron:
1
mg