This is one of the most delicious and easy bitter melon recipes in Indian/Pakistani style, you'll find on the web. This recipe makes less bitter, tastier, and healthy karela in 35 mins (not including resting time.) No need to deep fry!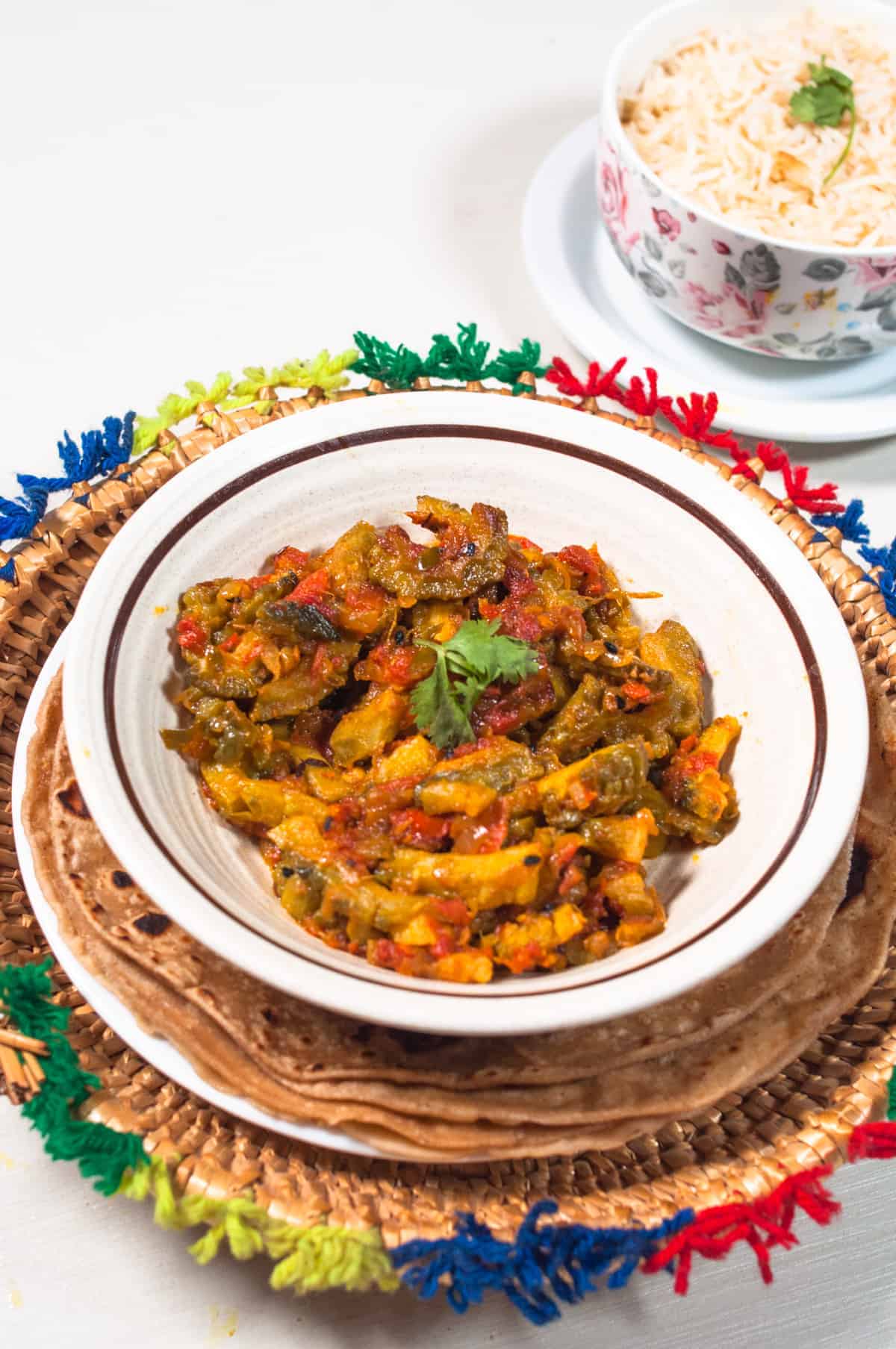 Bitter melon is a notorious and nutritious vegetable in proverbs and sayings for its bitter flavor like 'karwa karela', 'karela si batein' but the bitterness has sweet effects on health.
Indian bitter melon curry or Karela Masala recipe is made by cutting the bitterness of the vegetable. Then the vegetable is cooked in tomato onion gravy.
The gravy is flavored with Indian spices, jaggery (or brown sugar), and tamarind (or lemon) to further undermine the bitter flavor making it very delicious.
Kerela/ bitter melon is just like other vegetables, the trick is to cut its bitterness to an enjoyable level. Like it will still be slightly bitter but the bitter sour taste is the delicacy of this vegetable.
This recipe is the best!
First of all a confession, I love the Indian Bitter melon AKA Karela recipe when cooked in Indian style. And so I've developed a recipe that tastes absolutely delicious. This is also my late mother-in-law's recipe likely this mixed vegetable and sarson ka saag.
The onion tomato masala along with lemon/ tamarind and sugar undermines the bitter taste of karela. And it tastes delightfully yummy with background bitterness.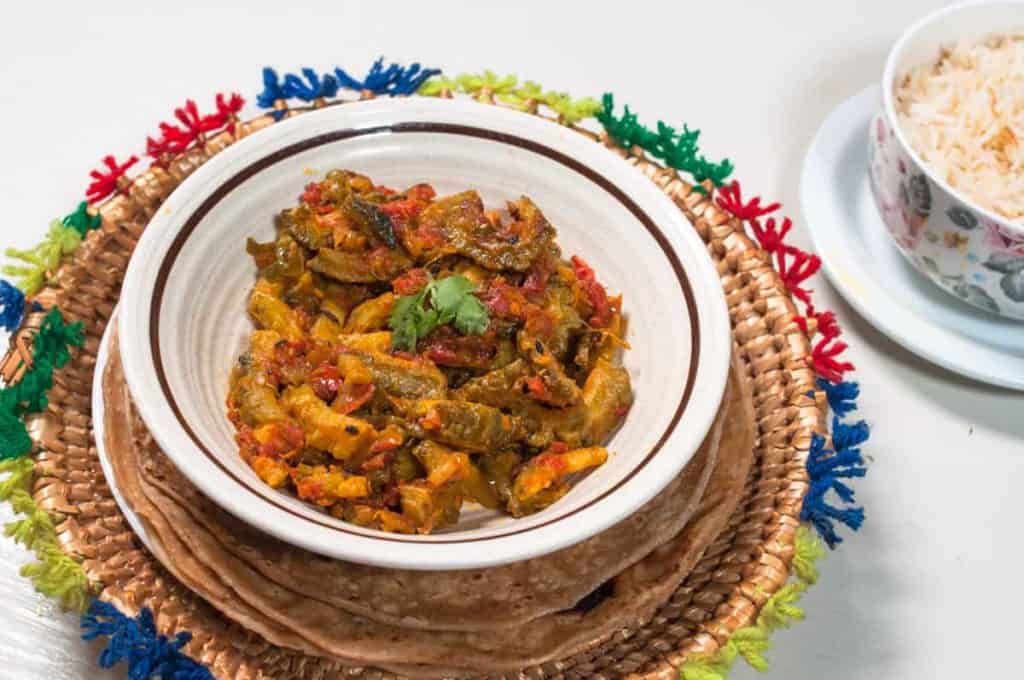 Benefits
I'm also adding a few benefits of karela that might help motivate you and others in the family to eat Indian bitter melon more often.
low-calorie (17 calorie/ 1oo gm)
rich in dietary fiber, minerals (folates), vitamins C, and anti-oxidants.
It contains plant insulin (polypeptide-P) and hypoglycemic agent (charantin). Both are helpful in the treatment of type 2 diabetes.
You can find more benefits here at Healthline.
Ingredients
Most of the ingredients Of Indian Bitter Melon curry are basic if you are familiar with Indian food. I'll give a quick go-through.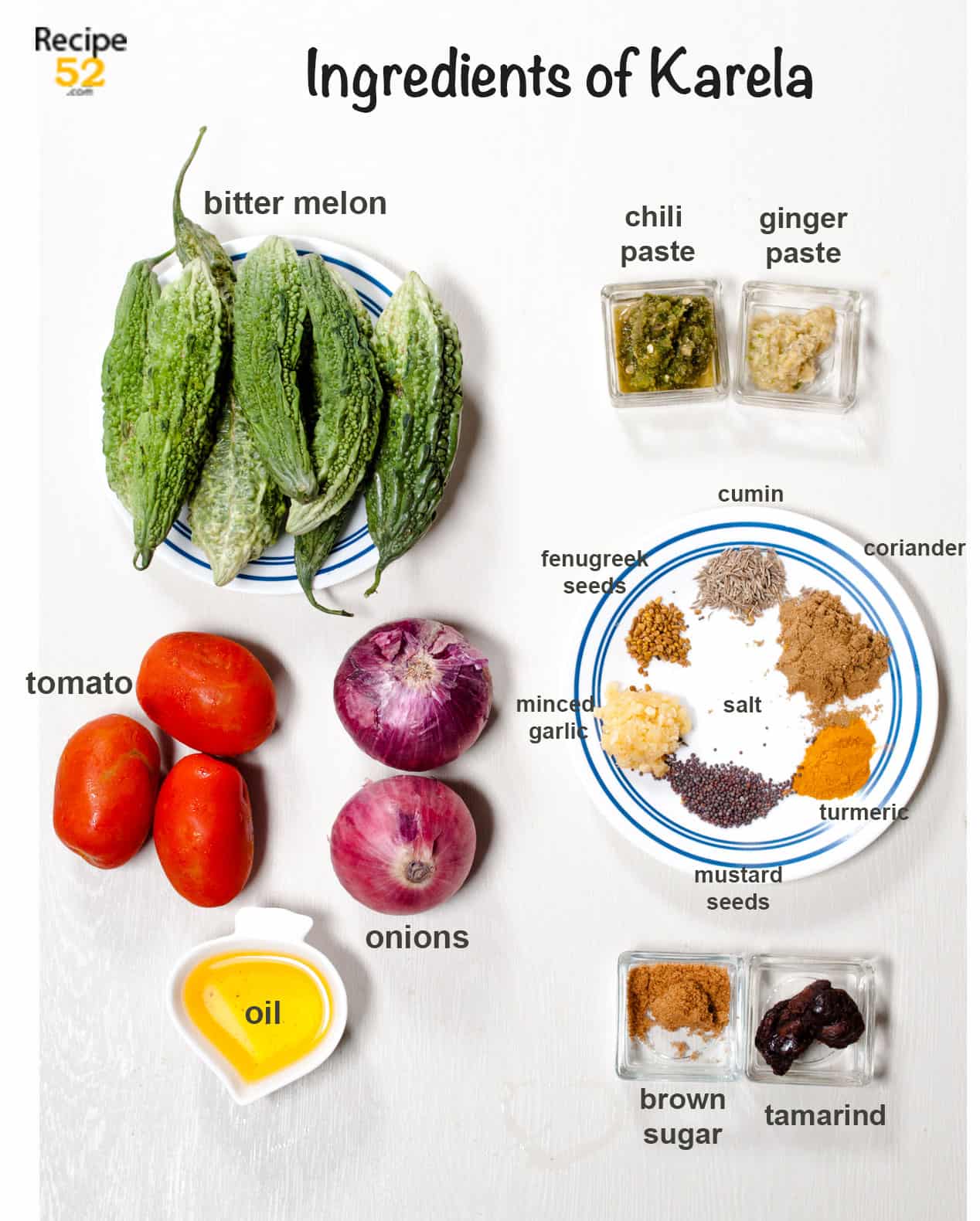 Indian Bitter Melon AKA Karela: Organic bitter melons are the best tasting. Indian bitter melons are dark in color which I'm using for this recipe. I've got a good review about lighter, brighter Chinese bitter melon too. So you can use the Chinese ones too.
Spices: Most Indian spices are common like turmeric, cumin, and coriander. Mustard and fenugreek are beneficial for health as well as add more depth to the curry. You can skip them if unavailable. You can also add black seeds (kalonji).
Ginger and green chili: I'm using a paste for these. If you have whole ginger and garlic, just chop them together with a knife or with the processor. You can use red chili powder too but I find green chili healthier than red chilies.
Onion and Tomato: Measuring ingredients is better, but you can do visual estimation as well. Tomato and onion combined are equal to karela in visual volume.
Brown sugar: Karela is bitter so brown sugar helps to undermine some bitterness. You can substitute brown sugar with jaggery which is a better option.
Tamarind: Tamarind is a fruit with sweet and sour flavor and is available in paste in Indian stores. It gives sour touches to the dish making it chatpata. You can skip it or sub it with lemon juice.
How to make it?
Prepping bitter melon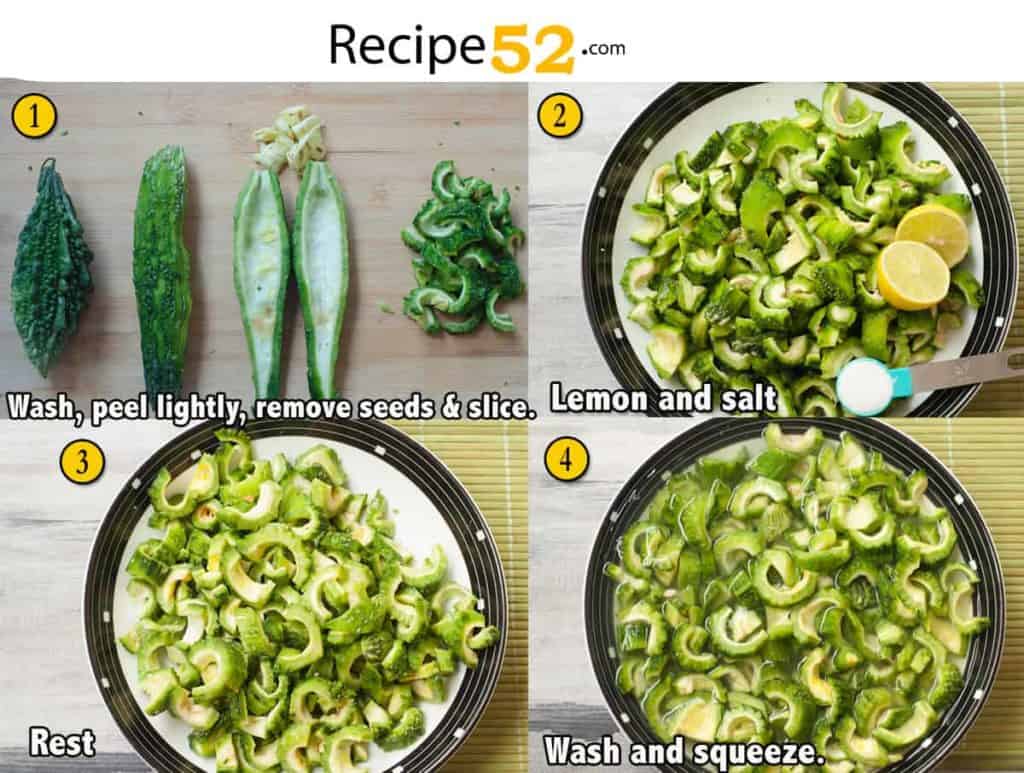 Step 1: Most Indians/Pakistani would peel bitter melon before slicing and that's what I do. First, wash the bitter gourd and peel it lightly, just remove ridges to have smooth skin. You can use a peeler which really hastens the process.
Then you cut bitter melon lengthwise and remove the seed. If the seeds are red it just shows it is slightly over-ripened. If the flesh is stiff and fresh it is still good and edible. If the flesh is rotting then chop off the rotten parts and use the good ones.
Then slice these into semi-circles.
Step 2-3: Apply lemon and salt to the slices and mix well. Then let it rest for 30 minutes at least preferably 2 hours. (The longer, the less bitter. You can also do this a day ahead, and store it in the fridge.)
Step 4: Now, wash the sliced bitter melon (karela) and squeeze it between two palms. I squeeze lightly as a lot of benefits are in its juice. (The more you squeeze juice the less bitter it is.) Discard the juice. This will cut some bitterness of the vegetable. (You can drink this juice actually if you dare, it's nutritious.)
Hurray! The Prep is done and we can proceed to the gravy. The gravy requires some cooking time so you can also do the washing step while onion tomato gravy simmers on low heat.
Steps to make Indian Bitter Melon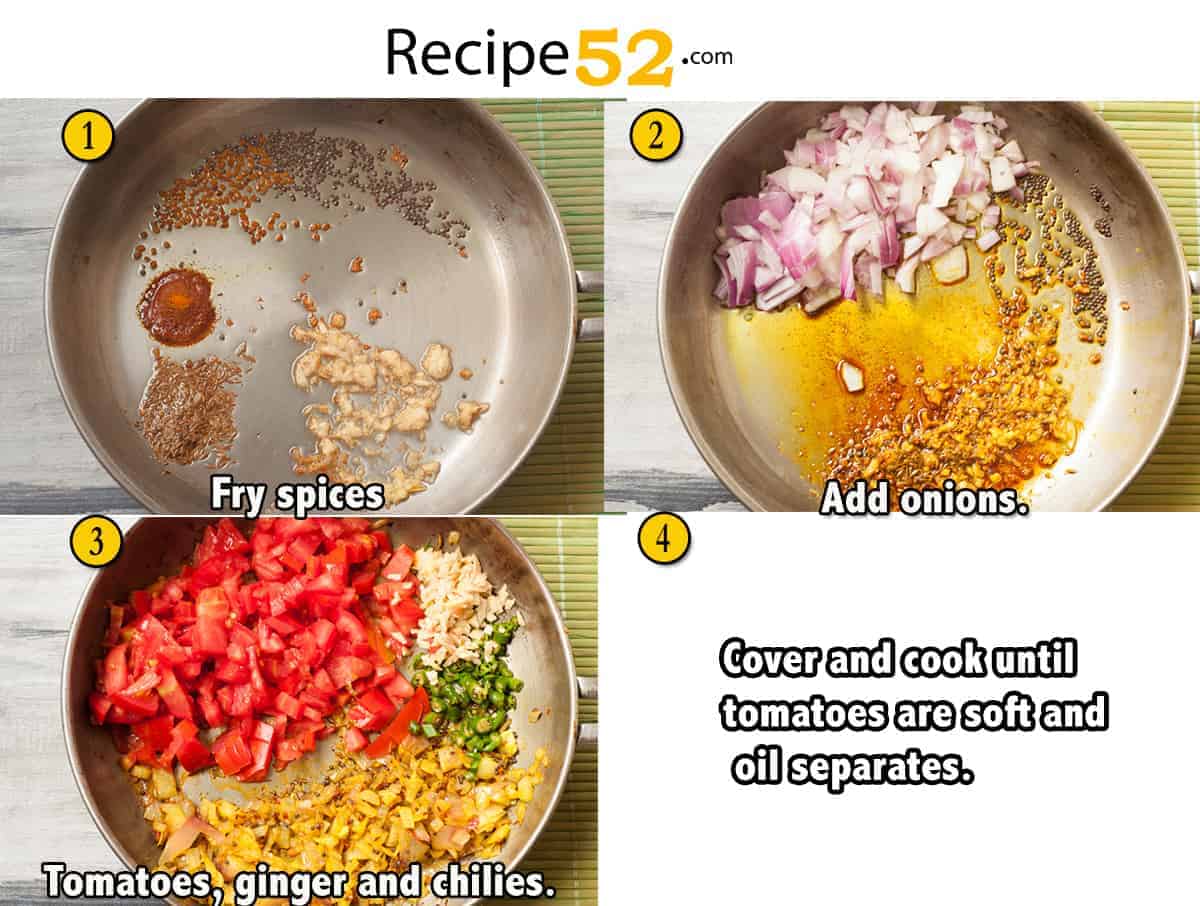 In a vessel take oil and saute garlic till lightly golden, keep the flame low. First, add dry spices, like mustard seeds, cumin seeds, and fenugreek seeds in oil, next add powdered spices, turmeric, and coriander.
Add onions, mix well and saute till onion for 3-4 minutes on medium flame or till they turn soft.
Next add chopped tomatoes, green chilies, and ginger and stir well and cover.
Cook for 5 minutes on medium heat till tomatoes are soft.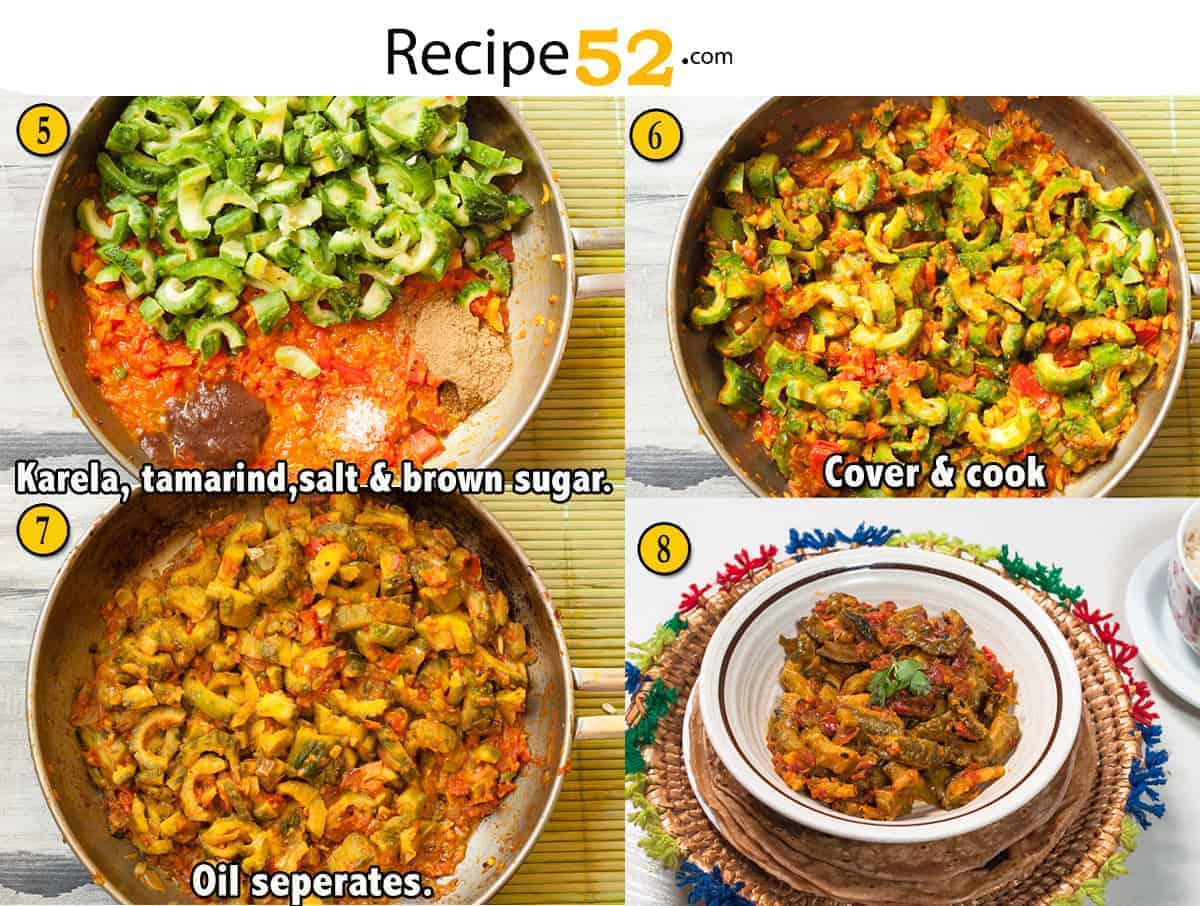 Add sliced bitter melon to the onion and tomato gravy. Season with salt, sugar, and tamarind pulp. ( If you don't have tamarind pulp, you can use tamarind chutney or sauce too. Then DO NOT add sugar. I've tried adding barbecue sauce and it tastes yummy, I recommend it only if you like some fusion in your food.)
Cover and cook for 10-15 minutes until bitter melons (karela)are soft. You might need to stir at intervals and adjust the heat.
Now, add 1 tablespoon of oil and stir the vegetable on high heat for 60-90 seconds. (If you see oil already in the pan, no need to add excess oil.)This little searing (bhunnofying) will burn any excess water and enrich the taste.
Serve with zeera rice and naan or chapati.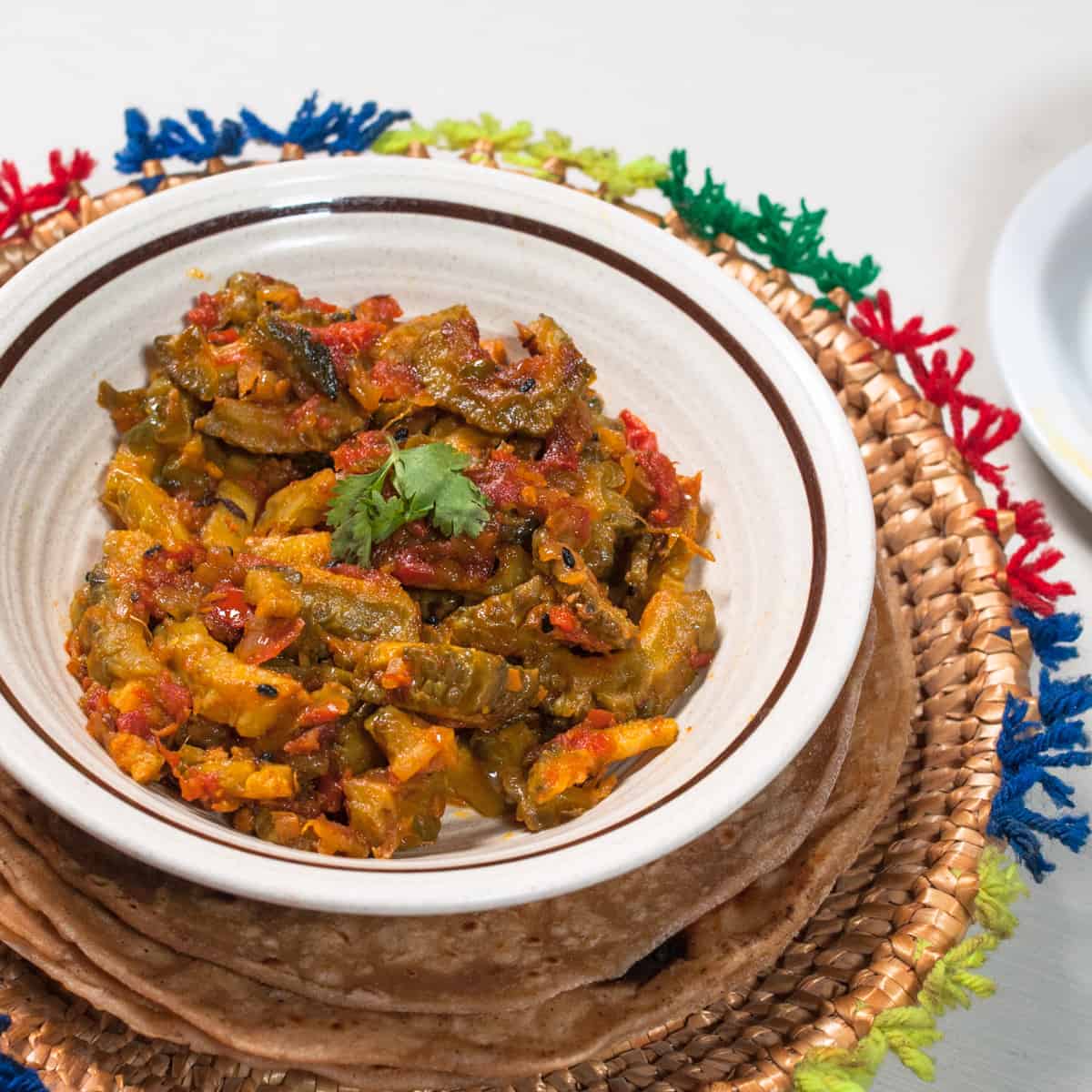 Expert Tips
These are general tips for any bitter melon or karela recipes. You need to cut down the bitterness of bitter melon by some method like you cut down sliminess in bhindi.
Peeling bitter melon help reduce the bitterness.
Most popular to cut bitterness is frying sliced bitter melon. I personally do not like this method as it losses a lot of nutrients by frying the vegetable while adding extra calories to the meal.
The second one is applying little salt and lemon to the bitter melon and leaving it for at least 30 minutes. You can also apply the salt-lemon rub up to 12 hours ahead, which makes the whole process very easy.
Try to get organic bitter melon for the best taste.
Since, Indian bitter melon curry or Karela is so special to me, if you like it please leave a comment. I'll be delighted to hear.
FAQs
What do you do with Indian bitter melon?
You can make karela masala (like in this post), karela ghost, bharwa karela, karela keema and even karela juice.
Can you freeze bitter melon?
You can freeze raw bitter melon after slicing. Sprinkle a little salt and lemon juice on slices then freeze. Remember fresh karela taste better than frozen. You can freeze cooked bitter melon too.
Do you peel bitter melon?
Bitter melon peels are edible so peeling is optional. I find peeling helps cut some bitterness.
If you try this Indian Bitter Melon curry this recipe, I'd LOVE to hear your feedback in the comments. Your 5-ratings motivate me to do my best. Stay connected for more recipes and videos on Facebook, Instagram, Pinterest, and Youtube.
Bitter Melon Recipe
Adjust tamarind and sugar as needed to bring a sweet and sour balance that undermines bitter taste. Enjoy this delicious veggies that is full of nutrients with so little calories.
Print
Pin
Rate
Ingredients
500

gram

bitter melon

4

tablespoon

oil

,

or more
Spices
½

tablespoon

minced garlic

½

teaspoon

cumin seeds

½

teaspoon

mustard seed

,

optional

½

teaspoon

fenugreek seeds

,

optional

½

tablespoon

coriander powder

½

teaspoon

turmeric powder
Vegetables
2

medium

onion

,

chopped

2

medium

tomatoes

,

chopped

1

tablespoon

green chili paste

1

teaspoon

ginger paste
Other
Salt

,

to taste

1-2

tablespoon

tamarind pulp

,

(or 1 tablespoon lemon juice)

1

teaspoon

brown sugar

,

or sugar

Fresh coriander

,

for garnish
Instructions
Prepare Bitter Melon
Wash and peel bitter melon, cut in half, remove flesh and seeds. Cut into thick slices.

In a bowl take sliced bitter melon and add 1 teaspoon salt and 2 tablespoons lemon juice. mix well and leave for at least 30 minutes. (We'll wash it before adding to the gravy.)
Make Gravy
In a vessel take oil, heat on low flame and add garlic and fry till light golden.

Add dry whole spices (cumin, fenugreek, mustard) first, then powder spices (turmeric and coriander powder) Saute for 1 minute.

Add chopped onion, saute till onions are translucent.

Add chopped tomatoes, green chilli and ginger cover and cook for 5 minutes on low flame or till tomato are soft.

While gravy cooks, wash bitter melon slices in water and squeeze them to reduce bitterness.

Add sliced bitter melon, tamarind and brown sugar in gravy and cook for 10 minutes until soft.

Add 2 tablesppon oil and saute on high heat for a minute or more. Serve hot.
Notes
Bitter Melon AKA Karela: Organic bitter melon is recommended. I used Indian dark green bitter melon. You can use the Chinese ones too.
If you squeeze the karela hardly they will be less bitter.
Diabetics patients can drink 2 tablespoons of karela juice that we remove in squeezing.
Another method of removing the bitterness of karela is boiling them in salty water, and/or frying karela in oil.
Spices: Mustard and fenugreek are beneficial for health as well as add more depth to the curry. You can skip them if unavailable.
Brown sugar:  You can substitute brown sugar with jaggery which is a better option.
Tamarind: Tamarind is a fruit with sweet and sour flavors and is available in an Indian store. You can skip it or sub it with lemon juice.
Nutrition Information
Calories:
170
kcal
,
Carbohydrates:
10
g
,
Protein:
2
g
,
Fat:
15
g
,
Saturated Fat:
1
g
,
Polyunsaturated Fat:
4
g
,
Monounsaturated Fat:
9
g
,
Trans Fat:
1
g
,
Sodium:
24
mg
,
Potassium:
546
mg
,
Fiber:
5
g
,
Sugar:
3
g
,
Vitamin A:
1105
IU
,
Vitamin C:
114
mg
,
Calcium:
42
mg
,
Iron:
1
mg
If you know of better ways to cut bitterness of karela, please share. We would love to know.