This super creamy no-churn black cherry ice cream recipe has a lovely color and delicious flavors. It needs just three ingredients of cherries, condensed milk, and cream. Like other ice cream recipes on the blog, this is also made without an ice cream maker.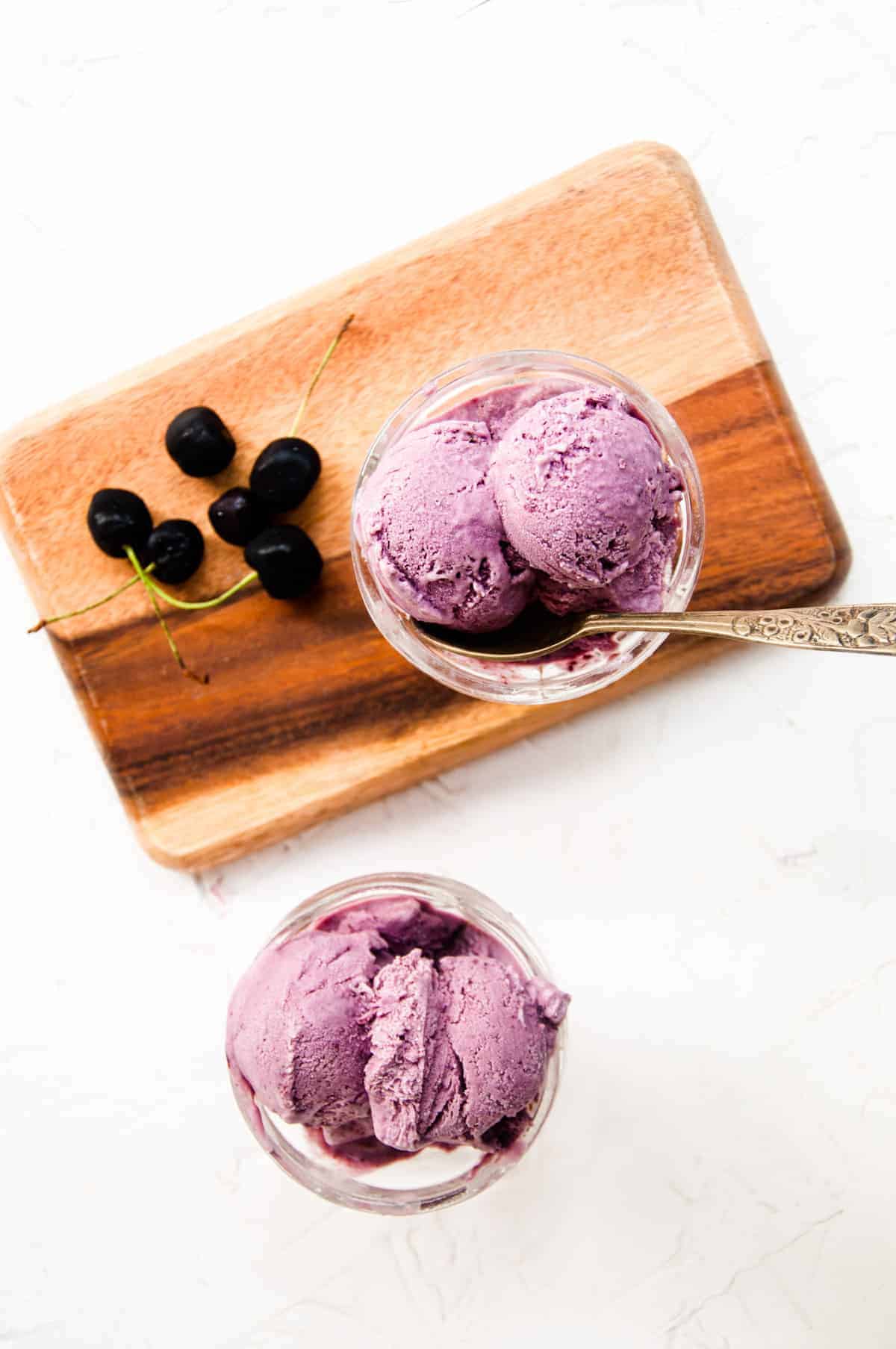 This ice cream doesn't develop icicles that are common in homemade cherry ice cream, Yum! I was very skeptical about trying cherry Ice cream because I felt cherry has a mild flavor that will get overpowered by cream. But I'm glad I tried and cherry ice cream tastes very good.
As cherry is the main ingredient, I can't insist more that get the best cherries for ice cream or consider waiting until you get sweet, dark, and delicious cherries. This black cherry ice cream makes a very exciting dessert after dinner on a hot summer day, full of anti-oxidants. Find more benefits of black cherry here.
Although most recipes suggest adding fresh cherries directly to cream. Black Cherries tend to freeze hard in ice cream. To make this ice cream serve with extra fresh cherries for the best experience. Alternately you can just cook the cherries without cutting in half and add to ice cream without blending.
INGREDIENTS
For this recipe, we use whipped cream that has high-fat content, condensed milk which again has low water content attained by reducing milk to almost ⅓, and concentrated cherry pulp. Because the water content is low and fat content is high, the crystals do not develop upon freezing and you get super smooth no-churn cherry ice cream without a machine. If you like a slight tinge of tartness add little lemon juice too.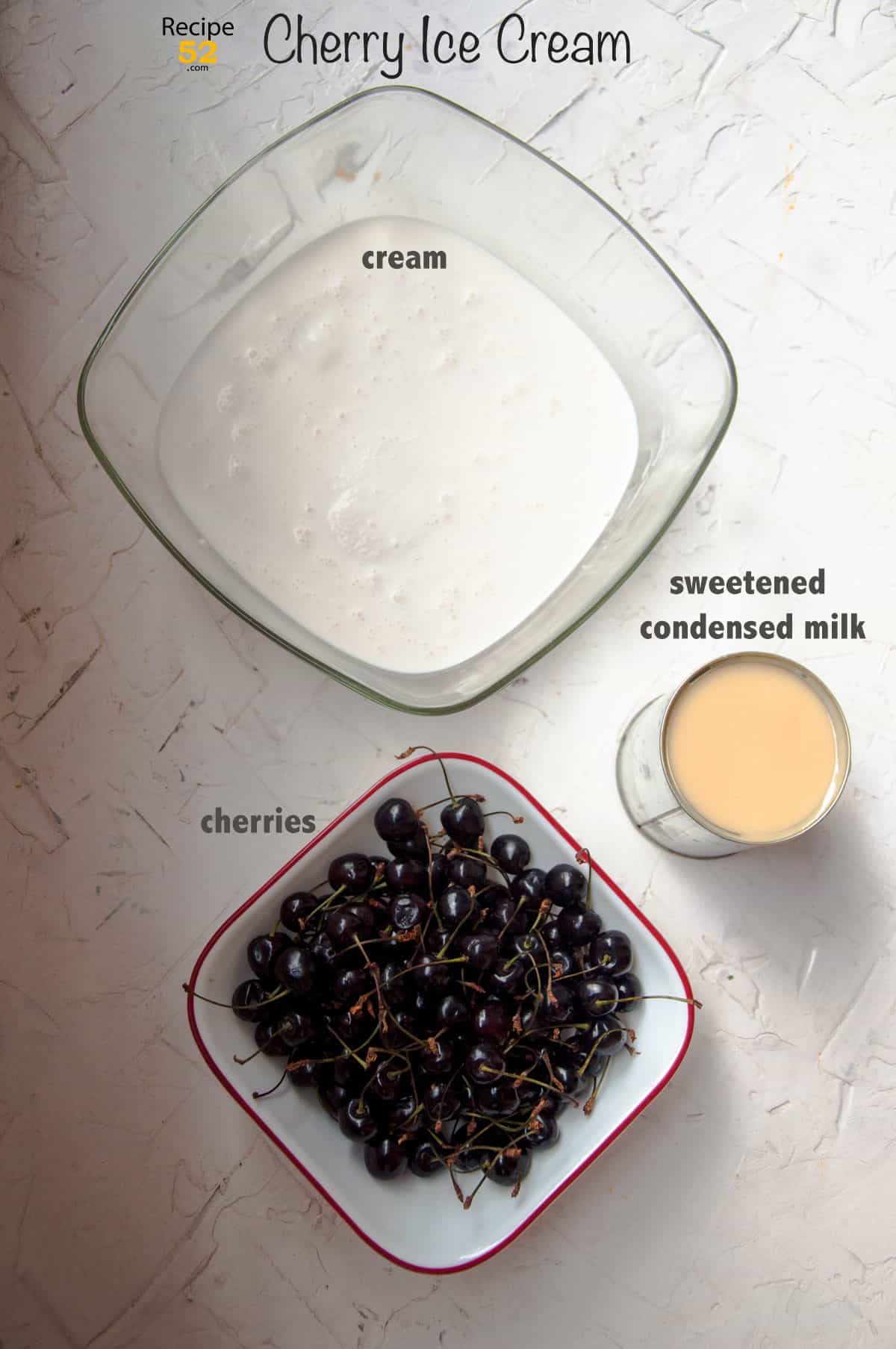 TIP
Select your fruit carefully! Fully ripened sweet black cherries that have dark skin and reddish flesh are best for any cherry recipe. So you might need to adjust this recipe according to the cherries you have in hand. If your fruit is naturally very sweet, consider reducing condensed milk in the recipe by 2-3 tablespoons. (Do not use unflavorful and veggie like cherries.)
The color of ice cream also depends on the color of fruit skin and flesh and ranges from pink to light purple.
Use full-fat whipping cream: Use chilled cream that doubles very well in volume and gets stiff peaks.
Take your ice cream out of the freeze 15 minutes before serving so ice cream is easily scoopable.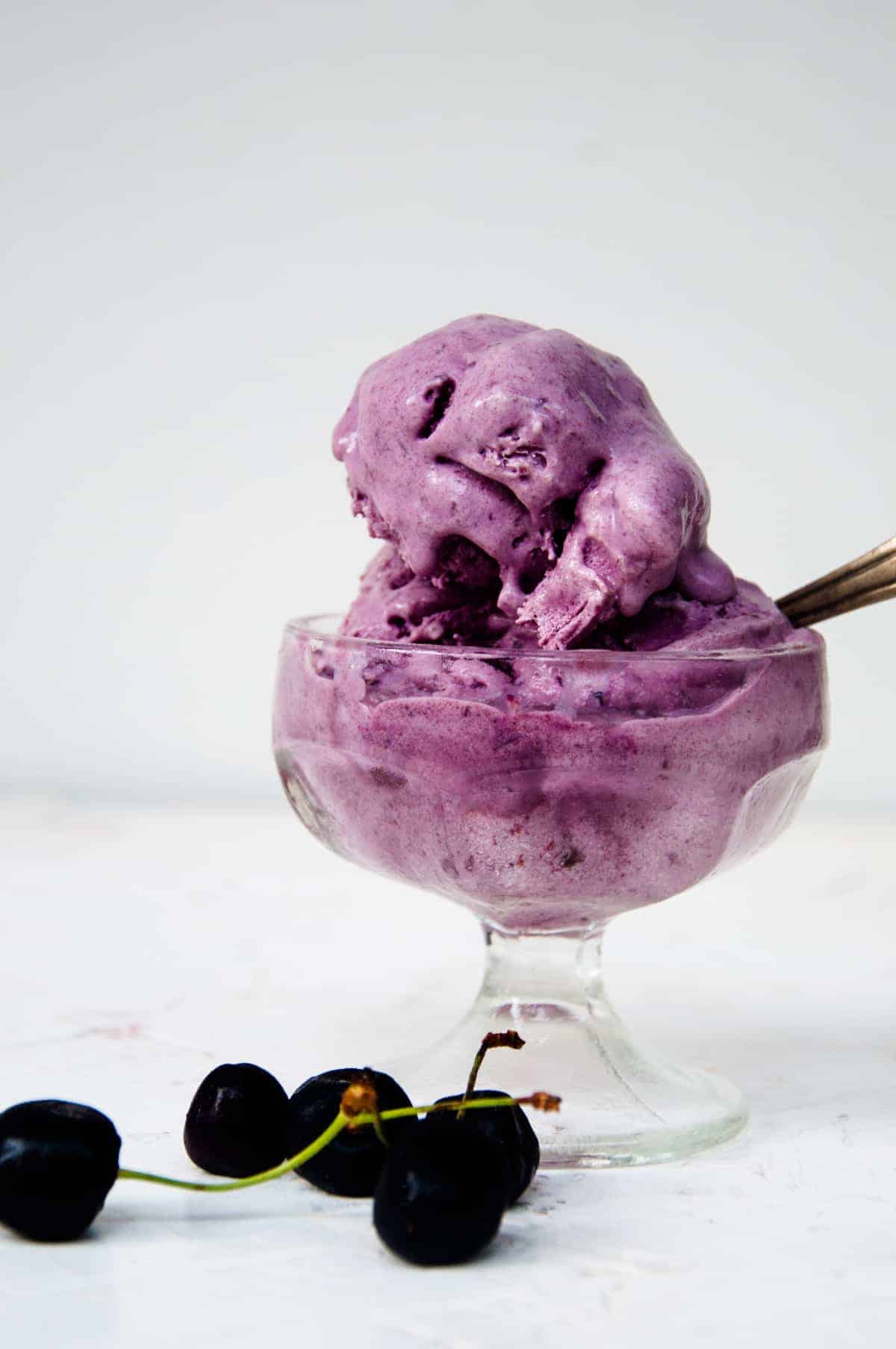 Check the thick drips and creaminess in the picture.
Variations
Chunky cherry ice cream: If you wish to make chunky cherry ice cream. Skip the step of blending the cherry and cook it. Follow the rest of the steps as it is.
Cherry Swirl Ice cream: To make swirl, mix half of the blended cherries paste to the cream-condensed milk base. Then transfer the base to the container. Pour remaining cherry paste on the base and make swirl with a stick.
For Chocolate cherry ice cream, after filling the container with ice cream sprinkle small semi sweet chocolate chip on the surface and freeze. Do not mix as chocolate chips tend to sink at the bottom.
For Vanilla cherry ice cream, mix vanilla essence in the cream-condensed milk base. Pour half of the mixture in the container and dot with dallops of half of the cherry paste. Make swirl with stick. Repeat the process again with remaining base and cherry. Then freeze.
FAQ
Can I use frozen cherries to make ice cream?
Yes, frozen and pitted cherries are great to start and help reduce the pitting effort. Just cook the cherries to burn excess juices and follow the rest of the recipe as it is.
How to make it Black Cherry Ice Cream?
Wash and pit the fruit with the cherry pitter. If you do not have it then simply chop in half to remove the pit.
Transfer pitted cherries to a food processor and blend until smooth. Make sure skin is fully blended. Cook the blended cherries on medium heat for 5-7 minutes.
Keep simmering the puree on low heat until slightly thickened. Set it aside and let it cool. Transfer puree to a bowl which will let the puree cool quickly.
Take chilled whipping cream in a large bowl.
Whip it with a beater until you see stiff peaks. That is when you remove the whisk, the cream holds its shape and doesn't melt in smoothness.
Add cooked cherry puree, condensed milk. Mix with the help of a spatula, keep stirring until puree is evenly mixed. Do a taste test and add one extra tablespoon of lemon juice if you like it sour. (At this stage, after mixing you have lovely color. But color depends on the variety of cherries used.)
Transfer ice cream to a container, preferably with a lid. Then cover it with butter paper or cling wrap. It should touch the surface of ice cream. This doesn't allow icicles to form on the surface.
Freeze homemade ice cream for at least 6 hours. Remove the ice cream 10 minutes before serving so it is scoopable and then scoop it into the ice cream cups. Serve immediately, Enjoy!
Hungry For Ice creams? Check these.
Black Cherry Ice Cream
So easy and quick cherry ice cream that can be paired any pie or cookie.
Print
Pin
Ingredients
3

cup

fresh cherries

,

pitted (500 g )

2

cups

heavy cream

1

can

sweetened condensed milk

1-2

tablespoon

lemon juice

,

optional
Instructions
Blend pitted cherries until smooth. (Pro Tip: Skip blendinging for chunky strawberry ice cream.)

Take cherries in a pan and cook for 5 minutes on medium heat until soft. Keep stirring frequently.

Remove from heat and transfer to a bowl. Let it cool completely.

Take chilled whipping cream in a large bowl. Whip it until you see stiff peaks.

Add cooked cherry puree, condensed milk, and lemon juice. Mix with the help of a spatula.

Transfer ice cream to a 1.5-liter container. Then cover it with butter paper or cling wrap. It should touch the surface of ice cream.

Chill for at least six hours in the freezer. Remove the ice cream 10 minutes before serving. Scoop and serve immediately.
Notes
Lemon: Skip lemon juice for sweeter and less tarty ice cream.
Nutrition Information
Calories:
235
kcal
,
Carbohydrates:
9
g
,
Protein:
2
g
,
Fat:
22
g
,
Saturated Fat:
14
g
,
Polyunsaturated Fat:
1
g
,
Monounsaturated Fat:
6
g
,
Cholesterol:
82
mg
,
Sodium:
25
mg
,
Potassium:
148
mg
,
Fiber:
1
g
,
Sugar:
5
g
,
Vitamin A:
1621
IU
,
Vitamin C:
7
mg
,
Calcium:
48
mg
,
Iron:
1
mg