Step by step recipe of Bohra Kaari Chawal with photos.
Bohra Kaari, kari or curry is traditional Bohra dish. It is coconut and cashew based curry that requires a special masala called Kari masala. The taste of curry is mildly spiced and coconuty. It is a very easy too cook, if you have masala prepared in advance, it requires very little effort. Although, allow slow cooking of curry to accentuate flavors.
Authentic Bohra Kaari recipe:
Kaari Masala recipe:
Please check my kaari masala recipe to it make your own spice mix. I recommend making your own over ready made.
If, you use a ready made kari masala mix then you might need to tweak this recipe with some extra red chilli powder, turmeric powder, coriander powder and whole spices. Just add these in tempering when we fry masala.
Bohra is a world wide community and so most of Bohra recipes have regional variations.
Meat choices:
Kaari taste best when cooked with mutton or lamb. But you can use chicken and beef with little compromise in taste.
Cooking Method:
Just like other bohra recipes, I cooked meat separately and added to curry. But if you have some time you can add meat directly to gravy and cook. For chicken pre-cooking is not required anyway.
In a nut shell masala needs to be fried very well. Now, mix water and then fry ;or fry and then add water, it's personal preference. In fact, you can fry whole masala and grind them afterwards for crispiest taste.
Sour ingredient:
You can add tamarind water, lemon juice or yogurt too. Tomatoes are rarely added.
Coconut:
We need coconut milk for this recipe. The traditional way to make coconut milk is blend fresh or desiccated coconut with water and then strain to extract coconut milk. Let's say 300 gram desiccated coconut and 1 ½ cup water. Repeat process once more with another 1 ½ cup of water to extract three cups of coconut milk. Some of that extracted coconut is also added to rice to avoid waste and add flavours and aroma to rice as well.
Now, considering quick and easy ways, I'm using coconut milk powder, you can even use coconut cream for extra rich gravy.
So the authentic recipe varies regionally and is simply how your mother cooked and developed your taste buds. I don't believe in dictating recipes but I believe everyone have unique style so I tried to suggest all options.
Serving:
Kaari is served traditionally with Karak double roti and rice. I highly suggest making this recipe specially if you love coconut based curries. If you have kids, serve it with noodle to enjoy mock khousay flavours.
Other bohra recipes.
Keema ni khichri
Bohra Red Chicken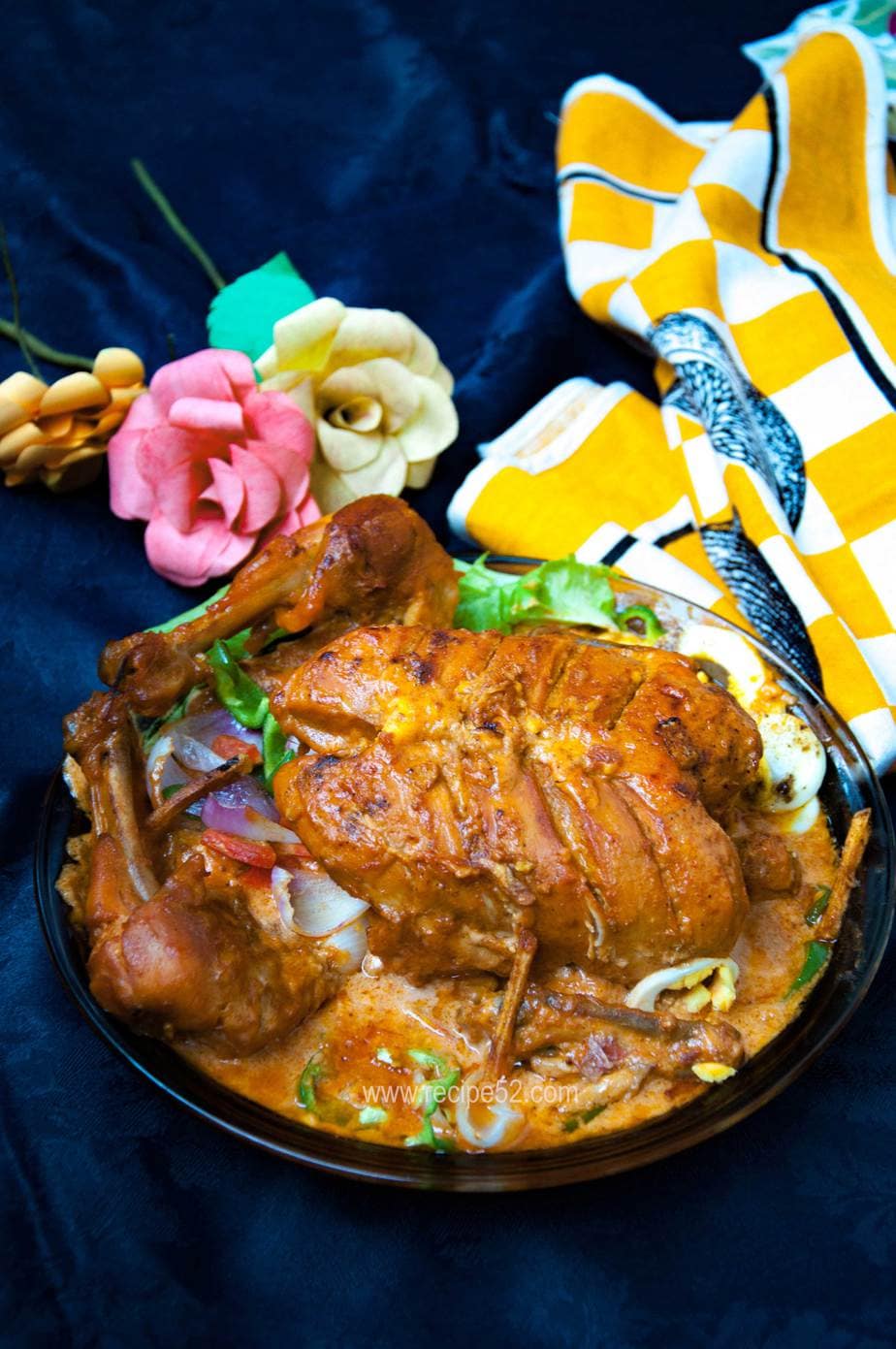 How to make Bohra kaari Chawal?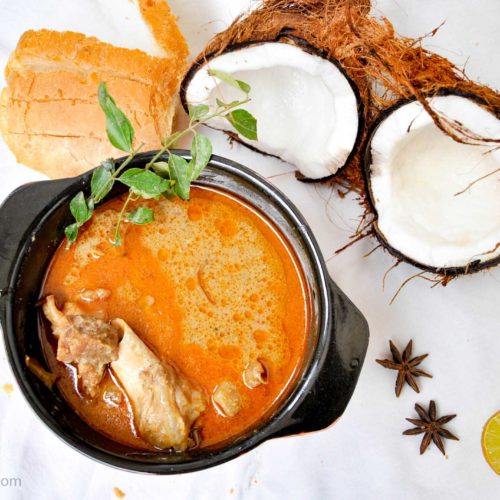 Kaari Chawal Recipe
A unique nut and coconut based curry that can be eaten with Karak bread and rice.
Print
Pin
Ingredients
For meat:
½

kg

lamb

,

or any other meat

1

tablespoon

green chilli paste

1

tablespoon

ginger garlic paste

1

medium

onion

,

cut in chunks

1

cup

water

2

tablespoon

oil
For gravy
1 ¾

cup

Kari masala

⅓

cup

oil

2-3

twigs

curry leaves

⅔

cup (75 grams)

coconut milk powder

3

cups

water or more

2

tablespoon

tamarind water
For Cumin Rice
400

gram or 2 cups

rice

Salt

,

to taste

5-6

peppercorn

4

cloves

⅓

teaspoon

cumin seeds

2

tablespoon

oil

1

tablespoon

desiccated coconut

4

tablespoon

fried onion

,

for garnish
Instructions
For Kaari
Boil meat with ginger, garlic, green chilli paste and onions until tender. When tender stir for few minutes to dissolve onions. Set aside.

In a thick bottomed skillet fry kaari masala, red chilli and curry leaves on low flame. Stir constantly until fragrant. Add a little water if masala is burning.

Next add meat to the gravy. Fry until you see a little oil bubbling from sides.

Add coconut milk little by little with stirring.

Cook curry for 15 minutes on medium flame until oil separates. Serve with lemon, Cumin Rice and karak double roti (bread).
For Coconut rice
Wash and soak rice for 20 minutes.

Boil water in a large pot, add salt, cumin, pepper, cloves and rice.When rice are 80% cooked strain rice and discard water.

In the same pot heat oil,add desiccated coconut, give all a stir. Next , mix in boiled rice.

Cover and dum rice for 5-7 minutes until steam rises. Coconut rice for Kaari chawal is ready, garnish with fried onions and serve.
Notes
Check my Kaari masala recipe.
If using ready masala, then you might need to add more red chilli, turmeric and coriander and cumin powder in tempering.
If you like spicy curry add ½ teaspoon red chilli powder in tempering.
If using chicken to make kaari, just marinate chicken in ginger, garlic and chilli paste for 20 minutes. And add marinated chicken in tempering of gravy.
Nutrition Information
Serving:
1
bowl
,
Calories:
871
kcal
,
Carbohydrates:
71
g
,
Protein:
22
g
,
Fat:
57
g
,
Saturated Fat:
17
g
,
Trans Fat:
1
g
,
Cholesterol:
24
mg
,
Sodium:
115
mg
,
Potassium:
193
mg
,
Fiber:
5
g
,
Sugar:
5
g
,
Vitamin A:
28
IU
,
Vitamin C:
15
mg
,
Calcium:
101
mg
,
Iron:
3
mg
Step by step recipe of Kaari Chawal
Boil meat with ginger, garlic and green chilli paste, oil and salt. You can pressure cook or slow cook.
Also add onions cut in chunks. This cut of onion gets dissolved quickly.
When meat is tender, stir the meat for few minutes to dissolve onions. (bhunofy). Then set aside.
Get recipe of masala here! While meat is cooking fry curry masala on medium flame until fragrant. Because we have pre-roasted masala before grinding it, this will take few minutes only. Stir constantly. (The masala will burn before you know.)
I also added some water while frying as soon as it became fragrant. Throw in curry leaves.
Add meat.
Mix and bhonofy for 2 minutes till little oil is visible in sides.
Add coconut milk.
Let the curry simmer for 15 minutes on low flame until oil separates.
I'm adding tamarind pulp at this stage. If you want even more tarty flavor add lemon juice while serving. (Adding a lot of tamarind pulp can darken the color of curry)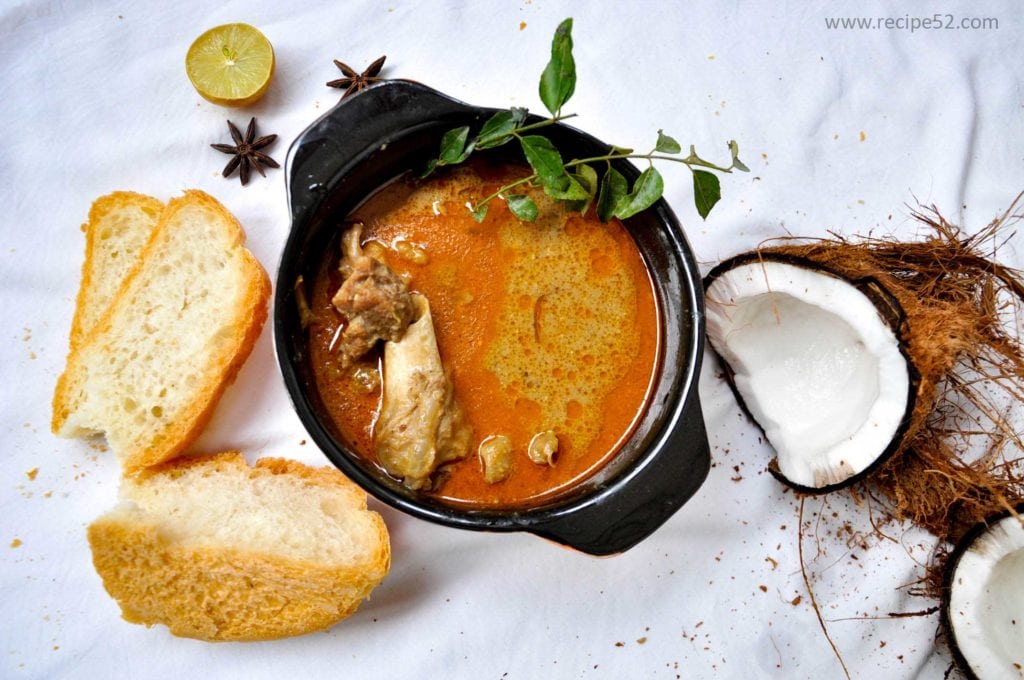 How do make your curry? If this recipe helped you, please let us know in comments. Don't forget to share so others can benefit too.