Step by step recipe of Bohra Qeema khichri with photos of each step. We all love bhuna keema with khichdi and we love biryani too. Here is the combined the goodness of qeema and the rustic taste of moong dal khichri along with boiled eggs, fried potatoes and fried onion. All these in one biryani pot incurring absolute desi deliciousness.
Bohra Qeema khichri
Qeema khichri is traditional bohra winter dish served with 'khurdi' (milky mutton soup with mint) and kachumbar salad. The combination is absolutely soul warming with all simple ingredients.The yellow color of khichri is so tempting and appealing, I can have it for three or more consecutive days and my son loves it too. If you are interested in bohra recipes you may also like bohra biryani, bohra keema cutlets, lasanyo , lagan ki seekh
How to make Bohra keema khichri
Take rice and mong in a large skillet or bowl.
Soak rice and mong for an hour. Boil eggs, wash qeema and set aside.
Fry 1 onion in ¾ cup oil in a wok until golden brown. Dish out onions on a dry towel and set aside. (In separate skillet for qeema, I prefer frying qeema onions too simultaneously.)
In the same wok with same oil fry potatoes until golden brown and set aside. Save the oil for later use.
All preparations are done now we cook qeema. Fry onions for qeema in 1 cup oil in a separate skillet until light golden brown.
Dry spices .
Add dry spices with fried onion on medium heat.
Stir and add wet spices, ginger, garlic and chili paste.
Stir and add tomato puree. ( you can check how to puree here. ) You can also add chopped tomatoes.
Add mince meat(keema)
Stir and add yogurt. Cover and cook for twenty minutes on medium heat until keema is cooked and oil separates.
While qeema cooks, fill a large pot for biryani ( 8-9 inch from inside) with water and add all rice spices and salt. Bring it to boil. When water boil add soaked rice and grams. Keep the strainer ready and stay around. Soaked rice will be cooked in less than 10 minutes.
Cook till 1 kani or 80 % cooked.
Strain.
For layering, add ⅔ rice in bottom layer. Add a layer of keema.
On qeema add layer of boiled eggs, fried potatoes, coriander, green chilies and pepper.
Add the layer of remaining rice. Here you can add fried onions on top layer or you can add it on individual serving. On the top layer drizzle the oil that we saved from onion and potatoes frying. Cover tightly and keep khichri for dum for 15-20 minutes on medium low heat. Serve with Khurdi soup and Kachumbar salad. (Khurdi is a must with qeema khichri or at least some other soup).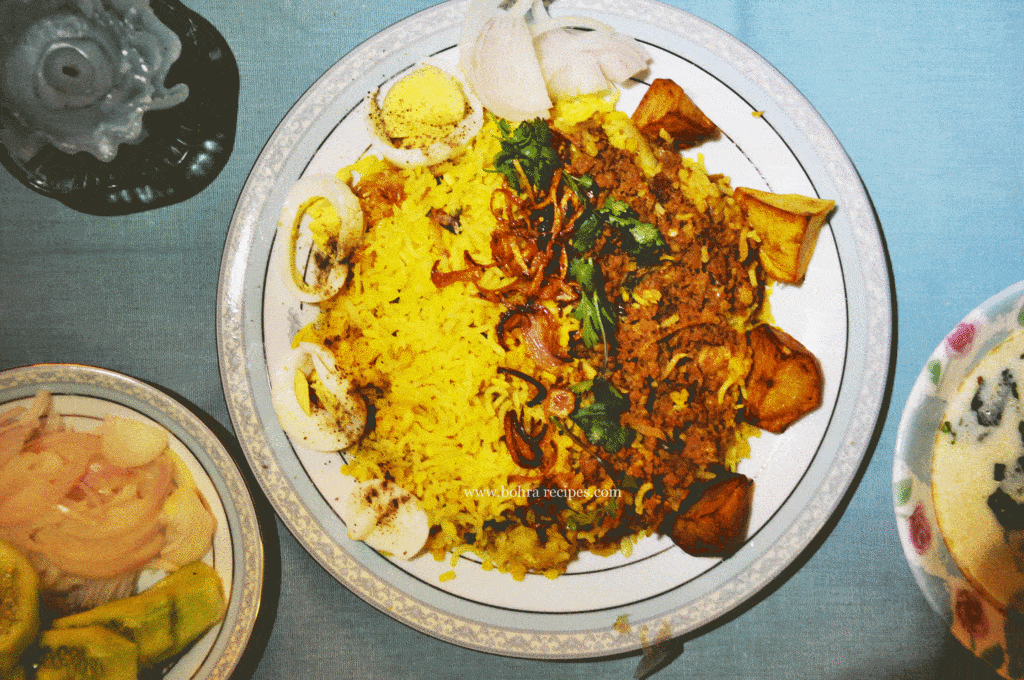 Bohra Qeema Khichri
Happily wedded unision of bhuna qeema, khichri and boiled eggs.
Print
Pin
Ingredients
FOR KHICHRI
400

grams or 2 cup

rice

,

(chawal)

500

grams or 2 ½ cups

yellow lentil

,

(moong dal)

8

black peppers

,

(kali mirch)

4

cloves

,

(laung)

1

inch

cinnamon

,

(dal cheeni)

1

teaspoon

turmeric

,

or a pinch food color

½

teaspoon

cumin

,

(zeera)

salt to taste

,

(namak)
FOR QEEMA
¾

kg

mince meat beef or mutton

,

(keema)

½

kg or 3 large

onion

,

(piyaz), sliced

½

kg or 6 medium

tomato

,

(tamatar), chopped or puree

½

kg or 4 medium

potato

,

(aloo), cubbed and fried

1

fried onion for garnishing

½

cup

yogurt

,

(dahi), whipped

1¾

cup

oil

2

tablespoon

ginger paste

,

(adrak)

2

tablespoon

garlic paste

,

(lahsun)

2

tbs

green chilli paste

,

(choti hari mirch)

1

teaspoon

red chilli powder

,

lal mirch

½

tablespoon

cumin

,

(zeera)

2

tablespoon

coriander powder

,

(dhanya)

½

teaspoon

turmeric

,

(haldi)

½

teaspoon

black pepper

,

(sabut kali mirch)

8

cloves

laung

2

inch

cinnamon stick

,

(dal cheeni)

5 to 7

round red chilli

,

(gol lal mirch)
FOR ASSEMBLING
1

handful

green coriander chopped

,

dhanya

2

medium

green chilli

,

thick slices

4 to 5

large

boiled eggs

,

(anday)

1

medium

onion

,

golden fried for garnishing (lal piyaz)
Instructions
PREPARATIONS
Soak rice and gram for an hour.

Wash mince meat in large bowl, strain water and set aside.

Boil eggs in pot. Remove shell and cut into four halves.

Fry potatoes in ¾ cup oil in a separate wok until crispy. Keep stirring so potatoes are evenly fried.

After potatoes fry 1 sliced onion in same potato oil for garnishing. After frying save the oil, we will use it later.
MAKE QEEMA
In large skillet put 1 cup oil and fry onions for qeema until on medium flame until golden brown.

When onions for qeeema are golden fried. Add dry spices (cumin, cloves, black pepper, turmeric, coriander, black cardamom, red chili powder and round red chili) crackle and then add wet spices( ginger, garlic, green chilli paste). Once flavors are infused, we will add tomatoes, mix. Cover the lids. Cook for one minute.

Add qeema and cook on medium low for 15 minutes. If there is excess water, dry it. We will need little gravy for biryani. ( You can also smoke your qeema with charcoal at this stage if you like smoked food.)
MAKE KHICHRI
In a large pot for biryani take water salt, cinnamon, cloves, cumin , turmeric and black pepper and bring it to boil. Add soaked rice and grams. Cook for 10 minutes or until 1 'kani', 80% rice are cooked.

When khichri is cooked strain and leave in strainer for few minute so all water is drained.
ASSEMBLING
Smear oil in the bottom of biryani pot that we saved from frying. Spread ⅔ of khichri in the bottom layer.

Add a layer of qeema, potato, boiled eggs, coriander, chilies and black pepper. Cover with remaining khichri. Add remaining oil from frying on khichri.

Keep the rice for dum for 15-20 minutes on medium low flame.
Nutrition Information
Calories:
715
kcal
,
Carbohydrates:
61
g
,
Protein:
25
g
,
Fat:
42
g
,
Saturated Fat:
7
g
,
Trans Fat:
1
g
,
Cholesterol:
92
mg
,
Sodium:
104
mg
,
Potassium:
949
mg
,
Fiber:
15
g
,
Sugar:
6
g
,
Vitamin A:
620
IU
,
Vitamin C:
42
mg
,
Calcium:
97
mg
,
Iron:
5
mg