Bohri Biryani Recipe with photos of each step.
Bohri biryani is one of the various delicious biryani of Pakistan made by Dawoodi bohra community. What makes bohra biryani different is that it is comparatively less spicy than Hyderabadi biryani or Sindhi biryani. Instead of red chillies and grounded garam masala, it uses green chilies for heat and whole garam masala (mixed spices) for aroma.
This is a juicy biryani recipe. Senior adults and kids would love this bohra biryani for it has all the flavors and heat of biryani with health-friendly and kids friendly spices. Serve this biryani with green chutney or raita and kachumbar salad.
My other similar recipes.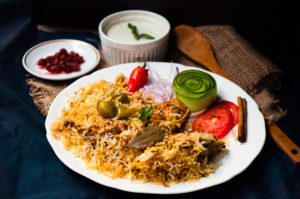 How to make Chicken Biryani (bohra style):
If you try this recipe or any other recipe from my site, please share on social media with #loveRecipe52 or tag us on Facebook and Instagram @recipe52.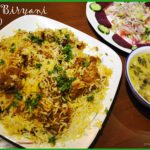 Bohra Biryani Recipe
This is a juicy biryani recipe. Senior adults and kids would love this bohra biryani.
Ingredients
¾

kg (6 medium)

sliced onions

½

kg (4 medium)

potato

,peeled and cut in large chunks
Green Masala
8-12

small

green chilli

or 2 tablespoon green chilies paste

2

inch

piece ginger

or 1 tablespoon ginger paste

6

garlic cloves

or 1 tablspoon garlic paste
Spices
4

black cloves

(laung)

10

black pepper corns

(sabut kali mirch)

1

tablespoon

cumin

(sabut zeera)

2-3

green cardamom

(choti elaichi)

1

black cardamom

(bari elaichi)

1

big

bay leaf

(teej patta)

2

inch

stick cinnamon

(dal cheeni)

2

tablespoon

coriander powder

(dhanya) powder

1

teaspoon

turmeric

(hald)i powder
Other
1

kg

chicken pieces

1 full chicken pieces

½

kg (5 medium)

chopped tomato

3-4

dried plum

aloo bukhara

½

cup

yogurt

dahi

2

tablespoon

chopped fresh coriander

3-4

medium

green chilies

a pinch of saffron

dissolved in 2 tbs water.

1½

cup

oil

salt to taste
Ingredients for rice
¾

kg

basmati rice

1

teaspoon

cumin

sabut zeera

6-8

black pepper

sabut kali mirch

salt to taste
Instructions
Steps for Prepping
Wash and soak rice for 20 minutes.

In a skillet take oil, fry onions till golden brown, dish out on kitchen towel and crush them with hands or mixer.

In the same skillet using same oil of onions, fry potatoes till golden. Dish out and set aside.

Make green paste of chili, garlic and ginger called green masala. Set aside.
Step for Chicken Gravy
Take out extra oil from skillet leaving only 3 tbs. (this extra oil will be used later)

In this oil on low flame, add dry whole spices (green cardamom, black cardamom, cumin, bay leaf, cinnamon, pepper and clove), fry lightly to release flavors.

Now, add powdered spices (coriander and turmeric ), stir a little and add green masala and salt, fry for 1 minute.

Add chicken and fry till the color of chicken changes, add chopped or pureed tomatoes, cover and cook for 5 minutes.

After five minutes, add fried, crushed onions, cover and cook for 15 minutes till chicken is tender.

Add yogurt and plum, let simmer to reduce water. The gravy will be thick but not fully dried.

Add fried potatoes, chilies and coriander.
Steps For Rice
On step 9, while chicken is cooking, fill a large vessel in which we will make biryani ( 12 inch diameter measuring from inside) more than half with water, add whole spices and salt.(check notes for tip). Bring water to boil.

Once the water is boiled add soaked rice and cook for 7-10 mins, we will not fully cook but use half cooked rice(1 kanni left ). Strain the water from rice when 70% cooked.
Steps For Assembling
Now in the rice pot add 2 tbsp of extra oil that we had saved and smear it on the base, add 3/4 of rice in the pot. Add layer of chicken gravy, spreading chicken and potatoes evenly. Add a layer of remaining rice.

On top add dissolved saffron and remaining extra oil of onion. (Cover tightly to keep steam entrapped, put it for dum for 15 minutes.

Biryani is ready to serve.
Step by Step  bohra/bohri biryani recipe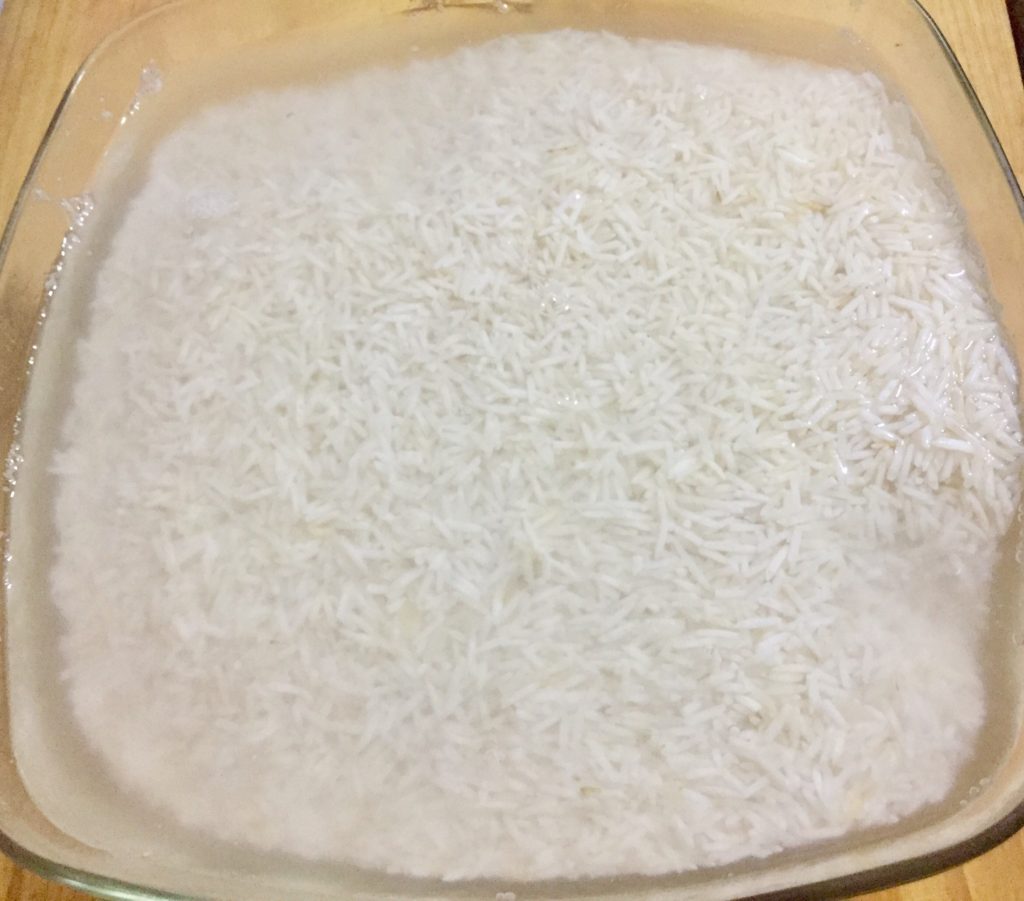 Soak rice for 20 minutes.
Heat oil in a skillet and fry onions on medium  flame.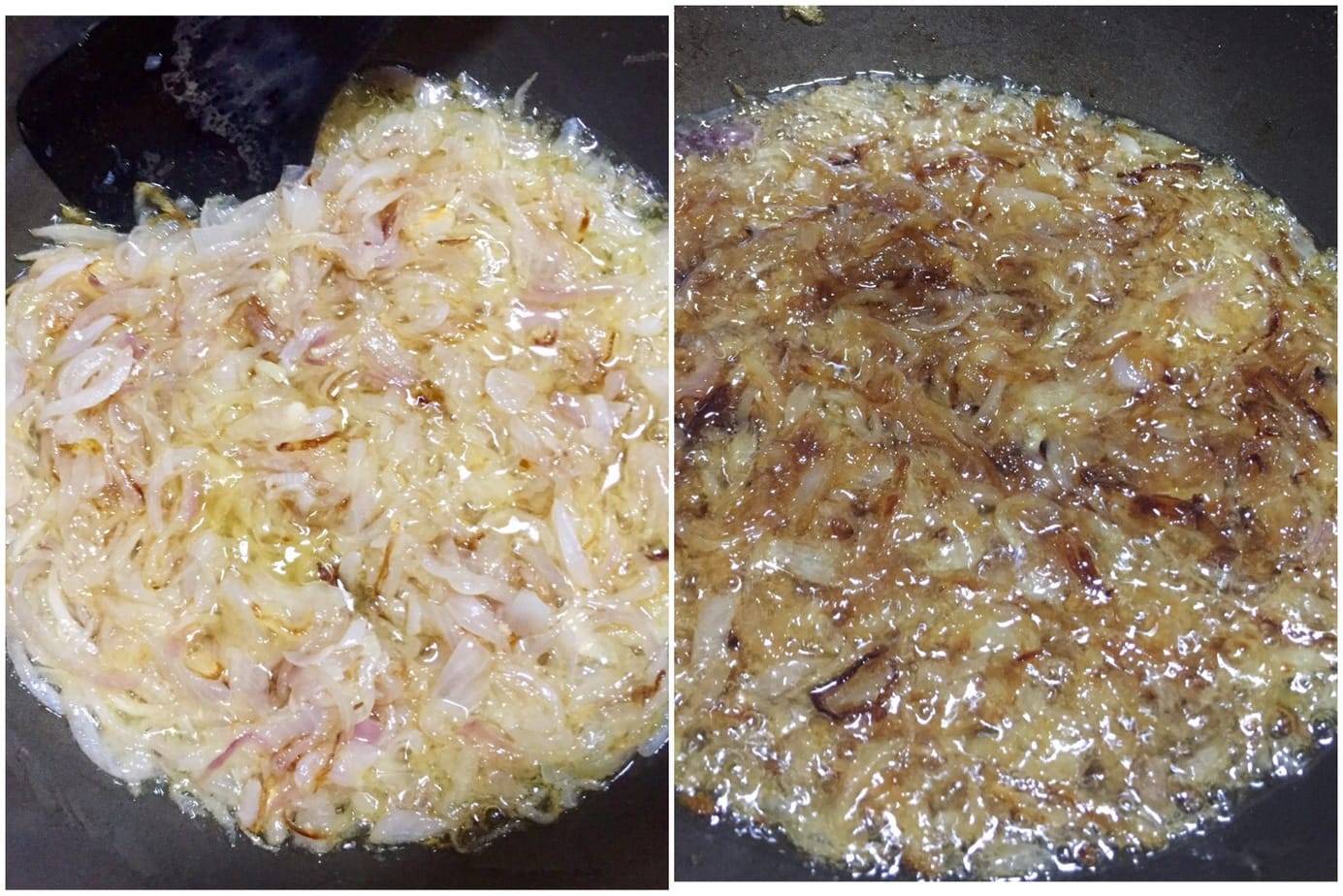 We will fry till all strands of onions separate and turn crispy golden in color.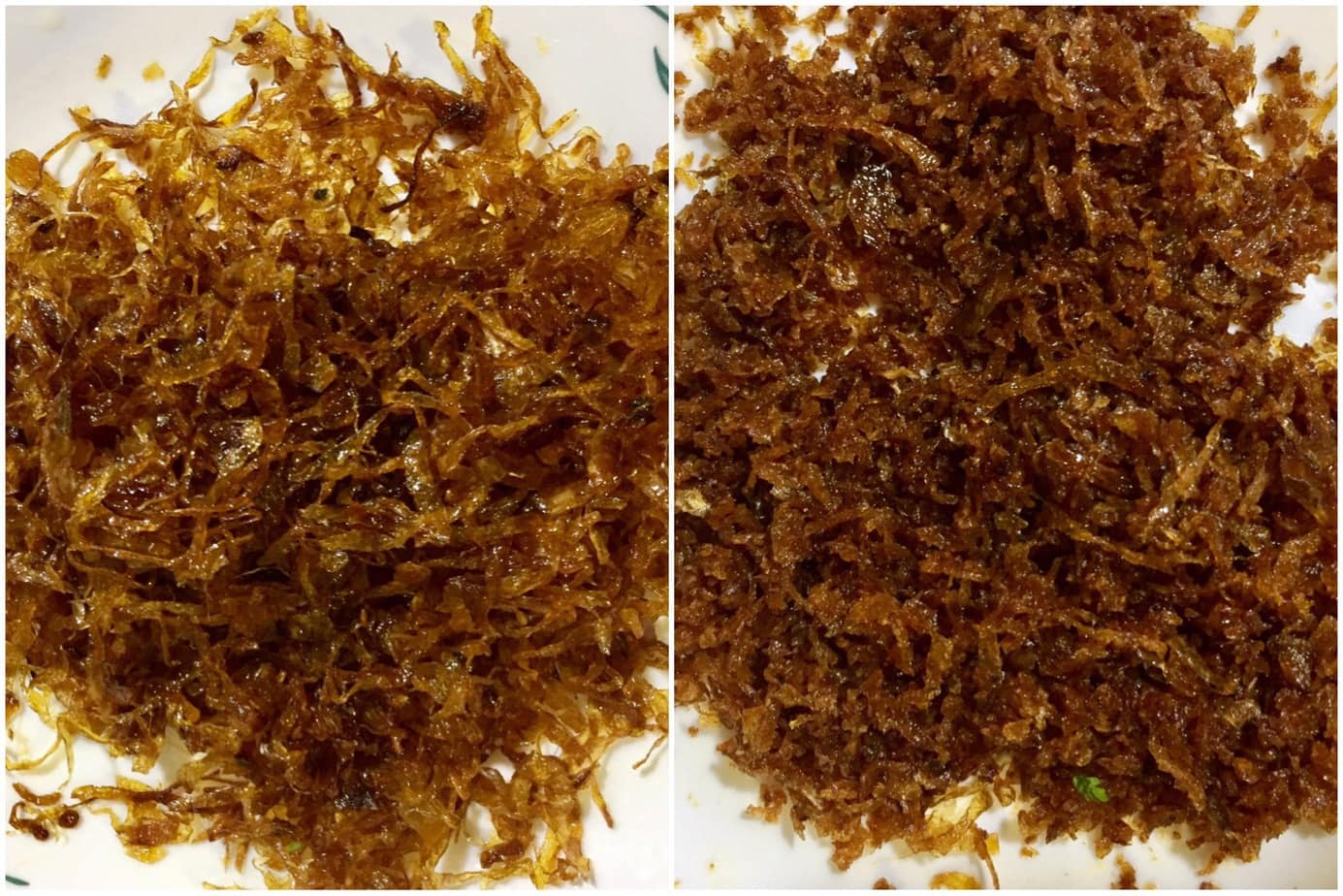 Crush fried onions with hands. You can also use grinder if onions are soft.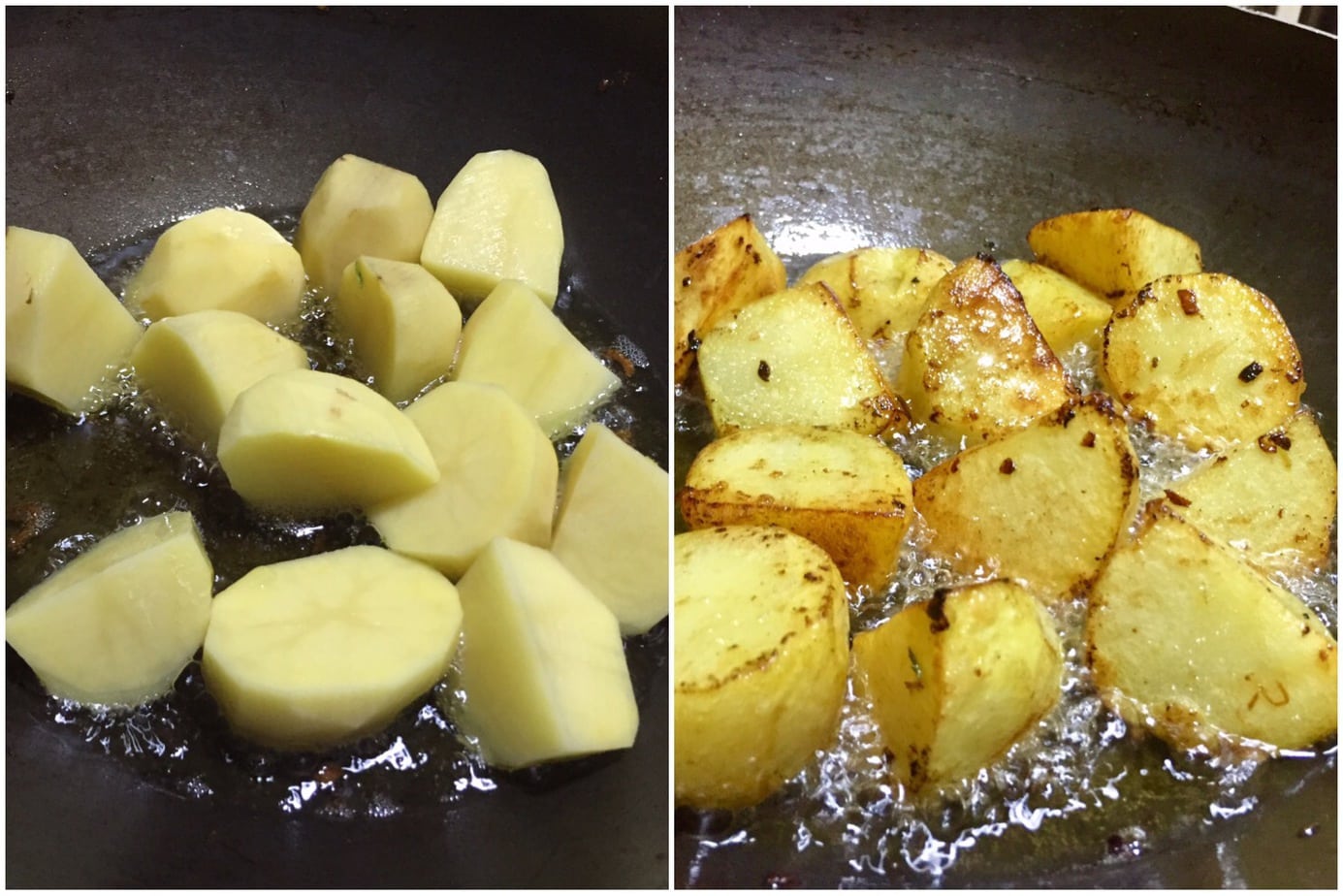 In the same oil fry potatoes till cooked, sprinkle salt too. Flip sides so all sides are golden.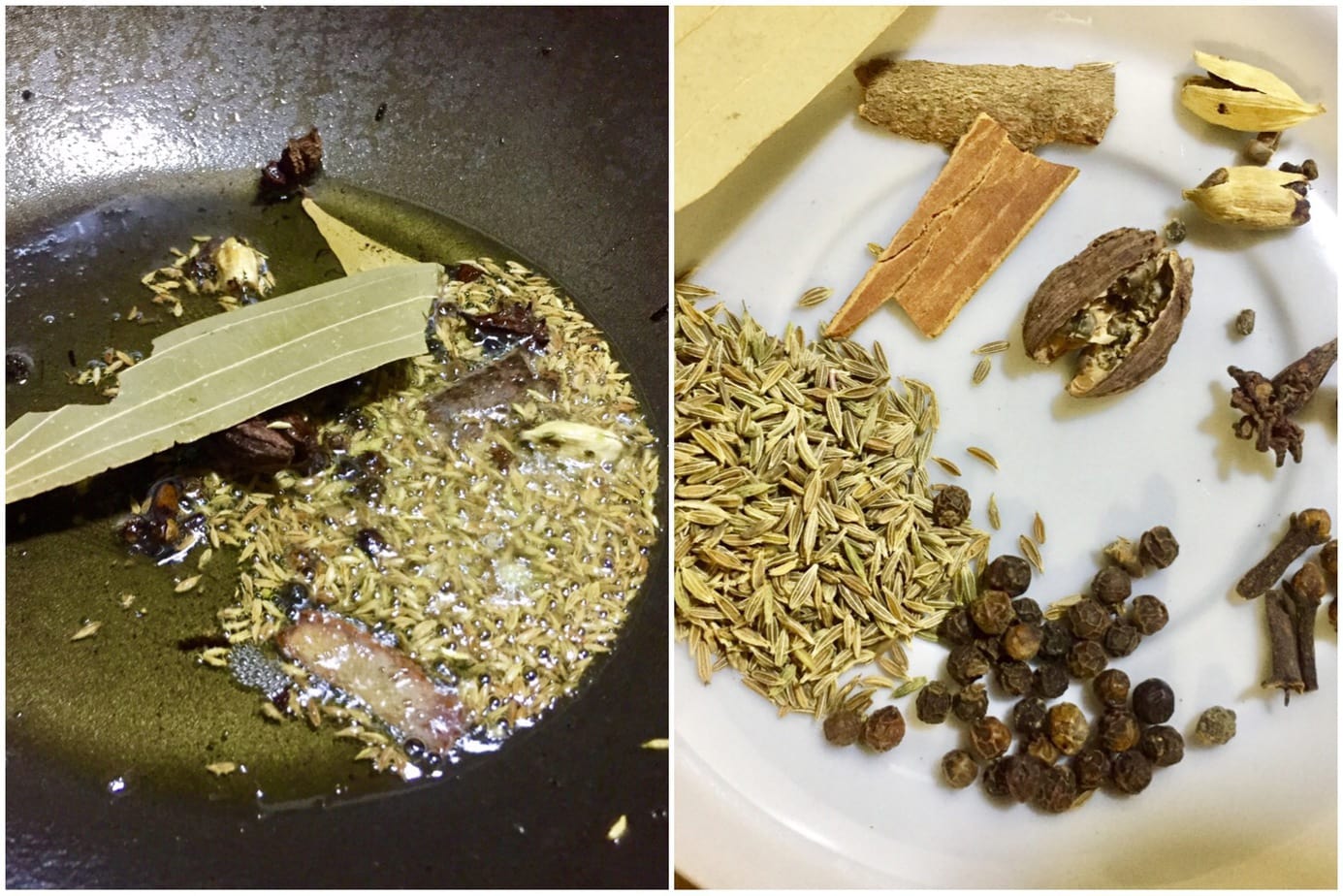 Remove extra oil, leaving only 2-3 tablespoon in skillet. Fry whole spices. make sure flame is low and oil is not very hot or the spices will burn. Fry for 1 minute.
Add dry powdered spices, give a stir. Then add green chili, garlic and ginger paste.(hara masala). Fry for 1 minute.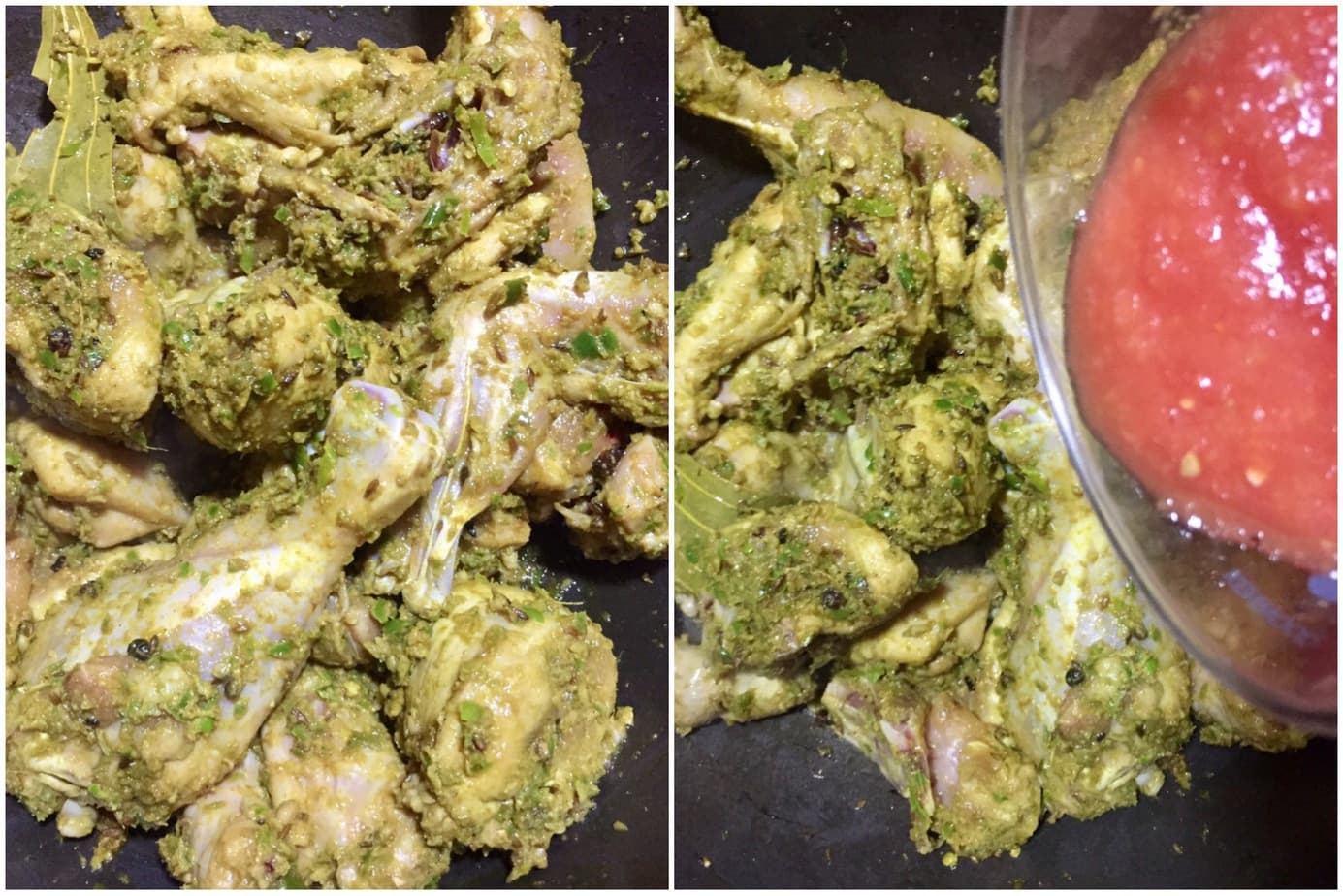 Add chicken,and fry so the color of chicken changes. Add tomatoes. We don't like the skin of tomato so I removed skins and puree it. You can simply use chopped tomatoes. Cover and cook for 5 minutes.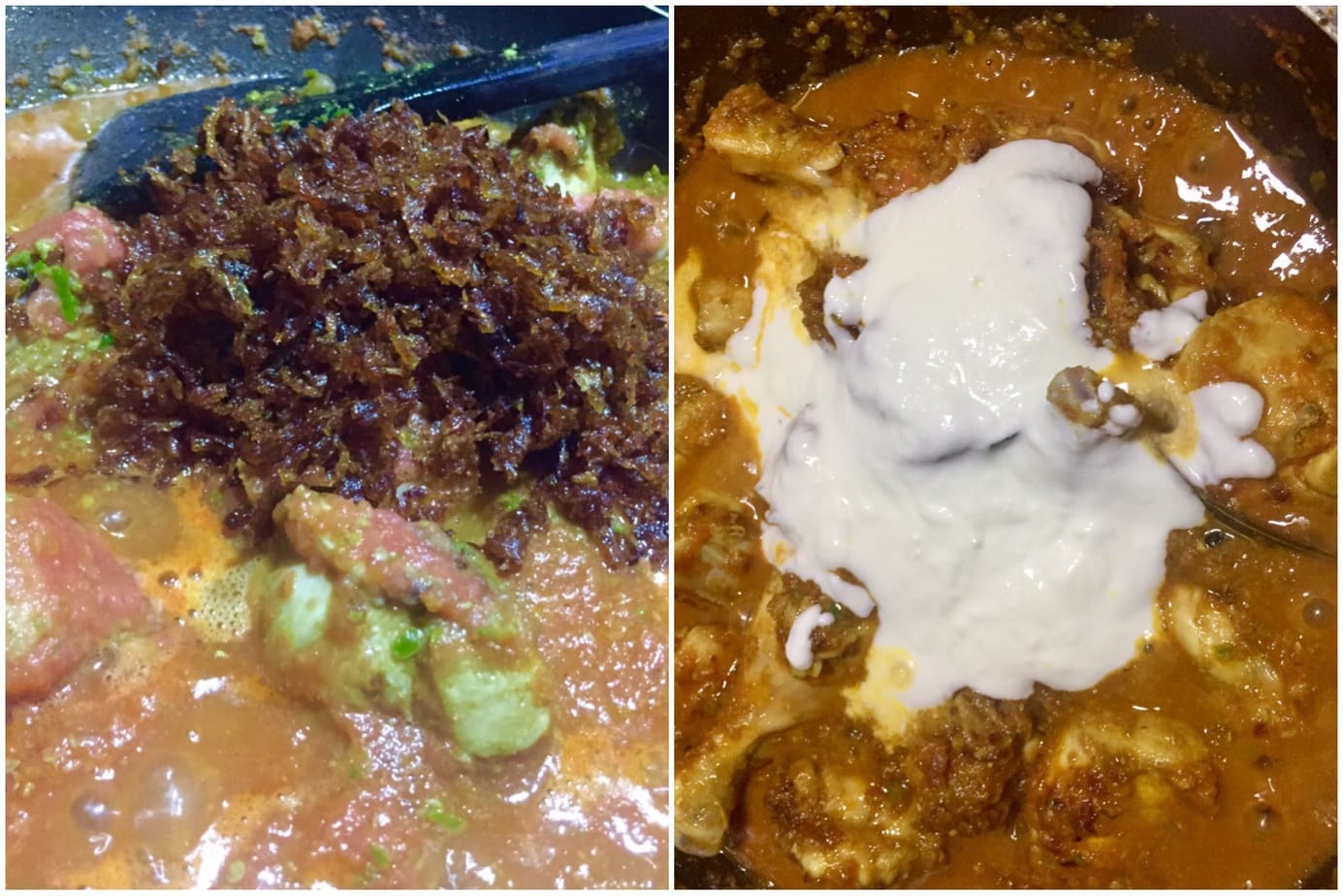 Add fry onion give it a stir for 5 min, add whipped yogurt. Cover and cook for 15-20 mins or till chicken is tender.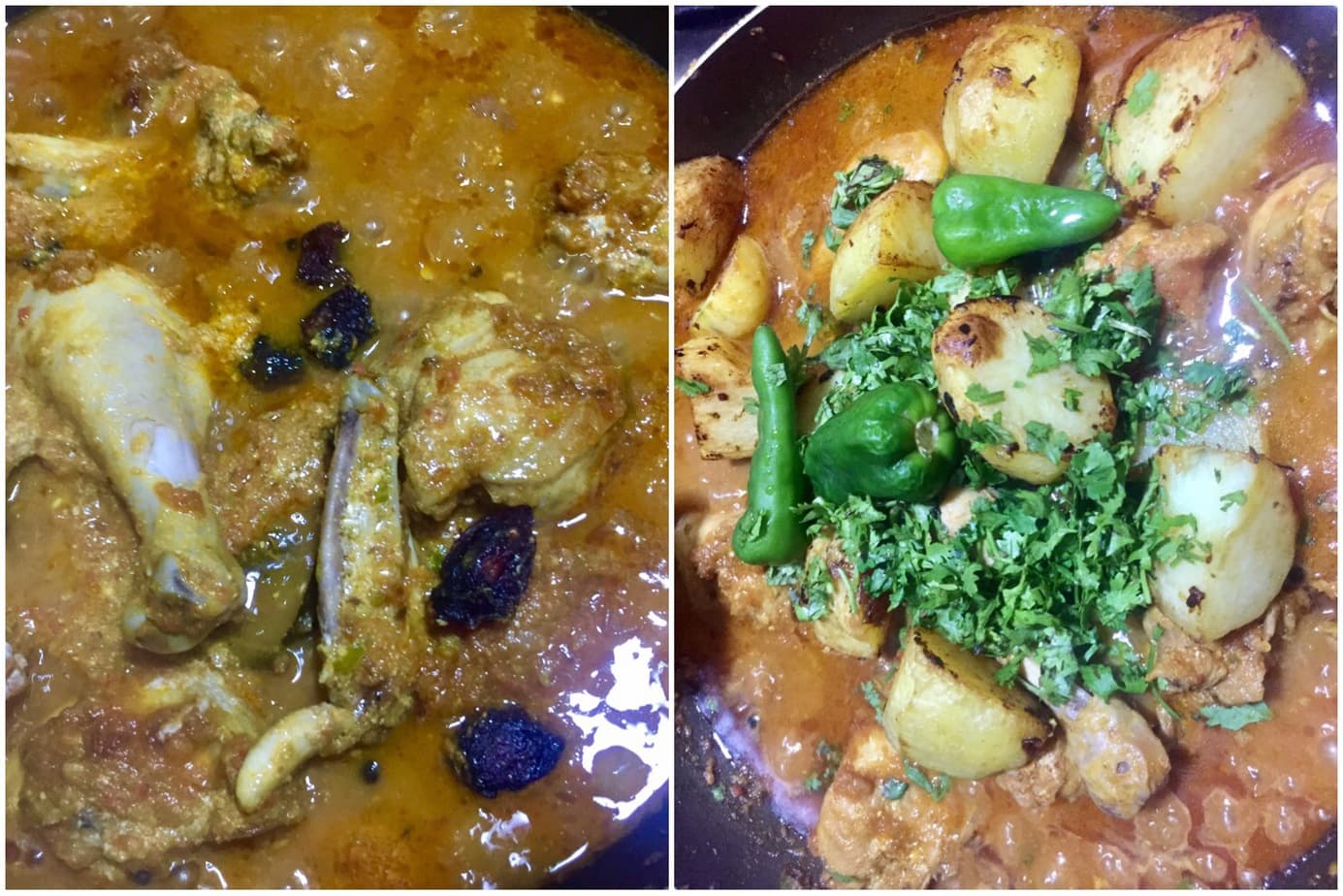 Simmer till you have thick gravy, add whole chiles and chopped coriander.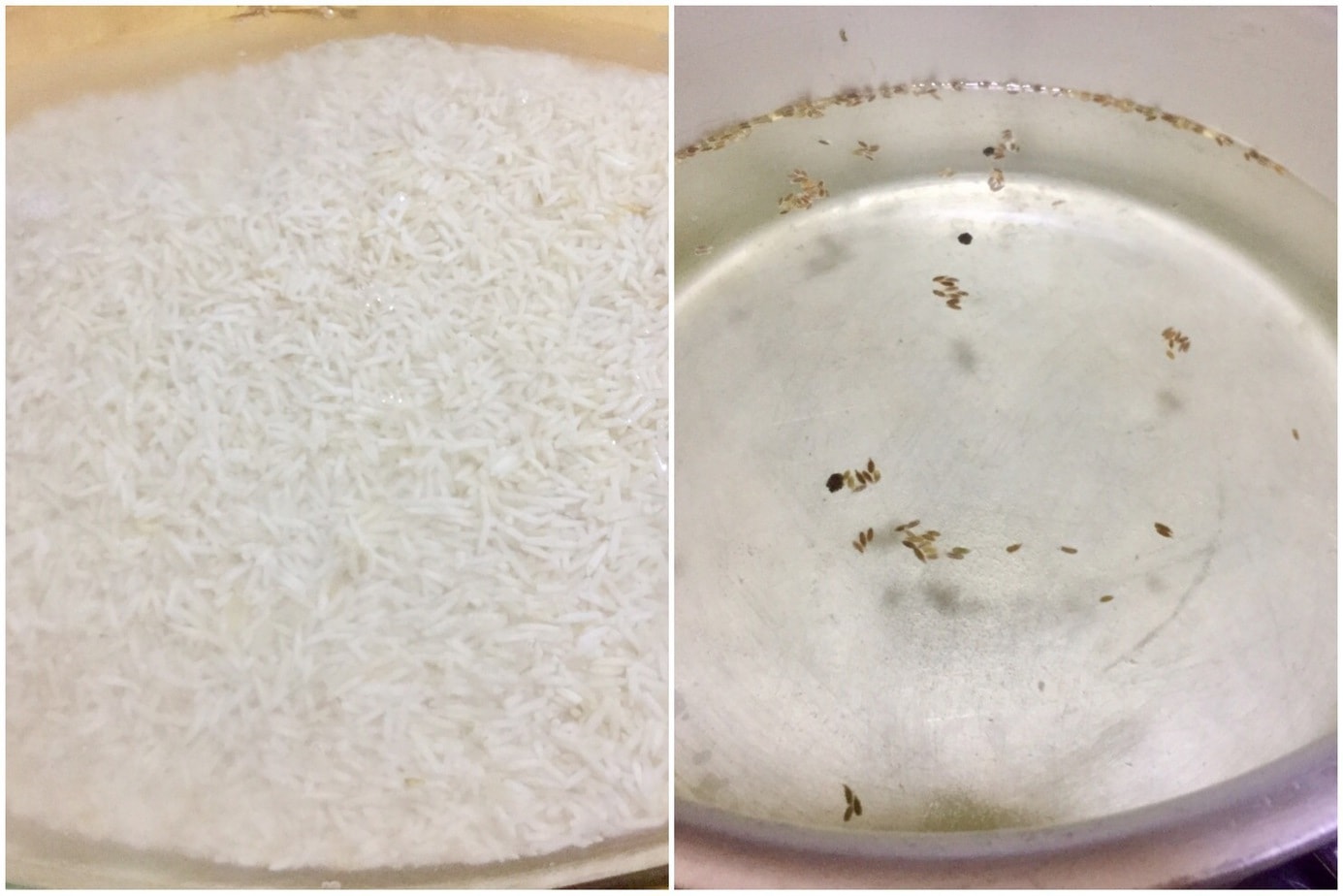 Fill 3/4 of a large and thick based skillet, add rice spices and salt. Bring it to boil and add soaked rice. Keep checking the rice, we need 1 kanni rice that are semi cooked to 80%.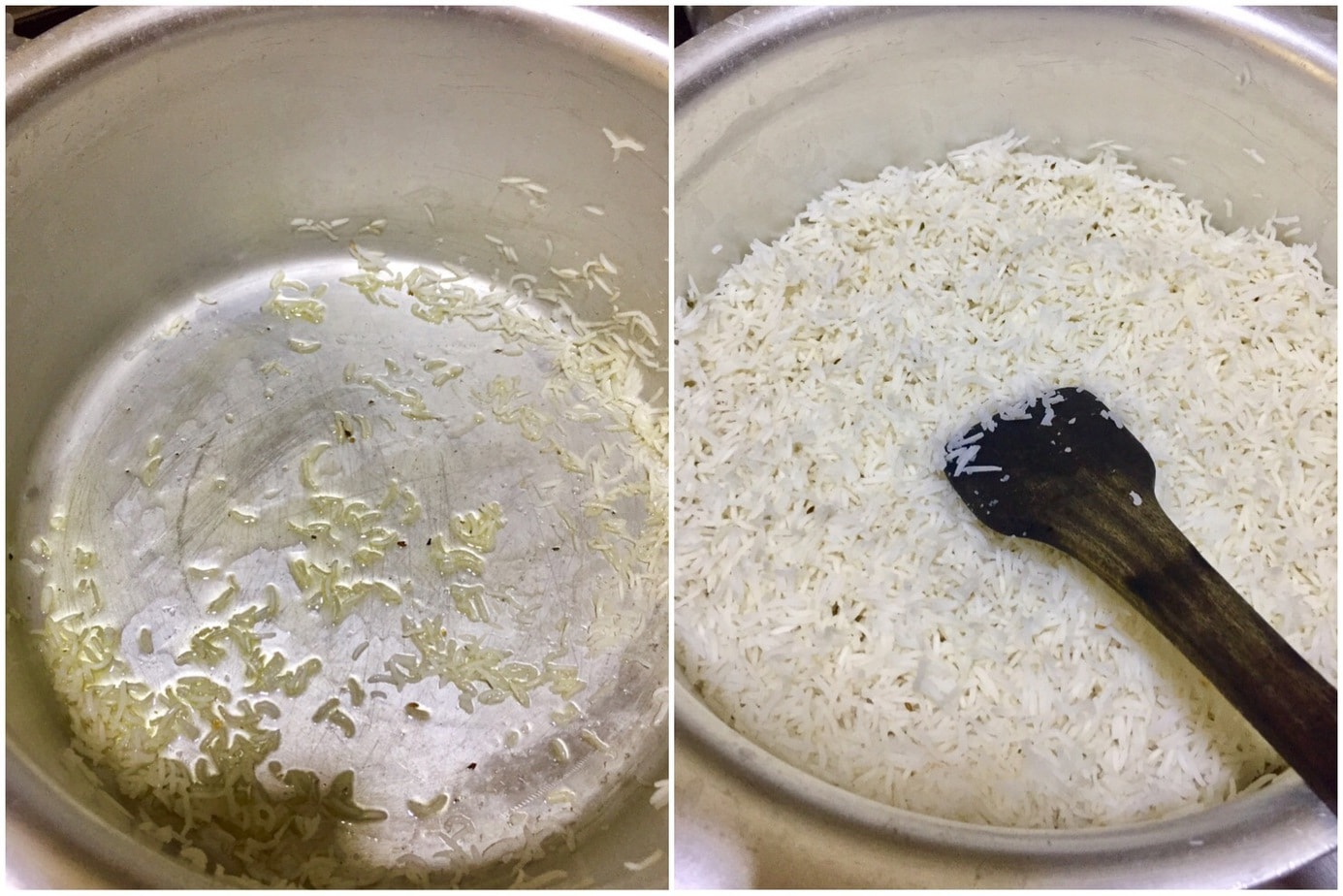 Strain the rice, and in the same skillet add the extra onion oil that was saved. Smear it on the base and add a layer of rice. We will put less than 3/4 of rice in the bottom layer and leave rest to cover on the top layer.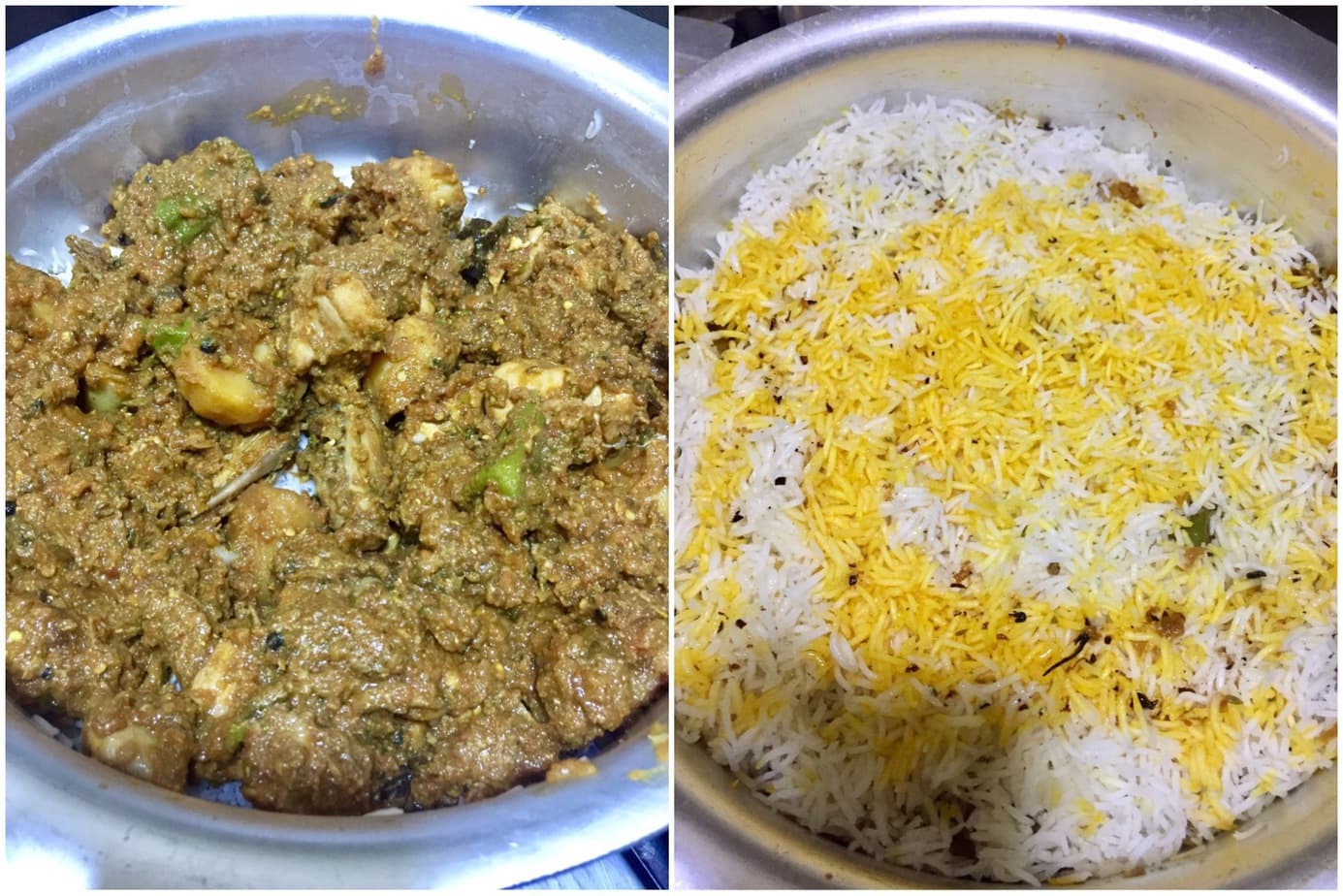 Add layer of chicken gravy.  Make sure to distribute chicken pieces and potatoes evenly. Add remaining rice to top of chicken gravy in a layer to cover it. Add food color dissolved in water. Keep the biryani for dum for 10-15 minutes. Steam should be visible in the pot when lid is removed.Give a standing time of 5-7 minutes and then serve with achar , chutney, salad and zeera raita.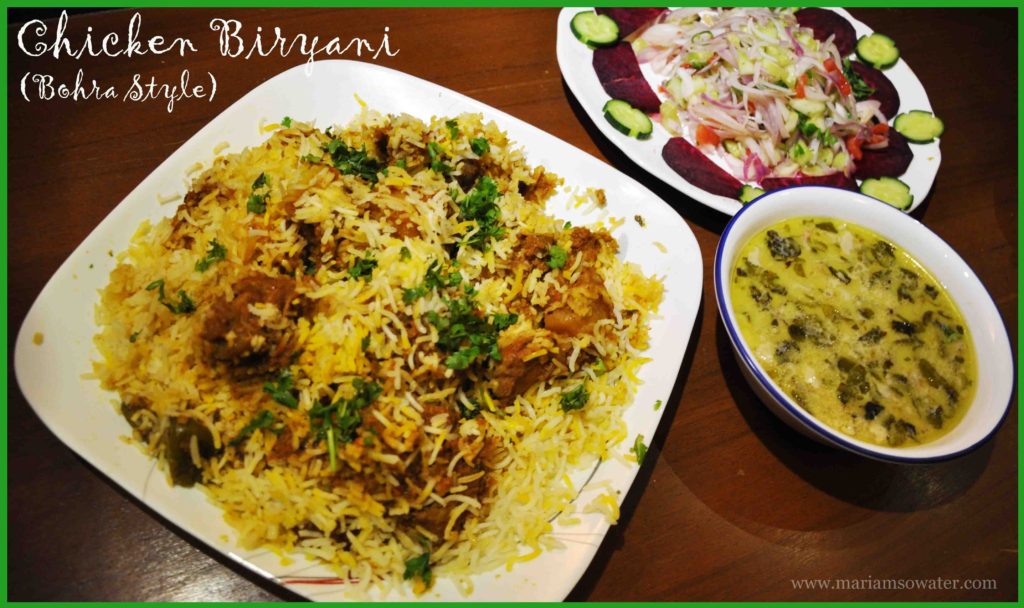 For making bohra mutton biryani
First of all in a skillet put meat, dry spices and hara masala with salt and oil. Cover the meat and cook till tender. 
Saute tomato in a pan and add crushes fried onions.
Cook ( bhunna) tomato and onions till oil is separated. Add cooked meat and cook for 10 more minutes. 
Follow rest of the step as it is.
Like, Comment, Subscribe to let us know your opinion and request. We are working everyday to bring best taste with easiest recipe.
Pin It, Watsapp, Share! Let everyone know you discovered this amazing recipe. SHARING IS CARING!
Click to check Out My Youtube Channel!