The taste of these Brigadeiro chocolate truffles is chewy toffee-like. Somewhat like caramel chocolate. The hidden roasted almond is an extra kick to the flavor. The best thing is that the Brigadeiro recipe has so many variations that make it great for serving parties as assorted truffles.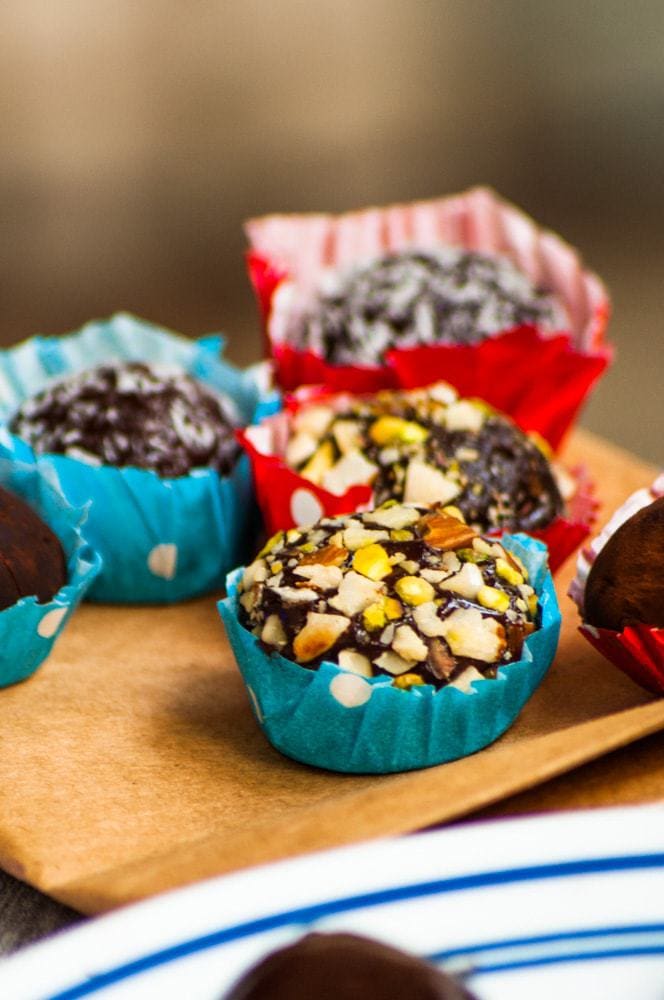 What more? They are pretty firm truffles and do not melt in the summer heat and taste equally great at room temperature. This makes it perfect to take away to a potluck.
What are Brigadeiro Truffles?
Brigadeiro truffles are a Brazilian sweet made with just 3 ingredients that are sweetened condensed milk, cocoa powder, and butter. Its origin is around world war 2 when there was a shortage of sugar in Brazil while sweetened condensed milk was available so the dessert came into being. Bitter circumstances can have joyful aftermath. Find more about Brazilian food at iheatbrazil.com.
The Brigadeiro balls were prepared for the electoral campaign in Brazil soon after World War 2. One of the candidates, Eduardo Gomes's military rank was Brigadier. So the dessert was named after his rank "The Brigadeiro". Interestingly, this candidate was handsome and single and that's why very famous amongst women.
The campaign slogan was " Vote for Brigadeiro, he is handsome and single." Although, the campaign still failed and Gomes lost the election but the world won it's widely hailed Brazilian dessert Brigadeiro. You can learn more about Brazillian Desserts here.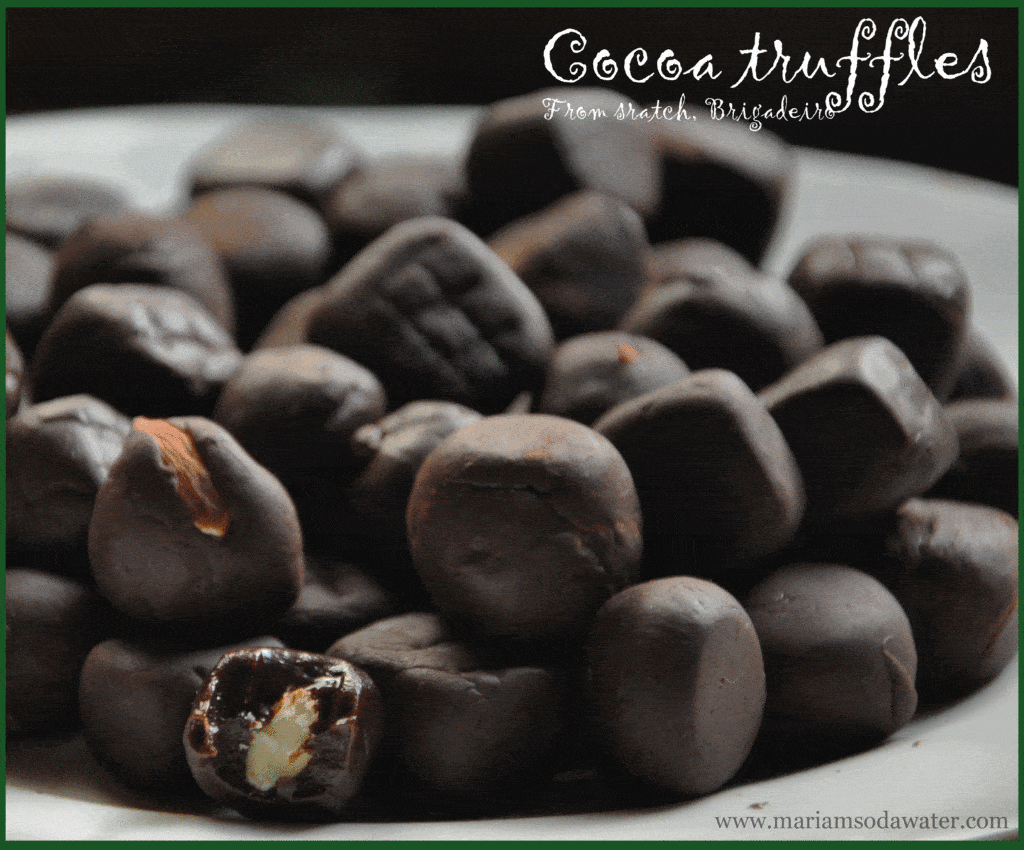 Variations
As stated above the original classic or traditional Brigadeiro that was created by a confectioner in Rio de Janeiro is unbeatable and tastes great. As time elapsed other variations also developed and took this humble yet delicious sweet to a gourmet dessert level.
Classic Brigadeiro:
The classic and most popular Brigadeiro is made with just three ingredients. A typical Brazillian would enjoy it directly from a bowl with a spoon. Yes! Without any hassle of rolling.
White Lemon Brigadeiro
Another version most popular after the classic is Lemon Brigadeiro. The lemony taste balances the amount of sweetness of the dessert. The sweet and sour taste is an absolute pleasure to the palate. You can skip the cocoa powder of the basic recipe for that white color. Then roll it in a colored sprinkle of your choice or/and lemon zest.
Chocolate Coffee Brigadeiro
Coffee lovers will have coffee anyway, right? So you just add some instant coffee powder and WOOH! You have created a new flavor. Both cocoa powder dusting and chocolate sprinkles topping tastes great with this brigadeiro variation.
Cookie n Cream Brigadeiro
We don't disappoint cookie lovers here. Just add the cookie's cream to the basic mixture and use cookie crush to roll. And you have a new brigadeiro flavor created. You can use any cookie flavor you like, Oreo works best.
Nut Brigadeiro
You can prepare any nut variations of your choice by adding a little nut powder or nut butter to the basic filling. Then roll in crushed nuts of the same type. In this way, you can create peanut brigadeiro, cashew brigadeiro, and pistachio bridgadeiro.
Coconut Brigadeiro
For coconut brigadeiro, you can have classic brown or white filling with coconut milk powder added. The topping is obviously dried coconut flakes.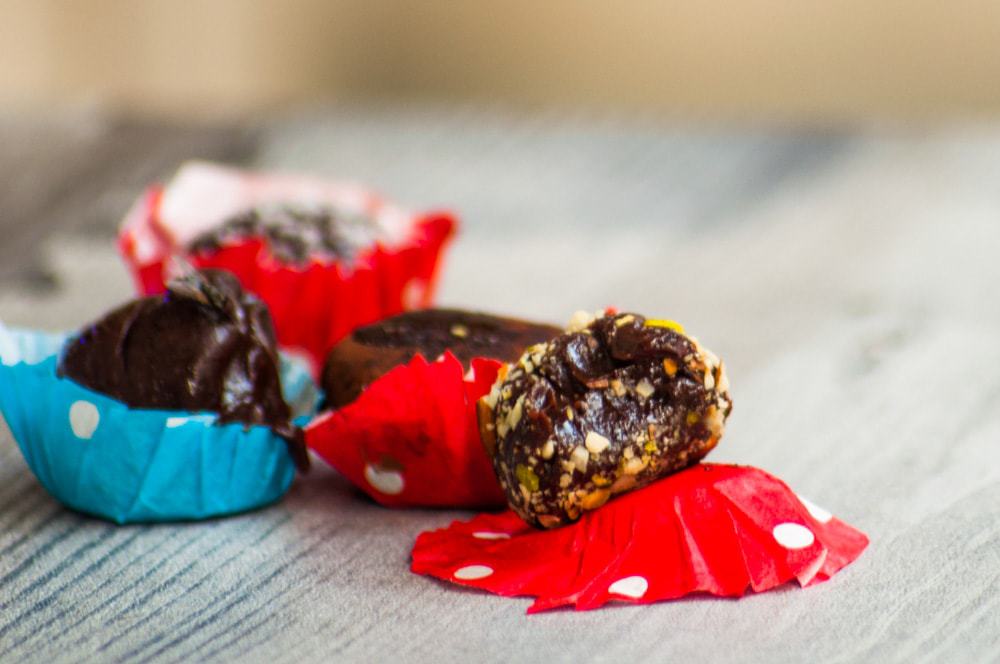 Tips to make Brigadeiro Chocolate truffles with variations
Brigadeiro truffles with variations make an amazing gift of assorted truffles during any occasion, especially Christmas and Valentine's Day.
The most important tip is to work in batches. Do not get tempted to double or triple brigadeiro recipe. I've found working in batches works best and gives you plenty of time to roll the dessert while another batch cools.
Now, if you are working in batches and you need to double or triple the recipe. You can make a new variation in each batch and it gives you 2-3 different flavors. They are perfect for a gift of assorted chocolate truffles.
Using the basic brigadeiro recipe, you can create a number of variations and combinations of toppings. Get more creative by using cute bonbon cups to serve these.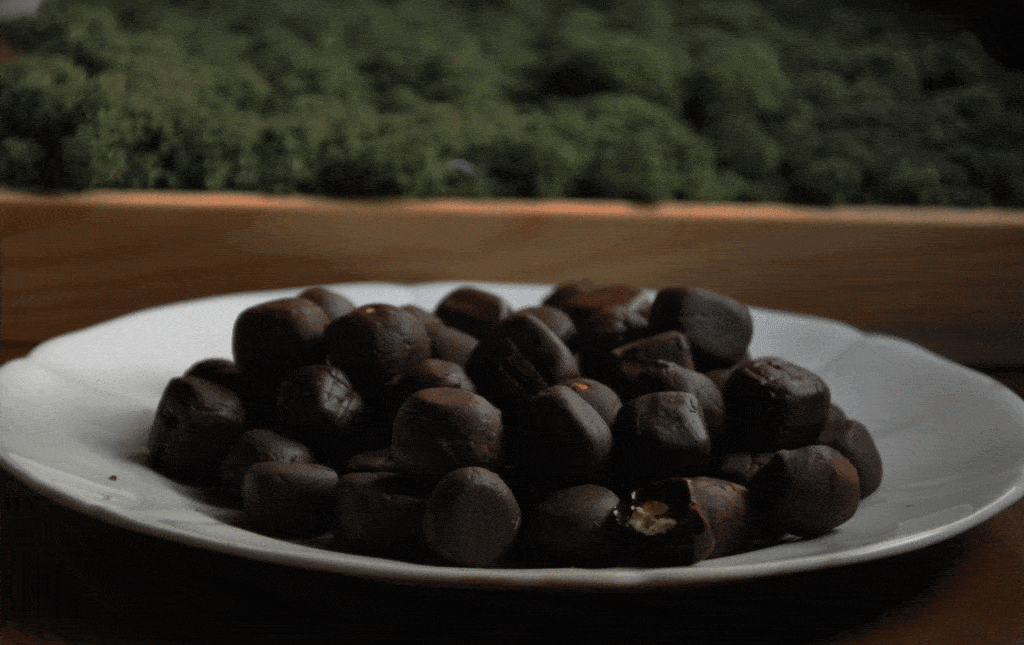 Cooking time for Brigadeiro:
This is a simple recipe and you can't go wrong with it. Less or more cooking can alter the texture of the dessert slightly. The longer you cook, the chewier and firm it gets. If you under-cook it, it will be soft and melt in the mouth fudge-like.
If you cook it very long then the sugar will turn into hard caramel and dry. You'll miss the fudgy chew. I recommend 15 minutes of cooking on medium-low heat. The mixture should leave the sides of the pan and you can see a ball of mixture, that's when you stop.
Anyway, you'll get the hang of it after making it 1-2 times. The cooking time might vary a bit for different brigadeiro recipe variations. So look for visual signs.
How to make?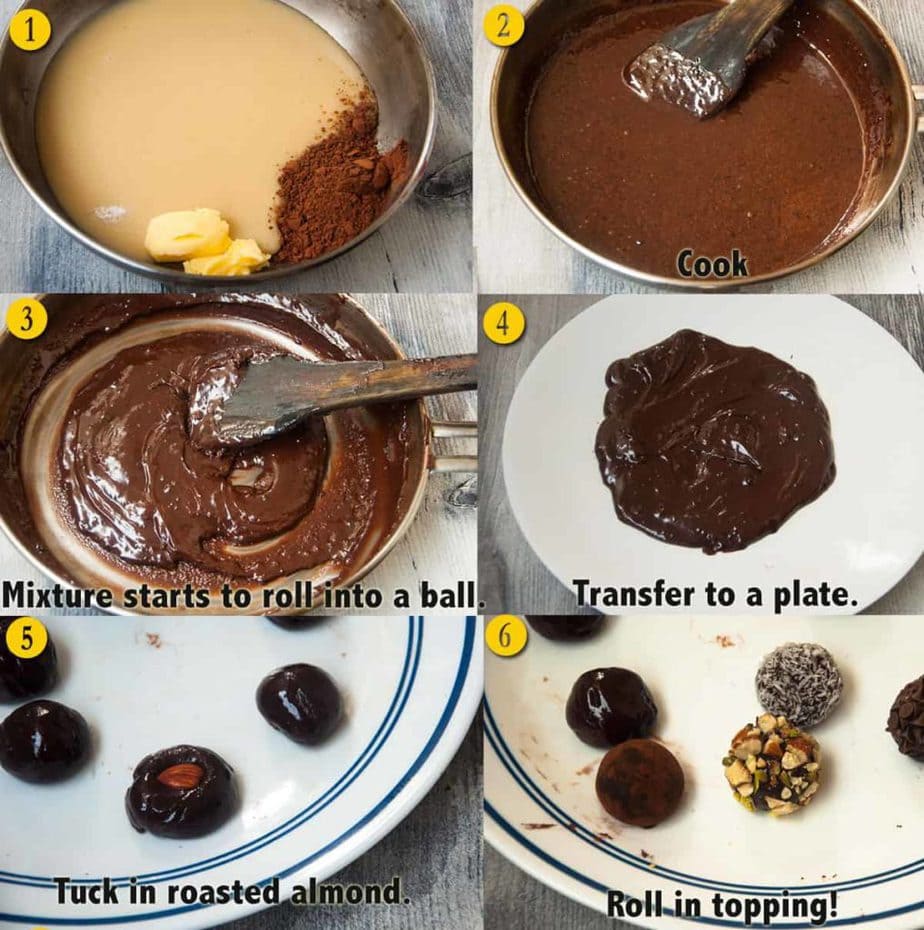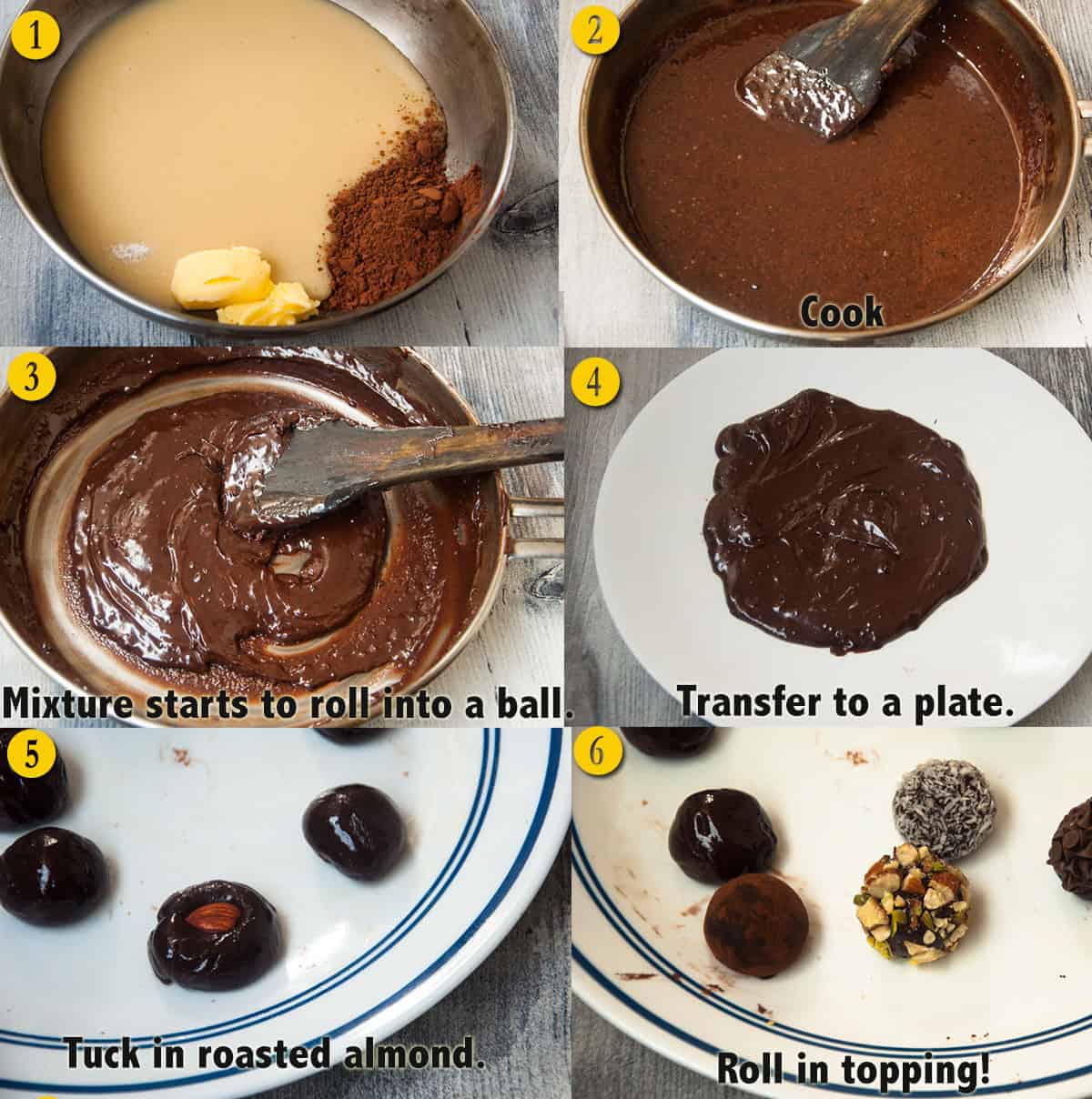 Grease a plate with butter and set aside. Take butter cocoa condensed milk and salt in a heavy-bottomed pot. (Skip cocoa powder for White or Lemon brigadeiro and add the additional flavoring at this stage.)
Mix well and cook on medium-low heat with constant stirring.
Keep scraping the sides and bottom of the pan. The mixture will thicken. When you see the mixture has reached the stage as shown in pic 3. Cook another 3-5 minutes until the mixture is thick enough to form a ball and leaves the side of the pan. (Thick mixture will make chewy truffles and very soft dough as shown in pic 3 will make a soft fudgy ball. Avoid overcooking as this will dry out sugar and make a crumbly ball.)
Transfer mixture to the greased plate. The mixture will be very hot due to caramelized sugar, handle with great care and avoid direct contact with skin. Let the mixture cool for 25 minutes.
When the mixture is cool enough to handle, grease hand with butter and, make a ball, press it, and insert an almond. Roll it again into a ball and set aside. Similarly, roll all the balls.
Then, roll each truffle ball in cocoa powder, crushed nut, chocolate sprinkles, colored sprinkles, or desiccated coconut. Store at room temperature for 12 hours or fridge for 3-4 days in an air-tight jar. Serve in bonbon cups.
The balls start to dry out gradually after 12 hours and change its texture. But they still taste good.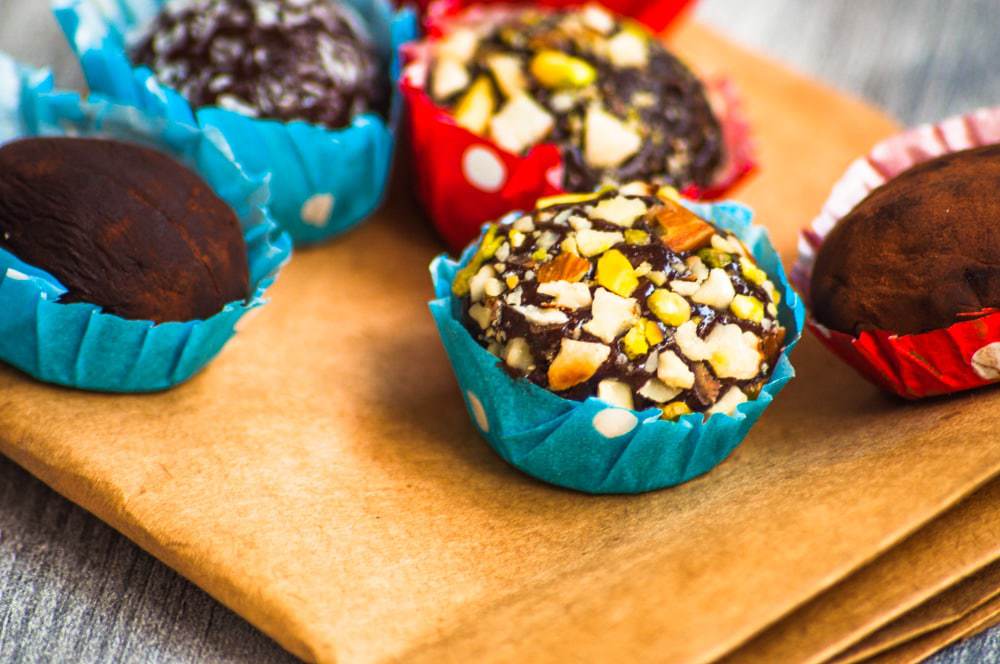 Want more bite-size desserts? Check these!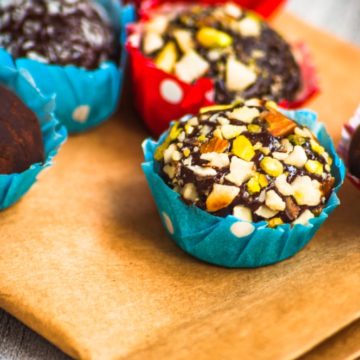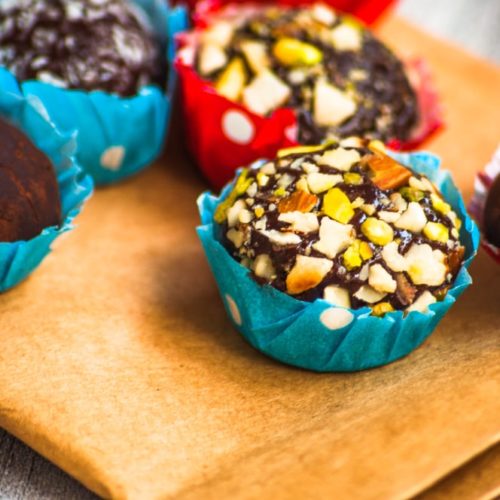 Brigadeiro Recipe, 7 Variation
Work in batches if doubling or tripling the recipe for best results.
Print
Pin
Rate
Servings :
15
small truffles
Ingredients
Classic Brigadeiro filling
1

can

sweetened condensed milk,

3

tablespoon

cocoa powder

,

good quality

2

tablespoon

butter

,

more for greasing.

1

pinch

salt

15

almonds

,

roasted (optional)

Chocolate sprinkles

,

can be used for all variations
Chocolate coffee Brigadeiro
1

tablespoon

instant coffee powder

Cocoa powder
White Lemon Brigadiero
4

tablespoon

lemon juice

1

tablespoon

lemon zest

Coloured Sprinkles

,

to roll
Cookie Cream Brigadeiro
10

Chocolate sandwich biscuits
Cashew Brigadiero
1

tablespoon

cashew powder or butter

Crushed Cashew

,

to roll
Peanut Briagadeiro
1

tablespoon

peanut powder or butter

,

more to roll

Crushed Peanuts

,

to roll
Pistachio Brigadiero
Crushed pistachio

,

to roll
Coconut Brigadeiro
2

tablespoon

coconut milk powder

Dried coconut flakes
Instructions
Classic Brigadeiro
Grease a heat proof plate or baking sheet.

In a thick-bottomed pot add condensed milk, cocoa powder, salt, and butter. Mix well. (Also add the additional flavoring ingredient if using.)

Cook on medium-low heat the mixture for 15 minutes with constant stirring. Cook until the mixture gets thick and leaves the sides of the pan forming a ball like soft dough. Adjust heat if the mixture is sticking to the bottom. Keep scraping the sides with a spatula.

Pour mixture on a greased plate and let it cool for 25 minutes.

When the mixture is cool enough to handle roll out a small ball and tuck an almond in it hiding it completely. Repeat to make more balls.

When all balls are ready, roll each ball in the desired topping or simply in the chocolate sprinkles. Brigadeiro truffles are ready to serve. Store at room temperature or in the fridge for 3-4 days. These start drying after 12 hours and lose it chewy softness.
Chocolate Coffee Brigadiero
In step 2 also add instant coffee powder along with the cocoa powder and follow the rest of the steps as it is. Roll in cocoa powder or chocolate sprinkles.
White Lemon Brigadiero
In step 2 also add lemon juice and lemon zest instead of cocoa powder and follow the rest of the steps as it is. Roll in coloured sprinkles.
Cookie n Cream Brigadiero
Separate the cream and cookies. Crushed the cookies into fine powder and reserve for rolling.

In step 2 also add cream from cookies along with the cocoa powder and follow the rest of the steps as it is. Roll in cookies powder or chocolate sprinkles.
Cashew Brigadiero
In step 2 also add cashew powder along with the cocoa powder and follow the rest of the steps as it is. Roll in crushed cashew.
Peanut Brigadiero
In step 2 also add peanut powder or butter along with the cocoa powder and follow the rest of the steps as it is. Roll in crushed peanuts.
Pistachio Brigadiero
Follow the steps of classic brigadeiro as it is. Roll in crushed pistachio.
Coconut Brigadiero
In step 2 also add coconut milk powder along with the cocoa powder and follow the rest of the steps as it is. Roll in dried coconut flakes. ( For white coconut bragadeiro skip the cocoa powder and use 5 tablespoons of coconut milk powder.)
Nutrition Information