Chicken Khao Soi recipe that is quick and easy. The authentic Burmese Khaosay recipe calls for a meat curry and a separate coconut curry. Instead, I have made one simple but equally delicious curry that is both quick and practical. Yes, I combined goodness of both curry in one pot -- super quick and yummy!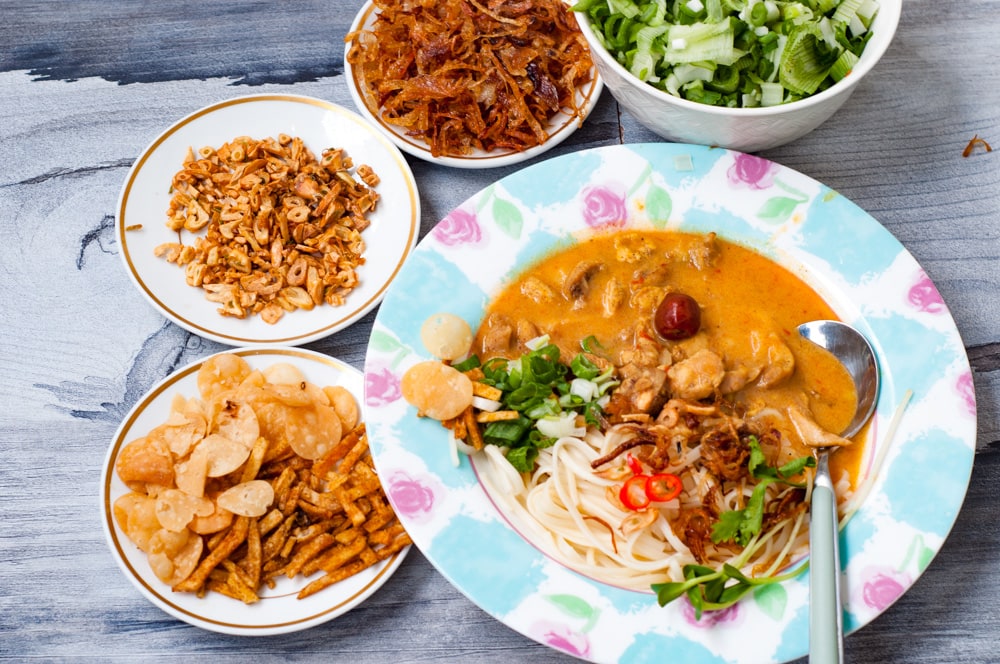 What is Khao Soi?
Khao Soi is the South East Asian main course. It mainly consists of egg noodles and coconut-based curry. It is widely served in Myanmar, Laos and Northern Thailand. The dish has many versions and is also spelled differently in different places (like khao soi, khao suey, khaosay, Khausa and so on).
Some regions like Burma serves a separate meat-based curry along with coconut curry. The Burmese version of Khao soi has a prominent Indian influence in the form of Indian spices and gram flour curry base. On the other hand, the Thai version has Fish Sauce and Thai herbs and spices.
What does Chicken Khao Soi taste like?
Regardless of region, Khao soi has moderately spiced coconut curry. Red chili flakes or hot sauce is served on the side for extra heat. This version of curry has a light coconut and chicken flavor. If you like Indian curries, you'd love this Burmese version of Khao soi. The dish requires some time to cook but it's worth the pain as it's so delicious and yummy.
What do you serve with Khao Soi?
You can serve khao soi with a number of condiments and the condiments also vary from region to region. Fried garlic, fried onion, fried peanuts, lemon wedges, cilantro are the most popular accompaniments. Apart from it, chips, fried and crispy crackers, boiled egg slices, sliced onions, and green onion can also be served.
Tips for variation:
While I do appreciate authentic dishes, I strongly believe taste is a personal choice so here are few variations to this curry.
Protein Option: This dish tastes amazing with boneless beef or mutton instead of chicken. You can also add tofu and other veggies for vegetarian khao soi curry.
Noodles option: Egg noodles are typically served with khao soi but ramen instant noodles also taste great.
Unhealthy: a friend of mine adds cream, butter, and milk to this curry and skips the gram flour. This curry is fluffier without the flour but rich and buttery.
If you mix little vinegar with sliced onion for accompaniment. The sour kick tastes great.
How to make Chicken Khao soi?
The recipe shares steps for frying onions and garlic for accompaniments. If using pre-friend onions and garlic just skip those steps.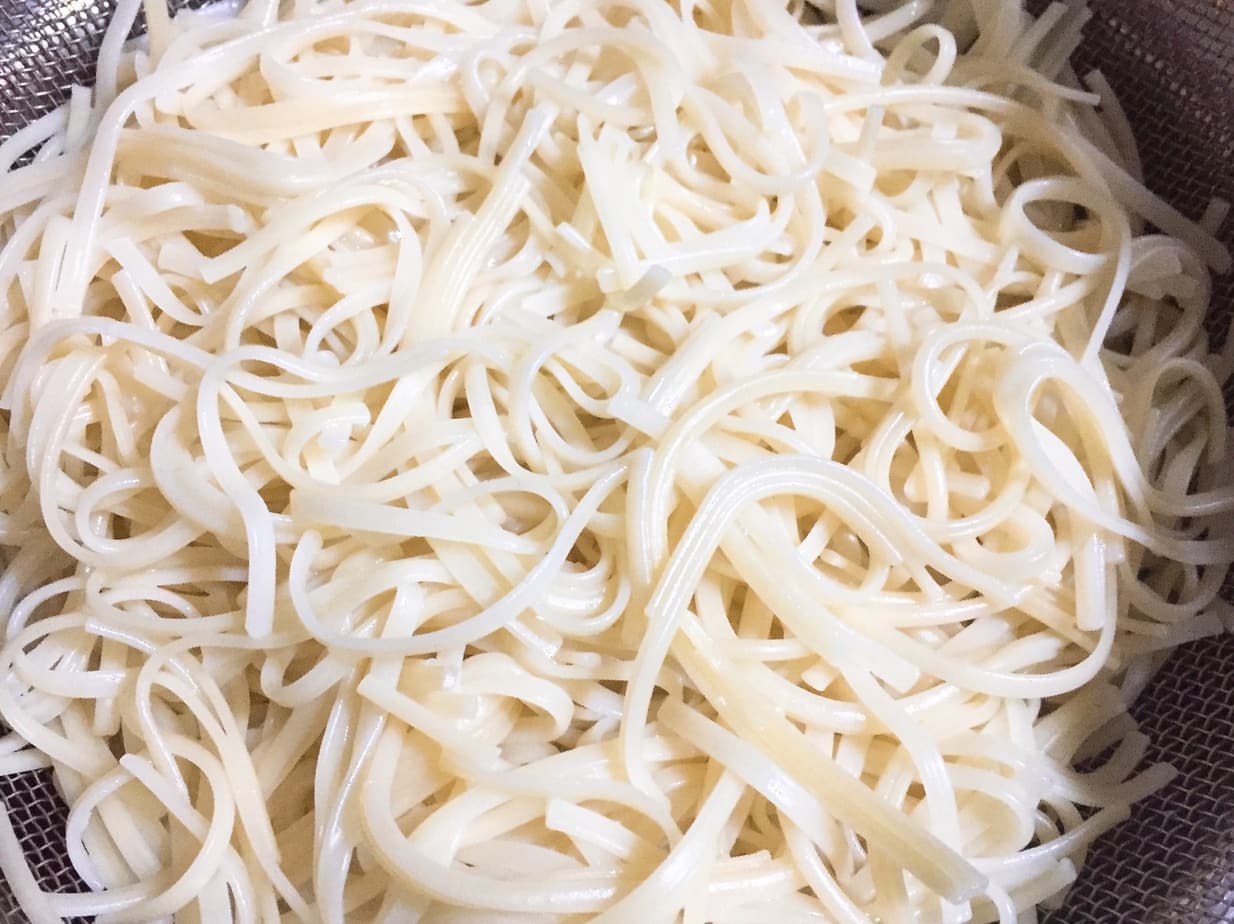 Boil noodles as per instructions on packet and set aside.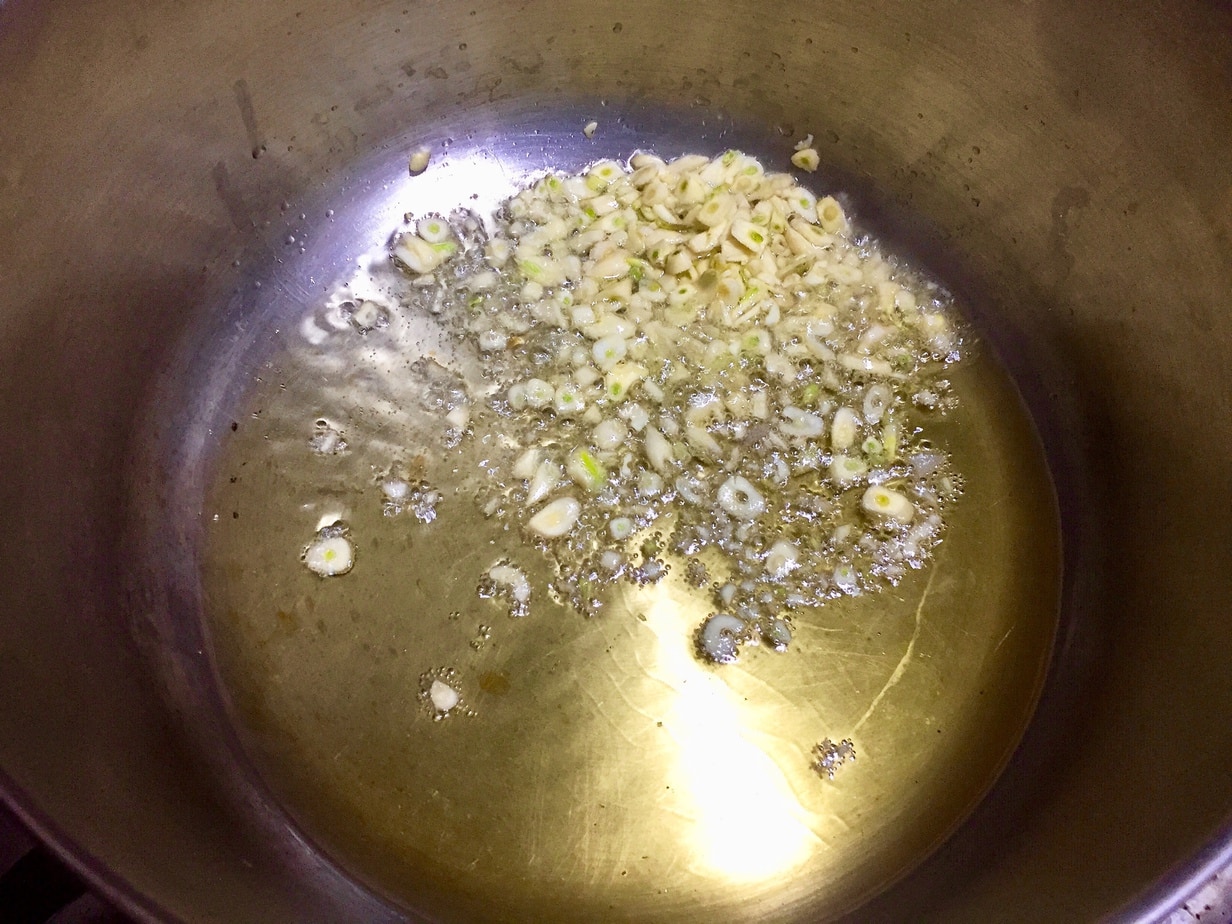 Fry sliced garlic until golden and set aside. (Skip this step if using store brought fried garlic)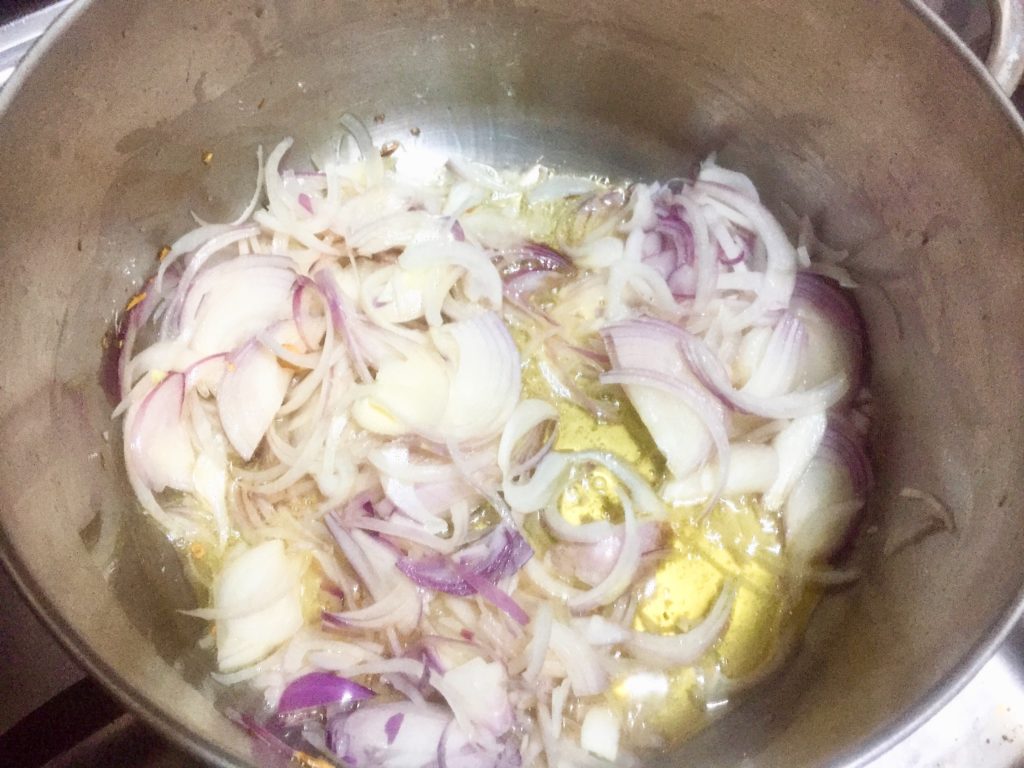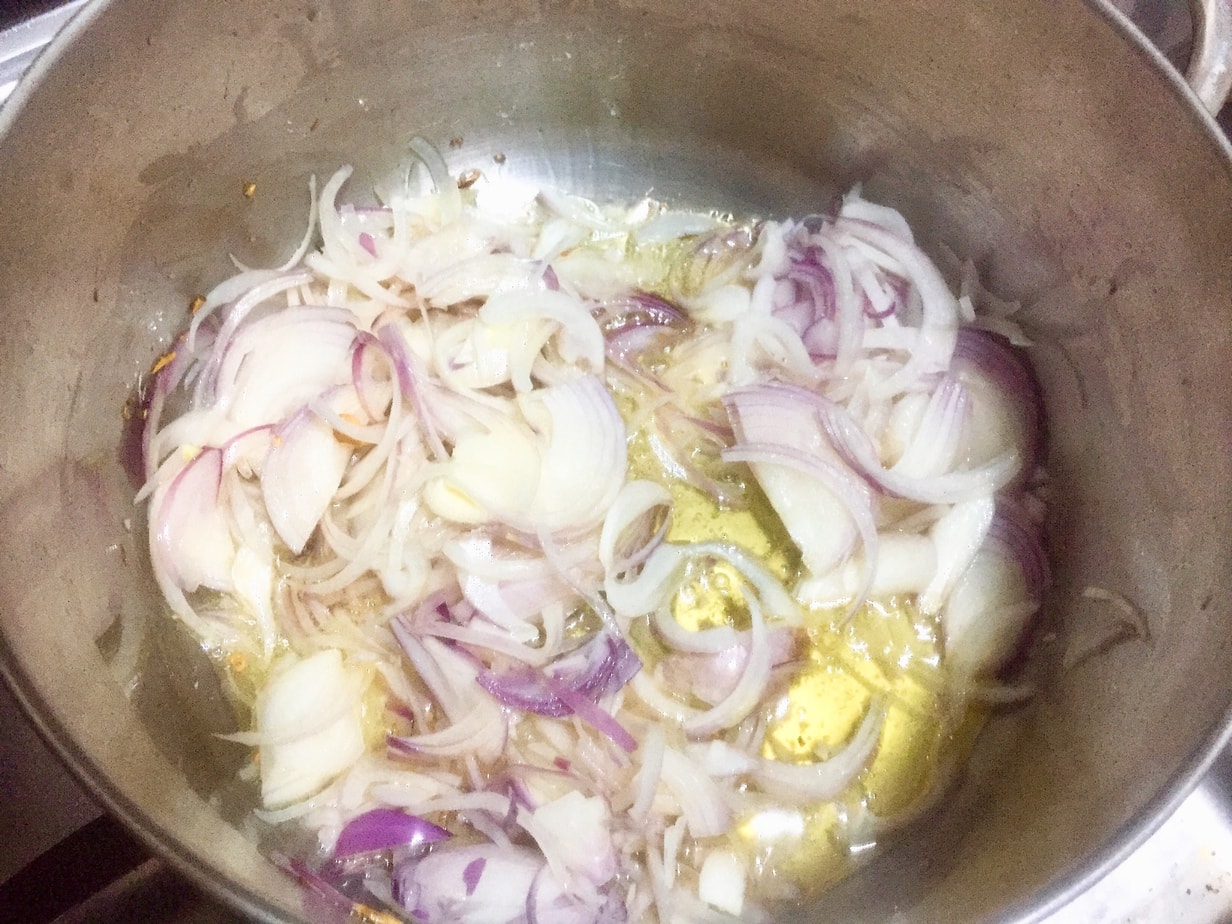 In the same oil fry onions slices until golden.
Remove half onions for garnish and we will use half fried onions in the coconut curry. Also, remove extra oil from the pot leaving only 2-3 tablespoons of oil.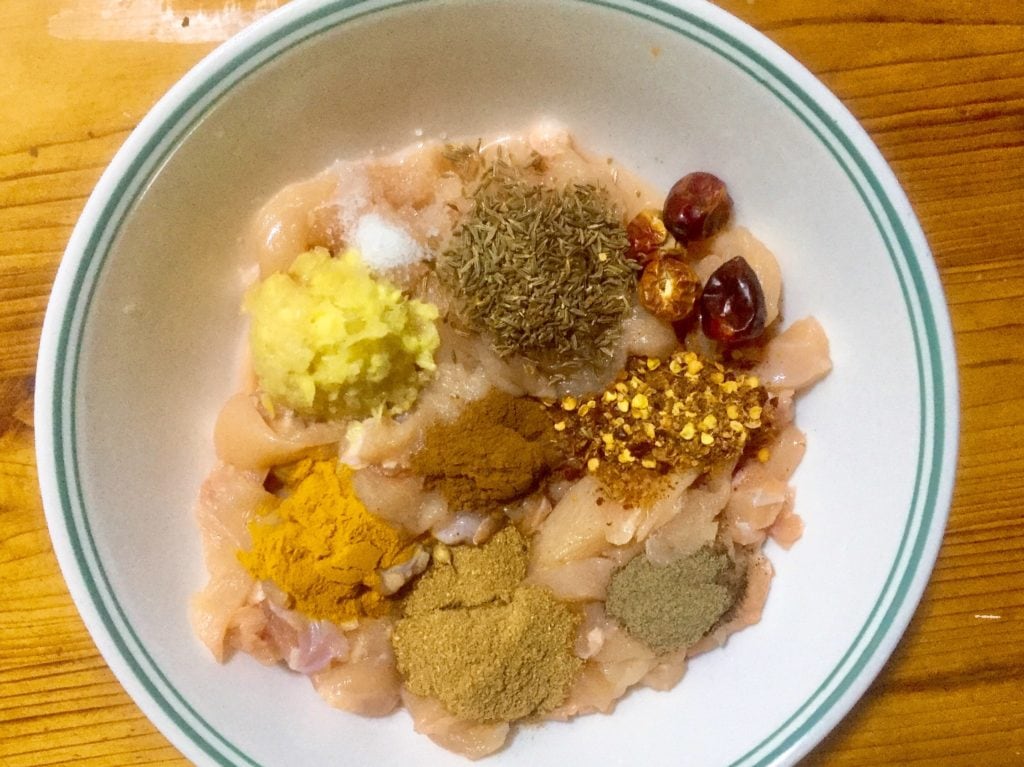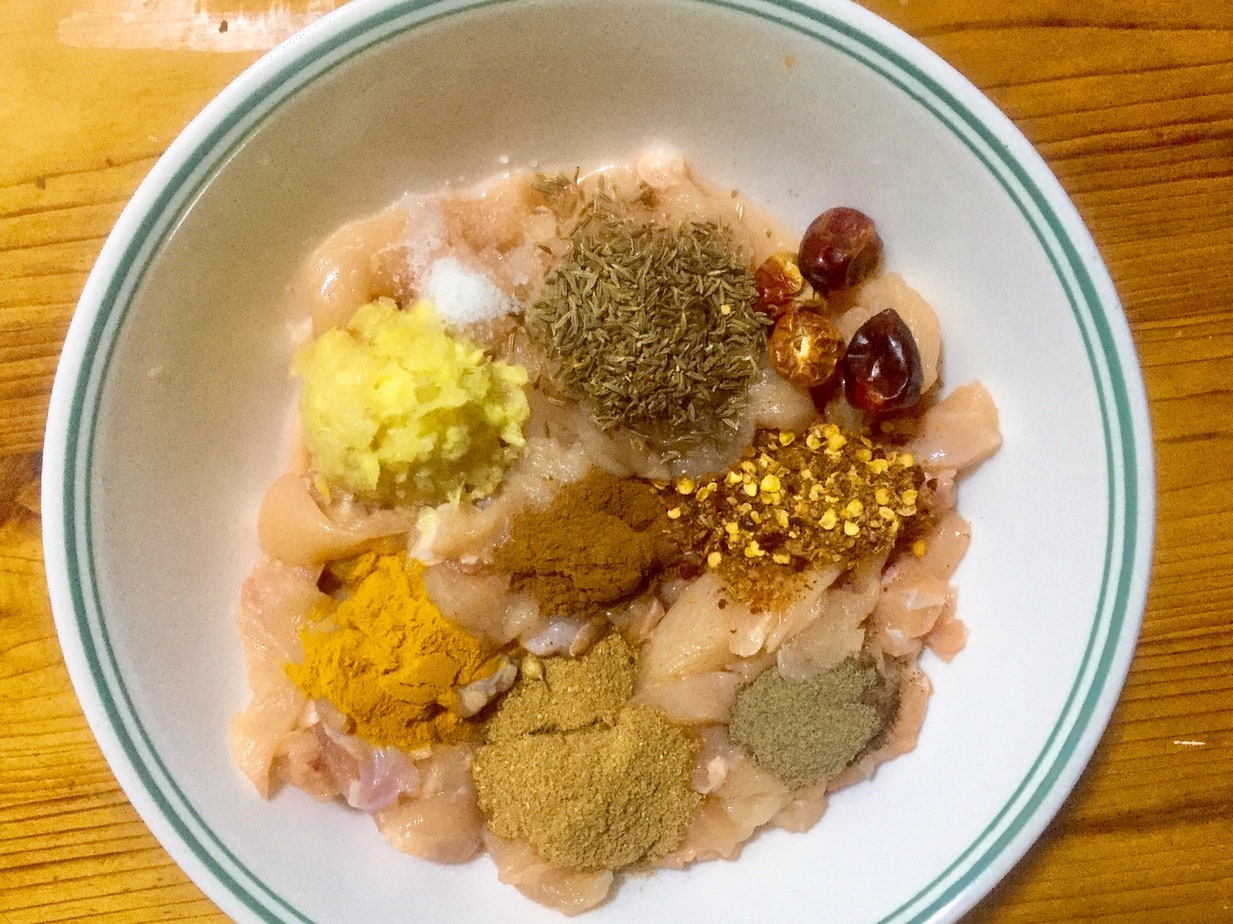 To make khao soi curry put the chicken and all the spices and half of the fried onions in the pot. (Save the other half of fried onions for garnish.)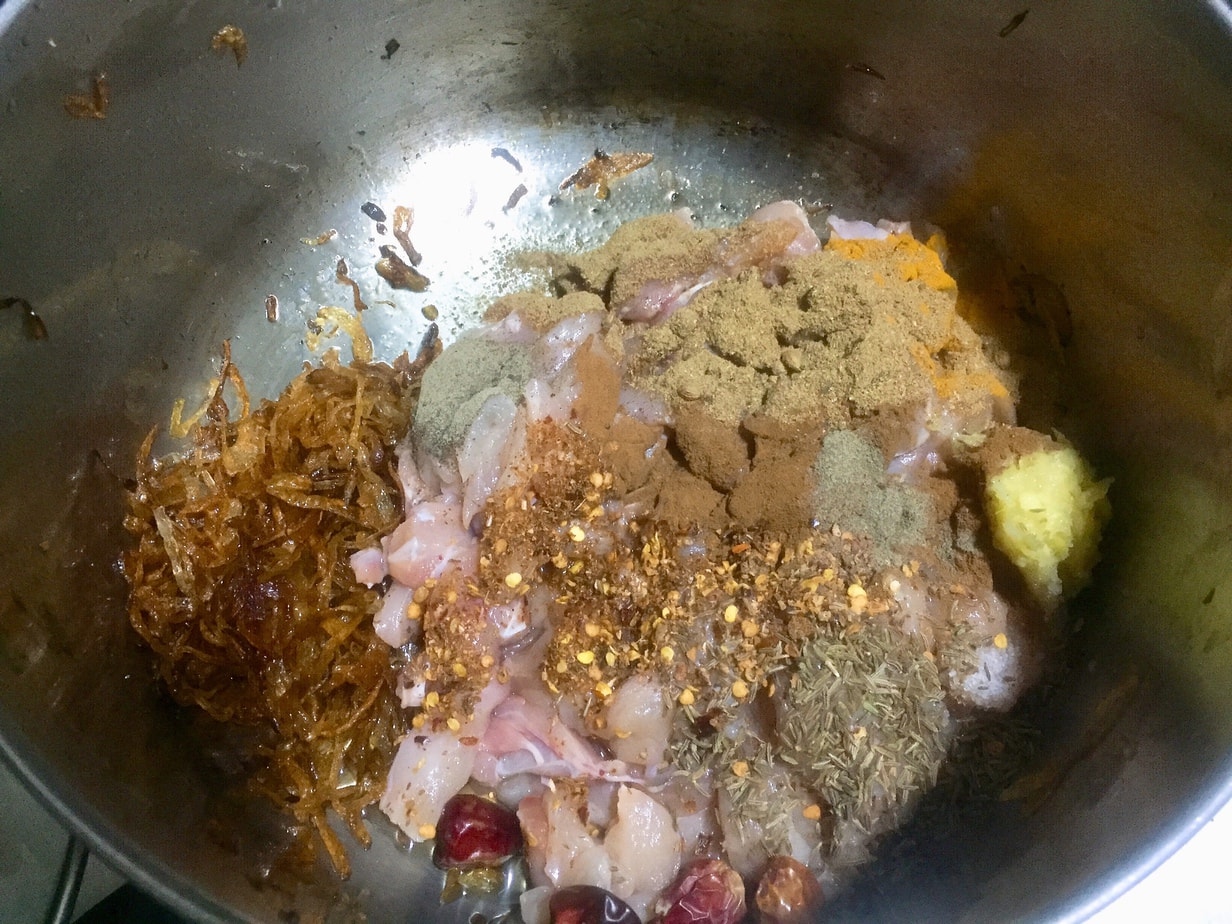 Cover the lid and cook on medium heat for 15 minutes until chicken is tender.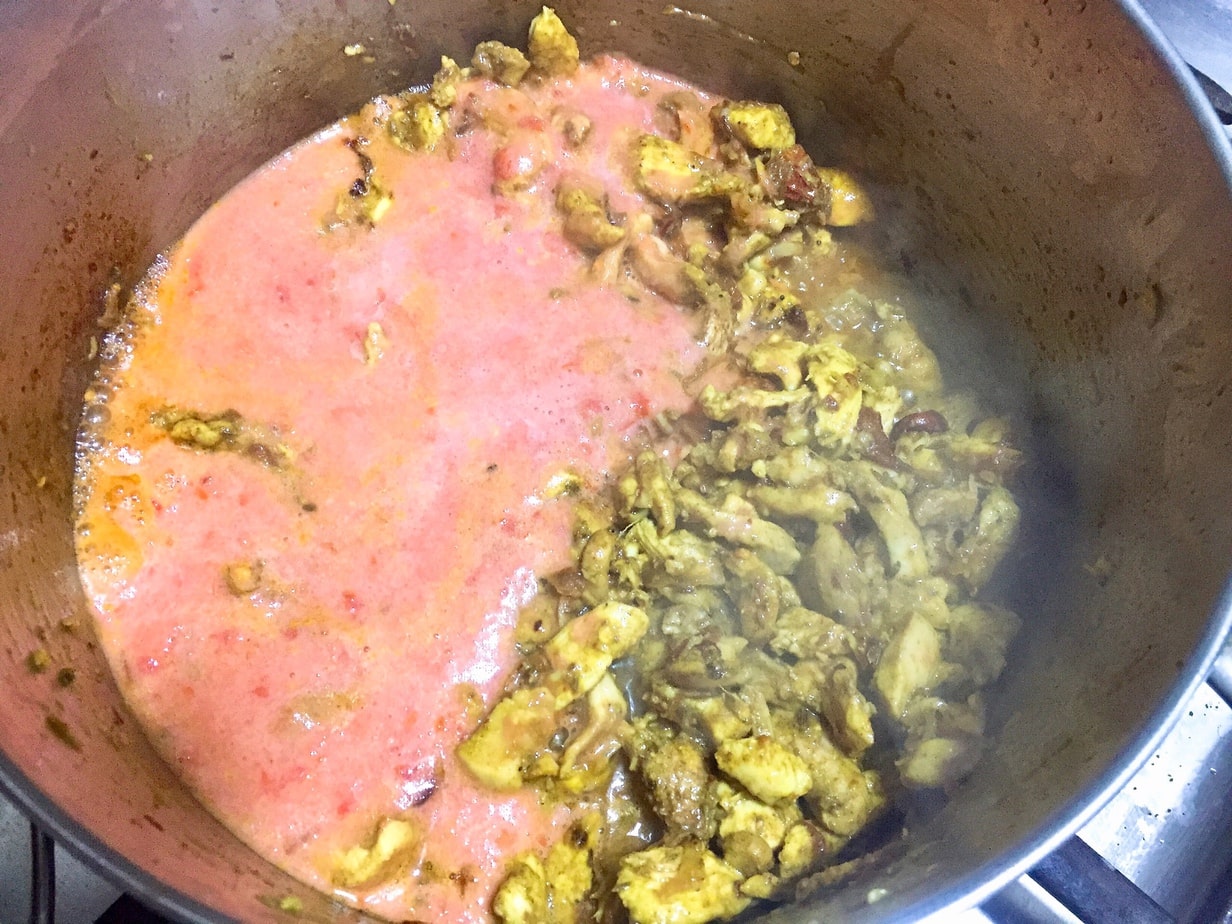 Blend tomatoes in a blender until it forms a smooth tomato puree. Now add tomato puree and cook further for 5 minutes.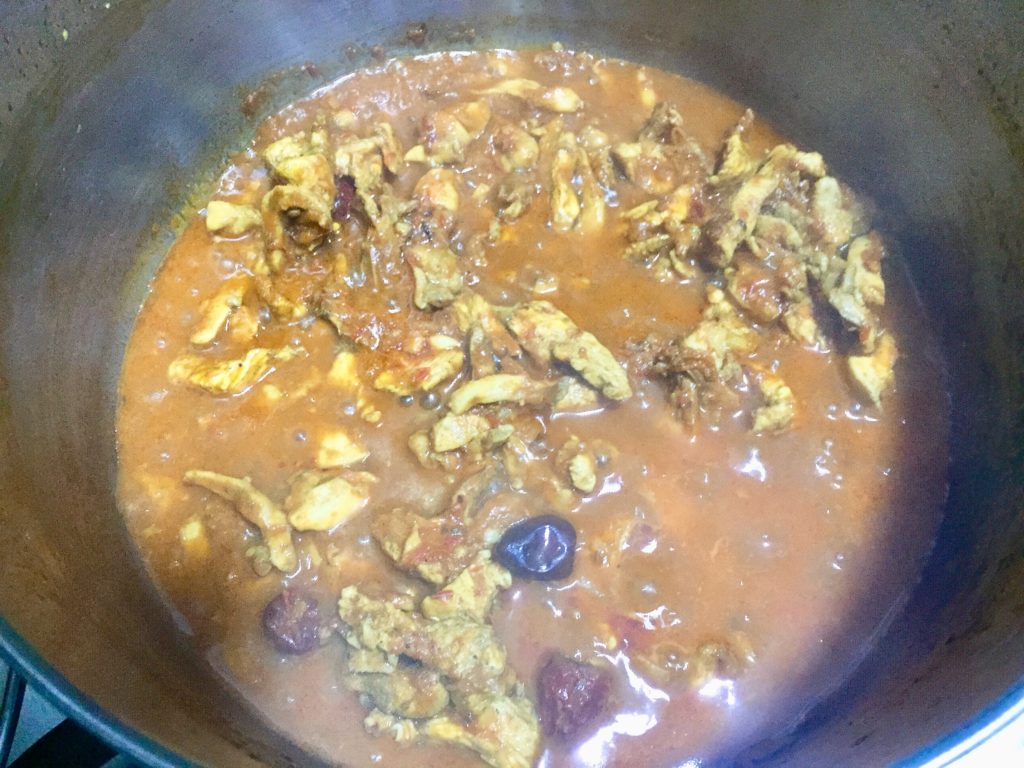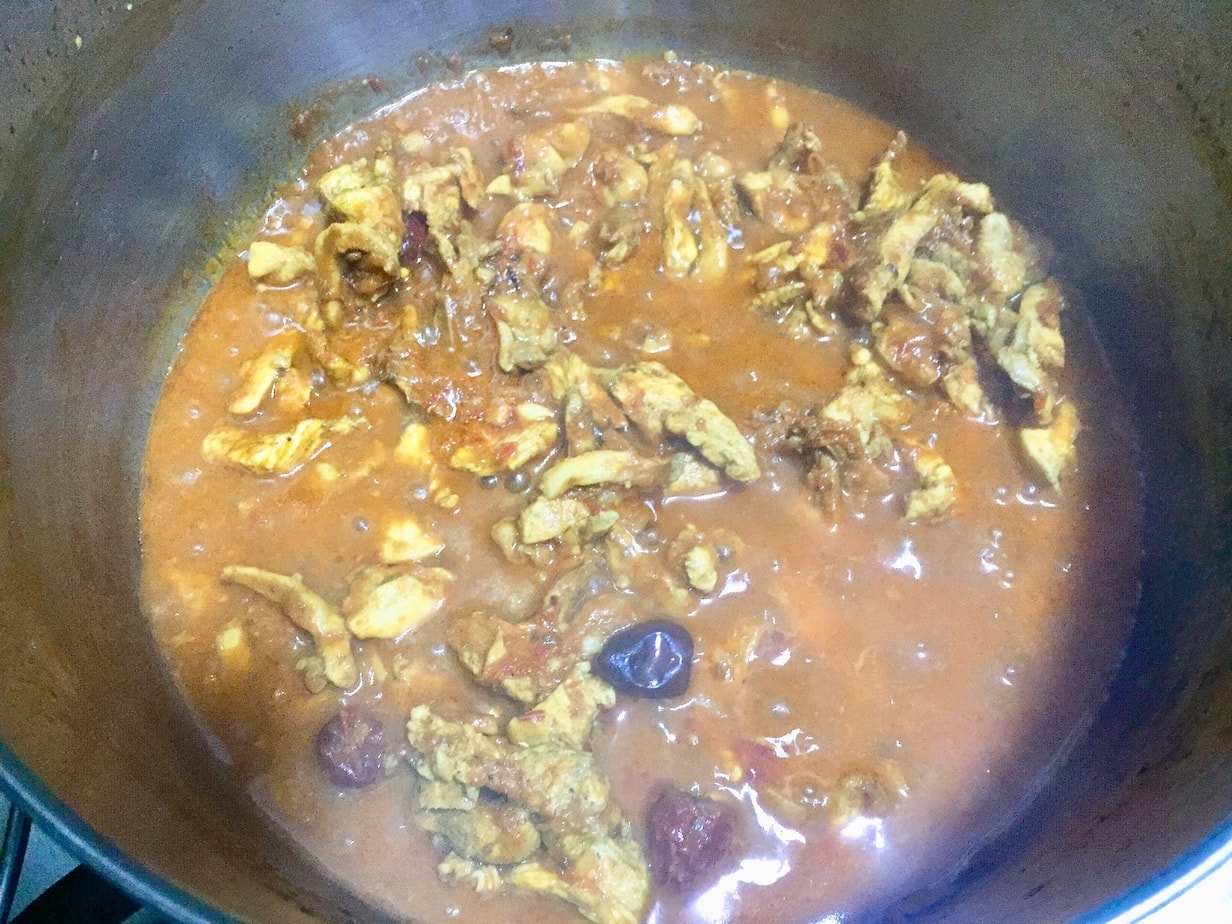 When you see a thin layer of oil separating on top and sides of the pan tomatoes are cooked. Reduce heat and let the curry simmer for a few minutes.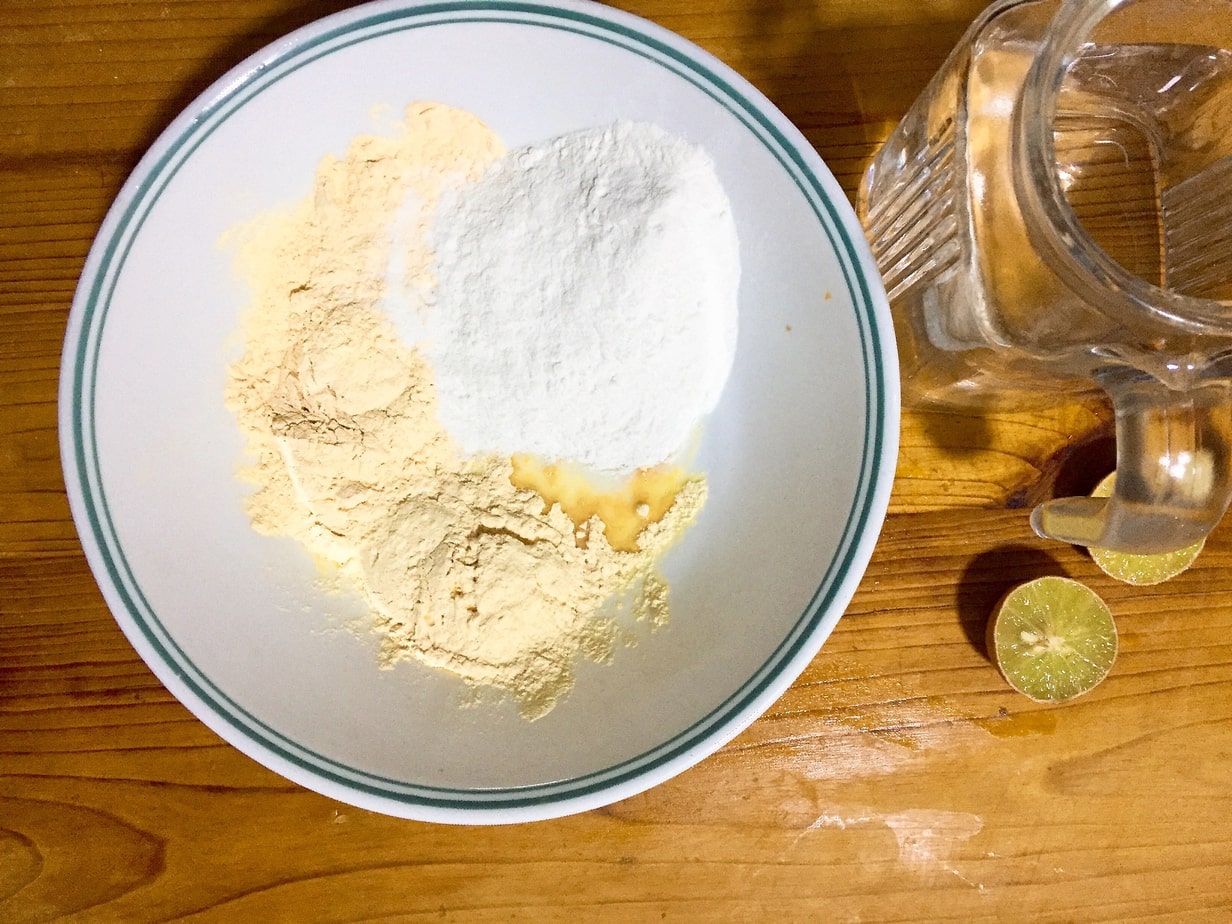 Meanwhile, mix coconut milk powder, gram flour lemon juice, and water in a bowl. This is Burmese Khao Soi curry base. ( You can also use coconut milk instead of coconut milk powder, then skip the water in the curry or use less water. )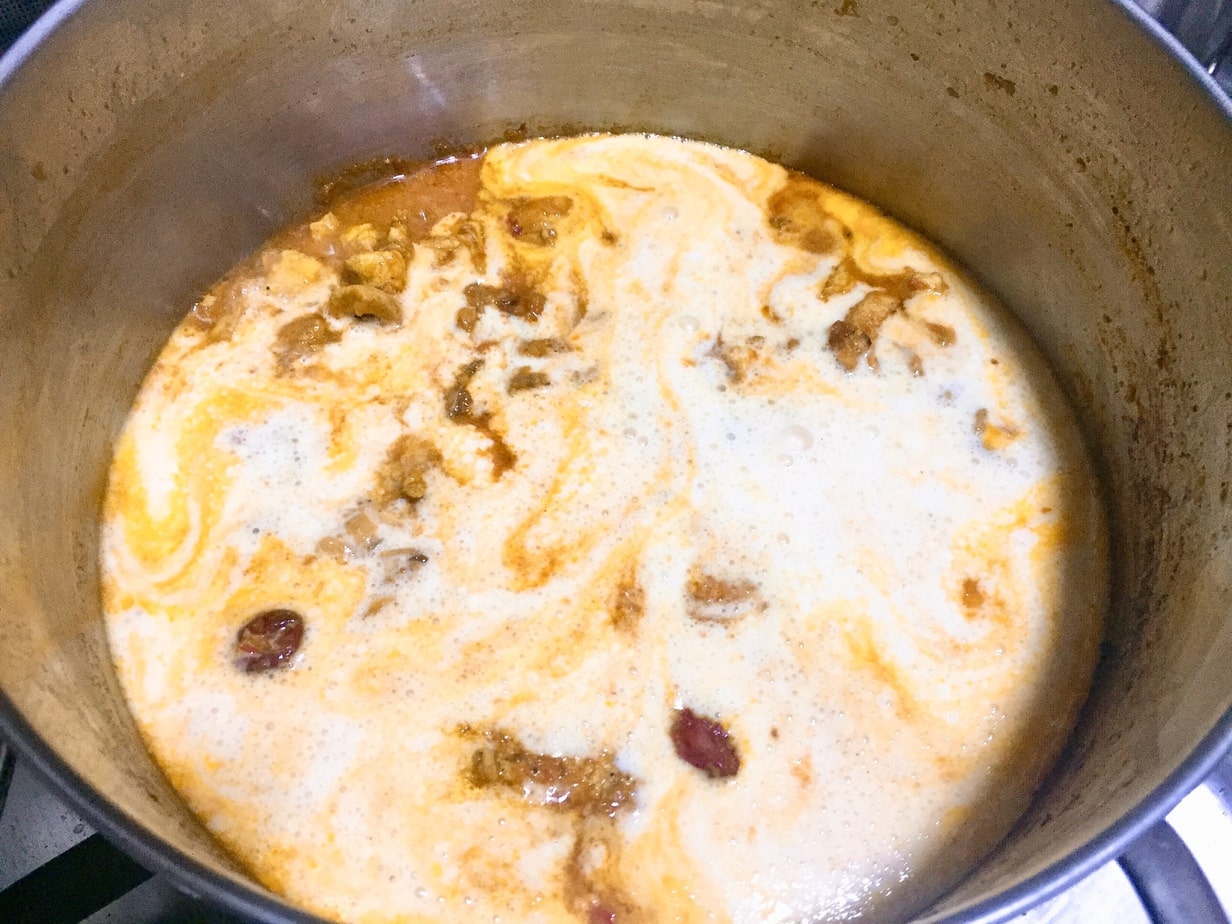 Add the prepared gram flour mixture in the pot. Cook for few minutes until it thickens.
Add 2 or more cups of water or as per the desired consistency.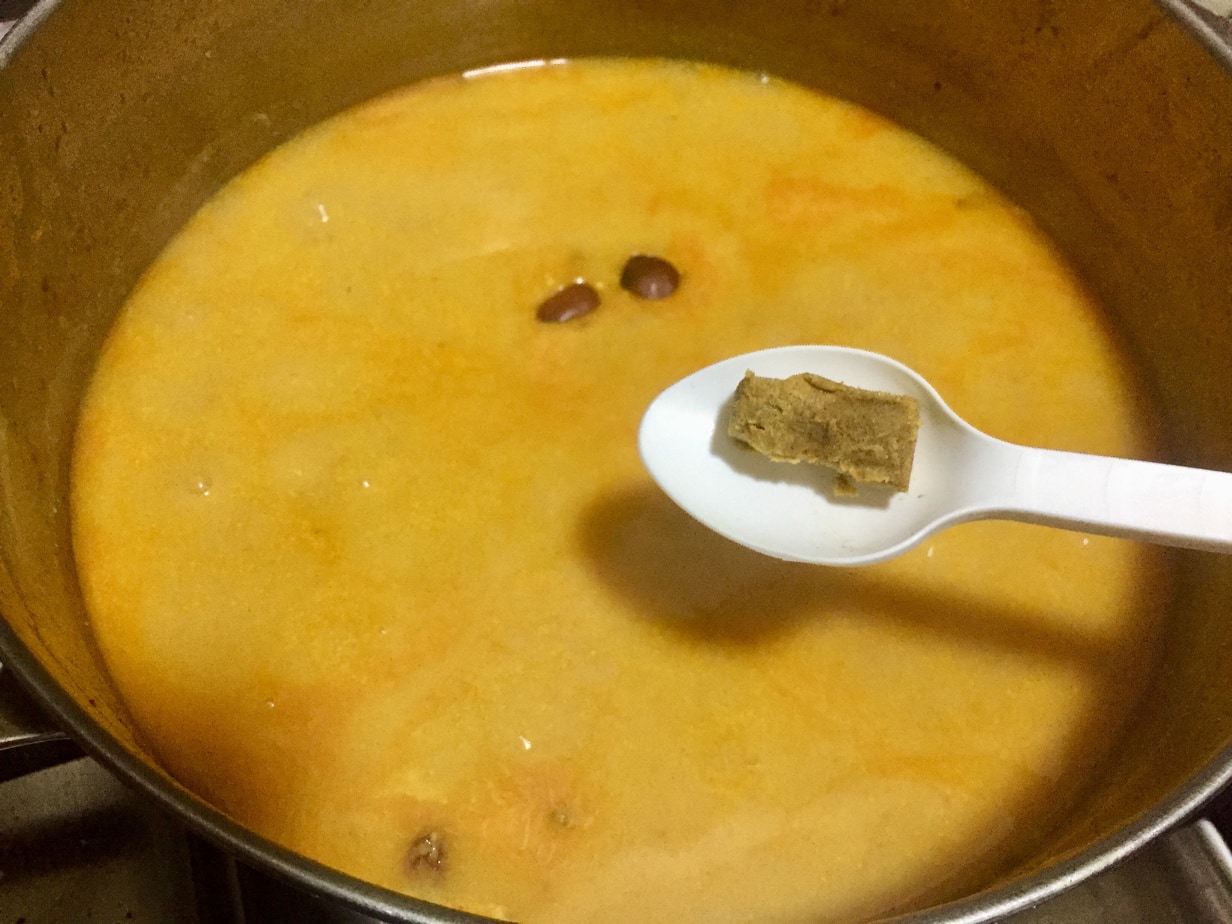 Finally, I also add half chicken cube/bullion for flavor kick but it is optional. Let the curry simmer for 15 minutes before serving. To serve Khao Soi, first, fill a bowl with warm noodles and pour the curry over it. Be generous! Then top with the accompaniment of your choice and dig in. Enjoy!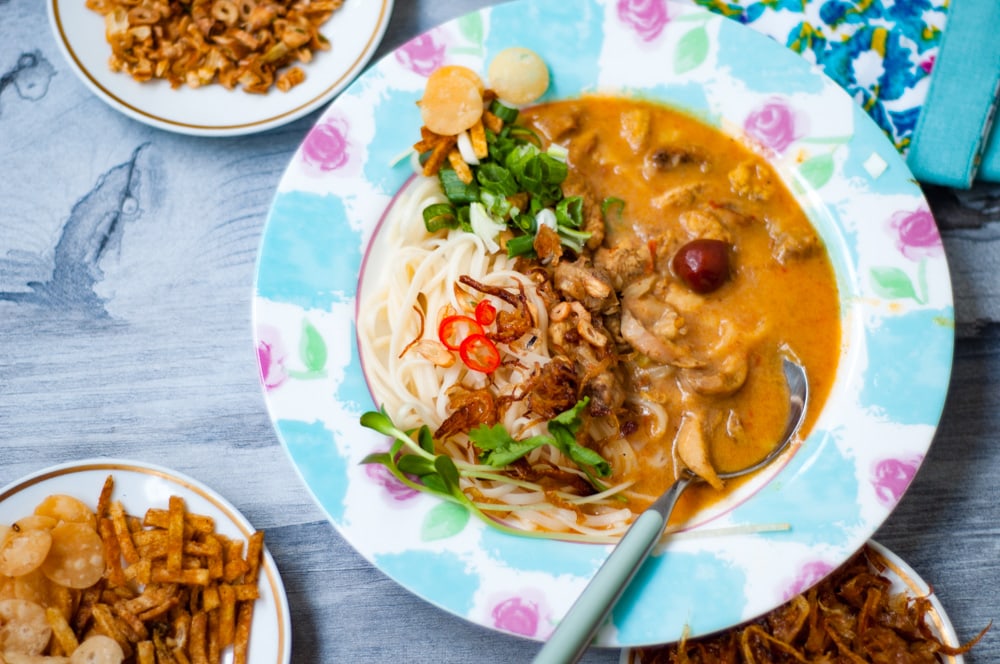 Hungry for noodles? Check these!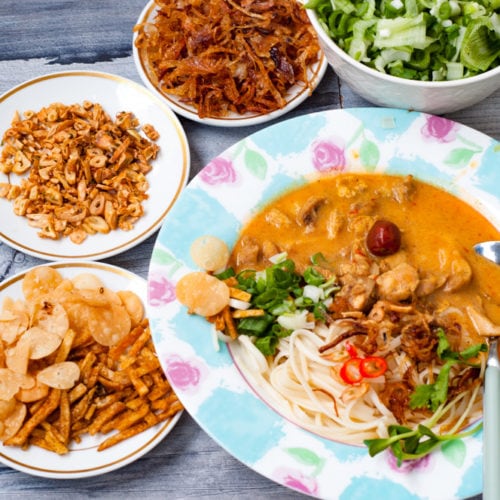 Burmese Khao Soi Recipe
This is a quick yummy and easy way to make Khao Soi, serve with fried onion and garlic, chilli slices, and a splash of lemon juice.
Print
Pin
Ingredients
Oil

,

to fry (about 1 cup)

3

onions

,

thinly sliced

1

whole

garlic

,

chopped
For curry
500

grams

boneless chicken

,

cut in small cubes
Spices
4

whole

red button chillies

½

tablespoon

ginger paste

½

tablespoon

garlic paste

2

teaspoon

red chilli flakes

1

teaspoon

cumin seeds

,

or powder

1

teaspoon

coriander powder

¾

teaspoon

turmeric powder

½

teaspoon

cinnamon powder

¼

teaspoon

black pepper powder

salt

,

or to taste
Other ingredients
3

medium

tomatoes

,

pureed

75

gram

coconut milk powder

,

(or 3 cups light coconut milk)

6

tablespoon

gram flour

4

tablespoon

lemon juice

1

chicken cube/bullion

1 ½

packet

egg noodles

,

(375 gram, boiled)
Optional Accompaniments
Hot sauce

Potato sticks

Lemon wedges

Sliced green onions

Boiled eggs

Roasted Peanuts

sliced onions
Instructions
Prepare Garnish (Fried Galic and onions) Skip is using pre-fried onion and garlic
In a large pot, fry garlic until golden. Remove from oil and set aside.

In same oil, fry onion slices until golden. Remove from oil and set aside.
Make Curry
Remove all oil from the pot leaving only 2 tablespoons. Now, add half of the fried onion (about ¼ cup) chicken, and all ingredients in the spices list in the pot. Mix well, cover, and cook for 10 minutes until chicken is tender.

Add tomato purée and mix well. Let the curry simmer on low heat for 5-10 minutes until little oil separates on the sides of the pot.

Now, mix coconut milk powder, gram flour, lemon juice, and 2 cups water in a bowl. Add the mixture to simmering chicken curry.

Also add a chicken cube and 3 cups water, or as needed for desired consistency. Let the curry simmer until oil separates (about 15 minutes).

To serve take warm noodles in bowl top with curry and accompaniments of your choice. Enjoy.
Nutrition Information