Step by step Chicken Manchurian recipe with photos of each step.
Chicken Manchurian is an Indo-Chinese recipe. It is very famous in Pakistan too. Pakistan shares a long border with China around around Gilgit. Many Chinese Kings came to China for exile. There are many inter marriages between Kings of Hunza and China. Long story cut short, chicken Manchurian is a Chinese and Pakistani fusion food. A vegetarian version of this dish called cauliflower or gobi Manchurian is very famous in India. I would love to share that recipe too.
You can't go wrong with chicken Manchurian. It's so simple. For this recipe you need to fry crispy 'munch' that get soaked in sweet and sour gravy. The taste is just yum. There are many version of this recipe. Here's is my simple but delicious version.
Tip:
If you don't wish to fry chicken, instead of ¾ cup add just 2 tablespoon of cornflour in chicken. Then sauté chicken in 2-3 tablespoon oil for 5 minutes. Now, add garlic and crushed chillies in same pot and follow the rest of instructions—-A super quick hassle-free way to make Chicken Manchurian.
If you don't want to use tomato ketchup. You many use tomato purée, vinegar and sugar.
The munch will swell a bit as they go in gravy so make sure the chicken cubes are less than ¾ inch cubes.
In all Indo Chinese recipes Chinese salt (sodium glutamate or Ajinomoto) is added as a taste enhancer. I always avoid it for health hazards attached to it. Most common but major hazard is for Blood pressure patients who must avoid it.
My other similar recipe
How to make Chicken Manchurian?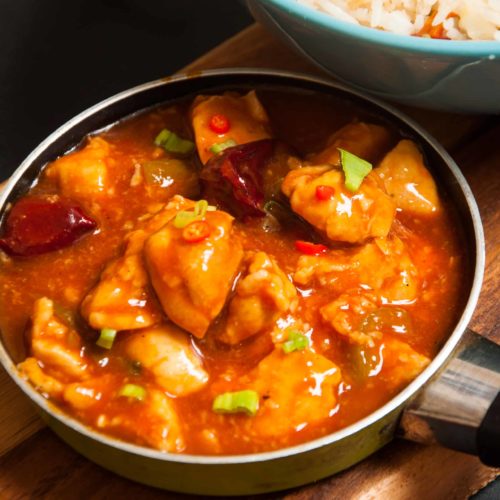 Chicken Manchurian Recipe
Chicken Manchurian is a sweet and sour chicken that is easy to make and delicious.
Click stars to rate this recipe!
Print
Pin
Ingredients
Make Munch
1

chicken breast

,

, cut in ¾ inch small cubes

½

tablespoon

garlic paste

½

tablespoon

soya sauce

1

tablespoon

lemon juice

½

teaspoon

black pepper powder

½

tablespoon

red chilli powder

1

egg

½

cup

cornflour

Salt to taste

,

to taste

Oil to fry

,

to fry
Make Munchurian gravy
2½

tablespoon

cornflour

⅓

cup

water

2

tablespoon

oil

1

tablespoon

garlic paste

½

tablespoon

crushed red chillies

½

tablespoon

soya sauce

¾

cup

ketchup

2

tablespoon

lemon juice

1

tablespoon

sugar

½

teaspoon

black pepper powder

Salt to taste

2 ½

cup

water or more as required

2

tablespoon

coriander leaves

,

, chopped (This ingredients is optional, can be substituted with green onions.)

4

green chillies

,

, cut lengthwise in four parts
Instructions
For Munch
In a bowl take all ingredients to make munch and mix well. Marinate for 30 minutes then deep fry for 4 minutes on medium heat until crispy. Set aside.
For Munchurian gravy
Mix cornflour in ⅓ cup water to make a paste. Set aside.

In a wok heat oil and garlic and crushed chilli, sauté for few second then add ketchup, soya sauce, lemon juice, sugar and water. Keep heat to medium and stir well for a minute.

Now add cornflour mixture and stir constantly to avoid lumps.

When gravy is thickened and glossy add green chillies and coriander.

Serve with vegetable fried rice.
Step by step Recipe of Chicken Manchurian
Steps for Chicken Munch
Put all the ingredients for chicken munch in a bowl.
Also add flour.
Mix well. Set aside and let it marinate for 30 minutes.
After 30 minutes, fry munches for 4 minutes or until crispy on medium high heat.
Set aside until gravy is ready.
Steps for Munchurian Gravy
Mix cornflour and water in a bowl to make a paste and set aside.
While chicken marinates, prepare the gravy. In a pot or wok, heat oil and add garlic, soya sauce and red chilli flakes.
Add Ketchup. (You can also add cooked tomato purée, sugar and vinegar instead of ketchup.)
Add sugar, salt , pepper.
Add lemon juice.
Add water.
Add cornflour to thicken the gravy. Keep cooking on low heat and stir constantly to avoid lumps until gravy is thickened.
Add chicken munch to the gravy.
You can also serve it on a sizzling plate. ( Heat a cast iron plate on high heat for 10 minutes until very hot. Drizzle about 1-2 of oil on plate and immediately add the Chicken Manchurian and serve. )
Serve Chicken Manchurian with plain or fried rice. (Get Vegetable Fried Rice Recipe here.)