This Date roll recipe will steal your heart and is perfect for any festive celebration like Christmas, Easter or Eid. What makes this date nut roll even amazing is that it has, no gluten, no eggs, no sugar. It is absolutely vegan, healthy and nutritious. Because it is naturally sweetened with dates and enriched with nutrients from nuts, these make a great pre-workout snack for instant energy. Check more benefits of dates here.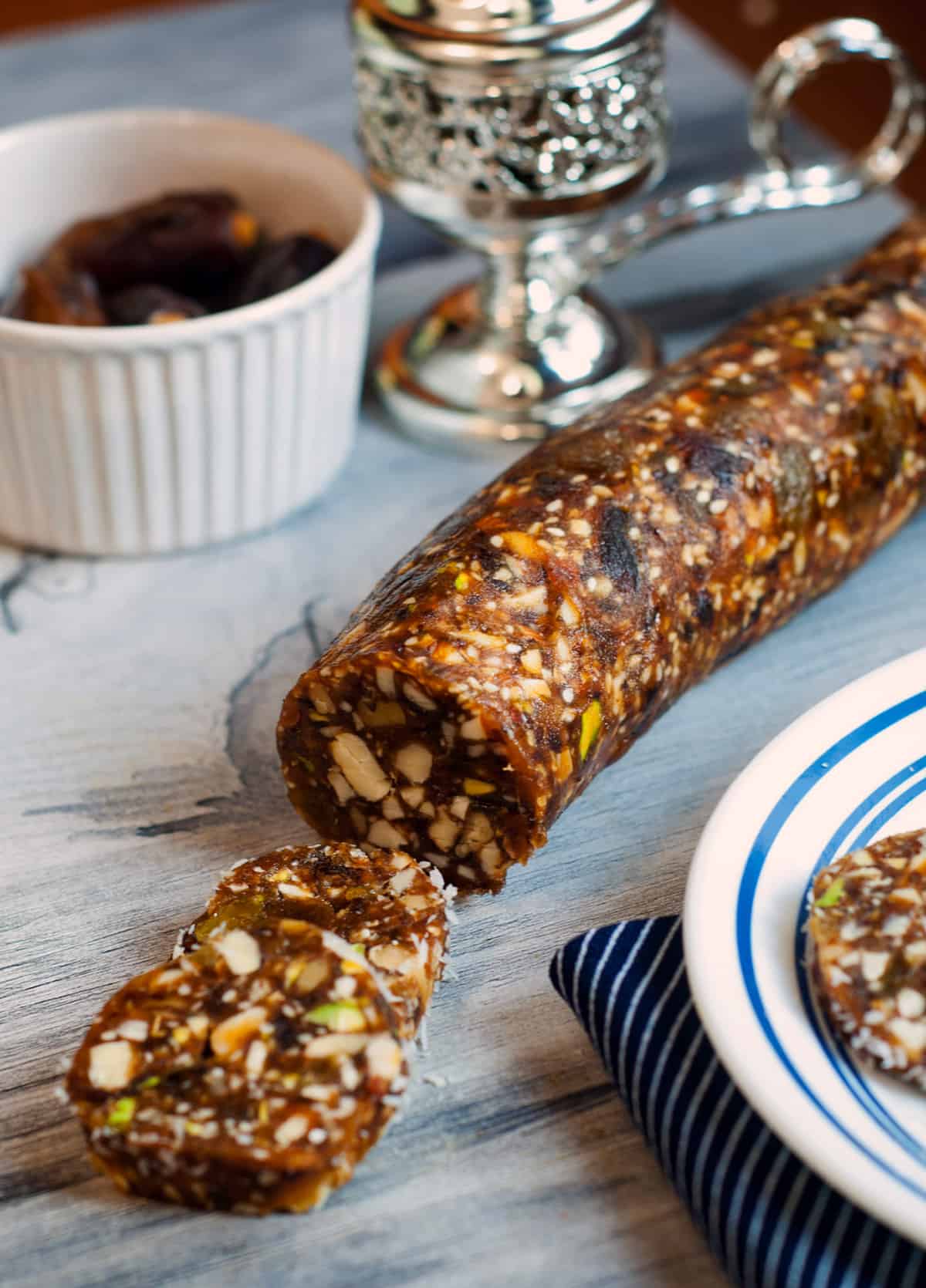 These gluten-free dates roll recipe was first shared with me by my aunt. These are usually served at festive gatherings to greet guests. They are also called dates and nut roll, almond date roll or dates salami, dates burfi, khajoor ki barfi, or khajoor roll.

Best Dates for Date Roll
The main ingredient of this recipe is the dates so try to use Medjool dates of good quality. The taste of date roll depends on the taste of dates. We want chewy, soft dates for this recipe. If your dates are mushy soft, the roll will not form properly and you have to add biscuit or something to absorb moisture. If your dates are too dry and dense then add little moisture like butter or margarine. So try to select the best dates for this recipe.
Tips for variations
Variations for this recipe are endless, you can fully customize it with the aroma of your choice. I have provided a recipe for Indian style Date roll that I'm familiar with. But can make as many variations you like and steal the recipe. 🙂
Roll the date and nut mixture into balls instead of a bar and coat it with desiccated coconut, biscuit powder, or rice crispies or anythings.
You can add any nuts of your choice just remember to keep the ratio of dates and nuts 2:1. That is two part of pitted and chopped dates for 1 part of mixed nuts.
Some spices you can add to enhance aroma are cardamom, saffron, cinnamon, orange, or lemon. Instead of cardamom powder, you can add any of these spices or zest.
Other options for add on are wheat biscuits, chocolate, cocoa powder, roasted poppy seeds, roasted oats, and pine nuts, etc.
Troubleshooting tips for Dates and Nut Roll
If your dates are very chewy and hard. Soak dates for a few seconds in water to get softened. No need generally.
If your dates mixture appears are too dry and don't come together to roll. Add a little margarine or butter during cooking of dates to soften.
If your dates and nuts mixture is too moist and mushy. You may add 1-2 tablespoon spoons of crushed wheat biscuits or oats to make it denser and easy to roll.
What makes these best treats for guests in the festive season?
Usually, in the festive season, people are visiting too many relatives the whole day long. All hosts are serving drinks, desserts, or snacks and guests feel too full to eat anything at all. Sometimes, my guest would just ask us politely to serve nothing and just spend some good time chatting. The date roll cookie is always welcomed and it is bite-size presentable goody that can be served hassle-free. Since they are gluten-free and vegan, they meet everyone one's diet requirement. Check these fudgy vegan brownies too, so decadent.
Setting a tray for guests with assorted sweets is a great way to show off your skills. We usually make some date rolls, kharak, some sort of truffles (like coconut balls or brownie ball, or Oreo ball) some dry fruits, chocolates, and this tray makes a welcoming and impressive gesture for guest.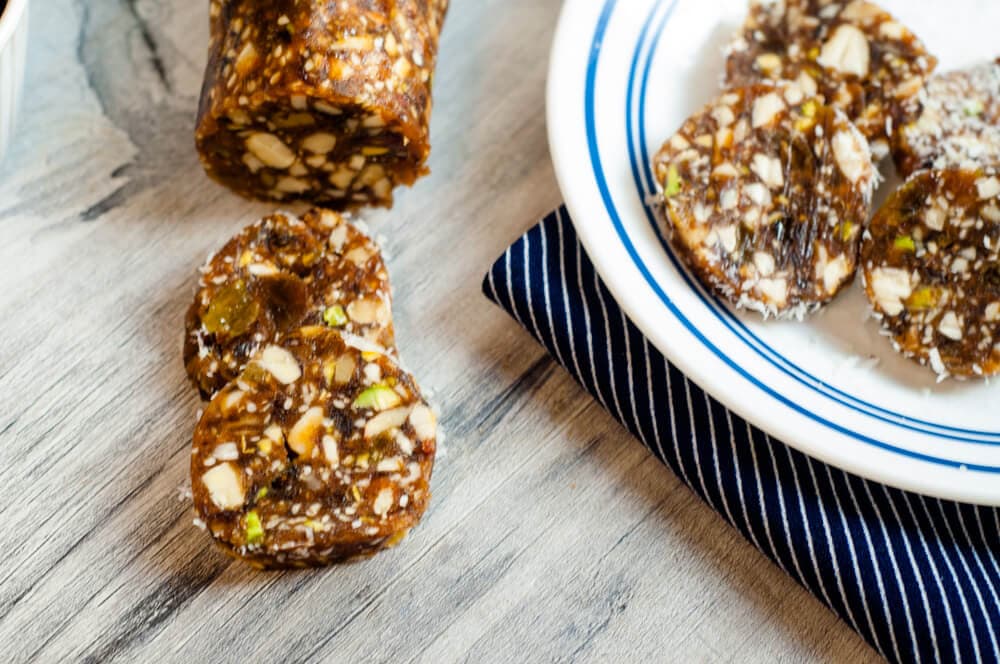 Want more goodies? Check these to satisfy cravings.
How to make Date Roll Recipe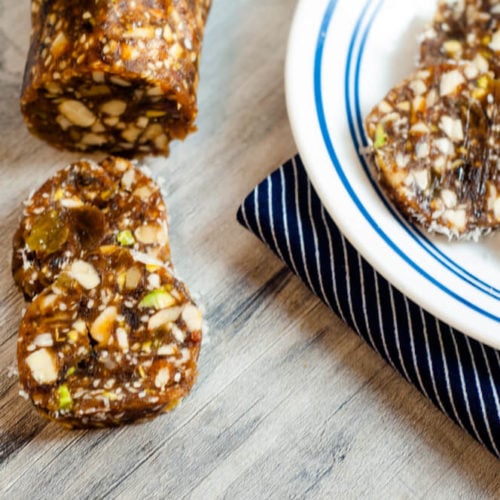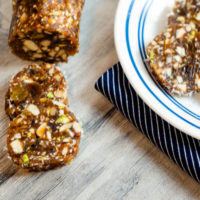 Dates Roll Recipe
This date roll is so tasty and nutritious. They make a great pre workout snack as well welcoming sweet for guests.
Click stars to rate this recipe!
Print
Pin
Ingredients
Nuts
¼

cup

almond

,

chopped

¼

cup

cashew

,

chopped

2

tablespoon

pistachio

,

chopped

2

tablespoon

walnuts

,

chopped
Other
2

tablespoon

sesame seeds

2

cup

pitted dates

,

about 30, roughly chopped

½

tablespoon

butter or ghee

¼

cup

raisins

½

teaspoon

cardamom powder
Instructions
Take all the chopped nut in a pan and dry roast for 30 second on medium heat until lightly toasted. Add sesame seeds and roast for another few seconds. Remove nuts to a plate and set aside.

In same pan add butter and chopped dates. Cook on low heat for 2 minutes until soft keep mixing with spatula. Add raisin, roasted nuts and cardamom powder to dates and cook further for a minutes. Remove from heat.

Let the mixture cool enough to handle. Then mix further with hands (if needed).

Remove dates mixture on cling wrap and roll it into a log. Keep log in fridge and cut slices of date as required. Serve cold.
date roll recipe