Step by step soft Double chocolate chip cookies recipe with a photo of each step. Hey there! I'm super excited to share this treat and these cookies are so yummy and so easy to make.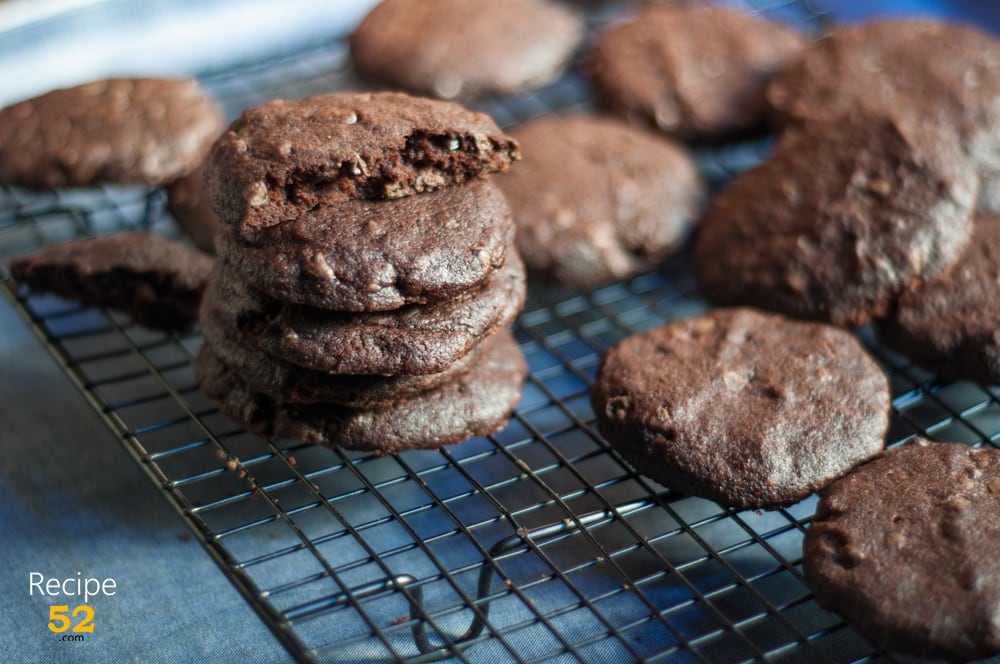 Taste
These are thick, dense cookies, chewy on the outside and soft on the inside. It tastes just like what the name calls. Double chocolate sweet and slightly bitter treat. I usually bake these around the evening when kids and hubby are home. And these hot cookies are an irresistible treat. Go ahead make these, you won't regret, I promise. Just be careful don't over-cook these, rest of the recipe is simple.
This is my first cookie recipe on the blog so I'm sharing all the cookie baking secrets that I know. Hope these help starters in the journey.
Tips
Baking cookies is addictive
Baking cookies can be overwhelming to many but actually it's fun and there is so much to learn and experiment. A very little change in ingredient, proportion, temperature, shape, cooking time can alter the results. This makes baking cookies so interesting and fun. When I started baking cookies, every batch would be different and then I would keep experimenting. That's why I feel making cookies is addictive.
Measure flour carefully
Fill the measuring cup with the help of a spoon. Do not dig in the flour tub and fill the whole cup in one go. This will overpack the cup and you'll end up using extra flour that can make your cookies dense. Even 1 extra tablespoon of flour matters when baking cookies.
Freeze dough
If you like soft chewy cookies. Freeze the dough for 30-60 minutes. This will allow the outside of the cookie to bake quickly while the inside will be still soft. Secondly, cold dough will not spread quickly making cookies thick.
Shaping the dough into cookie-sized balls and freezing it for 24 hours is another great way to intensify all flavors in cookies.
I personally prefer baking only half of my batch and freezing the remaining in balls. This way, I don't end eating too many cookies. And this also gives me oven-fresh cookies, without any effort when the craving strikes.
Baking Temperature
Cookies are baked at 355 F, one sheet at a time, and around 8-16 (depending on size) cookies on each baking tray with cookie batter scooped 2 inches apart.
Baking Time
Timing is really important. Usually, we bake cookies for 8-9 minutes until set for soft cookies. For chewy edges leave the cookie on a hot baking sheet for an extra 5 minutes after taking out of the oven. This will make them chewy.
You can learn more about cookie baking secrets here at our site and here at sally's baking addiction.
How to make?
Take butter and sugar in a bowl and whisk them until creamy.
Add eggs one by one. ( I added together for a quick photo.)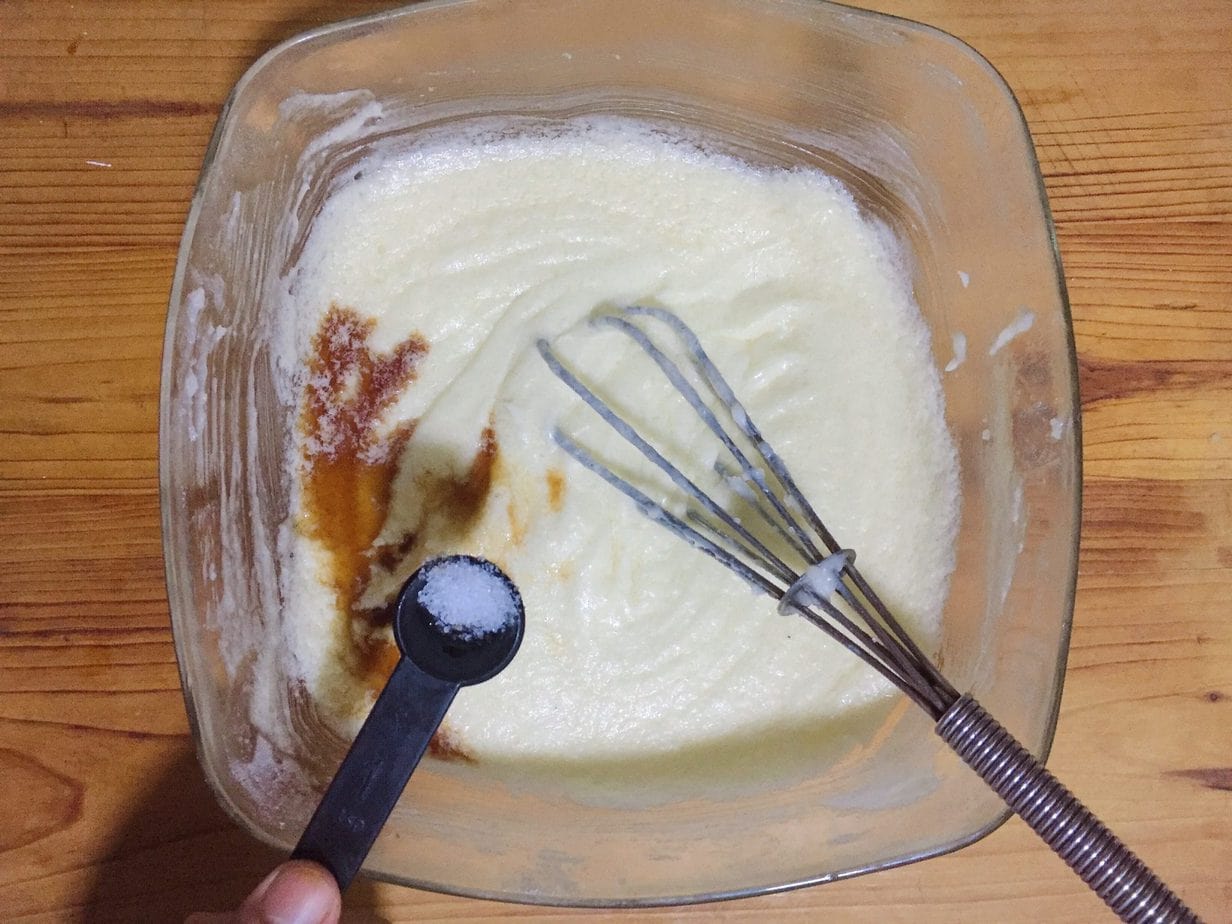 Add vanilla essence and salt. (Skip salt is using lightly salted butter.)
Next sift flour, cocoa powder and baking powder.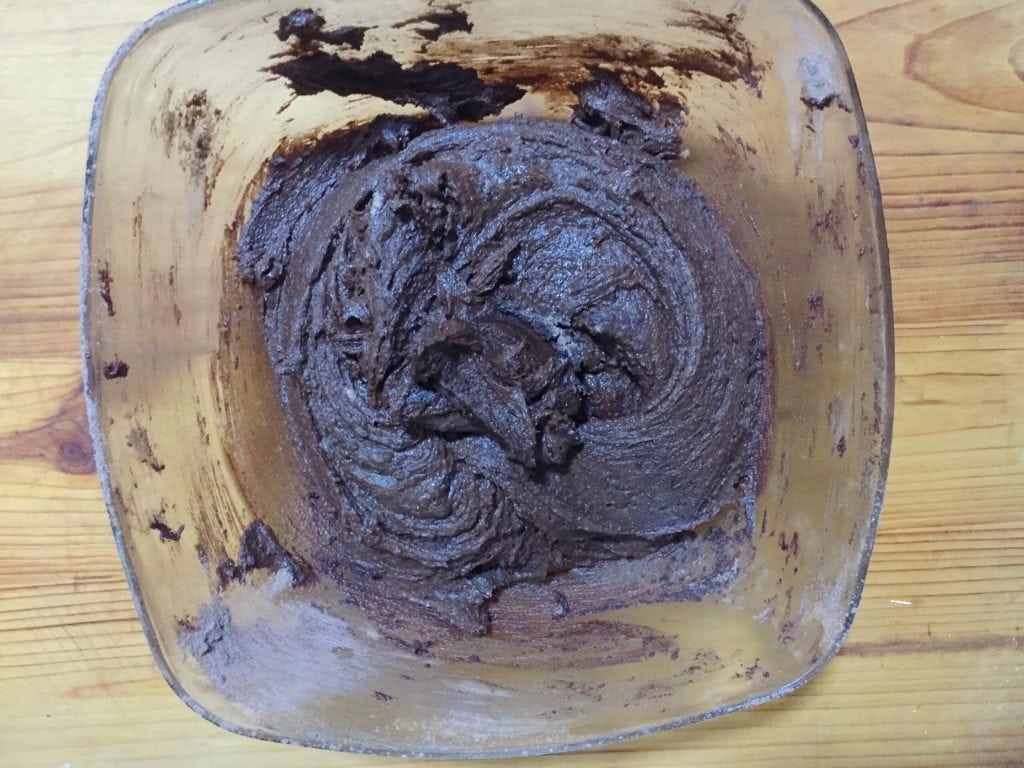 Mix thoroughly.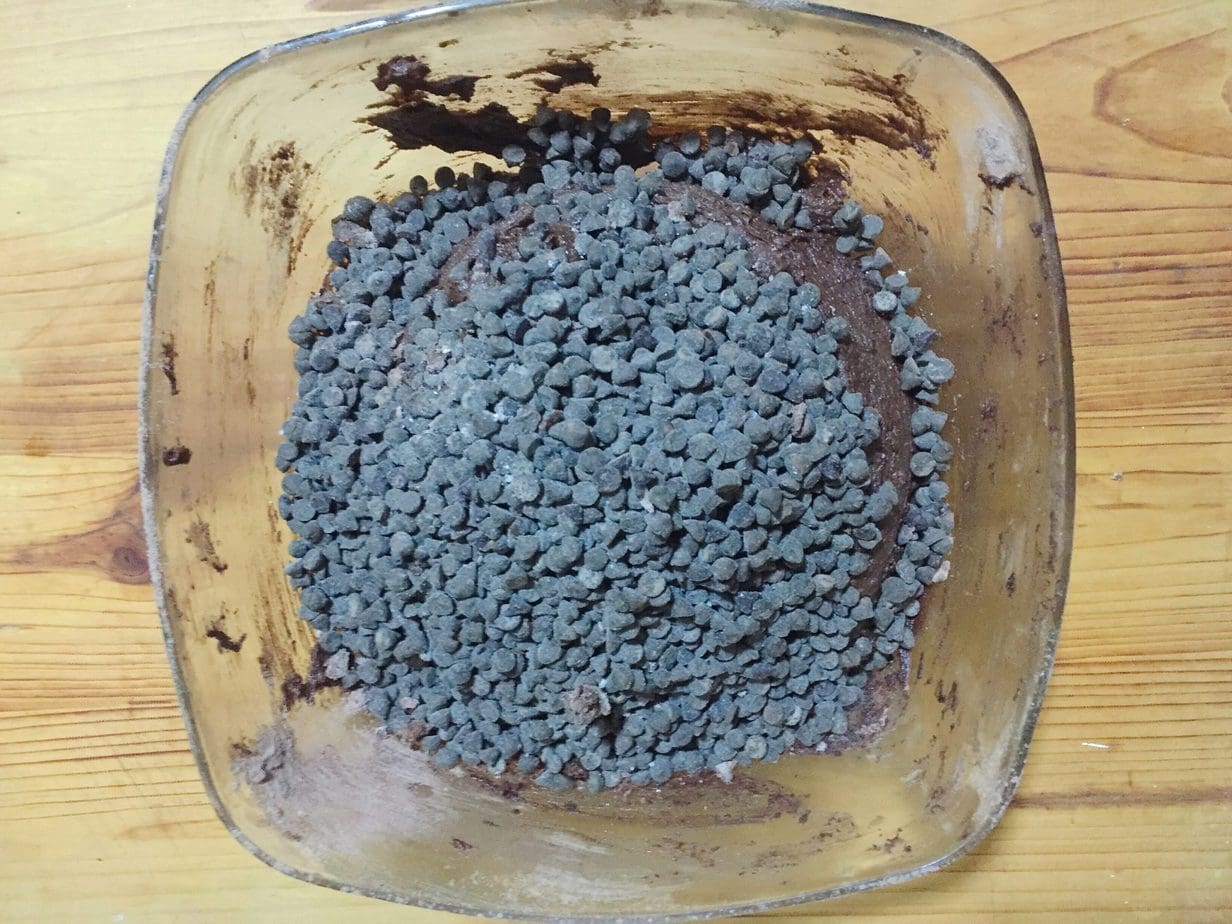 Add chocolate chip. Mix well. Freeze the dough for 20 minutes to chill. Or keep in the fridge for up to 24 hours. Bake the chilled dough as needed. (We want chilled dough like solid butter but not frozen.)
Roll 1½ tablespoon dough balls and press the top for a cookie shape and place on a baking sheet. Bake at 355 F for 8-9 minutes.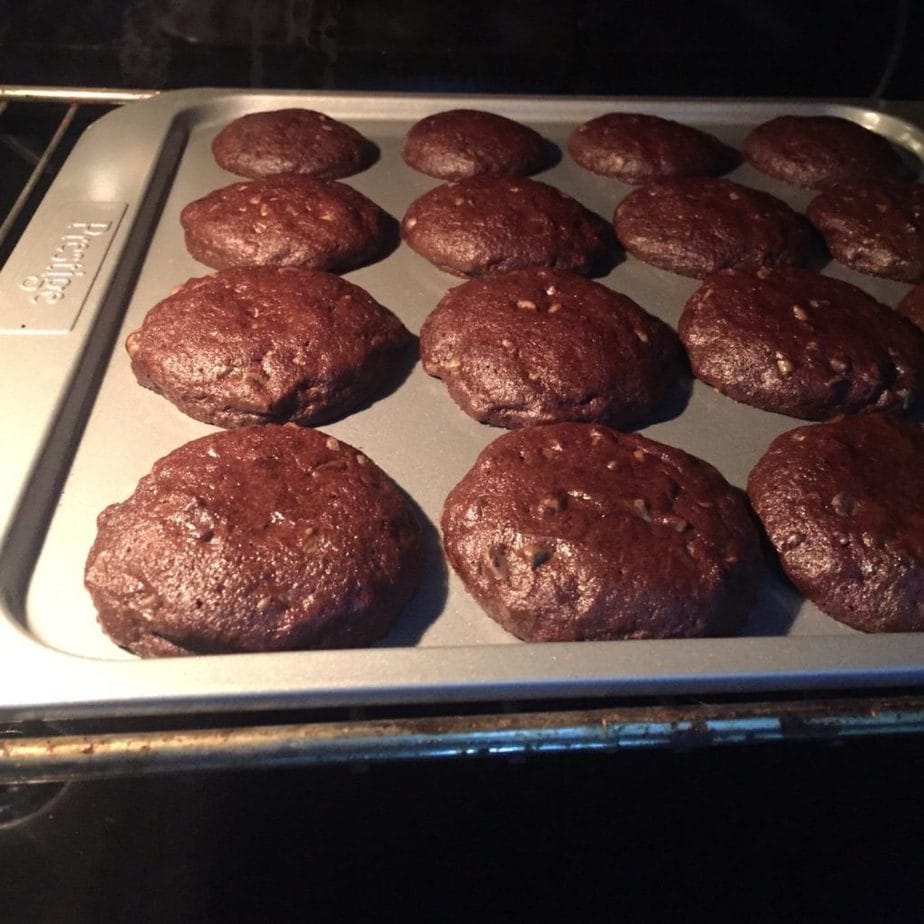 When cookies are set transfer to wire rack. Let the cookies cool completely before transferring to airtight jars.
Hungry for more chocolate?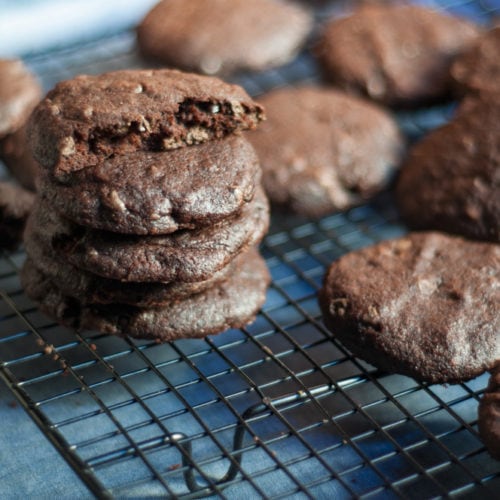 Soft Double Chocolate Chip Cookie Recipe
The is addictive double chocolate chip cookie, you might end having too much, consider freezing half of dough in cookie shaped discs and bake it later for freshly baked, soft and chewy dessert after dinner.
Print
Pin
Rate
Servings :
20
medium cookies
Ingredients
1⅛

cup

butter

,

at room temperature

1½

cups

icing sugar

2

large

eggs

,

at room temperature

2

teaspoon

vanilla essence

¼

teaspoon

salt

2

cup

flour

,

sifted

¾

cup

cocoa powder

,

sifted

1

teaspoon

baking powder

1¼

cups

milk chocolate chips

,

or sweet chocolate chips
Instructions
In a large mixing bowl, whisk butter and sugar together with a hand mixer until creamy and fluffy.

One by one add two egg, vanilla essence and salt.

Now, mix in cocoa powder, flour and baking powder.

Finally, add chocolate chip and make sure chips are evenly divided in the dough. Freeze the dough for 20 minutes to chill. Or keep in fridge for up to 24 hours.

Preheat oven at 350 F, 178 C, or gas mark 4.

Scoop out 2 tablespoon dough balls from the chilled dough and set them 2 inches apart on the baking tray lined with baking paper.

Bake on the middle rack for 8-10 minutes until set and the top is not glossy. (Rotate tray if needed for even baking.) Bake cookies in batches.

Let the cookies rest on baking tray for 5 minutes so they firm up and get crispy on edges. Then transfer to a wire rack. Let the cookies cool completely then store in an airtight jar (with a slice of bread) to keep them fresh.
Notes
⅛ cup of butter is equal to 2 tablespoons.
To bring cold eggs to room temperature submerge eggs in warm water for a few minutes.
Chill dough so the dough is firm and cold but not rock solid.  Let the dough thaw a bit if it is very hard.
Fresh cookies taste best so freezing half batch and baking later works best.
Nutrition Information
Serving:
1
cookie
,
Calories:
105
kcal
,
Carbohydrates:
21
g
,
Protein:
3
g
,
Fat:
1
g
,
Saturated Fat:
1
g
,
Trans Fat:
1
g
,
Cholesterol:
20
mg
,
Sodium:
73
mg
,
Potassium:
88
mg
,
Fiber:
1
g
,
Sugar:
10
g
,
Vitamin A:
49
IU
,
Calcium:
36
mg
,
Iron:
1
mg