Are you looking for a super hit vegetarian recipe? I bet you won't find anything better than Gobi Manchurian. This is one of the few vegetarian recipes that can compete with a nonveg dish in taste.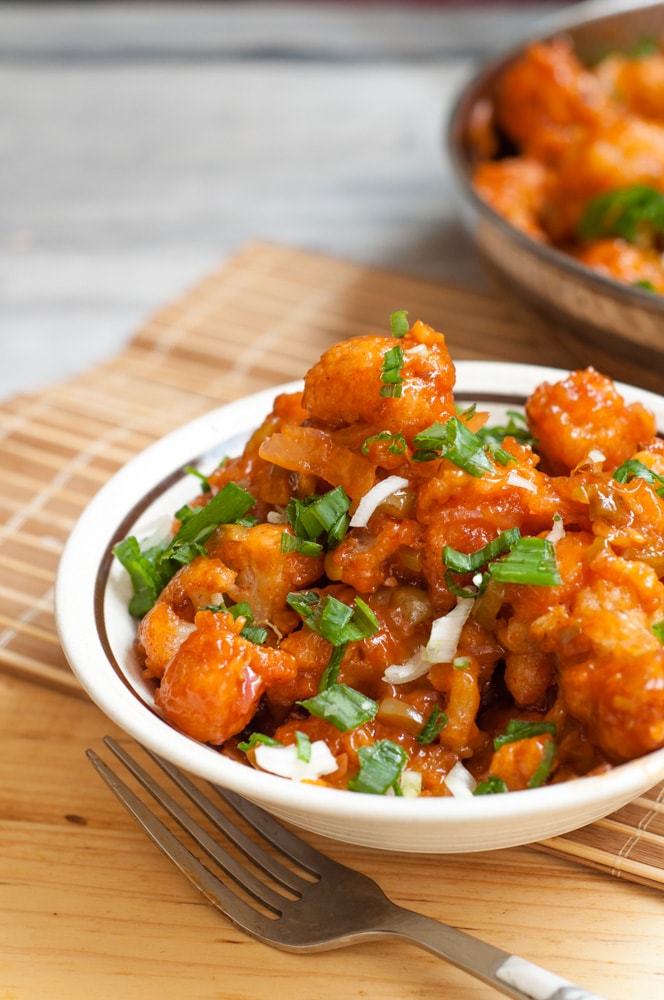 The first thing people often ask is that what is gobi? So, a cauliflower in Hindi / Urdu is called a gobi. Gobi Manchurian is made from cauliflower florets dipped in batter and deep fried. The fried cauliflower is then tossed in a sweet and sour tomato ketchup sauce. The result is a juicy flavourful appetizer that is on the spicier side. This dish can be paired with fried rice can be served as a main course.
Jump to:
Where it came from?
Sometimes, people misunderstand Gobi Manchurian as a Chinese dish. But actually, it has an Indian origin. It was first invented by the Chinese community living near Kolkata. (source Wikipedia) While, the dish was first introduced in Mumbai by Nelson Wang, who as the owner of a restaurant and of Chinese descent. Gobi Manchurian is a variant of its non-veg version of Chicken Manchurian. You'd be marveled at how humble cauliflower is turned into a delicious appetizer.
It is not Chinese in origin and is correctly called an indo-Chinese dish which is popular all over India, Pakistan, and even Britain. The dish influences traditional Manchu Cuisine from neighboring China and tastes resemble Chinese cuisine. (Manchurian or Manchu Cuisine belongs to ancient Manchuria, a region that had parts of present-day China and Russia.)
Why this recipe works?
For this recipe, you need crispy fried cauliflower. So for best results, you need to dig into the best frying techniques.
Double frying technique for extra crisp texture
This is the same technique we use in making French Fries that is you fry cauliflower florets on medium-high heat for about 2 minutes. Then remove to a kitchen towel and let it cool completely. While it cools, make your Manchurian gravy. Then just before serving deep fry cauliflower florets once again on very high heat for just about 30 seconds until golden. Toss them in the gravy and coat them evenly. Serve hot immediately.
This works amazingly for parties and potluck. Where everything needs to be ready and you can assemble the dish quickly in the last minutes.
Single frying for a quick and simple recipe
While the above technique is best and mentioned in the recipe card, there are days when you are hungry. And you want a quick dinner. In that case, make your gravy first and deep fry cauliflower just once until golden. Toss them in gravy and serve.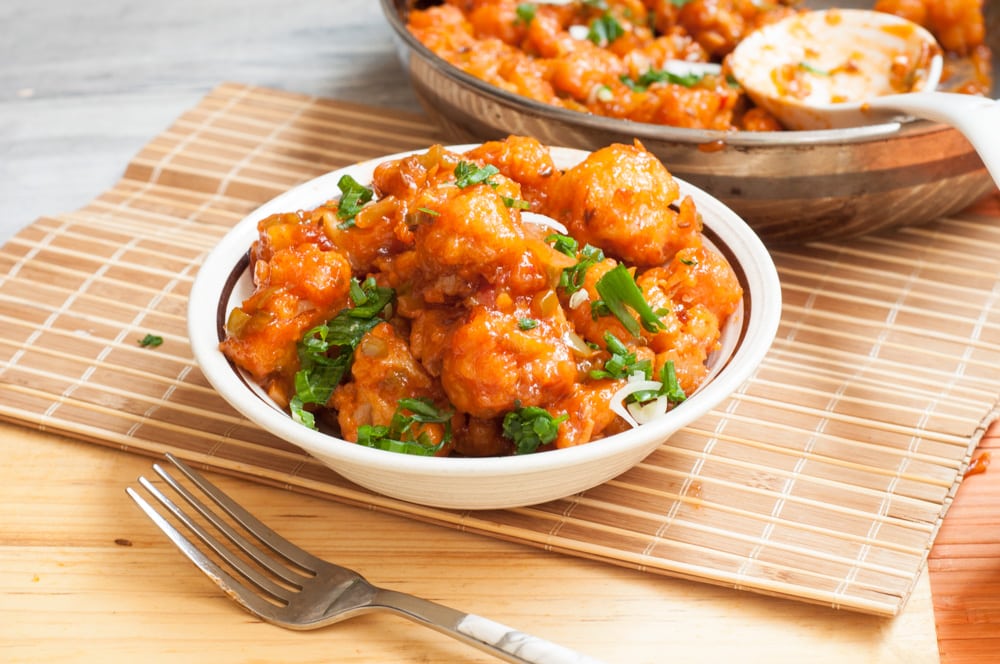 We indulge in this dish occasionally, like once in 3 weeks or even less. It is always advisable to ask your doctor for any serious health concerns. My speculations are generally not of a health adviser.
Ingredients
For Fried Cauliflower:
These are the ingredients for step one, in which will fry the cauliflower.
Cornflour: Remember, cornflour and cornstarch are interchangeable terms for the same thing. You can substitute it for rice flour in equal measure.
Kashmiri chili powder: Kashmiri chilies are long dark red chilies used in this recipe for only extra red color. You can use paprika instead in equal measures to substitute it. It is spicer than paprika so adjust red chili to taste.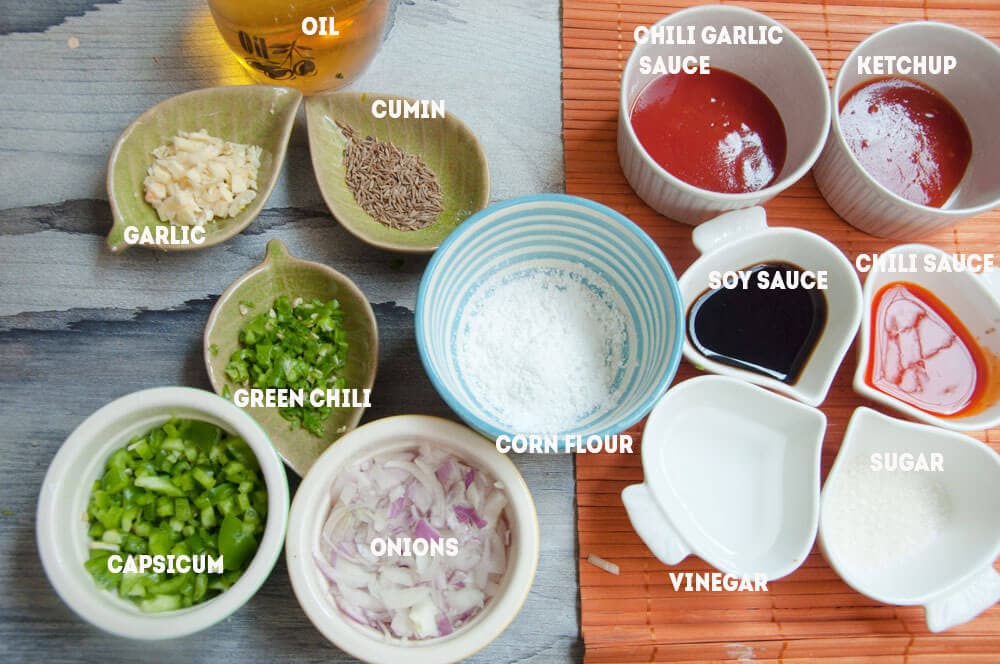 Above is the ingredient for Manchurian sauce.
Oil: Use sesame oil for the best results, but vegetable oil also works.
The cumin seeds, have intense flavor, skip it if you don't like cumin.
Chilli garlic sauce is sweet and spicy tomato ketchup, you can substitute it with more tomato ketchup, or any similar sauce.
You may use distilled or rice vinegar in the recipe.
The Chilli sauce, I used is not very spicy type. It's basically red chilies diluted with vinegar. So, you can substitute it with ½ teaspoon hot sauce. Less or more to taste.
How to make it?
Cut cauliflower in floret and blanch in hot water for 2 minutes. Mix flours, chilies, ginger, and garlic in a bowl. Now separate 3 tablespoons of the mixture from it and set aside.
Mix water with the remaining flour mixture and make a smooth batter of flowing consistency like pakora batter.
Add blanched cauliflower and mix well.
Now add the separated flour to the cauliflower. (This step with help thicker coating and crispier cauliflowers. )
Mix well.
Heat the oil first, and add the battered cauliflowers. Reduce heat to medium and fry for 2 minutes without stirring. Then remove the cauliflower from a kitchen towel and let it cool. (Make sure to work in small batches.) The cauliflowers will be lightly golden and not very crispy but that's ok.
In a pan fry garlic and cumin until golden. Add veggies of your choice like onion, capsicum, and green chilies, and cook for 2 minutes on medium heat until veggies are soft.
Now reduce heat and add sauce and seasoning. Mix well and let the gravy simmer, this will enhance flavor.
While gravy simmers, make cornflour slurry and add it to the gravy. The gravy will thicken. Add little water at this stage as we need a thick gravy but not lumpy.
Now, here is the fun part, you can prepare both gravy and fried cauliflower an hour or two ahead. Then just before serving reheat your gravy on low heat.
Heat oil until very hot. Then add the fried cauliflowers (work in small batches.) Fry 30 seconds until cauliflower is golden and crispy.
Add cauliflower to the gravy. Also, add green onions. Mix well and serve immediately.
FAQ
What is gobi?
Gobi is Urdu / Hindi word for cauliflower.
Can I shallow-fry my Gobi Manchurian?
I know deep-fried is crispy and tastes better but it also calls for lots of oil and many unwanted calories. So, yes you can shallow fry cauliflowers in about 6 tablespoons of oil. They'll take a little longer to get crispy. Preferably, use a wok with a narrow base (karahi) so it allows a shallow pool of oil for easy frying.
Can I make baked Gobi Manchurian?
If you are looking for a healthy version of Gobi Manchurian, check an edible Mosiac's recipe. Obviously, fried is tastier but the baked version also delivers great results with little compromise to health with no guilt.
Can I use an air fryer for gobi Manchurian?
Yes, again like the baked version the crispy texture will be slightly compromised but worth the health benefit. Check Bhavna's recipe here.
Is Gobi Manchurian healthy/good for you?
Gobi Manchurian is deep-fried food, so it has the same health hazards as other deep-fried food. Because it has cauliflower that doesn't make it necessarily healthy. And the number of sauces used to make gravy is again processed food with added food color and preservatives. So, in my opinion, even a baked or air-fried version is a healthier option as you cut off deep frying. But not really healthy with so many sauces.
How many calories are in Gobi Manchurian?
According to Noom Food Data, there are 295 calories in 200 grams of typically deep-fried Gobi Manchurian. This is a general estimation as ingredients vary a lot from brand to brand and so do the calories.
Hungry? Try these Indo-Chinese recipes.
📖 Recipe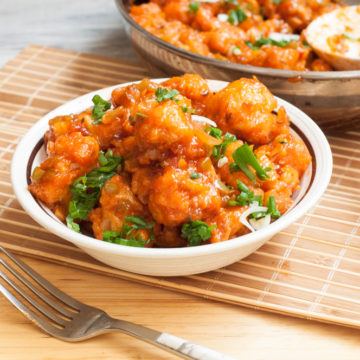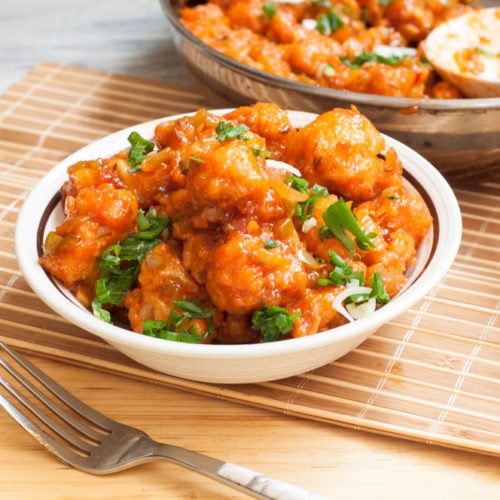 Gobi Manchurian Dry
This Indo-Chinese appetiser is a crowd pleaser and will steal your heart. It's super and you always add or subtract more sauces and adjust heat to suit you taste.
Print
Pin
Rate
Ingredients
For fried cauliflower
600

g

cauliflower florets

,

1 medium cauliflower of 750 gram cut to floret makes about 600 g

6

tablespoon

flour

6

tablespoon

cornflour

,

or rice flour

¾

tablespoon

Kashmiri chilli

,

used mainly for color, can substituted with paprika

1

teaspoon

red chilli

1

teaspoon

minced ginger

1

teaspoon

minced garlic

1

teaspoon

salt

Oil

,

to fry
For Gravy
2

tablespoon

oil

1

tablespoon

chopped garlic

⅓

teaspoon

cumin seeds

½

cup

chopped onion

½

cup

chopped capsicum / bell peppers

,

any color

2

tablespoon

chopped green chillies
Sauces and seasoning for gravy
2

tablespoon

ketchup

2

tablespoon

chilli garlic sauce

2-3

tablespoon

chilli sauce

,

less spicy type

3

tablespoon

soy sauce

2

tablespoon

vinegar

½

tablespoon

sugar

Pepper

,

to taste

Salt

,

to taste, if needed

2

tablespoon

cornflour

4

tablespoon

water

,

, more to thin out gravy as needed.

½

cup

sliced green onions

,

for garnish
Instructions
Blanching Cauliflower
Bring water to boil in a pot, then add salt and cauliflower floret. Let it boil for about 2-3 minutes, then remove florets with a slotted spoon to a kitchen towel and let it dry.
For fried cauliflower
In a bowl mix, plain flour, corn flour, Kashmiri chilli, red chilli, garlic, ginger and salt.

Remove 3 tablespoon of flour mixture from the dry mix and set aside.

Now gradually mix little water to the dry mixture and mix well with a whisk. Make a thick mixture of flowing consistency.

Add the blanched florets to the batter and mix well.

Now, sprinkle the separated flour over batter and mix again.

Heat oil in a wok on medium heat high heat. Then one by one add cauliflower florets. Fry cauliflower for two minutes on medium heat.

Then remove on a kitchen towel and let it cool. (The cauliflower will be light golden at this stage.)
Make gravy
Heat 2 tablespoons of oil in a pan and add garlic and cumin. Sauté for a 30-60 seconds until garlic is golden.

Then, add onions, bell peppers and green chillies, mix and cook for 1-2 minutes.

Finally, mix in all the ingredients sauce section.
For slurry
In a bowl, mix corn and water to make slurry with no lumps. Add to the gravy. Also add ¼ cup or water as needed for a desired consistency.

Let gravy simmer for 2-3 minutes, then remove from heat and set aside.
Assemble
Just before serving reheat the gravy, set aside.

Simultaneously, heat oil in the wok until very hot. Add fried cauliflower and fry for another 30 seconds. Work in 2-3 batches.

Remove cauliflower flour from the oil to a kitchen towel. The toss in the hot gravy. Coat throughly and garnish with sliced green onions. Serve immediately.
Nutrition Information
Serving:
1
cup
,
Calories:
297
kcal