What's cooking today? Some sweet and spicy Indian green chutney that is easy, quick, healthy, and nutritious. The green chutney is also known as mint chutney if cilantro is replaced with mint. Similarly, you call it cilantro chutney if all the mint is replaced with cilantro. Let's find out how to make chutney?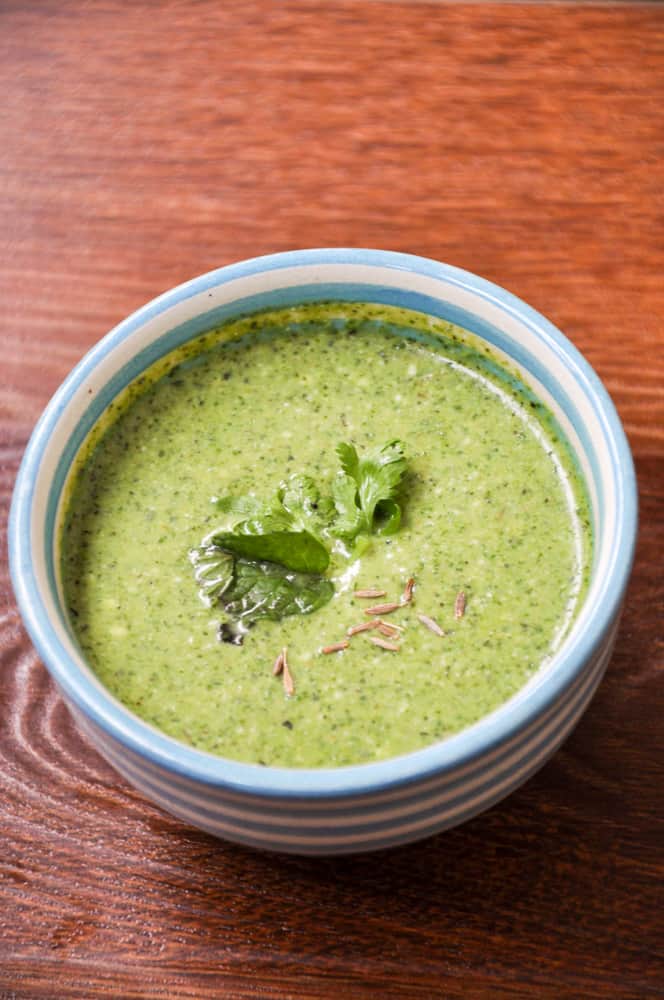 There are literally hundreds of variations of this chutney and every Indian /Pakistani home has there own favorite version of this recipe. In this post, I'm trying my best to explain how you can make small changes to suit your taste buds and turn the same chutney into dosa, idli, sandwich, and curry chutney. Check Cook with Manali's Cilantro Chutney here.
What is green chutney made of?
Green Chutney is made with a number of variation but basic ingredients are the same that is Mint or/and coriander, cumin, garlic, green chili, salt, little sugar, and lemon, or tamarind pulp. You simply blend all ingredients into a smooth puree or paste and you are all set.
Tips and variations
Since it is a go-to sauce with most Indian / Pakistani snacks, there are many versions of this chutney with little variation in different regions of South Asia.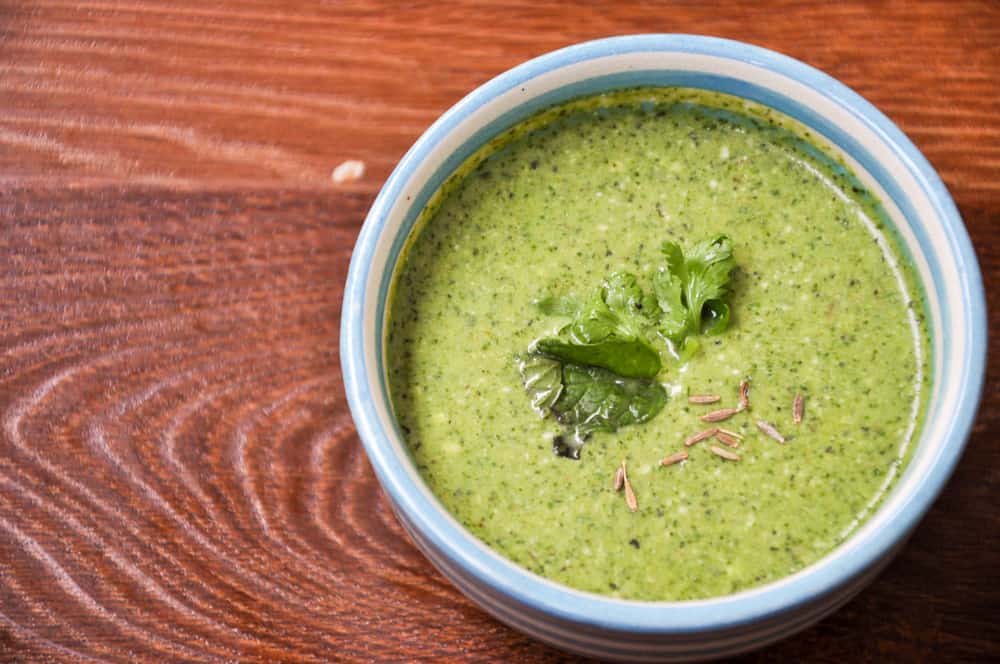 How do you keep green chutney green?
If you keep green chutney for some hour in the fridge, it's bright green color gets dull and dark. However, by adding lemon juice you can slow down the discoloration of green pigment in mint and coriander. The acid in lemon retains the bright green color keeping the chutney's visually appealing for long.
How do you thicken green chutney?
You can add any one or more of the below ingredients to thicken chutney. Just add it along with the herb and grind until smooth.
You can also add greek yogurt or mayonnaise to make a thick chutney. Don't add these two in grinding, Just mix it in the bowl with a spoon as griding can thin out the yogurt and homemade mayonnaise.
How do you use green chutney?
If you have taste for herbs then, you love this Pakistani chutney on anything. Here are a few suggestions.
How to make green chutney?
So the easy peasy cilantro and mint chutney begins with blending of all the humble ingredients. You can use either chopper or jug blender for this. I add a little yogurt at the bottom of the blender so help to blend. You may add water instead.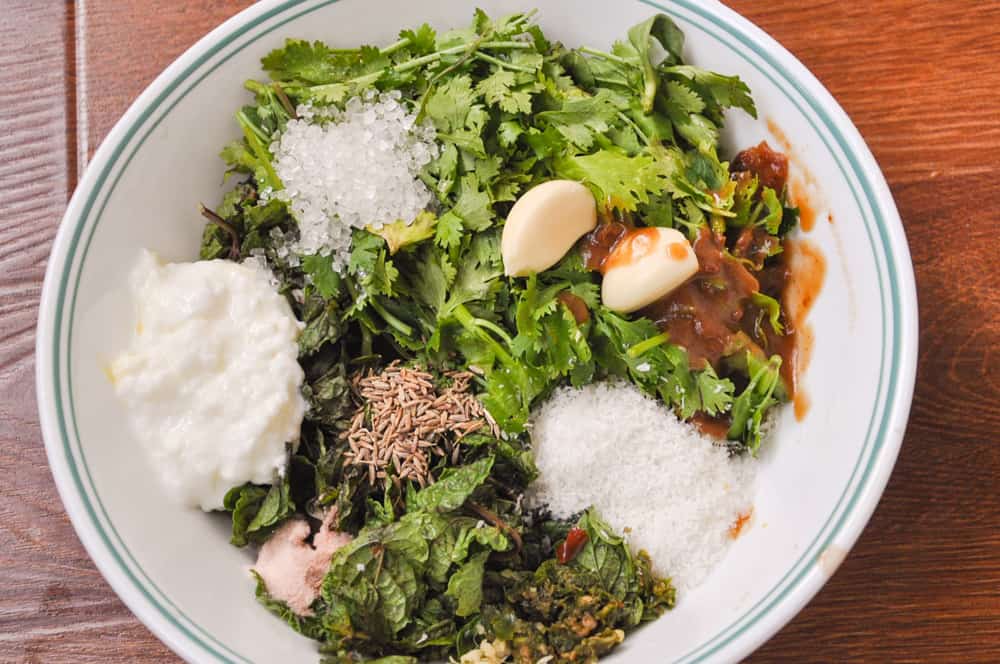 Never add the yogurt with blending as that will thin out the yogurt and chutney will loose a beautifully thick consistency.
Blend into a very smooth paste, this might take a few minutes and scrap the jug at intervals. Then mix in yogurt (low-fat or full-fat yogurt both work fine.) Use greek yogurt for a thick and high protein chutney.
Do a taste test and adjust any ingredient if needed. Store in the fridge and consume within a week or freeze. Check out tips and variation section above or notes section in recipe card for ideas.
Want more sauces in your life, check these!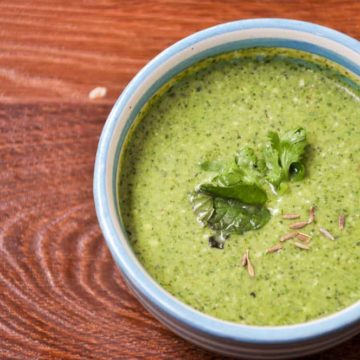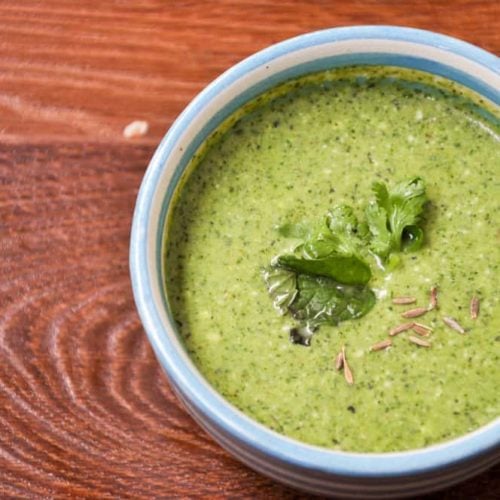 Green Chutney Recipe with variations
This is a basic green chutney recipe, in the notes section you can see all variations for making a sandwich, dosa or soma chutney.
Print
Pin
Servings :
25
serving, Makes: 2 cups
Ingredients
1

cup

coriander/cilantro leaves

,

packed or 1 cup more mint

1

cup

mint leaves

,

packed

2

tablespoon

desiccated coconut

,

optional

2

fat cloves of

garlic

½

tablespoon

green chili paste

,

or whole chilli to taste

3

tablespoon

yogurt

,

or water for blending

2

tablespoon

lemon juice

,

(helps retaining green color)

2

tablespoons

tamarind pulp

,

optional

1

tablespoon

sugar

,

or less

1

teaspoon

roasted cumin seeds

,

or cumin powder

1

teaspoon

salt

,

ot to taste

1½

cup

yogurt

,

whipped, optional
Instructions
Add all ingredients except yogurt in a blender and blend it into a smooth paste, add little water if required to blend. The blending might take a few minutes, scrape the sides at the interval.

In a bowl mix yogurt and blended paste until homogenized into a smooth consistency.

Do a taste test and adjust if/as needed. Chutney is ready.
Notes
Variations
For Sandwich Chutney: Skip the yogurt if making chutney for a sandwich, yogurt can make it soggy.
Add 1-2 tablespoon roasted peanuts or add 1 tablespoon roasted gram (bhunna channa) for thick chutney for sandwich.
For Samosa Chutney: The addition of tamarind pulp or a few tablespoons of imli chutney makes chutney very yummy, skip the yogurt.
Spicy Chutney: Add more green chilies or chat masala for a spicy chutney for chaat, samosa, bats vada, or bhel puri dip.
For Sauce: Add mayonnaise instead of yogurt and make a delicious sauce for sandwiches or to drizzle over chicken.
Dairy-free: Add a tomato instead of yogurt to make a dairy-free chutney.
More: Other common variations: ginger, black salt, chat masala, jaggery, sugar syrup, and raw mango.
Storage:
Use a clean spoon for serving.
Store in the fridge and chutney stays good for a week or more.
Freeze the excess chutney.
Discard if mold appears, chutney smells bad or turns really sour.
Nutrition Information