Here's my homemade ketchup recipe, that's gluten-free, vegan, delicious, thick, and full of tomatoey flavors. This was a long-awaited recipe on the blog and I tried this recipe 4 times before I was satisfied.
Why? Because I made this ketchup for my son and if it doesn't please him it won't please any kid. My son, like most kids, is so picky-eater and the ketchup drizzle makes most food agreeable to him. I like any mom can't give him processed food on a regular basis.
Jump to:
Just pick up your favorite ketchup and you'll see ingredients like modified starch, sodium citrate, citric acid, Xanthum gum, potassium sorbate, sodium meta bisulfate, food color, acetic acid, stabilizers, and permitted preservatives.
So THINK what chemicals are we eating! Check here about hidden calories in these sauces. That's why I choose to make my own tomato ketchup.
It'll be unfair if I don't tell you the difference between bottled and homemade tomato ketchup taste. Honestly, the taste is pretty much like bottled product when you add it to burgers, sandwiches, and any other snacks.
The texture is also thick and it covers the food. The only issue is it is not as bright red, gel-like smooth, and thick. So, if you can compromise a little on texture, you'll love the flavor of this homemade ketchup plus you can adjust it to your taste with the tips provided.
By the way, you can also make Ketchup with fresh plums. Find the plum ketchup recipe here.
Ingredients
Here are the ingredients of this tomato ketchup.
Tomato
Apple
Garlic
Onion
Vinegar
Sugar
Spices
Salt
How do you make it?
Make homemade tomato ketchup when seasonal, fresh and red tomatoes are available. Wash them thoroughly and chop off the eye or stem part of tomatoes. Then cut tomatoes roughly into four pieces. Similarly, chop the onions and apples into large chunks.
Put onions, tomatoes, apples, and garlic in a large wide and thick based pot. (The wide base will help evaporating excess water quickly and thick base will protect from burning.) Cover the pot and cook on medium-low heat for 30 minutes. (You may add a few tablespoons of water if needed in the beginning. The veggies will release a lot of water as they cook.)
When tomatoes are soft and mushy. Remove from heat and let the sauce cool enough to blend and strain.
(You may do this cooking step on the first day and let the puree cool completely. Then puree and strain it the next day. This way you divide the work and do not have to wait very long.)
Blend the tomato mixture into a smooth puree. You can also use an immersion blender or jug blender. Then strain the puree through a coarse strainer.
(If you do not have a food processor, just sieve the tomato mixture through a coarse strainer by pressing with a spatula.)
The puree has a good thickness at this stage, but when we'll add sugar and vinegar it'll get thin again.
In another pot, cook vinegar with spices for 7-10 minutes. Cover the pot as vinegar has a very strong smell. (Make sure your exhaust fan is on.) Then remove the spices from the vinegar with a slotted spoon or strain it.
Mix tomato puree, spiced vinegar, sugar, red chili powder, and salt in a pot. Bring in to boil and cook for about 30-45 minutes until the sauce has thickened and reduced.
The sauce is ready. The tomato sauce will be thick and retain its shape as it cools.
(You can also do a cold plate test to check the thickness of the sauce. Place 2-3 small plates in the freezer for 15 or more minutes. Place a drop of sauce on cold plate if sauce spread like water, cook it further. If it retains its shape, it is ready. The test is optional and not necessary.)
Storage
Homemade ketchup stays good in the fridge at least more than a month as vinegar, salt, and sugar all work as preservatives. You can also add ¼ teaspoon sodium benzoate dissolved in hot water in the ketchup as a preservative, but this is not recommended.
I don't use artificial preservatives instead, I fill three medium jars of ketchup and freeze two of them and keep only one in the fridge in a sauce bottle. When that will finish, I'll take out the next one. If you freeze ketchup, it'll last up to 6 months or more.
Tips
I'm using apples in the recipe as a natural sweetener and thickener.
Use the best ripe and red tomatoes.
Because it's homemade and you are the chef. Adjust the salt, chiles, vinegar, garlic, spices, and sugar as per your taste.
Keeping tomato ketchup in the sauce bottle will ensure you do not add impurities to the sauce making it last longer. A sauce bottle also helps easy-drizzle of ketchup over snacks. 
Use a clean spoon every time for serving.
FAQ  
Can you store ketchup without the fridge?
Commercial ketchup has preservatives so you can store them without a fridge for a month or more after opening. Homemade ketchup, on the other hand, relies on natural preservatives like sugar and vinegar. So it will stay good without the fridge for 2-3 days only.
How much vinegar do you put in homemade ketchup?
You can add up to 1 ½ cups of vinegar in 1 kg of tomatoes to make sour and store them like ketchup. I'm using ¾ cup vinegar in this recipe for 1 kg tomatoes that give moderately sour ketchup that is great for kids. But if you wish to add even less vinegar you can add just ½ cup vinegar. As vinegar is also a preservative. I  recommend adding at least ½ cup of vinegar to one Kg of tomato ketchup.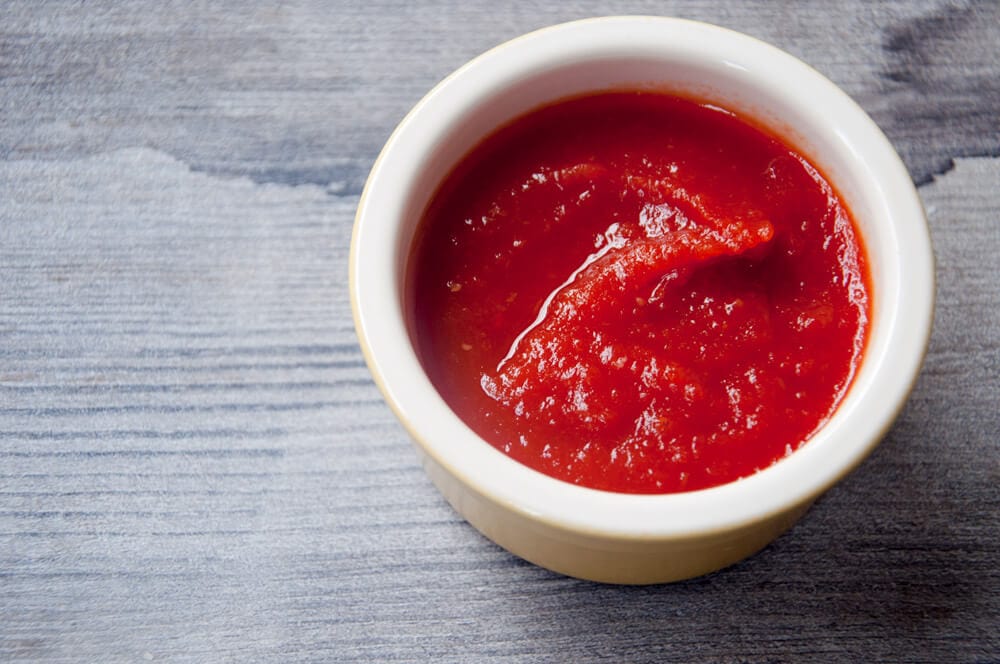 Looking for ways to use fresh tomatoes?
If you try this recipe, I'd LOVE to hear your feedback in the comments. Your 5-ratings motivate me to do my best. Stay connected for more recipes and videos on Facebook, Instagram, Pinterest, and Youtube.
📖 Recipe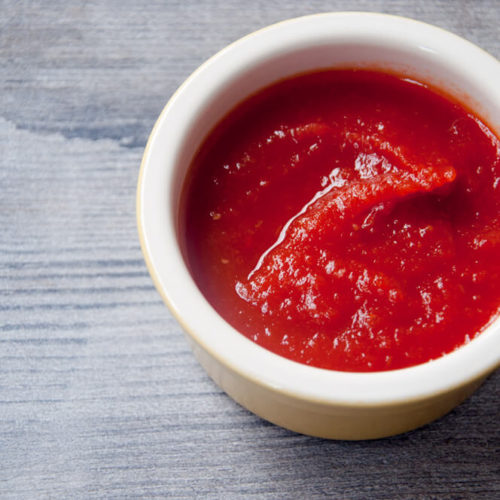 Ketchup Recipe (Fresh Tomatoes)
This is thick and moderately spiced ketchup that tastes great on all snack and in Indo-Chinese gravies, great for kids.
Print
Pin
Rate
Servings :
2
jars (1000 ml)
Ingredients
Puree
2

kg

fresh tomato

,

cut in chunks

2

nos

apples

,

deseeded and cut in chunks

1

large

onion

,

cut in chunk

4

fat cloves of

garlic
Assembling
1½

cup

vinegar

5

whole

red chilli

,

any of your favourite hot chilli

4

nos

cloves

6

nos

black peppers

1

teaspoon

salt

1

teaspoon

red chilli powder

¾

cup

sugar
Instructions
Put all ingredients of purée in a pot and cover. Boil it on medium heat for 30 minutes until tomatoes are soft and mushy.

Remove from heat and let it cool. Then blend it into a smooth puree. Strain the puree through a coarse strainer and set aside.

Boil vinegar with whole spices for few minutes and then remove spices.

Now combine tomato puree, sugar, salt, vinegar and red chilli in a pot.

Bring it to boil and simmer on medium to low heat for 15-25 minutes until sauce thickens and is reduced a little. The thick sauce will splutter so adjust heat as needed.

Fill hot tomato ketchup in sterilised jars and do not place the cap until sauce cools completely.
Nutrition Information
Serving:
1
tablespoon
,
Calories:
25
kcal