Heya! Since the lockdown has struck, all I think of is making things with easily available ingredients like this hummus recipe without tahini. It is super simple to make and makes a deliciously easy and healthy dip that goes with almost any snack.
What is hummus without tahini made of?
Hummus without tahini is basically made of chickpea, sesame seeds, and olive. Apart from the basic ingredients garlic, lemon, yogurt, and salt are used to season the sauce.
There are other variations to basic hummus recipes, you can find more ideas in this round-up here.
What to eat with hummus?
Hummus is a middle eastern sideline that tastes heavenly with a number of carbs and veggies.
tandoori naan
chip
a sideline with grilled meat
fresh vegetables like zucchini carrot
How to boil soft chickpeas?
You can use canned chickpeas for this recipe. If you wish to use boiled raw chickpeas, (which is easy and healthy) below are the step for soft-boiled chickpeas. For a super smooth hummus, you need super soft chickpeas. If chickpeas are hard, your blending will be long and troublesome and you'll never get that smooth texture.
Tip: Always boil a large batch of chickpeas in advance and freeze. So can make hummus quickly whenever the craving strikes. You can also use chickpea to make Lebanese Moussaka.
Soak ¾ cup raw chickpea in warm water for two hours. Also, add ¼ teaspoon of baking soda.
Discard water and boil in new water with 1 teaspoon of salt on a medium flame for 60-90 minutes until very soft.
You can cook in a pressure cooker in an instant pot to speed up the cooking.
Discard any excess water and store the chickpea in the fridge or freeze.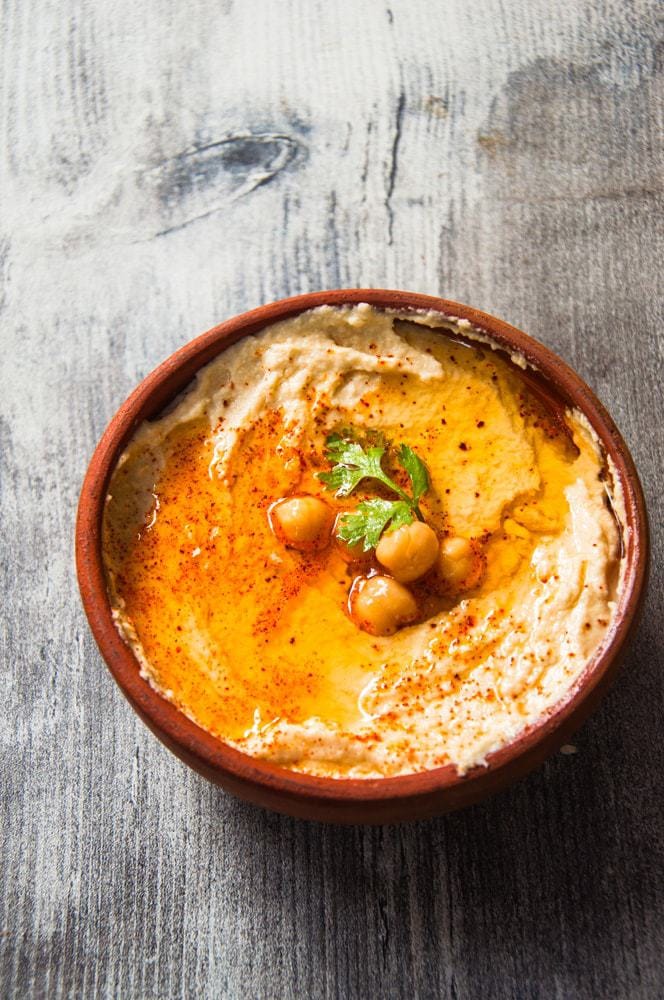 How do you make hummus without tahini taste better?
A big part of hummus is soft chickpeas that are meshed into a smooth paste. Similarly, make a smooth tahini sauce by grinding sesame finely. Next, you need to create a balance of acid, salt, and fats. Always add little lemon juice, salt, and some olive oil for best taste. If you are a fan of garlic add some roasted or fresh garlic too. Add some nut and greek yogurt. Do a taste test and adjust as needed. Another most important tip is letting hummus rest for 3-4 hours before serving. Hummus tastes best the next day.
How do you make hummus from scratch without tahini?
This recipe is great for those who wish to make hummus without tahini from scratch. And I bet once you've enjoyed the taste of this freshly toasted sesame tahini and extra virgin olive oil. You won't touch the store-bought stuff.
Steps to make tahini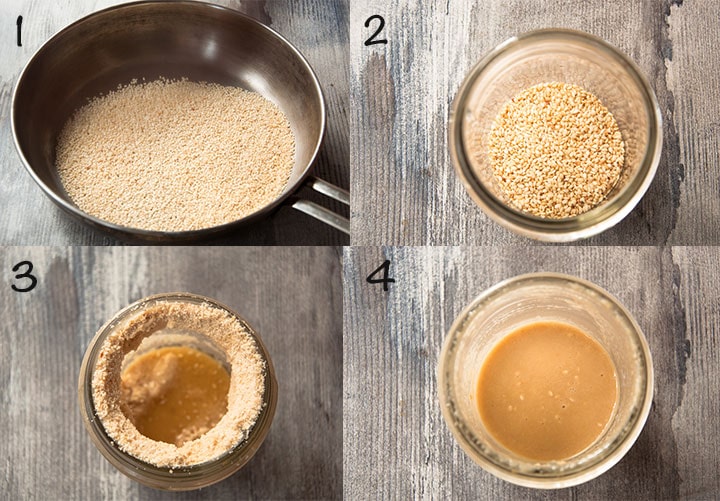 Roast sesame seeds in a pan on medium heat till lightly golden. Be vigilant and stir constantly, sesame can burn quickly. Transfer to a plate and let it cool for a few minutes.
Now, grind sesame seeds into powder.
Add 2 tablespoons of olive oil. Scrap the sides and blend more, about a minute to make a paste
Tahini is ready.
Steps to make homemade easy hummus in a blender
In the pictorial, I'm using a blender. But hummus without tahini is best made in a chopper.
In a food processor, add tahini paste, olive oil, yogurt, garlic, salt, ice, and lemon juice at the bottom.
Then add chickpea on the top. Blend for 5 minutes with intervals and scraping in between. If the mixture comes stops moving, add 1 tablespoon warm water, only if needed.
Blend all into a very smooth paste.
Transfer hummus to a flat bowl. Drizzle some olive in the center. Garnish with chickpea and paprika.
Steps to make Hummus without tahini in the chopper
Here's an old photo of hummus that I made in the chopper. I recommend using the chopper to grind for the best results. Start by grinding chickpea into a powder, then add the remaining ingredient. Blend until smooth.
Hungry for more? Check these!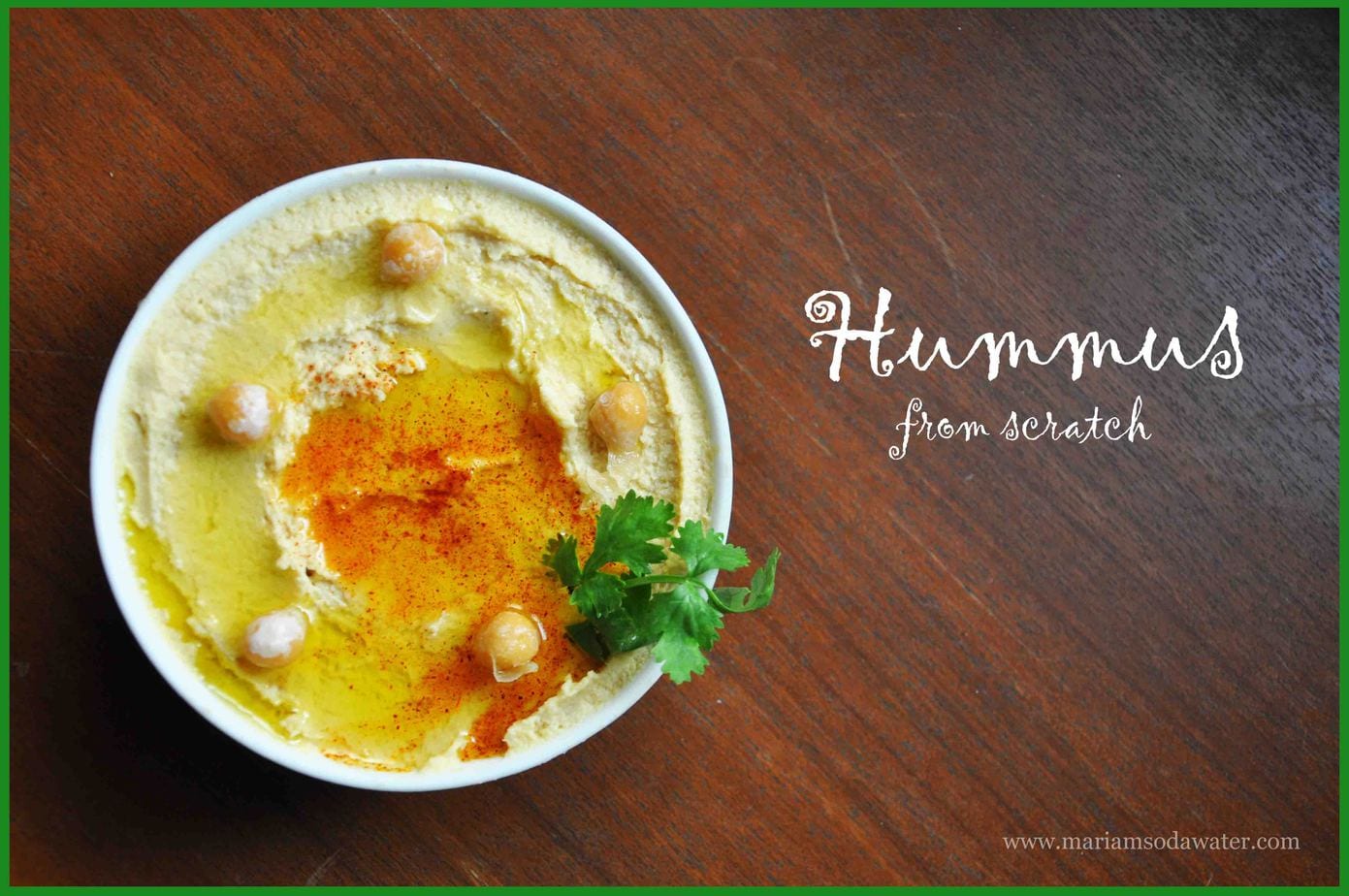 Hummus Recipe without Tahini
A super easy snack that is highly nutritious, healthy and packed with flavors.
Print
Pin
Rate
Servings :
4
serving , Makes 2 cups
Ingredients
¼

cup

sesame seed

5

tablespoon

extra virgin olive oil

,

divided, more if needed

1½

cup

chickpeas

,

boiled very soft, or canned

2-3

cloves

garlic

,

or ½ tablespoon garlic paste

½

teaspoon

salt

2

tablespoon

lemon juice

,

or more

2

tablespoon

yogurt

2

ice cubes

a pinch of

paprika

,

for garnish
Instructions
For Tahini
Roast sesame seeds in a pan on medium heat till lightly golden, stirring constantly.

Blend the sesame seed in a blender into a fine powder.

Add two tablespoons of olive oil and blend further till it forms a thick runny paste. Tahini is ready. 
Make hummus in chopper (recomended)
In a chopper, add chickpeas and grind until it turns into a fine powder.

Now add tahini, lemon juice, yogurt, 2 tablespoons of olive oil, salt, ice cubes, and garlic. Blend till it forms a smooth paste.
Make Hummus in Blender
Place the wet ingredient like oil, yogurt, and lemon juice at the bottom of the blender. Then place the ice, garlic, and salt. Finally, place the chickpeas and blend.

Scrap and blend again with intervals for five minutes until smooth. If the mixture stops moving, add 1-2 tablespoons of warm water only if needed.
Assemble
Fill a wide bowl or soup plate with hummus. With the back of spoon press hummus and turn the bowl with other hand in a circular motion to make a well in hummus.

Add 1-2 tablespoon olive oil in hummus well. Garnish with paprika and herbs.
Notes
Storage: Store hummus in the fridge in an airtight jar or covered with a cling wrap. Stays good for 3 days in the fridge.
Salt:

If your boiled chickpea is already salted, then add very little or no salt.

More Spices

: You can add ½ teaspoon cumin powder

Veggies addition: You can add avocado, roasted red pepper, cilantro, baked sweet potato, and baked beet to this basic hummus recipe. Add any one of these veggies and blend it until smooth. These are great ways to add nutrients but I like authentic version best.
Nutrition Information