Step by step recipe of karela masala Pakistani with photos of each step.
Karela, bitter gourd,bitter melon or bitter squash is a notorious vegetable  in proverbs and sayings for its bitter flavor like 'karwa karela', 'karela si batein' but the bitterness has sweet effects on health. Kerela/bitter gourd are made just like other vegetables, the trick is to cut its bitterness to an enjoyable level. Like it will still be slightly bitter but the bitter sour taste is the delicacy of this vegetable.
This is simple karela recipe, karela are still mildly bitter, the onion tomato masala along with lemon and brown sugar push make it very special for a summer lunch. I'll soon share recipe of qeema karela too which has an absolutely delightful taste.
My other masala recipes that you might like
Benefits of Karela
I'm also adding a few benefits of karela that might help motivating you and others in the family to eat Kerala/bitter gourd more often.
low-calorie (17 calorie/ 1oo gm)
rich in dietary fiber, minerals (folates), vitamins C and anti-oxidants.
It contain plant insulin (polypeptide-P) and hypoglycemic agent (charantin). Both are helpful in treatment of type 2 diabetes.
Good for early pregnancy.
How to make karela masala recipe
Karela Masala Recipe Pakistani
A simple but delicious recipe of karela that can eaten with roti or rice and is made in no time.
Click stars to rate this recipe!
Print
Pin
Ingredients
500

gram

Bitter gourd

-

(karela)

4

tablespoon

oil

-

or more
Spices
½

teaspoon

cumin seeds

-

(sabut zeera)

½

teaspoon

mustard seed

-

(kali rai)

½

teaspoon

black seeds

-

(kalongi)

½

teaspoon

fenugreek seeds

-

(methi dana)

coriander powder

-

(dhanya powder)

Turmeric powder

-

(haldi powder)
Vegetables
2

medium

onion, chopped

-

(piyaz)

1

tablespoon

green chili paste

-

(choti hari mirch)

½

tablespoon

or 3-4 cloves garlic

-

, chopped

1

teaspoon

ginger paste

-

(adrak)

2

medium

tomatoes

-

, chopped
Other
salt

-

to taste

3

tablespoon

lemon juice (or 1 tablespoon tamarind)

1

teaspoon

sugar

fresh coriander

-

for garnish
Instructions
Wash and peel bitter gourd, cut in half, remove flesh and seeds. Cut into thick slices.

In a bowl take sliced bitter gourd and add 1 teaspoon salt and 2 tablespoon lemon juice. mix well and leave for at least 30 minutes.

In a vessel take oil, heat on low flame and add garlic and fry till light golden.

Add dry whole spices (cumin, fenugreek, mustard, black seed) first, then powder spices (turmeric and coriander powder), finally add green chili and ginger paste. Saute for 1 minute.

Add chopped onion, saute till onions are translucent.

Add chopped tomatoes cover and cook for 5 minutes on low flame or till tomato are soft.

While gravy cooks, wash karela slices in water and squeeze them to reduce bitterness.

Add sliced karela in gravy and cook for 10 minutes until soft.

Sautee in high flame for a minute or more and lemon juice and brown sugar.

Karela masala is ready, serve with kachumber salad, mint raita and roti or rice.
Notes
Vegetable are lighter food so I don't add a lot of whole spices (garam masala), just cumin,and instead I use mustard, fenugreek, kalonji to add both taste and health benefit of these seeds. So they are optional ingredients.
If you squeeze the karela hardly they will be less bitter.
Diabetics patient can drink 2 tablespoon of karela juice that we remove in squeezing.
Another methods of removing bitterness of karela is boiling them in salty water, and / or frying karela in oil.
Step by step Karela Masala Recipe
I got these super fresh karela from a friends farm. First wash the bitter gourd and peel it lightly, just remove ridges to have smooth skin.
Cut in half and remove flesh and seeds. Now cut in thick slices.
Take slices in a bowl and add salt and lemon juice to remove bitterness of karela. We will let this rest for 30 minutes at least. You can also do this a day ahead, and store in fridge.
In a vessel take oil and saute garlic till light golden, keep the flame low.
Add dry spices, like mustard seeds,cumin seeds, fenugreek seeds, black  seeds in oil first then add powdered spices like coriander and turmeric.
Add onions, green chili paste and ginger paste. Mix well and saute till onion for 3-4 minutes on medium flame or till they turn soft.
When onion fried add chopped tomatoes and  stir well and cover. Cook for 5 minutes or till tomatoes are soft on medium flame.
While onion and tomatoes fry, we wash the sliced karela with water and squeeze well. I squeeze lightly as a lot of benefits are in its juice. (The more you squeeze juice the less bitter it is)
Add kerala to the onion and tomato gravy. Season with salt. Cover and cook for 10 minutes or till karela are soft.
Now, I don't overcook it and add lemon juice here and brown sugar after cooking. You can go on sauteing (bhunofying) if you like.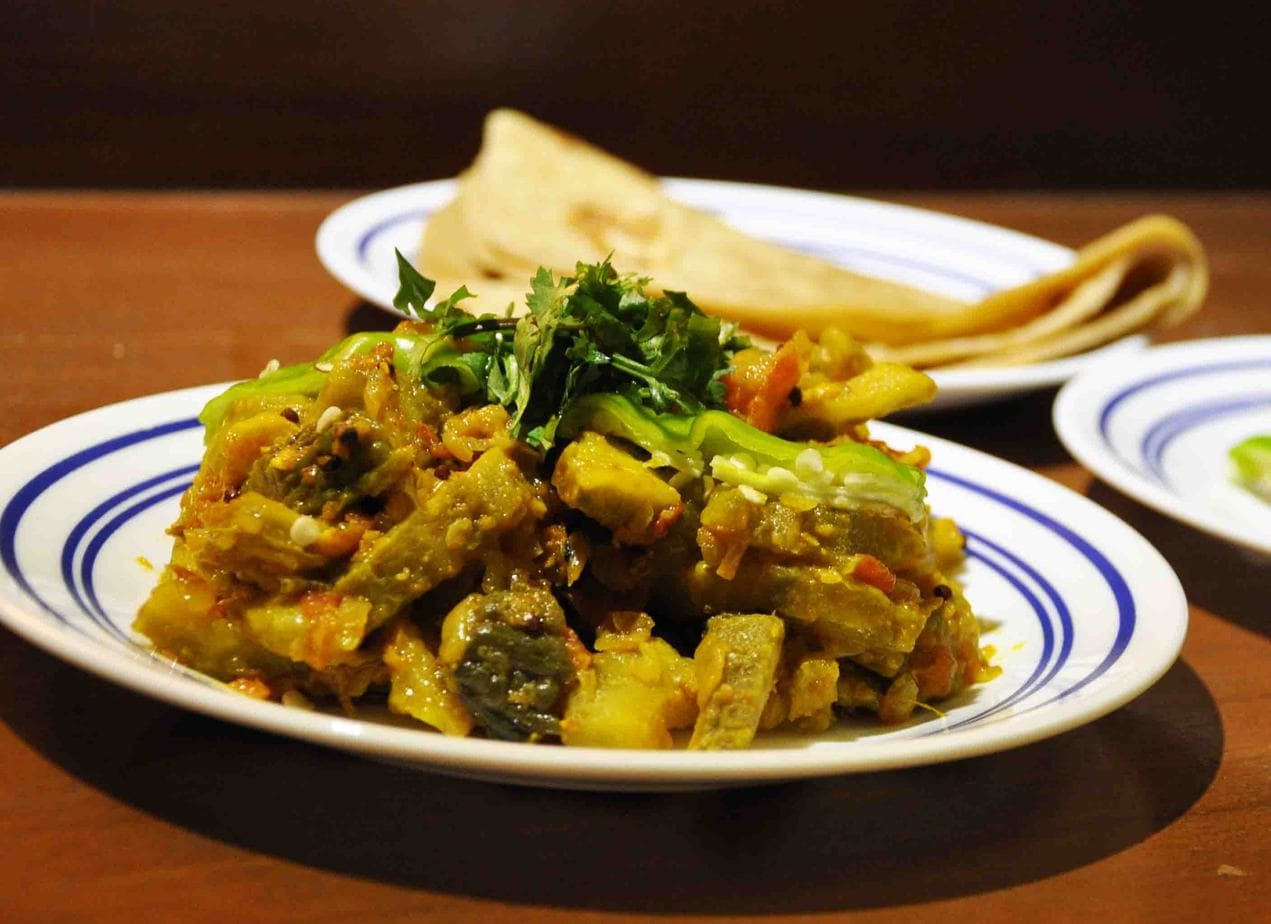 If you know of better ways to cut bitterness of karela, please share. We would love to know.