Make this authentic Pakistani Keema matar recipe in just 35 minutes! Just 1-pot easy peasy recipe that goes well almost with any carb side.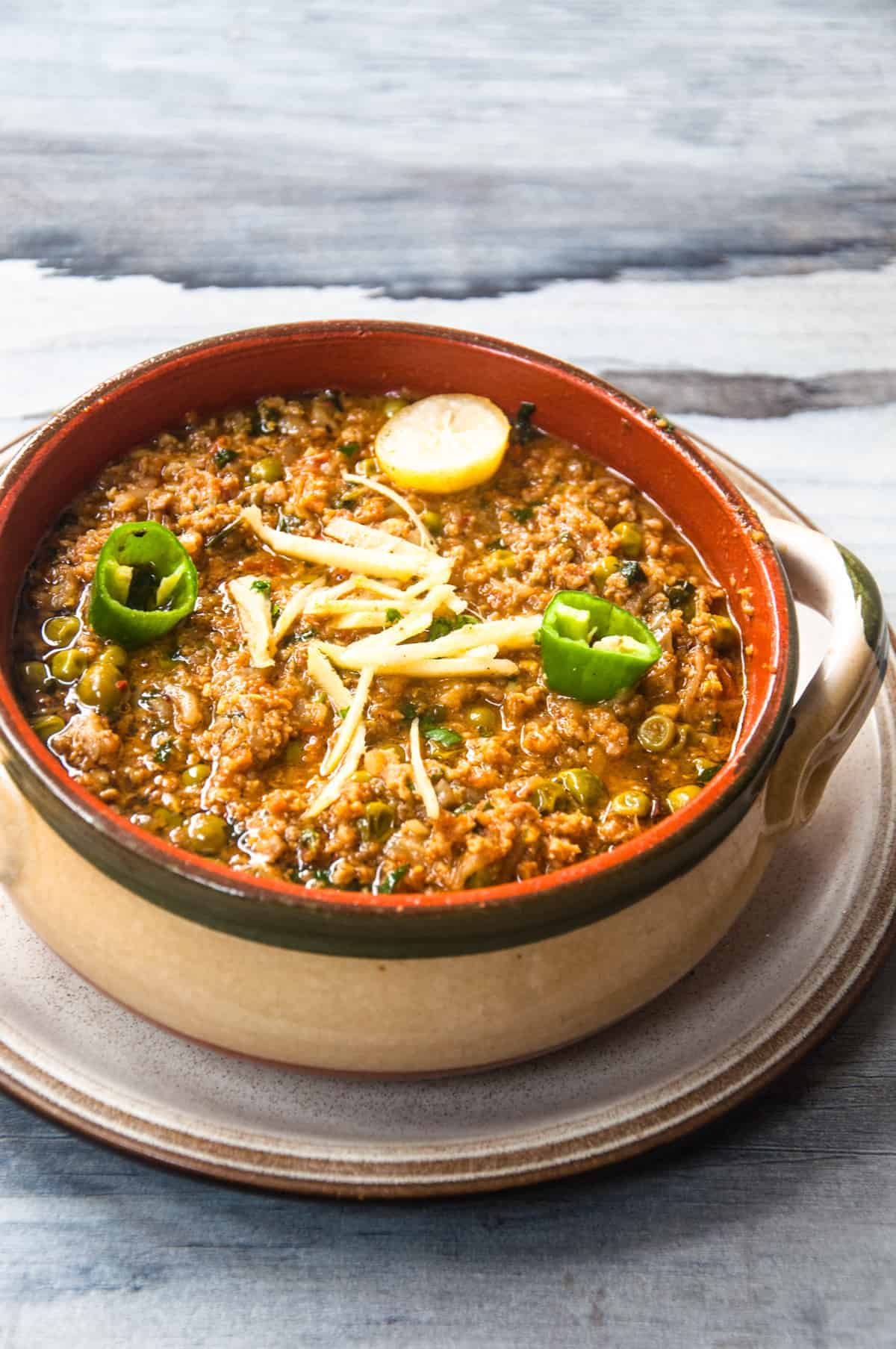 Do you also feel ground beef and pea curry has an amazingly satisfying feeling; it is convenient to cook, and it is also very forgiving when you use it in any recipe.
Keema matar is another Pakistan staple food like aloo gosht and pakora curry. Keema means mince of any meat usually (beef, mutton, lamb, or chicken). It is also spelled as qeema, kheema by some. Matar means green pea.
So when cooking mince and peas in Pakistani style tomato and onion gravy, it is called keema matar. In winters, when fresh pea is plenty, it is a must-have in non-veg Punjabi homes.
This recipe is very similar to my bhuna keema recipe and aloo keema recipe.
Jump to:
Why does this recipe work?
This is a one-pot comfort food recipe that is made with simple ingredients. The key is 20% fat minced or ground meat.
Another important taste builder is the use of fresh spices. Lastly stir-fry the keema until browning and release fat for that roasted taste. This recipe is a staple at home and never disappoints.
Ingredients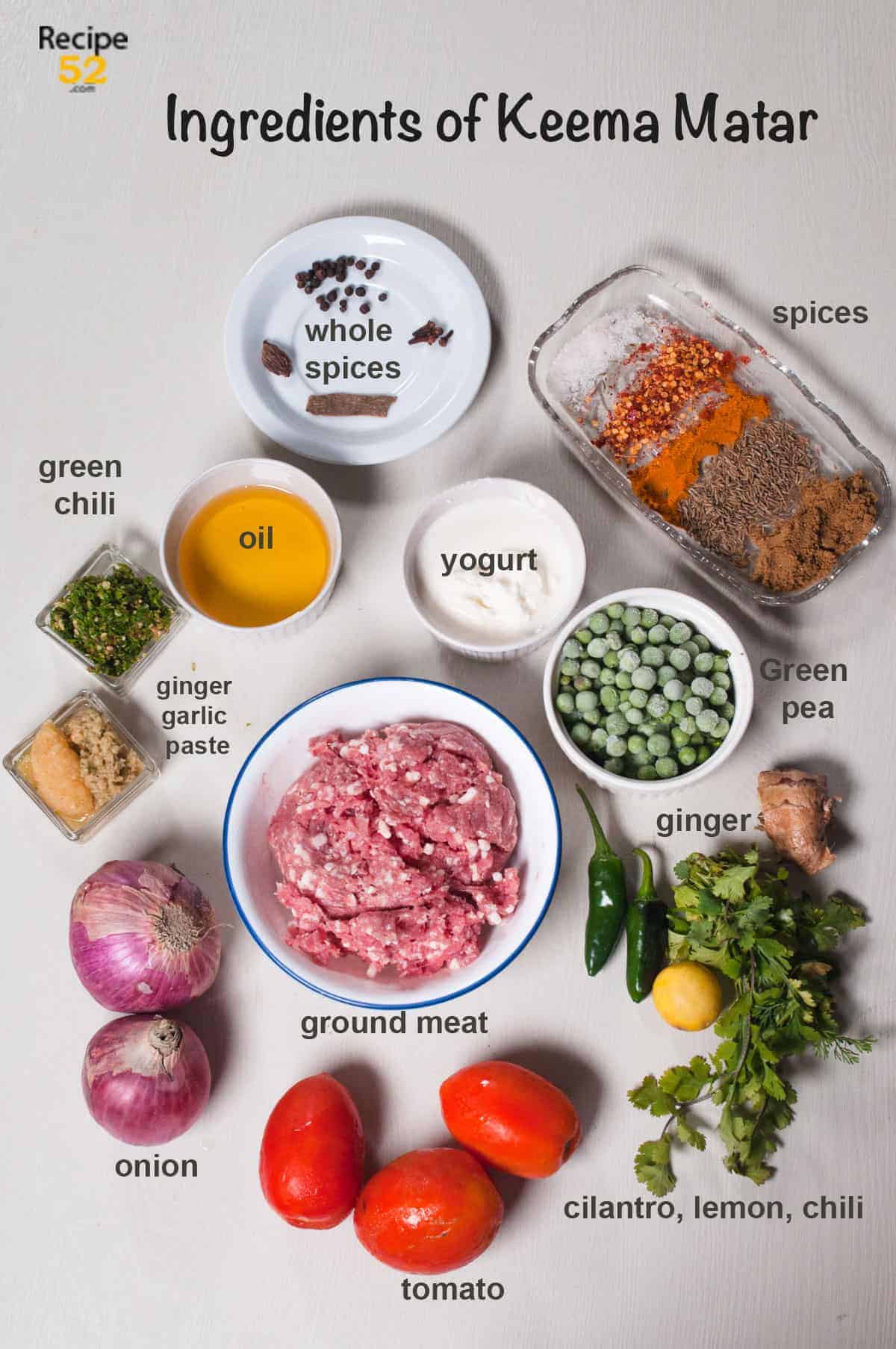 Ground meat: You can make this keema matar with ground lamb or beef. Best tasting keema matar is made with beef mince that has 20% fat. Don't be scared of fat, the lamb or beef tallow in moderation has a few health benefits too. Read more at Draxe.com.
Onions: I fried freshly sliced onion for this recipe. But if you have pre-fried onions in hand, you can use that too. You'll need about half a cup of fried onions.
Tomatoes: I made fresh tomato puree by simply blending tomato with little water. Chopped tomatoes also work well. You can use packed tomato puree or paste as well. The cooking time will reduce.
Green Pea: It is always better to use pre-boiled peas for cold storage and non-seasonal peas can take very long to cook in the gravy. I used frozen peas that quickly get tender. You can also add small cubes of potato in mince at this stage to make matar keema with aloo.)
Yogurt: Yogurt is that moisture to keema. You can skip it for a dairy-free version.
Ginger, chilies, and garlic: Freshly grounded or chopped ginger and garlic is key to best-tasting keema bursting with Indian flavors.
Just combine ginger, garlic, and chilies and mince them together in a processor.
Red chili flakes: Red chili is a heat factor in the recipe, you can use red chili powder too. Consider skipping if you can handle spicy food.
Cumin and coriander: If possible use roasted and grounded cumin and coriander. The flavor is greatly enhanced by roasting.
Do this ahead in bulk to reduce cooking time. Just dry roast cumin and coriander separately in a pan on medium heat for a few seconds until fragrant.
Then grind it into a fine powder and store it in air-tight jars at room temperature for up to 30 days. You can use this powder in other Indian chicken curries as well.
Indian spices: We need turmeric, whole cinnamon, whole black cardamom, cloves, and pepper. You can also sub ground spices for the whole.
Garnish: Cilantro and julienne ginger are almost always used to garnish. Lemon is a personal preference, so I'd prefer to serve along.
How to make it?
A delicious keema begins with golden fried onion. (However, you can also store-bought fried onions. In that case, fry the spices first and then add the crushed and fried onions.)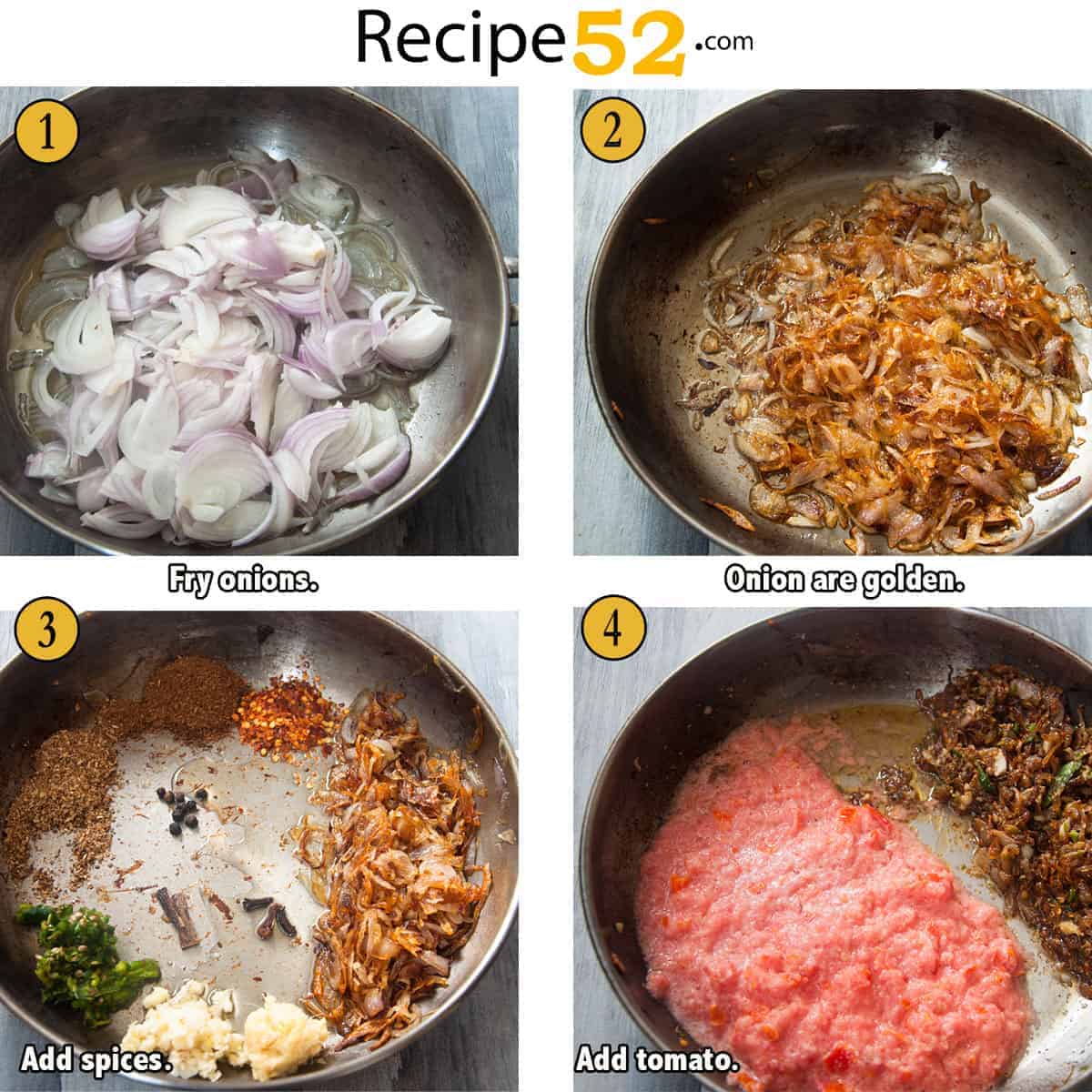 Make sure your onions are thinly sliced. Fry onions on medium heat with frequent stirring towards the end for evenly fried onions.
See the onions are just golden and not too dark or burnt. (Tip: When onions are close to getting golden each onion slice appears separated and not clumpy.)
Once the onions are golden add the spices. Reduce heat to the lowest while adding spices.
Let spices sizzle for a few seconds then mix in tomatoes. Mix well, cover the pot, and cook on medium heat for 3-5 minutes until tomato water dries and you see some oil shining on the sides of the pan.
(You can also use chopped tomatoes in the recipe, I simply blend the tomatoes to get a raw tomato puree. I find tomato puree gives a better texture than chopped tomatoes.)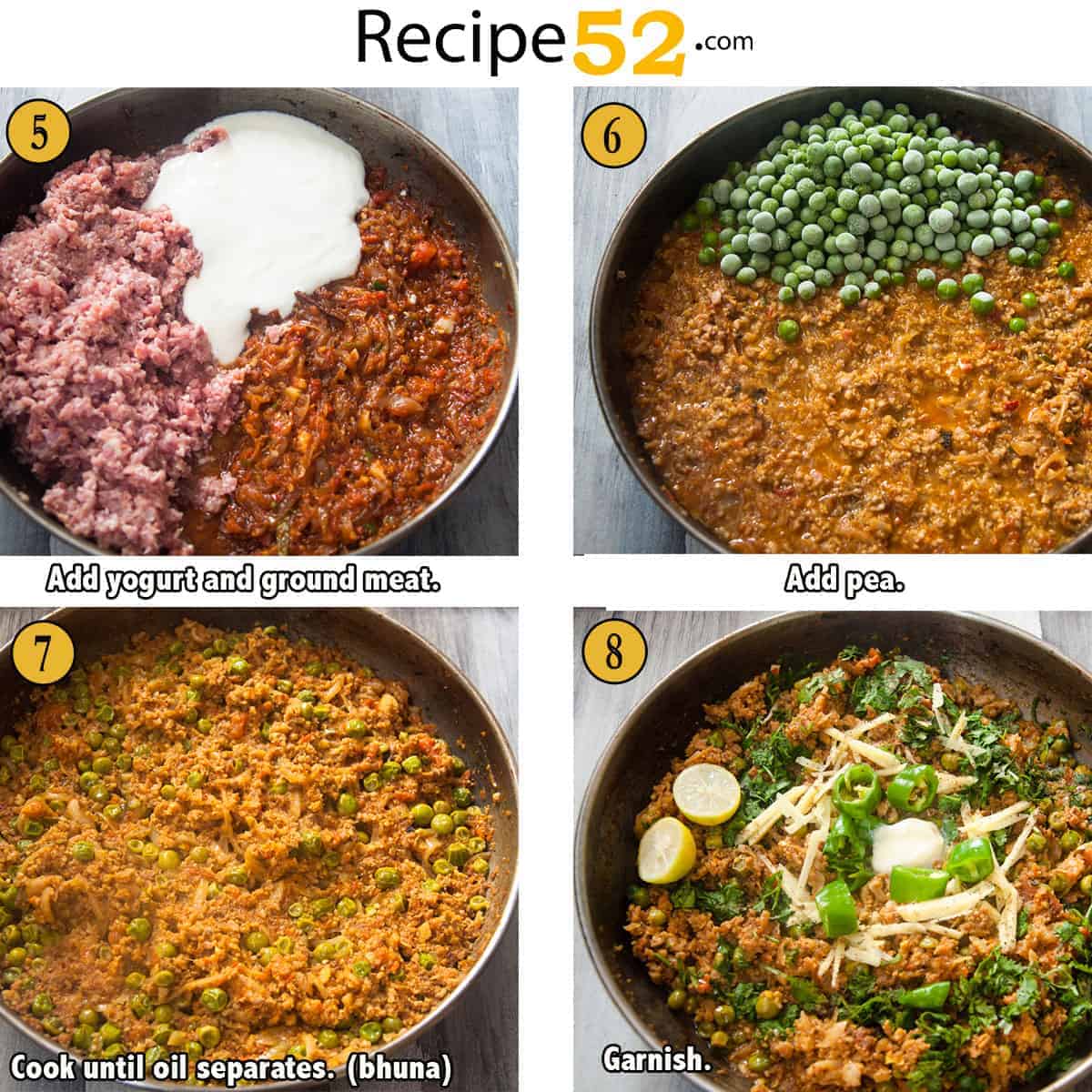 Add the ground meat (mince) and yogurt. Mix well and cover the pot again. Cook for 5-7 minutes on medium heat until keema changes color.
Add the pea (matar) to the keema. Cover and let it cook another 7-10 minutes until peas are cooked. Adjust heat as needed.
Ground meat and peas are cooked, I'll cook this keema further on high heat for 2-3 minutes with constant stirring to dissolve some of the onions. Continue to stir fry (bhuna) on high heat until you see some oil separate on the side.
If you like a little gravy in your keema add about ½ cup of water. Bring the curry to a boil and then simmer for 5 minutes. If you like dry keema matar then simply plate out and garnish with ginger, coriander, and chilies. I prefer to cover the pot with garnish so the chilies the cooked and the heat and flavors are released in the keema.
Tips to make
Use a thick-bottomed wide-based pan that allows enough surface for stir-frying.
Use 20% fat beef or mutton/lamb mince, as little fat is essential in mince curry. Avoid high-fat mince, as it can give a very annoying fat smell.
However, the roasted spices that we are using in the curry are quite aromatic and can definitely cover a little mince smell. Check this article for more info on buying mince.
If peas are not in season, then boil peas separately until soft before adding them to the gravy.
Use roasted cumin and coriander for the best taste. You can find details of roasting cumin and coriander in the notes on the recipe card.
Do not skip the last step of stir-frying keema on high heat until it releases oil to the side of the pan.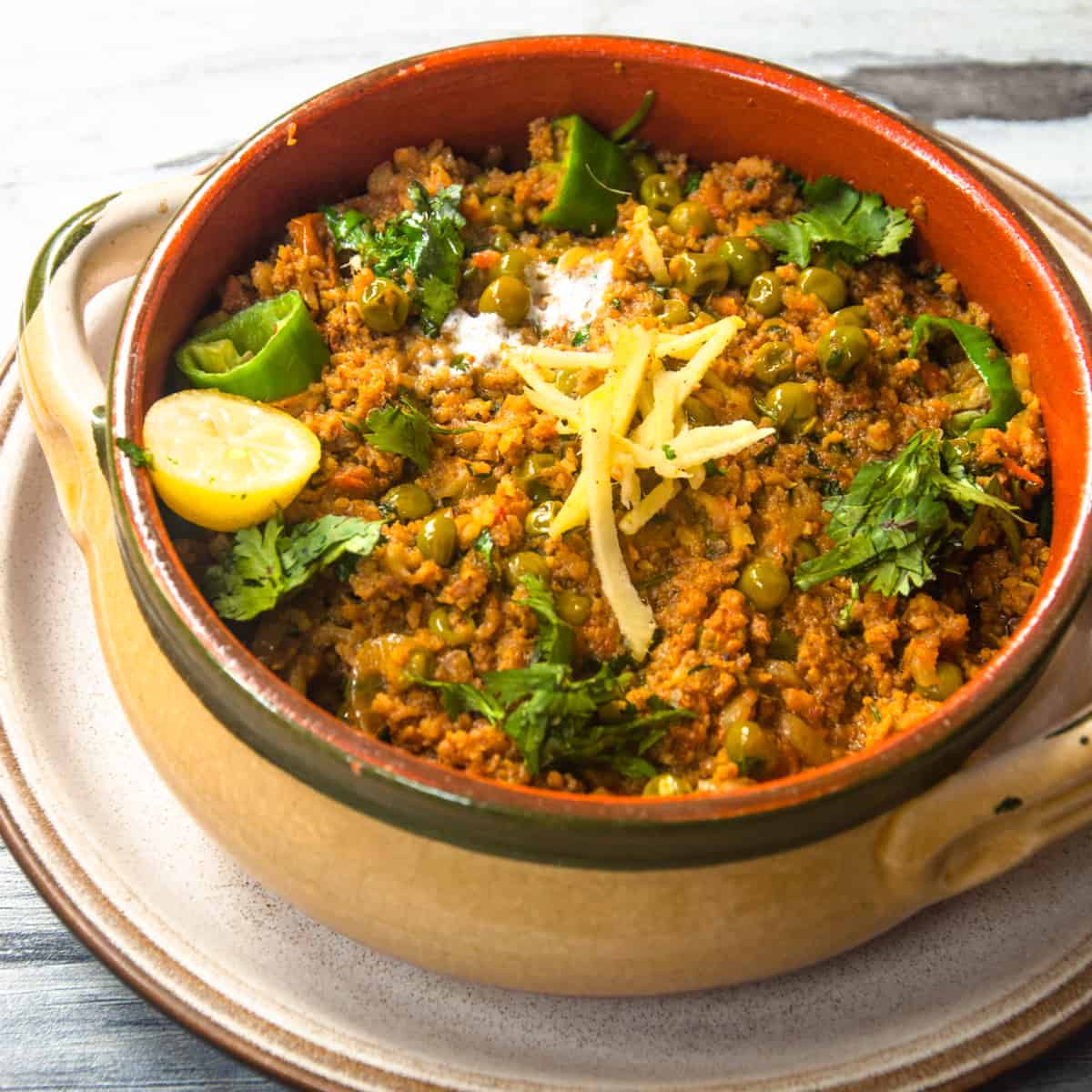 What to serve along?
Keema matar tastes great with all Indian flatbreads but I assume garlic naan is the best option. Don't keep the keema too dry. A light gravy as shown in the picture above is best as it allows the naan to get moist and doesn't give a dry bite.
Plain basmati or zeera rice compliment keema matar very well. Usually, in Indian homes, rice, and naan both are served with keema matar. If you are looking for another side to serve along keema matar, any lentil curry would pair well, like this moong/masoor dal.
Recipe FAQs:
How to get rid of the beefy smell?
Stir-frying ground beef on high heat until it turns brown is the best way to reduce the beefy smell. You can consider skimming some fat from the curry if beef mince has too much fat. Lastly, the use of spices also helps undermine the beefy aroma.
Can you freeze keema matar?
Yes, keema matar is freezer friendly and tastes great after re-heat.
What to do with leftovers?
Dry out excess water and use keema as filling. Or make keema sandwich or keema paratha with cheese.
Find more mince recipes here!
If you try this Pakistani keema matar recipe, I'd LOVE to hear your feedback in the comments. Your 5-ratings motivate me to do my best. Stay connected for more recipes and videos on Facebook, Instagram, Pinterest, and Youtube.
📖 Recipe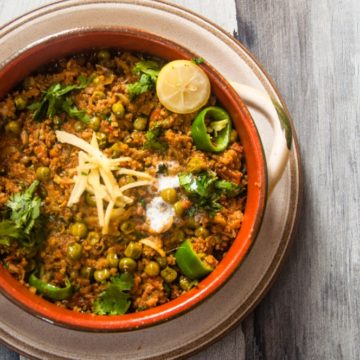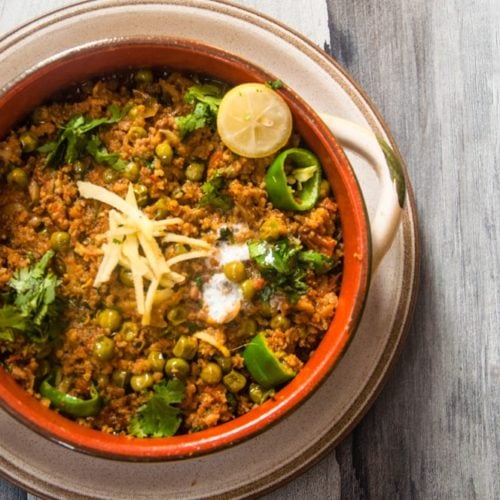 Pakistani Keema Matar Recipe
A dhaba style keema matar that tastes great with garlic naan or zeera rice.
Print
Pin
Rate
Ingredients
450

gm

ground beef or lamb

⅓-½

cup

oil

,

less or more depending on the fat in the ground meat.

2

medium

onions

,

thinly sliced or ½ cup fried onions (see note 1)
Spices
4

cloves

1

inch

cinnamon stick

8-10

black pepper

1

whole

black cardamom

¾

tablespoon

cumin powder

,

dry roasted and grounded (see notes 3)

¾

tablespoon

coriander powder

,

dry roasted and grounded (see notes 3)

½

tablespoon

red chilli flakes

,

skip for less spicy

½

teaspoon

turmeric powder

1

tablespoon

green chili paste

½

tablespoon

garlic paste

½

tablespoon

ginger paste

1

teaspoon

salt

,

more to taste
Other
3

medium

tomatoes

,

chopped or pureed (See note 2)

½

cup

yogurt

,

whipped, optional

1

cup

peas

,

boiled or frozen
Garnish
2

tablespoons

butter

,

optional, but recommended.

3-4

green chillies

,

less spicy type, thick slices

2

inch

ginger

,

julienned

¼

cup

fresh coriander

,

chopped

2

lemon wedges
Instructions
Fry the onions in oil on medium heat until golden brown.

Now, add all ingredients in the spice list. Start with the whole spices, then add ground spices, and finally wet spices. Fry for a few seconds. (Watch the video.)

Add tomatoes and salt, mix well and cover. Cook for 5 minutes.

Next, add ground meat and yogurt. Mix well and cover the pot again. Cook for 5-7 minutes on medium heat.

Mix in peas and cook for 7 minutes until mince and pea are cooked.

Now, increase heat high and stir fry keema for 3-5 minutes until keema looks brown and oil separates on the sides of the pan.

If you like gravy add ½ cup water or adjust the consistency of keema to personal preference. (Skip adding water if you like dry gravy.)

Garnish with sliced chilies, fresh coriander, and ginger slices. Serve with lemon wedges.
Notes
If using fried onions, heat oil and fry all the spices until it sizzles. Then add the crushed onions. Give it a stir and immediately add the tomatoes.
You can use chopped tomatoes too but tomatoes pureed give smoother gravy.
I highly recommend using roasted and grounded cumin and coriander seeds as it gives crisp flavor and aroma. To roast just add cumin and coriander in a pan and dry roast on medium heat. Keep stirring until the color of the cumin and coriander has darkened. Remove from pan and cool. Then ground into a fine powder. You can make a large batch of these roasted spices and store for a month. Use roasted cumin and coriander in all Indian curries instead of plain cumin and coriander. Taste is always enhanced.
Oil: The amount of oil in keema depends on the fat content of ground meat. Very little oil will make your keema taste dry but it still tastes good.
Nutrition Information
Calories:
578
kcal
,
Carbohydrates:
24
g
,
Protein:
25
g
,
Fat:
44
g
,
Saturated Fat:
11
g
,
Polyunsaturated Fat:
6
g
,
Monounsaturated Fat:
23
g
,
Trans Fat:
1
g
,
Cholesterol:
84
mg
,
Sodium:
827
mg
,
Potassium:
880
mg
,
Fiber:
8
g
,
Sugar:
10
g
,
Vitamin A:
1474
IU
,
Vitamin C:
42
mg
,
Calcium:
138
mg
,
Iron:
5
mg