Today, I'm so happy! I'm sharing a recipe that was requested right in the beginning of this blog. And, I alway had a heavy heart since, I hadn't fulfilled request of my first and most valued followers.
Khaosay is a Burmese dish. Since, my bestie is Burmese and she is particular about her food being adapted to strange variation and called khao suey. I want to apologise her and all Burmese for posting a not at all authentic recipe. (I'll do a separate post on it, someday; one day.)
Why?
This blog is a pre-dominantly Pakistani and Bohra food blog. All requests were to post Khao suey recipe, bohra style with Bohra Coconut curry. So, here I go!
Both Burmese and Bohra style curry are delicious but Bohra curry is richer than Burmese Curry for sure with more nuts and large array of spices.
Apart from curry complete recipe is original and close to authentic Burmese style khao day. Oh yes! Slims chips addition is pretty Pakistani guilty pleasure.
I have listed all accompaniments that I knew were eaten with khao sey, you may stick to your favourite once only.
How to make it?

Above photo show they spices you need to make the delicious Bohra Coconut curry masala.

Then grind it into the fine powder. From one batch of this masala you can make curry 3-4 times. Get masala recipe here!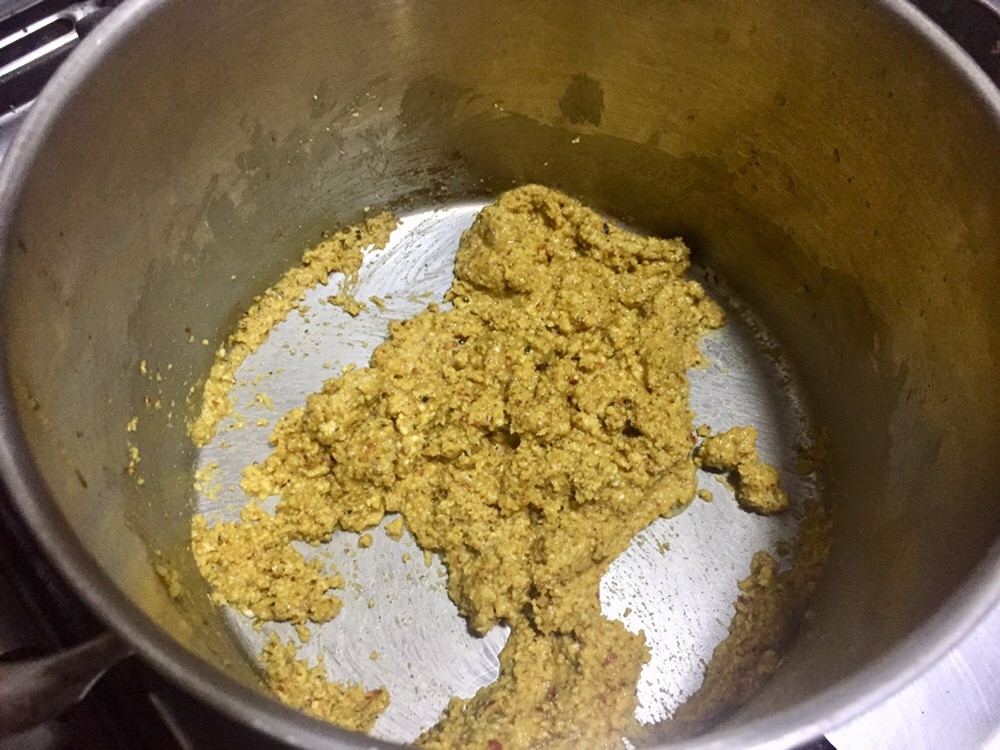 Fry this masala in a pot. Add curry leaves at this stage and fry for about a 30-40 minute until fragrant.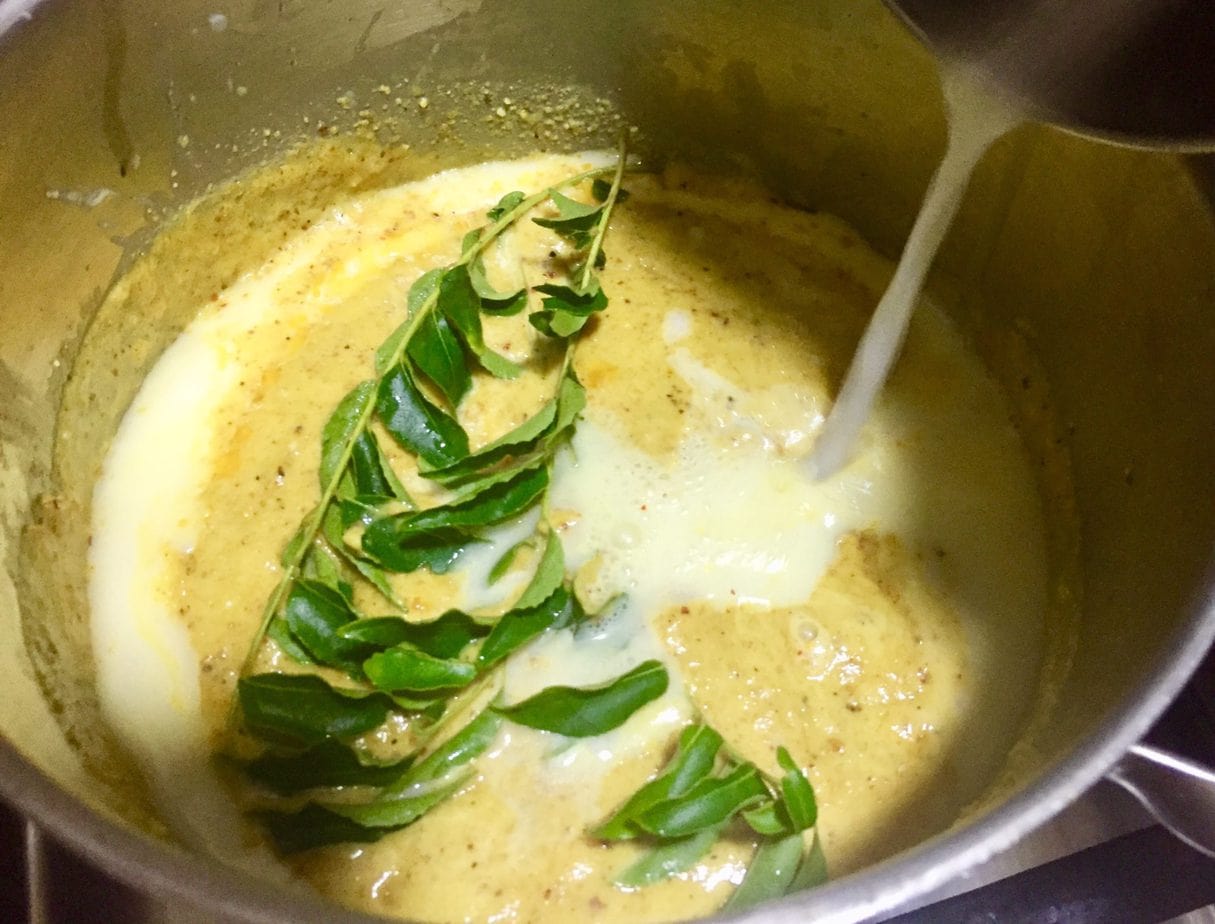 Add coconut milk powder mixed with water.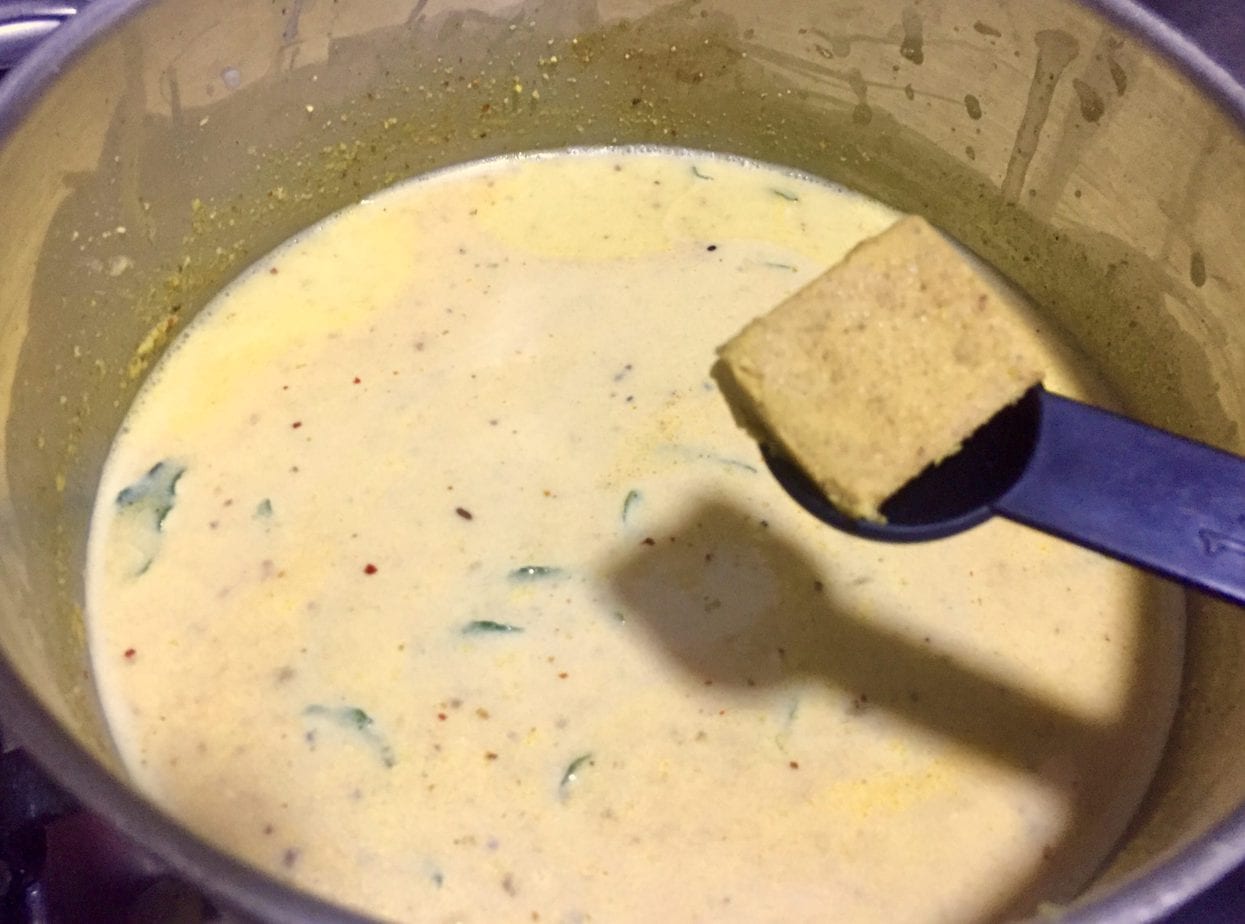 Add a chicken cube.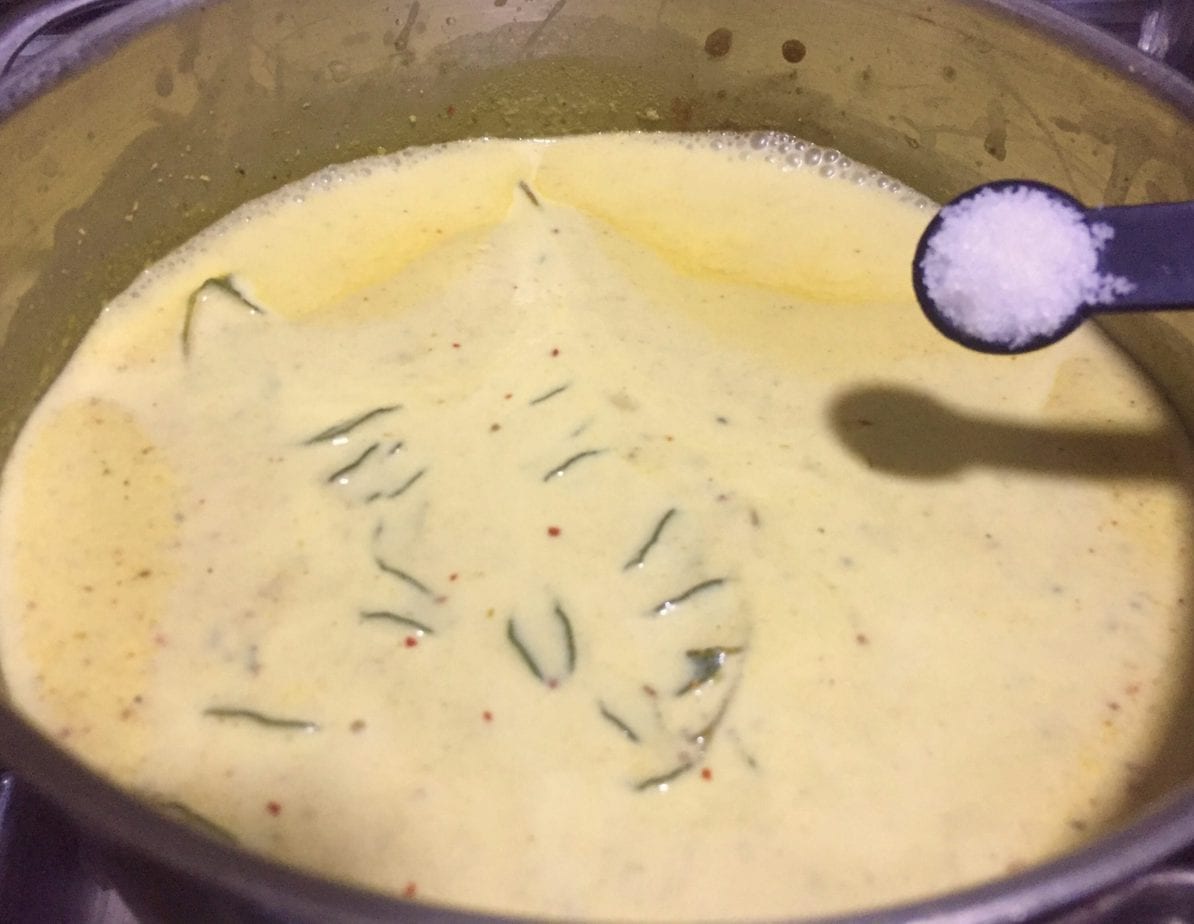 Add salt and simmer for 30 minutes on low heat.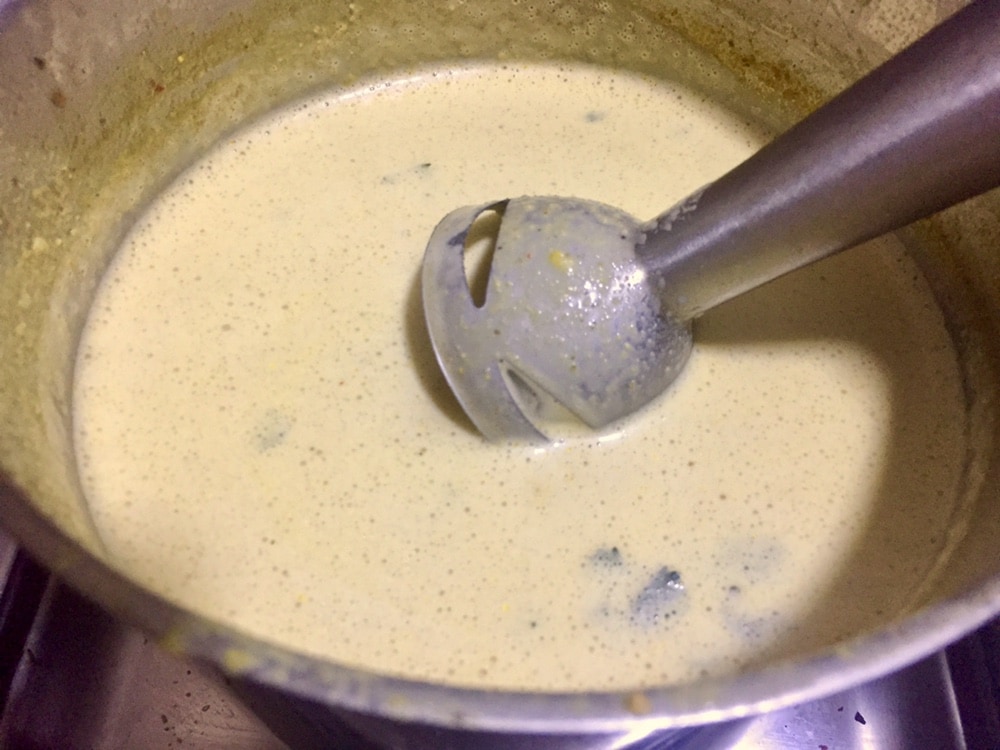 Remove curry twigs and blend the curry again for light texture. (This step is optional.)
Cook for few more minutes after blending.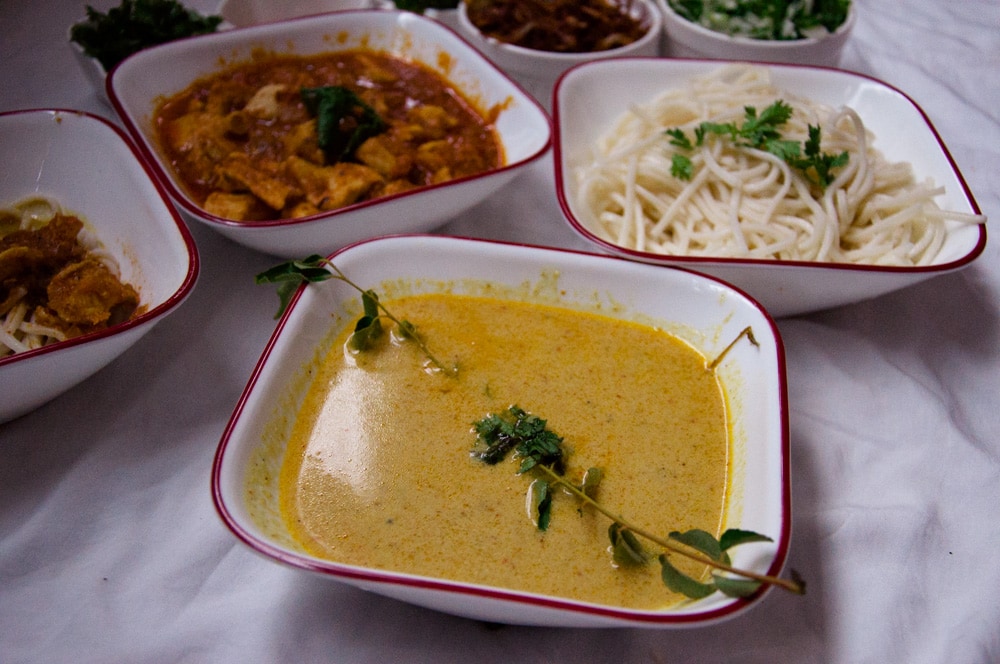 Make Noodles
Boil water with salt and oil.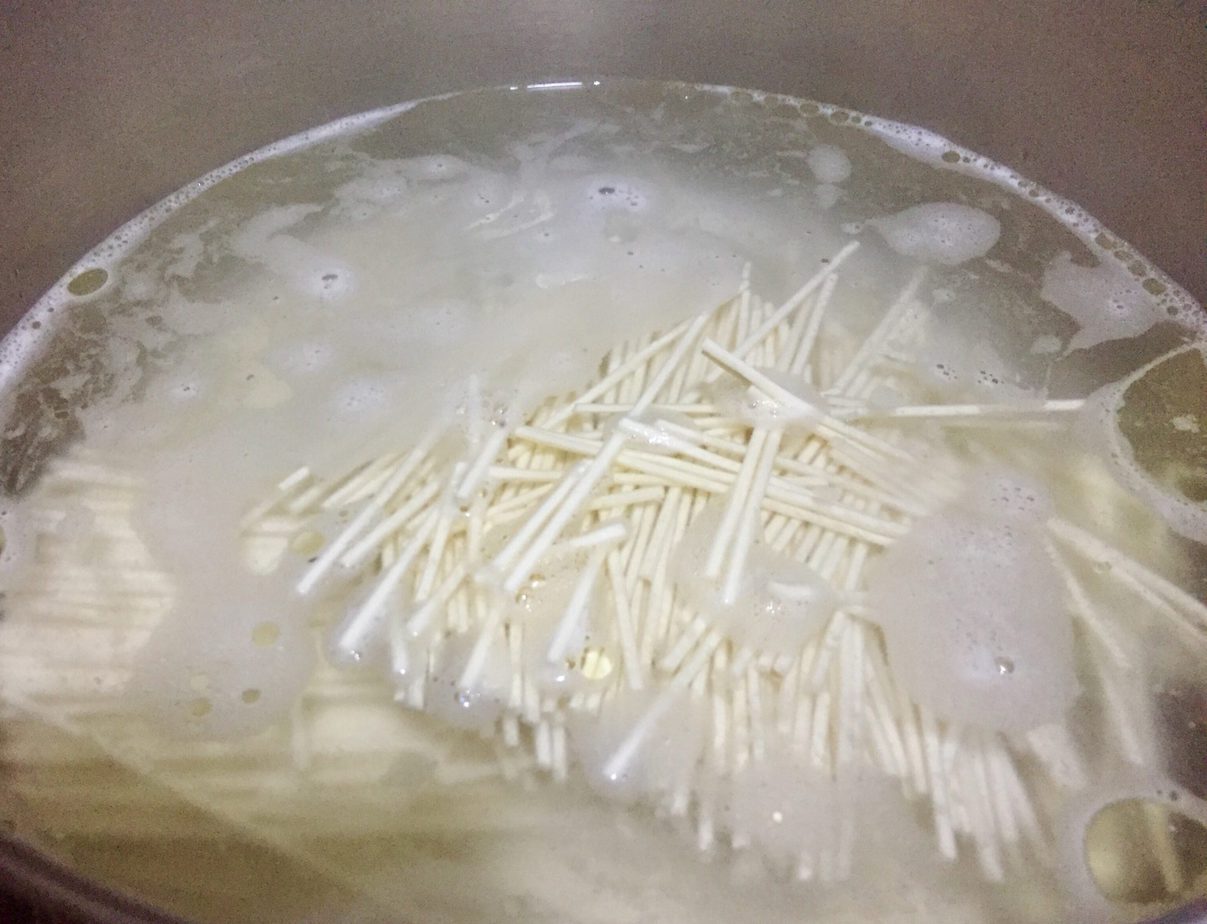 Add noodles. Cooking time will be as mentioned on package of noodle. (We break our noodles in two pieces from centre for convenient eating but that's your choice)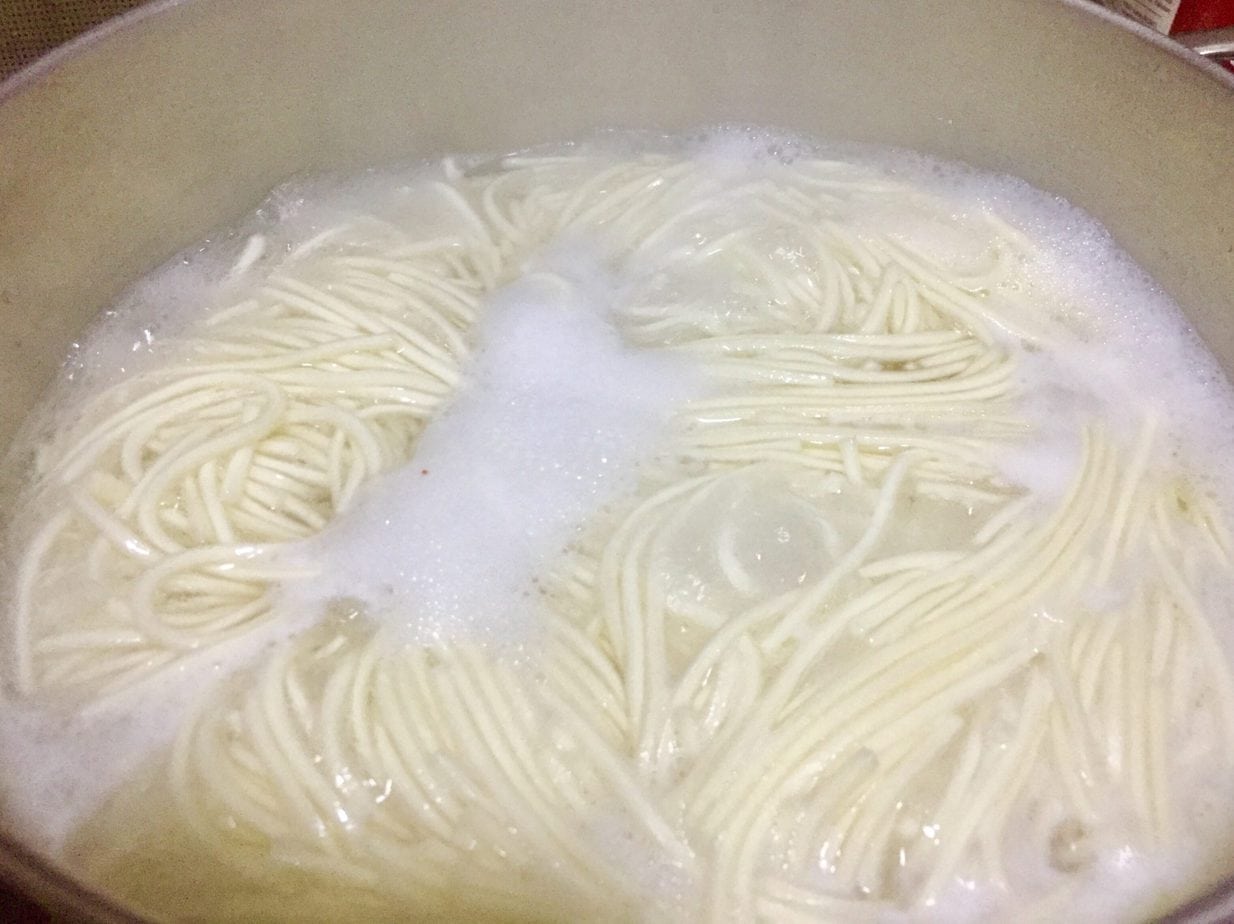 Noodles are done. Drain hot water in a strainer and fill the pot with cold water and rinse noodles in it. Drain water again and rinse with cold water again until noodles are cool.
Pour some oil on noodle and toss to cover a thin film of oil all over so noodles stay separated.
Preparing garnish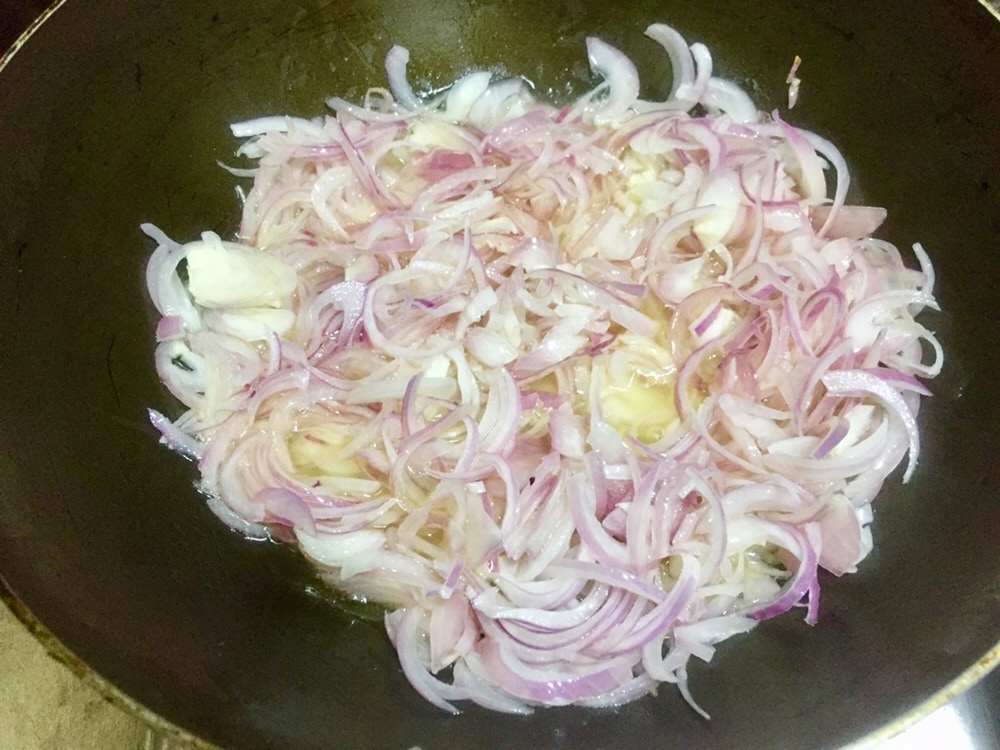 In pot or wok fry onions until golden brown.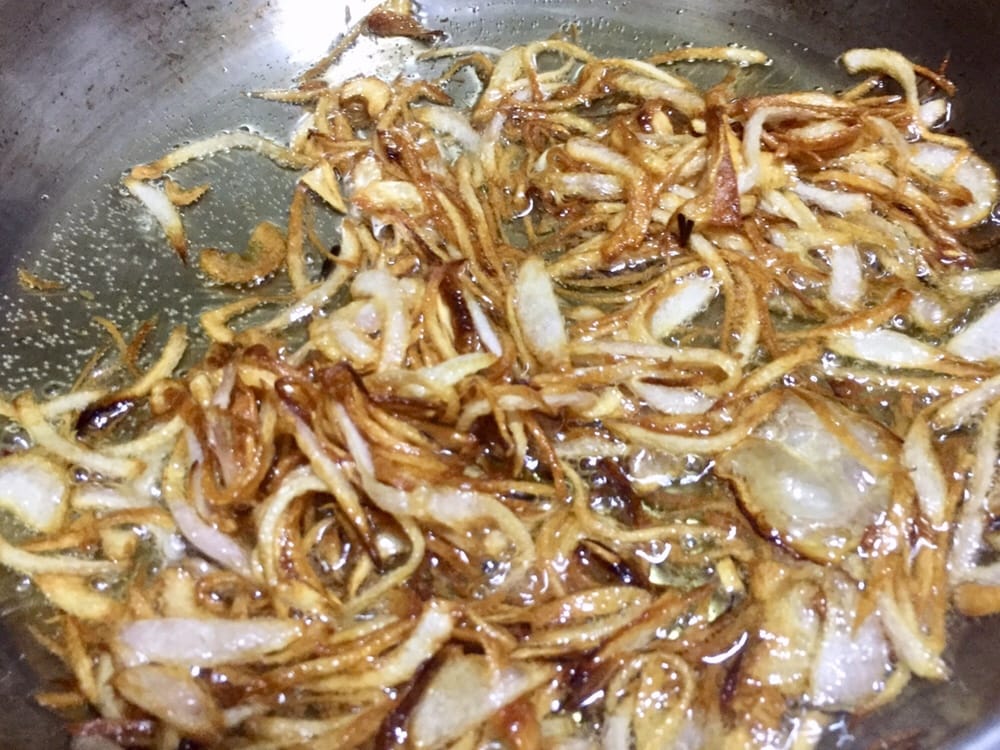 Fried onions are ready dry on a paper towel and separates with a fork to cool and crisp.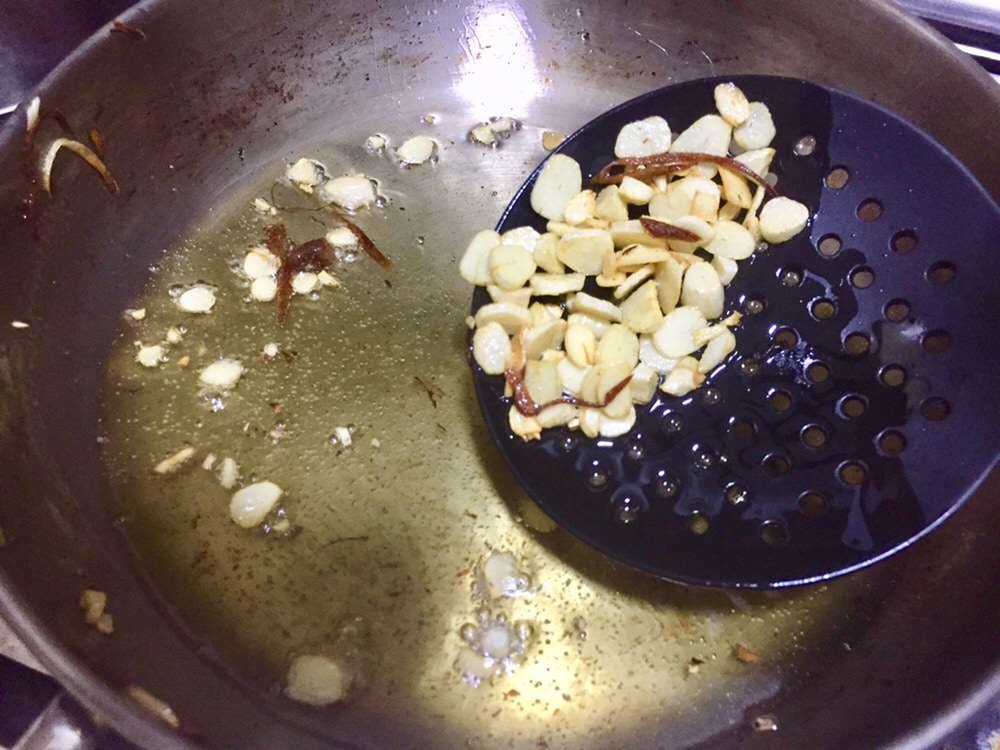 Fry garlic slices in same oil. (In photo garlic is still under cooked. Cook it until crisp and golden.)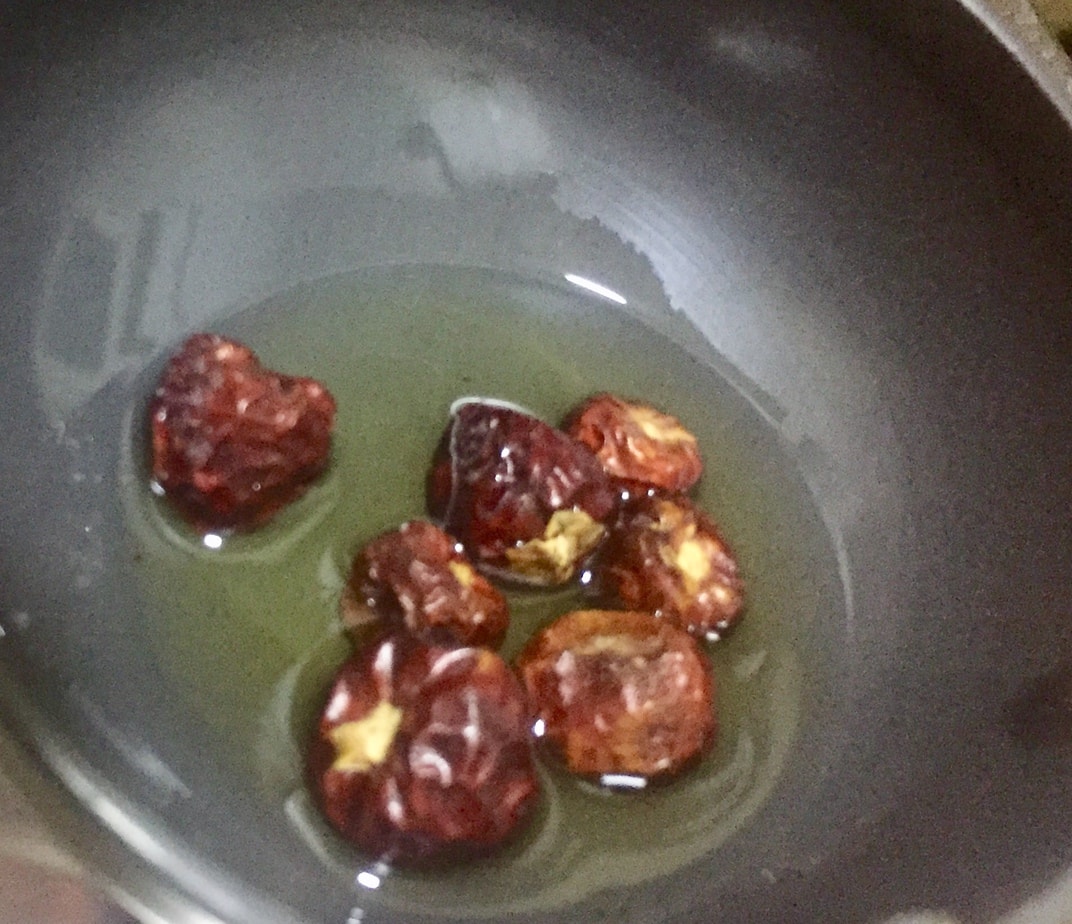 Fry red button chillies in same oil. Then crush the chillies in to large flakes. (You may fry somosa Patti too at this stage too. I forgot to fry chillies along so I fried separately.)
Cook Chicken
Remove extra oil from pan and in same oil, fry onions until soft.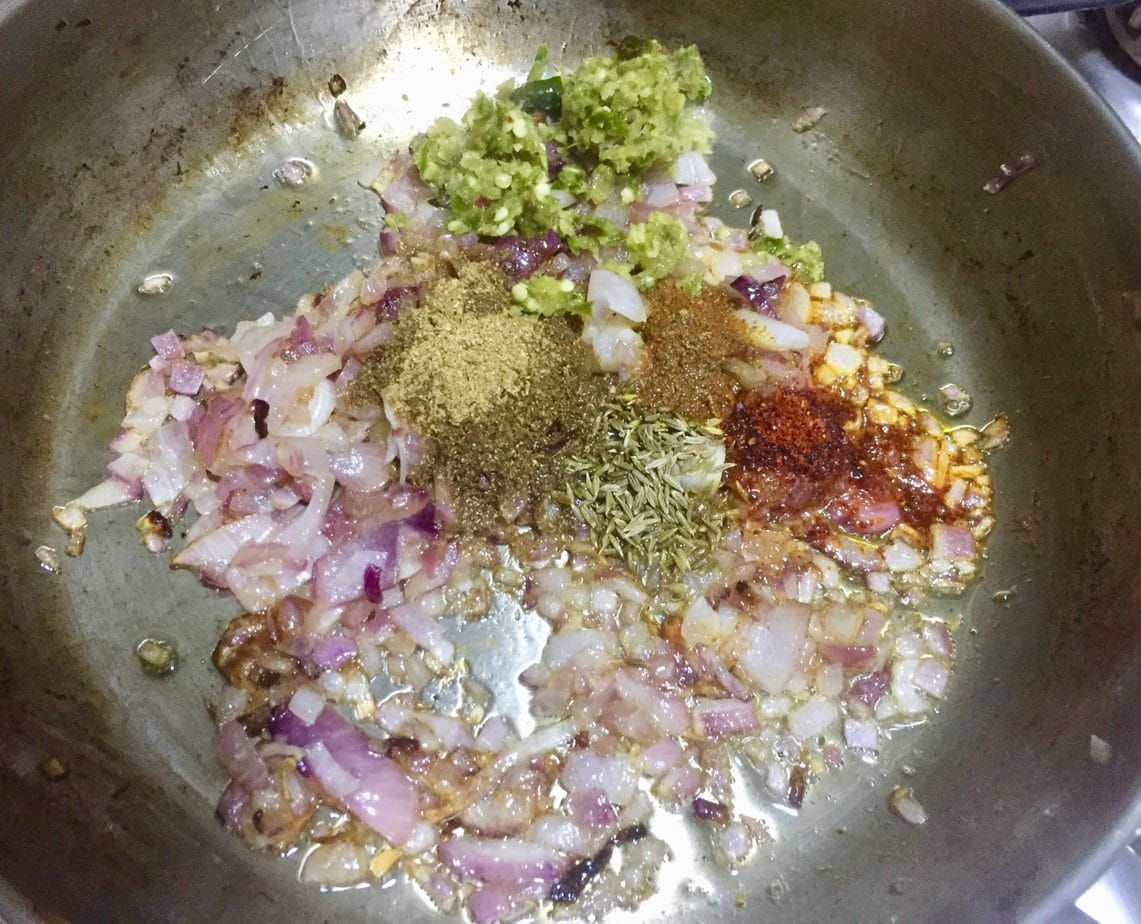 Mix in all spices and fry until it sizzles.
Like this.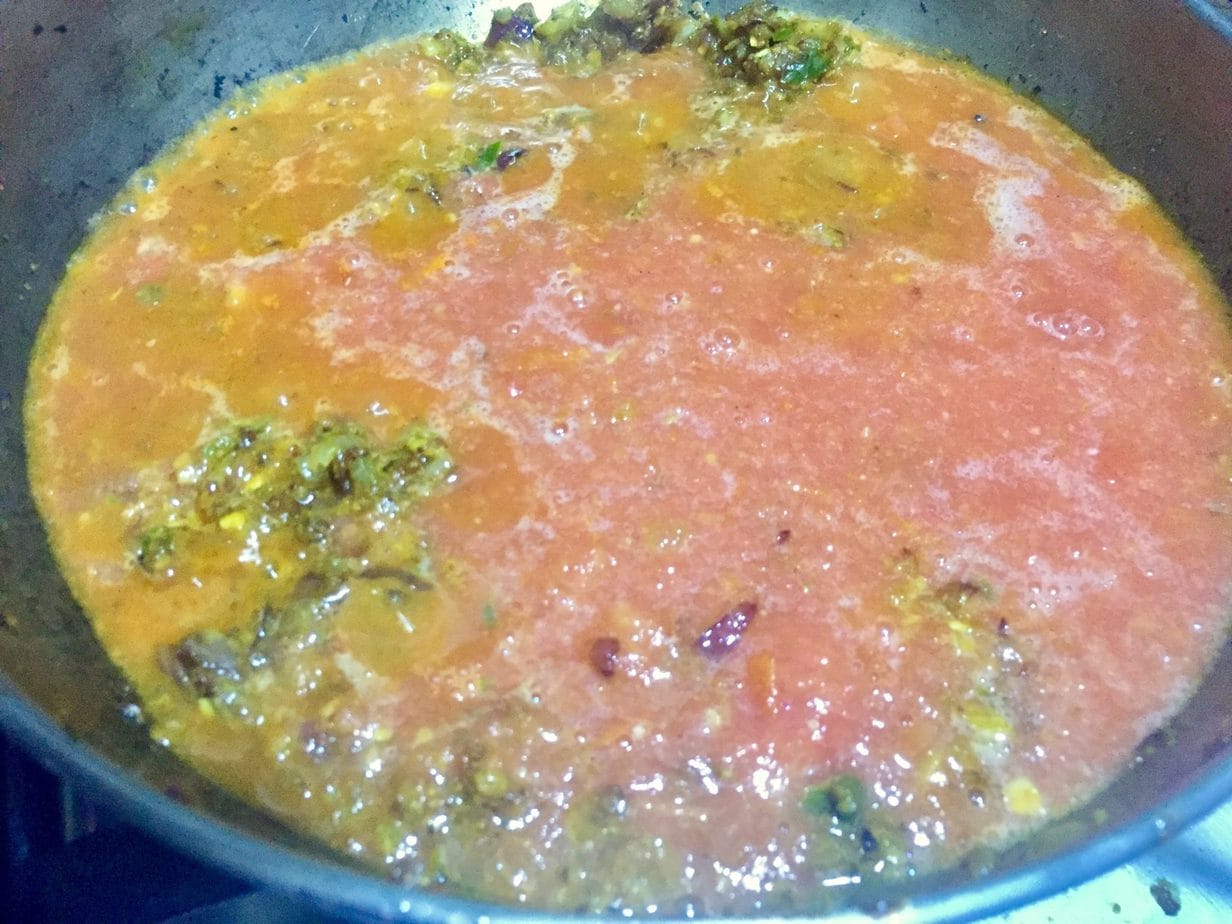 Mix in tomato curry to cool and cook further.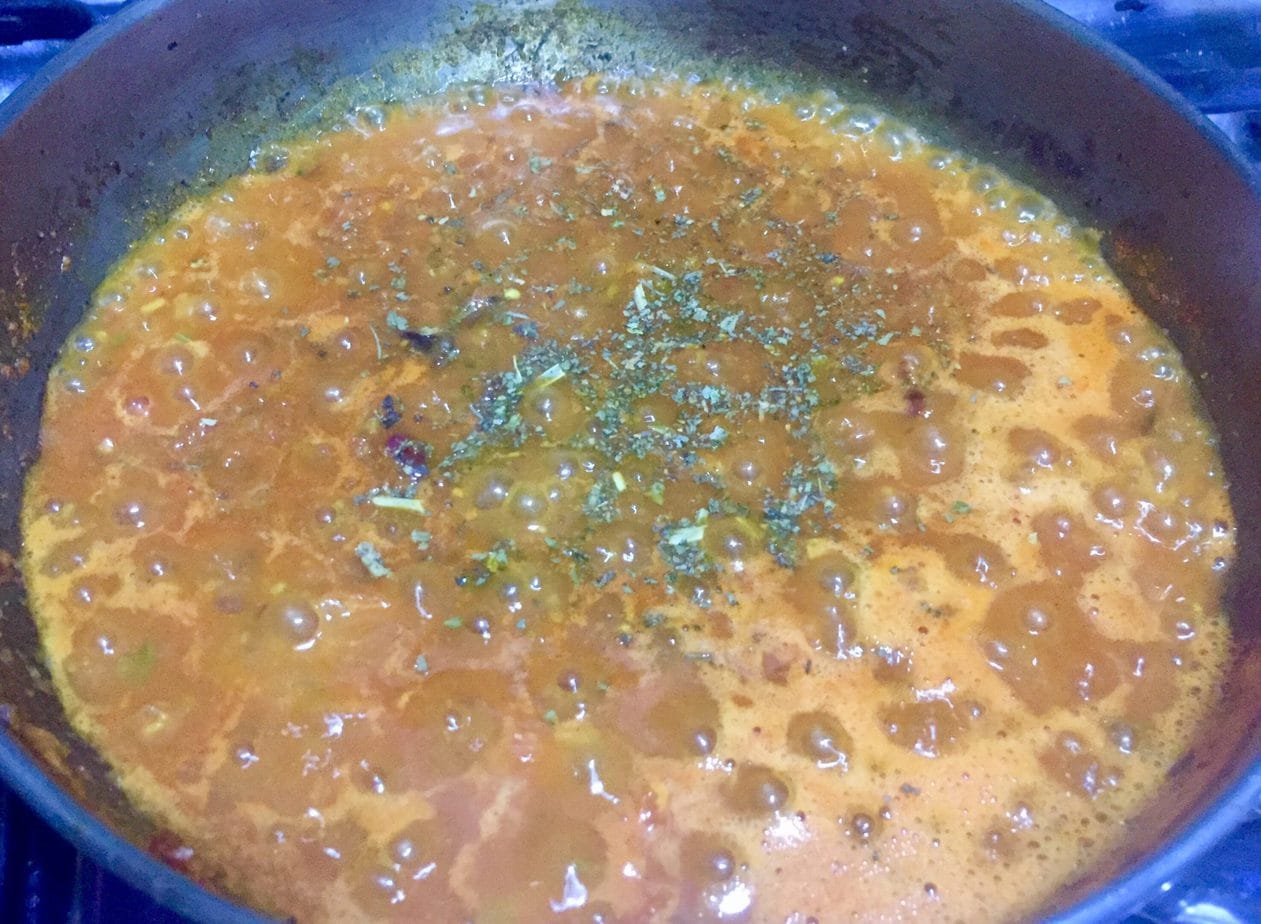 Take fenugreek leaves between your two palm and rub with your hand over the pan. Drop finely hand crushed fenugreek leaves in the curry.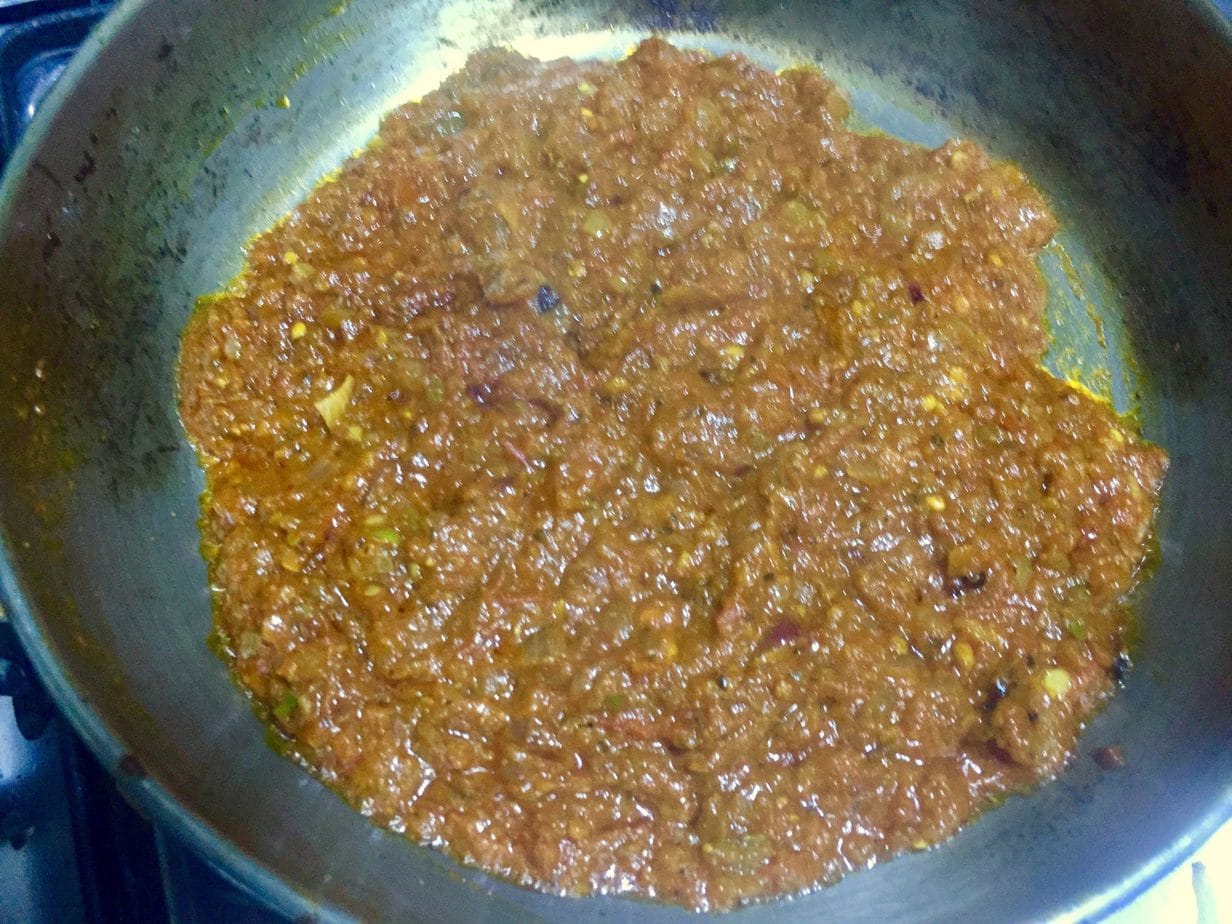 Fry gravy for 10 minutes until you see oil on the sides of pan. (Bhunofy) (and this step is important, dry all tomato water.)
Time to add chicken cubes.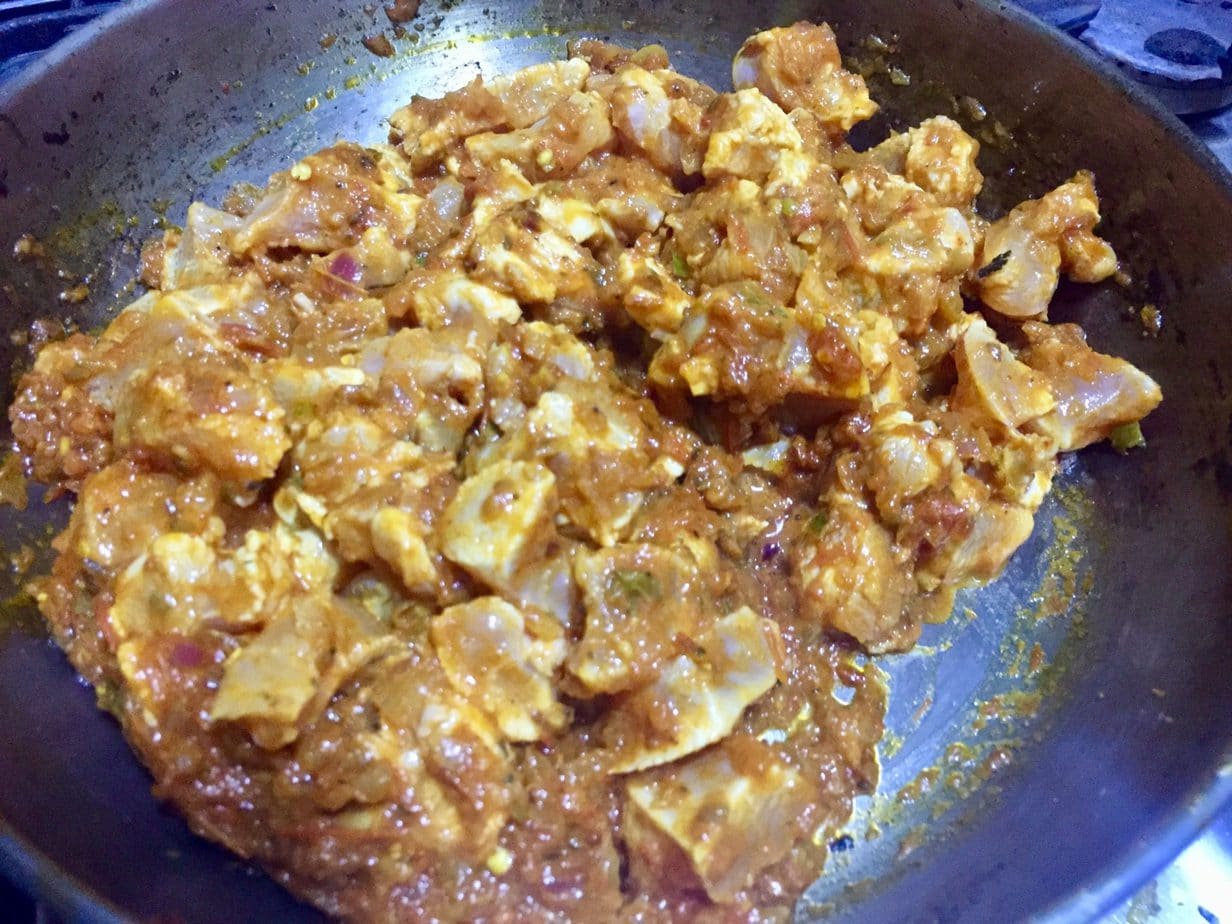 Mix well and cover the pan. Cook for 20 minutes until tender.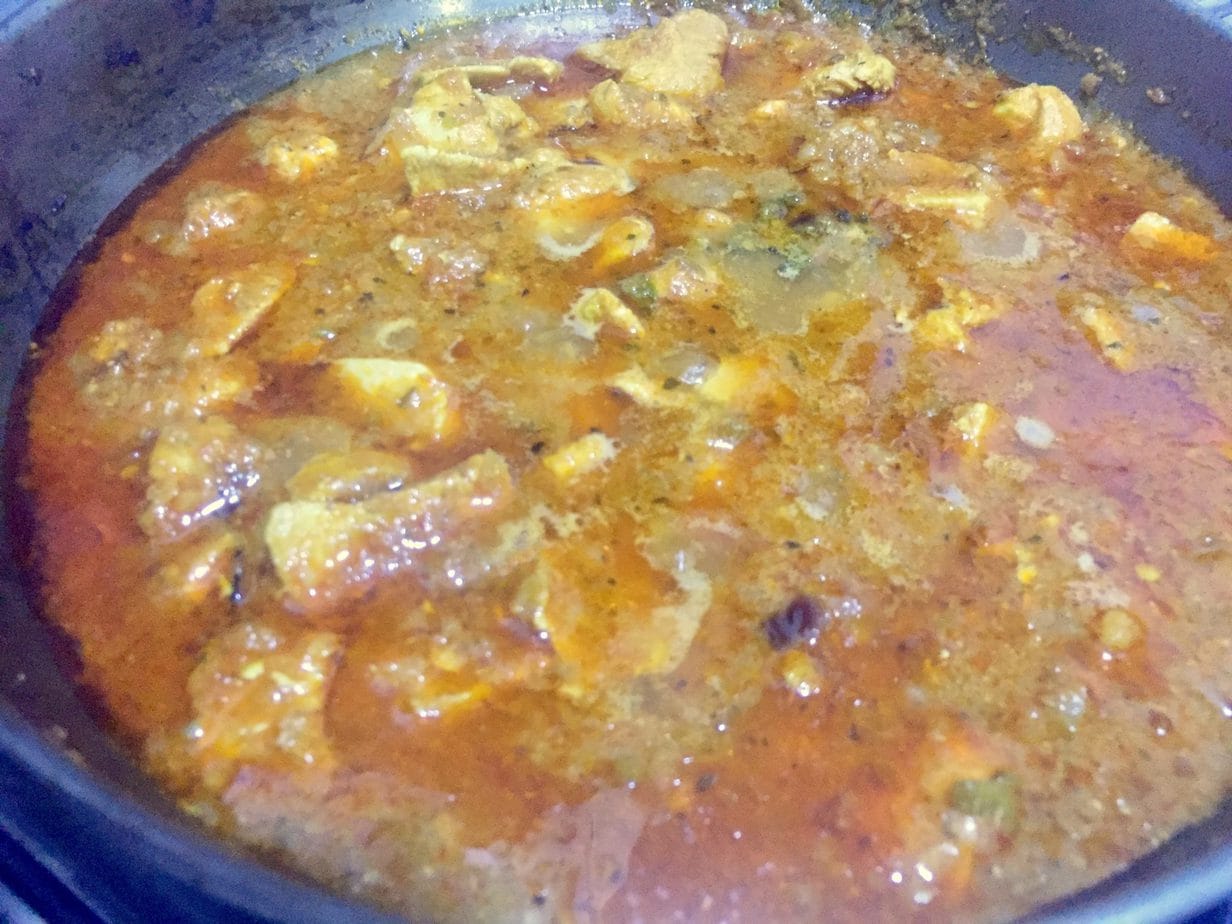 Chicken gravy is ready.
Finally, while chicken cook, I prepare rest of the accompaniments.
Assembling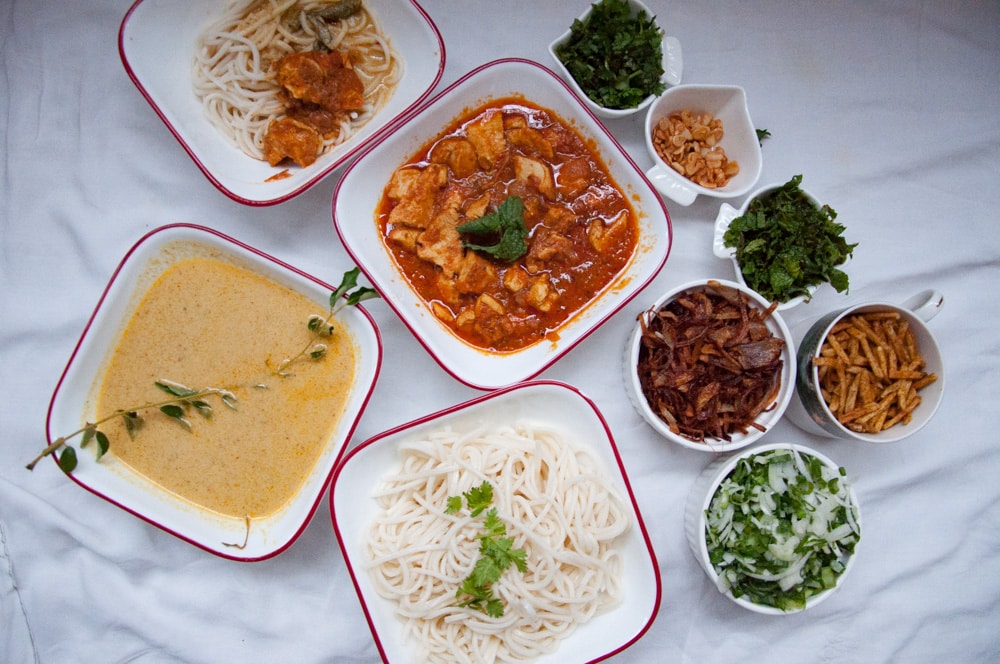 Mix noodles, curry and chicken in bowl and enjoy with desired accompaniment.
Please share this post to let more people know about us so we can continue to share new recipes.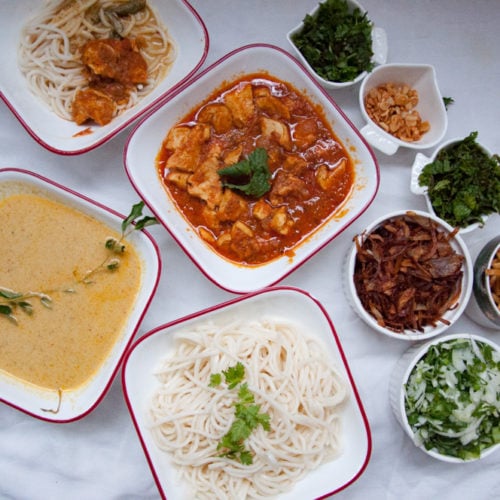 Khow Suey
Rich, creamy and nutty curry makes this khaousay so delicious.
Print
Pin
Rate
Ingredients
For curry
2

tablespoon

oil

1 ½

cup

curry powder

, (find recipe here )

3

twigs

curry leaves

75

grams

coconut milk powder

,

about 1 and ½ packet

1

chicken cube

Salt

,

to taste

2

litre

water
Noodle:
1½-2

packet

egg noodles

,

(225 grams each packet)

Cold

Water

,

to cool noodles

2

tablespoon

oil
For Chicken
½

Kg

boneless chicken

,

cut in small pieces

⅓

cup

oil

1

medium

onion

,

chopped
Spices
1

tablespoon

ginger garlic paste

1

tablespoon

green chilli paste

2

teaspoon

coriander powder

¾

teaspoon

cumin seeds

½

teaspoon

turmeric powder

½

teaspoon

Kashmiri chilli powder *

½

teaspoon

dried fenugreek leaves

,

kasuri methi, optional

5

medium

tomato

,

(raw puree)
Accompaniments
Oil to fry

,

as required

1

onion

7-8

cloves

garlic

4-5

round button chillies

Fresh coriander

,

chopped

Fresh mint leaves

,

chopped

Green onions

,

sliced

Green chillies sliced

6

Lemon wedges

3

eggs

,

boiled

Somosa Patti fried or spicy finger chips

,

slims
Instructions
For Curry:
In a large pot, fry curry masala and curry for 30 second until fragrant, immediately add water and all other ingredients of curry.

Let the curry simmer on low heat for 30 minutes, until you get desired consistency.

After 30 minutes blend the curry with immersion blender for smooth, creamy texture. (This step is optional.) Then bring it to boil. Curry is ready.
For egg noodles:
While curry simmer side by side, cook egg noodle as per instruction of packet. After draining hot water, rinse noodle with cold water and drain again until noodles are cool to touch. Then pour 1-2 tablespoon oil over noodle and toss with large fork to coat a thin layer of oil on noodles. (Before serving, Heat noodle in a thick bottom pot on slow flame until warm.)
For Accompaniments
(Skip frying any accompaniments that you don't want.)

Take oil in a pan and fry samosa Patti until golden, transfer to the kitchen towel.

Then fry sliced onion for garnish and spread on kitchen towel to crisp.

Next, fry garlic in same oil and drain oil on kitchen towel.

Then fry button chillies and let them cool then crush in to flakes.
For Chicken
In same pan leave only ⅓ cup oil and remove extra oil. Fry onion in it for 5 minutes until soft. Add all spices ingredients and fry for 1 more minute. Pour in tomato puree and simmer with frequent stirring for 10 minutes until oil separates.

Now, mix chicken with gravy, cover and cook for 15 minutes until soft. Gravy is ready. You can mix this gravy with curry or serve separately.
Assembling
While chicken cook prepare remaining garnish. To serve mix noodles, curry and chicken gravy together and garnish as desired. Enjoy!
Nutrition Information
Calories:
781
kcal
,
Carbohydrates:
60
g
,
Protein:
38
g
,
Fat:
51
g
,
Saturated Fat:
13
g
,
Trans Fat:
1
g
,
Cholesterol:
163
mg
,
Sodium:
436
mg
,
Potassium:
1939
mg
,
Fiber:
27
g
,
Sugar:
10
g
,
Vitamin A:
2118
IU
,
Vitamin C:
67
mg
,
Calcium:
411
mg
,
Iron:
23
mg