This is a simple home-style Lamb Karahi with homemade spices. If you love tomatoey gravies, you'll be in love with this and aroma of this Karahi Gosht is just like Indian restaurant and just like how Karahi should be. Lamb or mutton both are used to make karahi and are referred to as 'Gosht Karahi'. That's how you pronounce it, Go-sh-t Ka-raa-hee.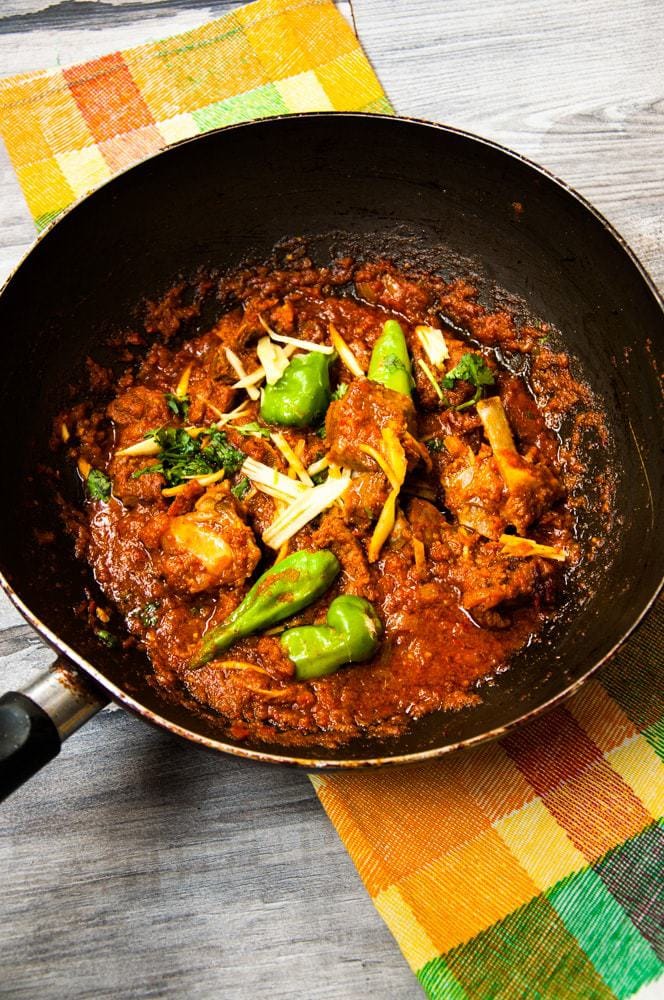 What is Lamb Karahi Gosht?
Karahi Gosht, either lamb or mutton or chicken is Pakistani traditional curry with tomato-based gravy and is made in a narrow-based wok. Indian spell it as Kadhai where letter 'dh' gives the sound of the letter 'R' with the round mouth. [Ka-raa-ee].
Lamb Karahi with or without onion
Now, for the longest period of time karahi lovers have been debating whether to add onion to Karahi or not. We'll actually onion is not added to restaurant-style Karahi. But homemade Karahi has very little onion added just to provide a little gravy. Actually, the tomato purée reduces to almost nothing when cooked on high flame. However, adding a small onion holds all the tomatoey goodness and keeps the Mutton or lamb Karahi juicy so while you enjoy some meat you also have some gravy to dip the naan.
Best meat and cuts for Karachi gosht
Karahi is a very versatile dish and can be made with chicken, mutton, lamb, fish and prawn. Karahi Gosht is usually made with bone-in cuts because they are high in fat and the juices from bones make the Karahi absolutely finger-licking good. We recommend using lamb leg or shanks for Lam Karahi.
Should you cook Lamb karahi in ghee or butter
Ghee is traditionally used in South Asian curries and sweet and is the best fit for it. Lamb Karahi is best cooked in ghee as the aroma of ghee and the way it shines out all flavors is beyond any other fat. Butter is a good option to substitute ghee. I prefer a combination of butter and oil. If you are on a low-cholesterol diet than avoid ghee and butter and use low cholesterol oil instead, it still tastes great with a little compromise on taste.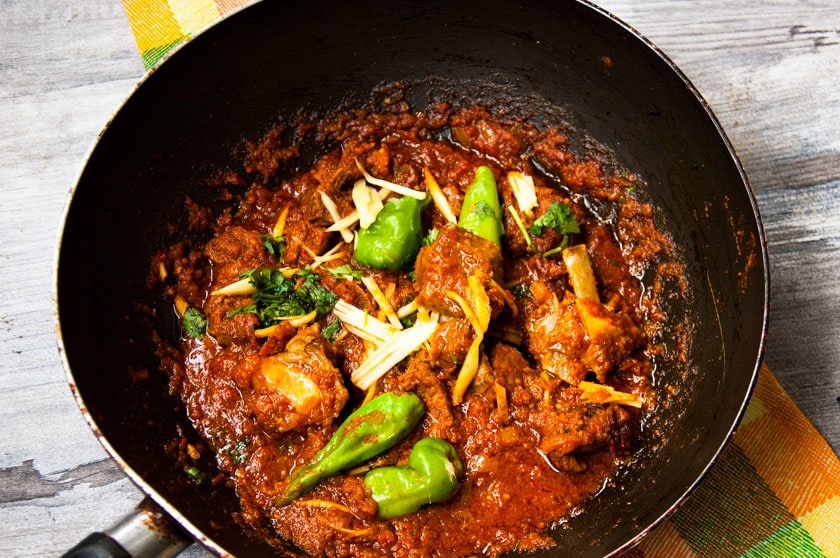 Fresh spice mix for Lamb Karahi
In this recipe, I'm using a quick spice blend which is very close to the store-bought spice blend. I understand making your own spice blend is an extra hassle. So if you make Karahi often then double or triple this spice blend recipe and store in the fridge. This makes cooking very quick.
Tomato purée or fresh Tomatoes
Authentically, roughly chopped onions are added to Lamb Karahi but I have found tomato purée gives you a very smooth texture and a lovely visual appeal plus you don't have to remove tomato skins while eating.
Can I Freeze Lamb Karahi?
Yes, Karahi freezes very well and comes out just like fresh as everything is cooked and there are no veggies that will melt upon defrosting.
What to serve with Karahi?
Karahi tastes best with Roghni Naan or garlic naan. But other carbs taste great too like roti, chapati, pita bread, and rice. Further, raita and fresh cucumber salad pair best with Lamb Karahi.
How to make Lamb Karahi?
Karahi is easiest of all Pakistani curries and you can't go wrong with it.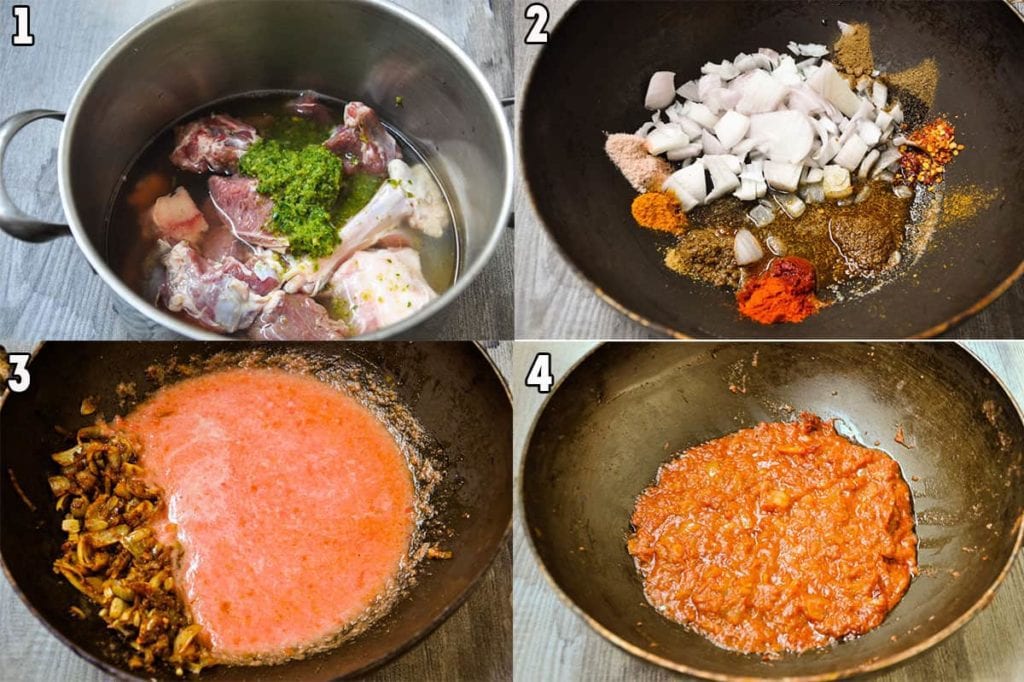 Take meat in a pot and add ginger, garlic, and chili paste. Also add ¾ cup water. (If you have raw ginger, garlic, and chili, just put 2-3 cloves of garlic, 2 chilies (or taste), and ½ inch piece on ginger in a mincer or chopper. Grind until finely chopped and add to the lamb.) Cover and cook lamb on medium-low heat until half-done about 15-25 minutes, set aside.
Simultaneously, in a wok saute onions in oil or ghee until translucent. Then add all the spices and cook for a minute. (You can dump all ingredients together as shown in the picture and, but frying onions first and then adding spices tastes best.)
Make tomato puree by blending 4 tomatoes in a blender. Add to the fried onion masala. (You can also add roughly chopped tomatoes, puree works best.) Cover and cook gravy on medium heat for 5-7 minutes.
Then remove the lid and dry excess tomato water on medium-high heat until you see oil shining on the sides of pan and gravy is thick, (bhunnofy). Stir frequently.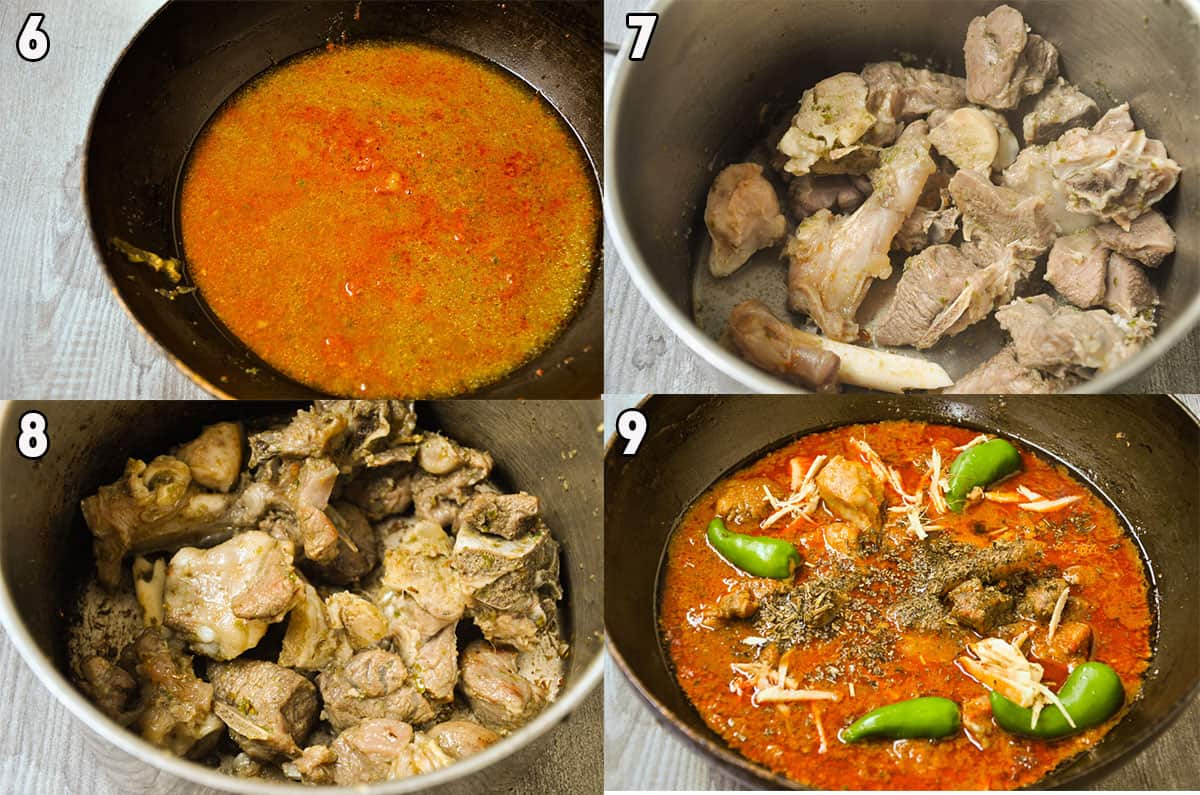 By the time your gravy is cooked your meat should half done. Add water from the lamb pot to the tomato gravy. (You might have a little or more water).
Add 1-2 tablespoons oil to the lamb/mutton and fry for 1-2 minutes until meat turns slightly brown.
Add the meat to the onion gravy. Also add fenugreek dried leaves, half of the sliced ginger, and few chilies. Cover and cook until lamb is tender for about 10 minutes. (Use your best judgment and adjust the consistency of the gravy by adding a little water, only if needed. Or if gravy is thin, burn excess water on high heat).
Finally, add little butter and garnish with remaining chilies, ginger, and fresh cilantro. Serve Lamb Karahi with naan, chapati roti, or plain rice with lemon wedges, fresh salad, and raita on the side.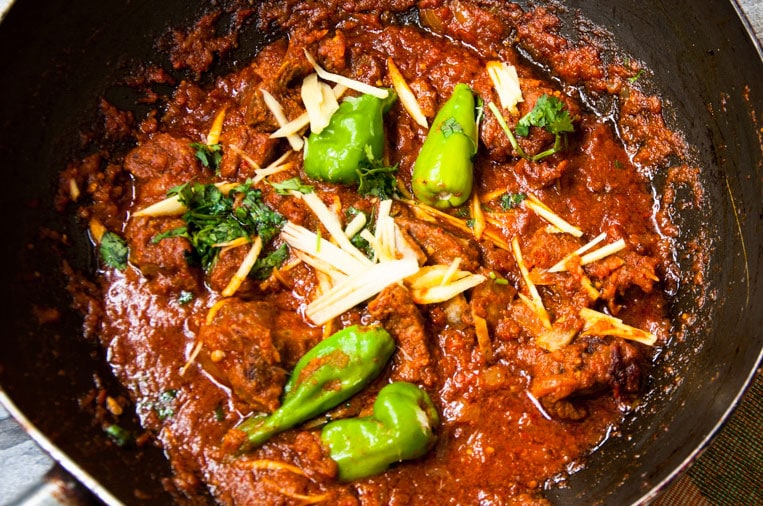 Hungry for more recipes? Check these!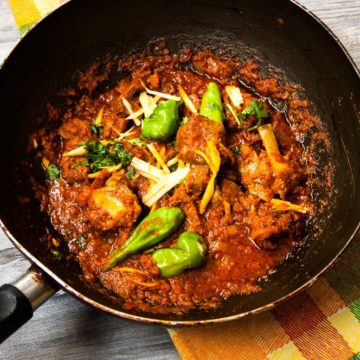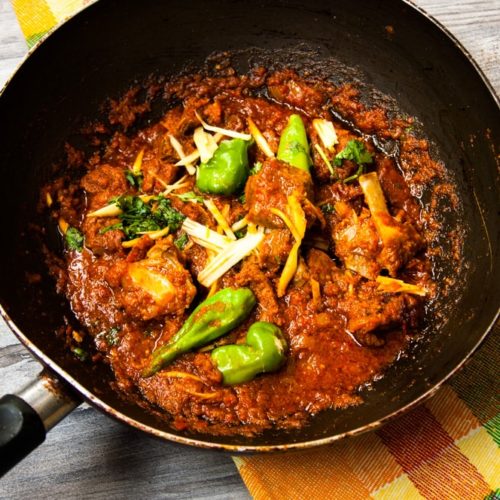 Lamb Karahi Gosht
This is a simple home-style Lamb Karahi with homemade spices.
Print
Pin
Rate
Ingredients
FOR LAMB / MUTTON
500

grams

lamb or mutton

,

preferably lamb shanks or lamb leg cut into pieces, notes1

1

tablespoon

green chili paste

,

or less

1

tablespoon

ginger paste

½

tablespoon

garlic paste

¾

cup

water
FOR GRAVY
3

tablespoon

oil or ghee

,

plus 1 more tablespoon

1

onion

,

chopped (¼ cup onion for little gravy or ½ cup onion for more gravy or skip onion for dry Karahi)
Spices
1

teaspoon

Kashmiri chili powder

,

notes 2

1

teaspoon

cumin powder

½

teaspoon

red chili flakes or powder or to taste

½

teaspoon

coriander powder

½

teaspoon

turmeric powder

½

teaspoon

black pepper

½

teaspoon

garam masala powder

,

notes 3

½

teaspoon

salt

,

more to taste
Other
4

tomato

,

pureed, notes 4

1

teaspoon

dry fenugreek leaves

,

Kasuri Meethi, notes 5

4-5

thick

green chilies

,

deseeded and cut in half lengthwise

1-

inch

ginger

,

cut in julienne

1

tablespoon

butter

,

optional

2

tablespoon

chopped fresh coriander

2

lemon wedges
Instructions
Boil mutton with ginger, garlic and green chili paste for 15-25 minutes until half cooked.

Simultaneously, eat oil or ghee in a karahi or wok and add onions (if using). Fry until onions are translucent then add all the ingredients in the spice list. Fry for a minute and let the spices sizzle. Immediately, add the tomato puree. Cover and cook the gravy for 5-7 minutes on medium heat.

Then, remove the lid and dry out excess water with constant stirring until you see a little oil shining on the sides of the pan. (Drying excess tomato water is essential it gives the karahi its yummy taste.)

Now, add the remaining water from boiled meat to the tomato gravy. Remove and set aside.

Add 1 tablespoon oil in the meat pot and stir fry meat on high flame until golden for 2-3 minutes.

Now add the meat to the tomato gravy. Also add fenugreek leaves, green chilies, and half of the julienned ginger. (At this stage, adjust gravy to your preference and little water only if needed.)

Cover and cook for another 10-15 minutes on medium-low heat until meat is very tender and gravy has reached the desired consistency.

Finally add a little butter on karahi and serve. Garnish with the remaining ginger and coriander leaves. Serve with lemon wedges.
Notes
Protein options: chicken, fish, prawn, camel, beef all are good options. Chicken, fish, and prawn don't require separate cooking of step 1. And all ingredients for lamb should be added in step 6 and cooked until the meat is tender. Cooking time will vary.
Kashmiri Chilli powder: This is a less spicy chilli powder that gives a bright red colour to karahi. You can replace it with paprika.
Garam masala: is Indian whole spice powder and is very aromatic. In karahi, you can replace it with black pepper or just skip it.
Tomato: Choose bright red tomato for puree. Or replace with 1⅓ cup canned tomato puree or 1⅓ cup canned crushed tomatoes or ⅓ cup tomato paste.
Kasuri methi or fenugreek leaves: can be bought from the Indian store and can be used in Indian curries and veggies. It gives karahi it's specific aroma but some readers suggest skipping it also works.
Nutrition Information