Lamb leg recipe slow cook with Cashew step by step with few photos. First of all apologies for not posting a step-by-step recipe with all and clear photos. I cooked this around Eid and was too busy to take photos religiously in a planned way and missed a few steps. I thought to add just the recipe but I decided to add a few (not very good ) photos to give a rough idea.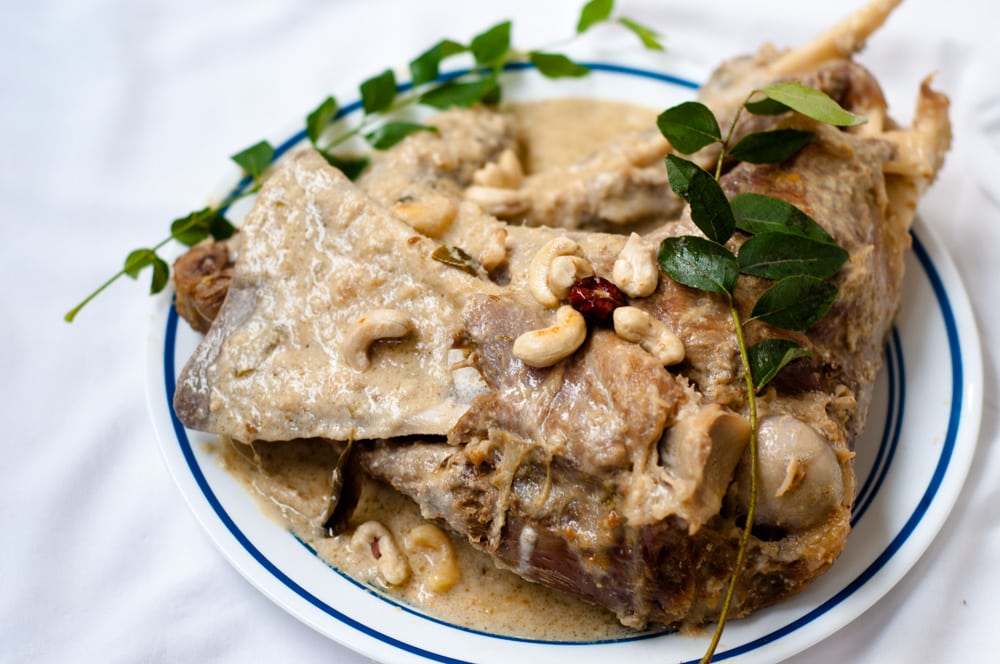 Trimming Lamb Leg
This recipe is of 1.25 kg mutton leg, now you must be wondering, why my mutton leg is skinny.It's common practice to trim extra meat from the sides of the leg. So, the leg is reduced to half the original weight and the meat close to the bone is softer. I also asked the butcher to break it from the joint so I can fit it in my pot. So, you can also use the same technique and trim the extra meat. You can use extra meat to make lamb mince or just use boneless mutton for grilling on barbecue nights.
Tips for Bone Soft Meat
1. Marinate lamb leg for long hours
Regardless of the recipe, always marinate mutton leg for 12-24 hours in the fridge with spices and a few spoons of yogurt. The good bacteria in yogurt helps in tenderizing. While commercial tenderizers and a few natural tenderizers like raw papaya dissolve the tissues of meat making them a bit mushy after cooking. The meat loses its delight of biting into soft tender juicy tissues.
2. Slow cooking Lamb Leg
So, this long marination together with slow cooking provides far better results than the usual tenderizer and high heat cooking. You can read more about slow cooking here.
This is a slow cooker recipe, I cooked mutton leg for 3-4 hours on very low heat. But, the cooking time may vary depending on meat type, age of animal, altitude, size, and thickness of skillet, and so on. I feel I'm showing off a bit of extra knowledge that I have.
This is cashew, rich and yummy gravy along with bone soft meat that is about to fall from bone is the delight of this dish.
My other chicken recipes that you can improvise to make mutton leg too only if you are a creative enough, more correctly expert cook.
Step by step Lamb Leg Recipe with slow cook.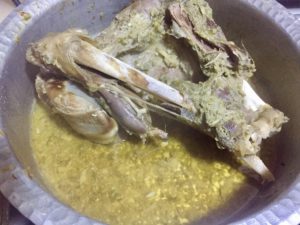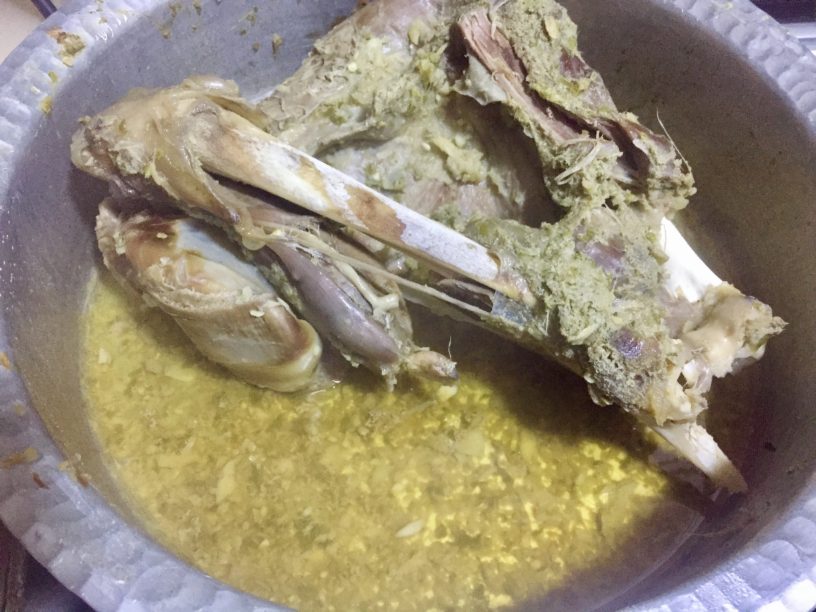 First, marinated lamb leg with ginger, garlic, green chilli paste and yogurt for 12 hours. I kept it in fridge for we have very warm weather in Karachi.
Then I slow cooked it for around 2-3 hour on low heat with enough water to dip half of my mutton leg.
That is grounded and roasted cashew, cumin seeds and coriander seeds. Mix it lamb leg and bhunnofy (Cook on high heat with stirring and turning from side to side until water dries and you see oil separating on sides.) The lamb leg should be browned a bit. Adjust heat as required.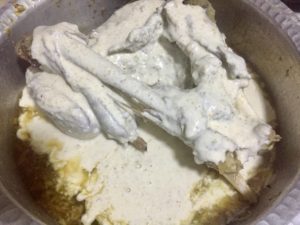 Add yogurt and simmer on low heat for 10 minutes until yogurt releases its natural oils and looses it raw flavor.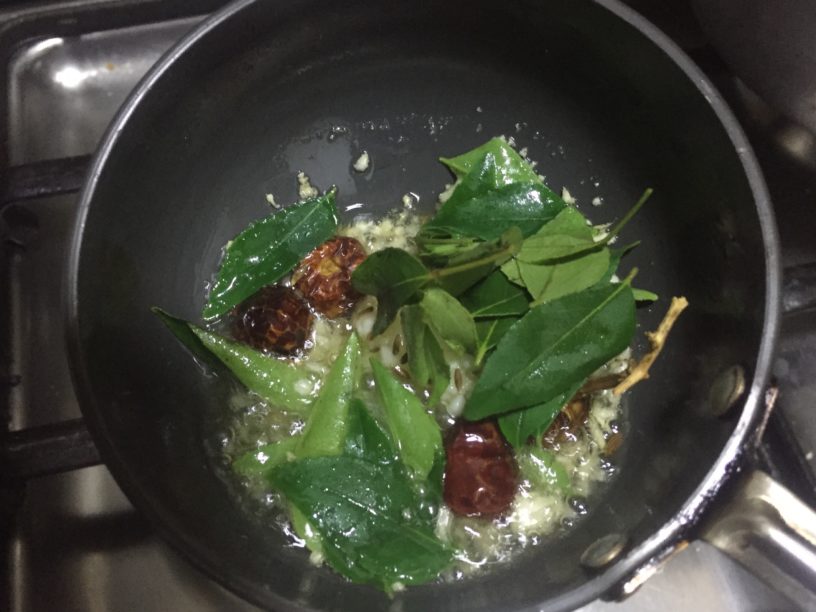 Temper with herb and spices. Since, lamb leg is a feast that is not cooked frequently, and many followers asked for a mutton leg recipe, I decided to do this post with not so appealing photos. I hope that's Ok.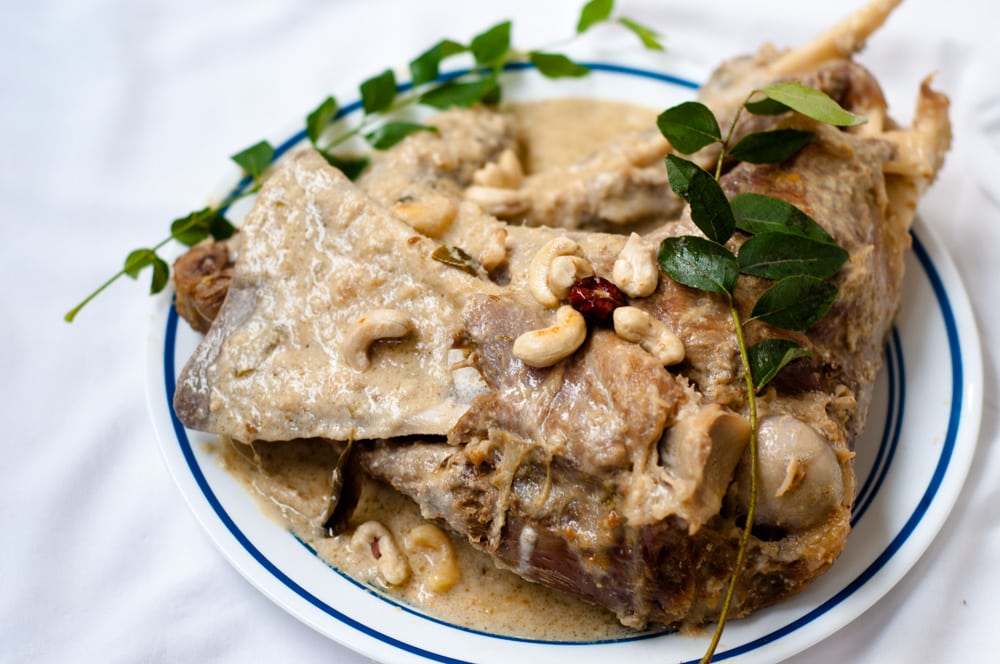 Note:
Lastly, if you are using untrimmed mutton leg of 2.5 kg approx. I suggest doubled the spices and yogurt. Also double the cooking time to 4-5 hours.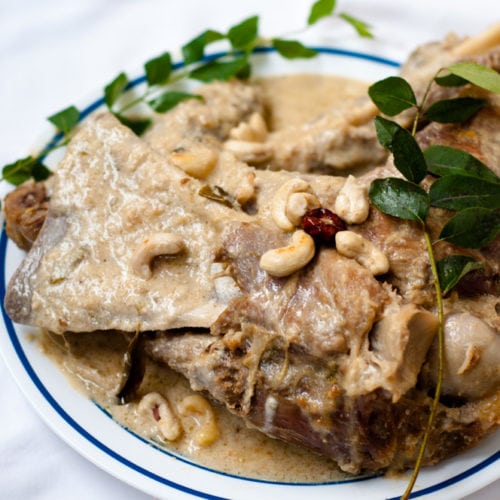 Lamb Leg Recipe Slow Cooker
Slow cooking help give the meat fall off the bones softness. Cook it throughly until super tender.
Print
Pin
Rate
Ingredients
Marination
1 ¼

Kg

lamb Leg

2

tablespoon

yogurt

1 ½

tablespoon

ginger garlic paste

1½ to 2

tablespoon

green chilli paste

,

less or more to taste

Salt

,

to taste
Gravy
2

tablespoon

oil

1

fist full cashew nut

,

powdered

1

tablespoon

coriander seeds

,

freshly roasted and grounded

½

tablespoon

cumin seeds

,

freshly roasted and grounded

1

cup

yogurt

½

cup

milk
Tempering
2

tablespoon

oil

½

tablespoon

chopped garlic

5-7

round red chillies

2

twigs

curry leaves
Garnish:
Cashew halves

Lemon wedges
Instructions
Marinate
In a pot marinate lamb leg, green chilli, ginger garlic paste, salt and yogurt. Mix well and marinate 12-18 hour in refrigerator.
Cook
In a thick bottomed wide pan, take lamb leg and fill water to immerse barely half of lamb leg. You'll need to turn lamb leg from side to side after every 40 minutes. Cook for about 2 or more hour on slow heat until very tender and water dries completely.
For Gravy
Add 2 tablespoon oil, cashew, corriander, and cumin powder in lamb leg and fry turning from side to side for 3-4 minutes until light golden. (Bhunna)

Finally, add whipped yogurt and milk, bring to boil. Then cover pot and simmer for 7 minutes on low heat until oil separate on sides.
Tempering
In a pan, fry cumin, coriander and round red chillies for 1 minutes. Pour tempering over the lamb leg and cover the pan. Garnish with cashew halves.
Notes
If gravy is too thick for you thin out with more milk and/or water. You can also substitute cashew with almonds. You can add 3 tablespoon lemon juice in the last for a tarty lamb leg.
Nutrition Information
Calories:
498
kcal
,
Carbohydrates:
9
g
,
Protein:
46
g
,
Fat:
30
g
,
Saturated Fat:
7
g
,
Trans Fat:
1
g
,
Cholesterol:
138
mg
,
Sodium:
192
mg
,
Potassium:
818
mg
,
Fiber:
1
g
,
Sugar:
6
g
,
Vitamin A:
333
IU
,
Vitamin C:
22
mg
,
Calcium:
158
mg
,
Iron:
5
mg