The summer season brings fresh and juicy mangoes. And making spicy mango chutney is a ritual in most Indian homes. This is the best Indian mango chutney recipe, I can bet that. It is super easy to make and you can make so many variations to suit your taste.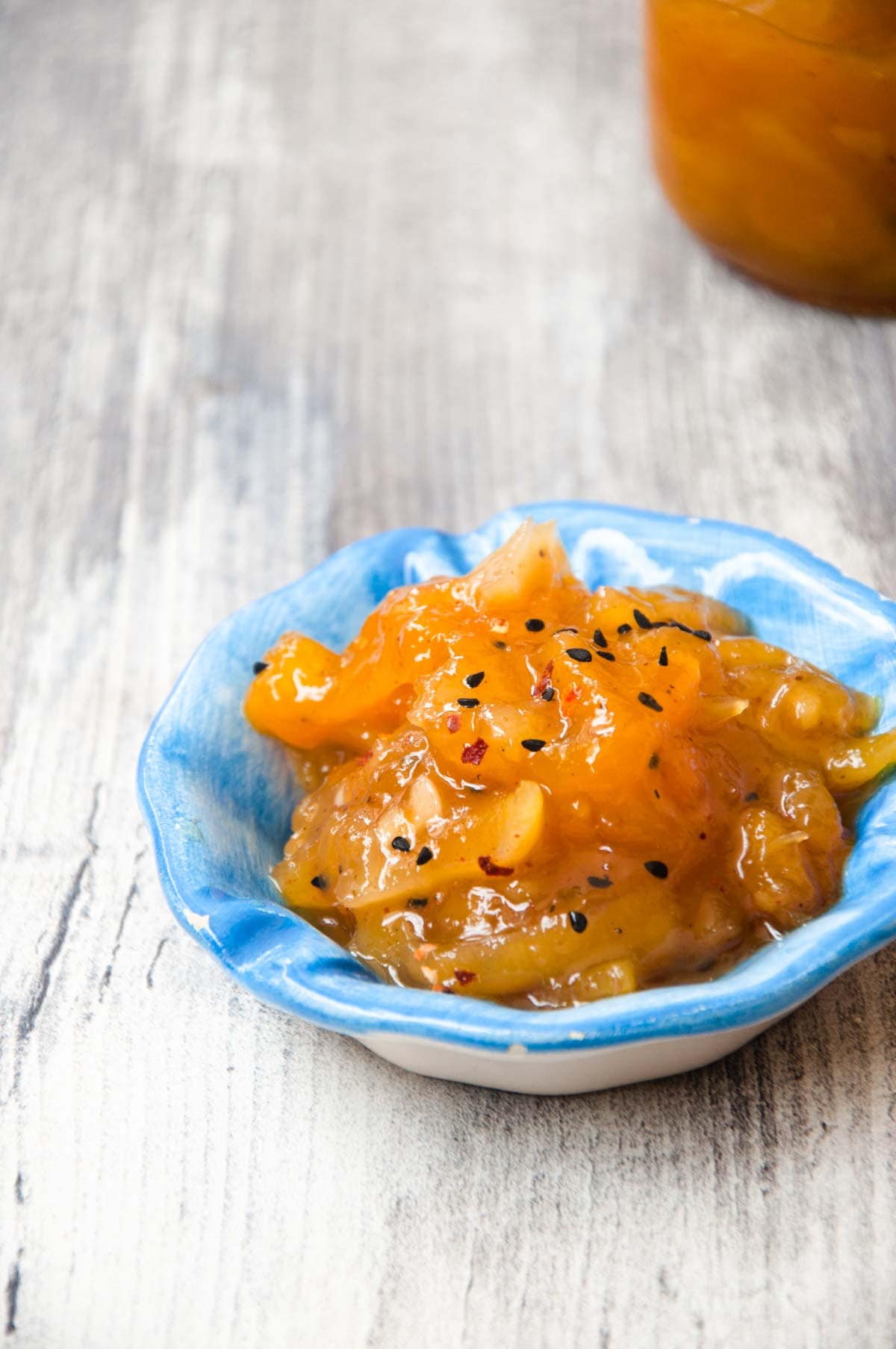 So are you ready to enjoy the most favorite Indian Condiment?
The sweet-sour and spiced mango chutney is something you just can't stop having with everything. It is thick jam-like with large fruit bits. It has a strong vinegar and spiced aroma. Those who have a palette for sour candies and sour patches enjoy it even more.
Mango Chutney is a condiment made of mango, spices, distilled vinegar, and sugar. It has a sweet and sour taste with a spicy tinge. The condiment can be served with curries and rice. You can also use it to make glazed mango chutney chicken. Find more about the best mango chutney brands here.
Indian food is always paired with chutneys like green chutney, and tamarind chutney.
Jump to:
Why this is the best recipe?
The fact that we use whole spices and make our own spices make this Indian chutney super delicious. The whole spices when roasted and grounded lend a lot of flavor to the chutney.
And you do not have to remove spices every time you serve.
The nigella seed lends so much flavor to the chutney and has a lovely color.
Ingredients
The basic ingredients that you need to make Indian mango chutney are very easily available. They are mango, sugar, white vinegar, oil, and spices.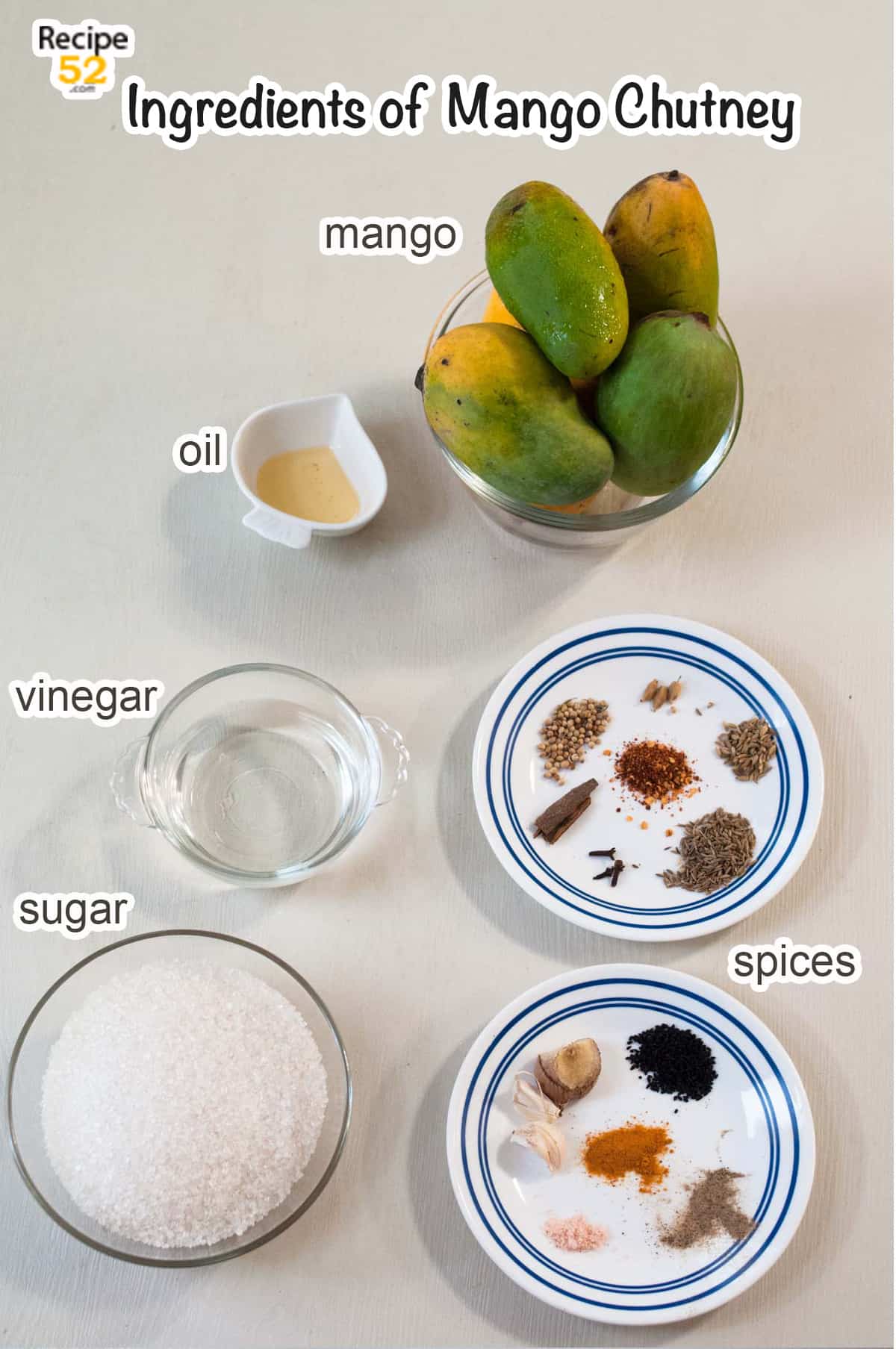 Mango used for chutney is preferably firm and under-ripened with yellow flesh.
Spices: You add a number of Indian whole or ground spices like black seeds, fennel, cinnamon, cardamom, turmeric, black pepper, ginger, and garlic. While these spices greatly add to the flavor. They are not essential. So if you do not have one or two spices like fennel or cardamom. You can skip it.
Substitute whole spices to ground spices: While all chutney spices are easily available in an Indian pantry or Indian store, I understand, that they are not common in every pantry. So I'm sharing measures for both ground and whole spices in the recipe card.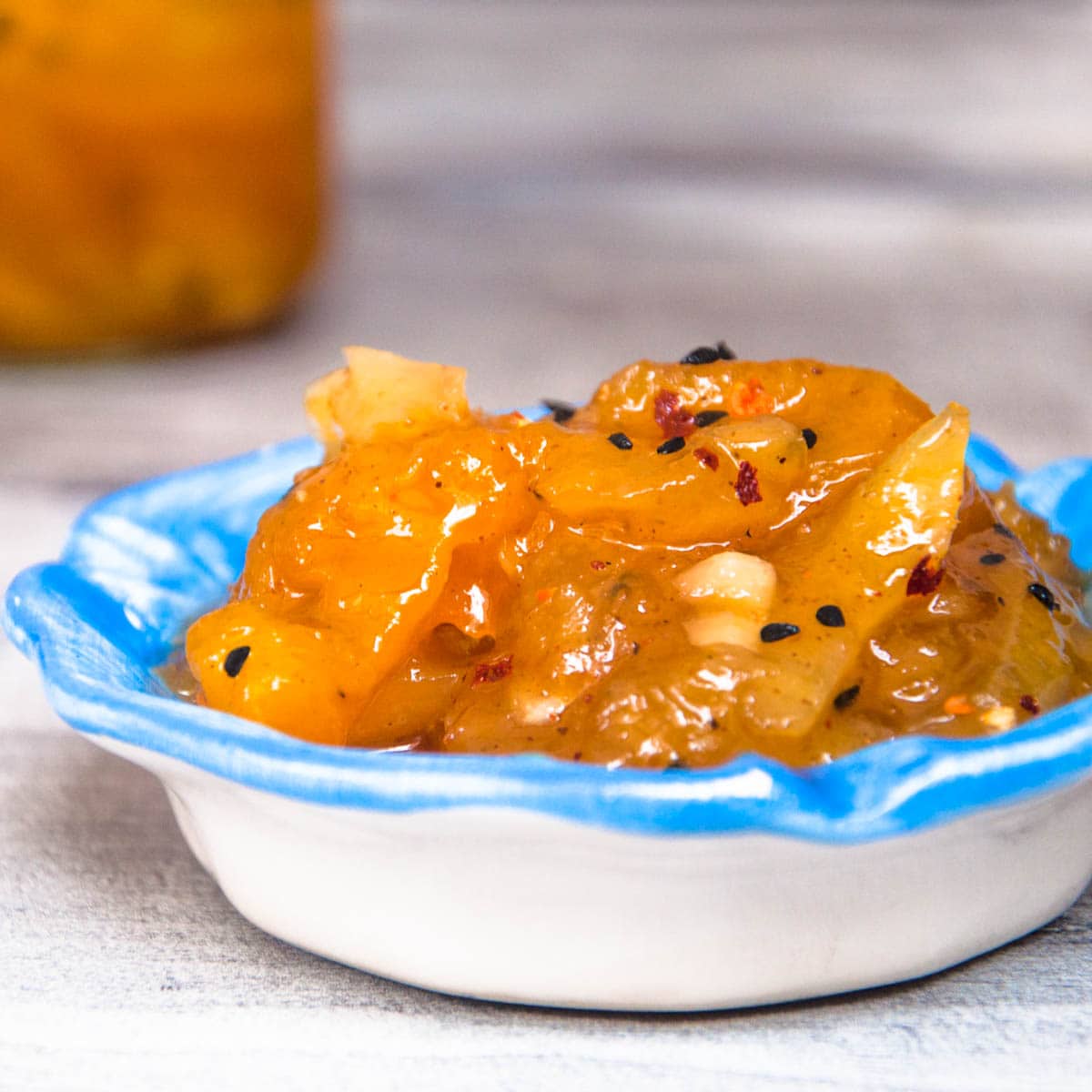 My mother-in-law would make simple chutney with just cumin and red chili as only spices and it still tastes great if you do not have all those spices. Stick to cumin and red peppers and it'll still taste yummy. Find more about Indian Spices and their use here.
We also make mango delight, mango ice cream, mango jam, and mango kulfi in summer.
How to make it?
Let's begin making the spicy Indian mango chutney. This is Indian style so get ready for some finger-licking Indian spiced flavors.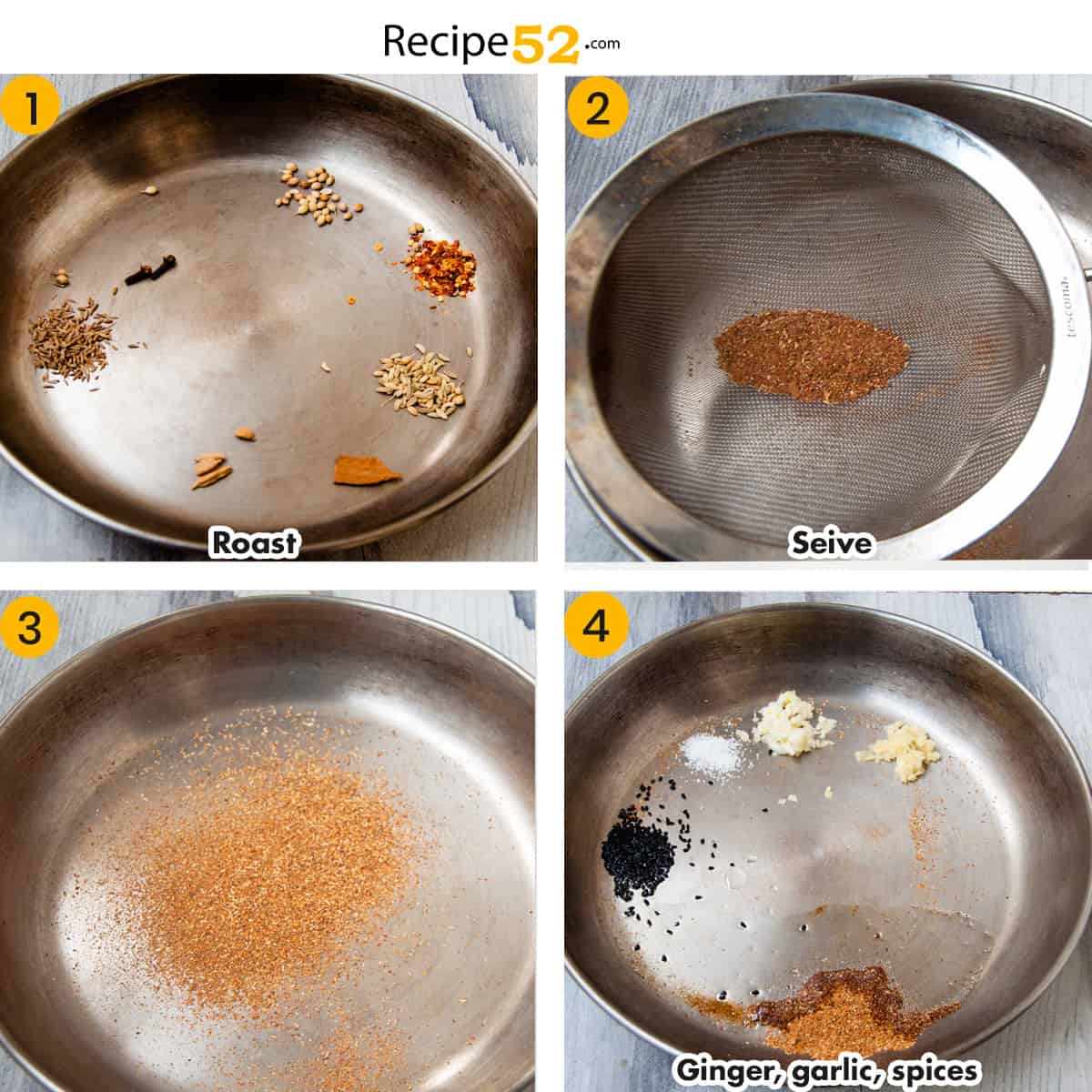 For a fresh aromatic chutney, you begin with aromatic spices. Put whole spices (except nigella or black seeds) in a pan and dry roast it for a minute on medium-low heat until fragrant.
(Skip this step if using ground spices. If using a few ground spices and a few whole spices, roast the whole spices only.) You can substitute chili flakes with any dry red peppers.
Sieve the ground spices through a fine strainer in the pan, rub your index finger over the ground spice, this helps to sieve. Discard the remains.
Now, add nigella, ginger, garlic, salt, and oil to the pan. Cook for a few seconds until it sizzles.
Reduce heat and add sugar and vinegar. Cook for 5 minutes until sugar dissolves.
Add the under-ripened mango slices. We like slices best but can cut them in tiny chunks too. Cook for 20 minutes on medium-low heat until sauce thickens. Stir occasionally in the beginning and frequently when sauce begins to thicken.
Transfer hot chutney to sterilized 2 glass jars. Let the chutney cool completely then cover the lid and store it in the fridge.
Use a clean dry spoon to serve.
Expert Tips
Skip grinding?
The recipe includes methods of how to ground spices and sieve them. For most Indians adding whole spices in chutney would be ok.
We are used to discarding it like bones while eating. For those who hate whole spices in food may add ground spices or grind your spices.
How to serve?
You can eat mango chutney with rice, meat roast, Indian-style curries, and almost anything. It tastes great even with plain bread or naan.
It can be paired with biryani, pulao, kebab, or paratha. You can use it as spread in a sandwich or you may use it to glaze your chicken. So the possibilities are endless.
How to thicken mango chutney?
If after cooling you feel that your mango chutney is not thick enough then you can transfer it back to the pot and simmer until it is thickened.
Remember chutney thickens as it cools. Another thing you may do is to add less vinegar as it is the only liquid that goes in chutney.
Recipe FAQs
Difference between mango chutney and mango pickle.
Mango chutney is made with ripe mangoes and needs to be stored in the fridge if stored without canning. Mango pickle is made with hard green mangoes that have white flesh, the mango chunks that are marinated and kept in sunlight to release mango water, and then assembled. Pickle also needs resting time for several days before you could eat. It can be stored in the pantry. They are different even in appearance.
Can you freeze mango chutney?
Yes, you can freeze mango chutney for up to 12 months and it should defrost into pretty much its original condition. Another way to store Mongo chutney for a long is canning hot chutney in sterilized airtight jars.
How to store mango chutney in the fridge?
It is best stored in the fridge in an airtight jar. It can last well for more than two months or more. The chutney is good until it has the same taste and smell. If it develops fungus or molds or has a bad smell and different texture. Discard it. The best way is to store the chutney in small jars and use one jar at a time. Use a clean dry spoon to serve chutney.
Hungry for more Indian Mango chutney? Check these.
If you try the Indian Mango Chutney recipe, I'd LOVE to hear your feedback in the comments. Your 5-ratings motivate me to do my best. Stay connected for more recipes and videos on Facebook, Instagram, Pinterest, and Youtube.
📖 Recipe
Indian Mango Chutney
Less essential spices are marked optional. Both ground and whole spice measures are mentioned to keep it handy for everyone. Skip grinding whole spices step if using ground spices or if you don't mind having whole spices in chutney. Just remove while serving.
Print
Rate
Cost:
2 sterilized jars (400 ml each)
Ingredients
3.5

cup

sliced mangoes

,

use under ripened, see notes
Whole Spices
1

teaspoon

cumin seeds or cumin powder

½ to 1

teaspoon

red pepper/chili flakes

,

notes 2

1-

inch

cinnamon

3

cloves

½

teaspoon

coriander seeds

½

teaspoon

fennel seeds

,

optional

2-3

green cardamom

¼

teaspoon

turmeric powder
Other
1½

teaspoon

nigella

,

optional, notes 1

½

tablespoon

minced garlic

,

or less

½

tablespoon

minced ginger

,

or less

¼

teaspoon

black pepper

¼

teaspoon

salt

1

tablespoon

oil

1

cup

white vinegar

2

cups

sugar
Instructions
Roast and Ground Whole spices: (if using ground spices instead of whole, then skip dry roasting that spice and add in next step.) notes 4
Place all ingredients in the whole spice list in a pan and dry roast for 30 seconds until fragrant then remove to a plate to cool.

Grind whole spices into a fine powder and sieve it through a fine strainer. Discard the remains.
Make Chutney
Heat oil in a pan then add the prepared spice mix, ginger, garlic, salt, black pepper, and nigella seeds. Let it sizzle for 2 seconds then add vinegar and sugar. Cook for 5 minutes on medium heat until sugar dissolves. Then add mango slices.

Cover and cook chutney for 10 minutes. Then remove the lid and cook for another 10 minutes. Adjust heat as needed and stir frequently after sauce begins to thicken.

Fill hot chutney in sterilized jars. (note 6) Let the chutney cool completely then place the lid tightly and store in the fridge. Use a clean dry spoon to serve each time. Chutney can be frozen too.
Notes
About 1 kg or 2.2 pounds of mangoes make 3.5 cups after de-seed and peeling. Use firm under ripened mangoes with yellow flesh. Don't confuse raw mangoes with white. Avoid raw mangoes.
Substitute red pepper flakes, with any dried red chili. Or just add 1 freshly chopped red chili in chutney with mango slices.
Nigella seed is also called black seeds or kalonji. They taste amazing in chutney, It's optional but recommended.
Skip grinding spices if you don't mind having whole spices in chutney and can remove them like bones while serving.
To sterilize the jar, simply bottle the glass jar with a lid for 8 minutes. Make sure the jar is fully immersed in water. Then remove with pair of tongs and let it cool naturally over a clean kitchen towel.
Roasting and grounding spices definitely add a boost to the flavor but you can skip this extra step if using all ground spices. Find ground substitutes below.
green cardamom: ¼ teaspoon ground green cardamom
coriander seed: ¼  teaspoon ground coriander 
clove: ¼  teaspoon ground clove 
cinnamon: ¼  teaspoon ground cinnamon 
fennel seeds: ¼  teaspoon ground fennel 
Nutrition Information
Calories:
35
kcal
,
Carbohydrates:
8
g
,
Protein:
1
g
,
Fat:
1
g
,
Saturated Fat:
1
g
,
Polyunsaturated Fat:
1
g
,
Monounsaturated Fat:
1
g
,
Trans Fat:
1
g
,
Sodium:
10
mg
,
Potassium:
19
mg
,
Fiber:
1
g
,
Sugar:
8
g
,
Vitamin A:
105
IU
,
Vitamin C:
4
mg
,
Calcium:
3
mg
,
Iron:
1
mg