Today, I share a quick easy Spicy Mango Cucumber Salad which tastes very refreshing and is great for summer lunch. It has a uniquely delicious flavor with simple ingredients. And the variations are just endless. So play with it and make it yours.
Jump to:
Which mangoes are best for a salad?
When I have a firm and under ripened mango that is not yummy to eat and can't be used in any Mango desserts. I make this salad out of it. And it's just a great way to use an under-ripened mango. Now, do not confuse the term ripened with raw mangoes, which are green, hard, and very tasty. It has white flesh.

These under-ripened mangoes have light yellow flesh and are firmer than fully-ripened mangoes. Do not use soft fully ripened mangoes as they will melt in the salad and make it mushy. Have lots of under ripened mangoes? Here's what to do.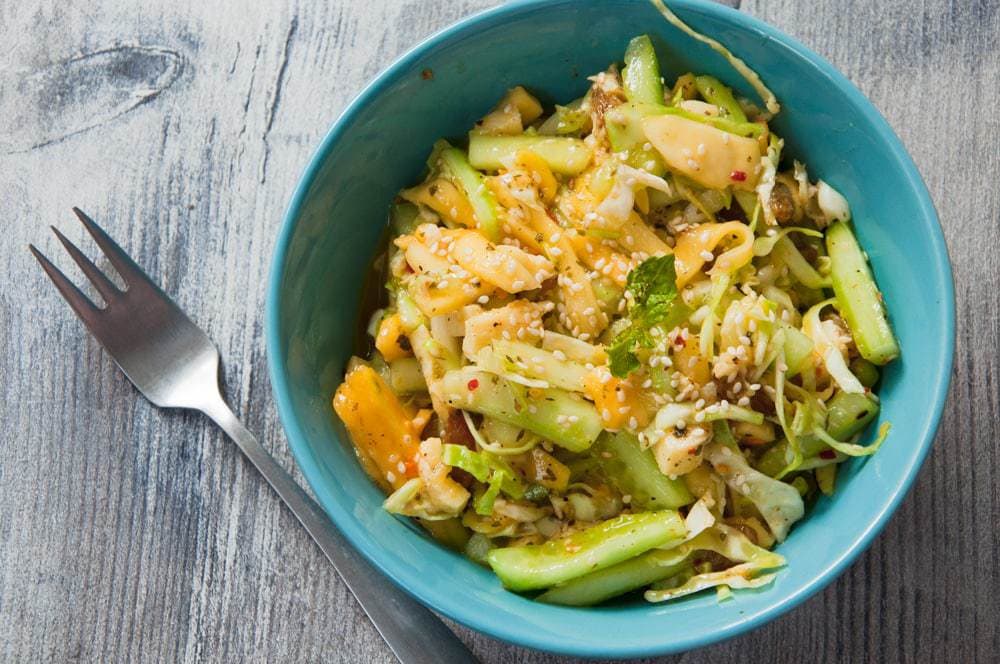 How to make it?
Aren't these lovely to look at? Use under ripened mangoes for this salad that are but firm and slightly on the tangy side. (Soft fully-ripened mangoes will melt away so under avoid those.) Just gather cheese, veggies, fruit, and raisins in a bowl. Keep this in the fridge until needed. (See recipe notes for variations.)
For dressing first extract mango juice. An easy way to do this is by pressing a small mango between palm on different angles to make it soft. (The flesh under the skin with liquidize.) Then remove the top or eye of mango and squeeze the juice out of it. Remove the seed and squeeze the skin. Use this juice in the dressing.
Now, place all the ingredients of dressing in a bowl and mix well. Store dressing separately in the fridge until needed.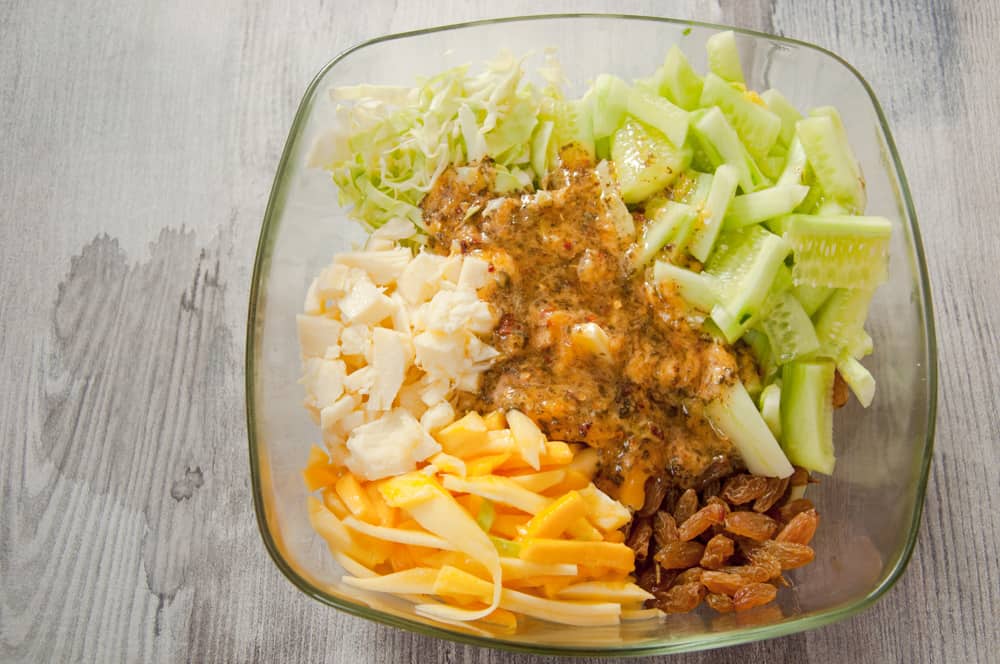 Just before serving, mix salad dressing with salad and do a taste test. Add up to two tablespoons of sugar if as needed.
Add the sesame seed and serve Spicy Mango Cucumber Salad chilled.
Variations
This is a very versatile salad and the combinations are endless. You can pineapple, and apples in this salad. Just replace some of the cucumbers with fruit. You can add roasted nuts like peanut and walnuts and almonds.
Sweet corn and avocado also make great additions to the salad. Similarly, you can replace raisin with other dried fruits like berries and cherries. More options are mentioned in recipe notes.
FAQ
Is this cucumber mango salad spicy?
Yes, it is slightly spicy but the sugar and chili combo with the tartness from mango makes it really yummy. If you are dubious about using red chilies then you may add less of it. Of course, you can add more later too after mixing than salad and dressing and tasting it.
Can I use other green?
Yes, you can replace cabbage with any green like Roman lettuce, baby spinach, iceberg, and so on. I just used cabbage as it is easily available in most places in all seasons.
Can I use another sweetener in the dressing?
Yes, maple syrup, agave nectar, or artificial sweeter all will work for Spicy Mango Cucumber Salad. Adjust sweetness to taste.
What can I use to replace red chilli flakes?
Red chilli flakes are the spice agent in the salad, you can replace it with any chilli powder, like red chilli, cayenne, or even any hot sauce. A teaspoon or less should suffice for a single batch of the recipe.
Why do we de-seed cucumbers?
Cucumbers have a lot of water in the seeds. So when you remove the center seed portion, you remove some of the excess water from the salad which will make it runny and messy. So, I recommend peeled and de-seeded cucumbers for this salad.
How to make mango juice for dressing?
To make mango just, select a small, fully ripened, and soft mango and press it between the palm until the flesh in the skin is liquidy. Slit the top eye part of mango. Squeeze out the juice into a bowl. Remove the seeds and squeeze further. Add ¼ cup of this juice to Spicy Mango Cucumber Salad dressing.
If you don't want to do this juicing step use 3 tablespoons any mango juice powder like tang mango. But reduce the sugar in the recipe by half.
Hungry for more salad? Check these
If you try this recipe, I'd LOVE to hear your feedback in the comments. Your 5-ratings motivate me to do my best. Stay connected for more recipes and videos on Facebook, Instagram, Pinterest, and Youtube.
📖 Recipe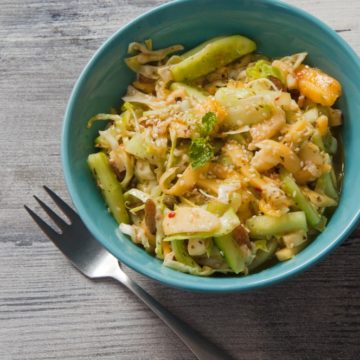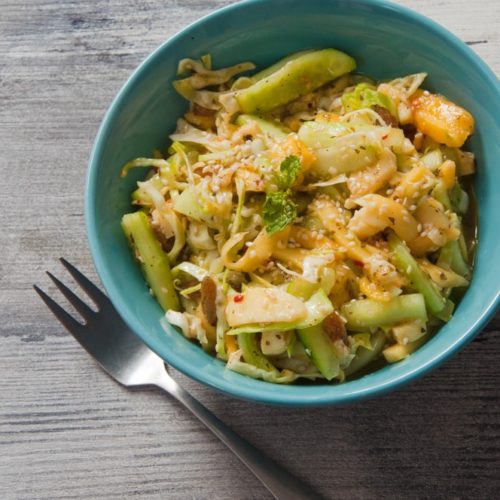 Spicy Mango Cucumber Salad
A delicious salad that is super easy to make and make a yummy side or lunch on a hot summer day. Use firm under ripened mangoes.
Print
Pin
Rate
Ingredients
Veggies and fruits
1½

cup

under ripened mango slices

,

cut lengthwise note 1

1½

cup

cucumber slices

,

de-seeded and cut lengthwise

1

cup

cabbage slices

,

note 2

¼

cup

raisin

,

soaked

1

cup

mozzarella cheese

,

cut in cubes, note 3
Dressing
4

tablespoon

olive oil

2

tablespoon

vinegar

,

or lemon juice

¼

cup

mango juice

,

notes 4

1

tablespoon

dried parsley

,

notes 5

1

teaspoon

salt

½

teaspoon

red chilli flakes

,

or to taste

¼

teaspoon

black pepper

2

tablespoon

honey

,

or sugar and more as needed, notes 6
Garnish
2

tablespoon

sesame seeds

,

toasted
Instructions
Take veggies and fruits in a bowl, mix, and set in the refrigerator until needed.

In another bowl or jar mix all ingredients of salad dressing.

Just before serving, pour the dressing in the veggie-fruit mixture. Do a taste test adjust sweetness by adding 1-2 more sugar or honey if needed.

Garnish with toasted sesame and serve.
Notes
Use firm and tangy mangoes.
Green options: You can use any green of your choices like an iceberg and baby spinach, sweet corns would taste great too.
Cheese options: You can use other cheese too like halloumi and cottage cheese.
Mango Juice: Press and rub a small mango between your hands until soft. Then squeeze the juice out of it, measure and add to the dressing.
Herbs: I used dried parsley, but fresh would be best.
I used 2 tablespoon honey and 2 tablespoon sugar in the recipe, sweetness needs to be adjusted according to the sweetness of mangoes.
Nut options: Add peanut, walnuts or almond for the crunch in the salad.
Fruit option: Avacado, green apples, or pineapple can be paired with mangoes in this salad. You may add berries instead of sultanas.
Nutrition Information