Try this easy mango kulfi recipe without cooking. Get just 4 ingredients for delicious mango flavor and authentic kulfi texture. These Indian mango ice cream popsicles are creamy and not too hard to bite.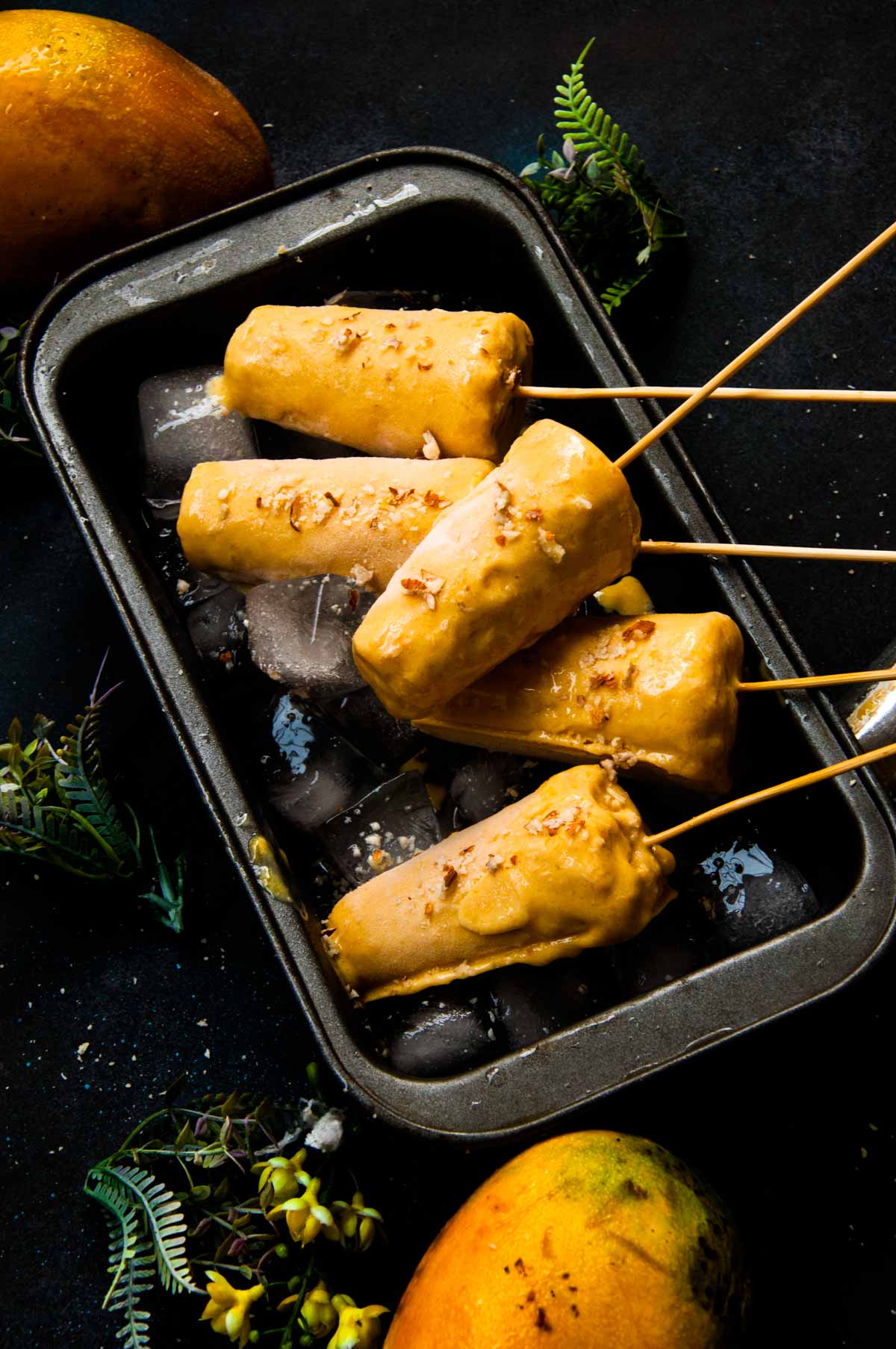 If, in case you don't know what is mango kulfi? Mango Kulfi is a mango version of traditional milk kulfi. It is made with mango pulp, any dairy derivatives like cream, khoya, milk powder, condensed milk, evaporated milk, or just milk and sugar.
Saffron or cardamom powder is often added to add a subtle aroma. It is traditionally frozen in round-shaped metal popsicles called kulfi moulds. It is garnished with almonds and pistachio. Mango kulfi is very popular in India and Pakistan.
Jump to:
I know, I'm obsessed with mango kulfi. I was testing mango kulfi recipes and wanted to create the best version. And I tried both the no-cook version and this basic milk, sugar and mango (cooked version) and concluded that both are equally yum!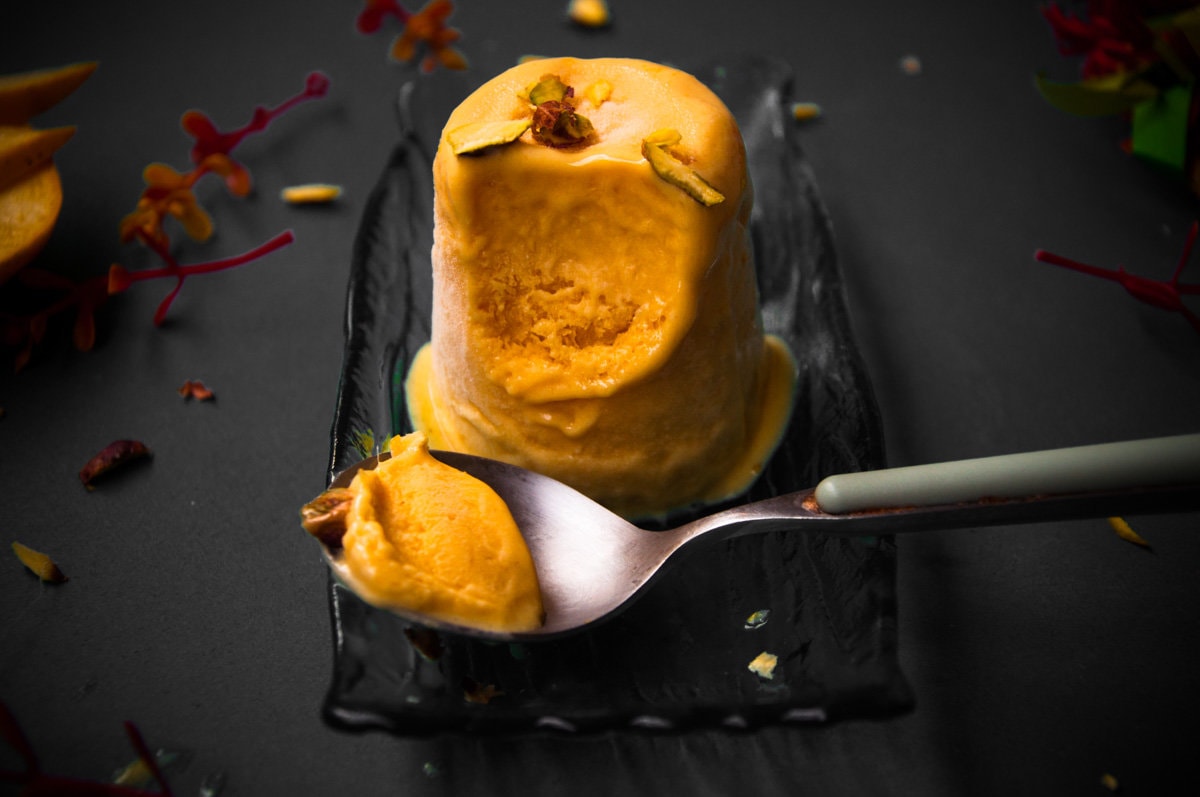 What makes kulfi unique from popsicles is that it tastes like ice cream but it does not require churning or an ice cream maker. You might like my mango ice cream, mango jam and mango chutney.
Why you should try it?
No Cooking: This mango kulfi recipe works because it mimics the traditional method with easy substitutes. In this mango kulfi recipe, we use evaporated milk and condensed milk. Both are reduced milk that makes it taste similar to traditional milk kulfi without long hours of cooking.
Few Easy Steps: The recipe has just a few steps and requires a blender to make mango purée and a hand beater or stand mixer for beating evaporated milk and cream.
And all that effort is totally worth it as the extra volume that the beating provides keeps it light and enjoyable.
Ingredient
Have a look at the ingredients and you already know it's gonna be rich and delicious like my mango delight dessert.
Mango: Just get your hands on the best-tasting sweet mangoes! Use the best quality, sweet and sour fully ripened, and non-stringy mangoes. You can check more about varieties of mango here.
Evaporated Milk: This is reduced milk that doubles in volume upon whipping and helps hold the air in the kulfi making it light.
Condensed milk: You can make your own sweetened condensed milk too. This helps skip the cooking.
Heavy cream: Ideally used heavy or shipping cream that doubles in volume upon whipping. But any unsweetened cream for dessert should do.
Sugar is optional and can be added upon tasting, only if mangoes lack sweetness.
Cardamom and food color are optional, add if available.
How do you make it?
So here's the quick and easy visual tutorial of mango kulfi followed by the recipe card. Basically we just have to mix all ingredients, taste adjust if needed and freeze it. It is so simple.
First, take cream in a large bowl and whip with a hand beater.
Whip the cream until is doubled and reaches soft peaks, stiff peaks are ok too. Set aside or in the fridge until needed.
Make mango pulp by pulsing mango cubes in a blender until smooth. 2 ½ cup mango chunk might seem too much but trust me it gives that intense mango taste that you want and get at from store-bought kulfi.
Mix mango pulp and condensed milk in whipped cream. Set aside.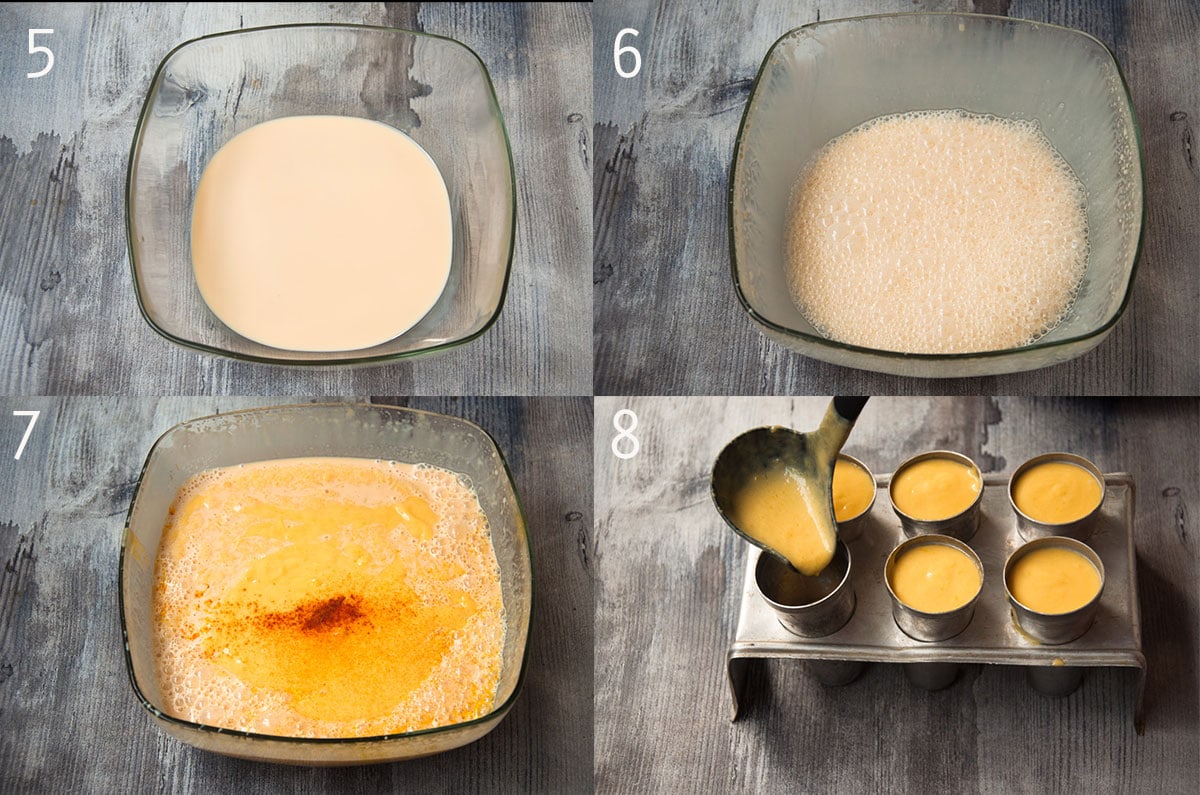 Whip chilled evaporated milk until doubled in volume.
The whipping provides volume to evaporated milk making the kulfi light and airy.
Mix condensed milk and mango mixture with whipped evaporated milk just until combined. Add cardamom powder and yellow food color is used. (You can also mix in 2-3 tablespoons of crushed or ground nuts and/or tiny mango chunks.) Do a taste test and add up to 3 tablespoons of powdered or fine sugar if needed. Remember, the kulfi is sweeter than ice cream in general.
Fill in the moulds and set them in the tray. Place the lids and freeze for 6-8 hours, preferably overnight.
To unmould kulfi from the metal mould, run tap water over the bottom of kulfi mould without letting the water enter the mould. Then insert an ice cream stick. You might need to apply some pressure here.
Then twist the ice cream stick to release the kulfi from mould and pull it out. Garnish with nuts and serve.
Tips
Cook in a thick bottom wide-based vessel so the milk doesn't burn from the bottom.

You may add chopped or crushed nuts for extra nutrients and boost taste.

Mango Kulfi melts quickly like popsicles. Traditional kulfi is annoyingly sweet but this recipe has moderate sugar. Of course, you can add more sugar if you like it sweeter.
Recipe FAQs
Is it Gluten-free Kulfi?
While some mango kulfi uses custard powders and bread to thicken the mixture. This is a no-flour kulfi recipe that relies on whipped cream to thicken and this makes it a gluten-free kulfi.
Is it nut-free?
Similarly, a traditional kulfi recipe has nuts like pistachio, cashew and almonds, this is nut-free kulfi as we want intense and smooth mango flavor with no disturbance.
What is if I don't have kulfi mould?
Kulfi mould is a round metal tube-like mould with a narrow bottom. They might be difficult to find. So you can use these alternatives.
Use popsicles.
You can also freeze kulfi in small disposable ice cream cups. Just add an ice cream stick and cover it with aluminum foil to hold the stick.
You can freeze it in the loaf pan too, just line it with butter paper to remove it easily. To serve, just slice the kulfi like thick bread slices and garnish.
What to serve with mango kulfi?
Traditionally Cornstarch vermicelli or Lacha faluda are served with kulfi. You can pair it with mango chunks on the sides.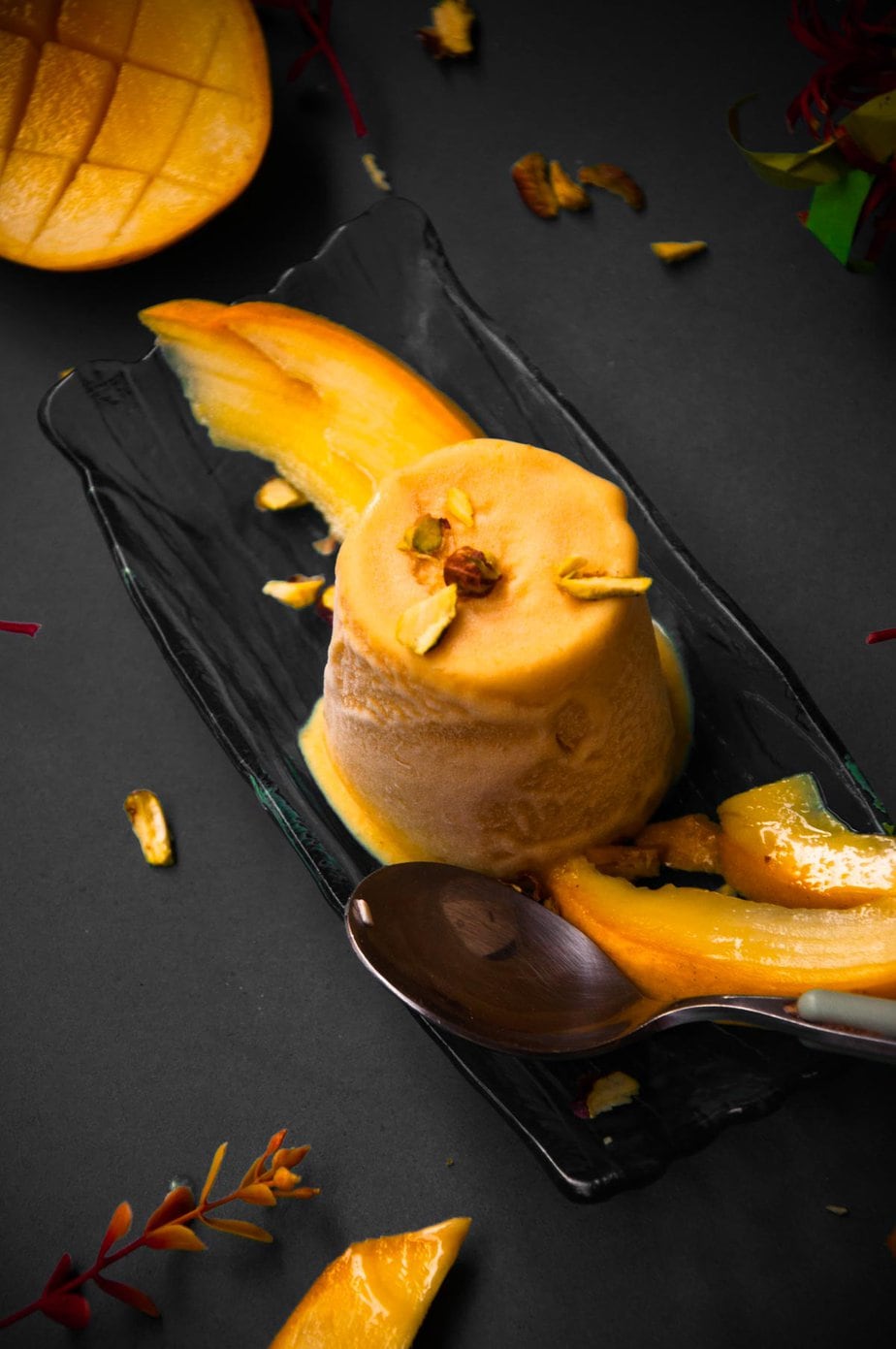 Hungry for more mango recipes? Check this!
If you try the Mango kulfi recipe, I'd LOVE to hear your feedback in the comments. Your 5-ratings motivate me to do my best. Stay connected for more recipes and videos on Facebook, Instagram, Pinterest, and Youtube.
📖 Recipe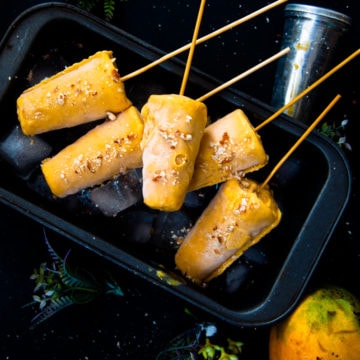 Mango Kulfi
Traditional kulfi is vert sweet while this is moderately sweet kulfi. Add up to 3 tablespoon sugar if you like it sweeter.
Print
Pin
Rate
Ingredients
1⅓

cup

heavy cream

,

whipped to soft peaks

2½

cups

mango chunks

,

from about 3 mangoes. notes 1 & 2

½

can

sweetened condensed milk,

about ¾ cup

½

can

evaporated milk

,

chilled (a little less than 1 cup), notes 3

½

teaspoon

green cardamom powder

,

optional, notes 4

¼

teaspoon

yellow food color

,

optional

2-3

tablespoon

powdered sugar

,

if needed for extra sweetness.
Instructions
Make mango pulp by pulsing mango cubes in a blender until smooth. Set aside.

Whip the cream until it reaches soft peaks stage and is doubled in volume.

Mix mango pulp and condensed milk in whipped cream. Set aside.

Whip chilled evaporated milk until doubled in volume.

Mix condensed milk and mango mixture with whipped evaporated milk until combined. Add cardamom powder and yellow food color, if using.

Do a taste test and add more sugar only if needed.

Pour kulfi mixture in moulds and cover the lids. Freeze for 6-8 hours and until solid.

To un-mould kulfi run tap water over kulfi moulds for 3 seconds. Hold the kulfi mould upside down with lid side facing down. Run water over the tail side.

Insert an ice cream stick in the kulfi mould. This might need some pressure. Then twist the stick and pull kulfi out of the mould. Enjoy.
Notes
Mango: Use the best quality, non-fibrous mangoes in the sweet variety.
Mango pulp: You can also use 2½ cups of ready-made mango purée or pulp. If purée is sweet then adjust sweetness by reducing 2-3 tablespoons of condensed milk and skipping the sugar. 
Evaporated milk: If you don't have evaporated milk, simply boil 2 cups of milk and cook till reduced to half that is 1 cup. Chill and whip. It won't get doubled like evaporated milk but it ok.
Cardamom: cardamom and saffron are both added to kulfi for rich flavor and are recommended. But since this kulfi is already flavored with mango you can skip it.
Nut options: You may mix in crushed cashews, pistachio, or/and almond to the kulfi in the last step before pouring the mixture into the mould. It will make it both rich and nutritious.
Storage: kulfi just like ice-cream can stay good for more than three months. Since we are using half of the can of both evaporated milk and condensed milk, doubling this recipe by using 2x is totally worth it to use up full cans.
Nutrition Information
Calories:
283
kcal
,
Carbohydrates:
27
g
,
Protein:
5
g
,
Fat:
18
g
,
Saturated Fat:
12
g
,
Polyunsaturated Fat:
1
g
,
Monounsaturated Fat:
5
g
,
Cholesterol:
60
mg
,
Sodium:
66
mg
,
Potassium:
285
mg
,
Fiber:
1
g
,
Sugar:
26
g
,
Vitamin A:
1260
IU
,
Vitamin C:
20
mg
,
Calcium:
160
mg
,
Iron:
1
mg