The Mango milk recipe is a lovely memory of my maiden years when all summer nights would end with a glass of chilled mango milkshake. Mom still enjoys this treat while I and hubby are hesitant to make this a ritual as we fear weight gain.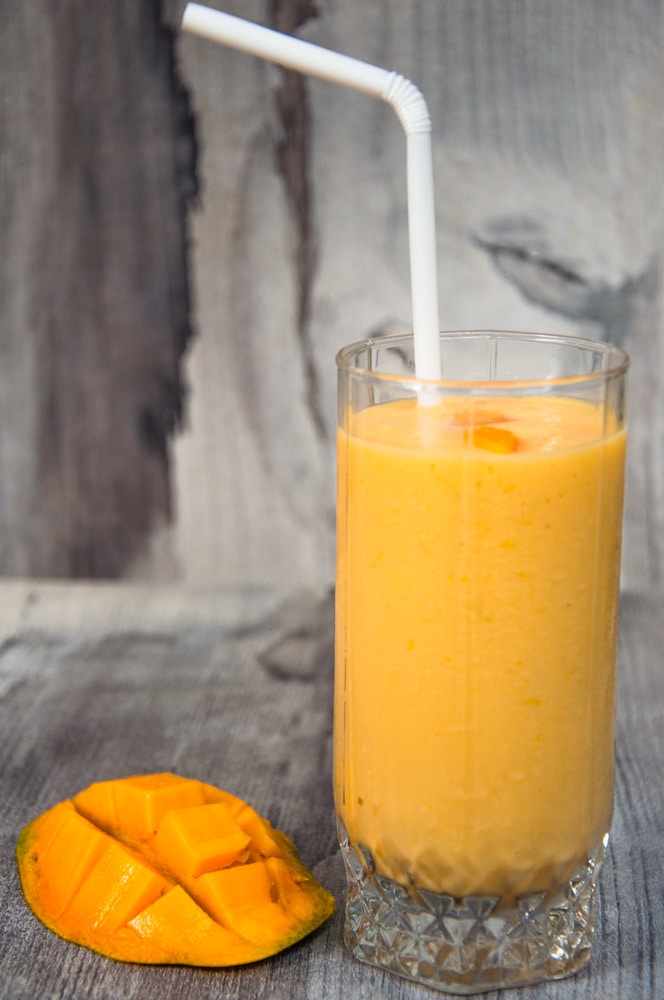 But occasionally we do indulge in this treat, and my son certainly gets it almost every day while mangoes are in season.
Mangoes are loved, and mango farms are beautiful sights if you go to Punjab across Multan. The highway has a mango farm on both sides of the road as far as you could see. And I love my country's beauty and richness of taste.
They are whopping 1500 varieties of mangoes in Pakistan alone. And they come in all colors, sizes, tastes, textures, and aromas. Yes, you can smell the mango and tell the name. Get more info about Pakistani Mangoes here.
We at home are Anwar Ratool and Punjabi Chausa lovers. But Devnagri Alphonso, Safeeda, Sindhri, or Dasheri varieties of mango work fine for a milkshake. Just make sure any variety you choose is fully ripened, has deep yellow flesh, is not fibrous (non-hairy texture), and has a sweet taste. Sour ones can spoil the taste altogether.
Ingredients
Mango: Use sweet and non-fibrous varieties of mango with deep yellow color.
Milk: Use full-fat milk. For a vegan mango shake, use coconut milk or nut milk.
Sweetener: Use castor sugar, light brown sugar, honey, maple syrup, or agave nectar. All these sweeteners can be added to taste.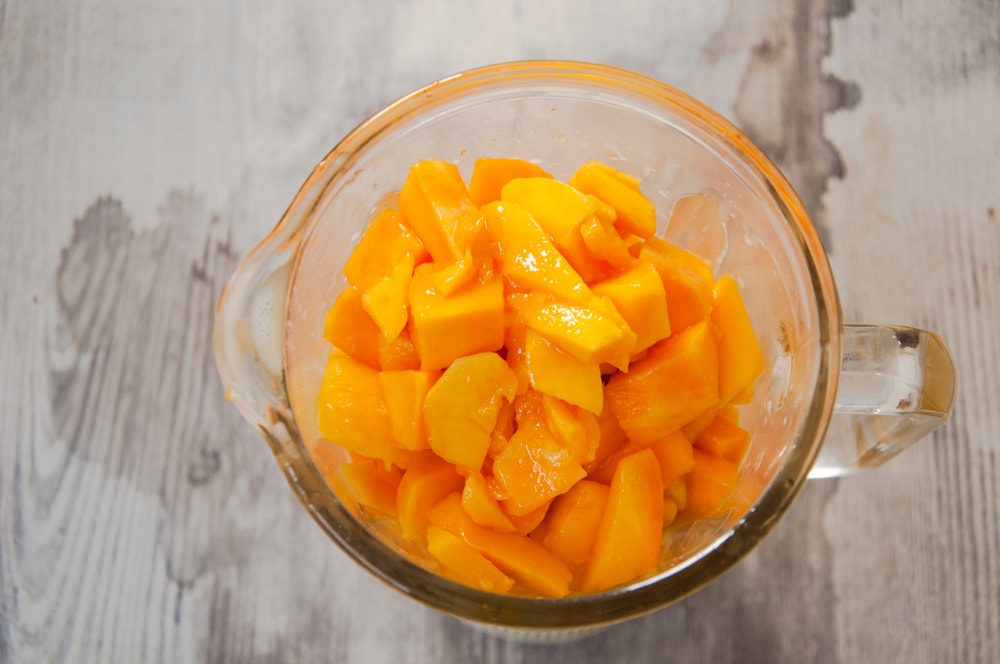 Storage Tips.
If you love mangoes and just can't have enough of these then the next few tips will be a lifesaver. Since, if you have these processed mangoes. Making a mango milkshake is easy peasy.
Store in the fridge: This, I've picked from a juice shop that sells amazing mango shakes. They make a sugar syrup and add mango slices in sugar syrup and cook for a few minutes. You can store this mango sugar mix in the fridge for 4-5 days and make shakes as needed using this pulp.
Store in the freezer: Another popular method is to store mangoes in a freezer bag or airtight box. Mix mango and sugar together and store in the freezer for up to 2 months. For me, 1 tablespoon of sugar for each cup works fine. Since sugar is a preservative itself it also helps to store fruit for a longer period.
Jam-like storage: The last one is to cook mango and sugar together like jam. This naturally makes mango sweeter and also helps compact the storage of fruit.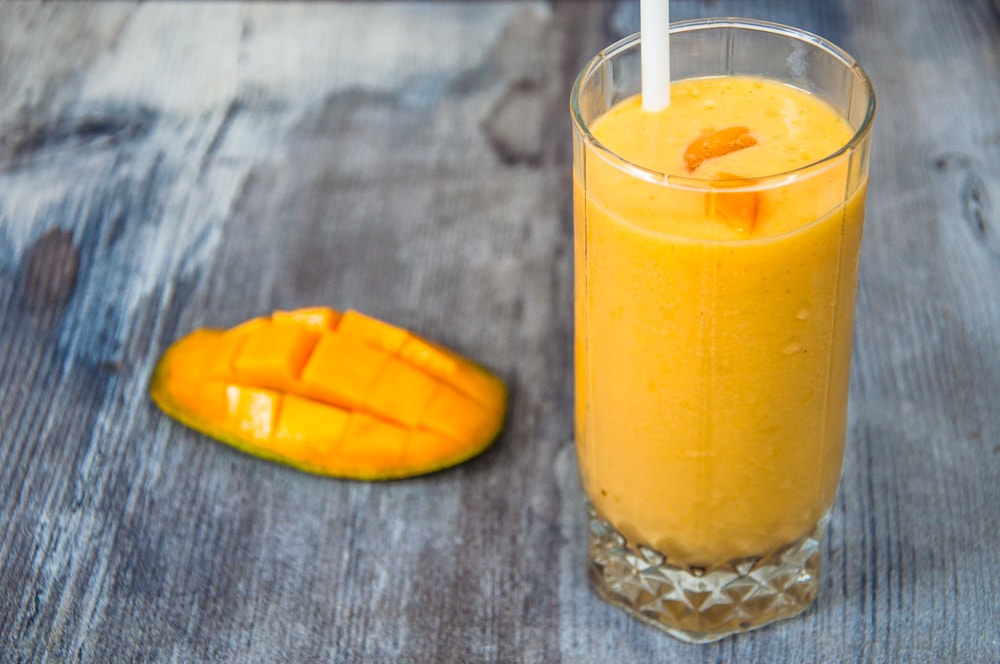 Variation
Alternately you can reduce milk to 1 cup and blend a scoop of ice cream of your choice with a mango shake. The best ice cream options are mango, vanilla, kulfi, saffron, and coconut ice cream.
FAQ
Can I make a mango shake without milk?
Yes, you can substitute dairy milk with non-dairy milk like coconut milk, almond milk, cashew milk, or oats milk. You also add some extra ice and a large banana to skip milk altogether.
Can I add ice cream to the mango shake?
Yes, ice cream taste great in a mango shake. Simply reduce milk to a half cup in the recipe. Fill the glass with this thick mango shake and top with two scoops of mango ice cream and a few nuts. This is called Mango Mastani. Serve with a spoon and a thick straw.
Want more juice recipes? Check these!
If you try this recipe, I'd LOVE to hear your feedback in the comments. Most 5-ratings motivate me to do my best. Stay connected for more recipes and videos on Facebook, Instagram, Pinterest, and Youtube.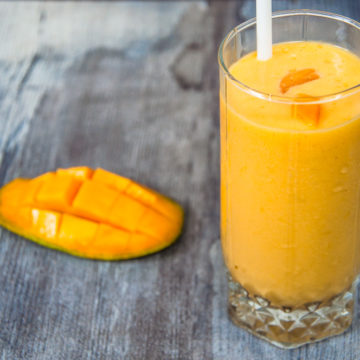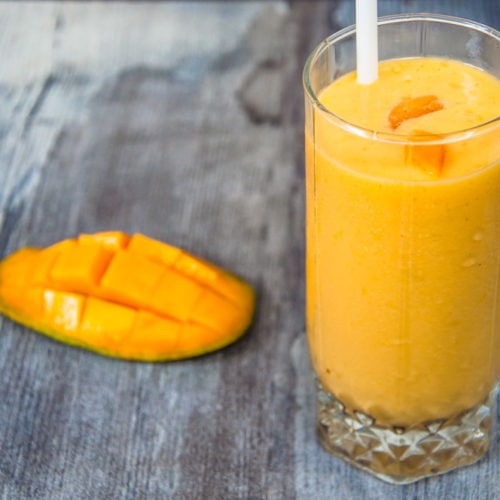 Mango Milkshake
This recipe makes thick mango shake with a rich mango taste. Use good quality and fully ripened mangoes of sweeter variety and deep yellow color.
Print
Pin
Rate
Servings :
2
large servings
Equipment
Jug Blender or immersion blender.
Ingredients
2

cup

mango chunks

,

sweeter varieties

1½

cup

milk

,

cold (more for a thinner shake)

4

ice cubes

2-4

tablespoon

sugar

,

to taste
Instructions
Put all ingredients in the blender.

Pulse for 1 minute until ice is crushed and sugar dissolves.

Do a taste test and adjust sugar if needed.

Pour into glasses and serve chilled.

Mango milkshake stays good in the fridge for up to 24 hours or more.
Notes
Mango matters in the milkshake, use sweeter varieties with deep yellow flesh for best taste and color. Avoid hairy mangoes for a smoother texture.
Use chilled milk to make a milkshake. Chilled is the key to the best milkshakes so make sure all ingredients are chilled.
You can add less milk for thicker shakes and more for a thinner shake. The more milk you add in the shake, the mango flavor gets diluted.
You can icecream to the milkshake. Just reduce the milk in the recipe and add a scoop of either vanilla, mango, or coconut ice cream for the best combos.
If you love cardamom, cinnamon or saffron, then add some to the shake for a subtle flavor twist.
Nutrition Information