Why I like Kali Masoor Dal is because it can be prepared easily with staple ingredients. These lentils have very little cooking time and you don't have to soak them for hours like other legumes. Masoor dal also is known as sabut masoor dal, whole masoor dal or brown lentil in English.
These are my favourite lentils. At our home, every Monday or at least alternate Monday would be brown lentil day and that's how I grew up. I feel brown lentil are slightly sweeter than other lentils so they are loved by kids in taste. Although they are not as tempting in appearance, they are much more nutritious than other lentils.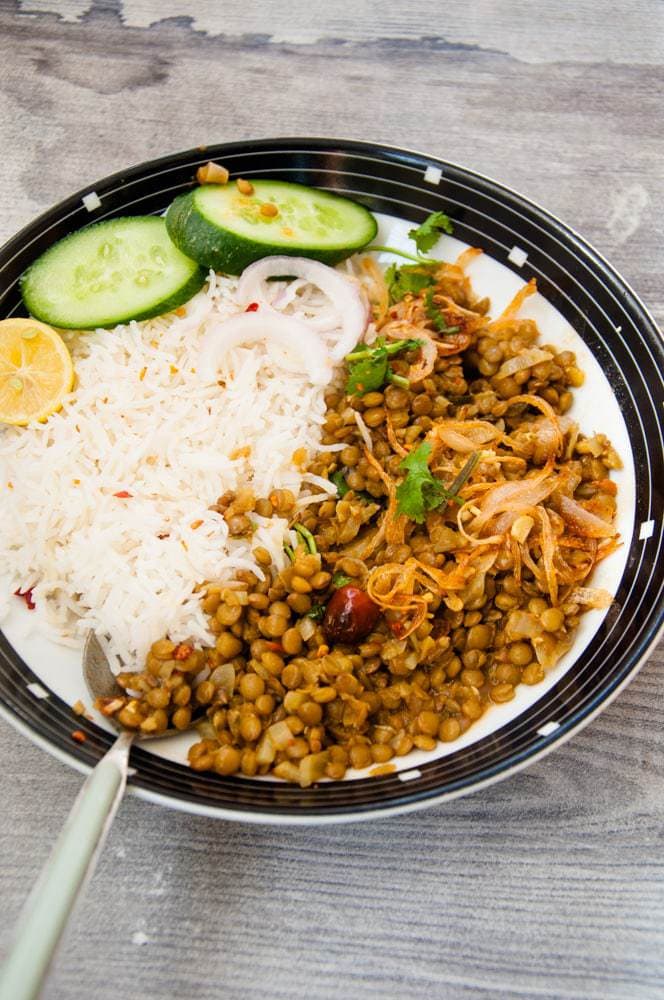 Nutrition:
Masoor is packed with nutrients. This inexpensive food is rich in iron, potassium and fibre. It can lower blood sugar and cholesterol. It is also great for your heart. Learn more about masoor benefits here.
What to eat with masoor dal?
Masoor lentil pairs best with zeera rice or any Indian bread like chapati, roti or naan. Further, you can add some yoghurt and kachumber salad on the side and you are set for a comfortable lunch. I like it super soft, slightly mushy and but whole grains.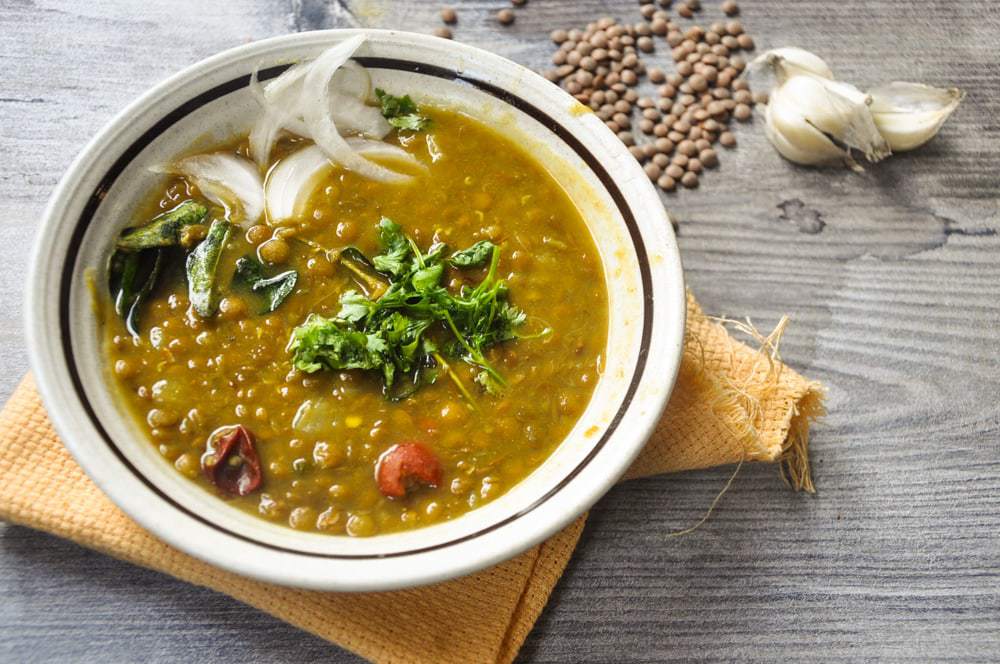 Tips to make masoor dal
I'm using quick dump in one-pot method to make this daal, which in my experience tastes great and is easy too. Another popular method is boil or pressure cook lentils in a pot. And make onion-tomato tempering separately. Both works methods work well, but I've found the below dump one-pot method used in recipe card tastes best, it saves some time and is easy too.
For a slight hint of tanginess, you can add a piece of raw green mango in the brown lentils. Similarly, you can add tamarind to all lentils to add tangy hints. Because tamarind is easy to store and is a staple in the Indian pantry.
My other similar lentil recipes
How to make Masoor dal recipe ( Indian brown lentil)?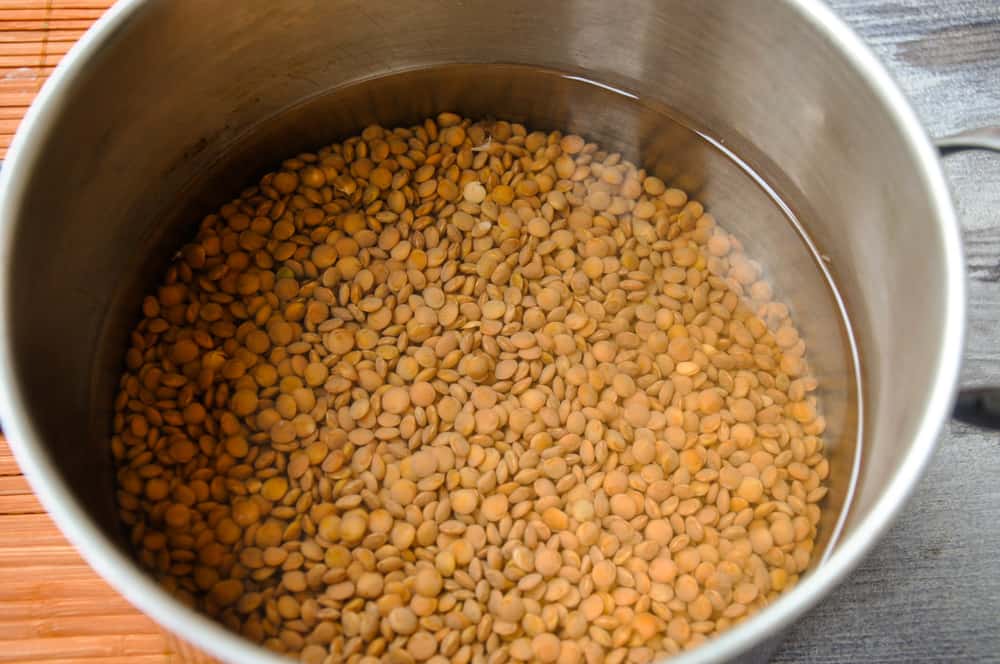 Wash lentil in cold water 2-3 times until the water runs clear. Soak brown lentil or masoor dal for 30 minutes in warm water. This helps in quick cooking of dal and makes lentil grains soft from inside. (Soaking also helps digestion, check more here.)
Now, here's a quick view of ingredients except lentil and tempering ingredients.
Drain the soaking water. Fill the pot win another 3 cups of water add all the ingredients and pulses. (Do not add tempering ingredients.) Cover the pot and cook for 20-30 minutes until lentils are soft as in below picture.
Notes: Make sure the pot is large enough and less than half is filled because some of the water might rise to the top while cooking. (The cooking time can vary depending on the quality of lentils, soaking time and air pressure.) You can also cook in a pressure cooker or an instant pot. Cooking time should be less than 5 minutes.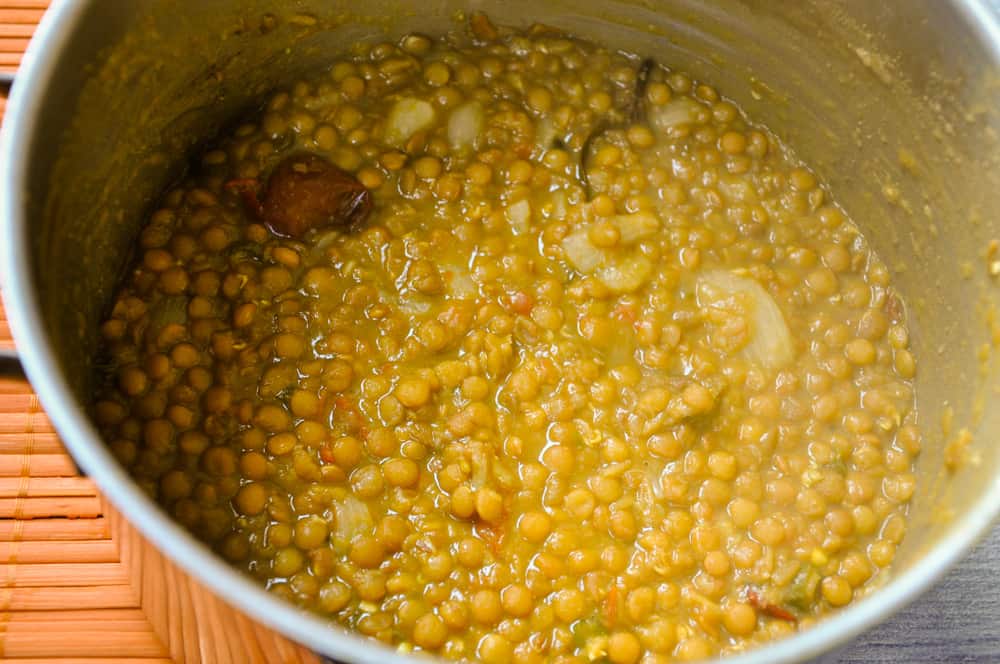 The lentils are cooked now. Test it by picking a lentil grain. Mash it between your index finger and thumb. It should mesh completely with no hard bits. If still uncook for another 5-10 minutes.
When lentils are tender, just give it few stirs and your onion and tomatoes will mesh completely and dissolve in the lentils gravy. At this stage adjust the consistency of the gravy by adding more water if or as needed. We like thick soup-like consistency.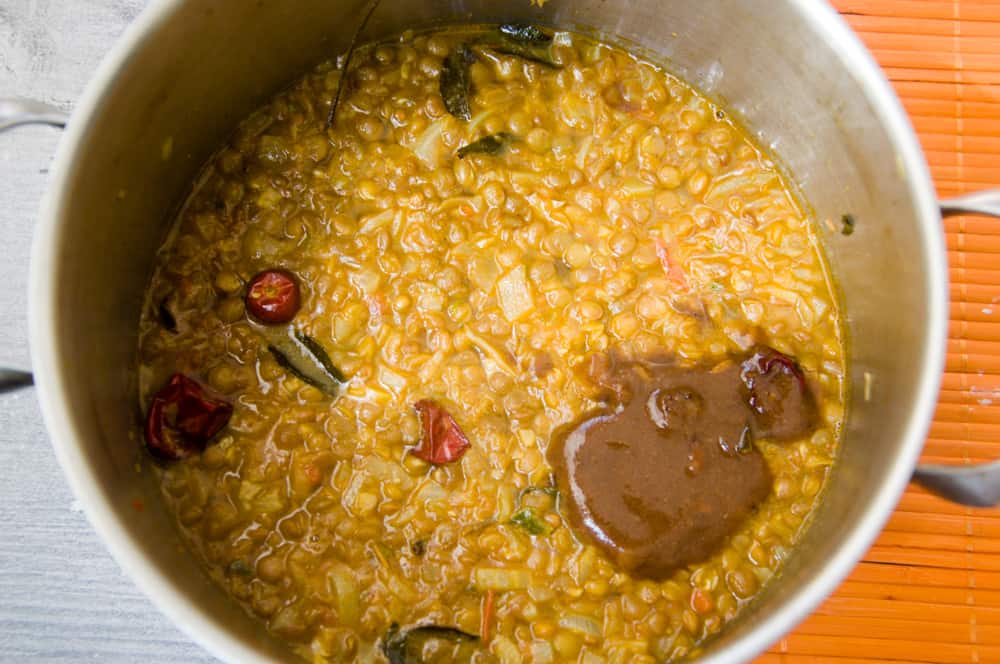 Add tamarind pulp or lemon juice, mix and let the lentil simmer on the lowest heat while you prepare the tempering.
Tip: You can also do a taste test at this stage. If anything is missing like green chili for spice, salt, turmeric for the yellow color, or allspice powder, you can add it in the next step of tempering.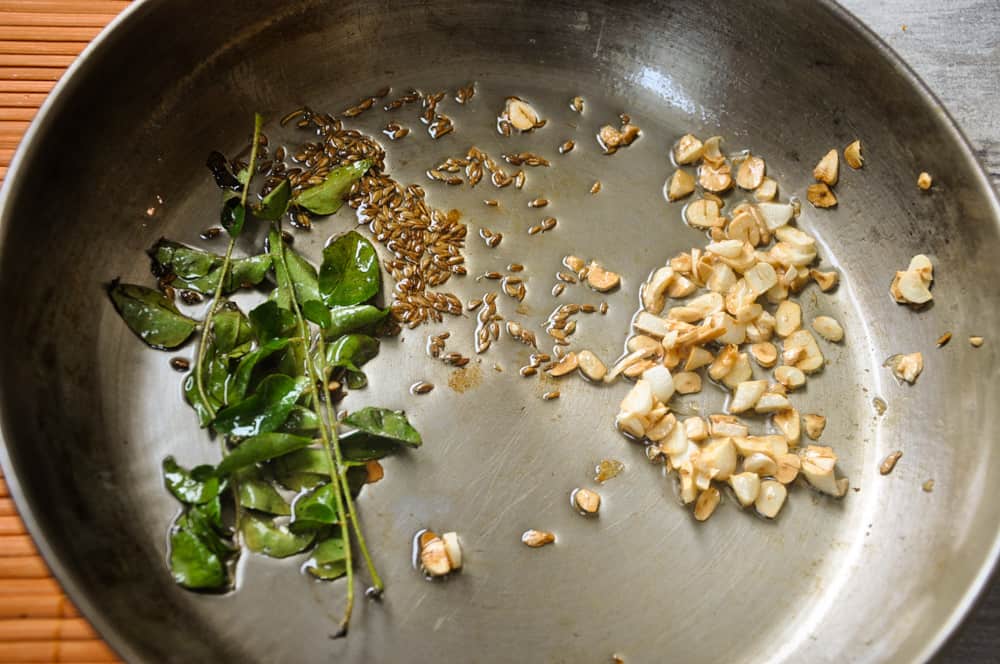 Let's prepare the tempering. Heat oil and fry sliced garlic until lightly golden. Now add curry leaves and cumin. (Skip curry leaves if not available.)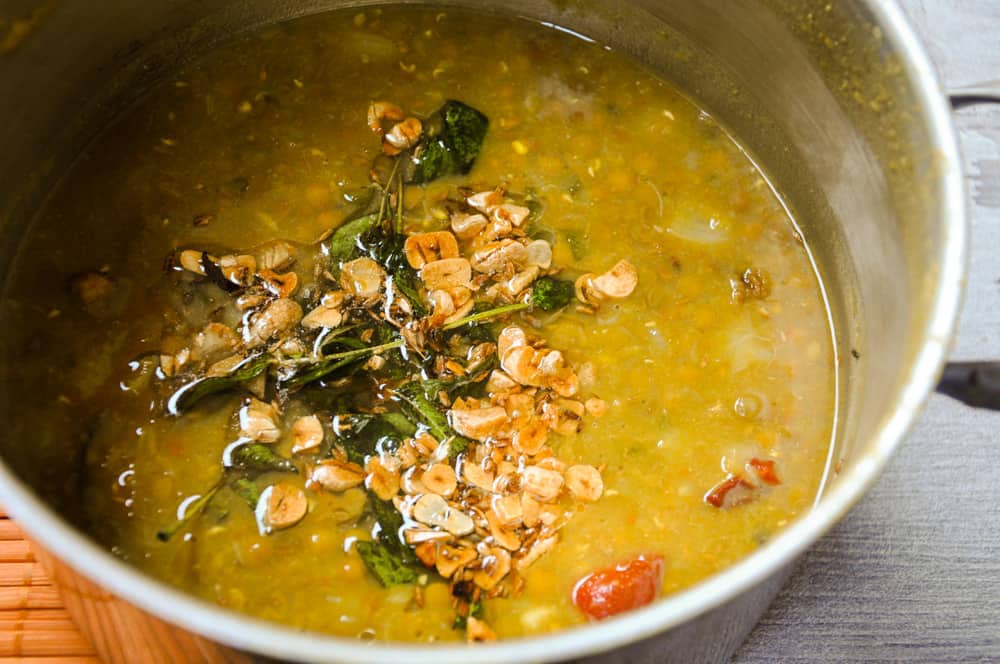 Add the tempering to the lentil pot. Indian Sabut Masoor Dal is ready to serve. Garnish with fresh coriander and serve with rice, naan, some fresh salad.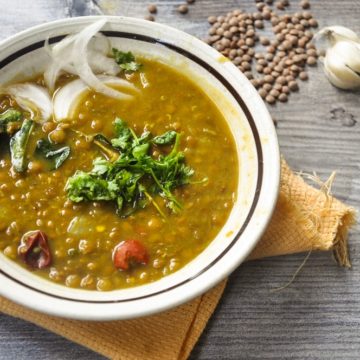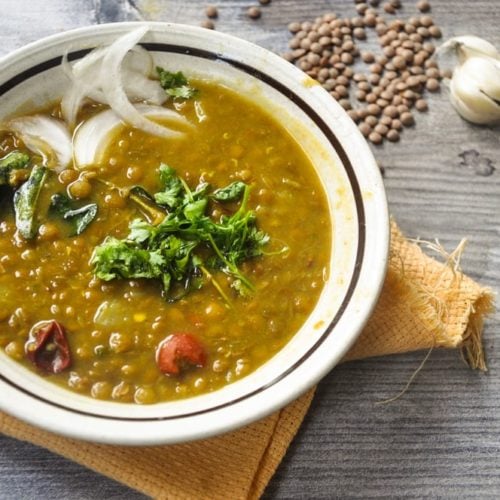 Kali Masoor Dal
An easy dump in one recipe that is used in most Indian homes and turns out super YUM!
Print
Pin
Rate
Ingredients
1

cup

brown lentils

,

(whole masoor dal), preferably soaked for 30 minutes in warm water.
For Brown Lentils
1

onion

,

cut in 4 pieces

1

tomato

,

cut in 4 pieces

2-3

chillies

,

chopped or 1 tablespoon green chilli paste

1

tablespoon

ginger paste

¾

teaspoon

cumin

1

teaspoon

turmeric

1

teaspoon

salt

2

cloves

4

pepper

1

bay leaf

1-

inch

cinnamon

4

red chillies

2

tablespoon

tamarind pulp

,

dissolved in water or lemon juice
Tempering
4-6

tablespoon

oil

,

less or more to preference

3

fat cloves of

garlic

,

sliced

½

teaspoon

cumin seed

2

twigs of

curry leaves

,

skip if not available

3

tablespoon

chopped fresh coriander

,

for garnish
Instructions
Wash and soak brown lentils for 30 minutes in warm water. Then drain the water.

In a large pot take soaked lentils, all the ingredients for brown lentils, and 3 cups of water. Bring the lentil to boil. Then reduce heat to medium-low and cover the pot. Cook for 20-30 minutes until lentils are soft.

Add tamarind pulp and give it is a good stirring to dissolve onion and tomatoes. Add water if needed to adjust consistency.
Tempering:
Heat oil in a pan and fry garlic until lightly golden. Add cumin and curry leaves and fry for another few seconds. Pour the tempering over the lentils. Lentil are ready to serve. Garnish with fresh coriander and serve hot.
Notes
You may add mustard seeds or chilies in tempering if you like.
If making in the instant pot. 5-7 minutes (less for whole daal more for slightly mushy daal) pressure cooking is enough to cook the dal, add the tempering and serve. 
Similarly, if slow cooking, put all ingredients (except tempering) in the slow cooker and cook for several hours. Make the tempering in separately, then mix with dal and serve. 
Nutrition Information