Get easy and detailed mithi shitabi roti recipe. This authentic and traditional recipe gives soft and healthy roti that taste great with jaggery.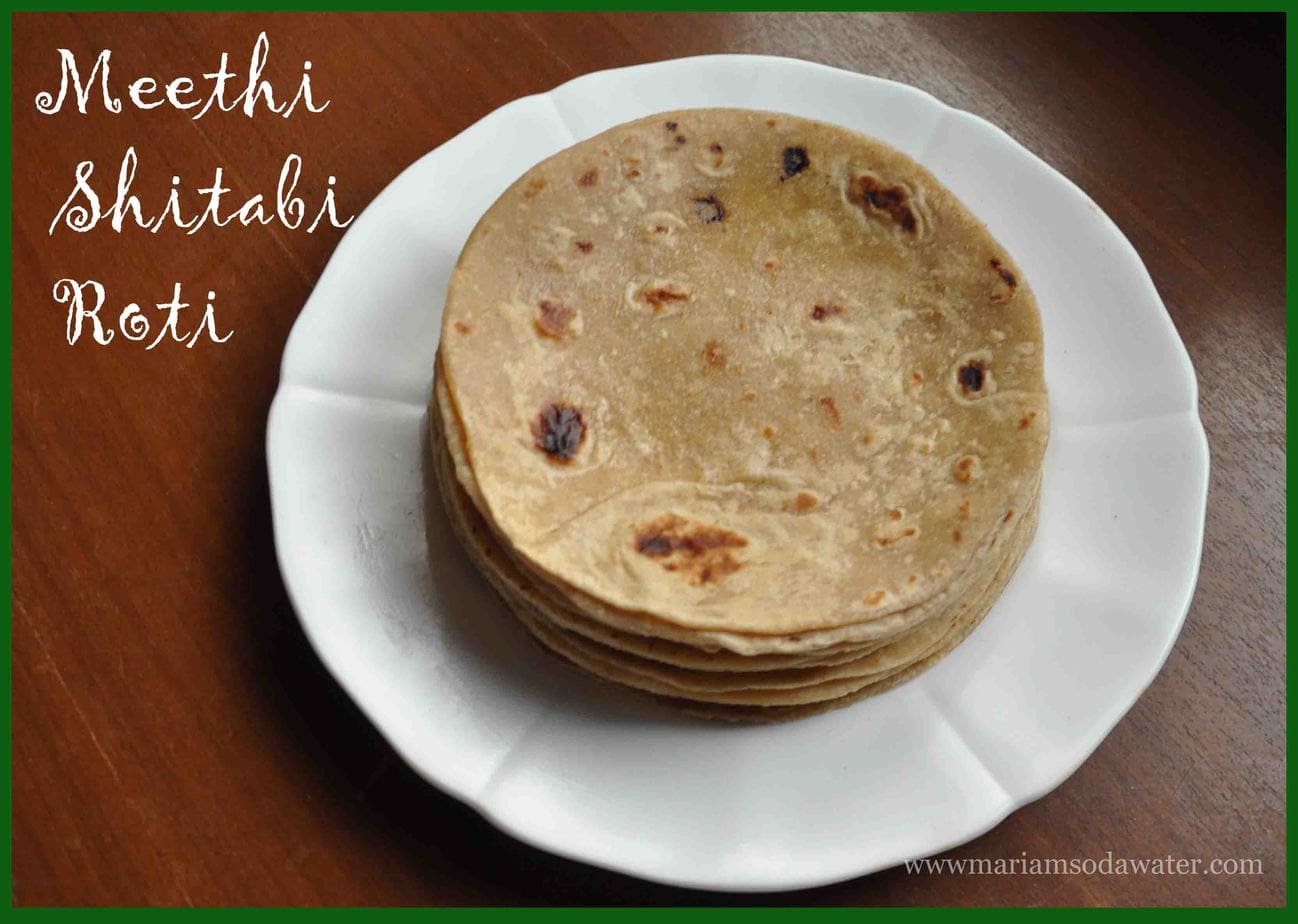 Step by step how to make mithi shitabi roti with photos. Shitabi literally means 'to hasten'and mithi means 'sweet'. Shatabi is a ritual in the Dawoodi Bohra/bohri community done before any auspicious event to hasten and to pull the blessings. This roti is made in mithi shitabi ritual, and rich roti is eaten with jaggery (gol or gur).
Nevertheless, it's a rich and nutritious roti with sooji/ semolina/rawa and milk powder. Kids just love the roti and it's very healthy and delicious. This roti is thick and has lots of oil so its crumbles easily. The crumbled roti mixed with jaggery is called choori which makes very nutritious and yummy food for toddlers and kids alike. Here's the recipe for Chicken biryani and Kashmiri chicken that pairs very well in mithi shitabi.
How to make it?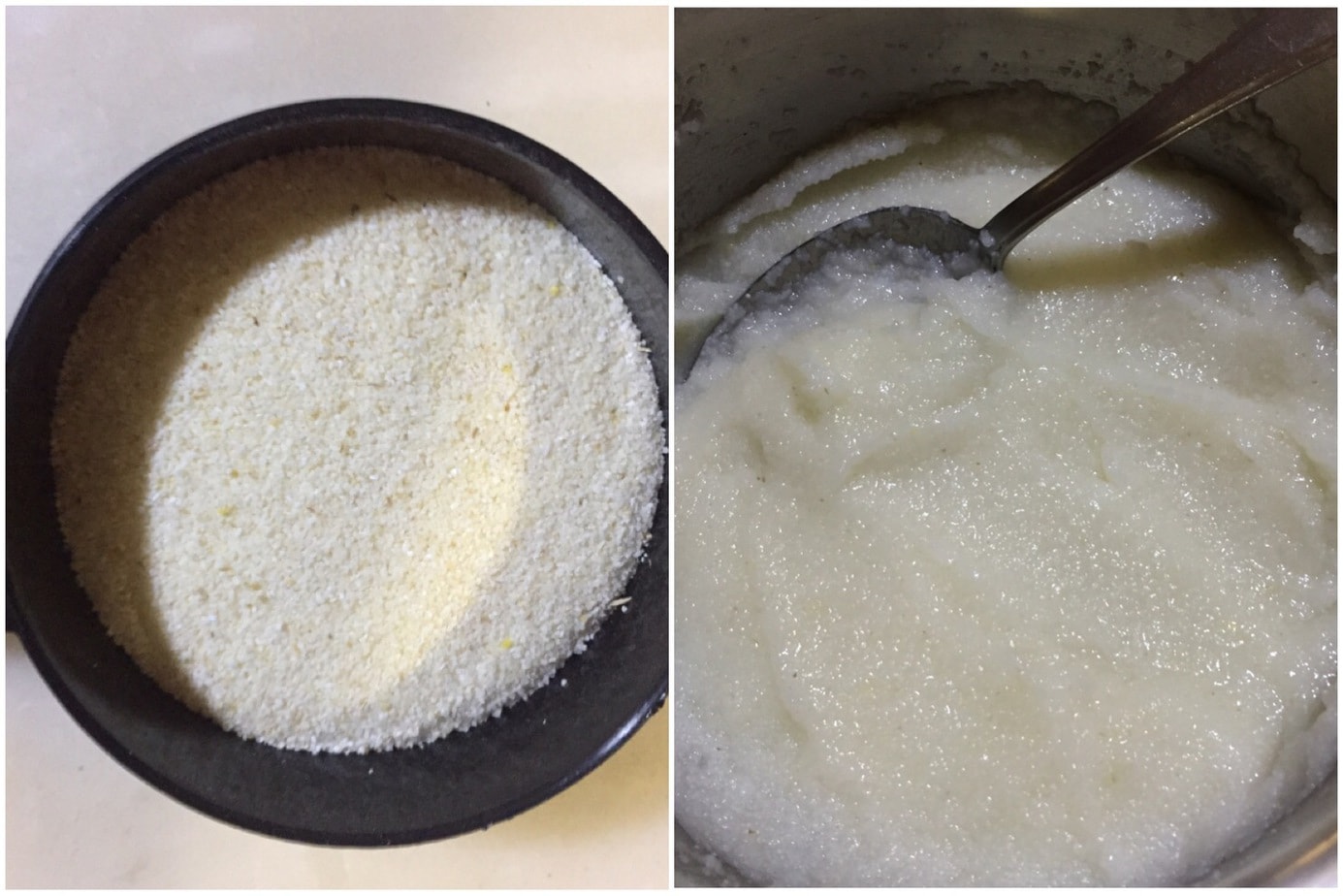 Take semolina in a bowl and add 1 cup of water boiling water. It will quickly puff up add more water. I used whole 2 cup(250 ml) but add water slowly. Another way to puff up semolina is to soak it overnight.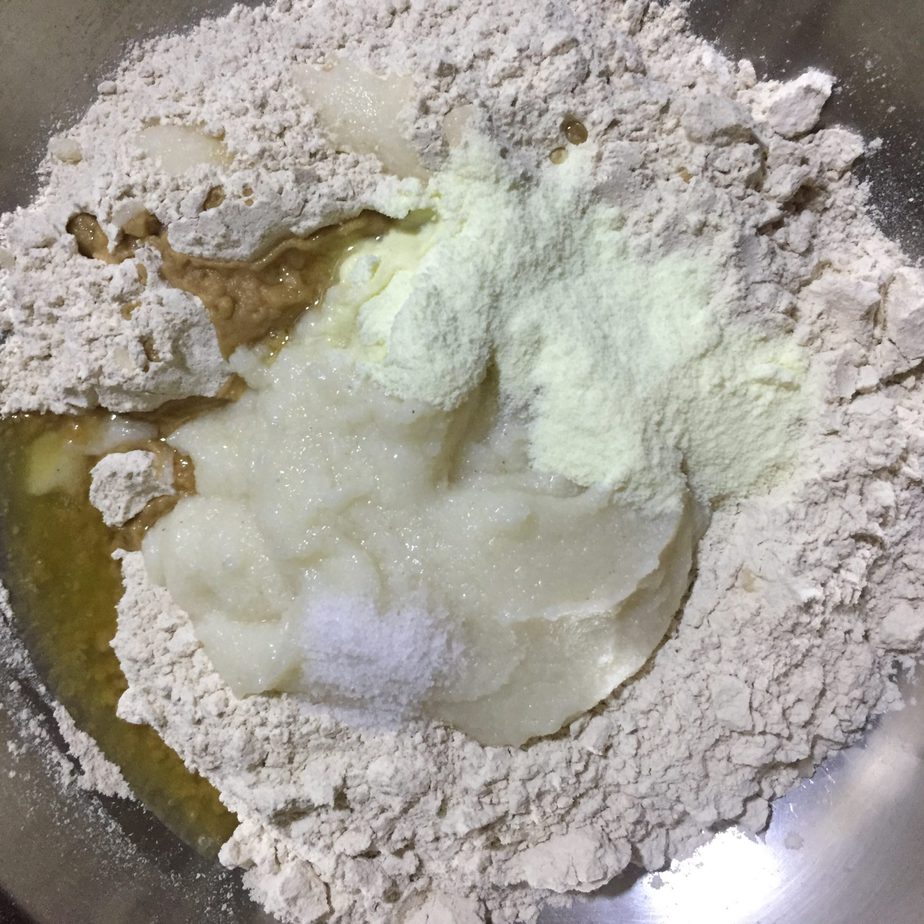 Add wheat flour, oil, milk powder, semolina, and salt in a thali or a large mixing bowl and mix very well. Only if you need to add more water add one tbs at a time to make a soft dough. I needed 2-3 tbs to form the dough. See notes 1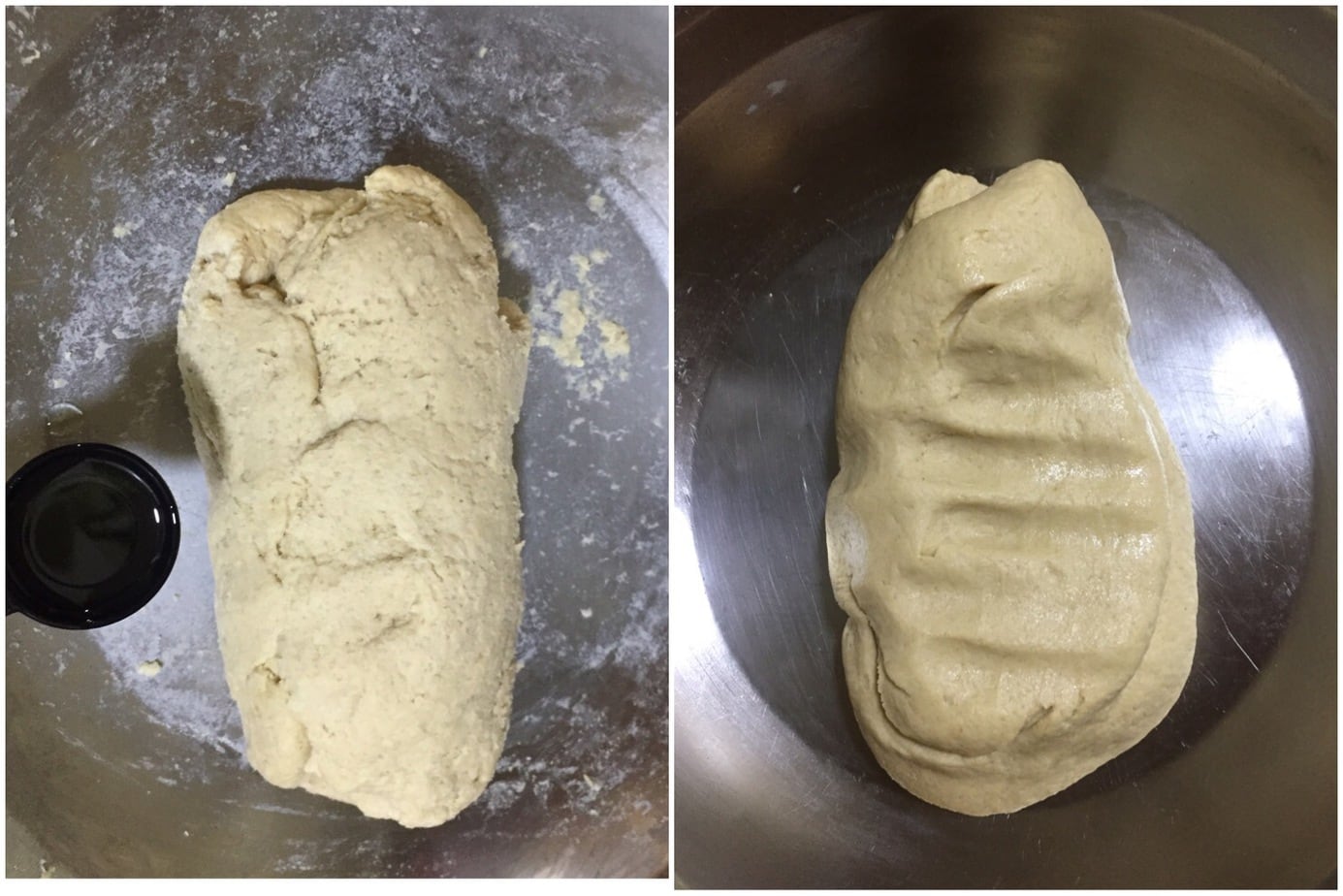 Add 2 tablespoon oil and knead for 2 minutes. And let the dough rest for 10 minutes. I kneaded the dough again for 1 minute after resting. If in case your dough feels hard in second kneading add 1 tablespoon water. If in case it feels too soft and sticky add flour. The dough has to be pliable only then you can make perfectly round circles of roti.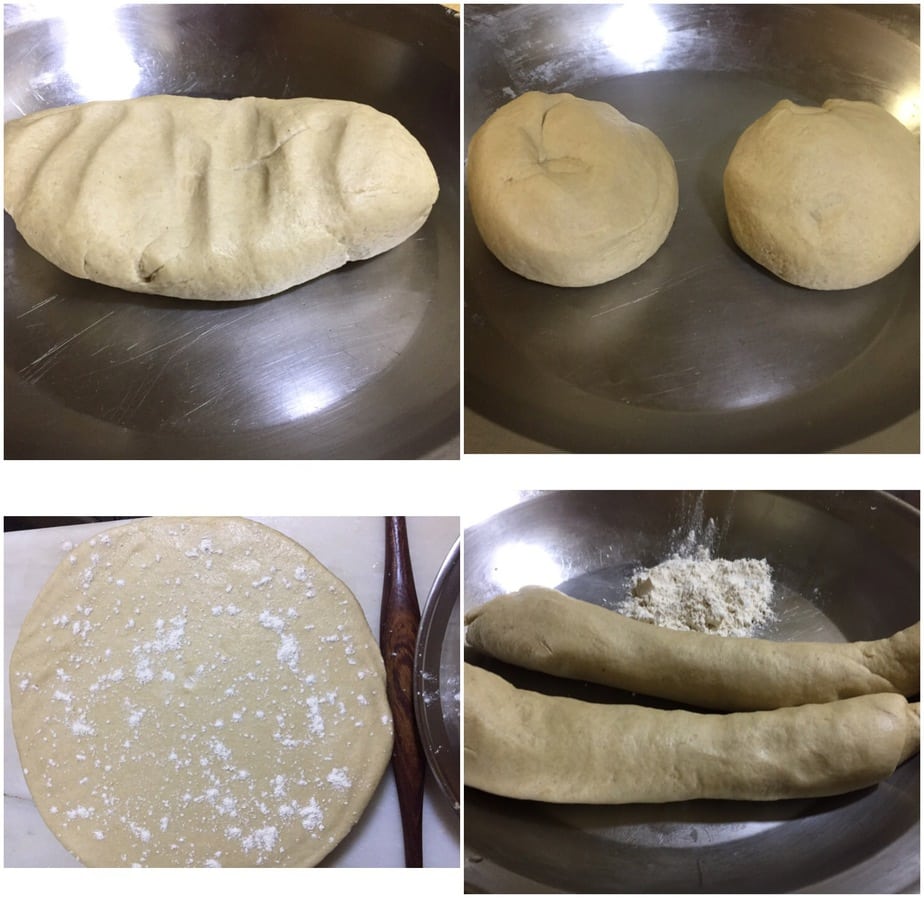 Oil the rolling pin and board or your flat surface.
Divide the dough into two large balls.
Roll it into a thick round circle, smear 1 teaspoon of oil, and dust it with flour.
Roll it so you have two large and thick rolls.
Place the griddle for heating.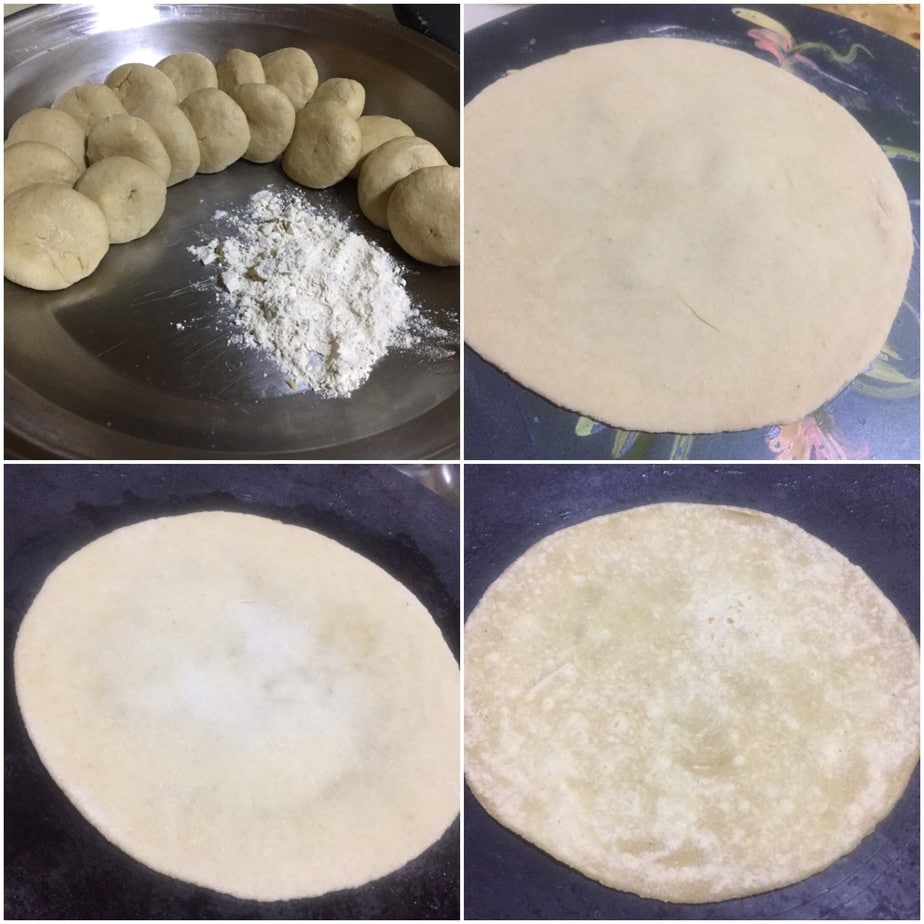 Divide each roll into nine equal balls. Then flat the balls with your hands to form a disc. Only a perfect round disc will give perfect round roti.
Roll each disc in flour so it is fully covered in wheat flour. Then roll it into roti. Use more wheat flour as required.
Place the roti on a hot griddle/tawa.
Flip it after 2 sec. See in the last photo only a few spots on the roti. The side that touches the griddle first is called the first side or 'pehla par'. That has to be half-cooked.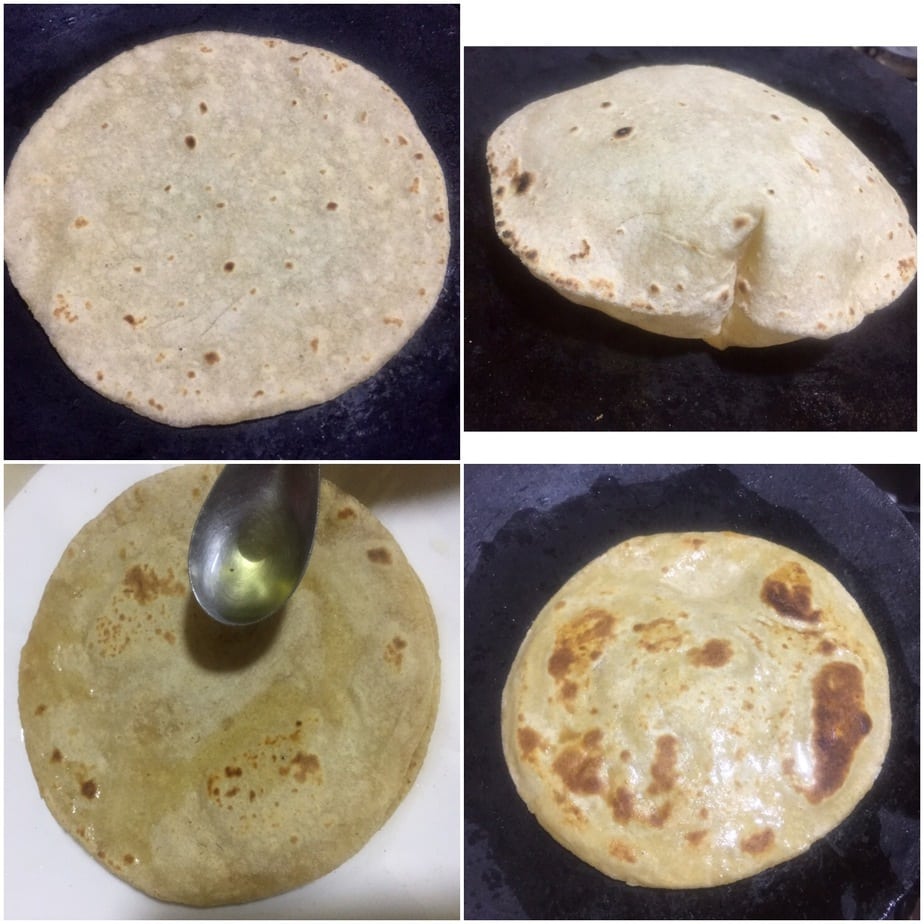 Now the other side or 'dosra par' will be fully cooked. You can always check this by half-lifting the roti and peeking inside. Flip after 3-4 sec. But timing depends on the thickness of tawa, and heat of the flame so adjust accordingly.
See in the first photo, the second side has a small spot and is fully cooked. You can press the second side with clothes or any other tool so it puffs up.
Take it off the girdle and smear the oil.
Or you can fry on the Tawa with very little oil. It's your choice but frying takes more time and more oil/ghee.
Repeat the same to make the rest of the rotis and pile them in a hot pot.
This roti is eaten with badam pista gur.
Notes:
You can use milk and water to knead the dough instead of milk powder. Just add 1 cup water in semolina, let it puff up well, then add ¾ cup milk in semolina instead of more water in step 1 of the recipe.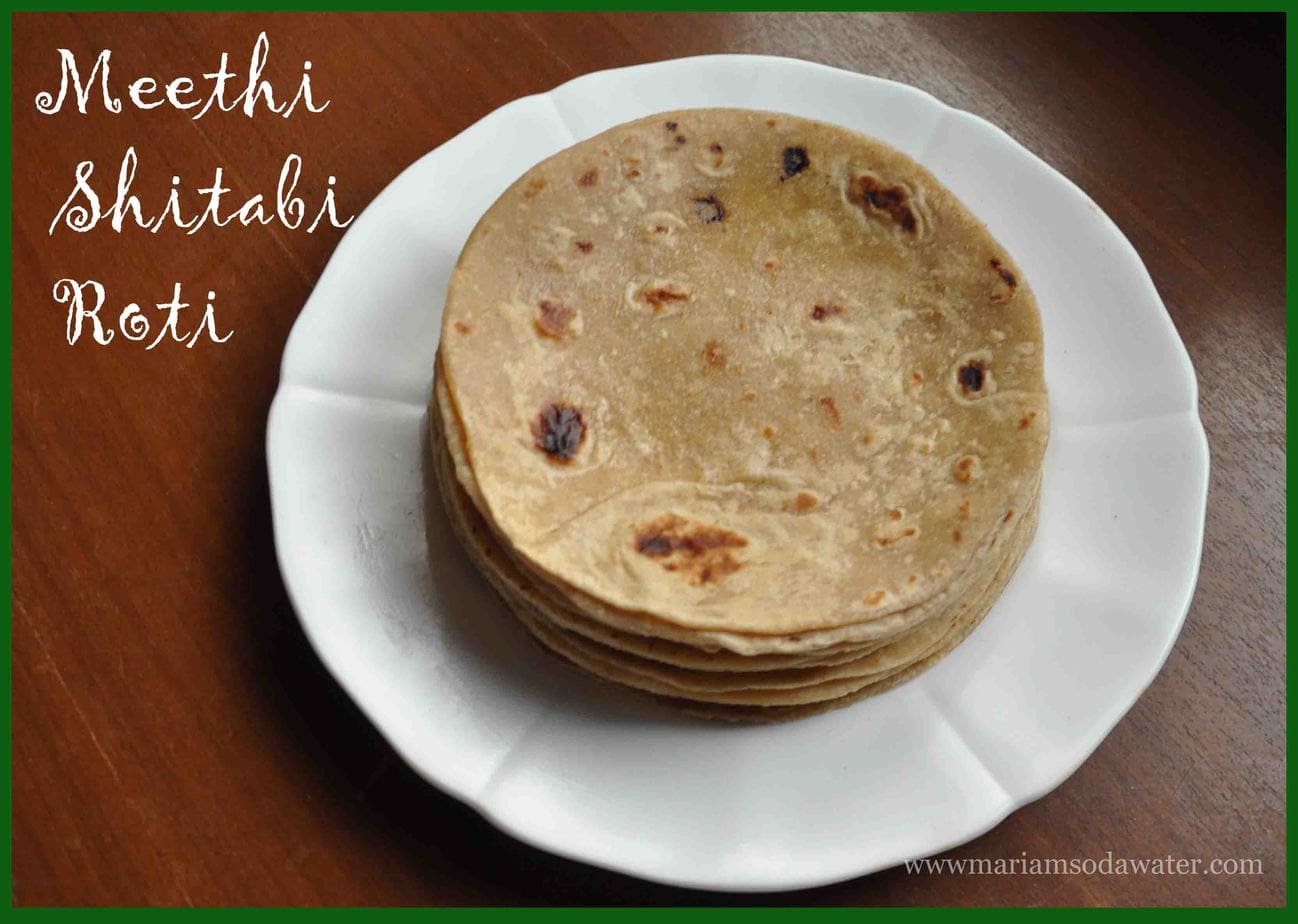 Mithi Shitabi Roti
It's so amazing that something with so basic ingredients can make a tasty dessert, satisfying treat and its a complete meal in itself.
Print
Rate
Ingredients
3

cups

whole wheat flour

,

/gundum atta1/

2

cup

semolina

,

/sooji /rawa

2

tbs

milk powder

4

tbs

oil

,

or ghee for dough and more to apply on roti

1

teaspoon

salt

,

or to taste

2

cup

water
Instructions
Take semolina in bowl and add 1 cup hot boiling water, the semolina will puff up instantly. Stir and add more water as required. Puffed semilina should not be thick lump like but paste like.

In a large mixing bowl or thali take flour. Add puffed up semolina, milk powder, 2 tbs oil and salt. Mix well. Add more water to make a dough. Add very little water as after adding puffed semolina little water will be required to knead the dough.Add 2 tbs of oil and knead the dough for at least 2-3 minutes.

Rest the dough for 10 minutes.Knead again for a minute, the dough will be soft but not at all sticky and very pliable.

Apply oil on the rolling pin and board or the flat surface on which you intend to make roti.

Divide dough two large portions. Make a big ball of each portion.

Place the griddle on the medium flame for heating.

From each ball with the help of rolling pin make a circular flat shape. Spread 1 teaspoon oil on it and dust it with whole wheat flour. Now roll the circular shape, like a paratha roll. Divide each roll in 9 equal portion.

Shape each portion in a round ball and then press the ball to make a flat circular disc.

Dust each circular disc with wheat flour, and make circular roti with rolling pin. Use more wheat flour if required.

Place the roti on hot girdle, flip the roti after 3-4 sec.The other side or second side of roti has to be fully cooked before flipping to the first side. Smear oil on roti if frying on griddle/tawa. Cook the first side of roti completely and smear more oil.

Now either you can apply oil while cooking on girdle or you can simply take 1 teaspoon oil and smear on of roti after taking it off from griddle/tawa.

Follow same instruction with all shitabi roti and pile up roti one on top of other. When all rotis are cooked store in a hot pot or butterpaper lined aluminium foil. Soft and healthy mithi shitabi roti is ready.
Nutrition Information
Calories:
166
kcal
,
Carbohydrates:
28
g
,
Protein:
5
g
,
Fat:
4
g
,
Saturated Fat:
1
g
,
Polyunsaturated Fat:
1
g
,
Monounsaturated Fat:
2
g
,
Trans Fat:
1
g
,
Cholesterol:
1
mg
,
Sodium:
134
mg
,
Potassium:
118
mg
,
Fiber:
3
g
,
Sugar:
1
g
,
Vitamin A:
10
IU
,
Vitamin C:
1
mg
,
Calcium:
18
mg
,
Iron:
2
mg
How to make Badam Pita Gol?
I usually make a small jar of this gur/ jaggery in winters that can be eaten with fresh hot roti by kids. I used only almond and pistachio but you can also add more dry fruits. Gur is an excellent blood purifier and helps digestion too.
Spread powdered gur in a plate. You can chop gur/ jaggery with a knife or crush it in mortar and pestle. Sorry, the photo of gur plate is missing.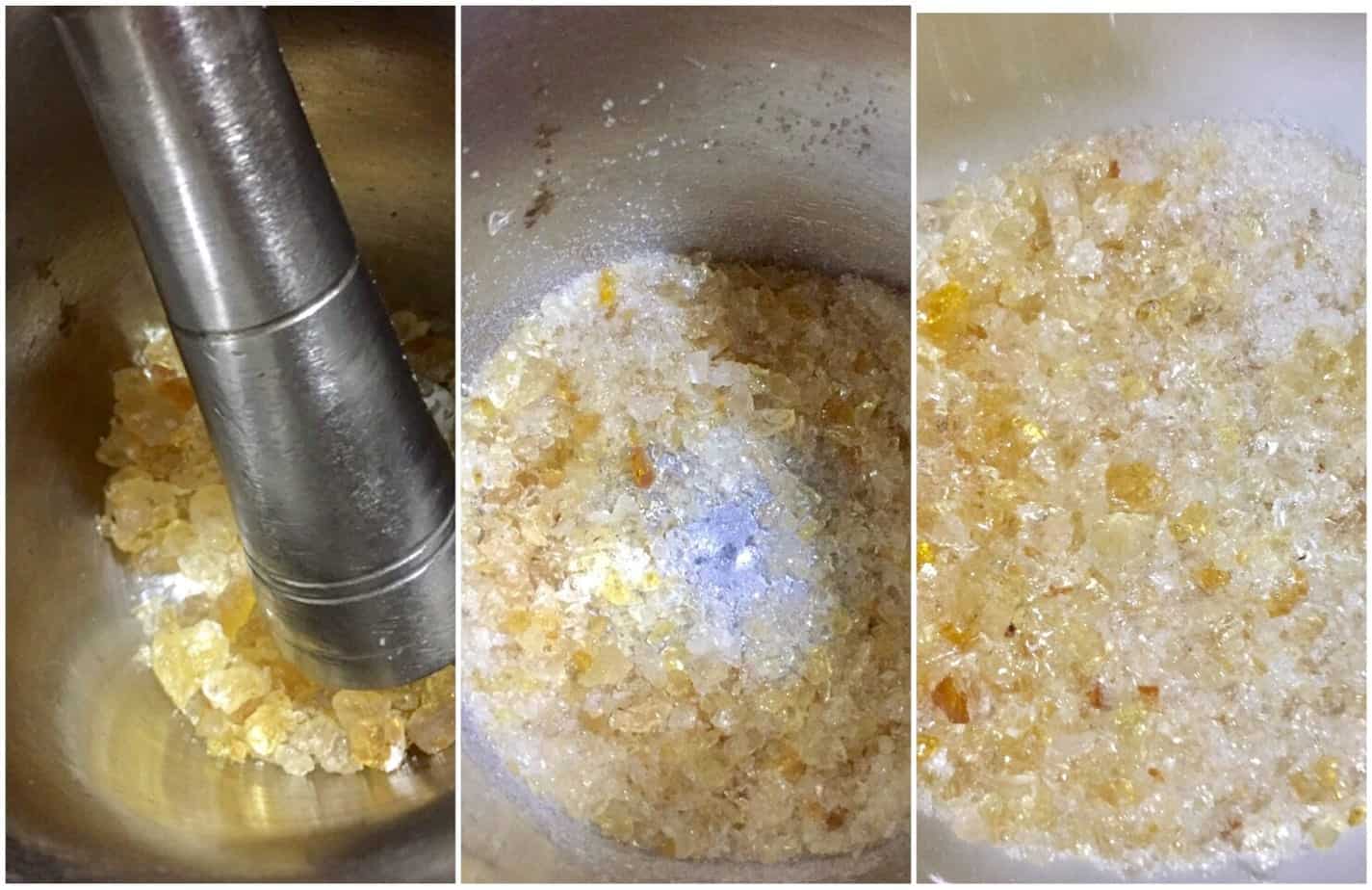 Grind gond in mortar and pestle roughly. Take it out in a bowl. Similarly, roughly grind pistachio and almonds in mortar and pestle.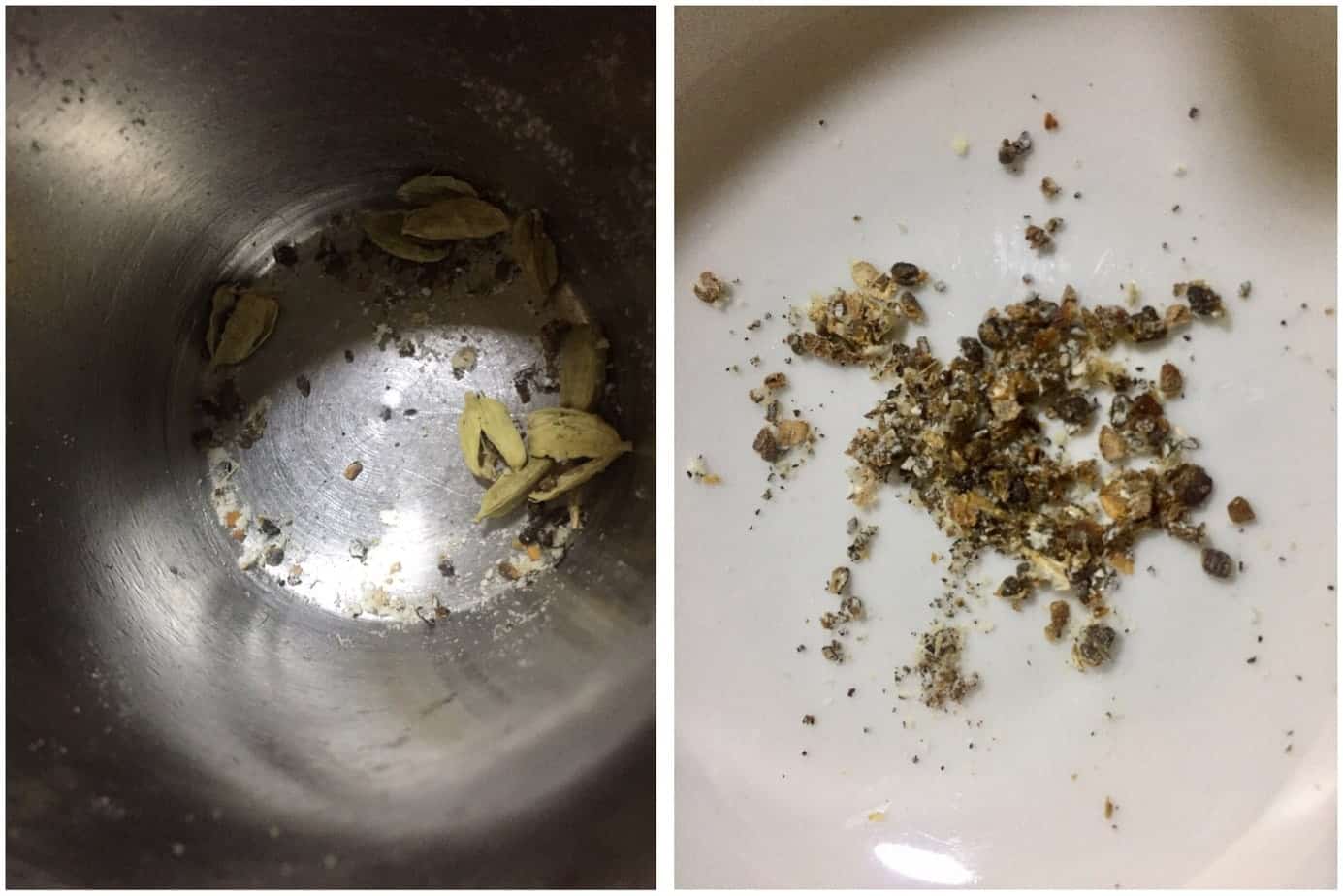 Crush green cardamom in the mortar and pestle and remove its skin. Crush the black seed and place on a plate.
This is my indian mortar and pestle, if you don't have it, you can grind in mixer too. Just grind in small batches on lowest setting, pulsing twice only.
How to cook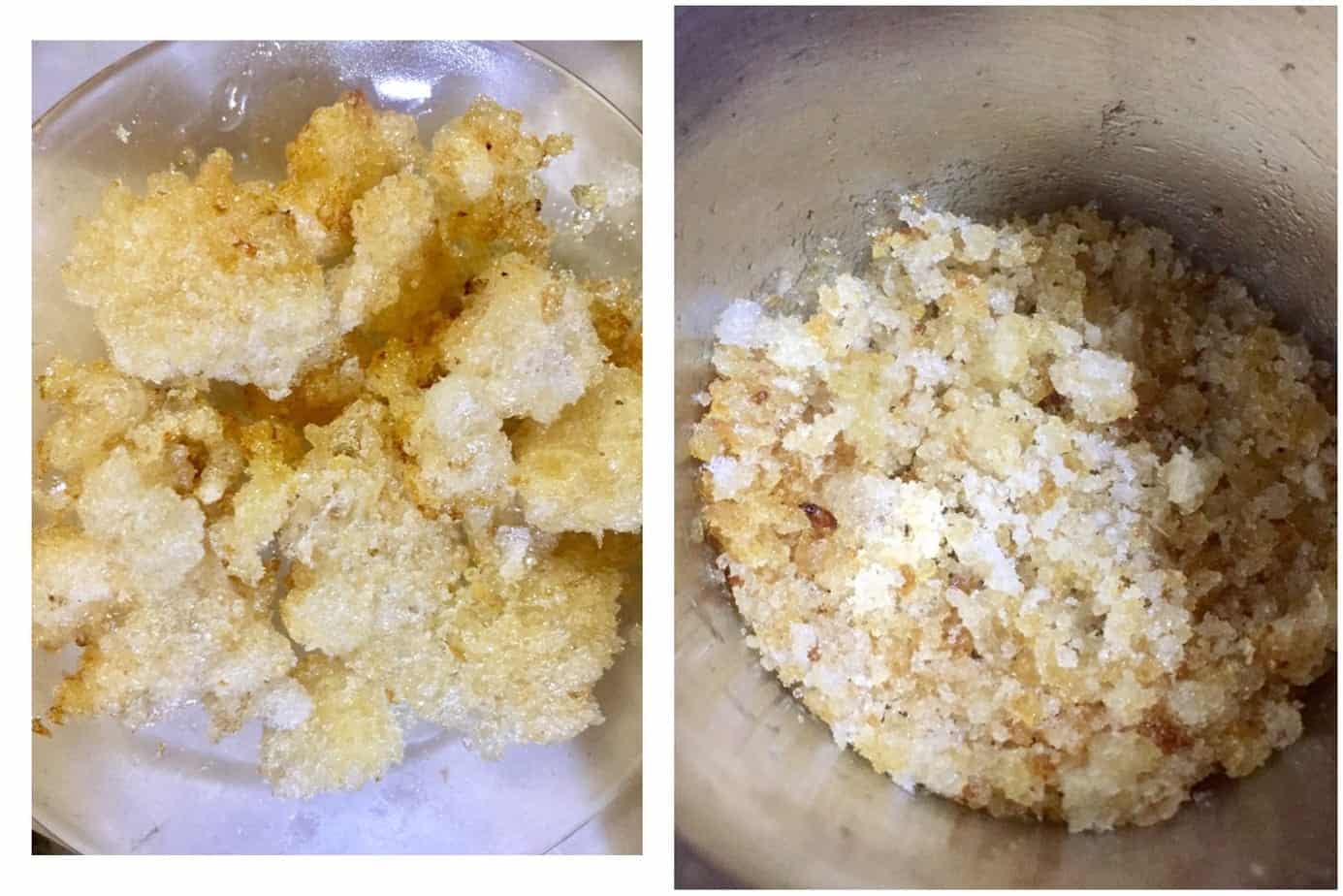 In a pan heat oil on medium flame to heat but oil should not be highly heated. To check put the tiniest chunk of gond. If it puffs up immediately without burning oil is heated well. Reduce the heat to medium-low and add gond.
The transparent crystals of gond puff up immediately, keep stirring. When all the gond has turned transparent. Remove on a plate and let it cool.
Crush the puffed gond lightly in the mortar and pestle. We just want to separate the large lumpy chunks. Add this to the jaggery plate too.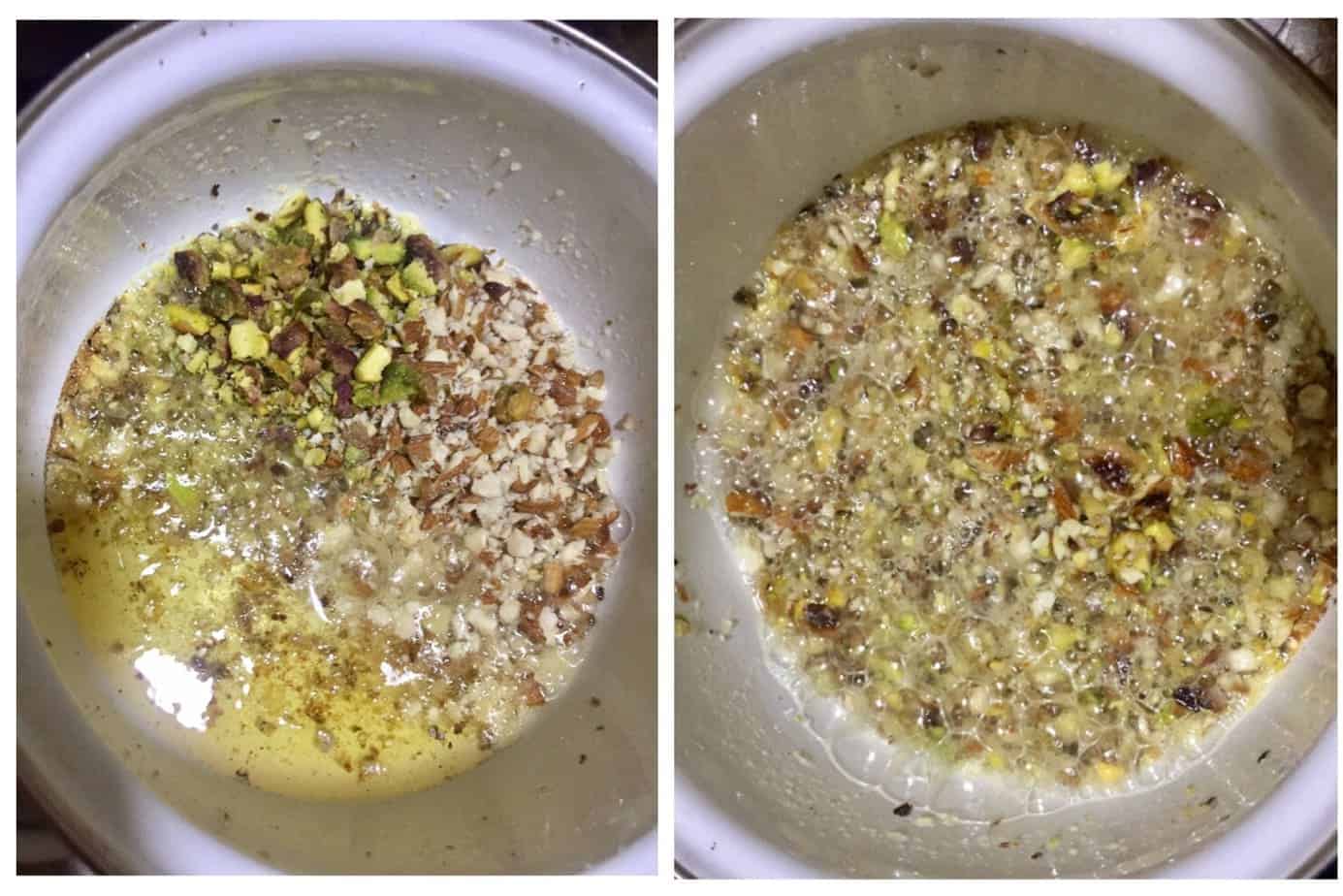 In the same oil add cardamom powder and let the aroma infuse in the oil on a medium flame.
Add almond and pistachio, and fry for 20 seconds. Cool completely then spread the mixture over jaggery plate. But add the solid nuts first and add only as much oil as desired in jaggery. Mix well. Aroma-infused, crispy gur is ready to be eaten with wheat roti.
Ingredients
400

gm

,

3 cups grated jaggery, powdered

2

tbs

gond katira

,

tragacanth gum,optional

2

tbs

pistachio

2

tbs

almond

½

teaspoon

,

10 whole green cardamom

½

cup

oil or clarified butter

,

ghee
Instructions
Preparation steps.
Spread grated jaggery in a wide plate or tray.Roughly grind gond katira (tragacanth gum), almond and pistachio in a mortar and pestle.

Grind all separately.Grind green cardamom too in mortar and pestle and remove its skin. We need the powdered seeds only.
Cooking steps.
First, heat oil or ghee in a pan on medium heat. When oil is hot, add gond katira and turn off flame.

The gond will puff up and get doubled and turn transparent. Take out immediately from oil and place on a plate. The oil should not be very hot as gond get burn quickly.

Let the gond cool down for few minutes.While the gond cool down.In same oil fry powdered cardamom.

Then add grinded pistachios and almonds. Fry for 20 second on medium heat. But don't burn them.

Remove from heat and let cool completely as hot oil can melt the jaggery.

When oil mixture is cool spread on jaggery. Add the solid nuts first, mix and then add as much oil as desired. (don't add all oil)

Put cooled and puffed gond in mortar and pestle again and grind but very lightly. Just to separate the pieces. Add it to jaggery too. Mix well.

Aroma infused and crunchy jaggery/ gur is ready to be eaten with roti.
Notes
Store the gur in an air tight jar.The gur stays good on the counter for more than a month.So you can keep as much as you can consume in a week on counter and remaining in the fridge.