Moist Banana Bread Recipe with photos.
If you happen to have overly ripened banana, this bread is a great way to use them. Moist Banana Bread belongs to American cuisine and came in vogue after easy availability of baking soda and baking powder.
Originally, banana bread was once more of a bread depending on yeast for rising. But later recipes calls for baking powder and baking soda and this bread has more of a cake like texture.
Honestly, I don't like bananas. But, I love nibbling soft and mildly banana flavoured bread. It's an amazing snack after early dinner or around tea-time. Of course, it is healthy for kids. Sometimes, I fix my over ripened and sweet banana in banana shake too, sometimes I prefer banana bread.
This recipe is submitted by a very talented and trained baker Kiran Tabassum, who also runs a small cake business in Lahore, Pakistan. You can know more about her at the end of post.
Other similar recipes.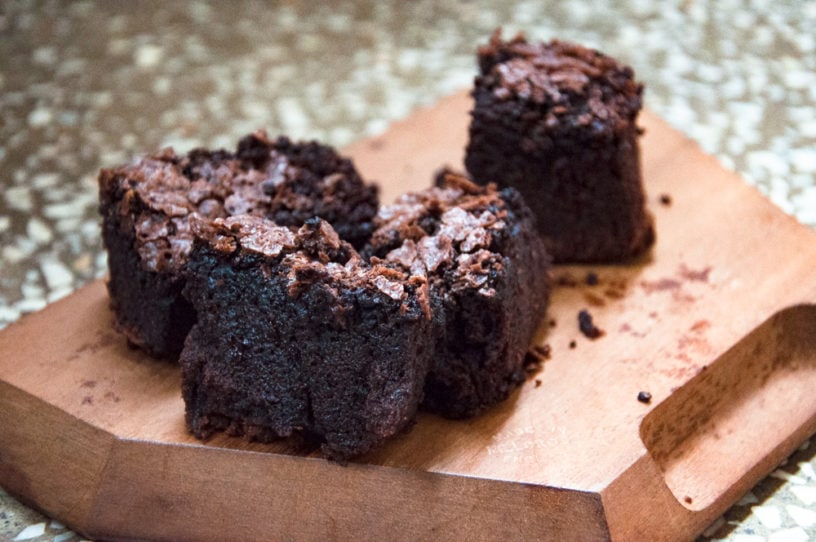 Moist Banana Bread Recipe
Moist Banana Bread Recipe
A delicious and nutritious way to use those leftover banana. 
Keyword:
Moist banana bread recipe
Ingredients
4

medium banana

ripened

1

cup

200 grams icing sugar

1¾

cup (180 grams)

flour

2

egg

½

cup (125ml)

vegetable oil

A pinch

salt

1

teaspoon

baking soda

1

teaspoon

baking powder

2

drops

vanilla essence

A pinch

cinnamon powder

2

tablespoon

chocolate chips

½

cup

broken walnuts pieces
Instructions
Pre-heat oven at 180 C  and line your loaf pan ( 4 by 8 inch) with butter paper and grease butter paper with oil.

Take 4 bananas in a bowl and mash them. Add icing sugar to the bowl and mix well with hand beater. Then add 2 eggs and beat it on low-speed for 2 minutes

 Now, add vanilla essence, baking powder, baking soda , a pinch of cinnamon and mix it with light hands. Finally, add oil and give it a nice stir.

Pour the batter in the pan. Top with chocolate chips and walnuts. 

Bake at 180 C for 20 minutes and then lower the temperature to 150 C and bake it for another 25 minutes. (Total baking time is 45 minutes.)
Recipe Notes
You can add  50 grams ( 3 tablespoon) of yoghurt or whipped cream to make banana bread more soft and moist.
Here's what the batter looks like in the baking tin. She used both white and regular chocolate chips along with walnuts. You may use only walnut or only regular chocolate as per your personal preference.
The bread rises beautifully. This show it's a light airy bread.
Let the banana bread cool for 20 minutes before slicing.
Soft and moist Banana Walnut Bread is ready to nibble, with yummy chocolate chips and walnut inside to treat you.
Kiran Tabassum
Kiran is a baker and school teacher. She has been baking from the age 7 and has done various baking courses in Scafa Dubai and Lahore to further sharpen her skills. She also runs an pre-order online bakery. You can follow and place order through her Instagram  handle @bakemday. She lives in Lahore, Pakistan.