Are you ready for the fool-proof recipe of Whole Wheat Pita Bread? Ok, I love making flatbread of all the type. And making whole wheat pita bread is an absolute pleasure. When you see the bread puff in the oven one after another, it is such a joyous experience, filled with a sense of satisfaction and a tiny achievement too.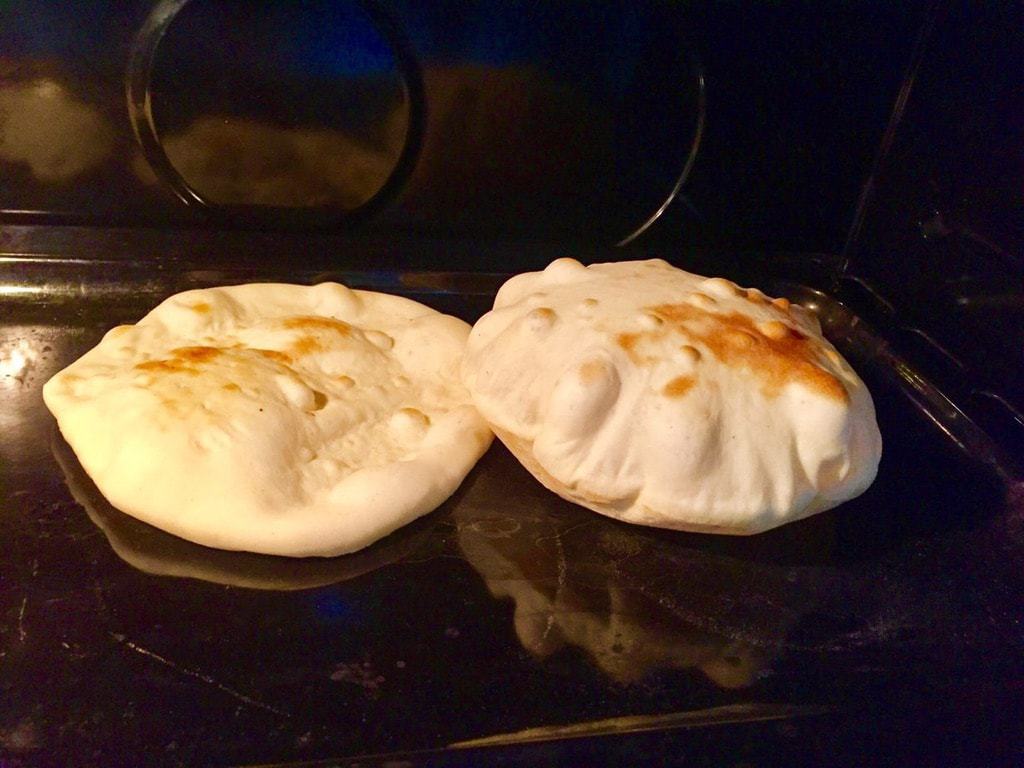 The taste of homemade pita bread is nothing compared to commercial stuff. With homemade pita bread, you can choose to keep it thin or thick; small or big; crisp and golden or light and soft. Plus the texture of homemade pita and the aroma of bread making is also very appetizing.
Pita bread is an Arabic bread made originally with whole wheat flour. The bread is round-shaped and puffs up like a balloon in the oven. Although upon cooling the steam settles and bread is flattened. When you cut it into half, you see semi-circular pockets, they are called pita pockets.
Jump to: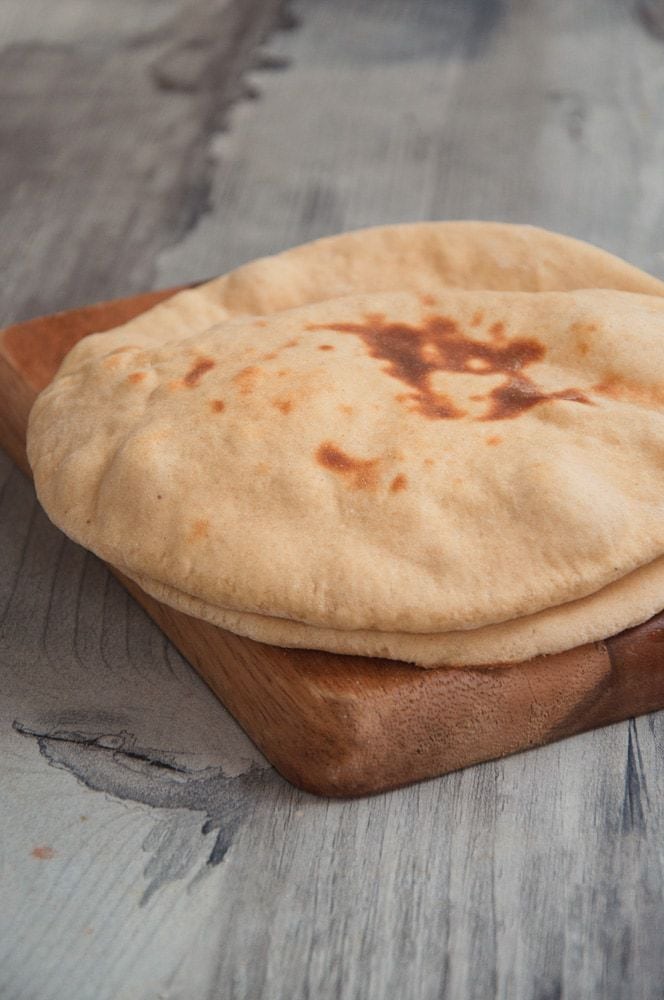 How do you make it?
Making pita bread is actually very simple. Kneading steps can be done with hand or with a machine too.
Making dough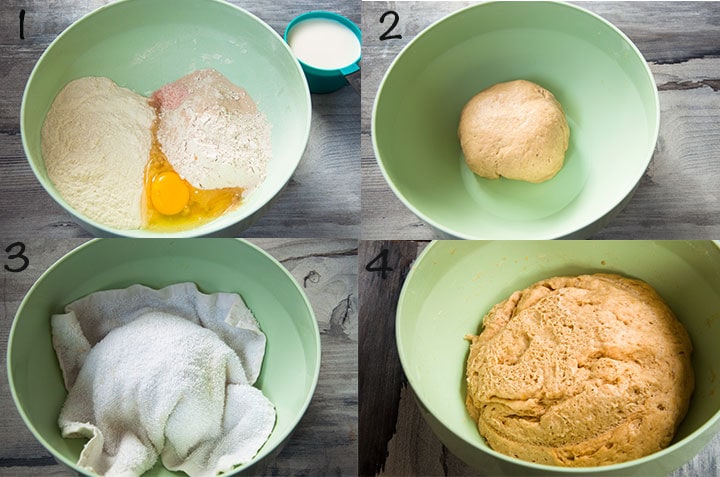 In a large bowl, take all the ingredients except milk. (I used instant yeast which can be added directly in the dough without proofing. If using any other yeast follow instructions on the packet.)
The milk needs to be lukewarm,( not be hot or the yeast will not rise) This makes the dough warm and helps it rise quickly. Add a little milk at a time and form a soft dough. You can do this in a kitchen aid too.
Knead the dough for few minutes, coat it with a film of oil. Cover the dough with a lid or towel and keep it in a warm place like a kitchen where food is cooking.
The dough takes about 60-90 minutes to rise, depending on the room temperature.
Kneading and Rolling
Turn on the oven to pre-heat at 400-450 F before rolling the pita bread. (If you have a conventional oven that takes 20 minutes too pre-heat.)
Puncture the dough and bring the dough together. Knead the dough for 2 minutes to form a soft and pliable dough. Roll the dough into a log.
Divide the dough into 9 equal portions by cutting it with a knife.
Roll each dough portion between the palm for a few seconds.
And turn it into a flat disc. Repeat with all portions.
Then dust each dough disc with flour and roll it into a small and thick flatbread of about 6 inches diameter.
Repeat with all the dough disc and let the disc rest for 5-7 minutes before baking. (By the time you finish rolling all pita bread it would be more than 10 minutes and the first one would be ready to bake.)
Baking in the oven
Just before baking, I turn on the broiler element simultaneously with the bake element. This makes my oven as hot as a tandoor. (If both element do not work simultaneously, it will take a little longer to bake, and you will have white tops. But that's ok. )
I used the metal tray of the oven and placed the pita directly on it. (Baking stone is recommended.) Bake on the middle rack. I place 3 pita bread at a time but you may bake less or more as per the size of your oven.
It took 2 min to bake each batch. But it depends on the temperature of your oven.
As soon as your pita bread puffs up fully, it is cooked. You can cook it further for a few more seconds if you like it crips.
Store pita bread wrapped in a towel to keep it warm and soft.
(You can also make pita bread on the stove, and they puff up well on the stove. I'll soon update the post with stove top photos. Isn't this sight worth all the effort?
How to use it?
Pita bread can be used to make different snacks and sandwiches. You can use it to scoop dips and sauces like hummus or tzatziki sauce. Or you can make pita sandwiches by filling the pita pocket with gyros, falafel, veggies, kababs, and salads. Make a Pita bread roll with any chicken or vegetable filling to make a shawarma roll.
You can also make pita chips out of leftover pita bread by cutting the bread into triangles like you cut a pizza. Toast the pita triangle in the oven on a baking tray. Serve crispy pita chips with hummus, or tabouleh, or any dip of your choice.
How to store?
Always cover the pita bread in a towel once it is out of the oven and store it in an airtight jar cover in a towel to keep it soft. If you like warm pita bread, pack a pile of pita bread in an aluminum foil and place it in preheated oven for 15 minutes. Remove from the oven and you'll have warm pita bread to eat.
Alternatively, you can also heat each pita bread on a hot griddle for a few seconds until warm. But this will make the pita bread slightly toasted and crisp on the outside. Lightly, toasted pita bread tastes great too.
How to make it Puff-up?
The tricky part of this recipe is the puffing of pita bread into a balloon. This puffing depends less on ingredients and more on the technique and temperature of the oven.
Technique: Your dough should rise properly. You must knead the dough balls for a few seconds each. Let the pita bread rest for 3-5 minutes before baking.
Oven temperature: The oven temperature should be at 450 F or above. Since you'll be opening the oven to bake pita bread, batch after batch. I suggest heating both the broil element and the bake element together. So there is a heat source at both as well as on the top. When they both work together the oven is super hot like a tandoor.
Hungry for more? Check these!
If you try this recipe, I'd LOVE to hear your feedback in the comments. Your 5-ratings motivate me to do my best. Stay connected for more recipes and videos on Facebook, Instagram, Pinterest and Youtube.
📖 Recipe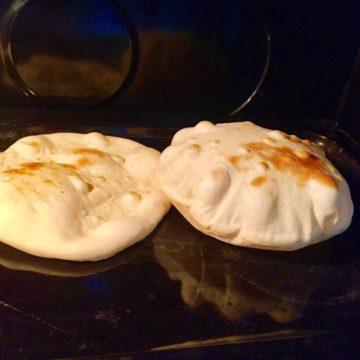 Whole Wheat Pita Bread
Check the step by step too and follow the instruction precisely! The taste great when they pop out fresh from the oven.
Print
Pin
Rate
Ingredients
1½

cup

whole wheat flour

1½

cup

plain flour

,

more for dusting

2

tablespoon

olive oil

1

tablespoon

sugar

1

egg

1

teaspoon

salt

,

or to taste

1

Instant yeast sachet

,

11 gm, 1.5 tsp

1

cup

milk

,

lukewarm
Instructions
Tak all ingredients except milk in a large bowl. Then gradually add lukewarm milk and make a soft dough. (Add 1-2 tablespoon of water only if needed.)

Coat the dough with a thin film of oil and cover it with a towel. Let it rest in a warm place for 60 to 90 minutes until the dough rises and is doubled in size.

Puncture the dough to release air. Knead the dough for 1-2 minutes then roll into a log.

Divide the dough into 9 portions by cutting with a knife. Turn each portion into a small flat ball by kneading between the palm. (Move dough in circular motion between palm until it form a ball.)

Preheat the oven on 400 F.

Dust each dough with flour then roll each ball into a thin pita bread with the help of a rolling pin.

Roll all the pita and spread all separately on a flat surface. Let them rise for at least 7-10 minutes ( by the time you'll have rolled all pitas, it will be more than 10 minutes.)

Now, turn on the broiler element of the oven. We want the bake and broiler element to work simultaneously. (If it doesn't work simultaneously, it's ok, the pita will just take longer to bake.)

Bake on the middle rack. Place 3 pita bread at a time but you may bake less or more as per the size of your oven.

When pita bread is fully puffed, it is ready. It takes 2-4 minutes for a pita to puff up and cook fully.

Take pita out from the oven and cover with a towel to keep it fresh and warm. Work in batches and bake the remaining pita bread similarly.
Notes
Recipe time doesn't include resting time.
Store pita bread in the fridge in an airtight container. Reheat on the stove before using it.
You can make pita bread on the stove too just like any flatbread or tortilla but the oven is recommended for crispy bread.
If your oven doesn't have a broiler element, still you can make pita bread in the oven, but you will not have a brown top and it will take longer to cook.
Nutrition Information