This is a super creamy, sweet, sour, no-churn plum ice cream recipe that has a lovely color and intense flavors. It needs just three ingredients of plums, condensed milk, and cream. Like other ice cream recipes on the blog, this is also made without an ice cream maker.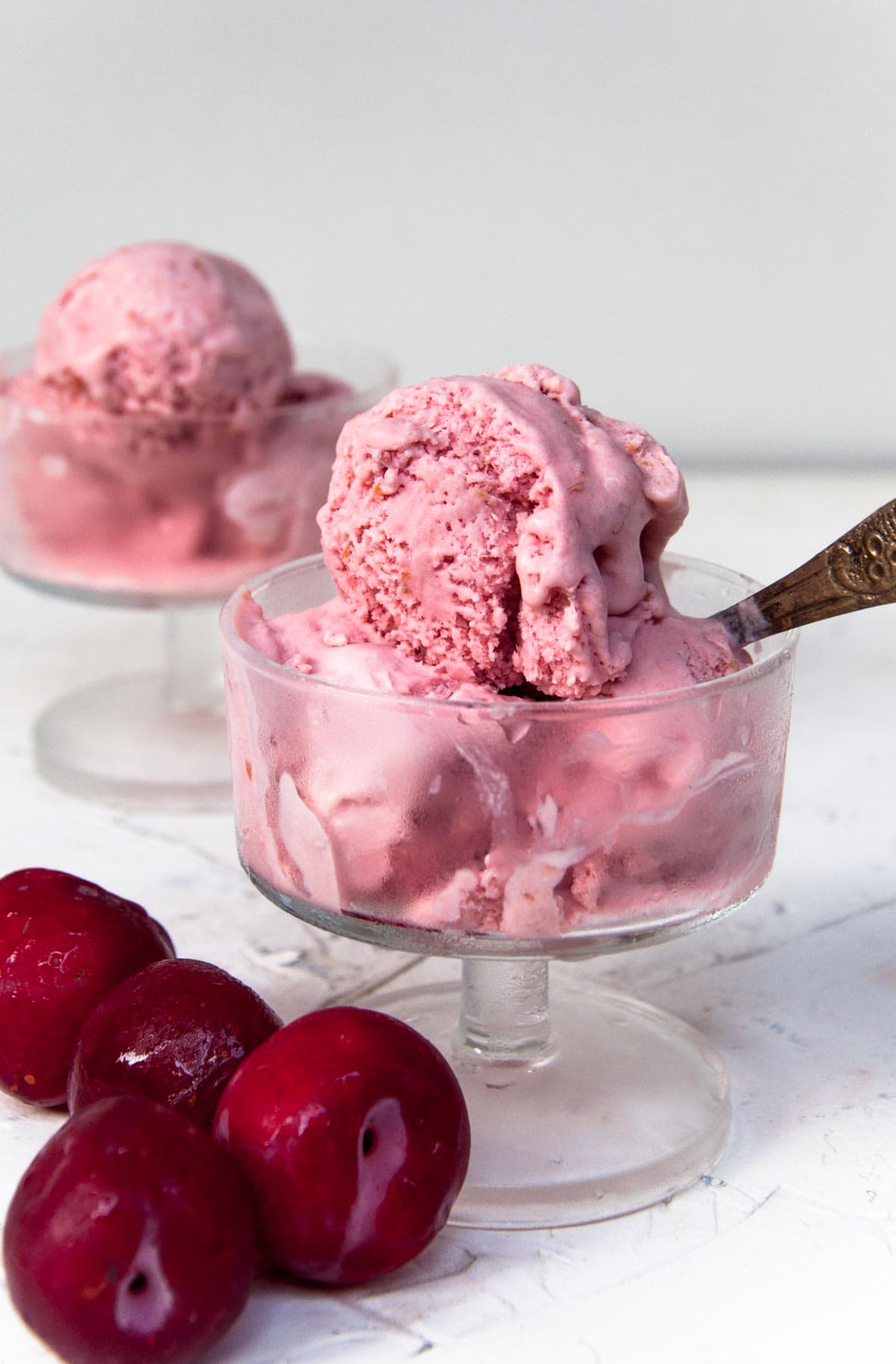 I love summers, the season of fruity sweetness. The sweet soothing aroma of plum and juicy texture with dark and tarty skin is mystic deliciousness. The fresh fully ripened fruit should be enjoyed in every possible way whether it be plum jam or plum drinks.
And this ice cream is truly indulgent. And what makes it even special is that my very picky son also loves it. It is very creamy and has no icicles just a very intense flavor.
Jump to:
The secret to this recipe!
The secret to easy, no-churn plum ice cream is sweet and juicy fresh plums. I slightly cooked these on the stove to it a roasted flavor and darker color. You could bake it too but I find the stove method quicker and easier.
Ingredients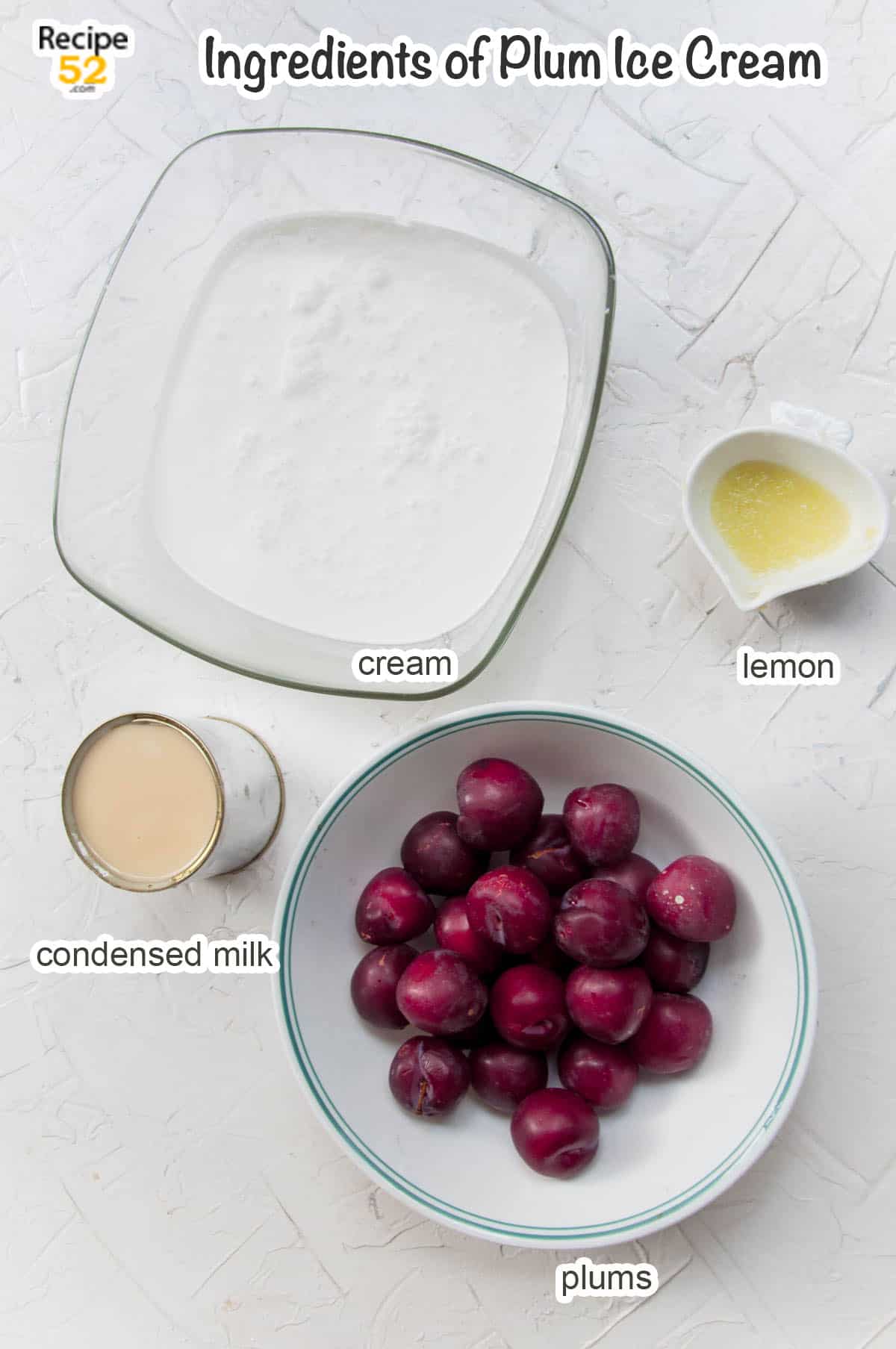 Plum: Select your fruit carefully! Fully ripened sweet plums that have dark skin and reddish flesh are best for any plum recipe. There are many varieties of plums ranging from Japanese plums to black, Red, Italian, Indian, and European plums. So you might need to adjust this recipe according to the plum variety you have in hand. If your fruit is naturally very sweet, consider reducing condensed milk in the recipe by 2-3 tablespoons. Find more about varieties of plums here.
The plums with red flesh are sweeter than the ones with yellow flesh. The color of ice cream also depends on the color of the fruit's skin and flesh and ranges from red to deep maroon.
Cream: Use full-fat heavy cream: Use chilled cream that doubles very well in volume and gets stiff peaks.
Condensed milk
Lemon Juice
How to make it?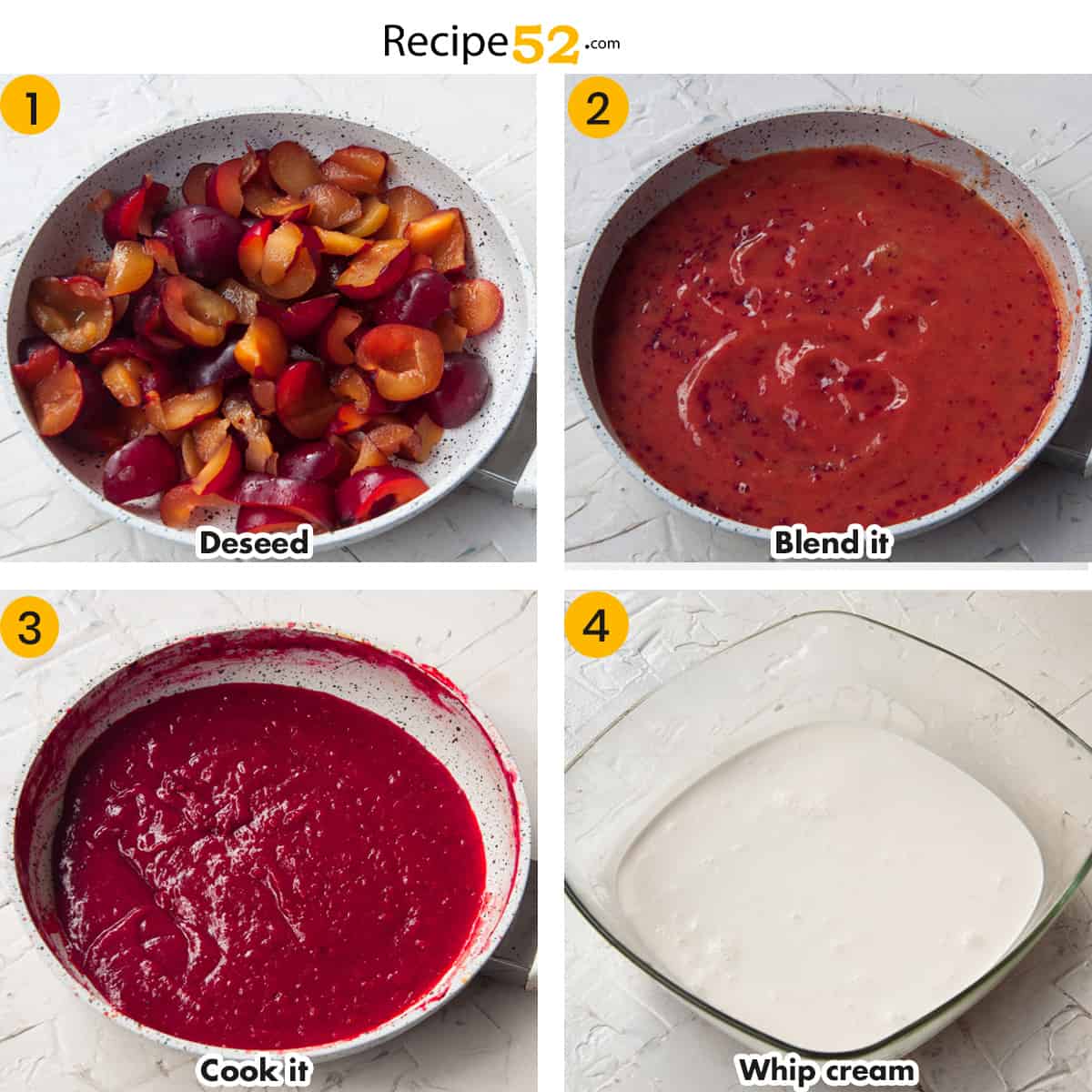 Wash and deseed the fruit and if the plums are very large chop them roughly. No need to skin it as the skin has so much flavor and color.
Transfer the plum to a food processor and blend until smooth. Make sure the skin is fully blended.
Keep simmering the puree on low heat until the color changes and is slightly thickened. Set it aside and let it cool. Transfer the puree to a bowl which will let the puree cool quickly.
Take chilled whipping cream in a large bowl.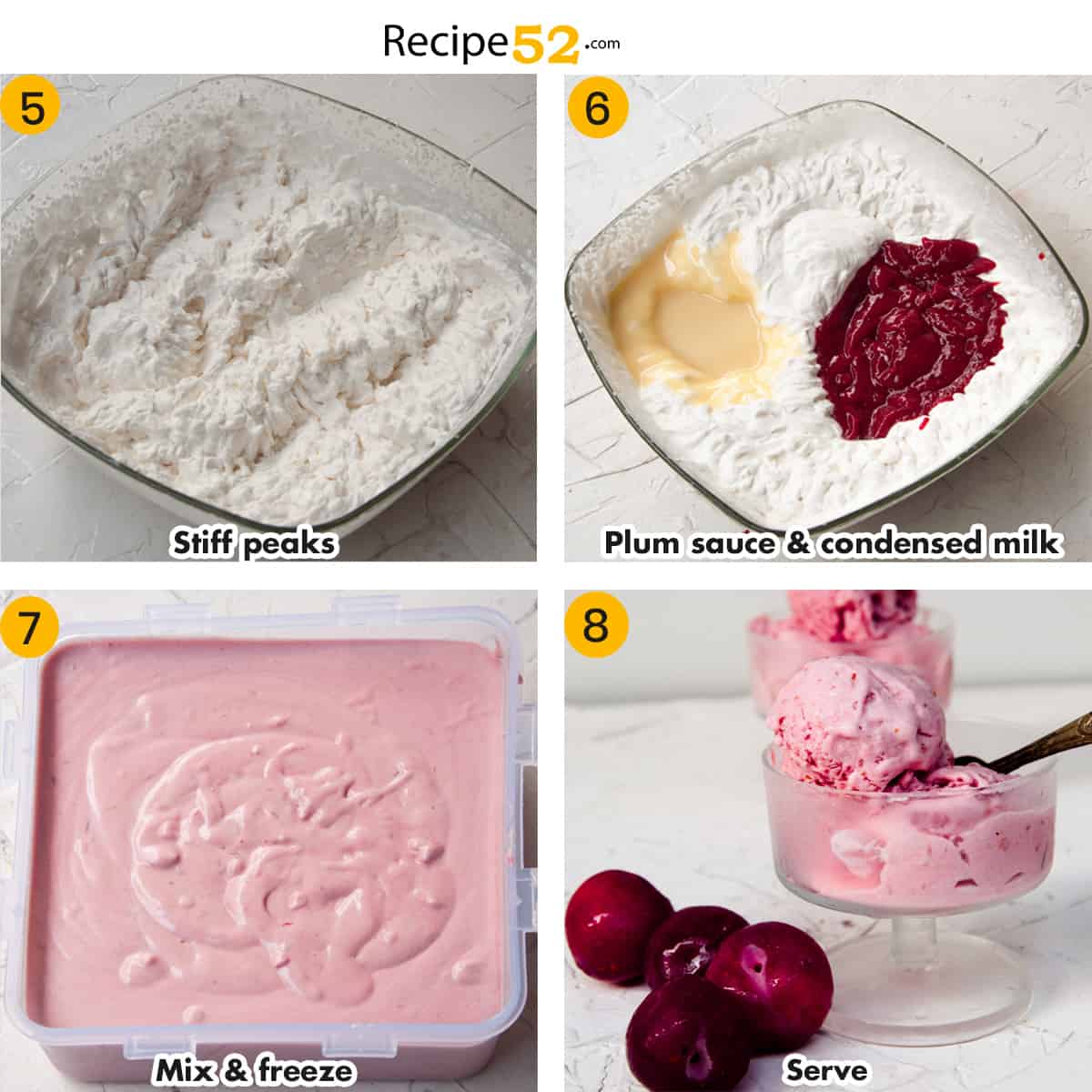 Whip it with a beater until you see stiff peaks. That is when you remove the whisk, the cream holds its shape and doesn't melt in smoothness.
Add cooked plum and condensed milk. Mix with the help of a spatula, and keep stirring until the puree is evenly mixed. Do a taste test and add one extra tablespoon of lemon juice if you like it sour. (At this stage, after mixing you have lovely pink color. But color depends on the variety of plums used. If you want a deeper color, you can add 1-2 drops of red color.)
Transfer the ice cream to a container, preferably with a lid. Then cover it with butter paper or cling wrap. It should touch the surface of the ice cream. This doesn't allow icicles to form on the surface.
Freeze the homemade ice cream for at least four hours. Remove the ice cream 10 minutes before serving so it is scoopable and then scoop it into the ice cream cups. Serve immediately, Enjoy!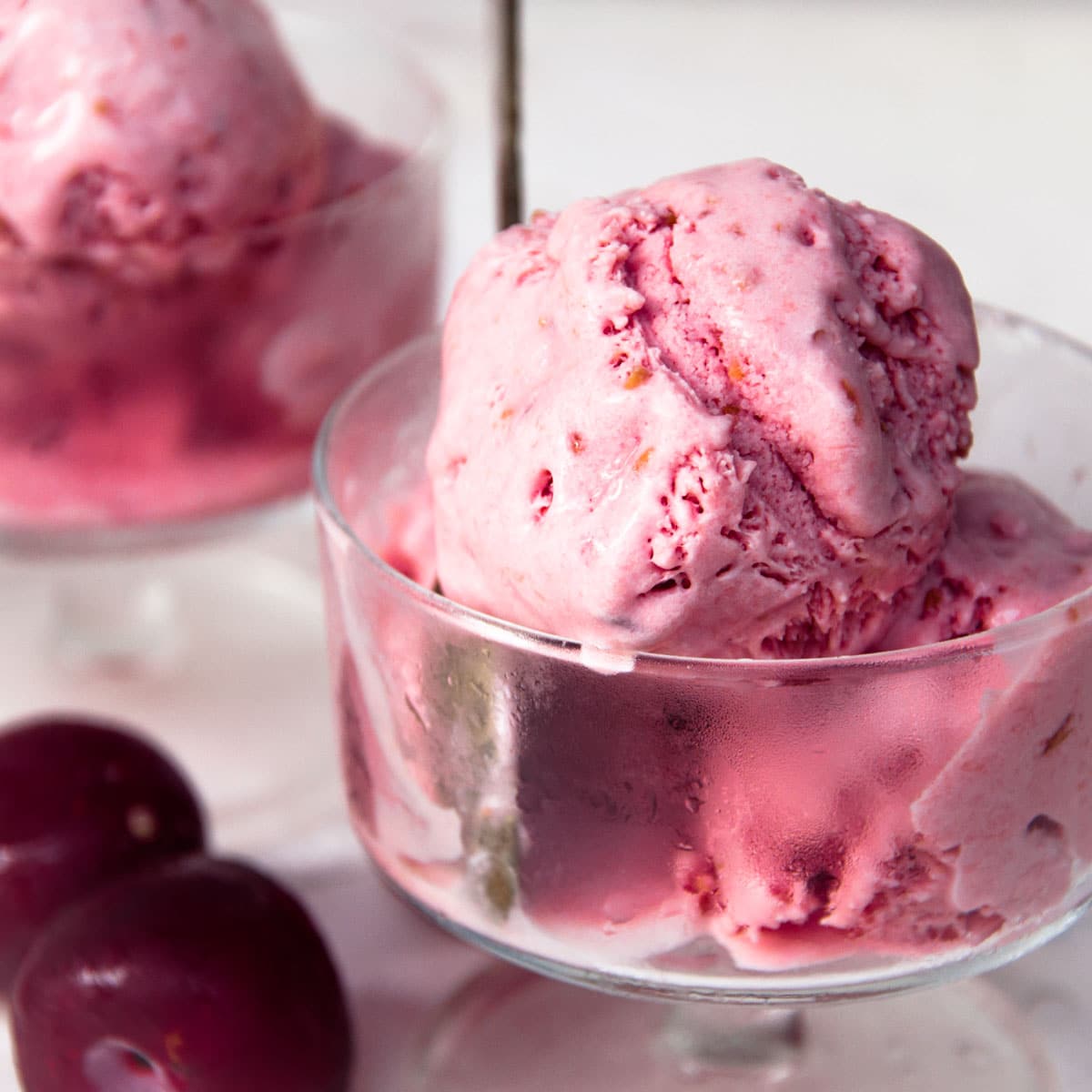 Tips
Take your ice cream out of the freezer 15 minutes before serving so ice cream is easily scoopable.
You can also add biscuit chunks of white chocolate chips if you like some texture in your ice cream.
Variations
Swirl ice cream: If you like swirls in your ice cream, add 1 teaspoon of vanilla essence to the base of the cream and condensed milk. Transfer half of the ice cream base to the container. Add half of the plum syrup with the help of a spoon. Put dollops of plum syrup all over the container. Add the remaining vanilla ice cream base and add the remaining plum syrup by spoon. Make a few swirls with the help of a stick and freeze.
Chunky ice cream: If you wish to make chunky plum ice cream. Skip the step of blending the plums and cook them. Then just break the cooked soft plums with the help of a spatula. Follow the rest of the step as it is. The skin of a plum tastes similar to fruit leather in the ice cream and tastes really yummy.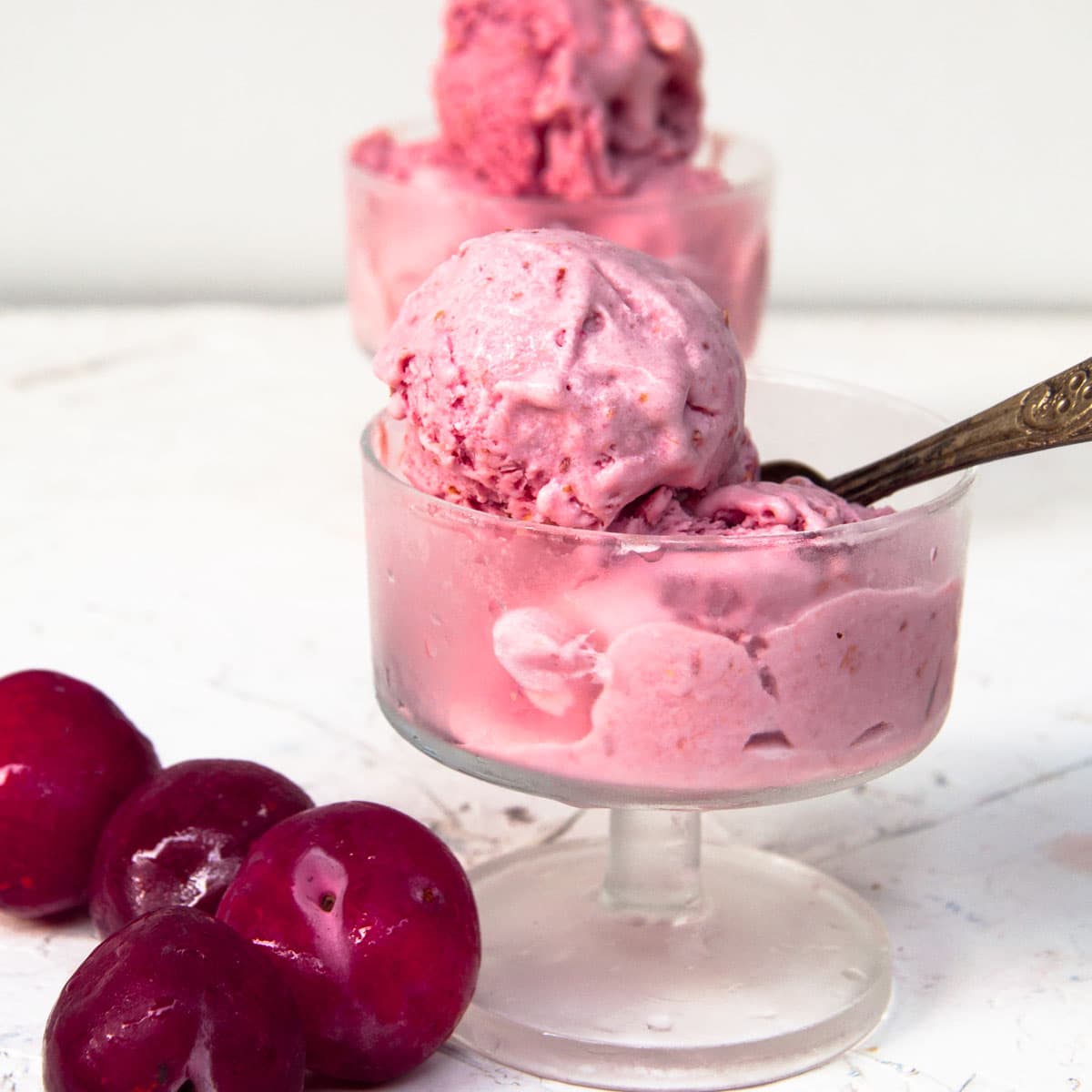 FAQ
Can I make it without condensed milk? 
Yes! if you do not have condensed milk, you can simply add ½ cup sugar while cooking plum and skip the condensed milk. Add more sugar if needed after doing a taste test. You might also need lesser fruit for this recipe.
Can I make plum ice cream with plum jam? 
Yes! if you to make ice cream with my plum jam recipe. Skip condensed milk altogether in the recipe. And just mix cream and plum. To make it lighter you can also add ½ cup of evaporated milk. Chill the can and whip it until doubled before adding it to the ice cream.
Hungry for Ice creams? Check these.
If you try this recipe, I'd LOVE to hear your feedback in the comments. Your 5-ratings motivate me to do my best. Stay connected for more recipes and videos on Facebook, Instagram, Pinterest, and Youtube.
📖 Recipe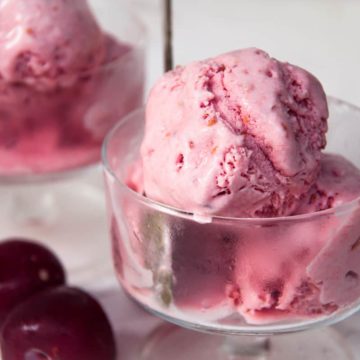 Plum Ice Cream
This plum ice cream is truly indulgent. It is very creamy and has no icicles. Just a very intense plum flavor.
Print
Pin
Rate
Servings :
12
servings (1.5 litre)
Ingredients
1

pounds (450 g)

plum

,

deseeded, fully ripened

2

cup

whipping cream

,

also called heavy cream, double cream

1

can

sweetened condensed milk

1

tablespoon

lemon juice

,

optional, see notes
Instructions
Blend deseeded plum until smooth and skin is no more visible.

Take plum puree in a pan and cook for 5 minutes on medium heat until color changes and slightly thick. Keep stirring frequently.

Remove from heat and aside to cool.

Take chilled whipping cream in a large bowl. Whip it until you see stiff peaks.

Add cooked plum, condensed milk, and lemon juice (if using). Mix thoroughly with the help of a spatula.

Transfer ice cream to a 1.5-liter container. Then cover it with butter paper or cling wrap. It should touch the surface of ice cream.

Chill for at least four hours in the freezer.

Remove the ice cream 10 minutes before serving. Scoop and serve immediately.
Notes
Lemon juice: Use lemon juice only if you like sour ice cream and if the plums are very sweet.
You can also consider reducing 1-2 tablespoons of condensed milk if plums are already sweet.
Store plum ice cream in an airtight container with plastic wrap on the top layer and at the back of the fridge. The cream should last for 2-3 months. (I bet it'll be gone before 2 weeks.)
The recipe can be easily doubled by using 2X in the recipe card.
Nutrition Information
Serving:
1
scoop
,
Calories:
260
kcal
,
Carbohydrates:
23
g
,
Protein:
4
g
,
Fat:
18
g
,
Saturated Fat:
11
g
,
Cholesterol:
66
mg
,
Sodium:
57
mg
,
Potassium:
213
mg
,
Fiber:
1
g
,
Sugar:
22
g
,
Vitamin A:
802
IU
,
Vitamin C:
5
mg
,
Calcium:
122
mg
,
Iron:
1
mg