Craving traditional and authentic Punjabi food, try these Punjabi Recipes that have clear and simple instruction and visual guide for easy grasping. And most important, they taste finger linking good!
Punjabi cuisine is a vibrant and rich culinary tradition that has gained immense popularity around the world.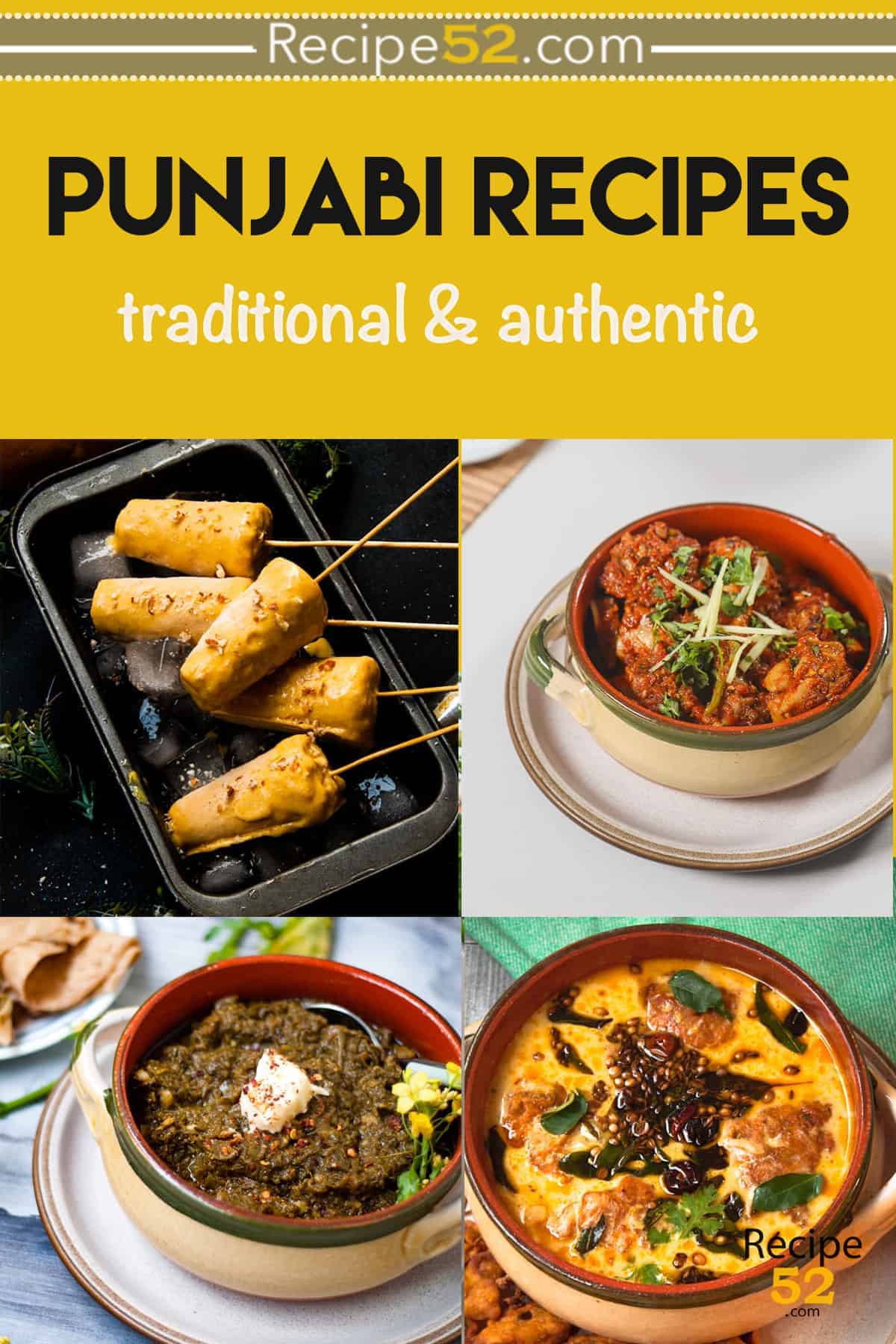 These recipes are a tribute to my mother-in-law who was born and bred in Punjabi tradition and loved the Saraiki language.
Known for its robust flavours and bold spices, Punjabi food is a perfect blend of hearty and wholesome ingredients that make for a filling and satisfying meal.
Punjabi recipes often use a variety of aromatic spices, such as cumin, coriander, and turmeric, which add depth and complexity to the flavors of the dishes.
Whether you're a fan of spicy curries, savoury snacks, or sweet desserts, Punjabi recipes has something to offer for every palate. Here's a collection of 15 easy Punjabi recipes that you will love.
Region
The ancient Punjab is a vast piece of land today divided between India and Pakistan. Both countries have a state/province that still holds the name Punjab. In both countries however the culture, language, food, and hearty joyfulness of the Punjabi spirit still still remain alive. Punjab mean land of five (panj) rivers (aab; water). You can learn more about Punjabi culture here at Wikipedia.
There are many regional dishes that are famous in some regions only. Many dishes are exclusive to Punjab, including Sarson Da Saag, Tandoori chicken, Shami kebab, makki di roti, etc.
Jump to:
Vegetarian Recipes
Find delicious and satisfying recipes that are both nutritious and flavourful. I have compiled a number of easy vegetarian Punjabi recipes for you that will save your time.
Want some winter love? Here super healthy and delicious Mustard green or Sarson ka saag recipe. This is a traditional Punjabi or North Indian recipe that is often referred to and celebrated in Punjabi literature and folklore.
Sarson Ka Saag is not only delicious but also packed with nutrition, as the greens are a rich source of vitamins and minerals. This dish is a must-try for anyone looking to explore the world of Punjabi cuisine.
Pakoda curry is a classic North Indian dish that is a favorite among many. It consists of crispy, deep-fried pakodas (fritters) that are simmered in a rich and flavourful curry.
Make a hearty Kadhi Pakora with a few easy steps. Get all the tricks and tips for that authentic pakora curry taste. So yum! This comforting and satisfying dish is perfect for a cozy night in or for entertaining guests.
Aloo tikki is a popular street food that has become a favorite snack all over India. Get this easy Punjabi Aloo Tikki recipe that is fool-proof and comes together in just 35 minutes. It has very basic ingredients and the tempering makes it so flavourful.
Aloo palak is a must-try for anyone looking to explore the diverse and flavourful world of Punajbi cuisine.
Soft buttery melt in the mouth spinach combined with the mellow sweetness of potatoes and rolled in the garlicky spiced curry, yes we are talking about Pakistani Aloo Palak. Just 30 mins recipe bursting with flavors.
Looking for homestyle cauliflower curry? Make this delicious Punjabi Aloo gobi matar in just 35 minutes! This family recipe has secret ingredients to keep bloating at bay!
This dish combines the classic ingredients of potatoes and cauliflower with peas to create a hearty and satisfying meal.
This is an everyday simple bhindi recipe, Pakistan style and I bet, this will be the most delicious bhindi masala that you would ever eat. Make non-slimy, yummy bhindi masala in less than 30 minutes from scratch!
This is a very tantalising traditional dish that is made with a variety of vegetables, such as potatoes, carrots, peas, cauliflower, and much more.
This post is intended less to just tell Punjabi mix vegetable curry recipe but more to shows you what numerous options you have to make this curry interesting every single time. YUM! And in every season you can add your fresh vegetables and herbs in-season.
Get ready to get the easiest, tastiest Punjabi aloo baingan recipe. It gives the aroma and flavors of achari baingan without much effort.
The recipe is quick, just add everything to the pot and let it slow cook for 30 minutes. And, you are ready to drool over the tastiest Indian Eggplant Curry.
This is the most delicious and easy bitter melon recipe in Punjabi style, you'll find on the web. This recipe makes less bitter, tastier, and healthy karela in 35 mins (not including resting time.) No need to deep fry!
Ground Meat Recipes
Check out some of our Punjabi ground meat recipes that are easy to cook and are best to serve when the guests come over.
Make this authentic Pakistani Keema matar recipe in just 35 minutes! Just 1-pot easy peasy recipe that goes well almost with any carb side. Cook Keema Matar at home, and experience the authentic taste Punjab cuisine.
Kofta curry is one of the famous dishes of Punjab cuisine. Enjoy melt-in-the-mouth soft koftas in tangy spicy gravy. Make this easy and delicious kofta curry in under 40 minutes. So good and aromatic!
This oven-baked crispy Keema naan bread is stuffed with spicy and tangy kabab-like ground meat. They are also called keema walay naan.
And what's more, they melt in the mouth soft from the inside and crispy from the outside. This Keema naan recipe has many variations and I shared both oven and on tawa cooking methods.
Chicken Recipes
Chicken lovers should head on to this section where you will find a range of Punjabi recipes that include chicken.
Authentic Achari Chicken recipe with easy spice mix. This north Indian curry tastes so ethereal and flavorful and you can prepare it in one pot in 45 minutes. It is so good to eat with naan or rice. 
Looking for an easy, tasty, and the best chicken korma recipe that is made in just one pot? This authentic, repeatedly tested recipe, bursts with desi flavors. You just need 40 minutes to make it. Taste so good!
Chicken Karahi is a popular Punjabi dish that is known for its rich and spicy flavor. Make this tomato-based tangy Pakistani Chicken Karahi in just 35 minutes!
You can use fresh or canned tomato puree. Just basic Indian spices for this tangy and buttery stir-fried curry. Do check the easy video recipe!
Get this spicy fried chicken recipe that requires very little active time. You first steam the chargha for the juiciest tender chicken followed by deep-frying for a crispy crust. Chargha is a popular dish from Lahore that is the state capital of Pakistani side of Punjab.
Make ginger flavor-packed boneless chicken ginger handi, Punjabi-style curry. It is super easy to make and you can get dinner ready in 40 minutes including non-active marinating time.
This dish is made by cooking chicken in a spicy and aromatic gravy. Ginger adds a warm and spicy flavor to the dish, while the chicken provides a rich and savory base.
Ready for a smokey succulent authentic chicken tikka? It tastes just like a restaurant and as if just coming off the barbecue pit. Marinate tikka ahead and cook it within 25 minutes!
Chicken Tikka is one of the flavorful and spicy dish that people all over the world crave for it. Whether you live in India, Pakistan or abroad, having chicken tikka fills out that spicy craving that you have.
Craving something creamy and spicy at a time? This butter chicken recipe is the best to try out. Whether its a cold winter night or a hot sunny day, this creamy and delicious curry will make you lick your fingers. Serving it with hot naans (flatbread) and butter on top of the curry will leave all the restaurant cravings behind and you will love your handmade butter chicken curry.
Easy peasy chicken handi that can be based on many other boneless handi recipes! Just 35 minutes of cooking time! Learn handi-making secrets and experiment with ingredients in hand! This one pot Punajbi handi is traditional cooked clay pot is basically known for its rich and smooth texture.
Have some friends over and want to try something new and tasty? Paneer Reshmi Handi Recipe is easy chicken curry with siky smooth gravy. This is non-traditional and fusion recipe. You just need 30 minutes and 5 spices to make this white chicken cheese handi. Did I tell you it's restaurant style and everyone loves it!
Try out this green chicken curry that is way too easy and simple for those busy moms. The taste is light, aromatic and creamy with all the goodness of herbal greens.
Mutton Recipes
Punjabi people love their mutton or lamb and know how to make the best use of it in curries, pulao, yakhni recipes.
Want a recipe for Lamb yakhni pulao that will come out great on the first try? That shares all the secret tricks to get that aromatic and yakhni flavored rice in which every grain is fully cooked and separate.
This is a well-tested yakhni pulao recipe and comes out perfect every time with melt-in-the-mouth mutton and tempting garnish.If you have any Punjabi family events, this main dish is just the best choice.
Chinioti Mutton Kunna gosht recipe that is delicious and meaty flavourful. This is a very simple recipe with few steps and very easy to cook. Kunna gosht is made by slow-cooking mutton (lamb shanks) in an earthen pot so it is also called Matka Gosht.
This is a traditional Punjabi food that is typically made with a combination of aromatic spices, including cumin, coriander, and cardamom.
Missing home and the taste of your mother's food? Don't worry, this aloo gosht recipe will give you the same taste that your mom used to make at home.
Get an authentic aloo gosht recipe that has uniform gravy with a traditional comforting taste. Use the same ingredients with 2 cooking methods for a variety of tastes. The no-fine-chopping method is my favorite!
This is a simple home-style Lamb Karahi with homemade spices. If you love tomatoey gravies, you'll be in love with this and aroma of this Karahi Gosht is just like Indian restaurant and just like how Karahi should be. Lamb or mutton both are used to make karahi and are referred to as 'Gosht Karahi'.
DESSERTS
Punjabi desserts are more than just a sweet treat - they are a celebration of life's joys and a source of comfort during difficult times. They bring people together, spark conversations, and create memories that last a lifetime. Head on too these droll worthy Punjabi dessert recipes.
Halwa poori is one of the famous Punjabi breakfast dish. Having sooji halwa with fried parathas or pooris is one of the indulgent feeling one can have.
Make authentic sooji halwa in 20 minutes with an easy VIDEO recipe. Get my detailed recipe for restaurant-style halwa with tips and variations.
Make easy Gajar ka halwa with khoya in just 55 minutes with khoya. It tastes exactly like the halwa you get from Sweet shop! So Good!
Gajar ka halwa is a classic Punjabi dessert that is guaranteed to be a crowd-pleaser and is sure to leave a lasting impression on your taste buds. It is made with grated carrots, milk, sugar, ghee, and a hint of cardamom. The dish is traditionally served during winter when plenty of sweet and juicy red carrot are easily available.
Mango kulfi is a must have food in summer season. The scorching summer heat of Punjab is best climate for mango farming that's Mango kulfi is a popular Punabi version of traditional kulfi.
Try this easy mango kulfi recipe without cooking. Get just 4 ingredients for delicious mango flavor and authentic kulfi texture. These Punabi mango popsicles are creamy and not too hard to bite.
More Bonus Recipes
Find few other punjabi recipes here as a bonus.
The Mango shake recipe is a lovely memory of my maiden years when all summer nights would end with a glass of chilled mango milkshake.
Mom still enjoys this treat while I and hubby are hesitant to make this a ritual as we fear weight gain. Its quite refreshing and its fruity flavor provide a welcome respite from the heat.
The summer season brings fresh and juicy mangoes. And making spicy mango chutney is a ritual in most Punjabi homes. This is the best mango chutney recipe, I can bet that. It is super easy to make and you can make so many variations to suit your taste.
Mango chutney is a delicious and versatile condiment that adds a burst of sweet and tangy flavor to a variety of dishes.
Easy, healthy, extremely versatile Punjabi street style chickpea salad, the aloo chana chaat. One snack that is filling and you can never get bored off.
Aloo chana chaat is easy to make at home with just a few simple ingredients, and it can be served as a side dish or a light meal on its own.
Craving for some light and healthy snack? Then this two minute potato salad recipe is just the best for you to choose when you feel to eat something light and nutritious.
Summers are time when you want to stay away from the kitchen. The heat of stove and lengthy cooking hours could be burdensome. Aloo ka raita can make an easy and complete lunch salad.
Want a go-to egg recipe that comes together within 20-minutes and tastes great with all kinds of bread? Khagina doesn't t taste like a quick scrambled egg fix. It is a very flavorful version of breakfast eggs. Give this a try, you'll love it! It can make a scrumptious breakfast or lunch even dinner.
If you try any of these recipes, I'd LOVE to hear your feedback in the comments. Your 5-ratings motivate me to do my best. Stay connected for more recipes and videos on Facebook, Instagram, Pinterest, and Youtube.
Hungry for more More Recipes? Check these!
📖 Recipe