Want some winter love? Here super healthy and delicious Mustard green or Sarson ka saag recipe. This is a traditional Punjabi or North Indian recipe that is often referred to and celebrated in Punjabi literature and folklore.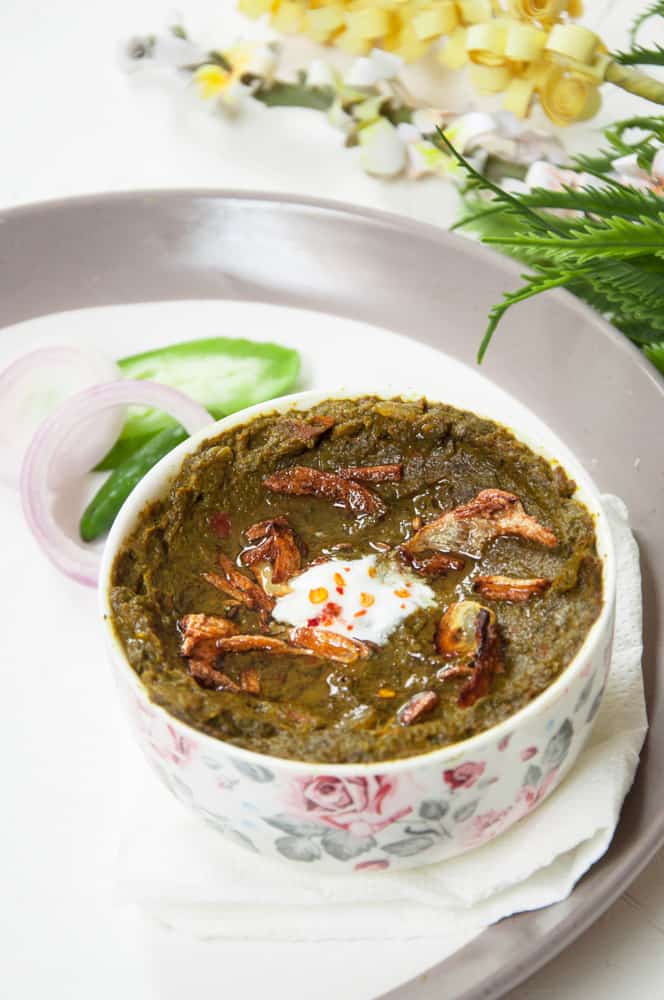 What do you call it Sarson ka Saag or Mustard Greens curry? Is it Indian or Pakistani curry? Well, it's Punjabi, a region divided between the borders of Indian and Pakistan. My mother-in-law is from Multan, Punjab, and trust me she was so fond of mustard leaves curry, that it is a winter must-have food at our home.
I think Punjabis love their bitter veggies like Karela (bitter melon), sarson and kachnar (buhinea buds). They know how to handle bitterness at its best and enjoy it with hail and hearty; so eminent in Punjabi persona.
Jump to:
Saron means mustard green or leaves of the mustard plant. Saag means curry. Saag is more commonly referred to as mustard greens and spinach curry in mustard green is the dominant taste. The spinach and mustard leaves are cooked in typical Indian spiced onion and tomato gravy. Sarson ka saag is a staple food enjoy all over Punjab in the winters.
What does it taste like?
It tastes like creamy, buttery curried kale but a little different. Don't get deterred by the bitterness of this delicious vegetable. This bitterness can be undermined if cooked correctly. Enjoy the buttery spicy smooth gravy. It is quite satisfying and healthy to eat, sometimes I feel it is an acquired taste and quite addictively delicious. Check the health benefits here.
How to make it?
This is a very simple but incredibly delicious North Indian or Punjabi style mustard greens recipe.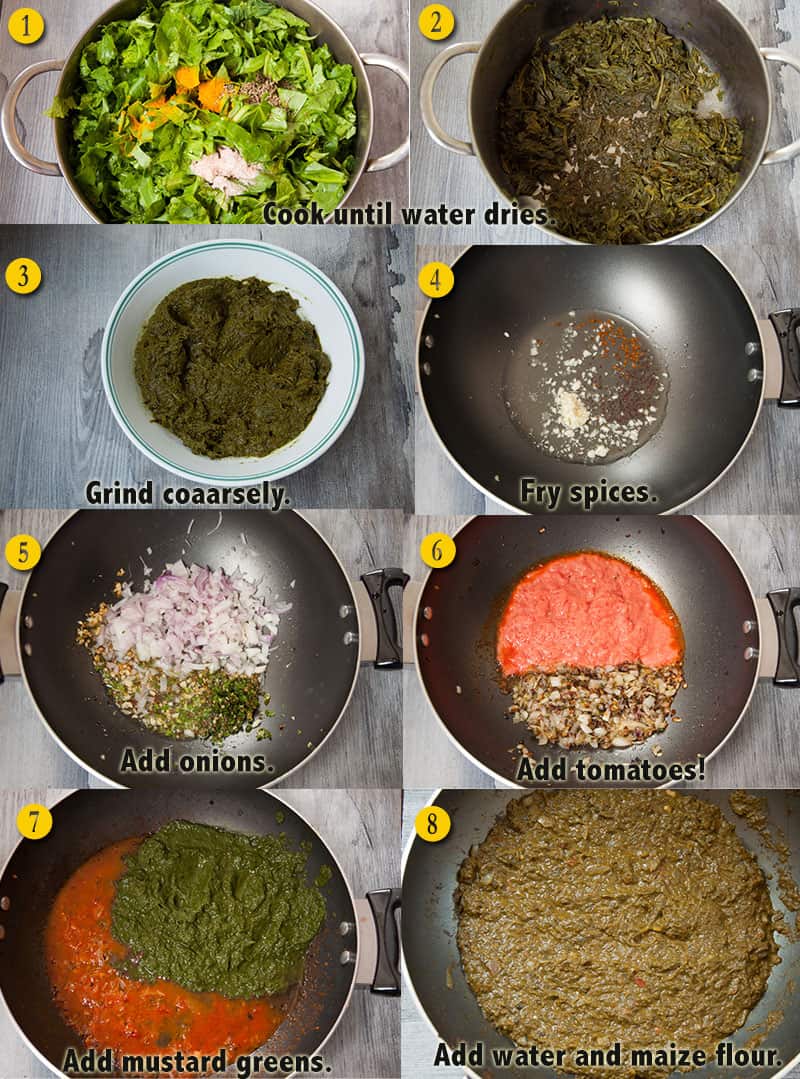 Wash mustard greens in hot water 3-4 times until the water runs clear.
Boil the greens with cumin, salt, turmeric, and little water for 30 minutes on medium heat with the lid covered until most of the water dries.
Let it cool or add little cold water to cool. Grind it in a food processor for 1-2 very short pulse only. Pay attention to this sarson must be gritty and not fine. Set aside. ( You can also use an immersion blender.)
In a separate pot, heat ghee or butter. Fry garlic, mustard, and fenugreek seeds for 30 seconds until golden.
Stir and then add green chili paste, onions, and ginger. Cook for 5 minutes until onions are soft.
When onions are soft, add pureed or chopped tomatoes. Cover the lid and cook for another 10 minutes until oil separates on the sides of the pot.
Now add the coarsely ground sarson.
Add maize flour and water to sarson and adjust consistency. And cook for another 5-7 minutes on medium heat with the lid covered. Sarson ka saag is ready to eat.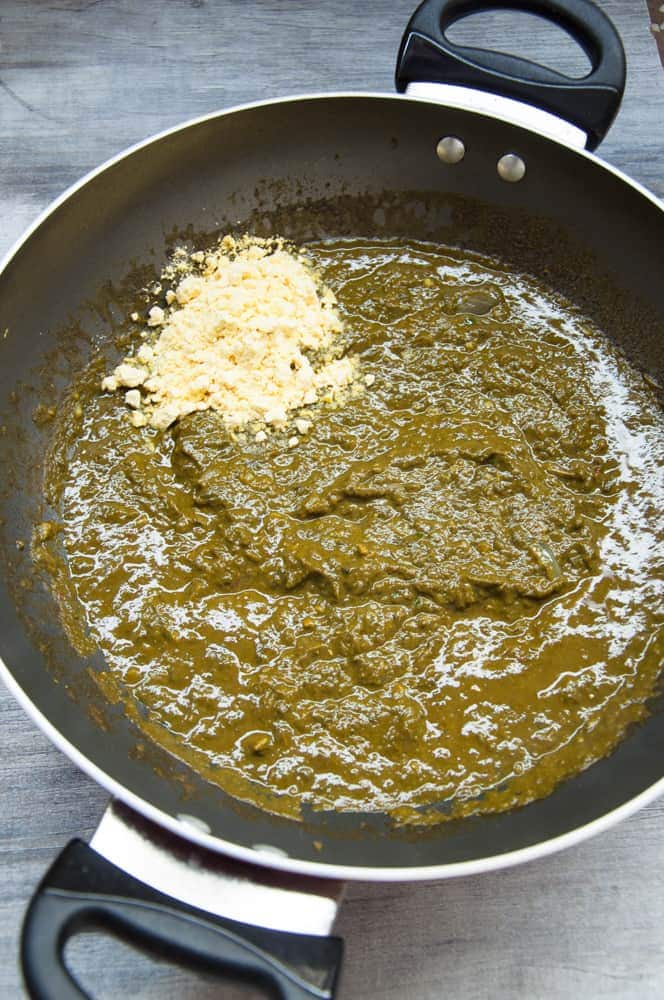 What flour is used to thicken sarson?
Yellow maize flour also called makai ka atta is used to thicken sarson. If you can't find it. You can use bajra flour too. Or just skip adding flour all together.
What to pair with sarson ka saag?
Any bread or rice can be paired with sarsoon ka saag but mostly it paired with Makai ki roti or Indian corn flatbread and some pickles.
I usually get my mustard green from the market but this year I got these from a farm and that was (desi sarson) or organic mustard greens. When I cooked it, it was extremely bitter almost inedible. I thought, this sarson was bad and so I went this farm guy and almost blamed him for giving me bad inedible sarson. In return, this guy sent me a cooked bowl of the same sarsoon leaves which was delicious and far from bitter. Obviously, I took his secret recipe and will break it here.
How to reduce the bitterness of mustard green?
Now, the most important thing is trick to undermine bitterness of sarson. Since I've tried three tricks on the bitterest sarson. I can claim that these hack are tried tested and successful. There'll be no trace of bitterness in sarson.
Wash sarson in hot water for 3-4 times. This leches some of the bitterness from sarson like blanching.
Saag as I told you is greens, so you undermine the bitterness with the sweetness of spinach and other greens like radish green, broccoli, and fenugreek.
In this curry, instead of adding raw and chopped mustard green in gravy to cook, you boil the greens separately for very long until most of its water dries. Then add it to the gravy. This boiling helps to curtail the bitterness. So, I recommend not to skip the boiling step.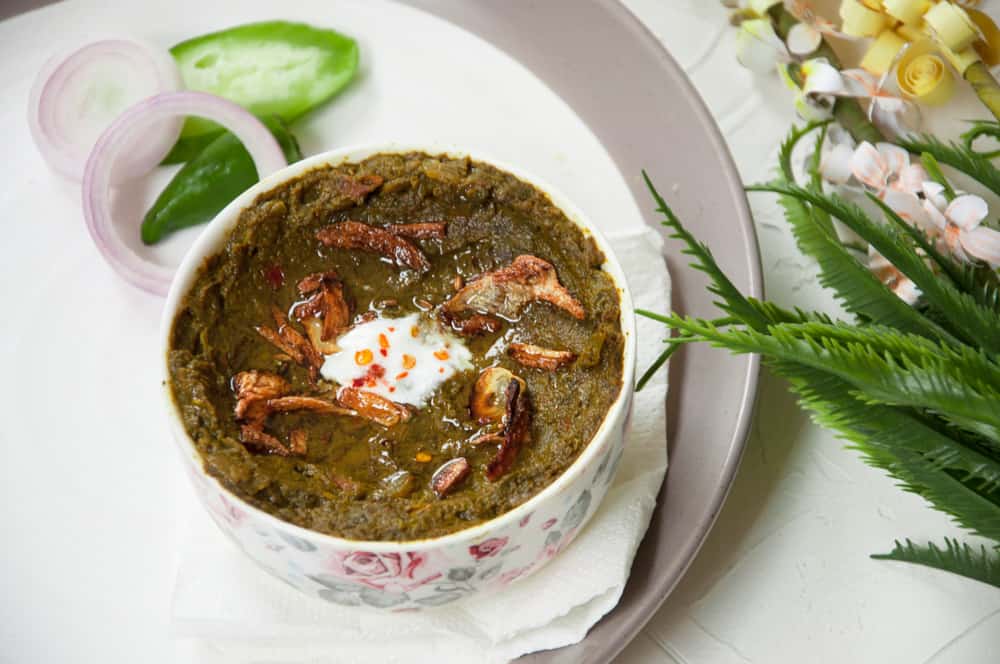 Serve sarson ka saag in a bowl. Fry chopped garlic in ghee or butter and pour the tempering on the sarson in the bowl and serve.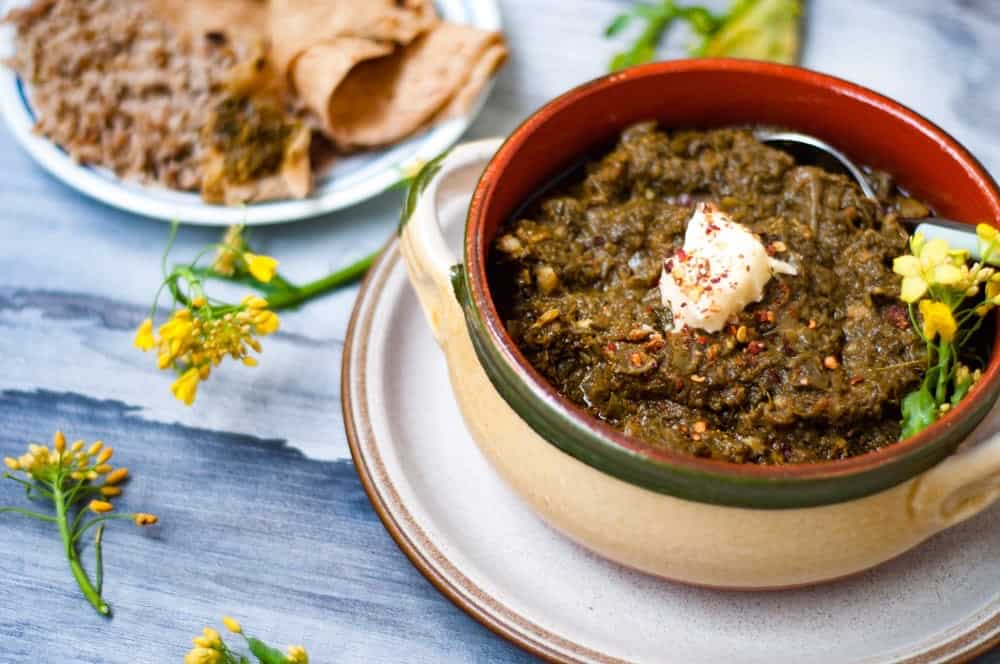 Have a look at my other veggies.
📖 Recipe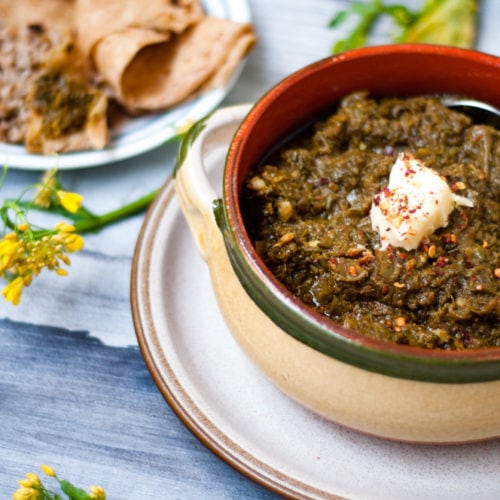 Sarson Ka Saag Pakistani
A unique and delicious way to eat leafy mustard greens.
Print
Pin
Rate
Ingredients
4

cup

mustard greens

,

sarson, tightly packed

1

cup

spinach

,

(palak), tightly packed

1

teaspoon

cumin seeds

½

teaspoon

turmeric

½

teaspoon

salt

½

cup

water

¼

cup

ghee or butter

,

more for tempering.

2

large

cloves garlic

,

chopped

⅓

teaspoon

mustard seeds

¼

teaspoon

fenugreek seeds

1

medium onion

,

chopped

1 ½

tablespoon

green chilli paste

1

tablespoon

ginger

,

chopped

2

medium

tomato

,

raw purée
Instructions
Cook the greens
Wash mustard green in hot water for 3-4 times until water runs clear.

Boil mustard green and spinach with turmeric, cumin, salt, and water for 30 minutes until soft and almost all water dries. Cook on medium heat with the lid covered.

Let the greens cool then blend into a coarse paste. Just 1 or 2 very short pulse.
Make the curry
Simultaneously in another pot, heat ghee or butter. Fry garlic, mustard and fenugreek seed for 30 second on medium heat.

Now add green chilli paste, onion and ginger and fry for 5 minutes until onions are soft.

Finally add tomato puree and cook further for 10 minutes or until oil separates.

Add the mustard-green and spinach mixture to the pot and mix well.

Add maize flour and adjust consistency of curry by adding water. Continue to cook and let the curry simmer for 5-7 minutes until curry thicken.
To Serve
Fry 1 teaspoon chopped garlic in 1-2 tablespoons of ghee in a pan. Fill a serving bowl with sarson and pour the tempering over it. Serve hot. Similarly, tempering is poured on each serving.
Notes
Mustard green can be stored in the fridge for 2-3 days or freeze for up to 2 months.
Nutrition Information