Heya! Are you ready to enjoy the most delicious kebab in the world? Yup beef or lamb seekh kebab is most juicy when it comes to ground meat kebab. I'm particularly big fans of these kebabs and here is my version of Pakistan's most famous mince kebab.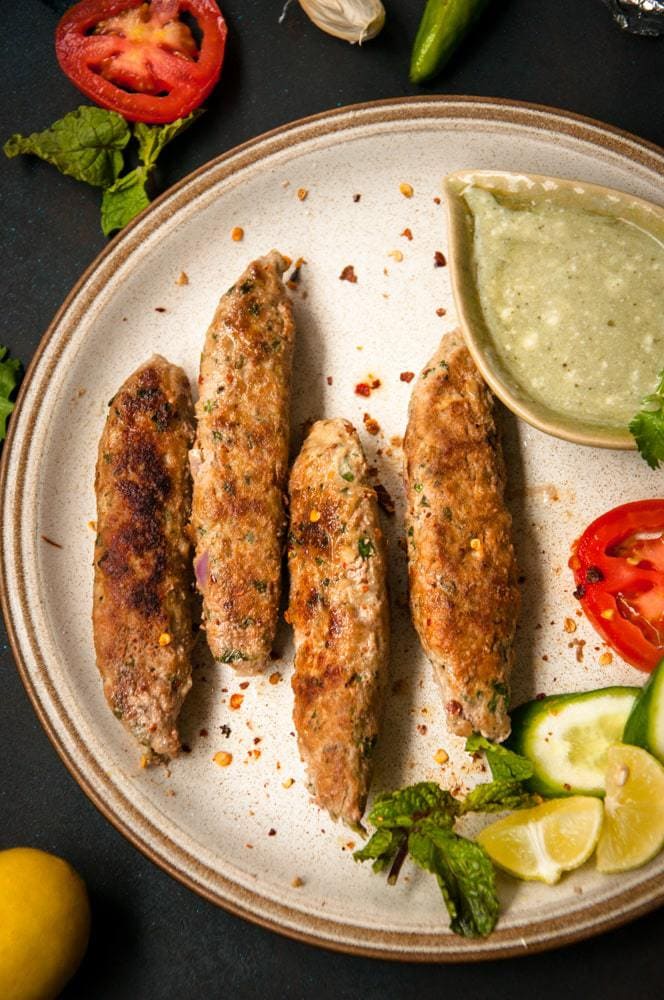 Seekh kebabs are South Asian ground beef kebabs that are grilled on metal skewers called seekh. The Seekh kebabs were introduced to undivided by Turkish traders. They are made of mince, onion, ginger, and few Indian spices. If you want to know about the history of Indian and Pakistani Kebebs, check here.
Jump to:
Mince for Kebab
These are tricky kebab and require the right kind of lamb or beef mince. The right kind of mince is one that has a 20% fat ratio. If you get your own mince from a butcher ask him to add kidney fat (the hard white and solid fat also known as riwaaj). If you have lean mince in hand and you have to use it then add extra butter or ghee in mince, but regular high fat mince recommended for this recipe.
Why fat is necessary ?
While fat provides the juicy element in the beef or lamb seekh kebab by retaining mince juices. They also stop the mince from shrinking too much and making the kebab hard and dry.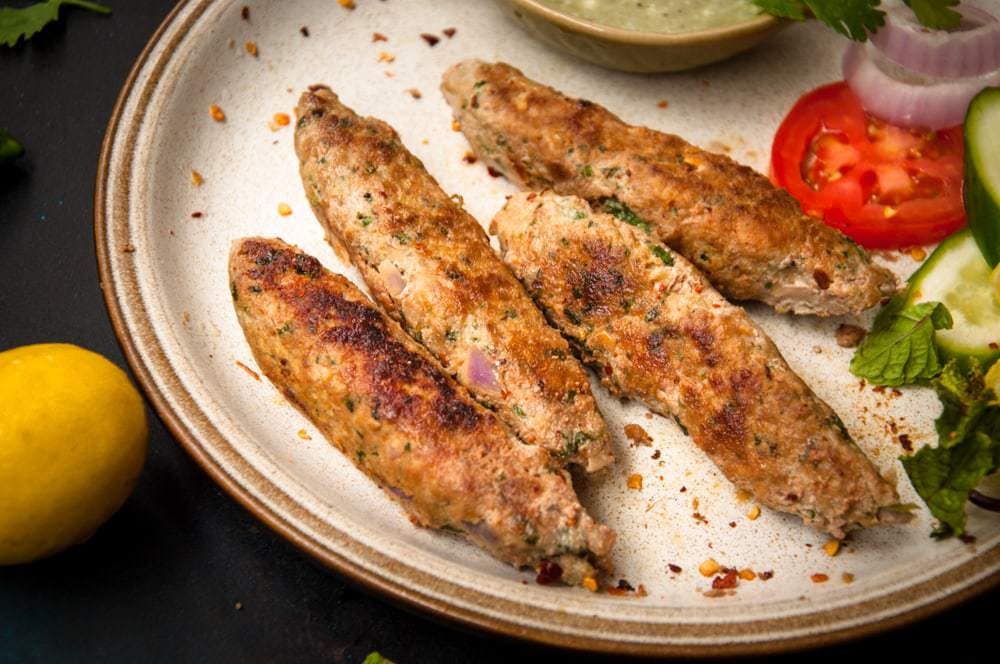 How to make Pakistani seekh kebab
Mix all ingredients of marination in a bowl. You can also place it directly in a food processor. Process the mince for 1 minute until mince form a soft dough-like mixture.
Now add the chopped onions and herbs. I've found mixing herb afterward gives mince a nice color and herbs visible in kebab are also tempting.
Marinate seasoned mince for 4 hours or overnight in the fridge.
You can use a medium-sized cookie scoop to make kebab balls.
Step 4 and 5 are to ease rolling for amateur cooks. Experienced cooks can directly pull a ball and roll it as they go and simultaneously fry 4-5 kebab in small batches.
Gathered kebab balls on a plate.
Wash your hand throughly then with the help of a pencil or chopstick roll the kebab ball into a long cylindrical kebab.
You need to message the kebab slowly spreading it over the pencil or chopstick. The end will be narrow as shown in the picture. This rolling is fun and easy, almost instinctive, so don't get overwhelmed by the photos.
Gently slide the kebab off the pencil or chopstick and gather on a plate. If you are quick, you can simultaneously fry kebab and transfer directly to the pan.
Pan-fried Method: I recommend this method as go can fry kebab simultaneously while rolling it. Just take 1 tablespoon oil in a nonstick pan and fry kebab in small batches with enough room in the pan to roll kebab for even cooking. Simply cook kebab on medium heat for 2-3 minutes until to see golden marks on all sides. You can serve immediately or smoke it with a piece of charcoal for traditional aroma and flavors.
Barbecued Method: The best and most traditional method to make these seekh kebabs is grilling on a barbecue pit. Use square shaped metal skewers. Roll kebab over it. Grill it until golden and brush oil over kebab as needed.
Baked Method: Preheat oven at 350 F. Place rolled kebab on a casserole or baking tray and grease with little oil. Bake on the middle shelf for 20 minutes until color changes and cooked thoroughly. You can eat kebab directly or pan-sear it for a golden color. I don't recommend broiling as it can dry out kebab and over-cook it.
Serve kebeb with yogurt or tamarind chutney or dips.
Why does my mince kebab break?
Pakistani Seekh kabab can break for three main reasons. They behave very similar to the burger patty.
Lack of fat in kabab: If your seekh kababs are dry and don't have enough fat, they won't hold together.
Mince is thick: You need superfine dough like mince for seekh kabab. If using normal mince, you must process mince again in the chopper for a dough-like soft mince mixture, as described in the recipe.
Binding agent: The popular binding agent for seekh kebab is gram flour. Sometimes, plain flour is also used. If your mince kebab doesn't have any binding agent like any flour or bread crumbs they will break.
Add a little egg: Egg is not added to traditional seekh kabab. I have tried the recipe with and without egg. I found egg helps lock the juices in kebab and keeps it moist and also prevents breaking of kebab.
Avoid washing mince for kebab: It is a common practice in some countries to wash mince due to poor hygiene in a slaughterhouse. Avoid washing mince when making seekh kebab. For hygiene, wash meat beforehand and let it drain completely. Then mince it at home or at the butcher. (If you have wash mince then squeeze excess water as much as possible.)
How do keep Meat from skewers from falling off?
If you follow all precautions mentioned above your Pakistani seekh kebab should not fall off the skewers while grilling on a barbecue pit. But if it still breaks tie a thread around the kebab to secure it. Before serving remove the thread. The kebab might break as you remove the thread but it will still taste good.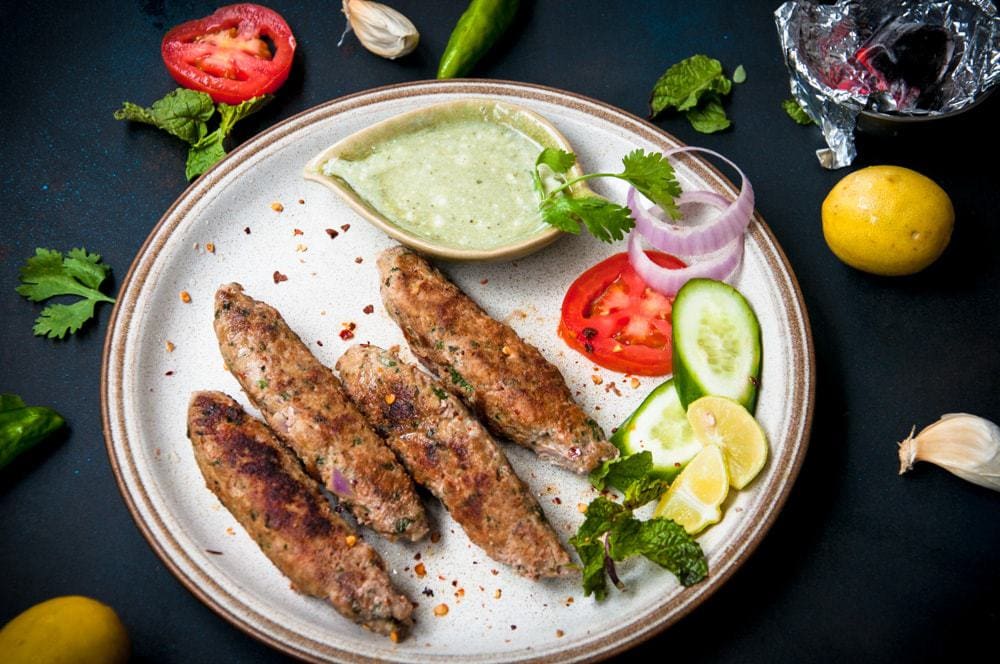 Tip
After marinating the kebab always make a tiny petty and test it by cooking on a pan. Check the kebab if it is firm or breaking. Do a taste test and adjust salt or spices if needed.
If breaking, add little eggs. Do no add whole an egg at once, add spoon by spoon, and let the mixture absorb. Adding too much egg at once can make kebab wet and difficult to roll.
If kebabs are tough and dry: Add cream or butter or ghee.
Although, this recipe always yields delicious kebabs ingredients quality differ and so the result. I want my smart chefs to learn the trick to handle and perfect a kebab.
What to eat with seekh kabab?
The warm juicy freshly grilled or pan-fried kabab can be gobbled immediately. They pair best with mint raita and fresh naan. They can be paired with white rice too along with a piece of butter and some grilled tomatoes, onions chunks, and chilies.
Hungry for mince recipes? Try these!
📖 Recipe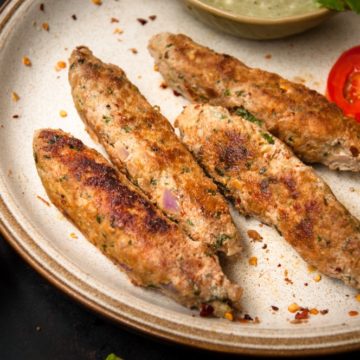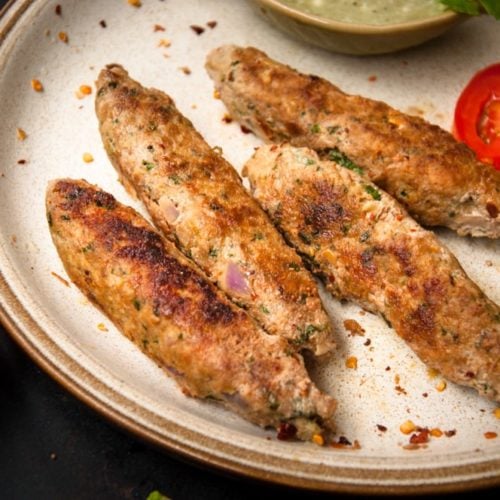 Seekh Kebab Pakistani
Check out more troubleshooting tip above.
Print
Pin
Servings :
3
serving (14 )
Ingredients
For Marination
500

grams

ground beef or lamb/ mutton

,

20% fat mince

2

tablespoons

butter or ghee

1

egg

3

tablespoon

chickpea flour (besan)

3

tablespoon

chopped ginger

1

tablespoon

chopped garlic

½

tablespoon

red chilli powder

½

tablespoon

cumin powder

½

tablespoon

coriander powder

½

teaspoon

turmeric powder

2

tablespoons

lemon juice

1

teaspoon

salt
Other
½

cup

finely chopped onion

4

tablespoon

chopped coriander leaves

2

tablespoon

chopped mint
Instructions
Take all the ingredients listed for marination in a food processor and process for 1 minute until mince is fine and dough-like.

Then add the remaining ingredients to mince and mix throughly.

Transfer this mixture to the bowl. Cover it with a cling wrap and marinate in the fridge for at least 4 hours or preferably overnight.

Fry a small patty from kabab and do a taste test. Adjust salt or spices if needed.

Roll out balls from the dough.

Message each balls over a pencil or chopstick until it forms a long cylindrical kebab of about m 5 inches.

Gently slide the kebab out of the pencil and gather on a plate.
Pan-fried:  (Recommenced Method)
Heat 1 tablespoon oil in a non- stick pan and fry 4-5  Kebab in a single batch. Flip sides of kebab as needed to cook evenly until golden. Remove kebab and serve hot kebeb immediately.)
Baked:
Set rolled kebab in a baking tray or casserole. Grease kebab with a thin film of oil. Baked kebab for 20 minutes on middle shelf. Roll kebab halfway for even cooking.

For a naturally grilled look, pan-sear until golden from all sides.

You can also broil kebab on the top shelf of the oven but, I found it dries out kebab.
Smoke: (optional)
To smoke pan-fried or baked kebab, heat a price or charcoal on direct flame until at least a corner in red.

Gather kebeb in a pot and place a piece foil in the centre. Carefully transfer hot coal on the foil with help of tongs. Drizzle few drops of oil over coal and cover the pot immediately with a tight lid. Let the kebab smoke for 5-7 minutes then serve.
Notes
Traditionally, Seekh kebabs are grilled over a barbecue pit. The kebabs are rolled over metal skewers called seekh. You can use the same marinated mince to grill kebab.
Freezing: Cook the kebab throughly and let it come to room temperature before freezing.
To use place frozen kebab in a casserole dish. Place onion rings on the kebab and drizzle some chutney over it. You also place tomato slices and chili slices on the side. Smoke the dish with a piece of red hot charcoal. And cover dish with an aluminum foil. Reheat the kebab casserole in the oven for 20 minutes until kebabs are throughly heated.
Kebab Casserole: Similarly, you can prepare kebab casserole with freshly fried kebab a day ahead and store in the fridge. Bake just before serving until thoroughly heated.
Nutrition Information
Calories:
576
kcal
,
Carbohydrates:
12
g
,
Protein:
33
g
,
Fat:
43
g
,
Saturated Fat:
15
g
,
Polyunsaturated Fat:
4
g
,
Monounsaturated Fat:
19
g
,
Trans Fat:
2
g
,
Cholesterol:
173
mg
,
Sodium:
1028
mg
,
Potassium:
709
mg
,
Fiber:
3
g
,
Sugar:
3
g
,
Vitamin A:
967
IU
,
Vitamin C:
8
mg
,
Calcium:
86
mg
,
Iron:
5
mg