Step by step recipe of soft chocolate chip cookies with photos of each step. These Chocolate Chip Cookies are addictive, I warn you. Hubby loves my double chocolate cookie more over these but I feel these classic soft chocolate chip cookies are best.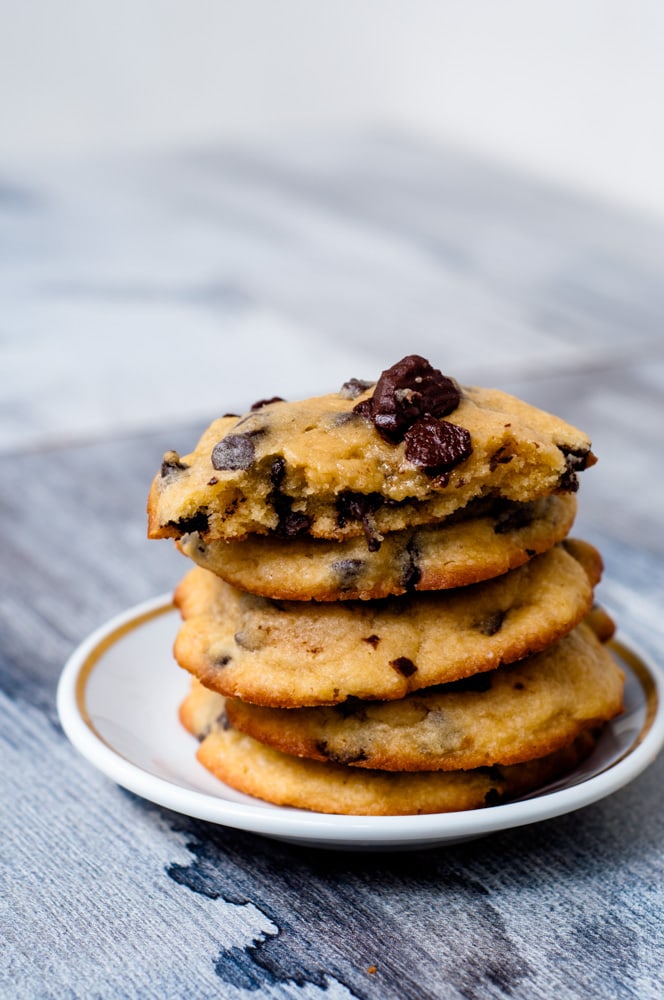 They turned out amazing in first go but they were gone before photo shoot. Then, I made them again and they were gone again and again and again. My kids just won't stop eating these. When they are fresh out from oven they are so gooey , warm and scrumptious, nobody wants to wait till they cool and I could take photos.
If your are new to Cookie baking ! Check this guide here for best Cookie tips.
Substitutes:
You can use margarine instead of butter but butter taste best.
You can use white sugar instead of brown sugar but your cookies will not have brown color and have slightly different taste.
I've used ½ cup chocolate chunks to top my cookies\for semi-melted and extra gooey tempting look. And I must say look matters. You can skip that too.
How to make classic chocolate chip cookies recipe
(I forgot to take first photo of butter and sugars and I promise to update soon.)
In a bowl whisk butter, icing sugar and brown sugar together until creamy. ( You may use hand beater or stand mixer.)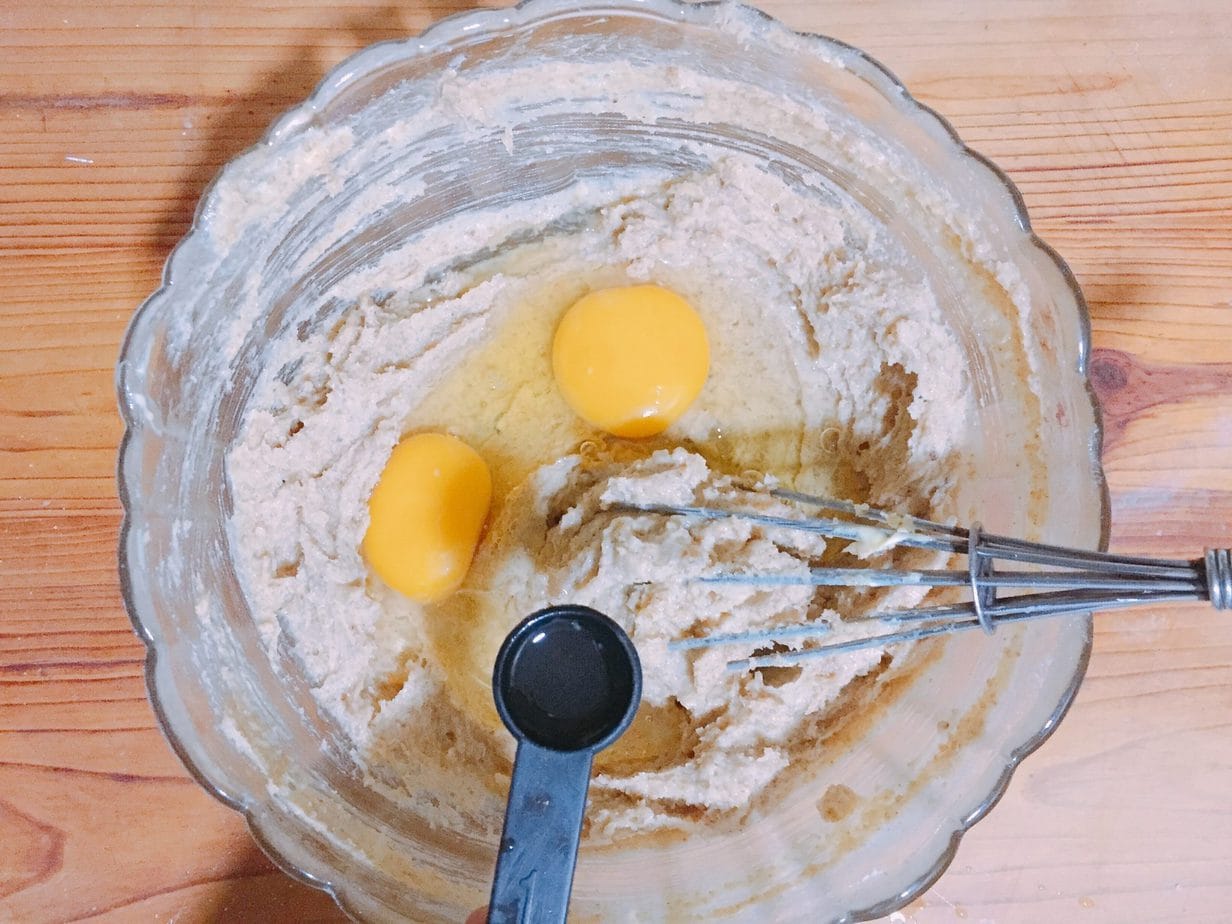 Add two eggs one by one. Then add vanilla essence. Whisk egg until combine. ( Do not over beat.)
Now, sift flour with baking powder.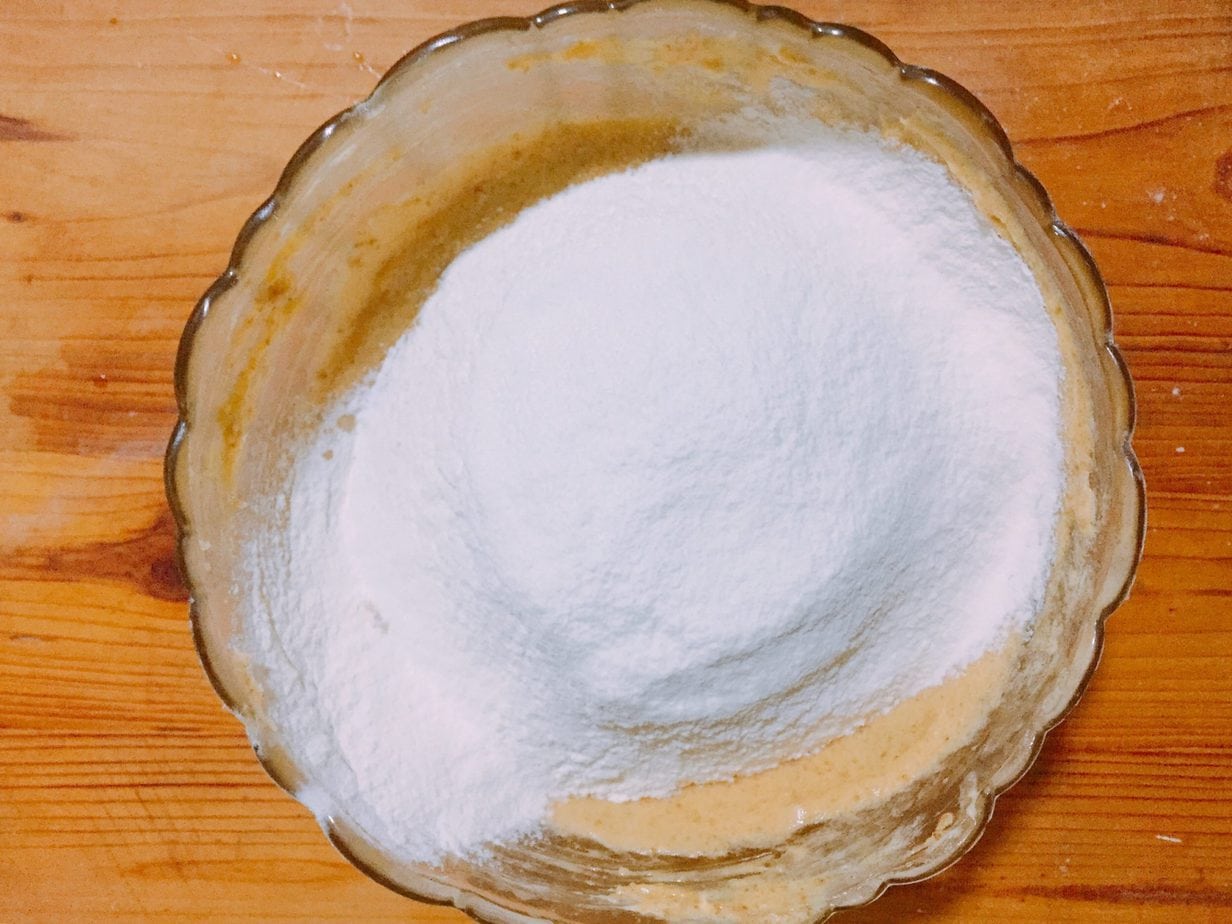 I sifted flour inside the bowl. Now, mix it.
Add chocolate chips, and mix well. Make sure chocolate chips are evenly distributed.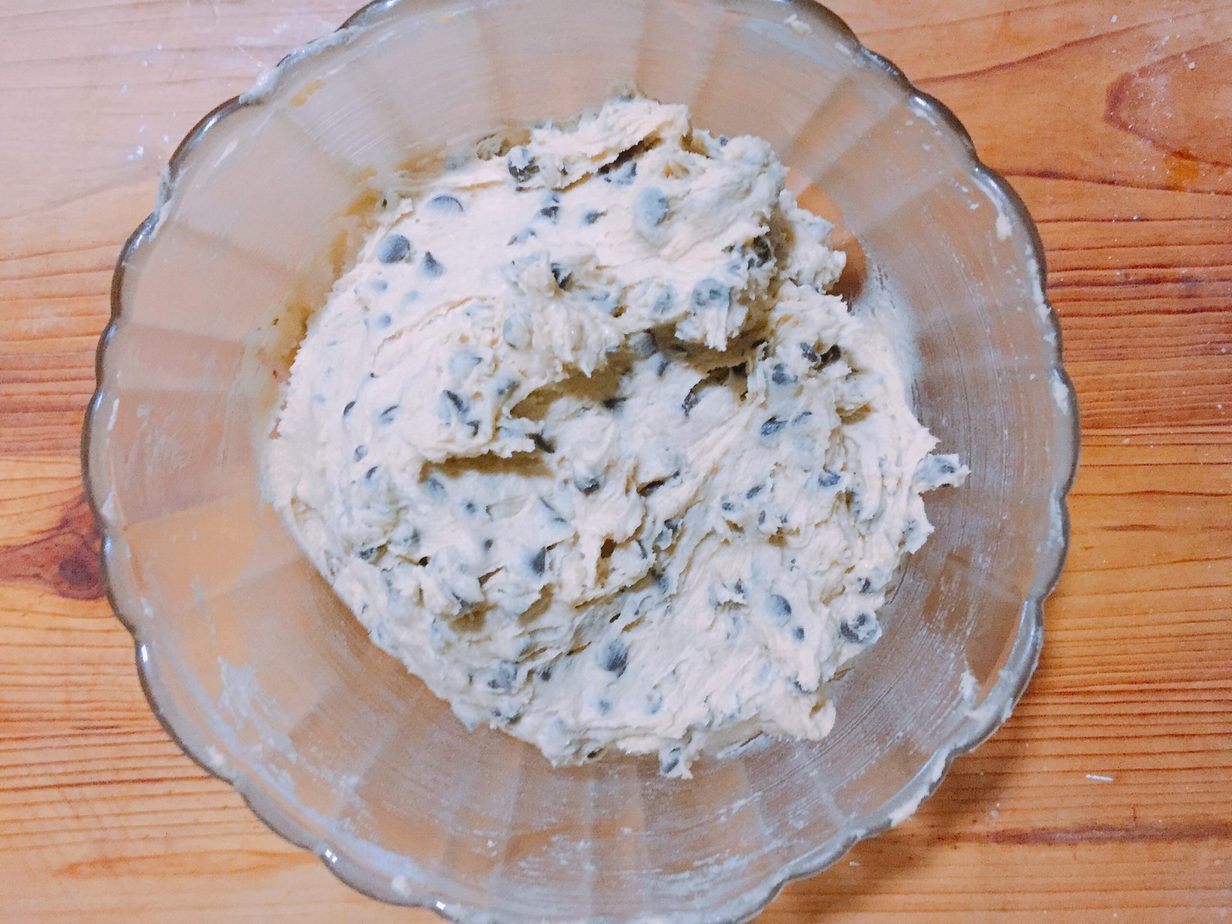 Let the dough chill for 30 minutes or preferably overnight in fridge. ( You can also freeze for later use.)
Scoop 1 and half tablespoon of cookie dough on baking sheet tuck in chopped chocolate of top of each scoop.
Preheat oven at 350 F and bake it for 8-10 minutes.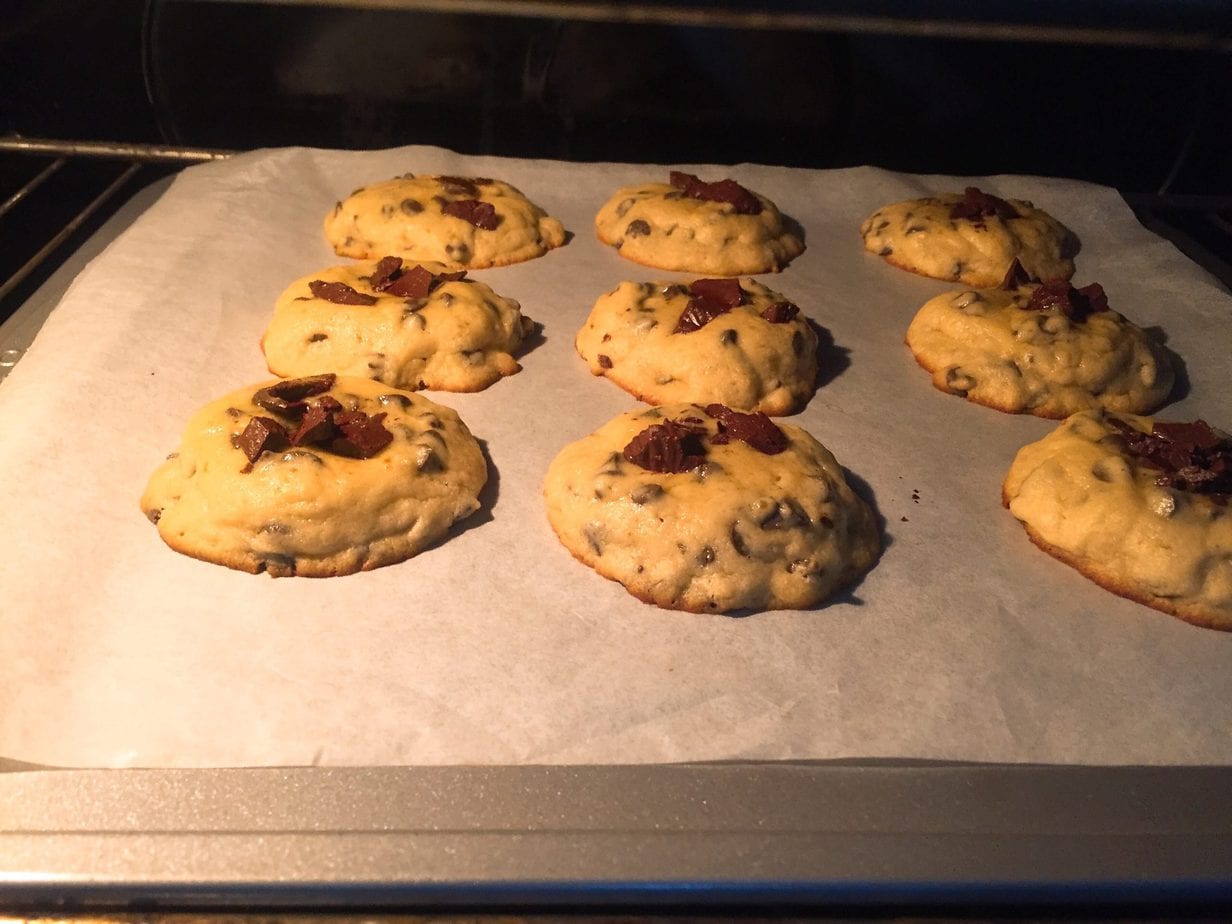 See the edges are golden and centre is just set. Take them out.
After they are out, you can leave your cookies on baking sheet for extra 5 minutes if you want chewy cookies. (If you like it soft transfer to wire rack immediately to cool.)
Lift cookies carefully by sliding a spatula under it and transfer to wire rack to cool. They'll be soft but they'll firm up as they cool. Enjoy warm gooey goodness!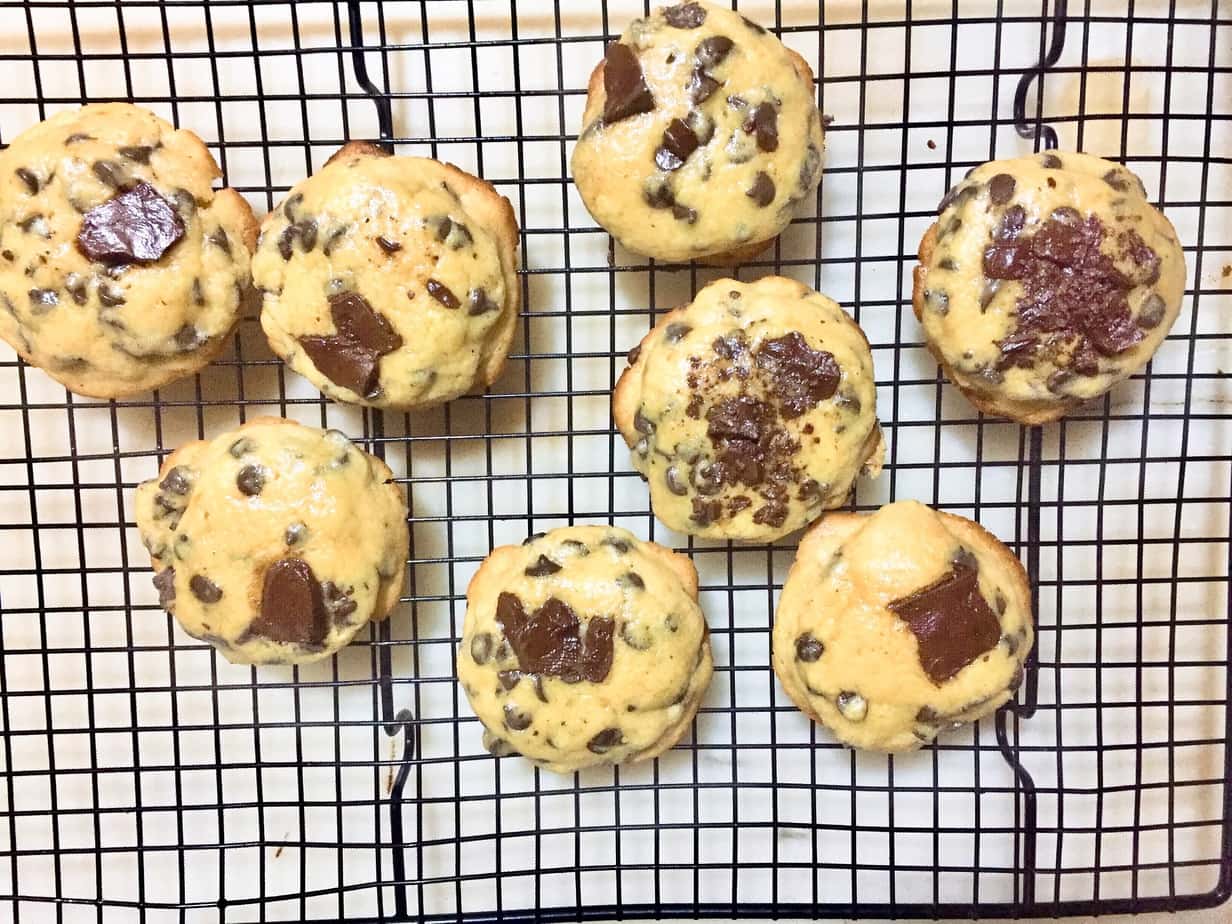 Hungry for more cookies? Check these!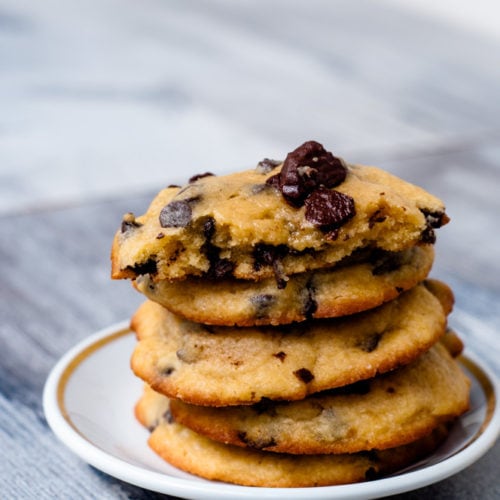 Soft Chocolate Chip Cookies Recipe
I alway bake 1 tray of cookies and freeze the rest for later. This way is I always have freshly baked cookies. (If freezing thaw the dough and then bake.)
Print
Pin
Rate
Servings :
20
medium cookies
Ingredients
1

cup (225 grams)

butter

,

salted, at room temperature (add ¼ teaspoon salt if using unsalted butter.)

½

cup

icing sugar

¾

cup

brown sugar

,

lightly packed

2

egg

,

at room temperature

2

teaspoon

vanilla essence

2¾

cup

flour

,

sifted

1

teaspoon

baking powder

1½

cup

sweet chocolate chips

½

cup

chopped dark chocolate

,

optional
Instructions
In a large mixing bowl, whisk butter and sugars together with a hand mixer until creamy and fluffy.

One by one, add two eggs and vanilla essence.

Now, mix in flour and baking powder.

Finally, add chocolate chip and make sure chips are evenly divided in the dough.

Chill dough for 30 minutes in fridge.

Scoop out 1½ tablespoon dough balls and set on large baking tray. Keep the each cookie dough 2 inches apart.

Pre- heat oven at 350 F. Bake cookies in 3 batches, baking 9-12 cookies at a time.

Set cookies dough balls on baking sheets two inches apart. Top them with chopped chocolate. Bake on middle rack for about 10 minutes until set. (Rotate tray if needed for even baking.)

Transfer each cookie carefully to a wire rack with the help of spatula. Let the cookies cool completely then store in an airtight jar to keep them fresh.
Notes
Use 2¾ cup flour, but if your dough is too greasy and soft add remaining ¼ cup. Read cookie

baking tips here

for best results.
Nutrition Information