Make authentic Pakistani sooji halwa in 20 minutes with an easy VIDEO recipe. Get my detailed recipe for restaurant-style halwa with tips and variations.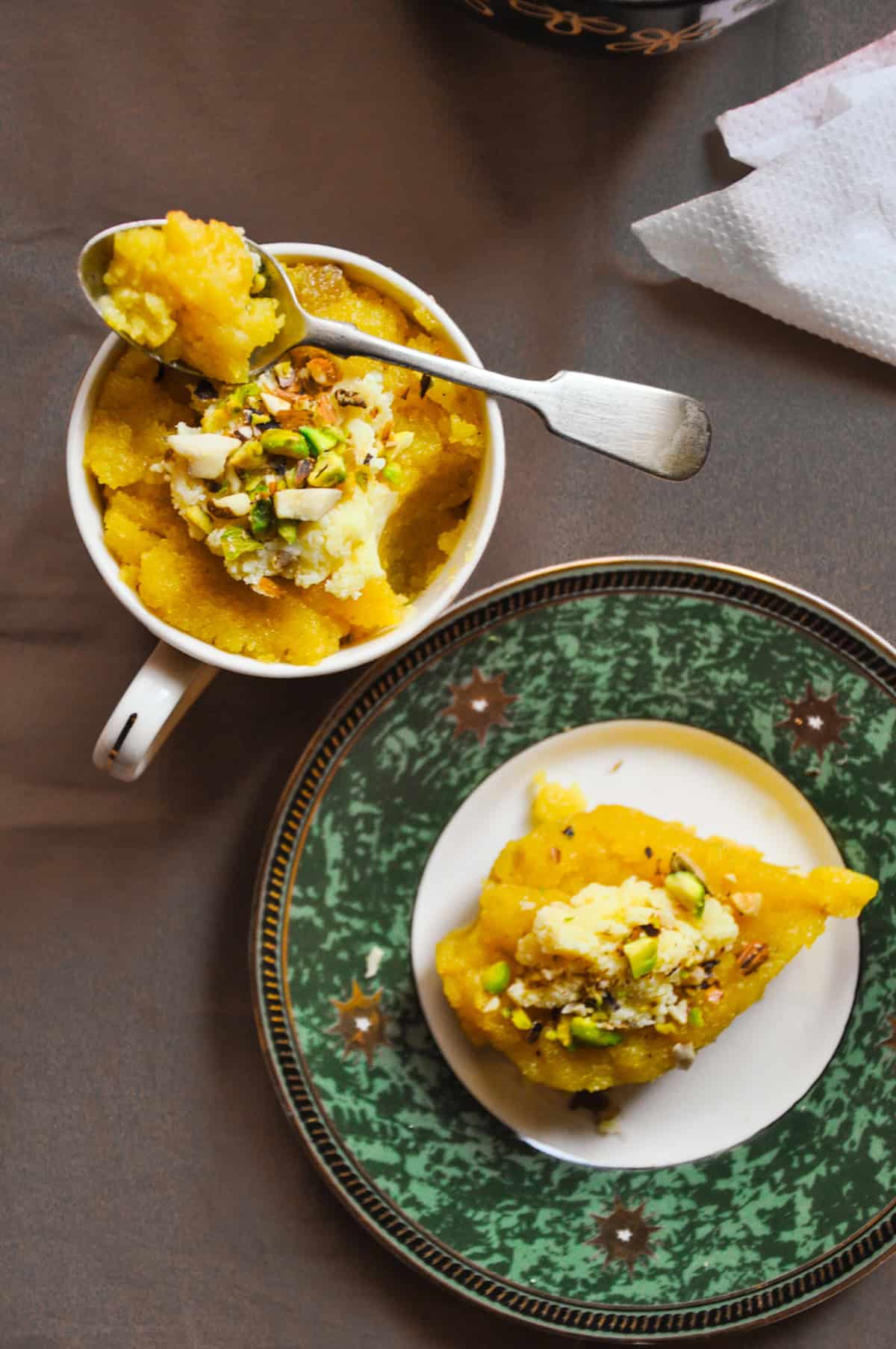 Sooji halwa/halva is a Pakistani and North Indian semolina pudding that is the go-to quick and easy dessert in most traditional homes. It is also called suji ka halwa.
Punjabi halwa poori is just to Pakistanis what donuts are to Americans; a yummy, happy start to the weekend. My kids just love it and having it on the weekend is a ritual for us. Like carrot halwa, sheer khurma, and shahi tukray; sooji halwa is widely eaten throughout South Asia.
Jump to:
Why this is the best recipe?
There are various ways to make halwa, but this is the most authentic method, that makes soft halwa just like dhabas. The trick to sooji ka halwa is to get fully semolina without lumping.
Many recipes are one-pot and call for adding sugar and water together directly over fried semolina. But that makes the halwa lumpy. While adding warm sheera, let the sooji puff up gently and give you that melt in the mouth texture.
Ingredients: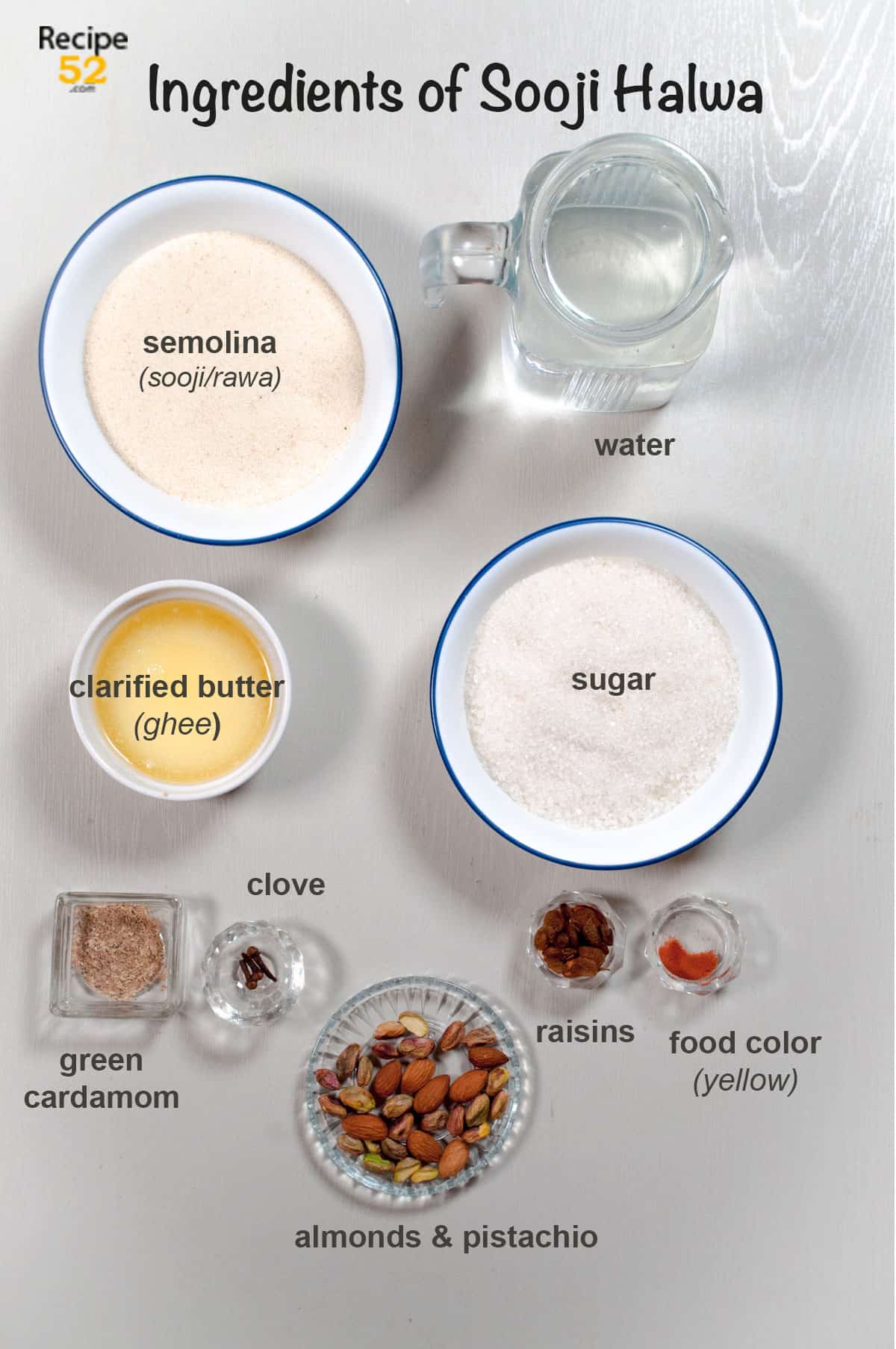 It's a day saver and can be made quickly for guests with simple ingredients that are always present in the Indian pantry. The three most important ingredients of sooji halwa are semolina, sugar, and ghee. Others are added delight.
Semolina: Semolina is a coarse flour made from durum wheat. Durum wheat is different from whole wheat or common wheat. More about semolina and its benefit at Healthline. Here are other names for semolina in different regions. Sooji (Pakistan/North India); Rava (South India); Farina (USA)
Ghee: is clarified butter used widely in South Asian cooking. Ghee can be substituted with unsalted butter.
Sugar
Cardamom: is an aromatic Indian spice. You can substitute cardamom with cloves or saffron.
Water
Rasin: It is optional, add only if you like raisins like my son.
Garnish: Any nuts of your choice usually almond and pistachios.
How to make it?
The suji ka halwa is super simple to make but a little variation can impact a huge difference in texture and taste.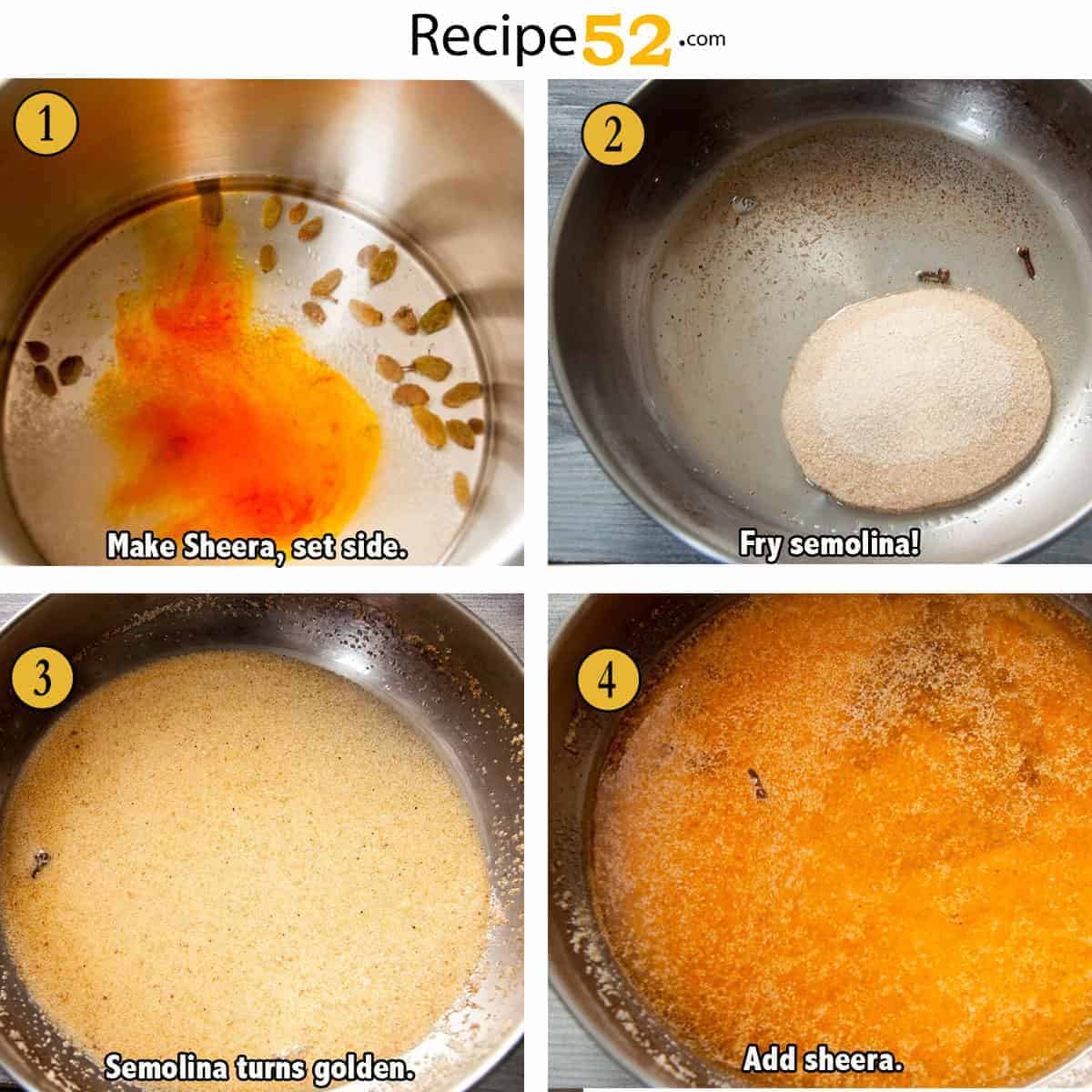 Making sheera or sugar syrup is simple. Put all ingredients in the pot and boil it. When sugar melts sheera is ready. You can skip raisins if you're not fond of them. Adding yellow or orange food color or not is a personal choice, traditionally it is added.
Take a wide and thick-based vessel. Heat ghee and add the cardamom and cloves. Let it crackle a bit then add the semolina. ( Cloves are optional here.) Cook for 1-2 minutes until golden.
Semolina is golden. This step is important as you need golden semolina without burning. So keep the heat low and be vigilant. Keep stirring as semolina close to the bottom will burn quickly. Stirring also helps even cooking.
At this stage add sheera, the sugar syrup. And let the halwa cook on low heat for 10 minutes until all water absorbs and you see oil separating on the side of the pan. Keep stirring to avoid lumping.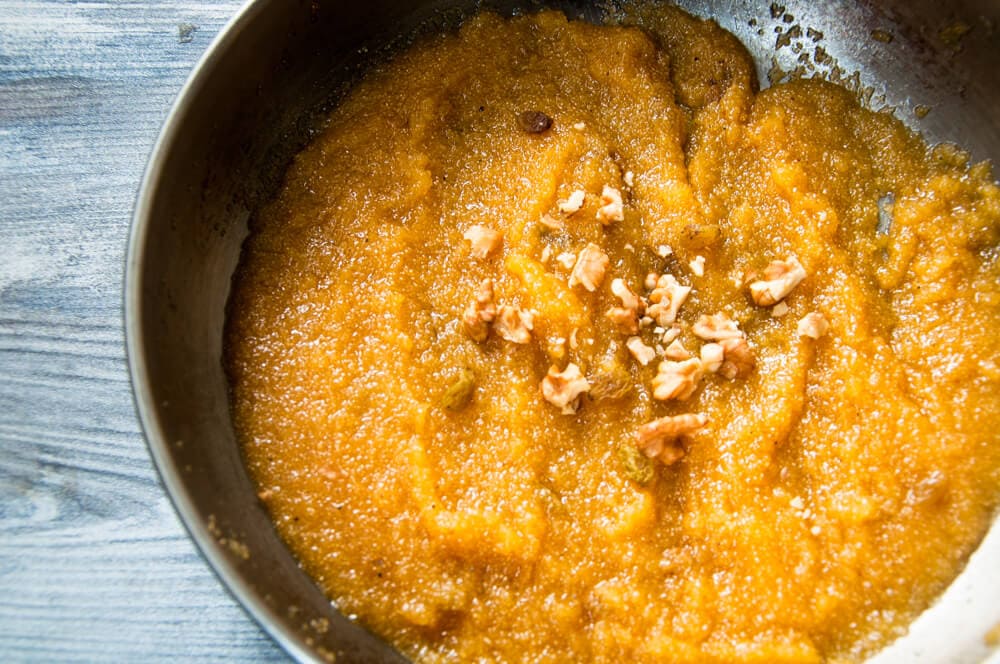 LOOK at the photo carefully! You need this texture. Halwa will get dry as it cools and semolina will absorb more water. Watch the video.
Protip: See the semolina or sooji granules. They are translucent! That's when you know semolina is puffed. Check the oil separating on the sides. That's when you know all water is absorbed in semolina and excess has dried. You need bhunnofying or searing at the end for 1-2 minutes for that crisp restaurant-style taste.
A succulent halwa is ready to enjoy. You can see the halwa is like a thick sauce at this stage. As it cools, sooji will absorb more water, and halwa will thicken. (If you like halwa don't forget to rate this recipe.)
(In another popular method of making sooji sugar, water, and food color are added directly at this stage without making sheera. I recommend you to make sheera separately as it gives a smoother texture without a lot of stirring. As a downside, you need to wash one extra pot but it is totally worth it.)
Tips
Sooji halwa can be finger-licking good if done properly or it can be one boring dish if you fail to get the right texture. So we should understand the taste and texture before diving into the recipe.
Halwa tastes best when served warm. Cold halwa is like putting cold butter slices on cold toast.
The best sooji ka halwa is soft, moist, not at all dry, and lumpy.
The key to the best Punjabi halwa is well-toasted semolina (also called farina in the USA.)
What makes suji halwa soft is fully puffed semolina grains. To attain that cook sooji on low heat. Add more water if water is dried and semolina is not fully puffed.
The moist factor in sooji ka halwa comes from the fat. The best fat to make suji is ghee or clarified butter which is the game-changer in this recipe. Another option is unsalted butter.
Finally, you can make it in oil too but it will be a big compromise on taste and aroma. It will feel oily.
Do not try to reduce fat in the recipe as sooji will get dry and lumpy without enough fat to hold and make it moist.
Halwa is a weight gain food, especially for babies and toddlers. It is indulgent and there is no point in making it low fat. Eat less but it should taste great.
You can make halwa up to a day ahead. Just reheat halwa before serving.
How to make sooji for babies?
I'm no expert in kid nutrition but I can provide basic guides while making sooji for babies. Always remember every child is different and has different digesting capabilities. Adjust his food as needed and introduce one thing at a time. Check more details about introducing sooji to babies here.
For 4-6 month babies, semolina is simply boiled in water. A little sugar or salt can be added to the flavor. As the baby grows and his tummy gets used to digesting it. You can add little milk and butter along with water after 8 months.
Add milk to sooji only when you've already started giving cows or other milk to your baby and he can digest it.
When your baby is 1-year plus or has started to eat from your table, you can make sooji like this. Sautee a few tablespoons of sooji in butter or ghee then add milk and sugar to the sooji.
Cook on very low heat for 10 minutes and add more milk if needed. Sooji should be fully puffed and soft. Cool sooji completely then feed the baby.
You can store this sooji halwa in the fridge. Ideally, reheat and cool to room temperature before feeding the baby again.
Never add food color or saffron to sooji if making for young children. You can add fruits and veggies to make suji ka halwa more nutritious for the child.
Again make sure you have already introduced the below food individually to the baby and you know he can digest it. Only then add it to sooji and make it more complex.
Other Variations:
When sooji is ready, you can add any of these foods to make halwa tastier and to add a twist. These additions are great for babies and toddlers.
banana
mango
pineapple
marmalade of your favorite fruit, reduce sugar in halwa to adjust the sugar in marmalade.
orange zest (not recommended for babies)
desiccated coconut
sweet potato (less sugar will be added)
mashed potato
Except for mango and marmalade, I have personally tried all variations, they all add more softness and add to the nutritional value of halwa along with flavors.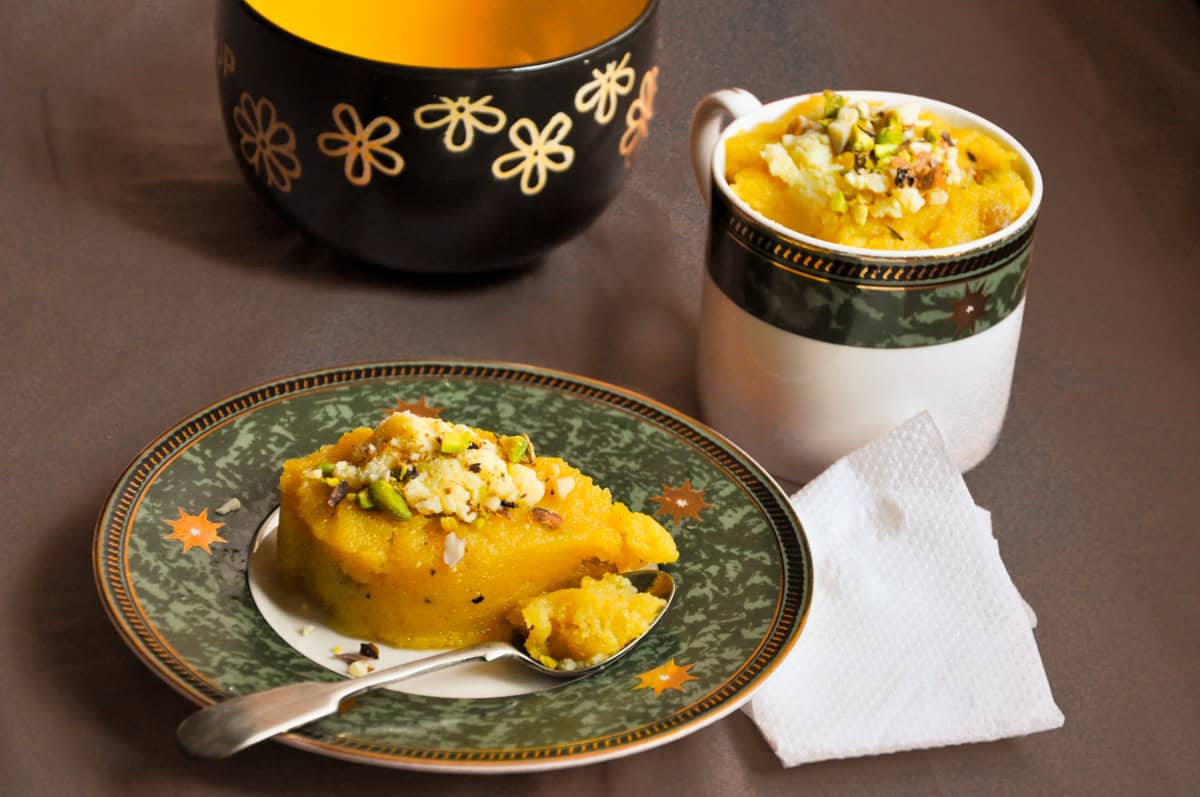 I added some mava or khoya in the garnish. You can add it on top towards the end of cooking without mixing and cover the pot so khoya is heated in steam. Another rich indulgence for a gourmet-style suji ka halwa.
Store Leftover Sooji halwa
You can refrigerate sooji halwa for a week or freeze sooji for 2 months and enjoy it later. That is the best way. You can make ladoos or use them as filling in paratha too if you have only a small bowl of leftovers not worth freezing.
Recipe FAQs
What is sooji in English?
In English sooji is called semolina. Semolina is an Italian word. Semolina is also called Farina in the USA.
Can sooji halwa be frozen?
Yes! Sooji is freezer friendly and leftover sooji can be frozen for 2 months or more without any change in taste or texture.
What to do if my halwa is hard?
Halwa can get hard after cooling if enough fat or water is not added. Re-heat and if you see no oil around the edges add more fat. If there is enough fat but semolina is not fulling puffed water a little at a time. Cook on low heat with constant stirring until you get desired texture.
How to reheat sooji halwa?
The sugar is halwa would burn quickly. The bottom would burn and the top will be be still cold. To overcome this alway heat halwa in a thick-bottomed pot or fry pan. Heat on low and stir frequently turning sooji up and down to heat evenly.
Looking for easy Indian desserts? Check these.
If you try this Pakistani sooji halwa recipe, I'd LOVE to hear your feedback in the comments. Your 5-ratings motivate me to do my best. Stay connected for more recipes and videos on Facebook, Instagram, Pinterest, and Youtube.
📖 Recipe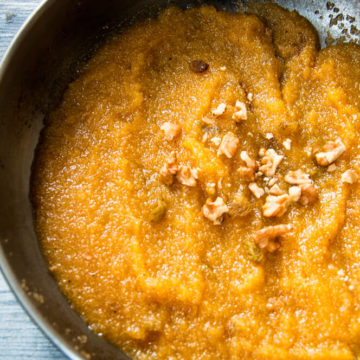 Pakistani Sooji Halwa Recipe
A super moist, traditionally and authentic sooji halwa that will steal your heart.
Print
Pin
Rate
Ingredients
For Sheera (sugar syrup)
1½

cup

sugar

,

or more to taste

3

tablespoon

raisins

,

optional

3

cups

water

A pinch of yellow food color
For Semolina
¾

cup

clarified butter

,

(ghee), substitue with unsalted butter or oil

3

cloves

,

(laung)

½

teaspoon

cardamom powder

1

cup

fine semolina

,

sooji
Garnish
3-4

tablespoon

pistachio and almonds

,

chopped
Instructions
Make Sheera
Boil water, sugar, food color and raisins in a vessel. When sugar dissolves completely. remove from heat and set aside.
Fry semolina
In another pot, heat clarified butter and fry cardamom powder and cloves. Now, add semolina and toast for 5 minutes. Fry until the semolina is fragrant and its color changes to a light golden. Semolina burns quickly so stir constantly.

Now, add the sheera water gradually in semolina pot. Cook for 10 minutes on very low heat so semolina puffs completely. Keep stirring and cook until oil separates from sides. (Sooji halwa should be runny and not lumpy. It will absorb more water upon cooling and thicken.)

Garnish with pistachio and almonds.
Notes
Halwa tastes best when served warm. 
The key to the best Punjabi halwa is well-toasted semolina.
Use ghee for best taste.
Yellow color in sooji is optional.
You can substitute cardamom with cloves or saffron.
You can refrigerate sooji halwa for a week or freeze sooji for 2 months and enjoy it later. 
Re-heat halwa in a thick-bottomed pot or fry pan. Heat on low and stir frequently turning sooji up and down to heat evenly.
Nutrition Information
Serving:
0.33
(⅓)cup
,
Calories:
268
kcal
,
Carbohydrates:
39
g
,
Protein:
2
g
,
Fat:
12
g
,
Saturated Fat:
7
g
,
Polyunsaturated Fat:
1
g
,
Monounsaturated Fat:
4
g
,
Cholesterol:
29
mg
,
Sodium:
5
mg
,
Potassium:
78
mg
,
Fiber:
1
g
,
Sugar:
25
g
,
Vitamin A:
8
IU
,
Vitamin C:
1
mg
,
Calcium:
8
mg
,
Iron:
1
mg