Here I share a collection of refreshing Ramadan iftar drinks for summer. In Ramadan when the sun seems to stay in the middle of the sky forever and scorching every bit of water in you.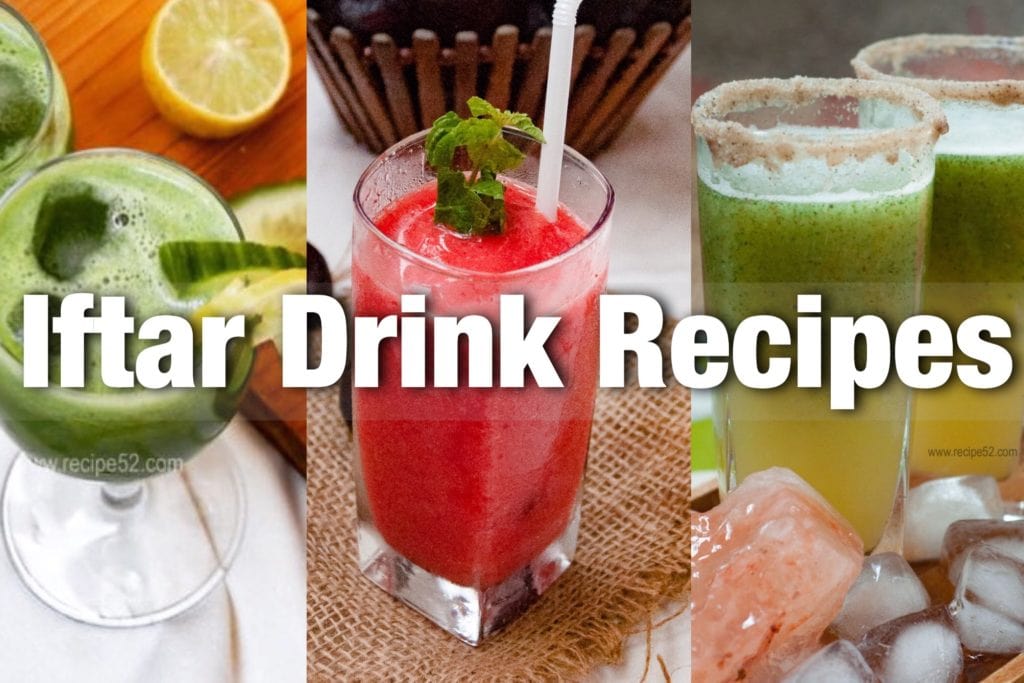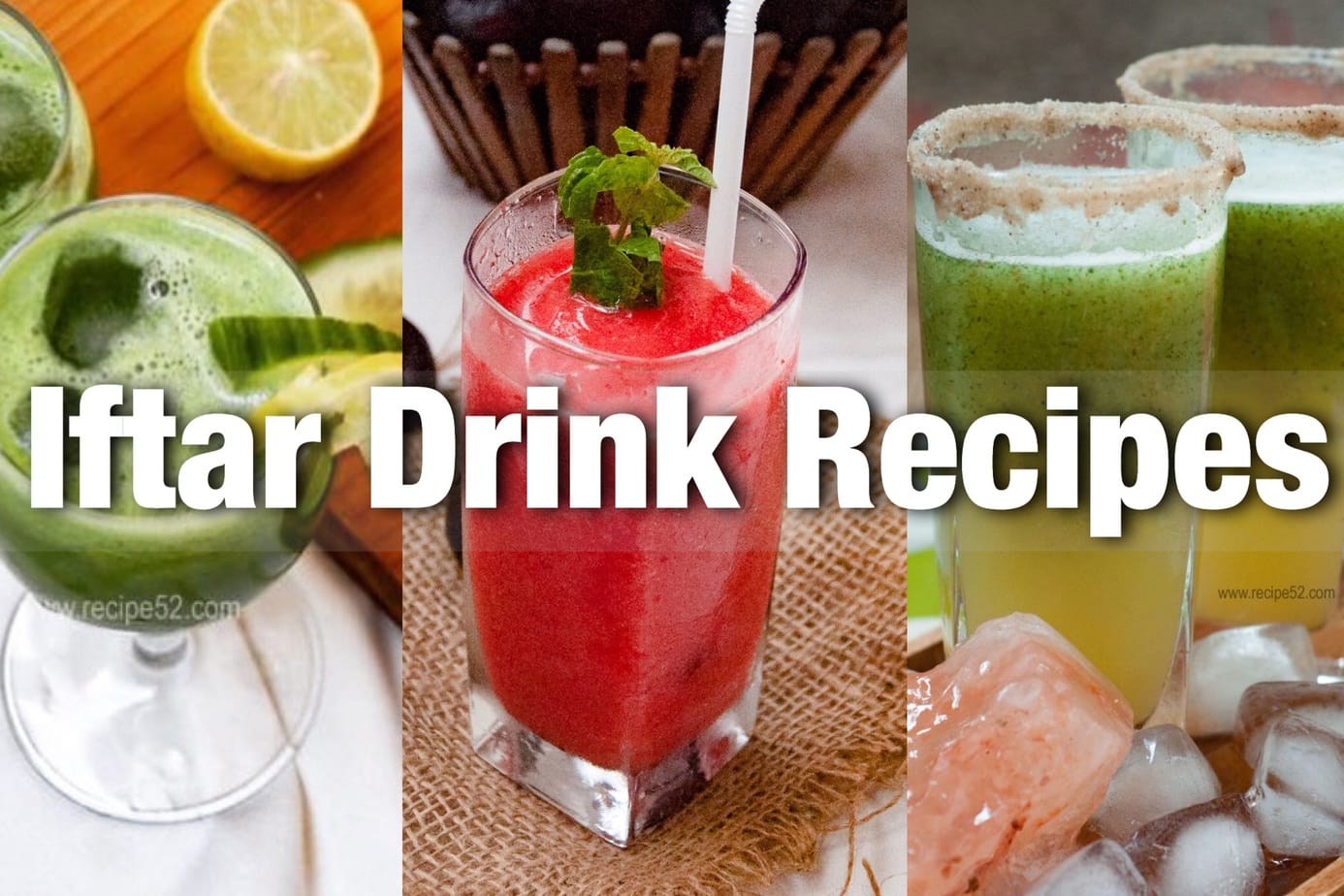 These drinks work like rehydrating armor against the heat. Not only they keep cool and hydrated but replenish the nutrients lost in sweat and keep you energized and focused.
Any Ramadan Iftar cannot be complete without refreshing drinks. These summer drinks use natural fruits, which makes them a far healthier choice than commercial drinks laden with chemicals and preservatives.
While I'll still suggest drinking plain water with fresh fruits for the healthiest summer drink. I understand sometimes, you really wish to add drinks to your table.
These Iftar drinks are made with fresh juices which make them a better option than soft drinks. However, I recommend jaggery lemonade or plain jaggery water in Ramadan over any drink as it cools and refreshes you.
Ramadan Iftar Drinks Recipe
Peaches are love and having a fresh peach juice drink can feel like a romantic date in summers. When the sun is blazing hot and you just don't want to eat a thing, this sweet and tangy Ramadan Iftar drink is all you want to think.
The sweet thick juice of peach is rich in iron, folate, vitamins K and many other nutrient. This drink is lightened with lemon and water. This is blender recipe which means you retain all the fruit fibres.
Watermelon juice makes a very refreshing summer drink to quench your thirst in hot summer evening or after a workout or after Iftar.
I'm adding this to the top of the list of Ramadan iftar drinks as jaggery has many benefits and cools the heat of the gut. It is a natural sweetener with tons of nutrients. Try to get good quality jaggery. Jaggery cleanses your body and this drink is super easy to make.
Mint lemonade is a very refreshing drink, it is a great source of vitamin C and helps regulating blood pressure and keeps you cool. Since this drink contains a lot of sugar and the tartness of lemon can cause also cause soar throat to some, I suggest drinking this occasionally.
Strawberries are rich in antioxidants. This Ramadan drink is very tempting and yummy. It is a freezer-friendly drink. You can make strawberry syrup and freeze in advance. This drink will definitively be added to your summer drinks. Fresh or frozen strawberries both work fine for this drink.
Fasla or Phalsa is a berry that grows in warm places. Fasla is another refreshing drink which is famous for its cooling effect. Although I've shared the easiest method to give you the finest Sharbat, this Sharbat takes some time to make.
Plus it is a seasonal fruit and available only in few regions of the world. The tangy, tasty flavors and sweet aroma of this fruit are worth the efforts to make this delicious drink.
This is an easy Iftar drink and you also make plum syrup and freeze it in advance. With the syrup, you make plum slushy or Plum margarita or plum lemonade. This drink is super refreshing and party pleaser.
Raw and green mangoes are called Keri in Urdu. It is another fruit of summer and is rich in nutrients. It's is also recommend to cool body heat and provide energy. It is another great choice for summer drink. Some people also add bottle gourd in this drink which is again cooling and refreshing.
This recipe is for kids who do not like dates. The shake with biscuit is tempting for kids and is very healthy. It also helps gain weight. Date and milk provide instant energy to kids after fasting. I used caramel biscuit in the shake but Lotus Biscoff will taste great too.
This post has many suggestions for a different combo of ice-cream flavors and drink. This is very easy to make as you just mix up the ice cream with a soft drink to make it. This drink is a good option for serving in summer dinner and I don't recommend this for daily intake as it has a soft drink loaded with calories.
Hareera, nut and saffron milk
If you prefer having a rich drink and some dates at iftar, skip other heavy snacks. This drink is nutritious, and keeps you full till the dinner. A great choice for iftar drinks. The nuts in the drink are instant source of energy.
We all grew hearing cool as a cucumber. So which drink could be as cooling as a cucumber lemonade? This is a budget friendly, easy to make, and cooking drink, especially for fitness lovers. In this drink, you can skip the sugars altogether and add a little honey for a sweet kick.
This is more of an after-dinner drink that would help digest those fried snacks that aren't healthy but are often served in buffets and dinners. Keep this drink at your disposal to help digestion in Ramadan after a heavy iftar meal.
Can there be a collection of iftar drinks without the king of fruits on the list? This is my go-to Ramadan drink for a sahoor smoothie, evening snack and, even a midnight snack. Mango is generally acidic and not really cooling but when you pair it with milk and ice. It makes a super refreshing and nutritionally filling drink. YUM!
Kiwi is another refreshing drink that helps digestion and even prevents sickness by boosting immunity. The sweet aroma combined with tangy taste of this fruit is a treat to the soul.
Body absorbs more nutrients on empty stomach. If you do not indulge if heavy snack or tea immediately after iftar. This drink can be your best bet. It is refreshingly light with very little to no sugar. But make sure to have this immediately after iftar and wait for 20 minutes before eating any other food. This allow the body to absorb maximum nutrients from this juice.
This drink is more of a Ramadan drink than iftar. Because beets can be little on empty stomach so avoid this drink right after iftar. But rest assure there is less beet used in this recipe so can enjoy it in sahoor or at other times to keep you hydrated and energized.
Let's beat the heat with this imli (tamarind) and aloo bukharay (prunes) drink. Imli Aloo Bukharay Ka Sharbat is a famous Pakistani drink widely sold on the street during the blazing summer season. It is a very refreshing Ramadan drink.
If you recipe, I'd LOVE to hear your feedback in the comments. Your 5-ratings motivate me to do my best. Stay connected for more recipes and videos on Facebook, Instagram, Pinterest, and Youtube.
Handpicked posts for you: