Tamarind Date Chutney's recipe is simply a variation of tamarind chutney. I'm not exaggerating that this is the best version of tamarind chutney because it gives you that thick texture you need to coat the snack.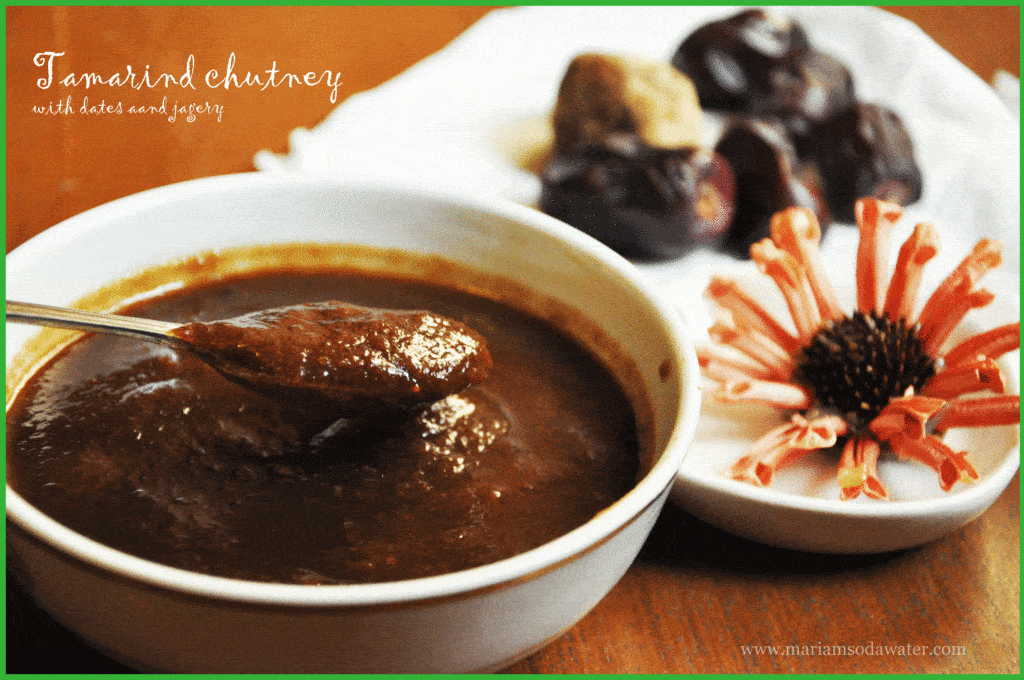 This version has a depth of taste with jaggery and dates. All flavors are well-wedded and so balanced. I've been making this chutney for decades and trust me, its tastes far better than regular tamarind chutney.
This tangy Tamarind chutney has dates and jaggery as a natural sweeteners. Plus dates also give a thicker texture to the chutney. Cumin powder in chutney gives an extra punch.
Jump to:
Ingredients
Tamarind is also called imli in Hindi / Urdu. You can easily find tamarind in any Indian store. Tamarind is available as a thick paste that can be with or without seeds. You can know more about tamarind here.
A date is also called khajur. So this chutney is also called khajur imli chutney or just khajur chutney or date chutney. You can use any soft date variety for this recipe.
Lastly, I'm using jaggery in the recipe which is also called gor, gur or gol. It is also available in the Indian store. However, you can substitute jaggery for sugar or light molasses, or brown sugar.
How to make it?
In a pot take Tamarind (imli) and water.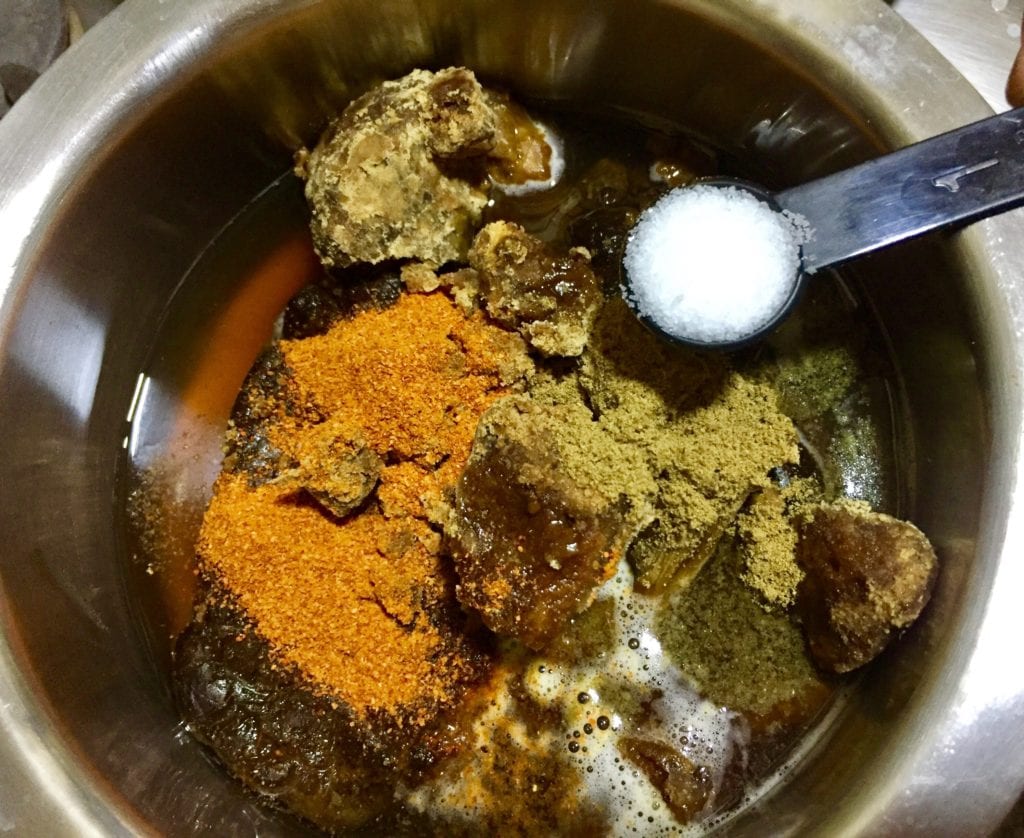 Add jaggery (gur) and sugar, spices; like red chili powder, cumin powder, and salt.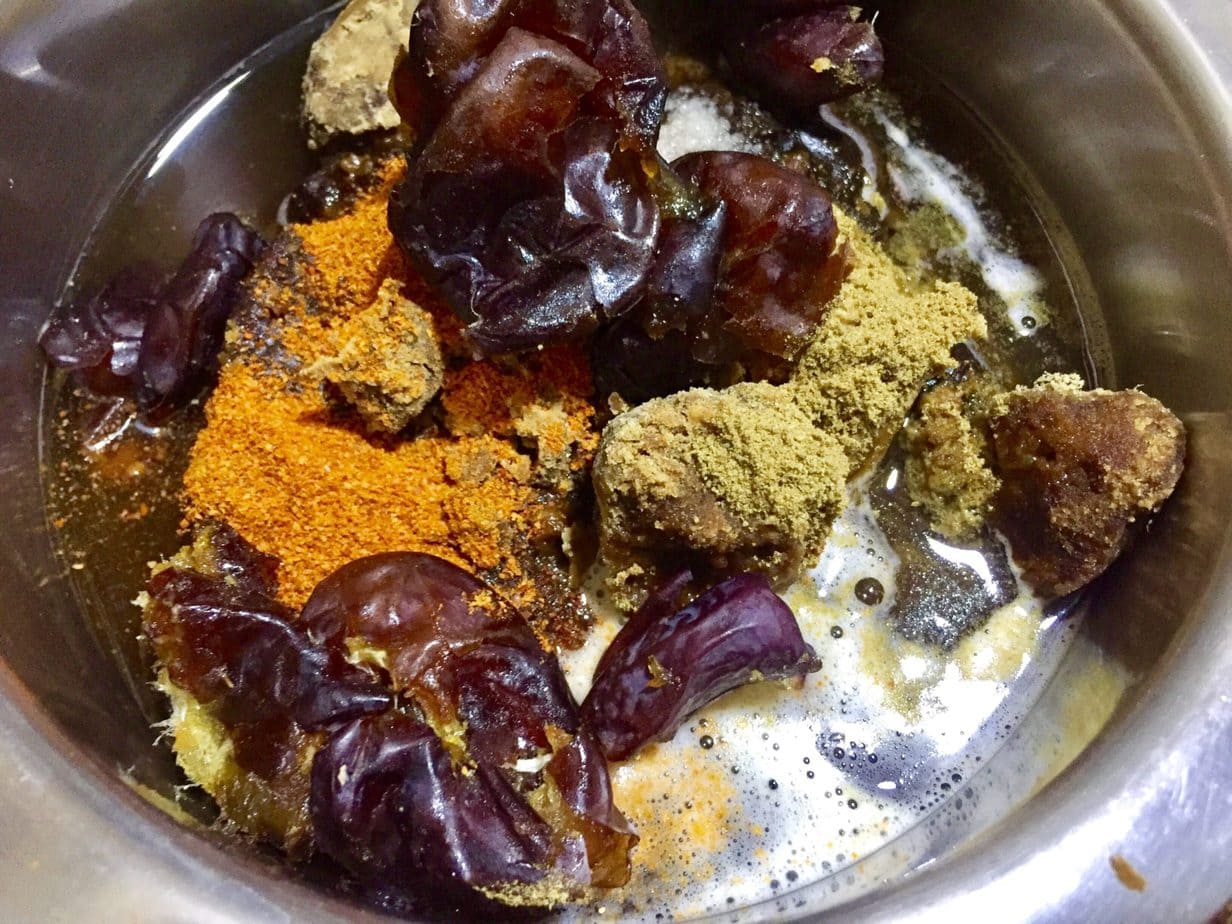 Also, add dates to the pot and start cooking on medium heat.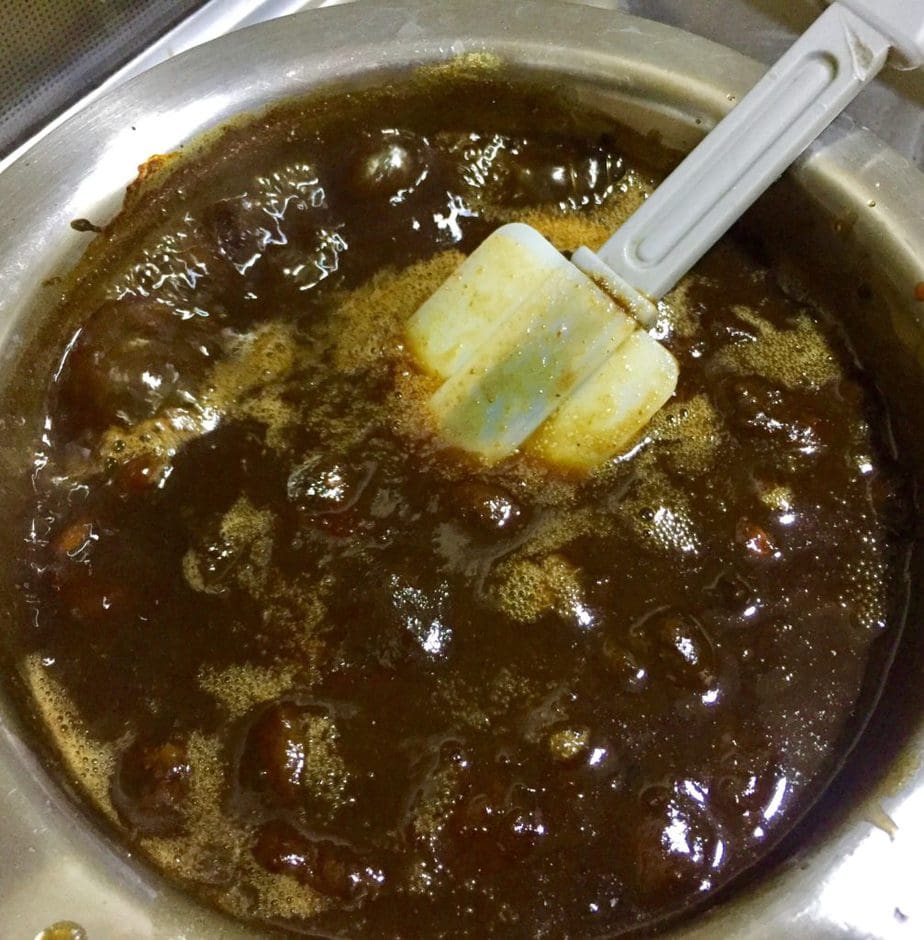 As water boil tamarind gets soft and jaggery and sugar melt. Break the lumps of tamarind and mix well. Cook well till dates, jaggery, tamarind all melts and forms a syrup. Add more water if required. (around 10 minutes of total cooking.) Adjust the taste and thickness of chutney at this stage.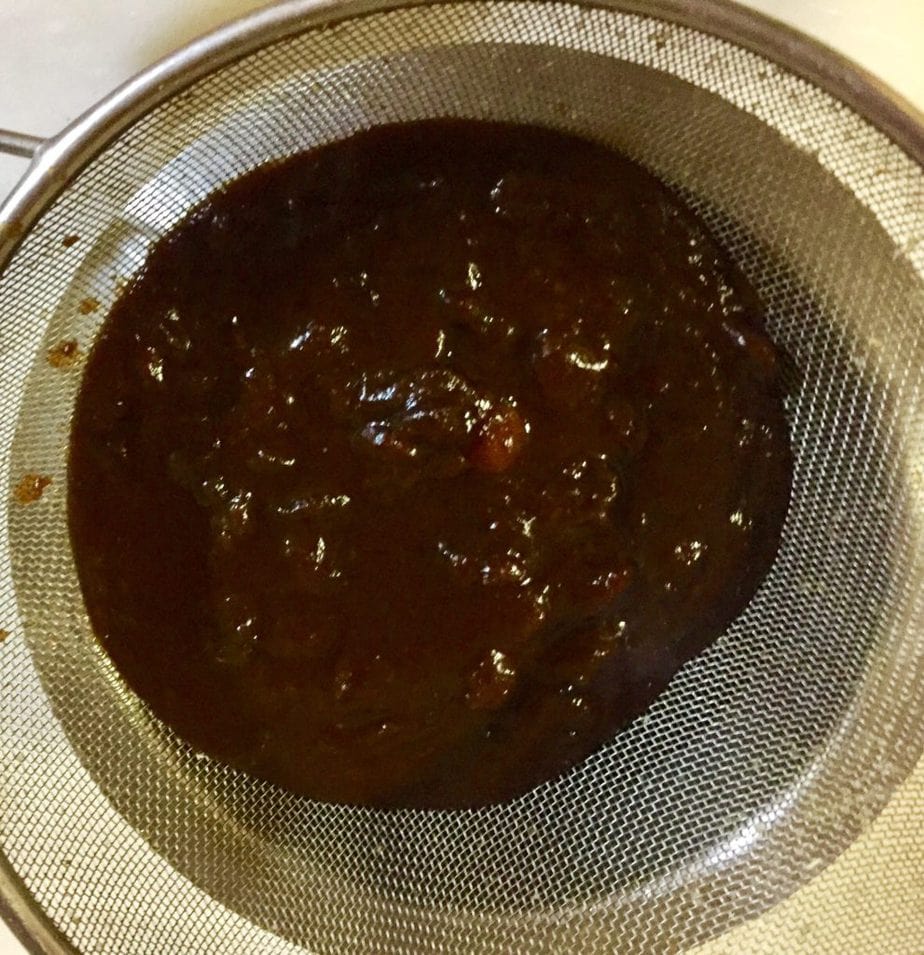 Put a coarse strainer on a large pot. Strain the mixture to remove tamarind seeds. Spread the mixture all over the walls of the strainer and wipe the thick liquid from the bottom. You may do this in batches if you have a small sieve or a large batch of tamarind chutney.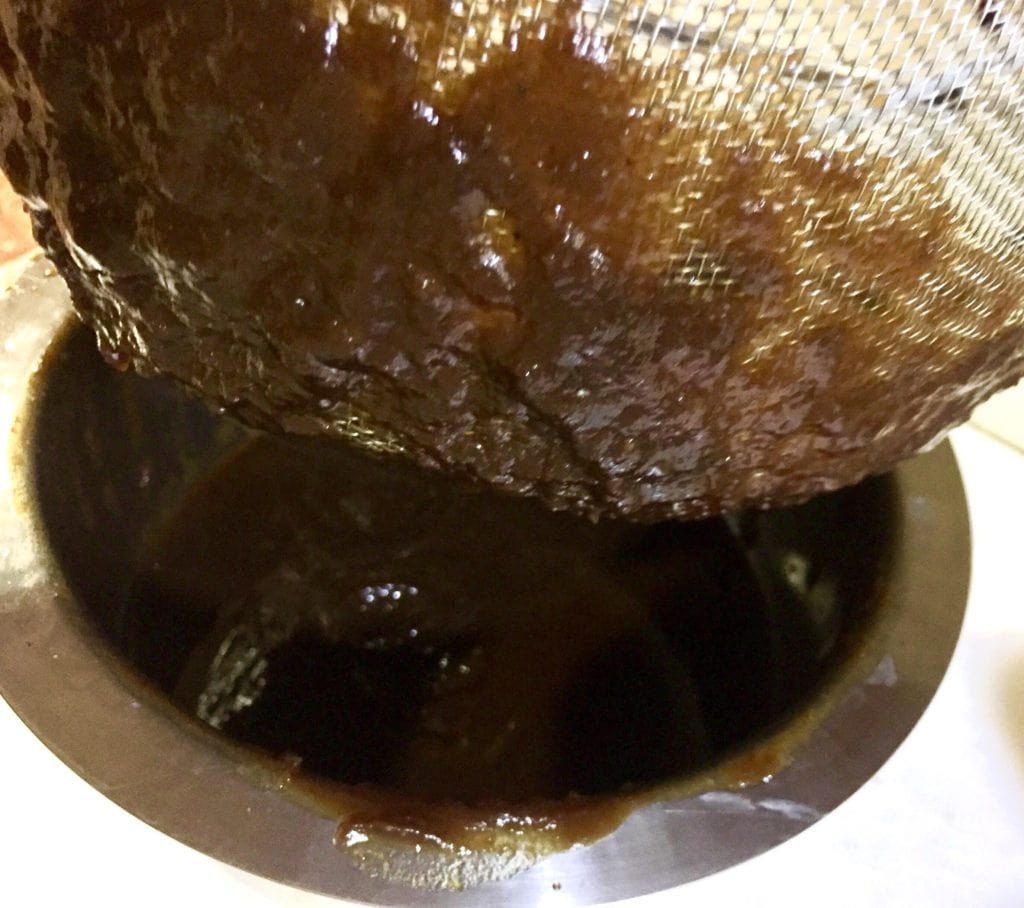 Optional Step: To extract most of the flavour from seeds, in a bowl mix about a ½-¾ cup of water and strained seeds and mix well. Then repeat the straining process once more.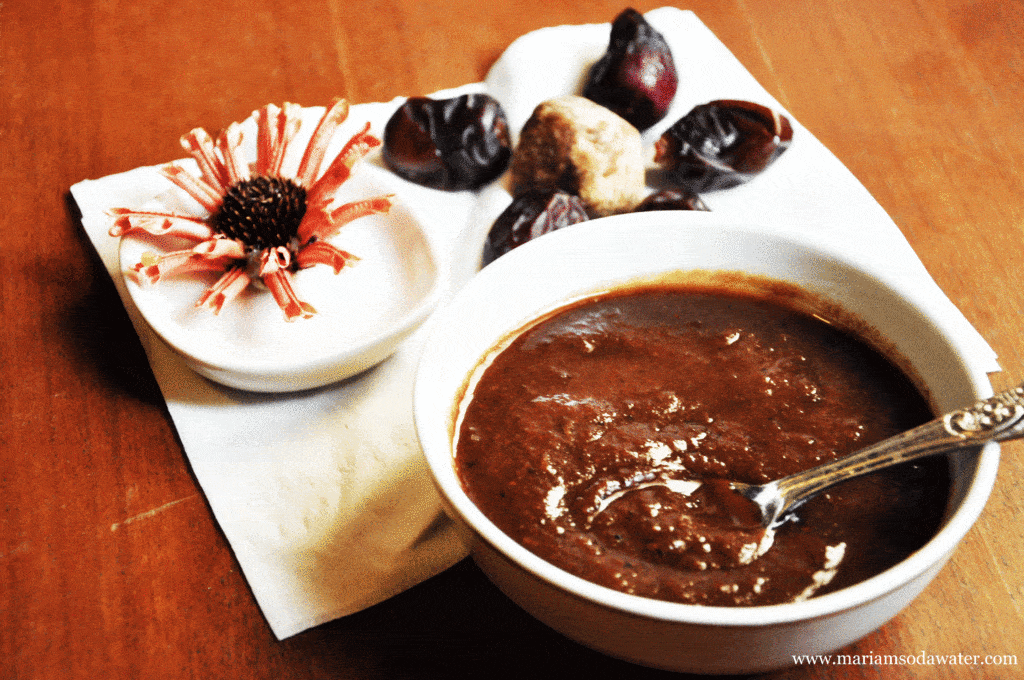 How to use it?
This simple Imli chutney is super handy as it stays good for long in the fridge. It hardly needs any effort to make and goes well with Samosa, Pakora, mixed Chat, Cholay, stuffed paratha, chatni roll, bun kabab, tikka, grilled fish, dahi bara and almost with any desi snack. I highly recommend making a batch of this chutney before the festive seasons like Ramadan and Eid. Check my Iftar Recipes here.
Tips
Straining is not required if using seedless tamarind. Just use 1.5 cup of seedless tamarind instead of 3 cups.
Always store imli chutney in a clean jar in the fridge.
It stays good in the fridge for up to 15 days or more because the acids and sugars in chutney both act as natural preservatives.
You can store excess chutney in the freezer, stays good for more than four months.
Substitute jaggery with sugar, if needed.
Use a clean spoon every time to serve.
Discard, if you see fungus on the top layer of chutney or it smells bad.
I make a large batch of this chutney and freeze it in small bottles. So one small jar stays in the fridge while others are frozen. You can use freezer bags too. This chutney gets thawed really fast due to the extra sugar in it.
Smooth and tasty imli chutney/ tamarind and date chutney is ready.
Want more chutney? Check these.
If you try this recipe, I'd LOVE to hear your feedback in the comments. Your 5-ratings motivate me to do my best. Stay connected for more recipes and videos on Facebook, Instagram, Pinterest, and Youtube.
📖 Recipe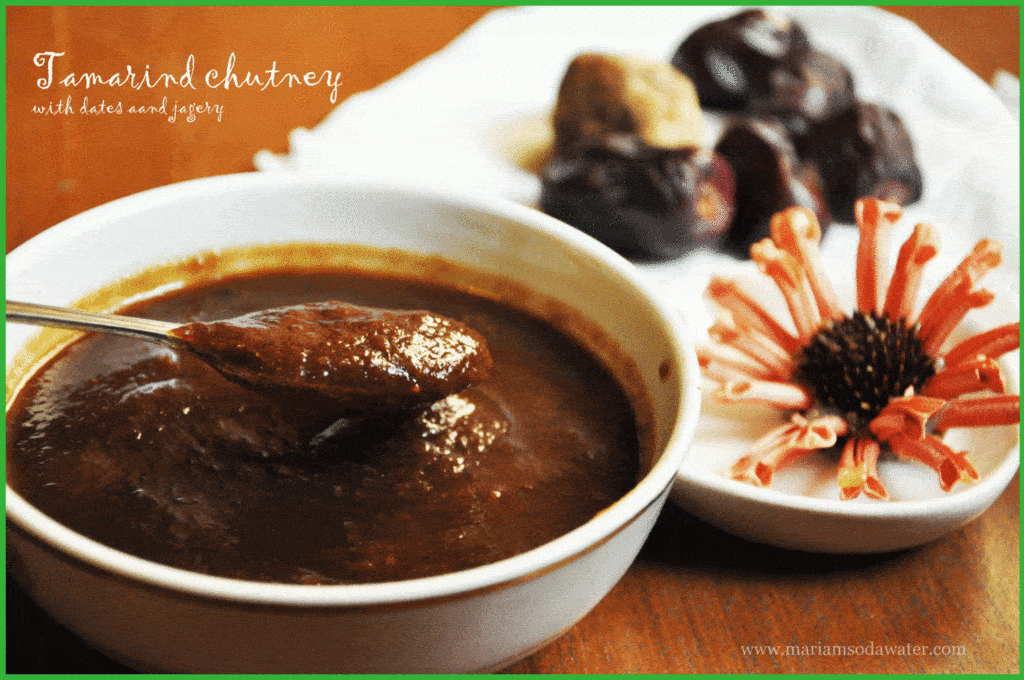 Tamarind Dates Chutney
This chutney and sweet and sour taste and tastes great with all fried snacks.
Print
Pin
Rate
Servings :
4
cups (about 40 servings)
Ingredients
3

cups

tamarind

,

(imli)

1

cup

jaggery

,

(gur)

1

cup

dates without seed, packed

,

(khajoor)

1 to 2

teaspoon

red chili powder

,

, to taste

2

teaspoon

cumin powder

½

teaspoon

salt

,

or to taste

3

tablespoon

sugar

4

cups

water
Instructions
Mix all ingredients in a pot, cook for 10 minutes until dates and jaggery melt.

Adjust water if necessary and bring everything to boil. Remove from heat.

When chutney cools strain through coarse strainer and transfer to a clean container.

Store in fridge and use as required.
Notes
Read tips above the recipe card for storage and other tips.
Nutrition Information