Step by step Til Chikki Recipe with photos of each step. Till chikki are yummy sweet treats that can be enjoyed guilt-free. They are great as energy bars, healthy candies, and as snacks for kids too. The crunch and taste of roasted sesame with a punch of jaggery sweetness will absolutely win your heart.
Store-bought chikkis are made with sugar. In comparison, homemade chikki are made with quality sesame and quality jaggery. Homemade is also less sweet and so they are so also low calorie. I also make peanut brittle, in that post I discussed the benefits of jaggery too.
Note for beginners about til chikki recipe
Making brittle/Chikki is satisfying fun, really, if you are new to brittle/chikki making start with til chikki/sesame brittle that's a lot easier and less hassle, ever healthier than other nut chikki.
The most important thing about chikki making is that it should be brittle, which is attained by heating jaggery to a level that it starts caramelizing. So if you don't heat the jaggery / gur to that point, your chikki will be soft and crumbly.
For that, we test the jaggery in water. So do not skip the test and hopefully, your brittle / chikki will turn out good the first time. If not, try it two to three times and you'll get the hang of it. Also even crumbly brittle is so tasty, it won't go wasted.
The Sesame brittle can stick to the base tightly and won't come out without breaking. Heavy greasing makes sure they don't stick and also gives a nice glaze to brittle /chikki.
Sesame brittle can be stored in an airtight jar on the counter for up to a month or more.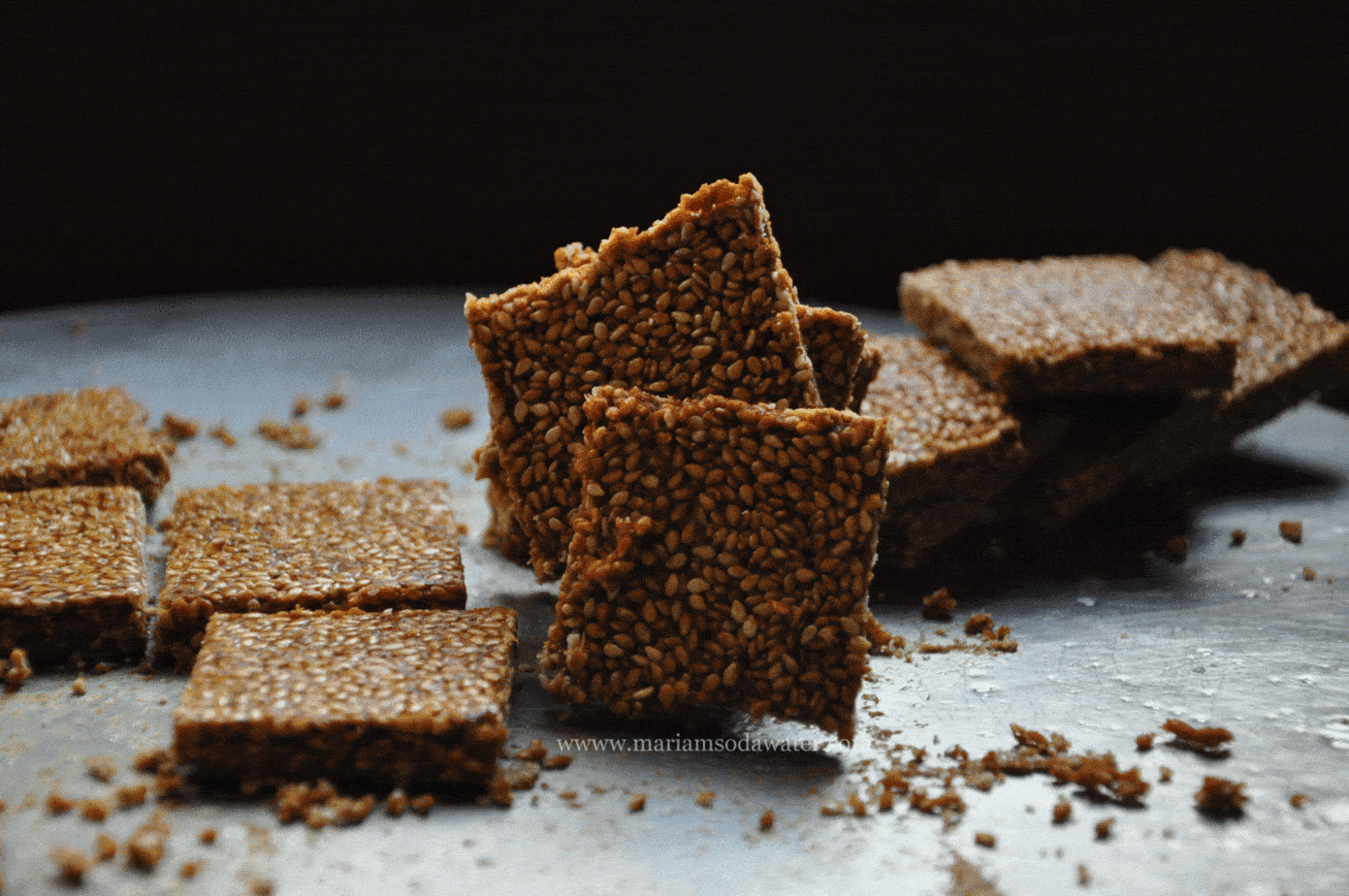 Benefits of Sesame Seeds
Here are few benefit of sesame seed to encourage you in making these very easy and simple delights at home.
Prevents cancer
Prevents diabetes
Helps frequent urination when eaten with jaggery.
Helps digestion and prevents constipation
Help reduce cardiovascular disease and hypertension
Anti ageing, great for muscle, skin and hair
Helps oral health
Although, consumption in moderation is necessary. In winter, when fresh jaggery is available, I make these along with other winter recipes on my to do bucket list.
How to make it?
Before you begin making chikki, you need to do few preps. Keep a bowl filled with water ready for testing jaggery. Literally, smear a thick layer of oil on the back of a thali (or any flat surface) so hot chikki does not stick to it. Grease rolling pin thali and spatula heavily with oil.
In a pan dry roast sesame seeds for 3-4 minutes until golden on medium heat. Sesame seed burns quickly so stir constantly. Sesame seeds are ready. Remove from pan and set aside to cool
In a wok, heat jaggery on low heat. Wait until jaggery starts to melt. Stir constantly.
When jaggery has melted add oil or ghee along the sides of wok.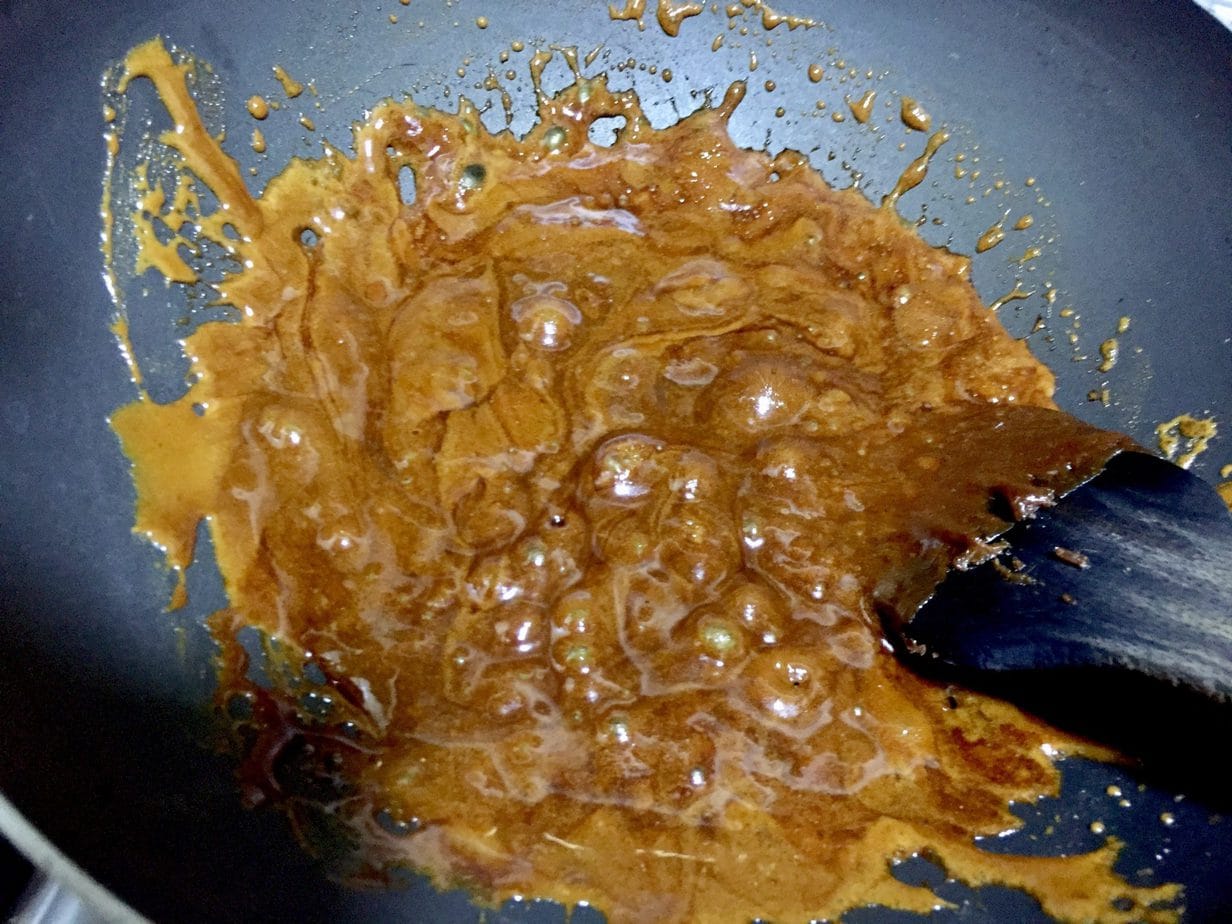 When jaggery is fully melted increase heat so jaggery starts to caramelize. Jaggery will melt to a running consistency. Stir constantly so jaggery caramelizes uniformly.
Turn off heat and test jaggery in a bowl of water. Drop a lump of jaggery in water with the spatula. Check if the lump turns hard (sweet-like) immediately. Jaggery is ready, add roasted sesame seeds. If the jaggery lump stays soft and chewy like toffee, cook jaggery for 2 more minutes turn off flame and check again.
When jaggery is ready, add roasted sesame quickly as the jaggery will get hard quickly.
Transfer this mixture to thali immediately. With a greased rolling pin roll into a flat sheet about ⅛ inch. Apply oil on top of chikki for the glaze. (optional). Immediately cut the sesame brittle with a sharp and heavy knife into 1 x 1 square inch size. Try to separate the pieces apart.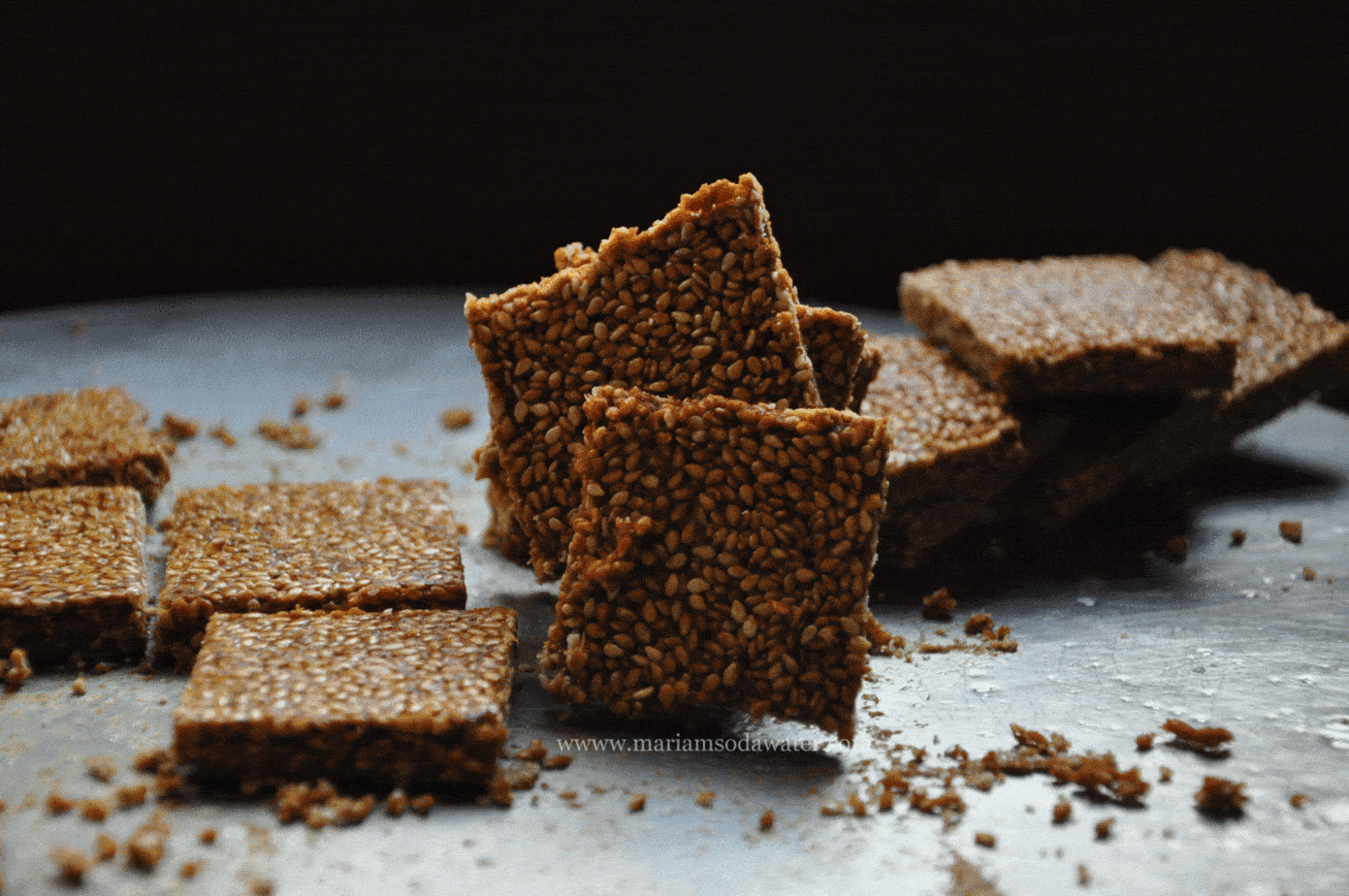 Til Chikki
Quick and easy to make delicious snack.!
Print
Pin
Rate
Equipment
wok

spatula

any flat surface (I used back of big thali or pizza pan will also do.)

Rolling Pin
Ingredients
1

cup

sesame seed

,

til

¾

cup

jaggery

,

gur

2

tbs

ghee or oil

3

tbs

oil

,

for greasing
Instructions
Grease heavily the back of a big heavy bottomed pizza pan or thali and rolling pin, with two tbs spoon oil. (See notes)

Dry roast sesame seed in a heavy-bottomed pan on medium-low flame for 3-4 minutes with constant stirring until light toasted. Remove toasted seeds to o a plate and set aside.

Keep a bowl with water ready for testing jaggery caremelization.

Put grated jaggery in a heavy-bottomed wok. Melt jaggery on medium flame, while stirring constantly. When jaggery is melted, drizzle oil along the side of the wok. Keep stirring.

Now increase the heat to medium-high so jaggery starts bubbling and caramelizing, stir well so jaggery is uniformly caramelized.

Test jaggery in water by dropping a small drop and then press it. If the drop form a soft lump, cook more. If it turns hard immediately then your jaggery is ready.

Mix in roasted sesame seeds and quickly pour all mixture on greased thali. With greased rolling pin make ⅛ inch flat sheet.

Apply a thin layer of oil on top of the brittle for the glazed look. 

Make cutting marks while the brittle is still hot. Let the brittle cool completing before removing from thali.

Store in airtight container at room temperature.
Nutrition Information
Serving:
1
chikki
,
Calories:
118
kcal
,
Carbohydrates:
10
g
,
Protein:
1
g
,
Fat:
8
g
,
Saturated Fat:
2
g
,
Trans Fat:
1
g
,
Cholesterol:
4
mg
,
Sodium:
1
mg
,
Potassium:
39
mg
,
Fiber:
1
g
,
Sugar:
8
g
,
Vitamin A:
1
IU
,
Calcium:
84
mg
,
Iron:
1
mg