Step by step turmeric latte recipe with photos.
Turmeric latte is delicious version of haldi wala dood. It has golden-yellow color so it is often referred as 'Golden milk' too. Enjoy it with a good book on cold winter day and boost your immunity.
Haldi is used since ancient times in many South Indian and Indonesian cuisines. Turmeric is a root like just ginger which has intense yellow color. It was used to enhance beauty, medicine and spice long before any researches. Simple way of taking turmeric is mixing 1/4 or 1/8 teaspoon in hot milk. That's turmeric milk.
Now this latte is more delicious form and more researched based version. You can use fresh or powder for making it. Fresh turmeric is best and you can check how to use fresh turmeric here. Researches show that use of little black  pepper and any fat increases absorption of turmeric in body. A little cinnamon adds to the taste. I also added turmeric's cousin ginger powder to beat the cold. You can use almond or coconut milk or  dairy milk for your latte. You can also make turmeric tea without milk.
The concoction is made frothy by blending. Your utensil will be stained by this latte but stain will fade away in some time. My kids surely like it as I give it to them as cough and cold remedy to boost immune system.
Notes: If your kids are used to eating turmeric as spice than it's good for them, otherwise seek medical advice before giving it to kids. Turmeric is not suitable for children under 1 year. Turmeric is not suitable for people who are already taking blood thinning medicine and in hot weather.
Benefit of turmeric
Most of the benefit of turmeric are based on its anti-microbial, anti-inflammatory, antioxidant and antispasmodic properties. It's active ingredient is curcumin. It also has tryotophan and phytoestrogen. It
helps respiratory illness like asthma and bronchitis
Cancer (fresh turmeric)
helps cough and cold
Relieves arthritis
reduces aches and pains
natural blood thinner and purifier
promoted digestion
detoxifies liver
improves reproductive health
helps weight
clear complexion
helps insomnia, eczema and Alzheimer disease
How to make turmeric latte.
Turmeric latte | Golden Milk
Enjoy it with a good book on cold winter day and boost your immunity.

Click stars to rate this recipe!
Print
Pin
Ingredients
2

cups

milk

¾

teaspoon

turmeric powder or 1 tablespoon fresh turmeric.

,

grated or paste

¼

teaspoon

ginger powder or 1 teaspoon grated fresh ginger or paste

¼

teaspoon

cinnamon powder or 1 inch stick cinnamon

a

pinch

of black pepper

2

teaspoon

sugar
Instructions
Combine all ingredient in a pot. Gently heat on low flame. for few minutes.

Strain the mixture.

Blend with a whisker or blender.

Serve hot.
Step by step turmeric latte or golden milk
Mix all ingredients in a pot and bring it to boil., simmer for few minutes.
strain….
blend…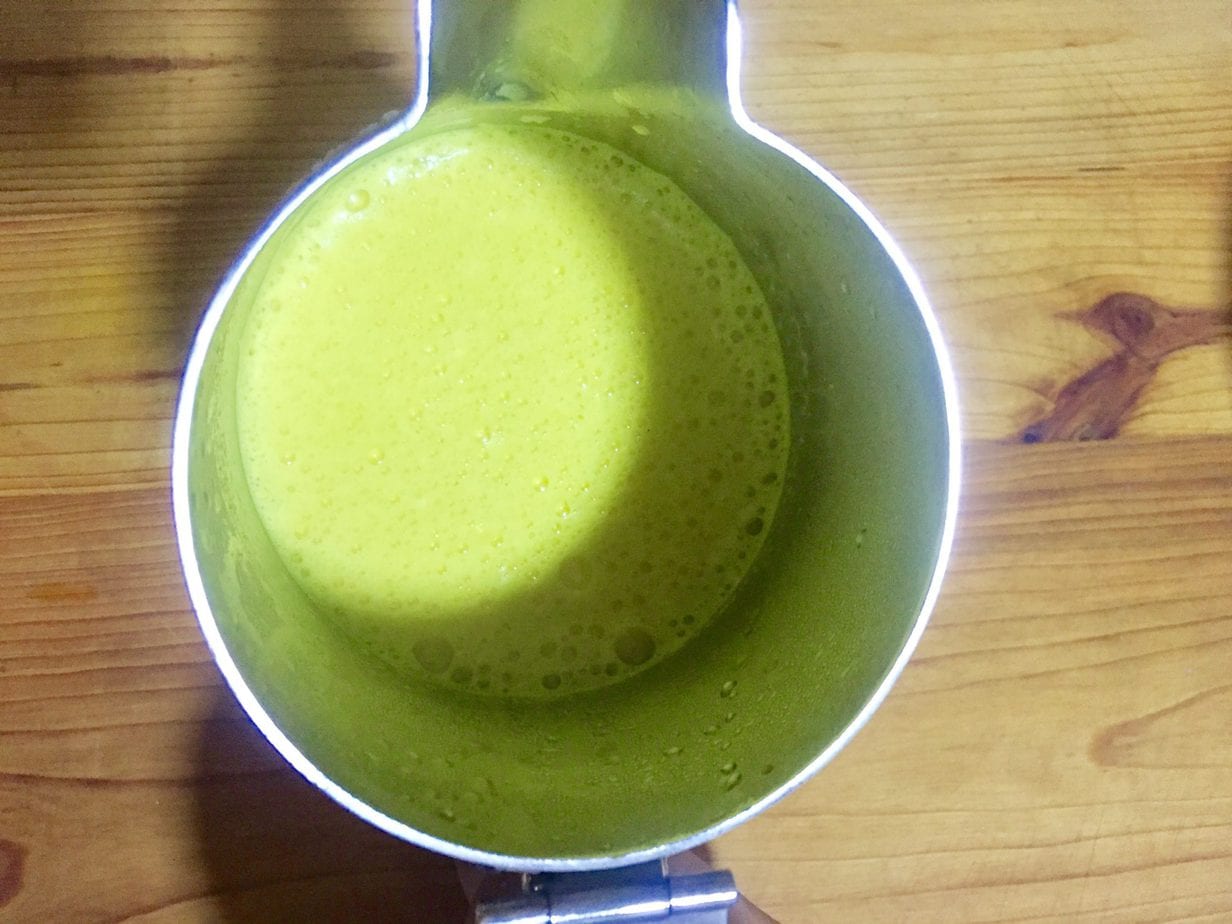 Ready to serve. Store extra latte in fridge and enjoy next day after reheating.