Easy vegetable Biryani was a long due Recipe on the blog. I had been making this Vegetable Biryani for years. Last year, I wrote this recipe and tried it. Then, I made few changes and tried again. Now, I'm quite satisfied with the recipe. It's aromatic, juicy, reasonably spiced and a delight for all vegetable lovers.

With great pleasure, I share this recipe. Do post a comment if you try it, I'll be really pleased.
Jump to:
How to make it?
Cook Rice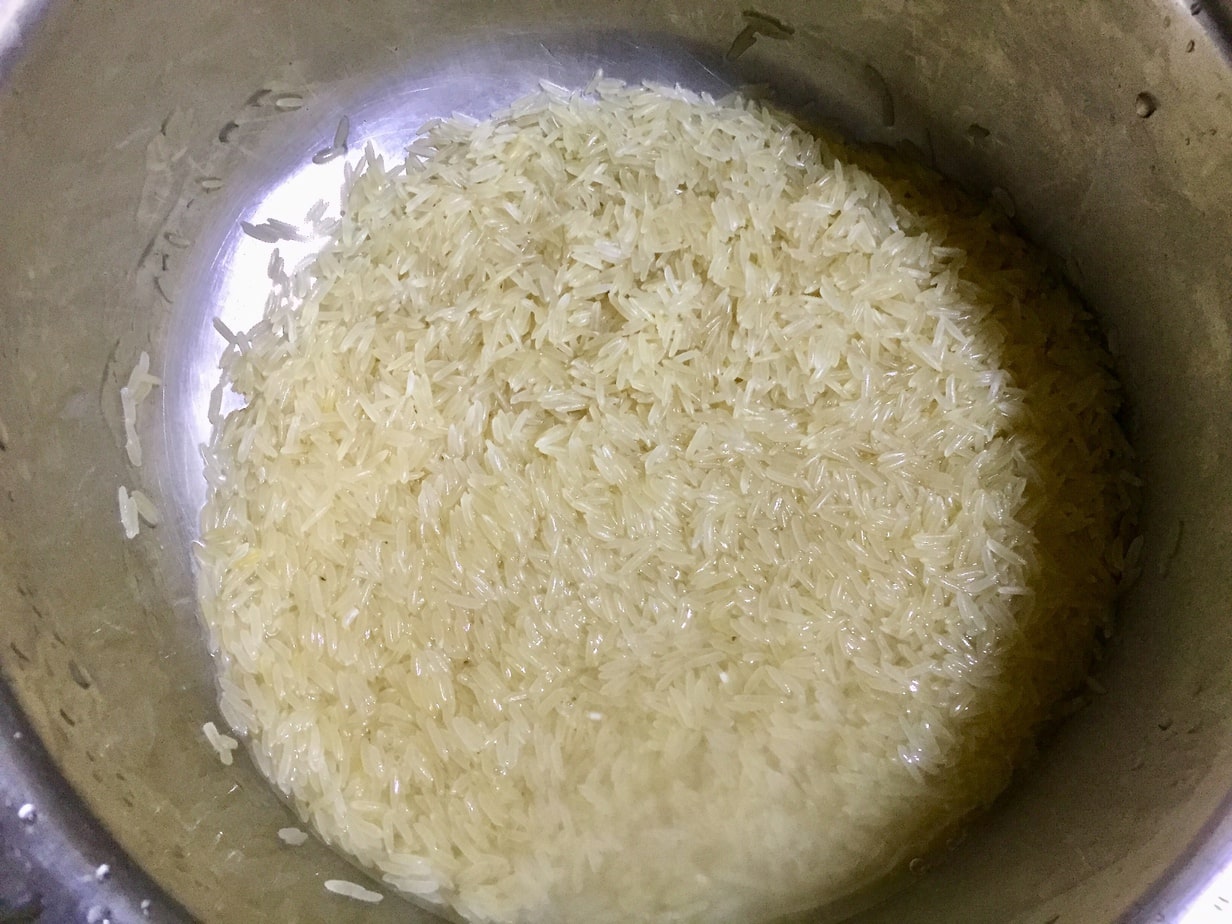 Soak basmati rice in water for 20 minutes.
In a large pot add rice spices, salt and water. Bring it to boil. (The water should have soupy salt level.) Then add soaked rice. Boil it for 5-10 minutes until rice are 70% cooked.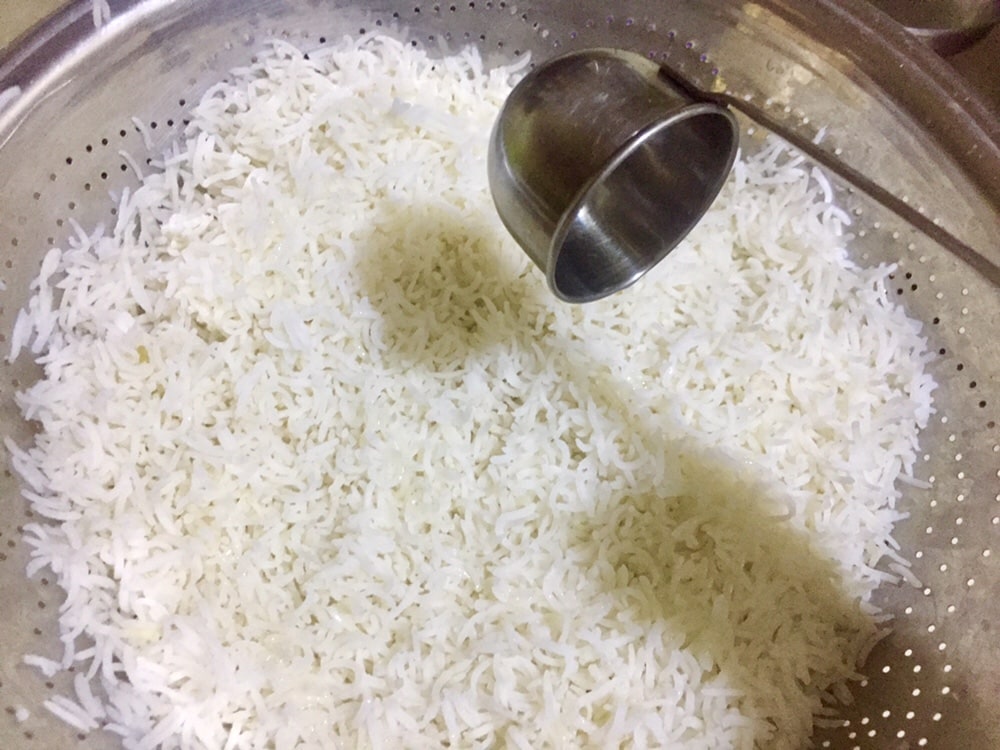 In a colander strain rice, and drizzle little oil to keep grain separate. Set aside.
Cook Vegetable curry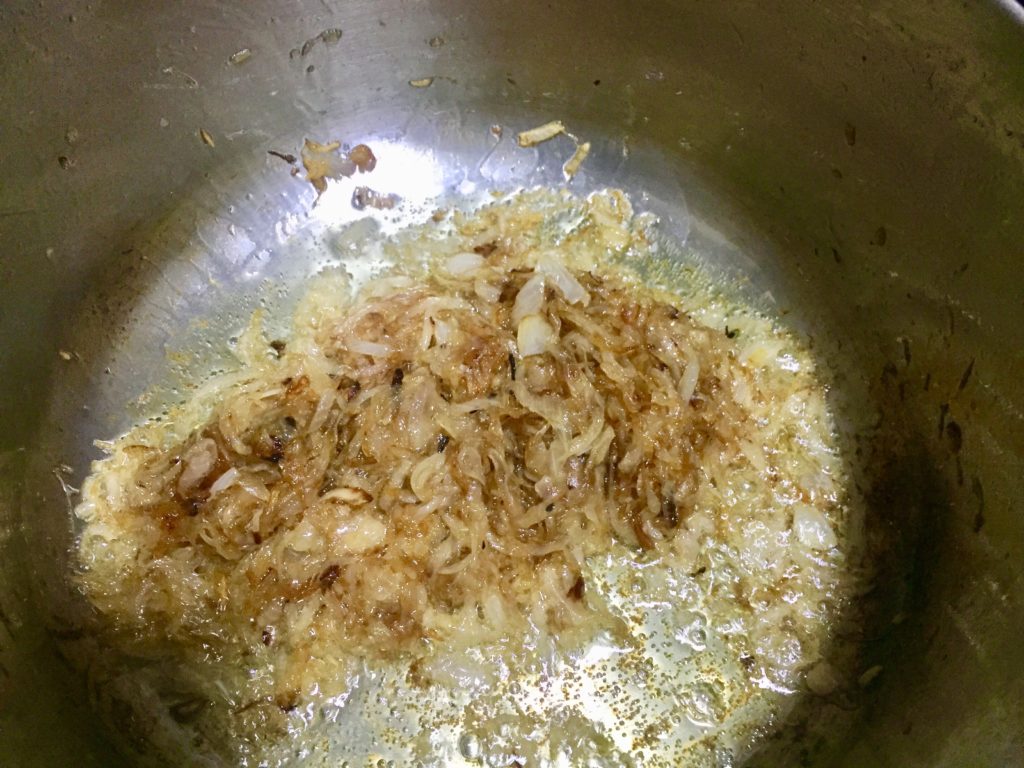 In a large pot fry onion until slight golden.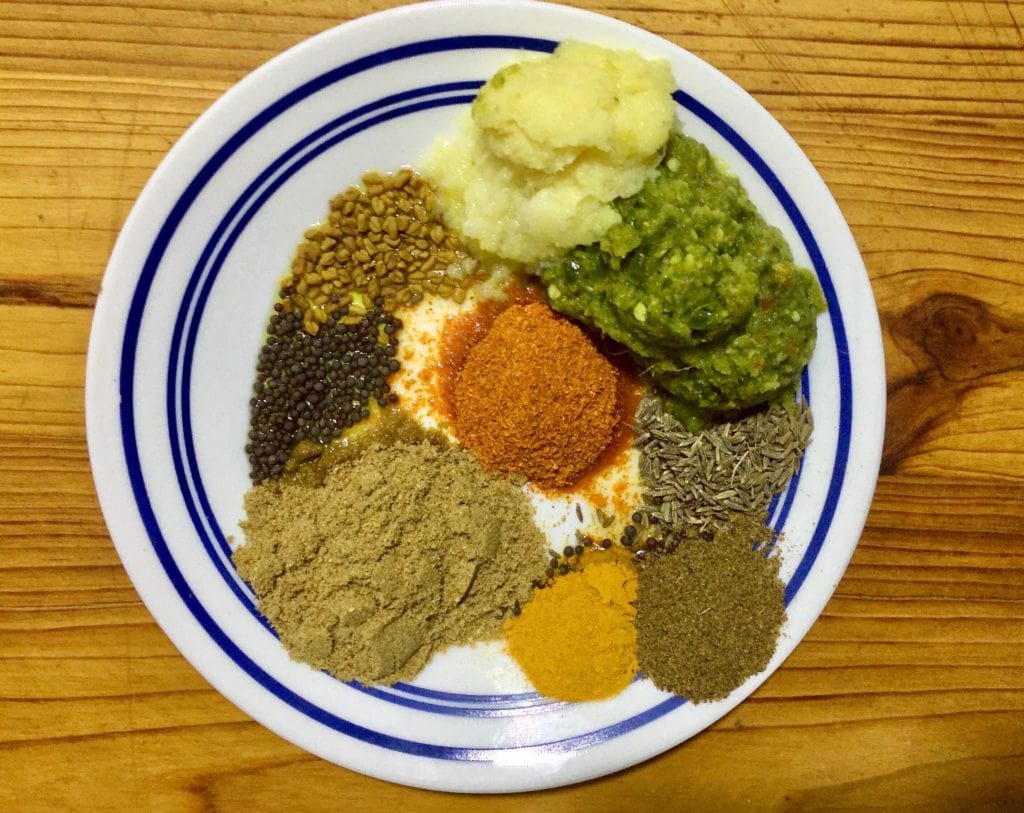 Have a look at spices for vegetable curry.
Add spices to the onions. Mix well and cook for a minute.
Add puréed tomatoes.
Mix well and cook for 10 minutes on medium heat until oil separates. Cover the lid.
Cut veggies while tomato cooks. (Have a look at proportions. Potatoes, carrot and cauliflower are in almost same volume. Cut eggplant and bitter gourd right before adding to pot as they tend to turn dark quickly. )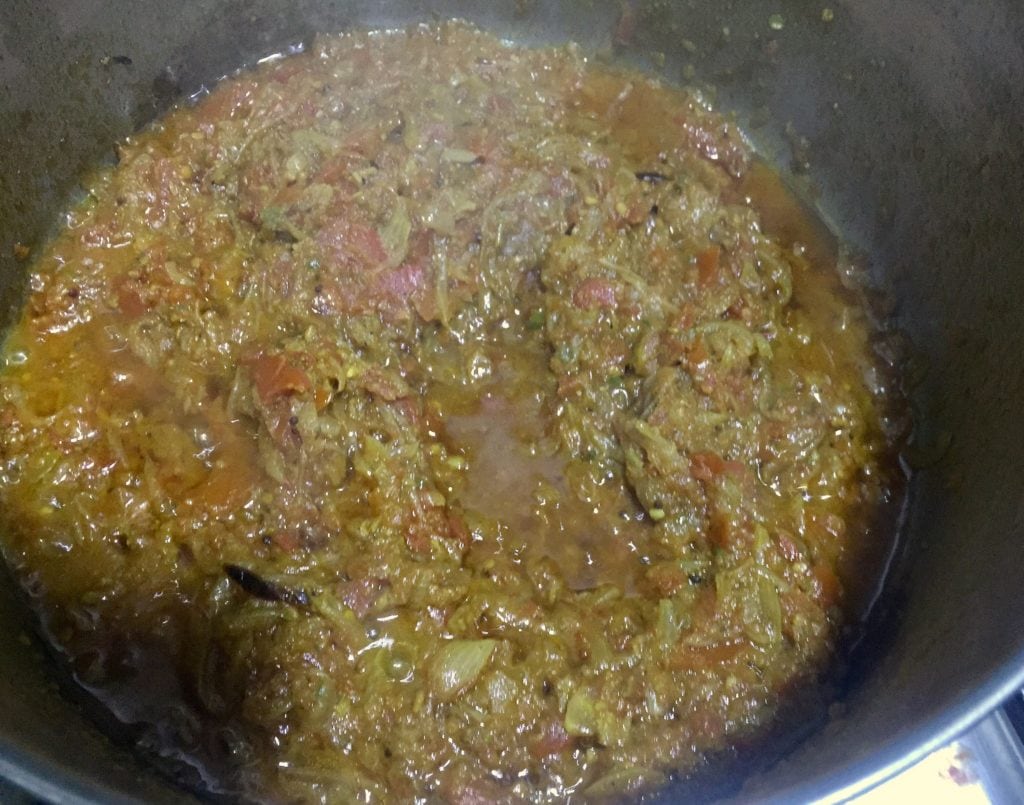 Oil had separated.
Add carrot, peas, potatoes and spinach in the gravy. Cook for 10 minutes on medium heat with lid covered. (These vegetables take longer to cook.)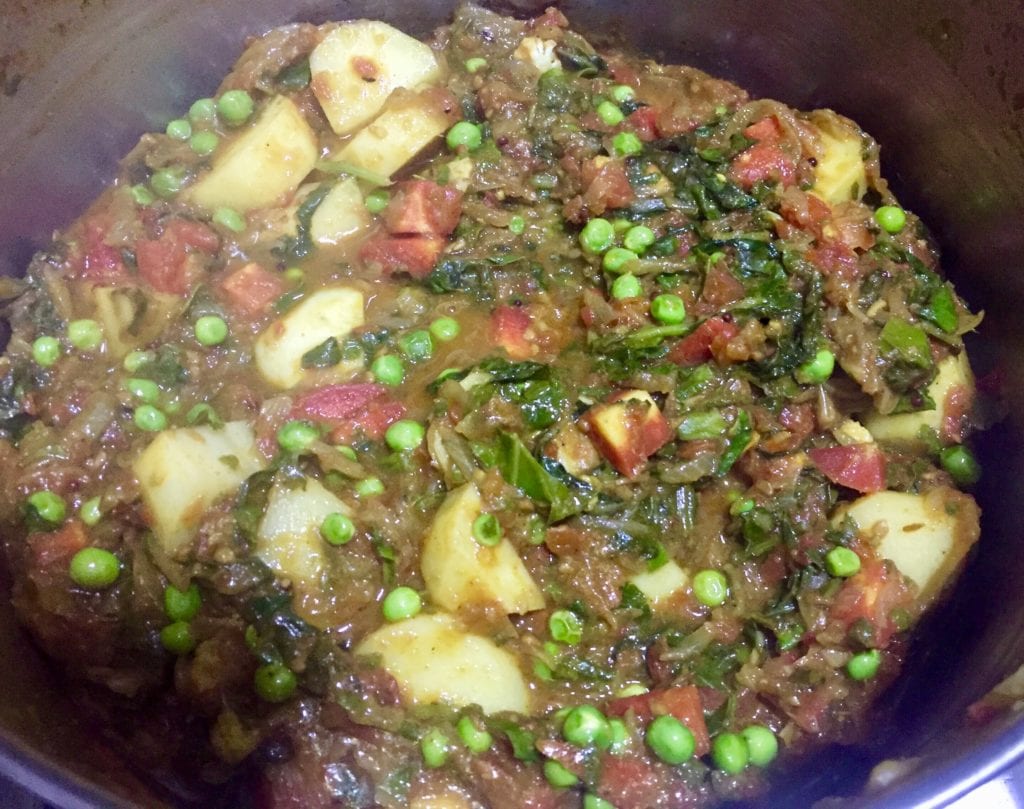 After 10 minutes add remaining veggies like eggplant, bottle gourd cauliflower, curry leaves, coriander leaves and green chilli slices.
Rub fenugreek leaves between the two palm and add to the pot. Mix well and cook for another 10 minutes on slow heat, veggies are tender.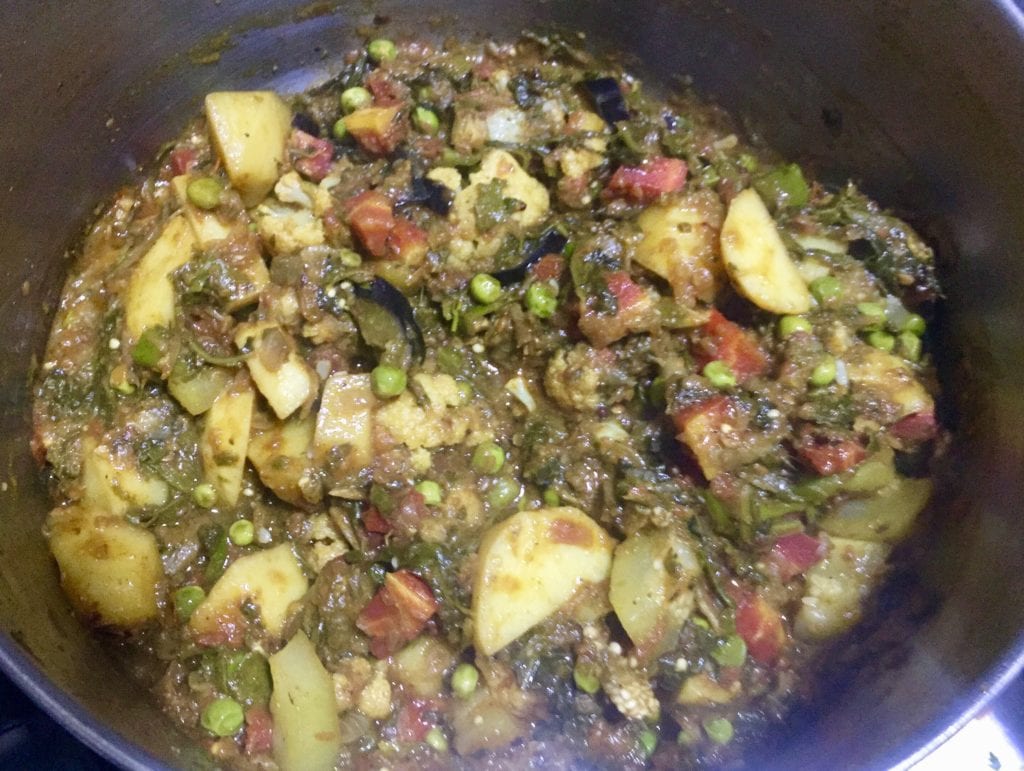 Vegetable curry is ready. (Taste the curry and adjust salt if needed.)
Smear the pot with oil.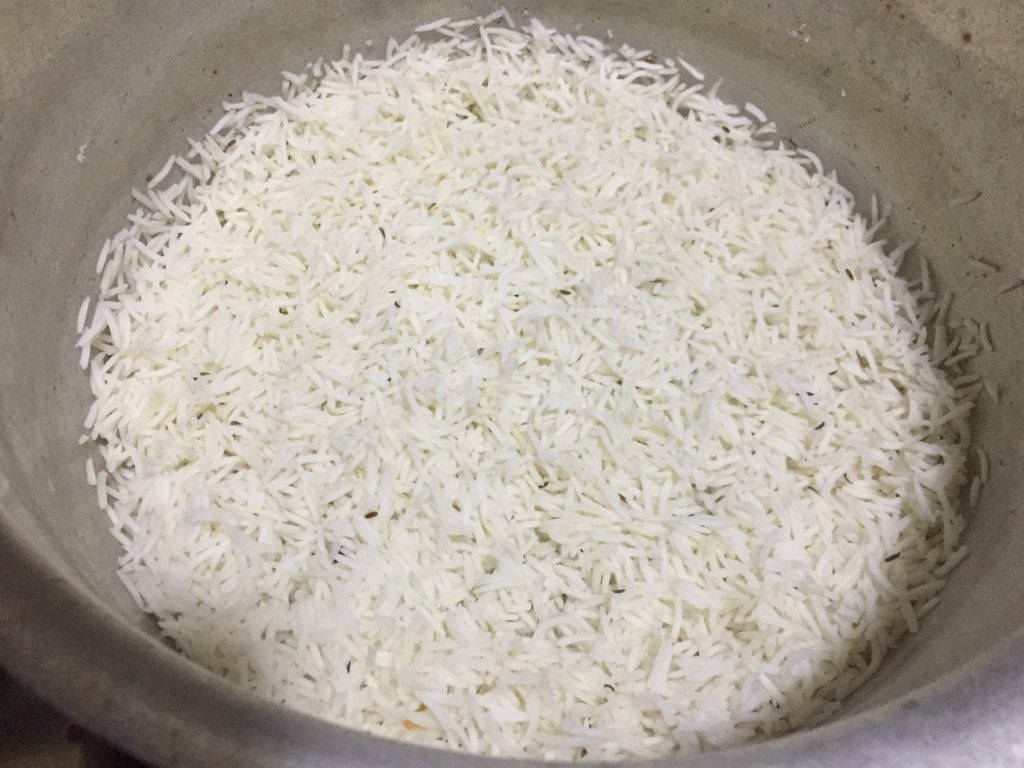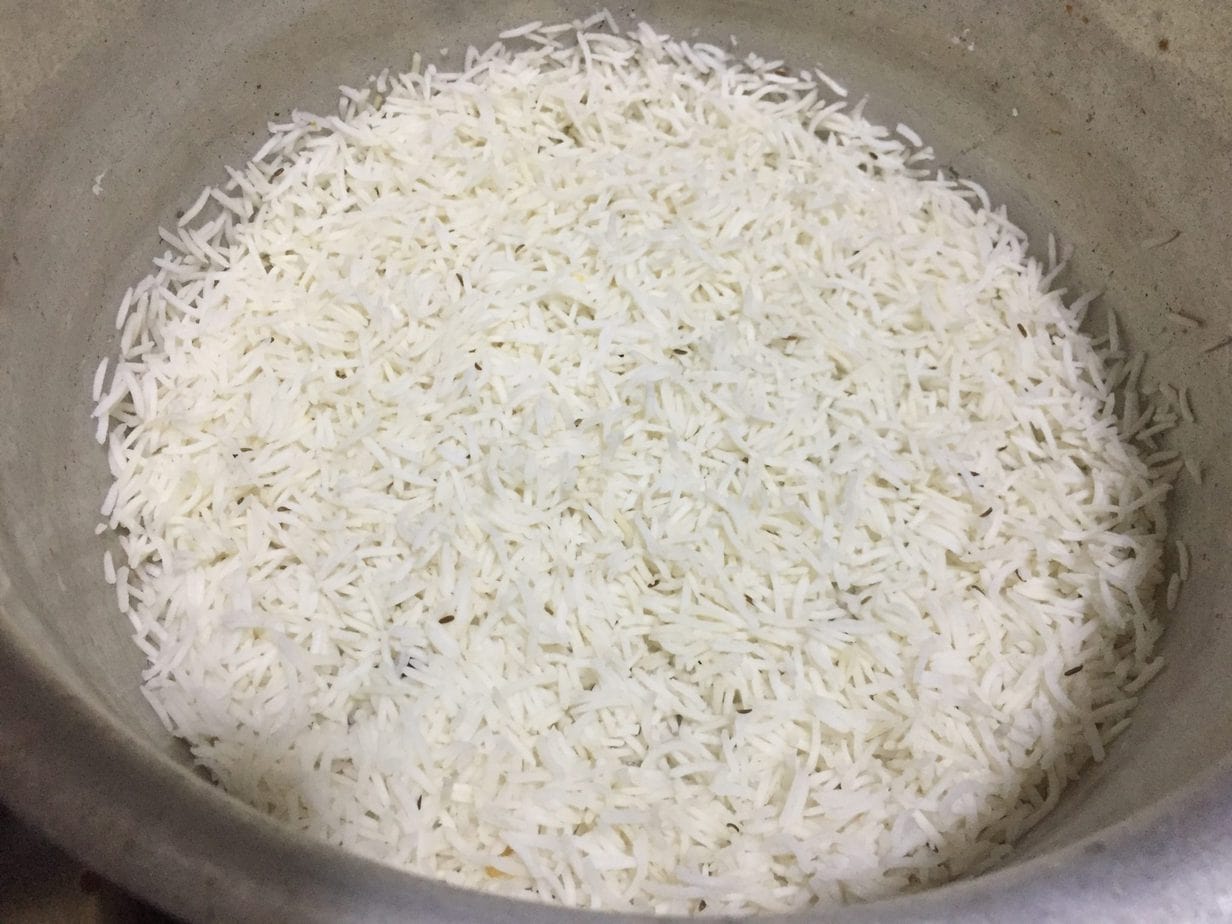 Add a layer of ⅔ of total rice in the pot.
Add a layer of vegetable curry and finally a layer of remaining ⅓ rice.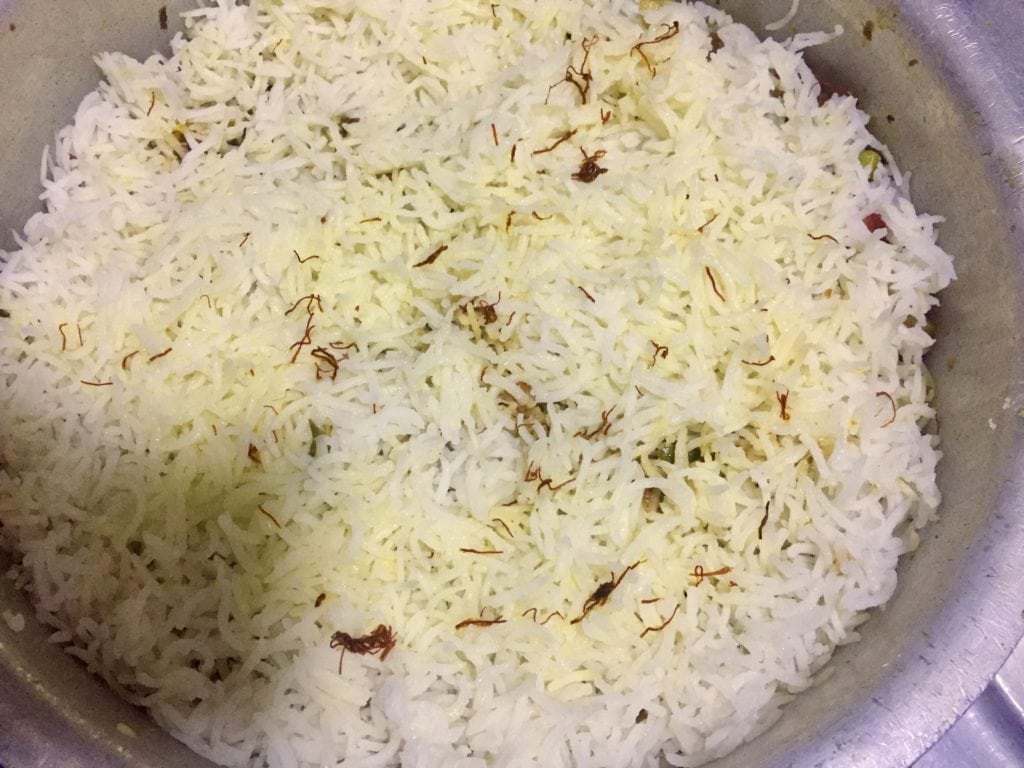 Sprinkle saffron soaked in water over rice. (Or food color is using food color.)
Fry an onion in oil.
Add fried onion along with about 2 tablespoons of same oil on top of rice. Cover the lid tightly and cook for about 10-15 minutes until steam rises to the top of pot. Vegetable biryani recipe is ready!
Enjoy and don't forget to post feedback!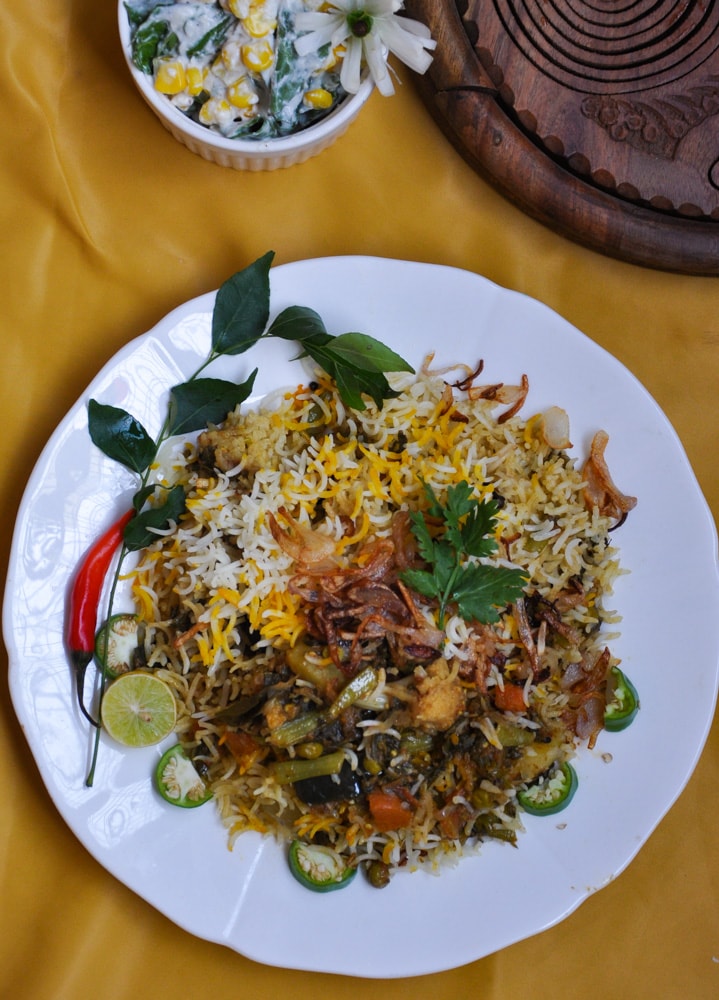 Tips
Don't get overwhelmed by the long list of ingredients. Most of these are available home and some are repeated as well.
You can always change quantity of assorted vegetable to your delight. Add or remove any vegetable you like.
You can cut your veggies into large chunks or diced, that completely your choice. I prefer carrots to be diced while eggplant, bottle gourds and cauliflower to be chunky. As last three vegetable cook quickly and might get mashed in the gravy.
In step by step pictorial recipe, I gave photos of vegetables so you can simply have visual estimation while making the recipe.
I have added three herbs, curry leaves, coriander leaves and fenugreek leaves but you may skip any herbs you don't have.
You can also use readymade fried onions to save time.
Finally, you can make the vegetable curry a night ahead.
Saffron is added mainly for color so you may skip it.
Skip fenugreek leaves if you don't like it's aroma. Although, I recommend adding it.
You may switch red chilli powder for green chilli paste. If you avoid red chillies.
Lastly, all spice powder is also optional, if you don't like too many spices.
My other Biryani recipes
If you try this biryani recipe, I'd LOVE to hear your feedback in the comments. Your 5-ratings motivate me to do my best. Stay connected for more recipes and videos on Facebook, Instagram, Pinterest, and Youtube.
📖 Recipe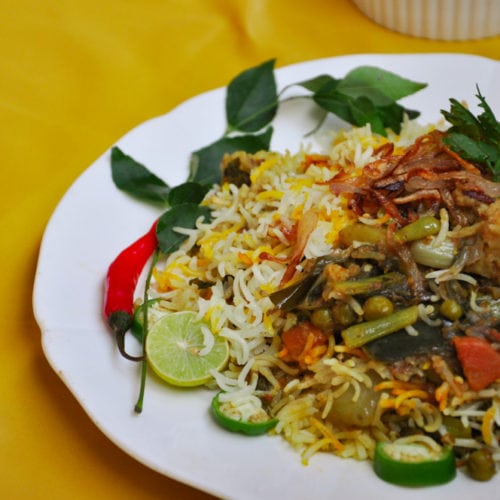 Vegetable Biryani
This Biryani is a delight for vege lovers. Serve with raita or plain yogurt, salad and chutney and make it a feast.
Print
Rate
Ingredients
Spices for rice
1

bay leaf

2

inch

cinnamon stick

½

cumin seed

8

black pepper

4

cloves

Salt to taste

2

tablespoon

oil

,

, to smear the pot
For vegetable curry
½

cup

vegetable oil

4

medium onions

,

, sliced
Spices
1

tablespoon

garlic paste

1

tablespoon

ginger paste

2

tablespoon

green chilli paste

2

tablespoon

coriander powder

,

(dhanya)

2

teaspoon

red chilli powder

,

(lal mirch)

1½

teaspoon

cumin seed

,

(zeera)

1

teaspoon

Garam Masala Powder

,

(garam masala), optional

¾

teaspoon

turmeric powder

,

(haldi)

½

teaspoon

mustard seeds

,

(kali rai)

½

teaspoon

fenugreek seed

,

(methi)
Other
5

medium tomatoes

,

, purée or chopped
Assorted vegetable
2

cup

chopped spinach

,

(palak)

2

medium carrots

,

, diced

½

cup

peas

3

medium potatoes

,

, diced

½

small cauliflower

,

, cut in small

florets

1

medium eggplant

,

, diced (baingan)

½

bottle gourd

,

, diced (Lauki)

2-3

medium green chillies

,

, sliced

Few curry leaves

1

tablespoon

dried fenugreek leaves

Few coriander leaves

,

, chopped
*you can use other seasonal vegetables too, like cluster beans, French beans or drumsticks etc.
Layering
Few saffron strands

,

(or a pinch yellow color), dissolved in water

1

medium onion

,

, fried

2

tbs

oil from fried onions
Instructions
For Rice
Soak rice water for 20-30 minutes.

In a large pot for biryani take water, bay leaf, cumin, black pepper, cloves, cinnamon and salt. Bring water to boil then add soaked rice. ( The water should have soupy salt level.)

Cook rice until 70% cooked then drain all water and keep rice in strainer until required.
For vegetable curry
Heat oil in a large pot and add sliced onions and fry on medium flame for 10 minutes until slightly golden.

Now add all of the spices and fry a minutes then add tomatoes. Cover and cook for 5-7 minutes on medium heat until oil separates.

Then add spinach, carrots, peas and potatoes. Cook for another 7 minutes on medium.

Next, add all remaining ingredients of vegetable curry and cook for 7-10 medium on slow heat until cooked.
Layering
Smear bottom of your Biryani pot with oil. Then make a layer of ⅔ rice in the bottom of pot.

Add another layer of vegetable curry.

Finally, add the layer of remaining rice.

Sprinkle saffron water or yellow food color water on top layer.

Fry an onion in oil until golden and crispy. Spread onion along with 2 tablespoon of same oil on top of rice. (This Step is optional.)

Cover the lid tightly and keep the pot for steaming or Dum for 15-20 minutes. Until steam rises and rice are puffed.

Serve with kachumber, chutney and raita.
Notes
Check tips for more details.
Nutrition Information
Calories:
304
kcal
,
Carbohydrates:
50
g
,
Protein:
6
g
,
Fat:
9
g
,
Saturated Fat:
6
g
,
Trans Fat:
1
g
,
Sodium:
53
mg
,
Potassium:
564
mg
,
Fiber:
5
g
,
Sugar:
5
g
,
Vitamin A:
2069
IU
,
Vitamin C:
30
mg
,
Calcium:
55
mg
,
Iron:
2
mg