The Fried Eggplant fries are a healthier version of regular fries with fewer calories than a potato. These are lighter fries with a crispy coating and spongy inside. They are simply delicious and no one can detect what is inside.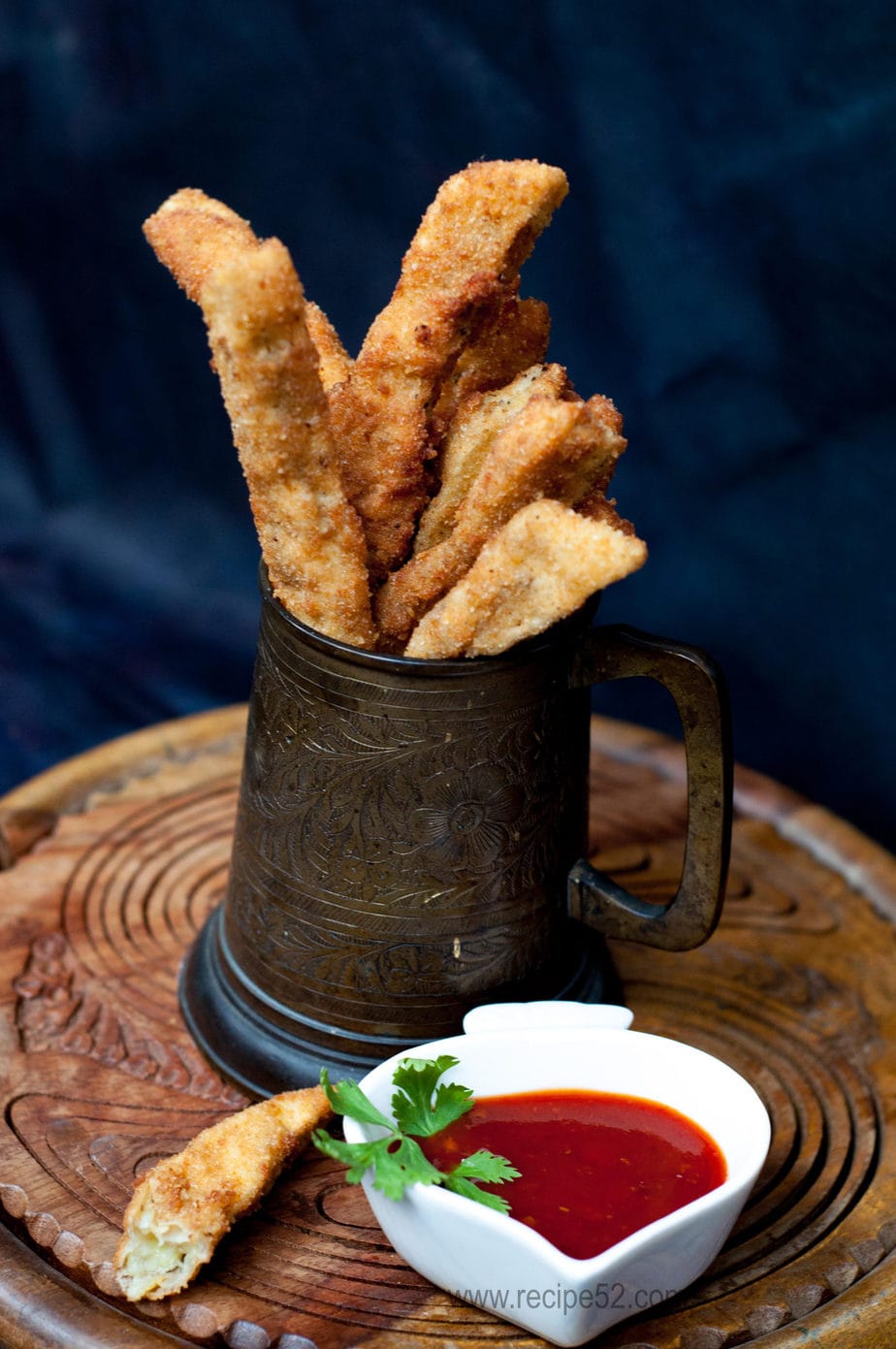 I made everyone at home taste these and no one could guess what's inside. But the seeds of eggplant if noticed can make anyone suspicious. The texture is somewhat hollow and bread-like. What more? It is chicken flavored so that is additional taste enhancement. This snack is also great to introduce eggplant to picky eaters. Find the benefits of eating eggplant here.
What to Serve with Fried Eggplant Fries?
The fried eggplant fries make yummy snacks as well as a starter. I recommend a spicy mayo garlic dip to go with it. I always make regular potato fries along with these for some variety. Because kids and guests both love variety. Like you won't make only baingan pakora (Eggplant fritter) ever, you'll make all varieties of pakora (vegetable fritter).
Do you soak Eggplant before frying? Why?
You need to soak the eggplant in milk and water solution so they don't turn dark. This also helps remove some of the bitterness of the eggplant.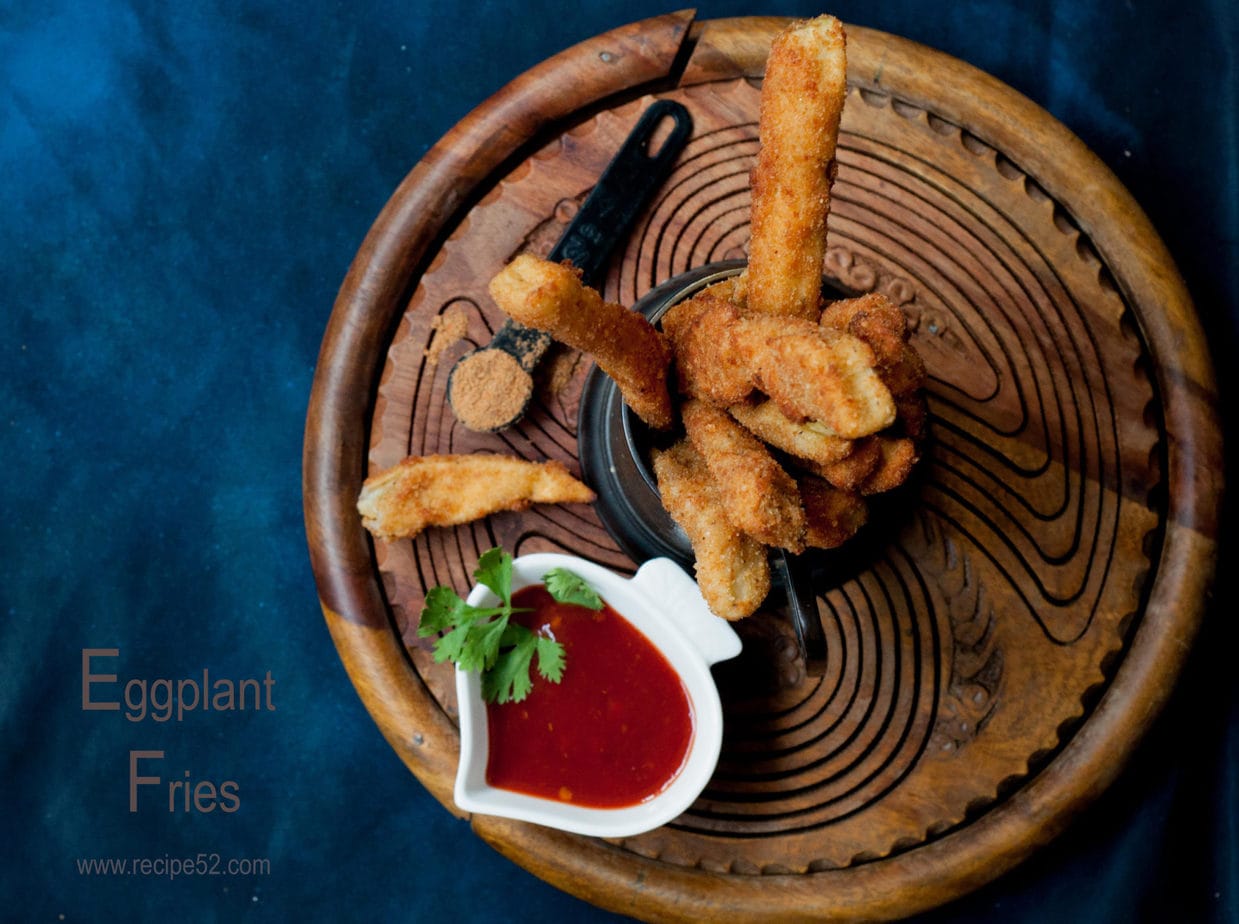 Coating and the breading station is a bit of hassle but the good thing is that you can coat the eggplant fries with bread crumb up to two-hour ahead and store in the fridge. Just before serving deep fry them and serve crispy fried eggplant fries hot and fresh.
How to make Fried Eggplant Fries?
Cut two eggplants in fries shape.
Mix milk, water and salt in a bowl. Soak the eggplant fries in it for 10 minutes.
Cover eggplant fries with plate so they stay soaked properly.
Flour Coating
Mix flour, dry basil leaves and chicken cube in to a smooth powder.
Wipe excess water from eggplant. Then coat each eggplant fries in flour. Coat all fries in same way.
Bread Crumbs coating
Beat egg, milk, salt, and pepper in a bowl. Coat each fries in egg wash and then with bread crumbs.
Coat all fries similarly. You can fry immediately or you can keep in fridge for 2-4 hours and fry later.
Fry coated eggplant sticks on high heat until golden brown. Fry in small batches. The eggplant fries will puff up a bit. Serve Fried Eggplant fries plain or sprinkle chat masala and serve with spicy mayo garlic dip or Ketchup.
Hungry for more fries? Check these!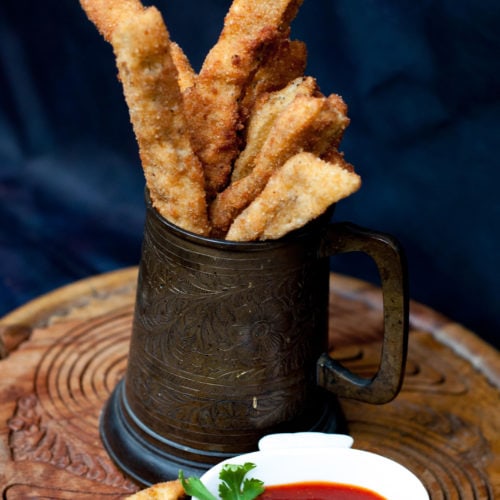 Fried Eggplant Fries Recipe
Serve hot and crispy. Enjoy with chat masala and ketchup or your favorite dip.
Print
Rate
Ingredients
Soaking solution
2

cups

water

½

cup

milk

¼

teaspoon

salt
Flour Coating
½

cup

flour

1

chicken cube/bullion

,

or 1 tablespoon chicken powder

½

teaspoon

dry basil leaves
Bread crumbs Coating
1-2

eggs

1

tablespoon

milk

a pinch

salt

a pinch

pepper

1

cup

bread crumbs

Oil

,

to fry
Instructions
Mix milk, water and salt in a large bowl set aside.

Peel eggplant and cut lengthwise like french fries. Soak eggplant in milk water solution for 10 minutes.

Mix all ingredients of flour coating. Wipe excess water from eggplant slices and coat each slice in flour coating.

Beat eggs with salt, pepper and milk. Coat each eggplant slice in egg mixture first then coat with bread crumbs.

When all fries are coated, heat oil and deep fry eggplant fries until golden brown. Serve hot with ketchup and chat masala.
Nutrition Information
Would you try this recipe? Let me know in comments.