This is sweet orange jam, marmalade with no peel; just pulp and zest. This recipe is made without pectin with just 3 ingredients. It tastes delicious and I'm in love with it.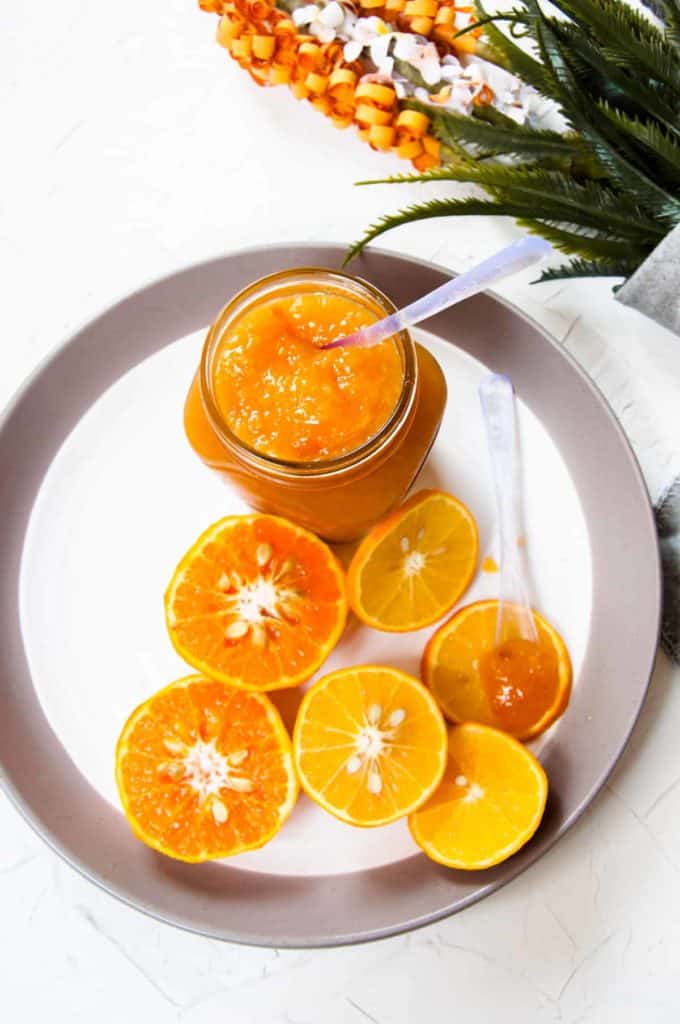 I make many jams but this is my favorite. The texture and taste are a darling delight; something, you'd want to have a teaspoon every now and then. Just like this plum jam.
Orange jam is an orange spread made of orange pulp, orange juice, and orange zest. Orange peels are not added to orange jam-like marmalade. Orange jam is sweeter than a marmalade. Orange jam can be made with or without pectin.
Jump to:
Why this recipe work?
For setting a jam, we need pectin. As oranges naturally have a large quantity of pectic so we will make jam without commercial pectin. We will make a bag of pith, pips, and membrane that has high pectin.
But remember, natural pectin is not as effective as commercial pectin so the orange jam will be spreadable and gel-like but won't set like the jelly of commercial jam.
Ingredients
Oranges are the best fruit for jam recipes, their tartness, and subtle bitterness, and the tangy aroma when the jam cooks refresh every corner around the kitchen. We will make this homemade orange jam without pectin.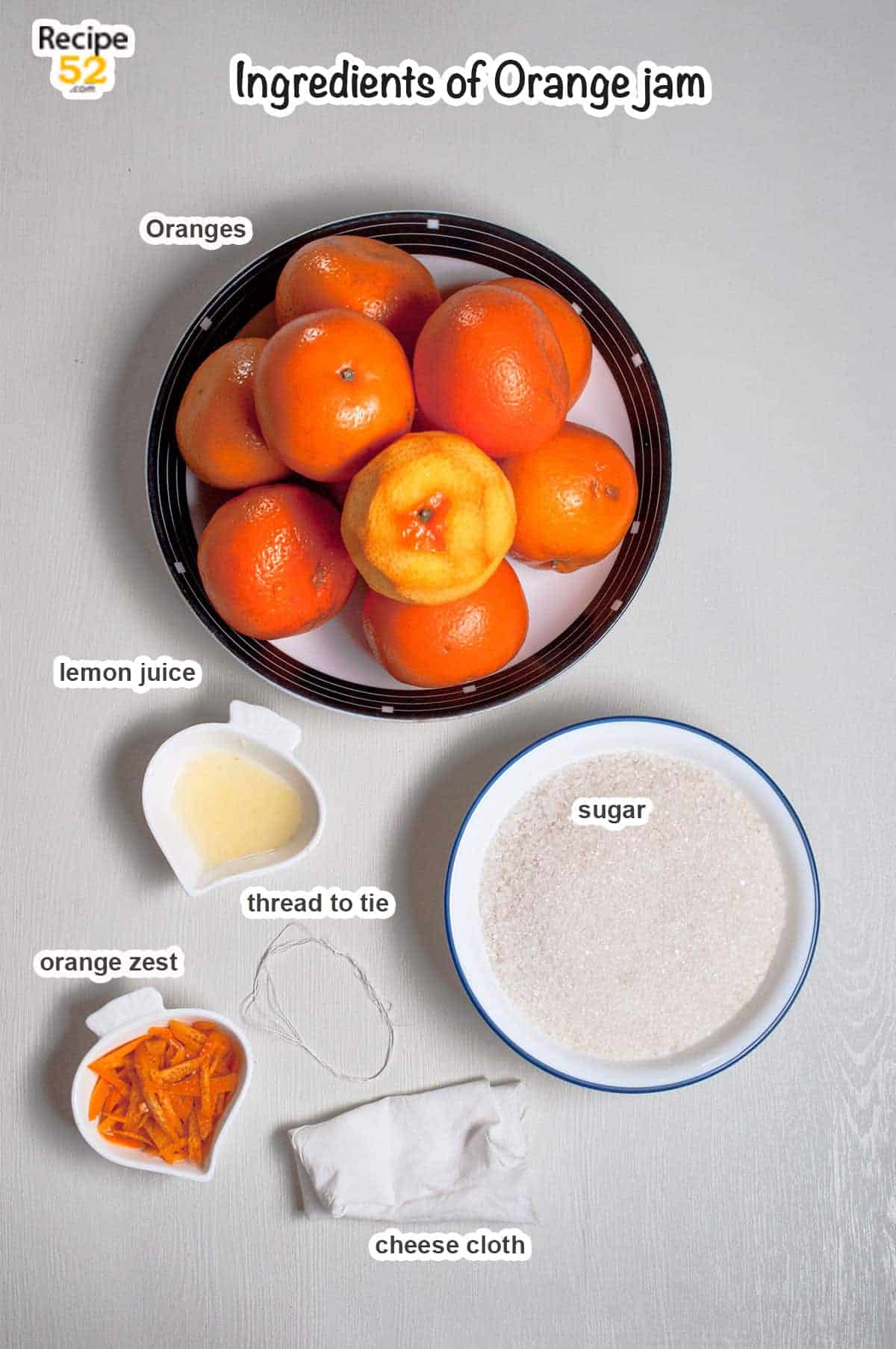 Oranges
I'm using Kinnow and Malta for this jam. Pakistani Kennow is a Mandarin variety with loose thin skin and a sweet and sour taste. They are very juicy.
But Seville, Mandarin, Blood orange, or any juicy orange variety with sweet and sour taste are fine for making jam. Just avoid fibrous or cold storage oranges with very little juice.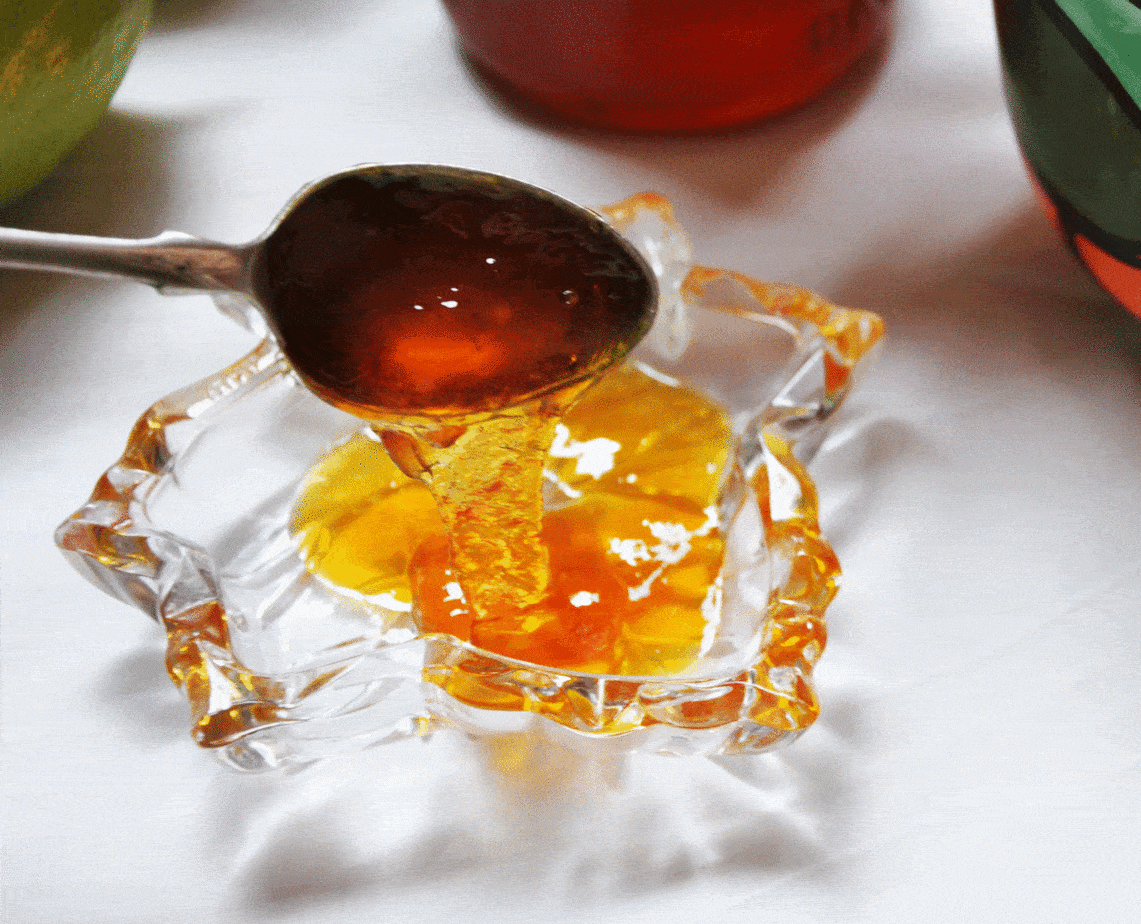 Measuring the pulp by cups will be the best way to be sure as some orange varieties have a thick peel and some have thin peels with more pulp. I have given weight measures too so it is helpful when buying groceries.
Low Sugar Jam
Yes, the best thing about homemade jam is that you can adjust it. I used 1¾ cup sugar in this jam which is fairly sweet. As this is Orange jam and not marmalade, you can add low-sugar too.
Add at least 1 cup so the jam can gel easily. After adding minimum sugar you can taste test and decide if more sugar is needed. Like I did in apple jam and pear jam.
Lemon Juice
Adjust the taste of orange jam according to what nature has given you. So if your oranges are very sweet add up to ¼ cup of lemon juice. If your oranges are tart then no lemon juice will be required. Also, add less sugar in the beginning.
More Tips
For more variation, you can add spices, like cinnamon, cardamom, cloves, and star anise. We like it plain and classic this grape jam.
Bitterness of peel
Many people complain about the very bitter taste of homemade orange jam, especially kids who do not like it. So we will make jam with orange pulp and zest only and no white part or peel will be added to the jam that is bitter. Plus we will remove the white part bag when the jam is half done.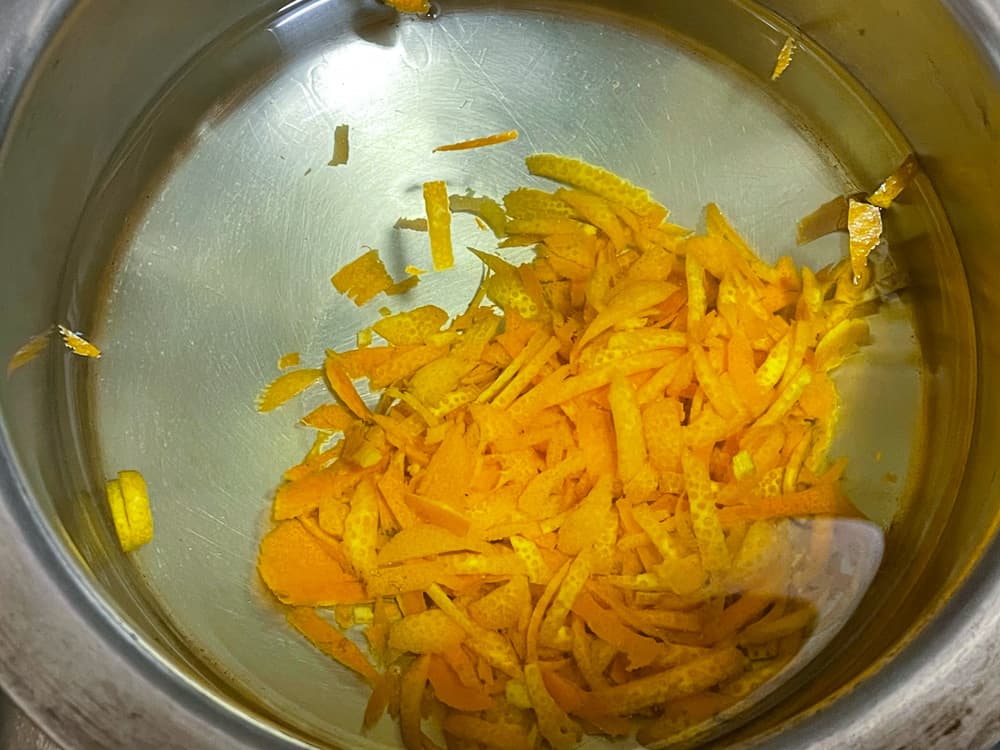 The rind or zest is also slightly bitter so we will boil it once to remove some of the bitterness. So this is sweet orange jam without peel, which makes it an orange jam, not marmalade. Rest assured, kids will love it. I call it Orange Candy Jam.
Lastly, overcooking the jam or cooking jam on a high flame can burn the sugar which can also make the jam bitter. This boiling zest step is optional, you can skip it if you like a tinge of bitterness in jam.
How to make it?
Preparing Oranges
Place a few plates in the freezer for the jam setting test. Sterilize 2 glass jars by boiling in a water bath for 8 minutes, and then allow drying naturally on a clean towel. (Sterilization is not needed if storing jam in the fridge and planning to consume in 30 days or freezing.)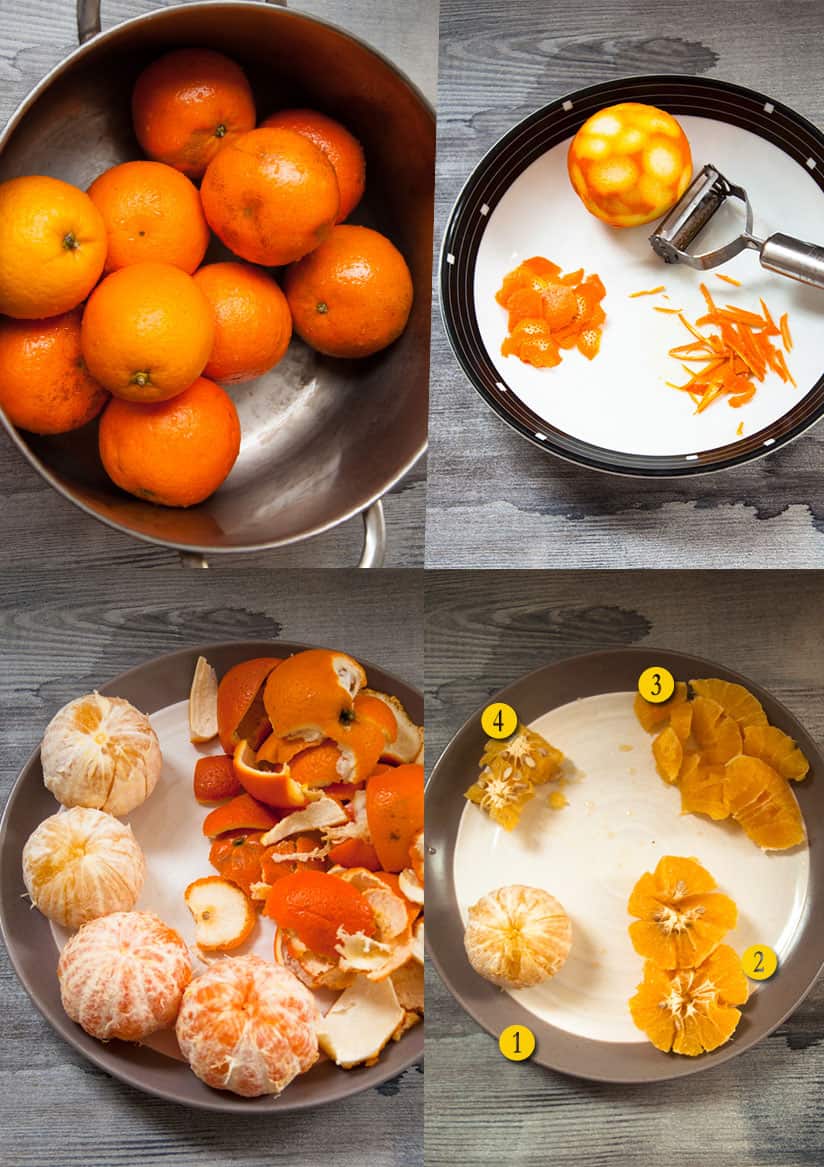 Wash oranges throughly with warm water and choose the best-looking oranges for zest.
Remove the zest of 3 oranges taking great care not peel the white part. Cut the zest into thin slices. Boil the zest slices in water for few minutes until the water color changes to yellow. Then drain the water and set it aside.
Peel the oranges. And pull off all the white parts as much as possible.
To separate the pulp, cut peeled oranges in half. Then slice off the pulp leaving center and seeds. Make sure the pulp is seed free. Gather all the pulp in a pot and set it aside.
Save the center in a separate bowl. They will go into a muslin bag.
Steps to making Jam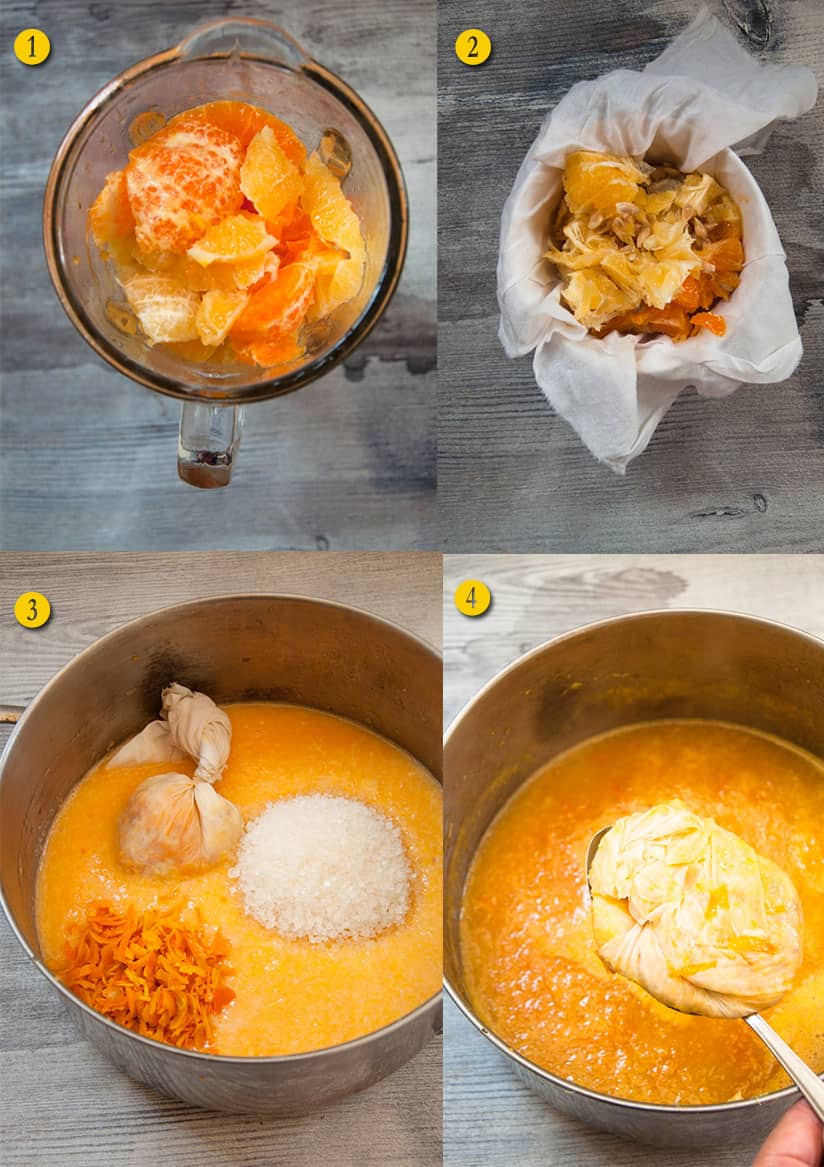 Transfer the pulp to the blender and make the puree. You can also use the immersion blender.
Put half of the pulp in a square muslin cloth. Secure the bag with thread, put two to three tight knots (so it doesn't leak while cooking).
Place orange puree, sugar, boiled orange zest, and muslin bag in the pot. Cook on medium-low heat for 30 minutes. Keep stirring occasionally.
When most of the sugar has melted jam start to thicken, remove the muslin bag. Press the bag with a spoon to squeeze most of the juice. The juice will be sticky which is natural pectin. (Alternatively, you can set the bag aside and squeeze it after a while when it is cool enough to handle.) Continue cooking.
Jam Setting Test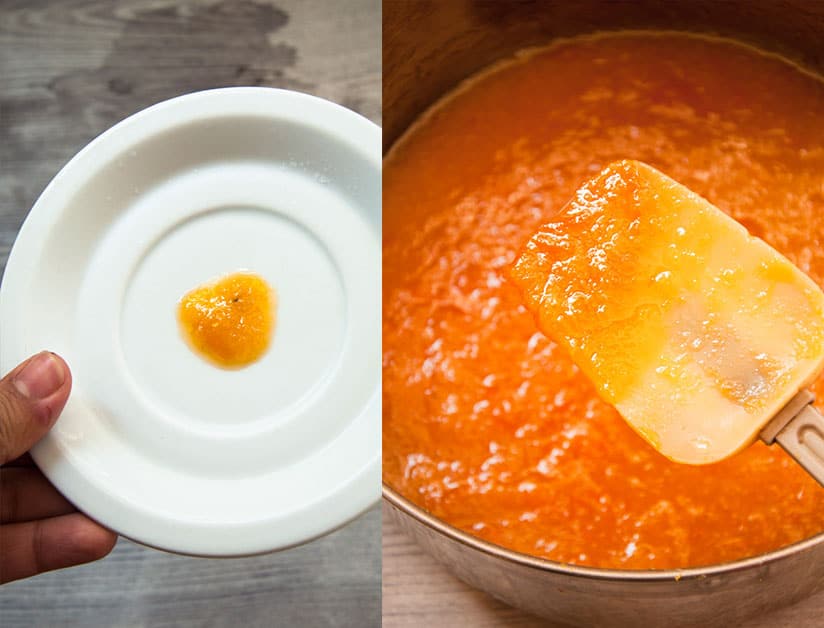 When the jam is reduced to ½ it is ready, (60 minutes). At this stage, the jam will be sauce-like but runny. Do a cold plate test on the jam by spreading a teaspoon of jam on a cold plate. If jam holds its shape on the plate without spreading, it is ready.
Another way to know the jam setting point is that jam coats the back of a spoon as shown in the photo.
Fill hot jam in a clean dry jar and store in the fridge for 3 weeks or freeze for up to a year.
The Orange jam will be spreadable consistency and not thick and chunky as marmalade.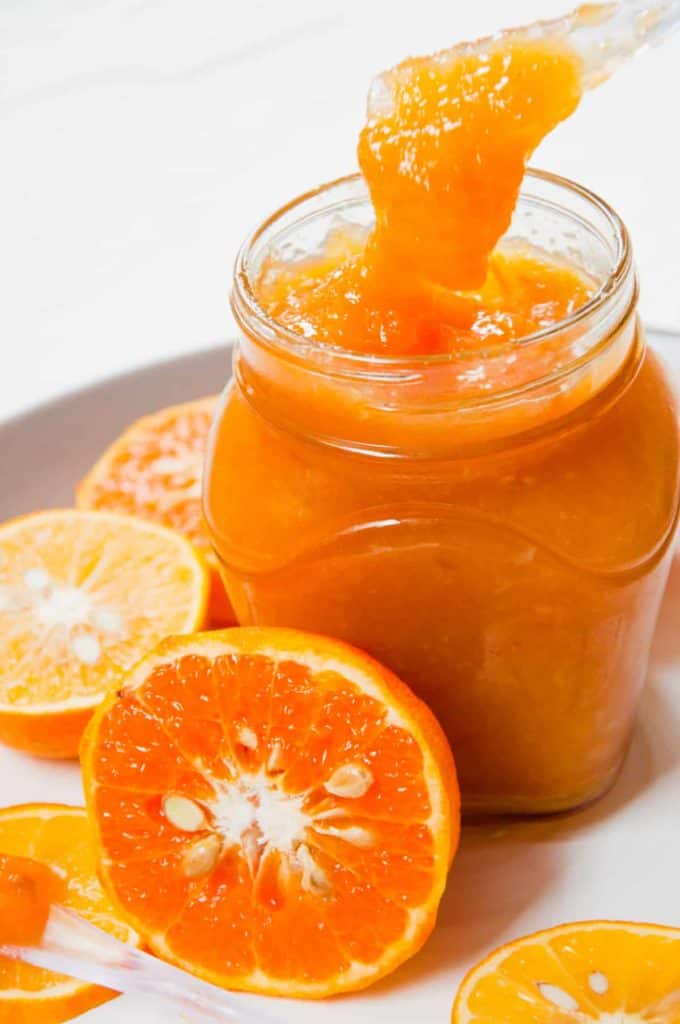 Recipe FAQs
How do you remove the bitterness from an orange jam?
The rind or zest is also slightly bitter so we will boil it once to remove some of the bitterness and discard the water. Do not add white parts oranges in the jam. Remove the pit bag when the jam is half done.
How do you know when the jam is ready?
The Orange Jam Setting test is very important, we test jam thickness on the freezer cold plate. If the jam is watery, cook more. If the jam is sticky and seems setting that is the jam drop holds its shape without spreading too much. It is ready.

Avoid overcooking of orange jam: Overcooking is when you cook jam to a level when sugar starts to caramelize and burn. So avoid cooking high heat and cook in a thick bottomed pan. Keep stirring at intervals and reduce heat towards the end.
How to fix Orange Jam?
The good news about all jam-making is that you can always fix it. Just reheat your jam to boiling point then do changes.  If it is too thick adds water; or if too thin burn some water. If it is less sweet add sugar. You can add more zest or lemon juice too. Then fill your jar back with hot jam.
Hungry for Oranges and Jams? Check these!
If you try this orange jam recipe, I'd LOVE to hear your feedback in the comments. Your 5-ratings motivate me to do my best. Stay connected for more recipes and videos on Facebook, Instagram, Pinterest, and Youtube.
📖 Recipe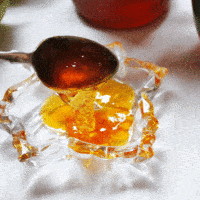 Orange Jam
The orange jam tastes sweet and tangy. Kids love this jam. Calories displayed for 1 tablespoon.
Print
Pin
Rate
Ingredients
3

pounds

oranges about 10 large oranges, makes 4½ cups of orange puree that is 1 litre.

2

cup

sugar or 1.5 cup for low sugar jam

¼

cup

orange zest

,

sliced

2

tablespoon

lemon juice

,

more if oranges are sweet and not tarty.
Instructions
Keep 2 plates in the freezer for jam setting test. Prepare clean and dry jars if storing in the fridge. (Sterilize jars if canning.)
For Zest
Remove the zest of 3-4 oranges with a sharp serrated knife. Take care not to remove the white part. Boil the peel in water for 3 minutes until the water color changes to yellow. Then strain the peel and discard the water. Set the zest aside.
For Orange Puree
Peel the oranges making sure to remove as much white part as possible.

Now cut each peeled orange into half. Then slice off the pulp from each half leaving the center and seed portion intact. Make sure there are no seeds in the pulp. Puree the pulp in a blender.

Double 6" piece of cheese cloth and place it over a small bowl with edges hanging. Put the center with seeds of orange on it. Tie it tightly with an undyed cotton thread or unflavored dental floss. (See notes)

In a thick based pan, add puree, sugar, orange zest, and cheesecloth bag.

Cook jam for 30 minutes on medium-low with occasional stirring. When the liquid is reduced to half, remove the muslin bag. Continue cooking on low heat with frequent stirring.

Cook jam until liquid is reduced to ½ of the initial volume. It will be thick sauce-like and will cover the back of the spoon.

Test the jam on the cold plate. When the jam holds its shape and doesn't spread, it is ready.

Then ladle the hot jam to clean dry jars keeping only ½ inch space between lid and jam. Wipe the rim with a wet towel. Place the lid and turn the jar upside down to create a vacuum seal. Store jam in the fridge or freezer. ( Or follow canning procedure for storing longer at room temperature.)
Notes
Orange Puree: I have tried to provide different measurements for orange. We need 1 litre that 4.5 cups of puree for this jam.
Storage: Stays good in the fridge too for 3 weeks. Use a clean spoon to serve. Or freeze for longer storage.
Avoid overcooking. Overcooking is when you cook jam to a level when sugar starts to burn on high heat.
Cheesecloth: If you don't have cheesecloth, use a thin undyed, and clean, pure cotton fabric.
Nutrition Information
Serving:
1
tablespoon
,
Calories:
55
kcal
,
Carbohydrates:
14
g
,
Protein:
0.3
g
,
Fat:
0.1
g
,
Saturated Fat:
0.01
g
,
Polyunsaturated Fat:
0.01
g
,
Monounsaturated Fat:
0.01
g
,
Sodium:
0.1
mg
,
Potassium:
64
mg
,
Fiber:
1
g
,
Sugar:
13
g
,
Vitamin A:
79
IU
,
Vitamin C:
19
mg
,
Calcium:
15
mg
,
Iron:
0.04
mg