This recipe of Chicken dynamite is fail-proof and super easy. This chicken is perfect for the appetizer and loved by kids and adults alike.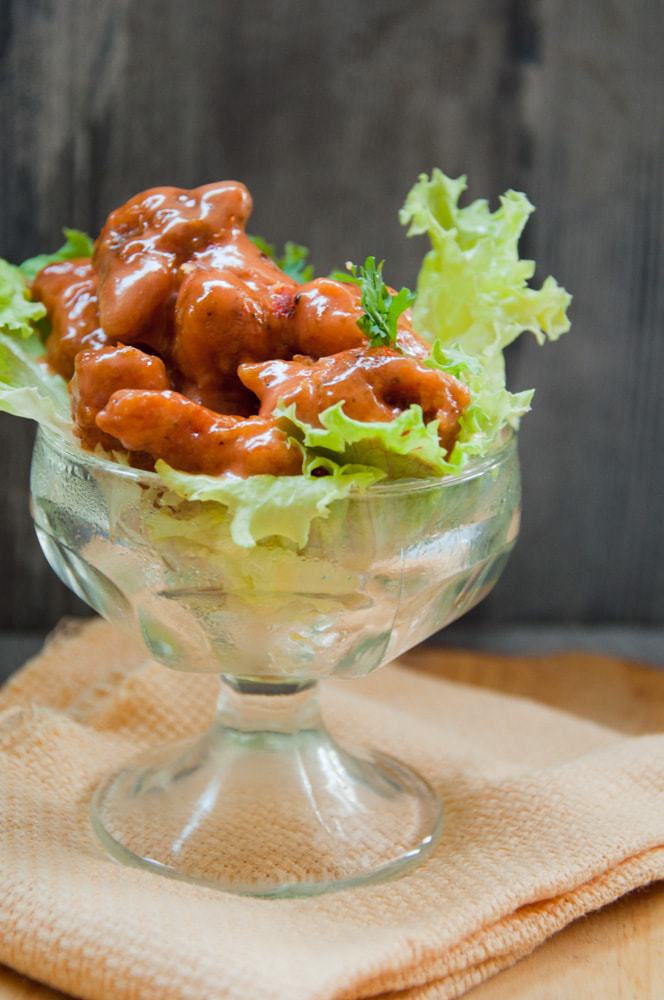 It originated in P.F. Chang restaurant and it was created to provide a local alternative of dynamite shrimp. While dynamite shrimp is made with bang band sauce, this dynamite chicken uses a comparatively more sweet and sour sauce, aptly referred to as dynamite sauce.
Dynamite chicken is a Chicken version of dynamite prawns. The crispy batter-fried chicken with drenched in sweet and spicy dynamite sauce. It is usually served over a bed of lettuce leaves.
Jump to:
Velveting Chicken
The key to any fried chicken is a juicy, soft, and tender bite. To attain this you can either marinate the chicken overnight or use thigh pieces or another easiest method is velveting.

Velvetting Chicken is a well-guarded secret of Chinese restaurants in which you coat chicken with a tiny pinch of baking soda. Rest for 20 and then thorough wash under running tap water. This makes the flesh super soft. Make sure to apply baking soda all over and evenly. Set an alarm and wash chicken right after 20 minutes. Do not leave the chicken for long. This chicken can be added directly in soup and gravies with any marination. Velvetting not needed if using chicken thigh pieces, simply marinate for 20 minutes.
Other methods of velveting chicken are frying or using cornstarch or/and egg white. I'm not going in details of other methods in this post. You can find more about velveting here.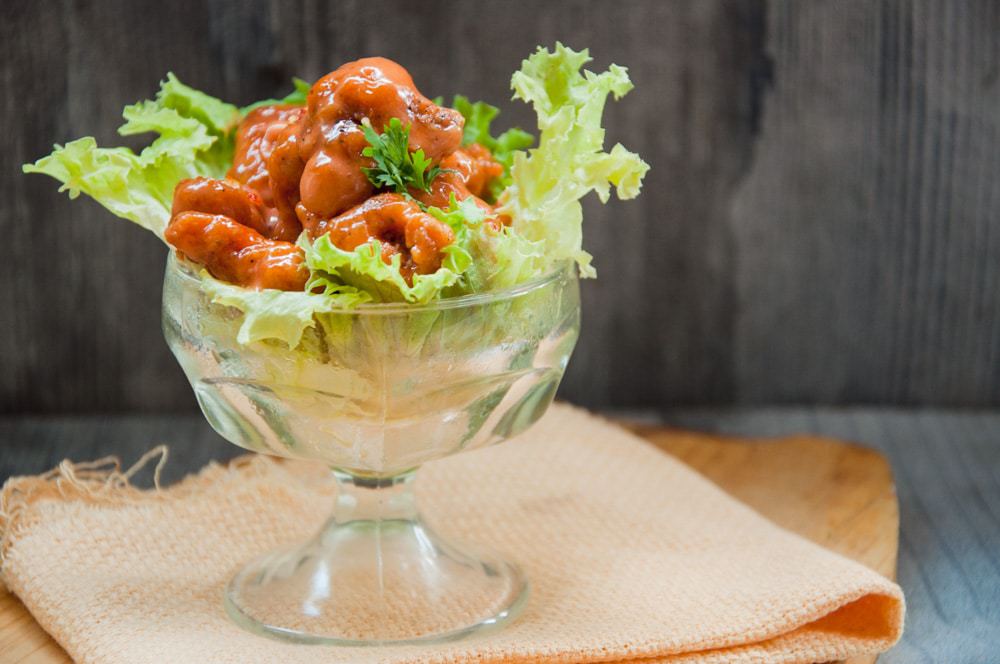 Variations and tips
If using chicken thigh pieces, velveting is not needed. Instead, marinate chicken for 30 minutes or two hours.
Flour: You may substitute wheat flour with plain flour or almond flour.
Serving tip: Ideally, fry chicken right before serving. If incase frying in the last moment is not possible. Fry chicken 20 minutes before serving and store in a barely heated oven to keep it warm. Coat in the sauce just before serving.
How to make it?
Dynamite Chicken is probably the easiest and tastiest of fried chicken dipped in sauce. I'm using the velveting technique to make the chicken breast soft.
Velvetting: To make chicken breast soft and melt in the mouth like velvet, I'm coating the chicken with a tiny pinch of baking soda. I'll leave to rest for 20 minutes only. (Set the timer and don't leave it for longer than 20 minutes.)
Then wash the chicken thoroughly, transfer to a colander to drain excess water. Pat dry with a kitchen towel. (BUT this step is optional. You can skip it if you are marinating the chicken overnight or using Chicken thigh pieces.)

Seasoning: Season chicken breast pieces with basic spices like garlic powder (or garlic paste), paprika (or Kashmiri chili), soy sauce, salt, and any herb. (if marinating overnight skip velveting step.)
Coating: In a bowl prepare egg wash, and in a plate mix flour mixture for coating. Dip seasoned chicken in egg wash first then in flour mixture, coat thoroughly. ( Only 1 coat is sufficient. )
Make Dynamite Sauce: Mix all ingredients of dynamite sauce in a bowl. Set aside. Do this step before frying chicken.
Frying: Fry chicken in hot oil on medium heat until golden and crispy. You may drizzle some sauce over the chicken or thoroughly coat the chicken with sauce. This is a personal choice. Serve immediately. (Check more serving tips in the tips section, above.)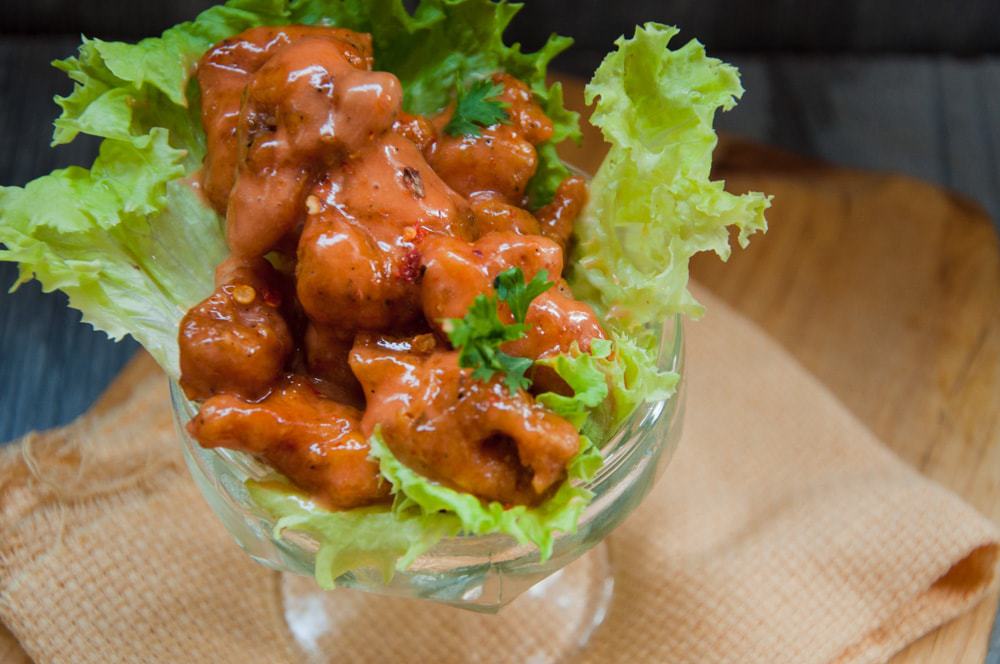 Hungry for fried Chicken? Try these!
📖 Recipe
Dynamite Chicken
Drizzle sauce over chicken just before serving. A great recipe for an appetiser.
Print
Pin
Rate
Ingredients
500

grams

boneless chicken breast

,

cut in cubes

½

teaspoon

baking powder
Dynamite sauce
¾

cup

mayonnaise

4

tablespoon

sriracha sauce

,

or less to taste (See notes for substite)

2

tablespoon

ketchup

½

tablespoon

honey

½

teaspoon

garlic powder

,

or paste
Marination
1

tablespoon

soya sauce

1

tablespoon

paprika

1

teaspoon

garlic powder

1

teaspoon

salt

½

teaspoon

any dried herbs

,

I used oregano
Flour Coating
½

cup

wheat flour

,

(See notes for substitue)

½

cup

cornflour

,

/ cornstarch

½

teaspoon

black pepper

½

teaspoon

salt
Egg wash
2

eggs

¼

teaspoon

salt

½

teaspoon

any dried herb

Oil

,

to fry

4-5

Fresh Lettuce

Green onion

,

for garnish
Instructions
Velvetting:(optional)
In a bowl mix baking powder and chicken. Set aside for 20 minutes. Then wash the chicken thoroughly under running tap water. Strain water the chicken in a colander. Pat dry with a kitchen towel and set aside.
Make dynamite sauce:
Mix all ingredients of dynamite sauce in bowl and set aside.
Marination:
Mix the ingredients of marination and chicken in bowl. Mix well and set aside until needed.
Flour Coating:
Mix all ingredients of flour coating in a plate. Set aside.
Egg wash:
Beat eggs with seasonings of egg wash. Set aside.
Assemble
Dip marinated chicken first in egg wash. Then coat thoroughly with flour mixture.

Fry chicken in hot oil on medium-high heat until crispy. Remove chicken to a plate. Drizzle some sauce on it and serve.

Alternately, you can thoroughly coat chicken with sauce. Serve in an ice cream glass on a bed of lettuce. Garnish with spring onions.
Notes
Siracha Sauce: Use any spicy ketchup to substitute siracha like chilli garlic sauce.
Spice Preference: Reduce siracha sauce measures to half if your sauce is very spicy.
Wheat Flour: Substitute with plain flour, almond flour or tapioca flour)
Fry chicken as needed.
Drizzle or coat with sauce right before serving.
Nutrition Information