Malida (Maleeda) or Malido is sweet and made with wholewheat flour (atta), semolina (sooji, rawa), jaggery (gur, gol), clarified butter (I) and dry fruits. This sweet exits in many cultures like Afghan and Gujarati families like Bohra, Memon, Kachi and Parsi. It is usually made on religious and auspicious occasions. Dawoodi Bohra makes it specially on Eid ul Adha.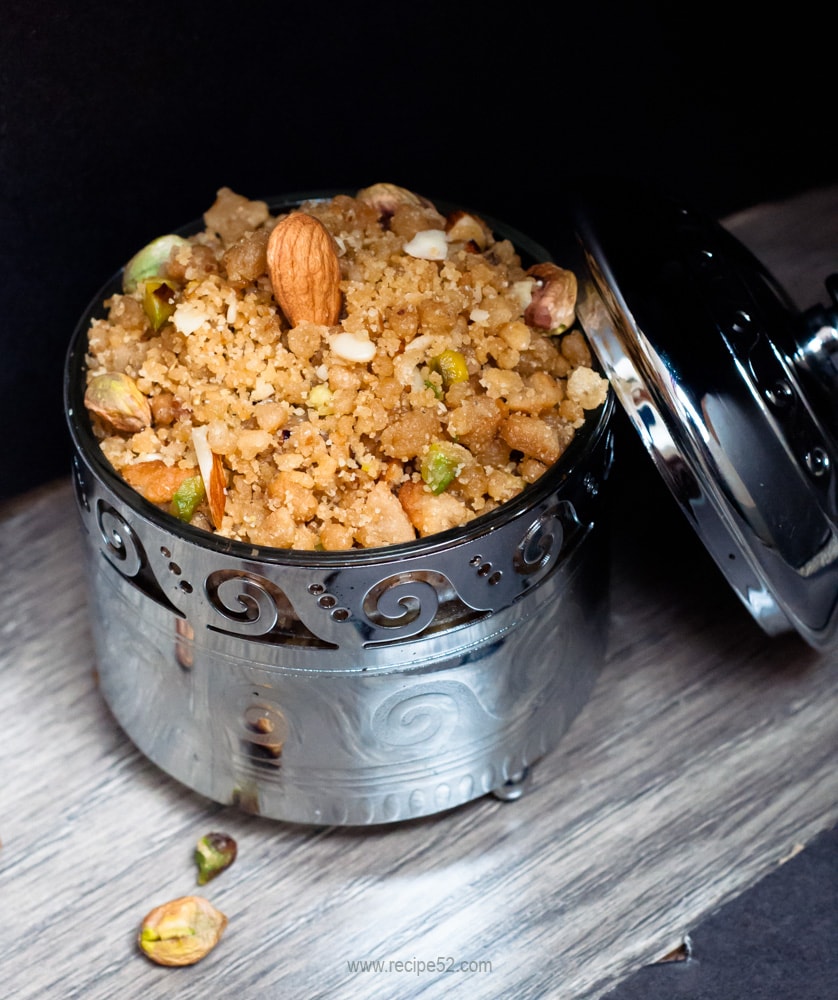 A whole meal in itself. It's nutritious, healthy and filling sweet for both kids and pregnant or post delivery mothers.
I grew up eating it made by my Nani (Grandmother) on every Bakra Eid. So this sweet has a very special place in my heart as it always reminds me of her love. By the way, Malida is my most favourite dessert. The more I eat it, the more I crave it. This was a long due post on the blog and I take great pleasure in writing it.
There are two popular method of making it.
Technique:
Malido with crushed and fried dough balls (Moth-thia):
It is considered more authentic but actually the other one is also century old method. This is more time consuming too but has a unique texture. Intrestingly, 'moth-thi' means fist, since these dough balls are made inside fist with finger impression on it. It is called Moth~thiya, muthia.
Malido with crushed roti:
This method is very quick and hassle free. Just make crisp roti crush with hands. You can also use leftover wheatflour roti to make it.
So, when I crave Malido apart from Eid ul Adha I use this quick method. Beginners in cooking may also find this method very easy. Both method have different taste so I suggest try both method.
Ratio of wheat to semolina
Another variation is ratio of wheatflour and semolina. This also varies from region to region. While few use only wheatflour other use 2:1 , 1:1 ratio of wheat flour and semolina respectively. So adjust ratio if required to reach your desired texture of Malida. Use whatever ratio to make dough and follow Roti or Muthia technique.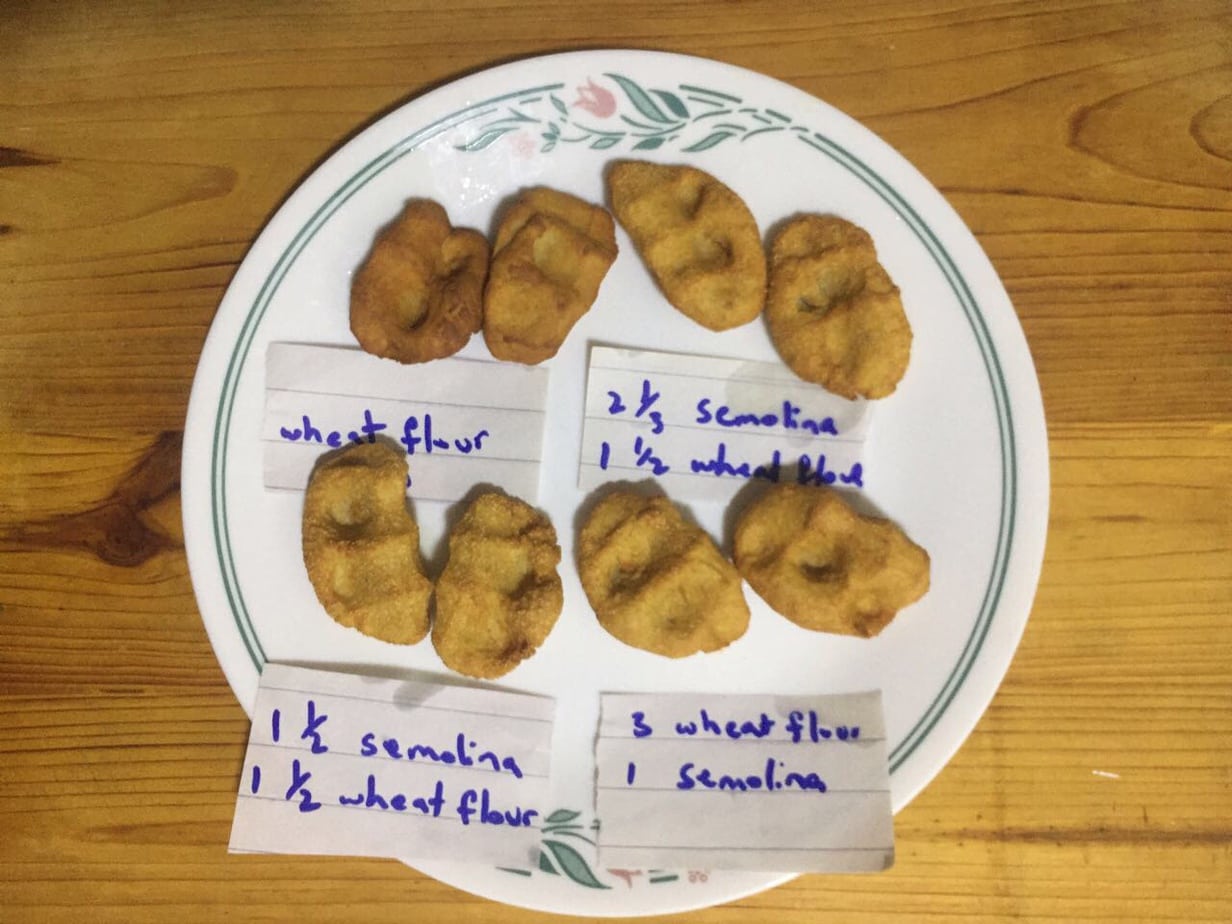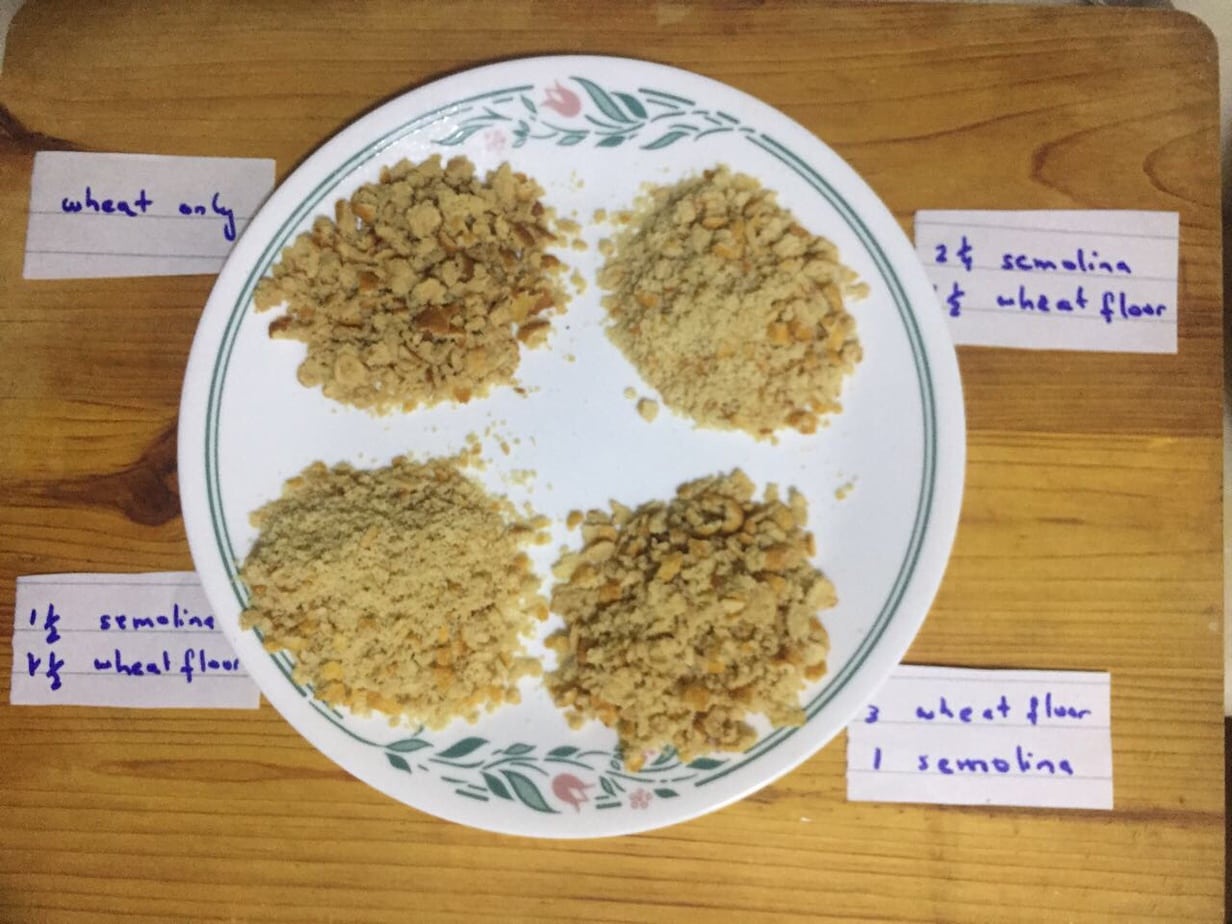 Once, I went all the ways trying all proportions. And it's clearly visible texture of different with different ratio of wheat to semolina.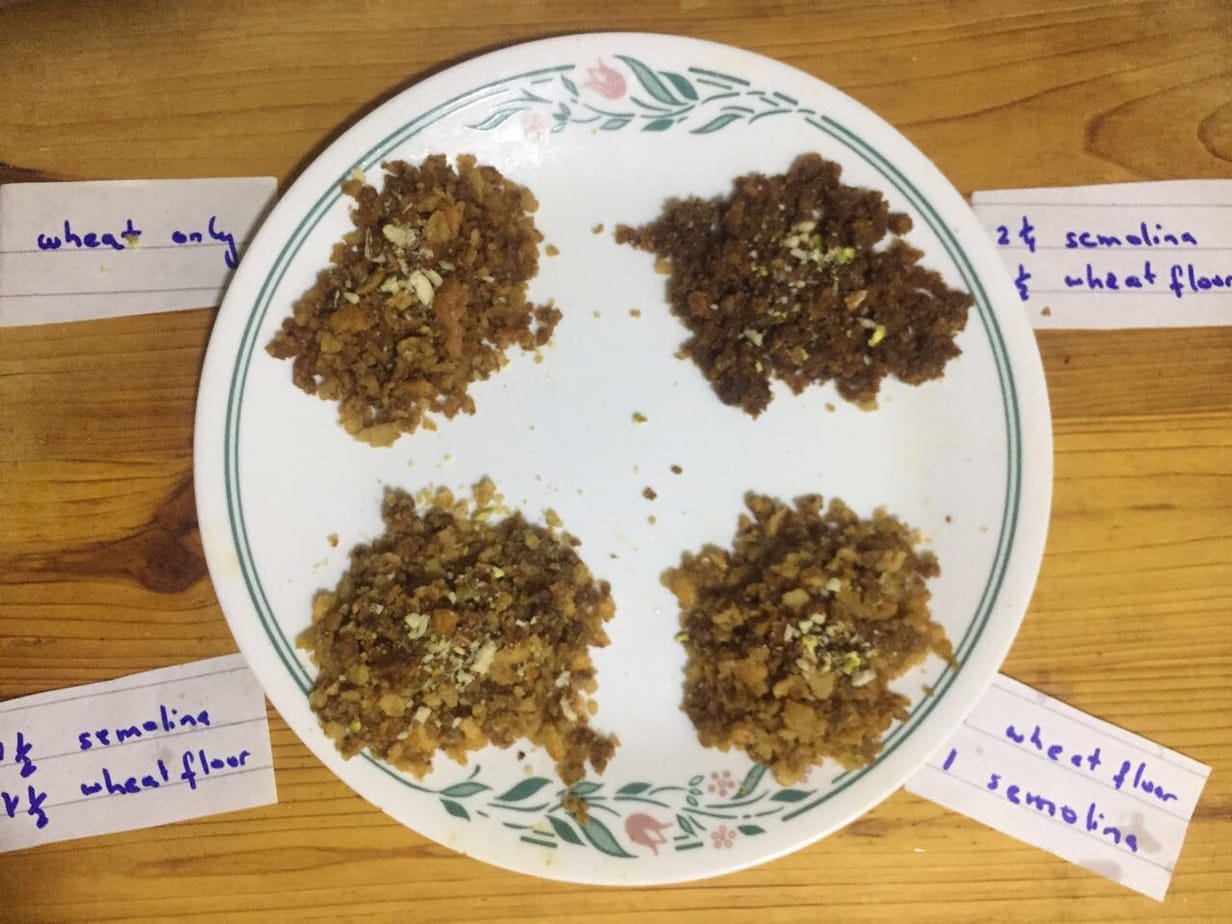 Actually, I emphasise on method and ratio because taste differs and if you want to reproduce taste of someones hand (like my Nani) you might struggle. Small muthia , fried crispy will make it taste more crispy like Malaida. Similarly, roti Malida is also crispy sort.
Now, I share recipe that is my favourite, with all details. Feel free to make changes.
How to make Malida Recipe?
The pictorial recipe is double of the above recipe card.
In a large bowl, take wheat flour, semolina, milk powder, salt and clarified butter.

Mix well until you have a crumbly texture.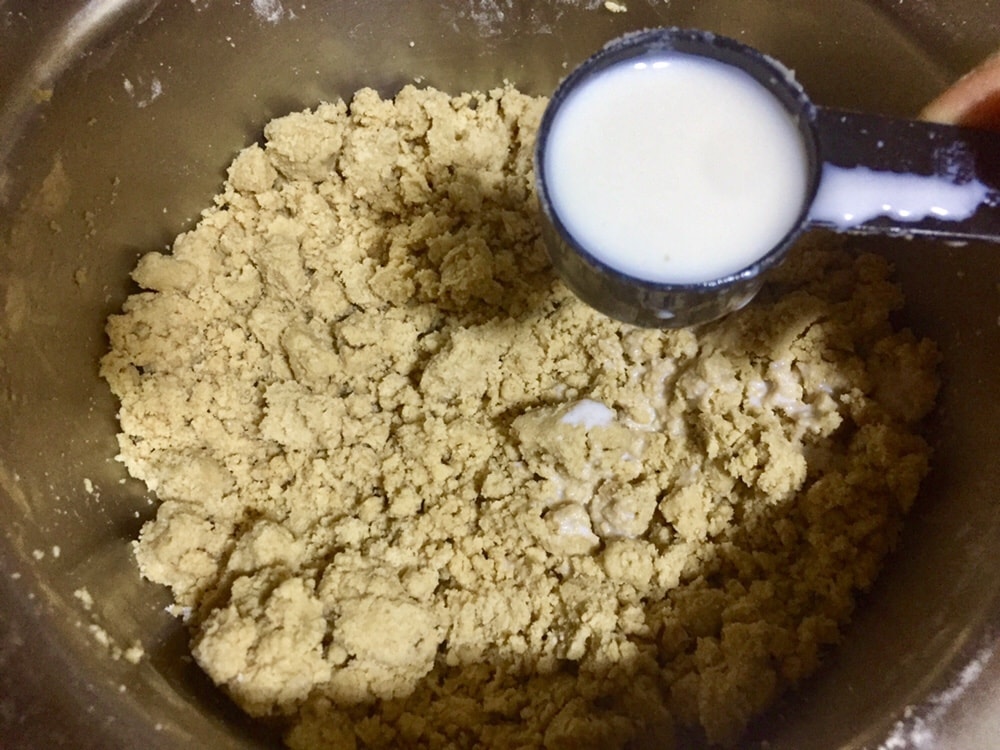 Little by little add milk and water until you have a tough dough. (I used about ½ cup milk.)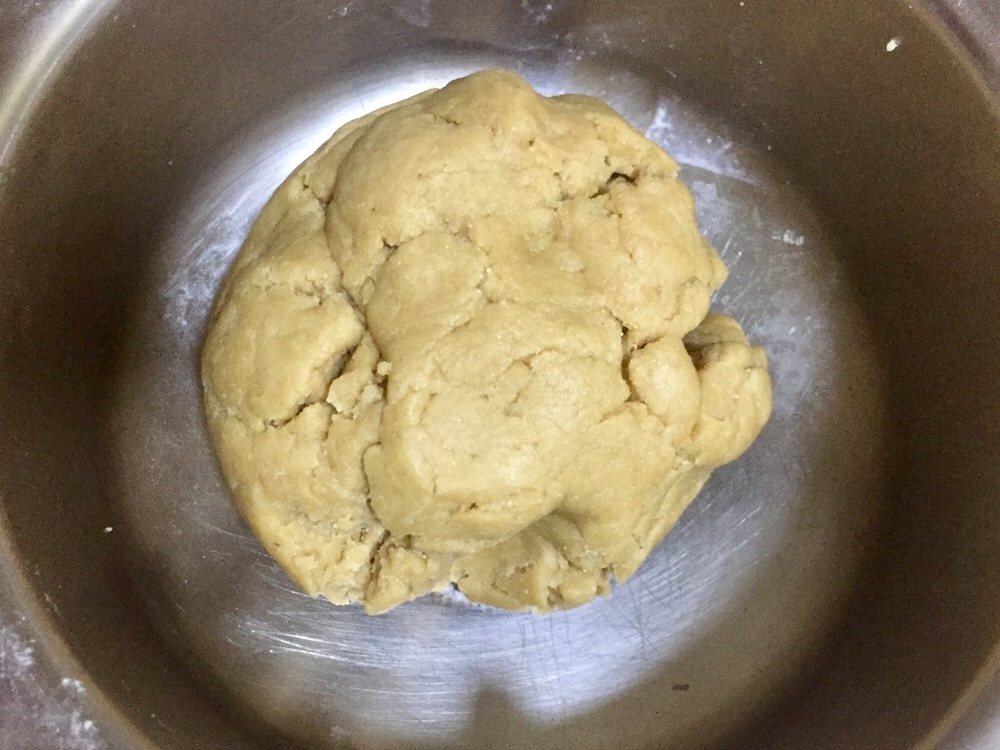 It is visible that the dough is tough and not soft or smooth.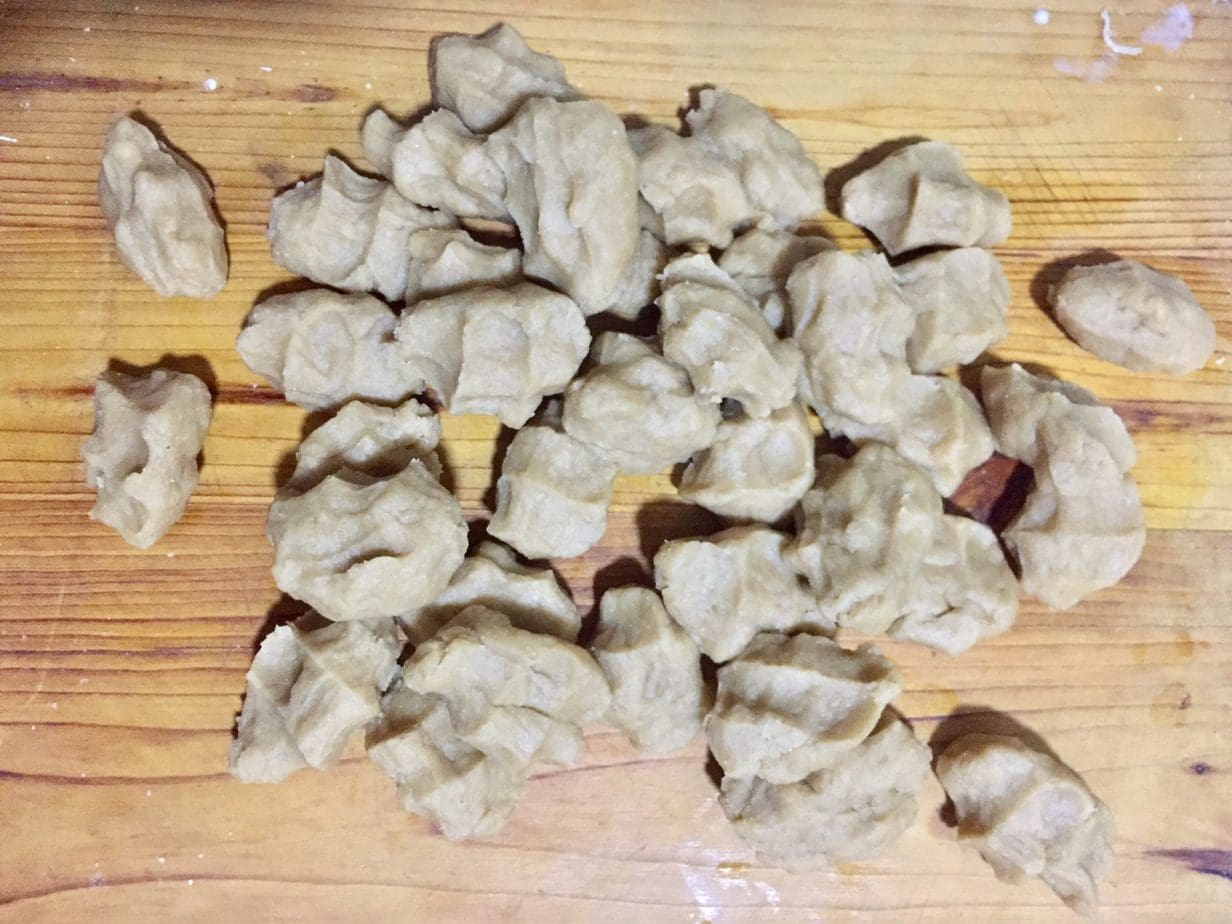 Roll out around 2 inch balls and press them in the fist to form muthia. (Pardon for the photo, I was in real hurry.)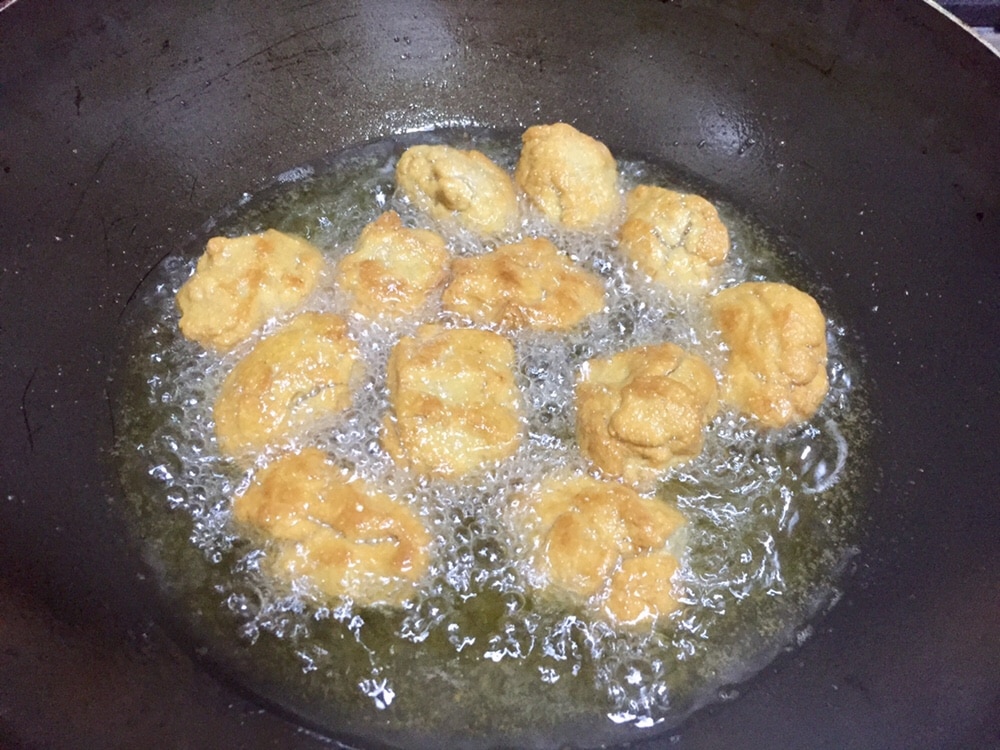 Fry muthia immediately in oil or ghee on medium heat so they are thoroughly cooked from inside out. (I used oil to fry.)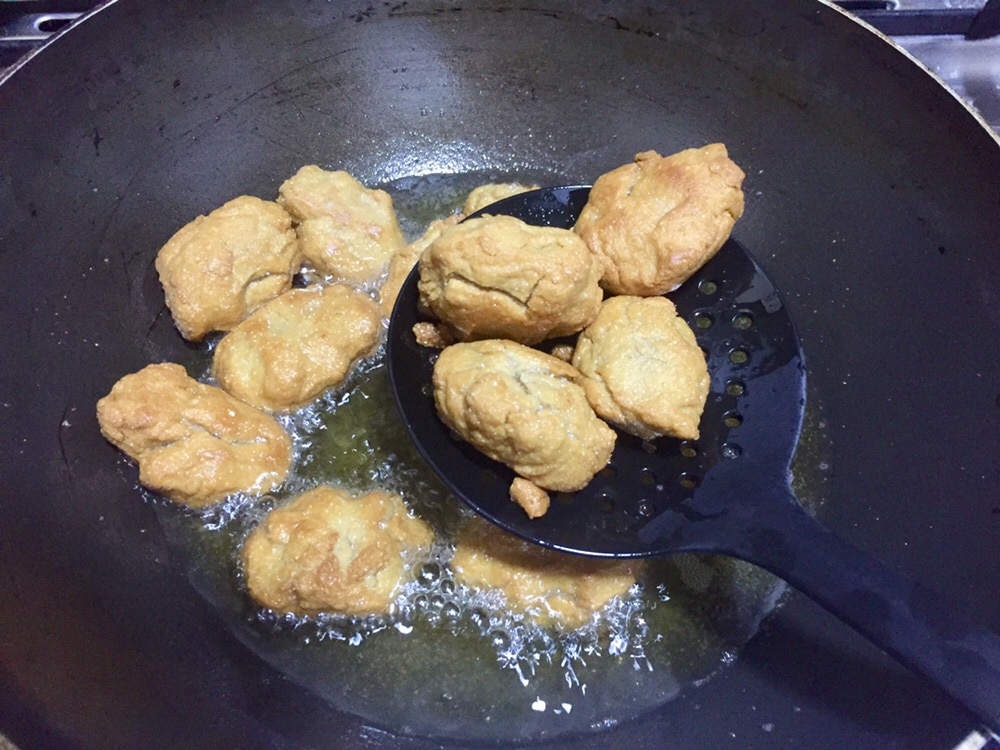 The muthia will puff up. They should be crispy. (Small crispy muthia will give crispy texture to Malida.)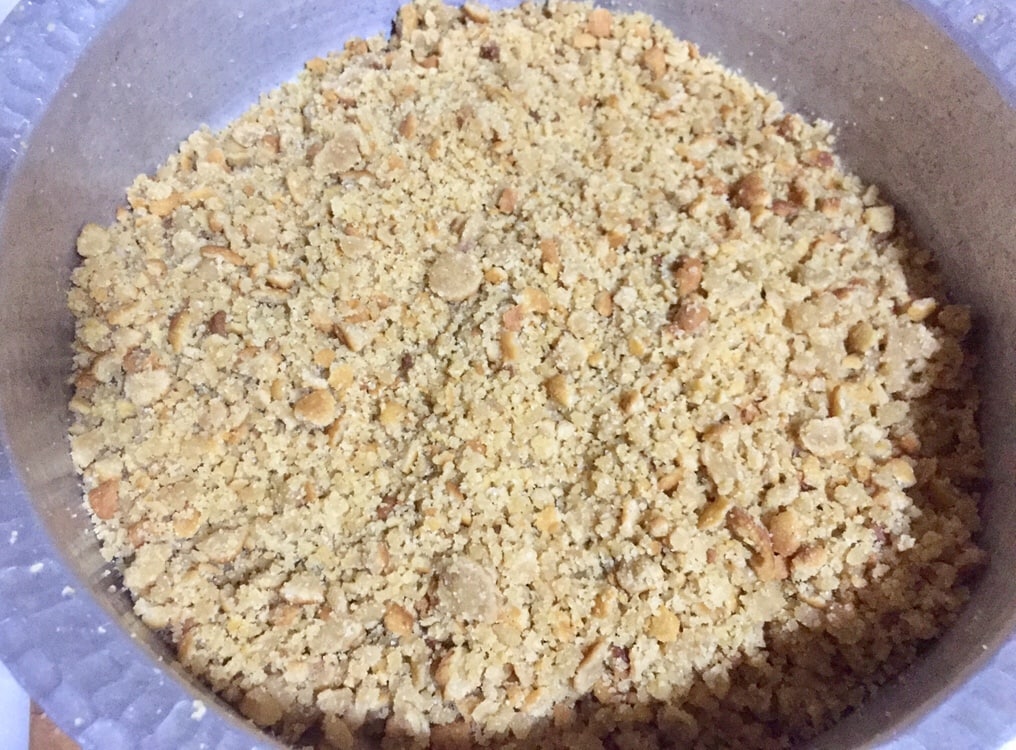 Let the muthia cool then crumble with hands or food processor. I used hands.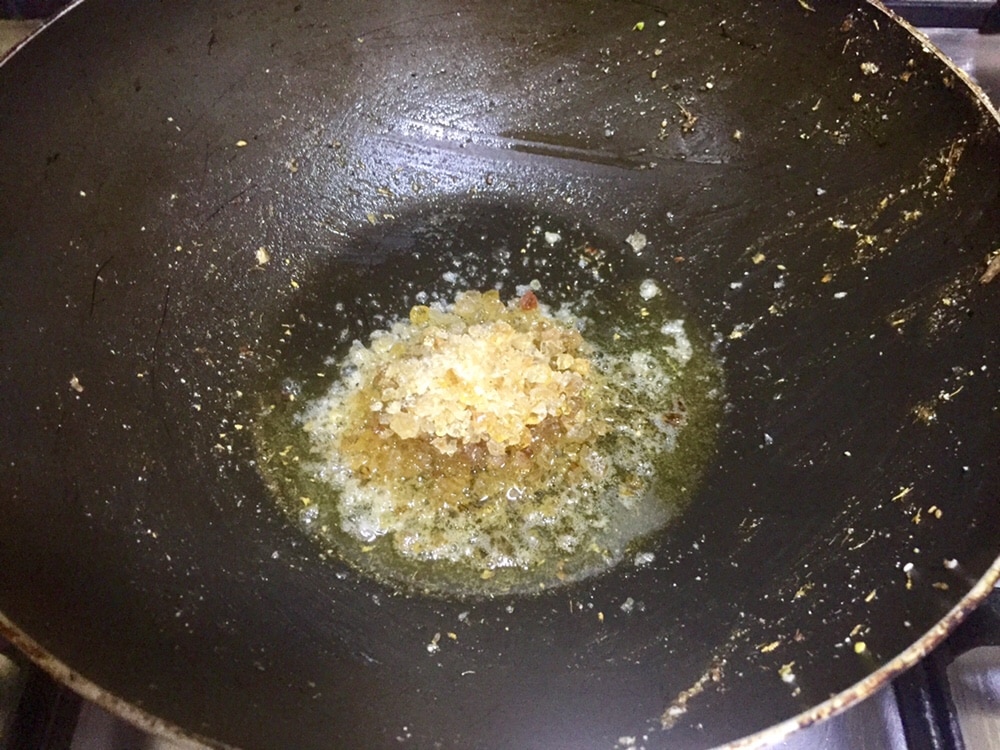 In same wok, deep fry crushed gum (Gond). Stir constantly to fry evenly. The gum should puff up and turn pale whitish. (I removed the oil but I was supposed to deep fry gond in same muthia oil. I can either fry gond first or muthia first.)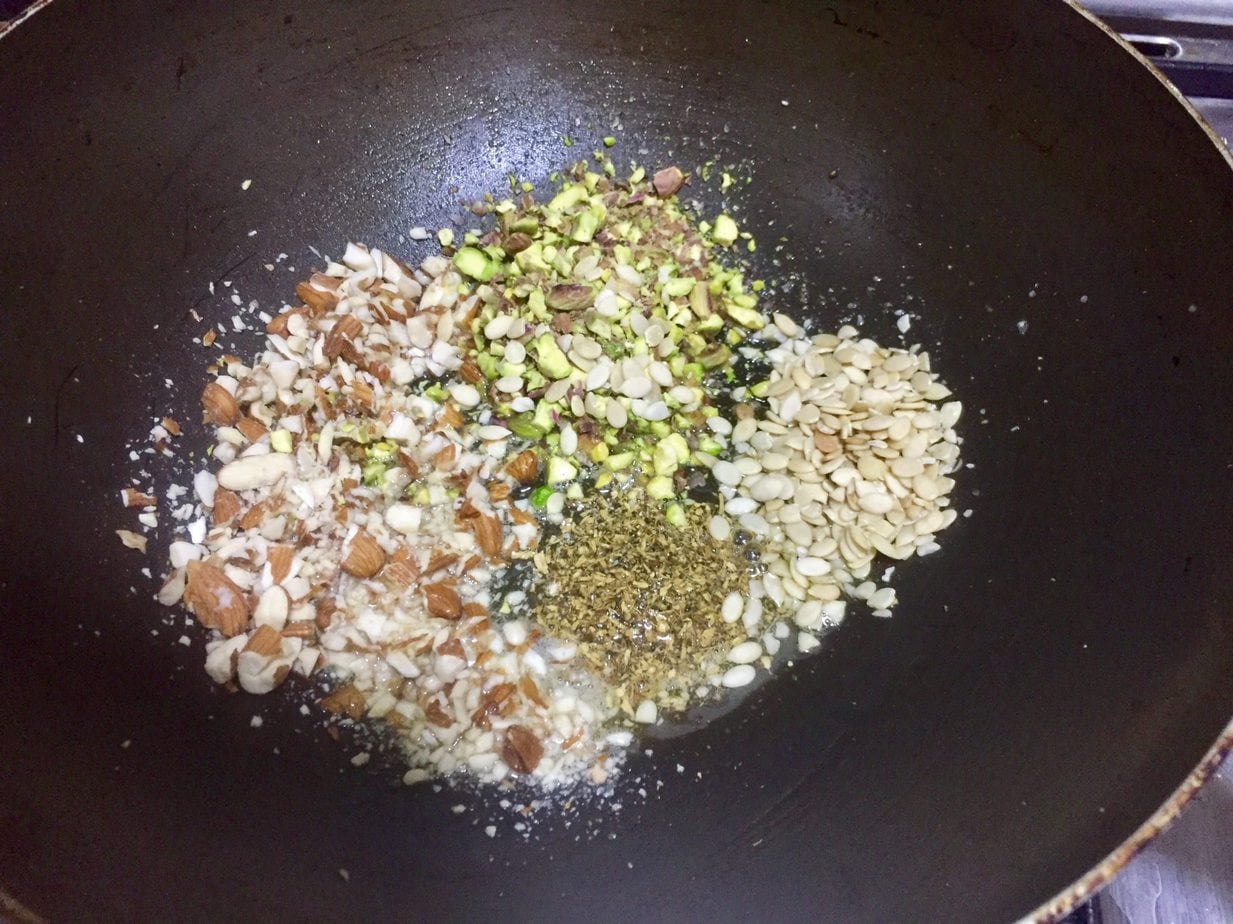 In a wok fry nuts and cardamom powder in 1 tablespoon clarified butter until crispy. (I used same wok in which I fried muthia removing all oil and wiping it with a towel to clean.)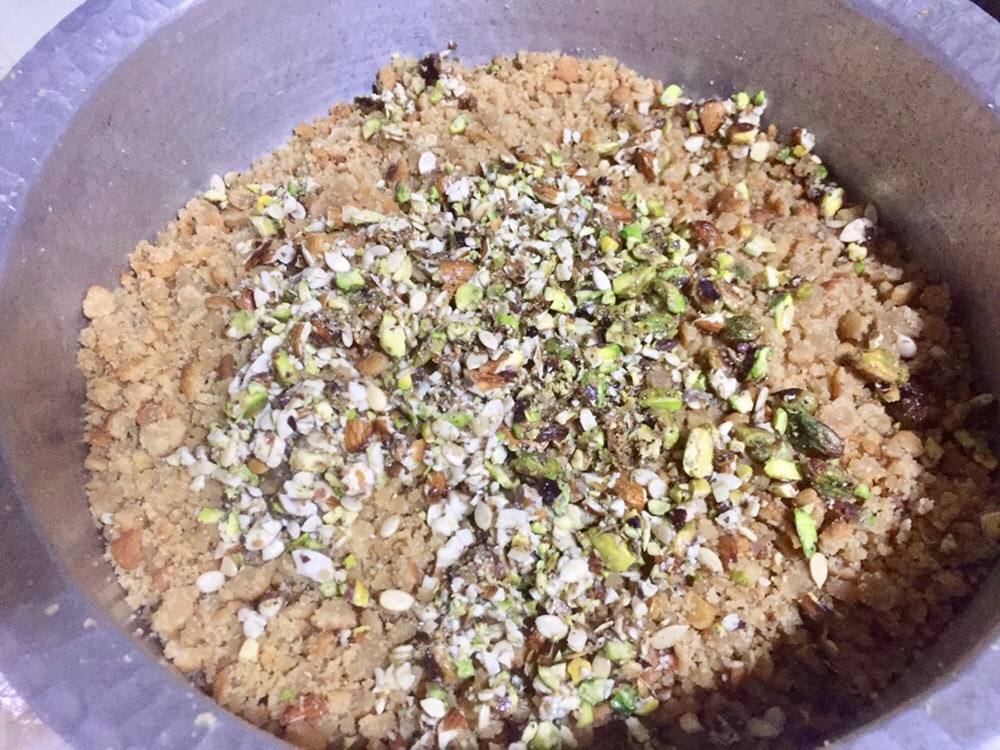 Add fried nuts to crumbled muthia. (You can used almonds, cashew, pistachio, pine nuts, pumpkin seeds, coconuts, hazel nuts etc.)
Save some nuts and gum for garnish.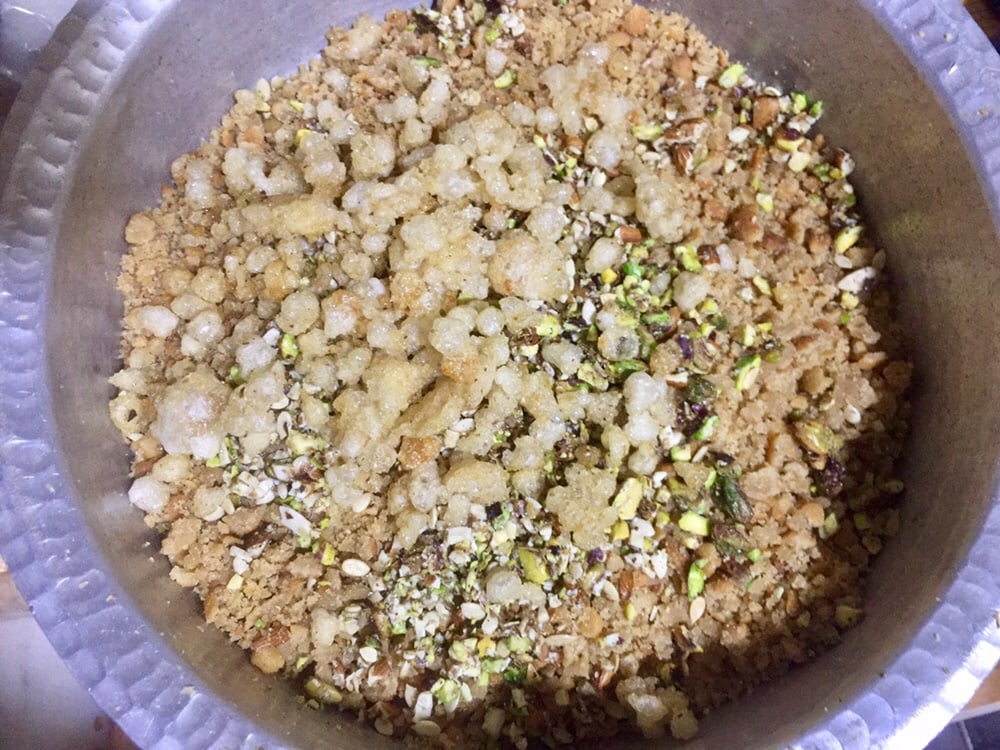 Add puffed gum also to muthia. Mix well the nuts, gum and crumbled muthia.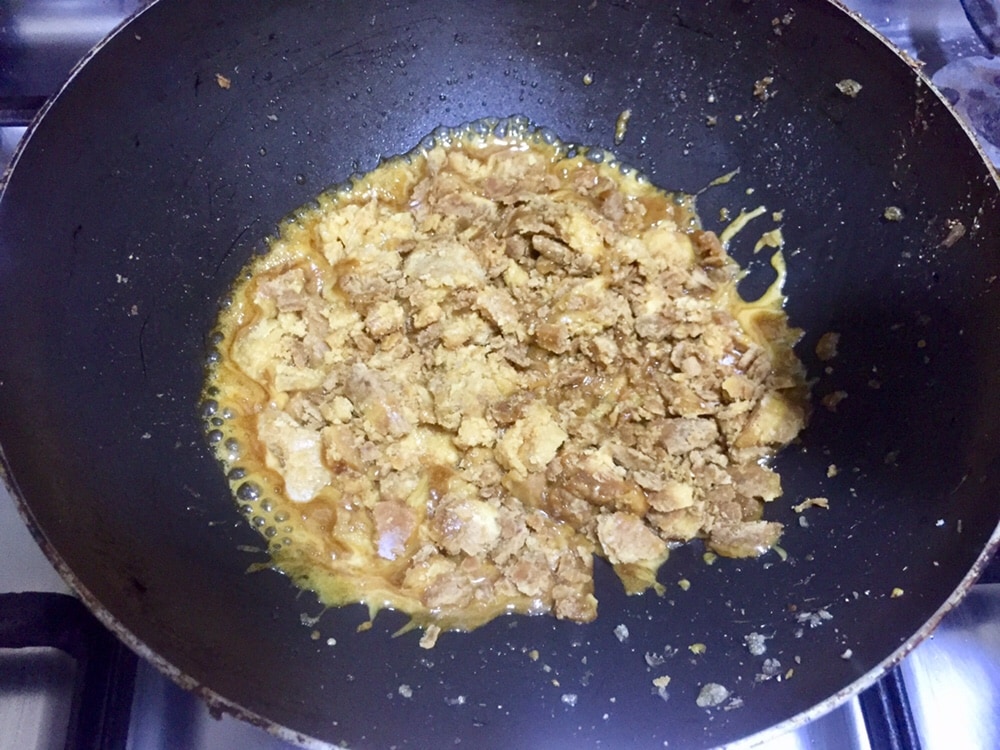 Heat about 4 tablespoon clarified butter in same wok and add grated jaggery.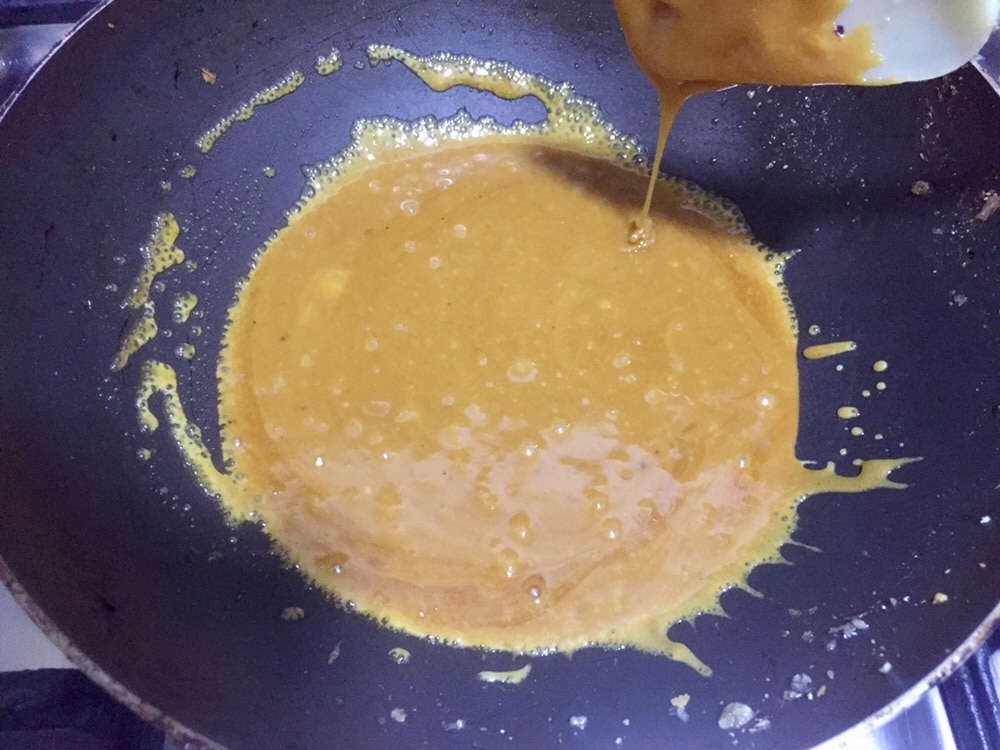 When jaggery melted to a thin liquid, add it to crumbled mixture. (Do not overcook jaggery or it will caramelise and turn hard.)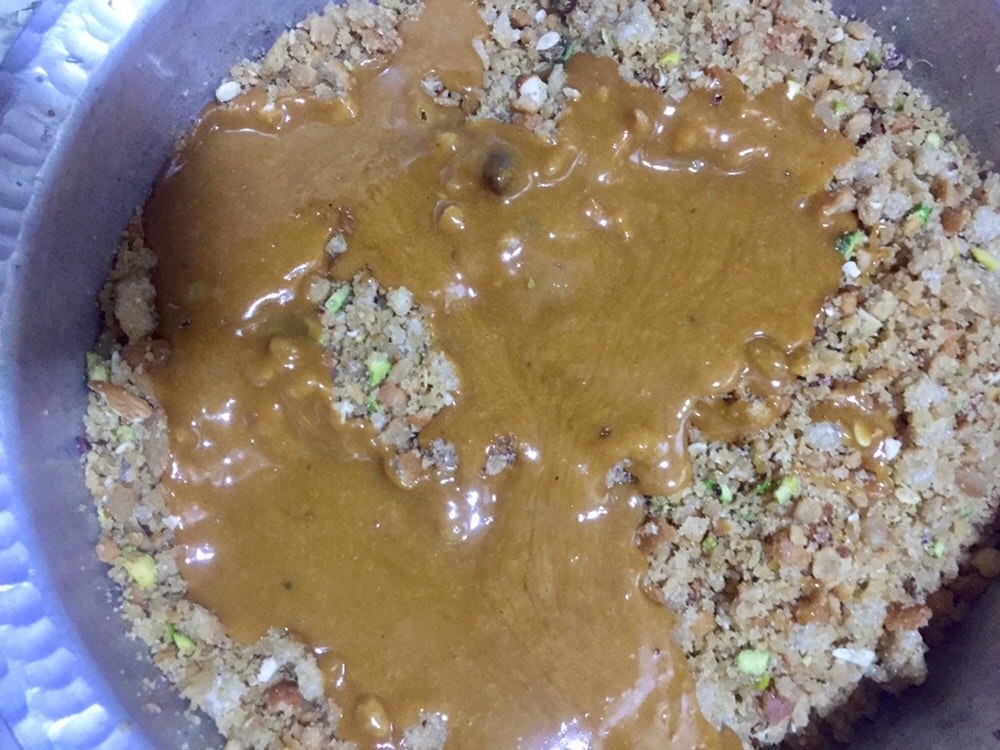 Mix everything quickly with a large spoon. (Careful, jaggery will be very hot.)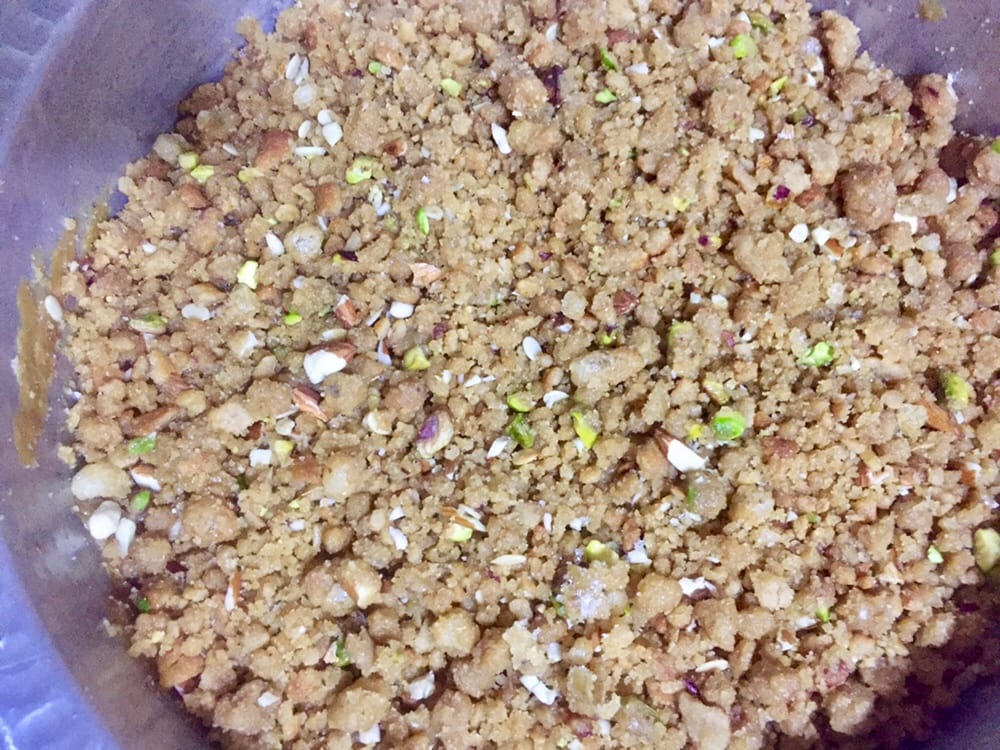 Malida is ready. Reheat on low flame and mix well so jaggery is mixed evenly. Garnish with more nuts and gum. Serve warm.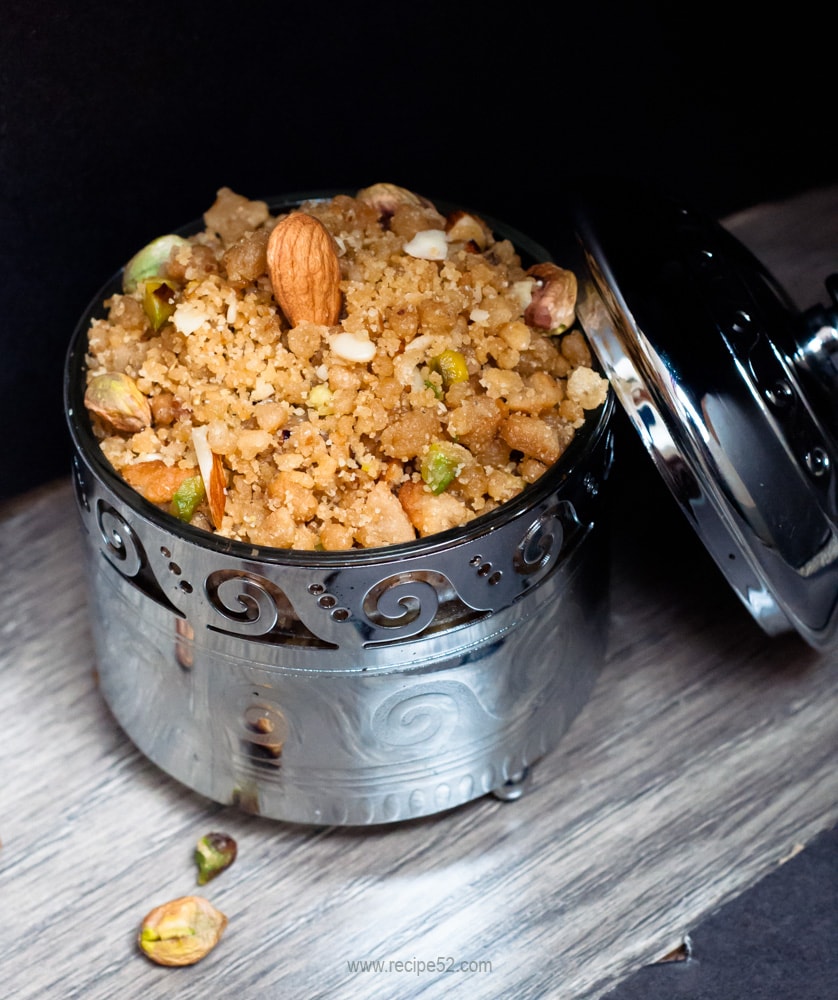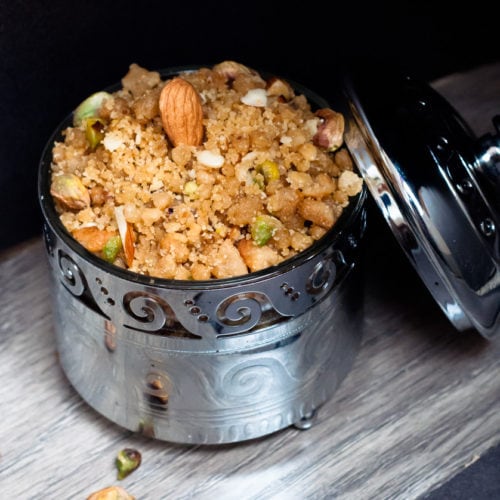 Ingredients
For Dough:
2

cup (200 g)

wheat flour

¼

cup

ghee or cream

6

tablespoon

semolina

,

(sooji)

¼

cup

warm milk

1

pinch

salt

½

teaspoon

cardamom powder

Water

,

as required

Oil or ghee

,

to fry
Other
½

cup

mixed nuts

,

crushed

2

tablespoon

ghee

,

for assembling

¼

cup

gum

,

(goond) crushed in bits

¾ -1

cup (150 g)

shredded jaggery (gur,gol)

,

less or more to taste
Instructions
Making Dough balls
In a large bowl mix, wheat flour, semolina, clarified butter, milk powder and salt with hands until you have a crumbly mixture. Mix milk and water as required to make a tight dough.

Form small 2 inch dough balls and press inside fist to imbed deep finger marks. (This is Muthia, and this shape of dough helps thorough cooking from inside.)

In a wok, deep fry muthia in small batches in clarified butter or oil on medium flame until crispy golden.

Let muthia cool than crumble with a food processor.
Assembling
In same wok, deep fry crushed gum until it puffs up completely with constant stirring. Add puffed gum to crumble muthia. Mix well.

Take 1 tablespoons clarified butter in a pan and fry cardamom powder, pistachio, almond, melon seeds for 30 seconds until crisp. Add to crumble muthia.

In same pan, heat 1 tablespoon clarified butter and add grated jaggery. Let the jaggery melt to runny consistency. As it starts to boil from sides of pan pour melted jaggery over crumbled mixture. Mix thoroughly with a spoon. (Jaggery will be very hot, be careful.)

To serve, heat Malida on slow heat and serve warm garnished with more nuts.
Nutrition Information
Calories:
511
kcal
,
Carbohydrates:
84
g
,
Protein:
9
g
,
Fat:
15
g
,
Saturated Fat:
7
g
,
Polyunsaturated Fat:
2
g
,
Monounsaturated Fat:
6
g
,
Cholesterol:
25
mg
,
Sodium:
13
mg
,
Potassium:
144
mg
,
Fiber:
3
g
,
Sugar:
29
g
,
Vitamin A:
14
IU
,
Vitamin C:
0.1
mg
,
Calcium:
35
mg
,
Iron:
4
mg