Kiwi is a delicious fruit with a unique taste. The green kiwi juice has a tangy taste that is great for making a refreshing kiwi drink. For a deeper taste experience, I pair kiwi with mint-infused sugar syrup.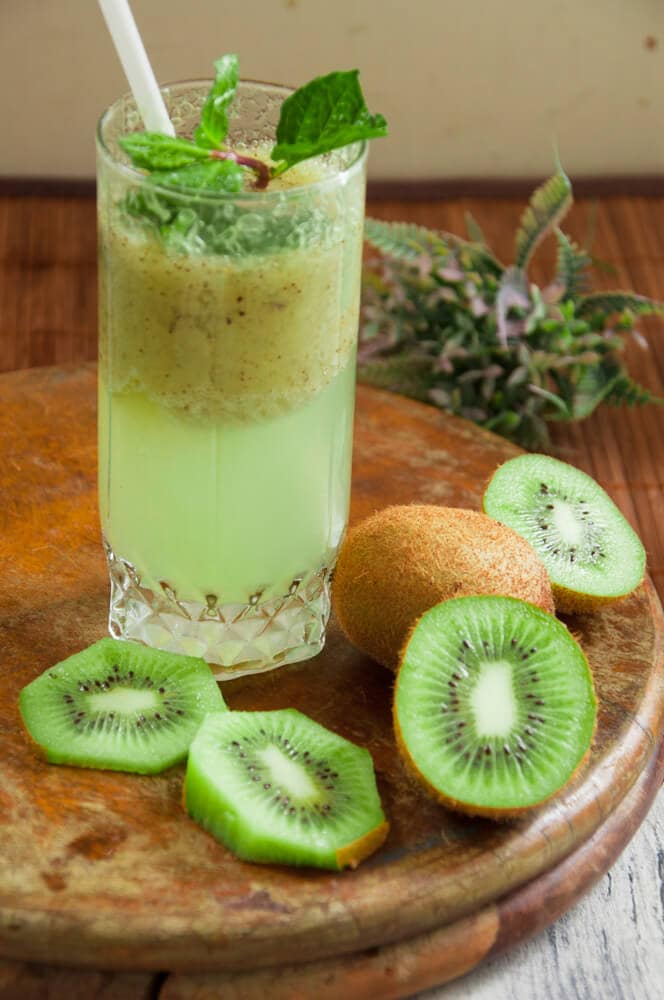 Jump to:
Green kiwi juice can be very sour and you need to balance the sour taste with some sort of sweetness. I'm using sugar syrup in this recipe but you may use honey, maple syrup, or simply add some apple juice. 
The kiwi fruit gets sweeter as it ripens and the flesh soften. So you may use ripened kiwi for less sour taste. Another variety of kiwi is golden kiwi, it is naturally sweeter in taste. You can also use golden kiwi in this recipe.
For further punch, I'm adding lemon soda to the drink which makes it a frizzy drink to serve to guest as a welcome drink. But, it is optional. I won't spoil anyone with frizzy fresh juice if it is not a party. Lol.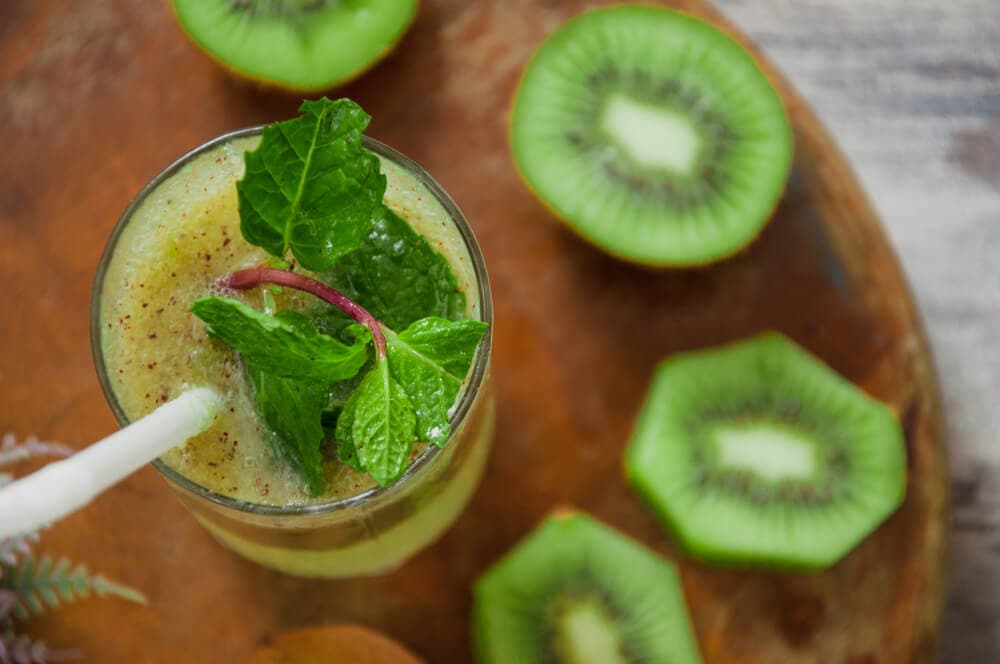 How to prepare it?
There are two way to prepare kiwi fruit for any recipe. One is peeling the kiwi and slicing it as needed. You can peel kiwi skin with a peeler or knife. This method is suitable for firm less ripened kiwi.
Another method is to divide kiwi into two halves and scoop the flesh with a spoon. This scooping method should be used for softer ripened kiwi.
How to make it?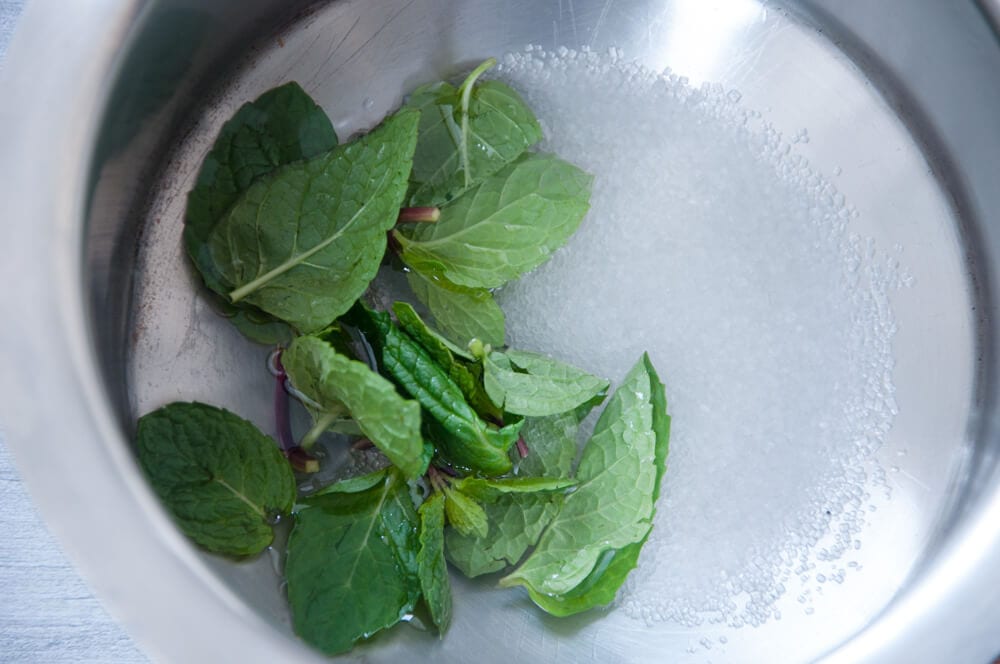 Boil sugar, water and mint in a pot until sugar melts. Cover the pot and let mint flavors get infused in the sugar syrup for about minutes.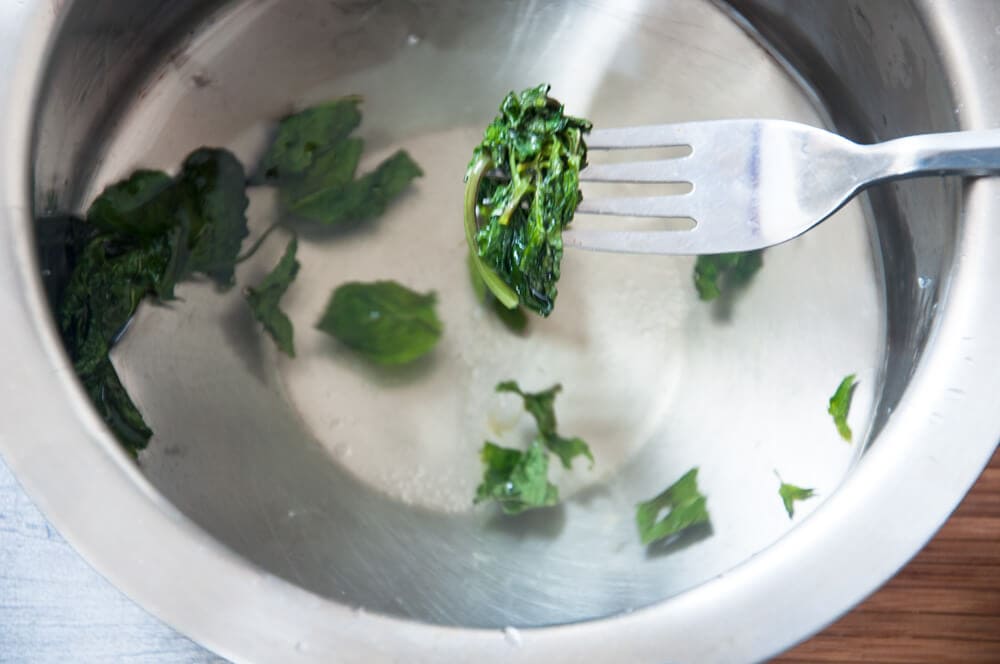 Remove the wilted mint leaves from sugar syrup and discard.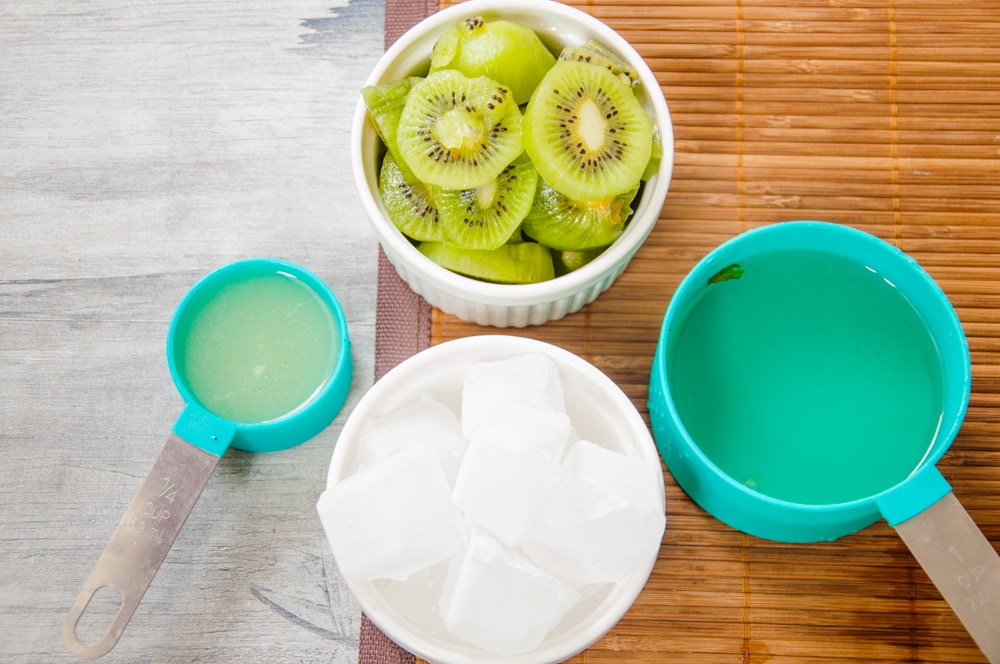 Blend kiwi, lemon juice, sugar syrup, and ice until smooth.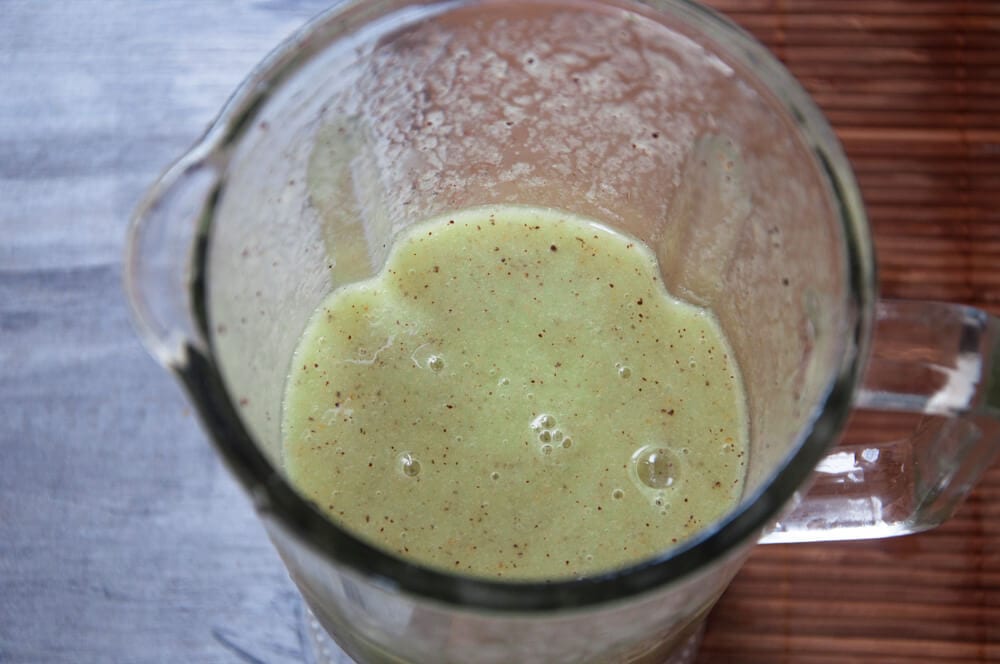 To serve kiwi drink: First, add ice 1-2 ice cubes to the glass, then fill half of the the glass with blended kiwi juice. Gradually top up with lemon soda and place mint leaves on top. Add a straw and serve.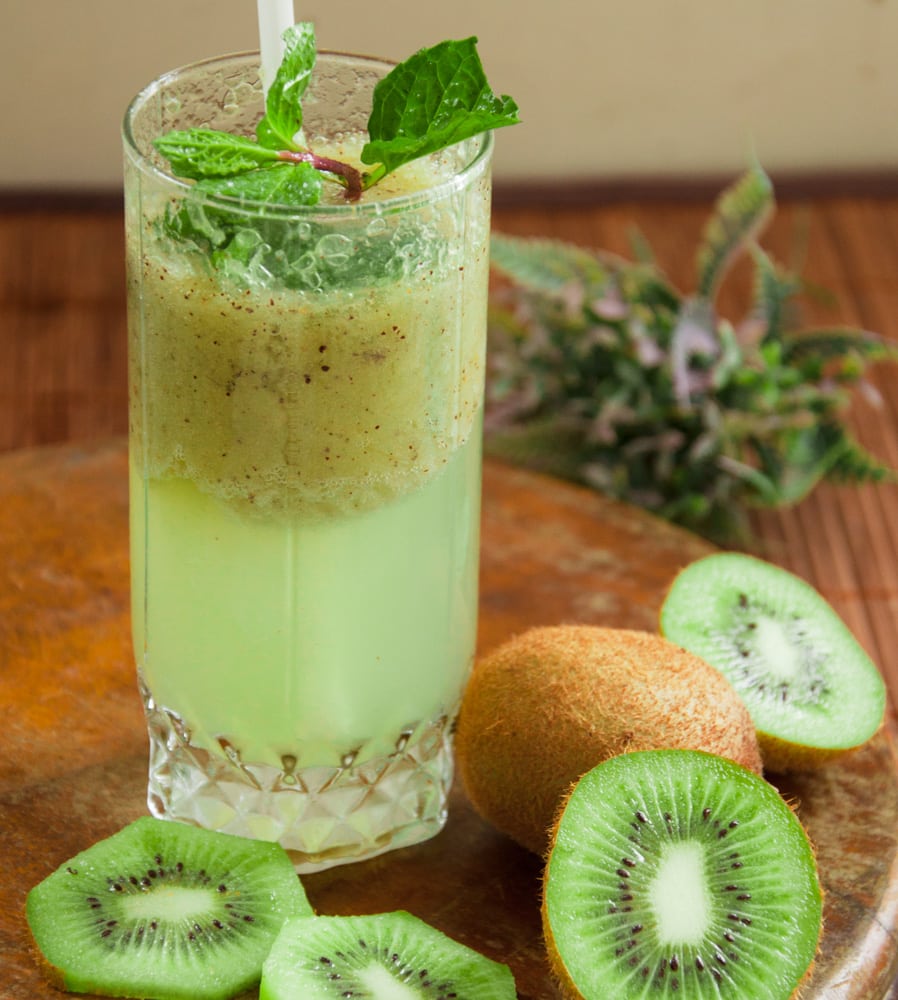 FAQ
Can you juice kiwi?
Yes, you can juice kiwi. And if you are using a hard juicer, you can juice the whole fruit. Just chop off the eye (the top where the stem was attached.) The skin of kiwi fruit is not only edible but full of nutrition. Make sure to use more firm and less ripened kiwi fruit for juicing. Also remember, kiwi has a very sour taste. So to balance it, always pair kiwi with apples, carrots, or any other sweeter fruit or vegetable.
Can you blend kiwi?
Similarly, you can blend kiwi with other fruits like bananas and apples or vegetables like spinach or carrot to make a kiwi smoothie.
Is kiwi citrus fruit?
No, kiwi is not a citrus fruit like orange, grapefruit, and lemon. But kiwi is rich in vitamin C like other citrus fruits. 
Is kiwi good for health?
Yes, kiwi is full of nutrients, minerals, and fiber. It is rich in vitamin K, Vitamin C, Vitamin E, potassium, folate, and antioxidants. Furthermore, it can help improve digestion, help in the treatment of asthma and improve the immune system. Read more here at healthline.
Want more drinks like this? Try these!
📖 Recipe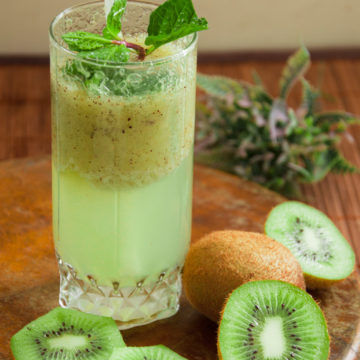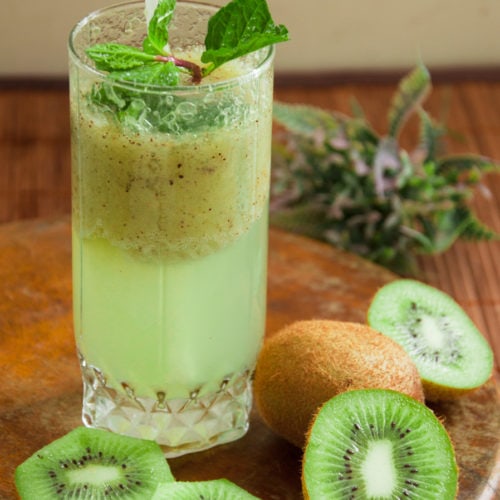 Kiwi Drink
A refreshing non alcoholic drink for dinner parties.
Print
Pin
Rate
Ingredients
½

cup

sugar

¾

cup

water

1

fistful

mint leaves

,

about 20

1

cup

sliced kiwi

,

about 3 kiwi

¼

cup

lemon juice

1

cup

ice

,

more for individual servings

500

ml

lemon soda

,

I used 7 up
Instructions
Heat sugar, water and mint leaves in a pot until sugar melts completely. Then turn off heat and cover the pot to let mint flavors infuse in sugar syrup for 10 minutes. Remove wilted mint leaves and discard.

Blend sugar surup, kiwi flesh, lemon juice, and ice in a blender for 1-2 minutes until smooth.
To serve:
First pour kiwi slushie in a glass, add mint leaves.

Then slowly pour lemon soda. Add a fancy straw and serve.
Notes
You may accompanied this drink with some pink salt or sea salt.
For quick serving blend all ingredient except lemon soda in a blender and serve. (The infusing of mint instead of blending directly is adopted for smooth texture.)
Nutrition Information
Serving:
250
ml
,
Calories:
179
kcal