Aam Panna is a refreshing summer drink. What is more interesting is the taste is not very sour like what I would expect of Raw green mango juice. It has a balanced sweet and sour taste to keep you cool and hydrated in the parching summer heat. Aam Panna is also called Keri ka sharbat.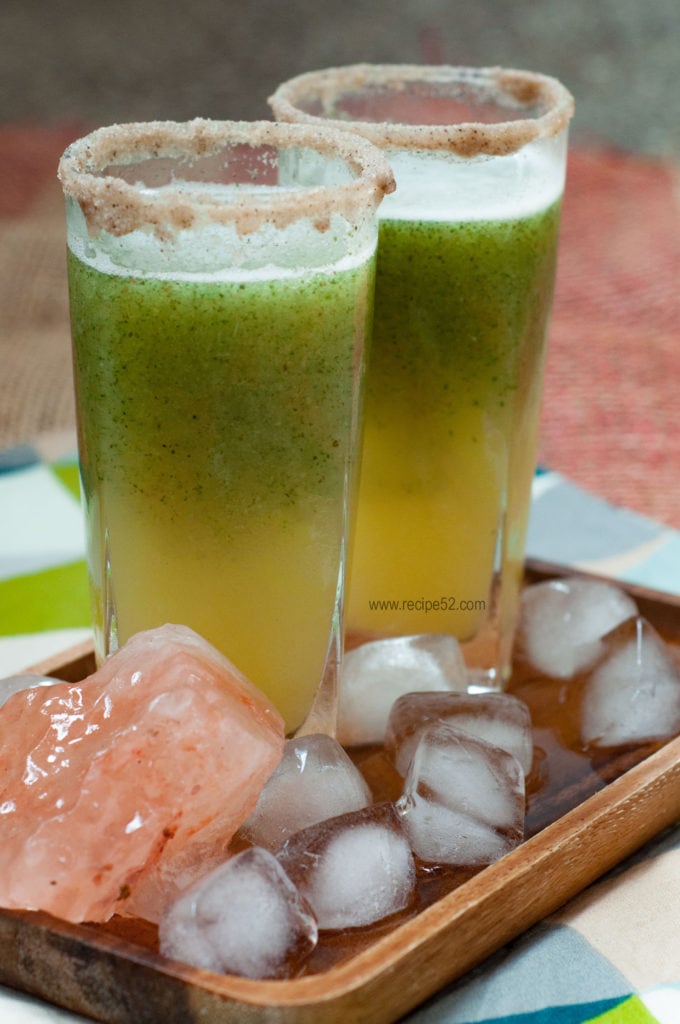 Updated: 25 March 2021 (with improved format)
The heat of summer brings sweetness in the air filled with a sweet mango aroma. While mango is a warm fruit that ripens in the scorching heat of warmer regions. Aam Panna or green mango juice from unripened mangoes is cooling. Learn more about raw mango here.
What is Aam Panna?
Aam Panna is South Asian raw or unripened green mango drink that is made in summer as a body cooler. It has a balanced sweet and sour taste with hints of cumin and black salt.
Variation
Beat the heat with this cooling drink.
You can add a lot of common Indian spices in this drink ranging from cardamom to ginger, jaggery, and a little red chilli powder too.
If your unripe mangoes are very hard and too sour, you can add ½ bottle gourd to this drink to make it sweeter and less tangy. Just boil bottle gourd along with green mango. Moreover, bottle gourd also helps to cool the body heat.
If you like fizzy drinks, you can mix some sparkling soda or lemon soda to this drink right before serving.
You can use any sweetener of your choice like jaggery, raw sugar, brown sugar, honey or maple syrup.
Homemade drinks raw mango juice are far better than store-bought drinks. You can add lemon juice to the drink to make it tangier. But then also increase sugar measure.
I intentionally avoided lemon in this recipe as I intend to add this recipe in Ramadan drink recipes. And Ramadan is the time when one needs to be more careful about health. So you don't miss your fast due to any sickness.
Is Aam Panna cooling?
The salt and sugar in this drink along with raw mango (keri) rich in vitamin C protects you from dehydration and sunstroke. This Aam Panna drink helps digestion and cools the body. It also helps detoxify the body. Raw mango and mint make a refreshing combo.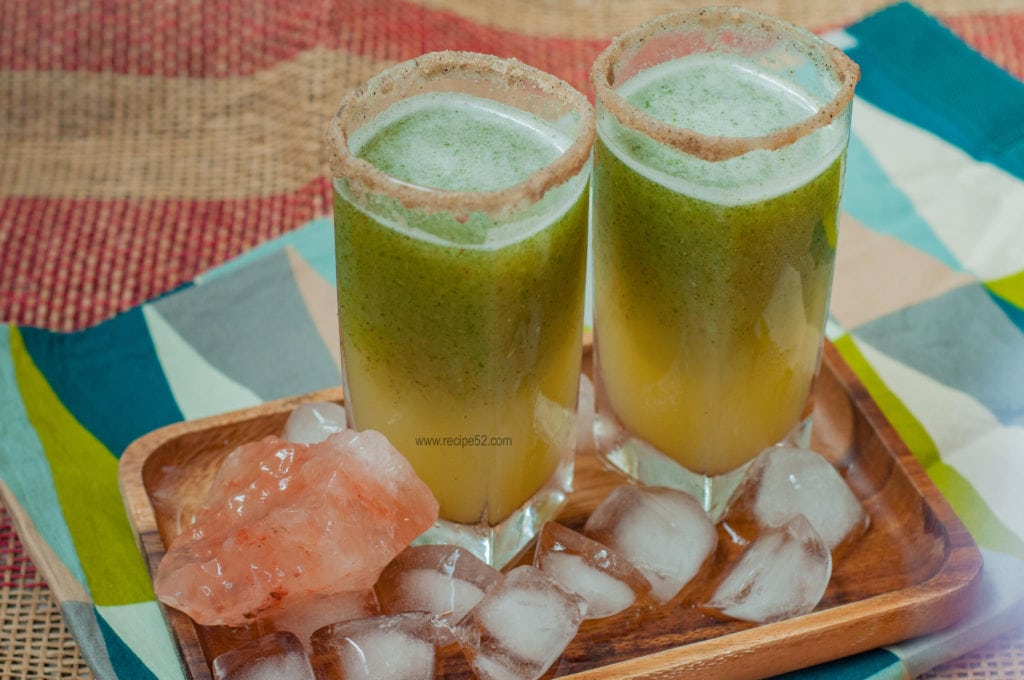 How to make Aam Panna?
Wash Raw Green Mangoes (keri).
Peel it with a knife or peeler.
Slice the flesh of the seeds. And cut the flesh in pieces.
Boil Raw Mango flesh with 2 cups of water for 7 minutes. Cover the lid.
Raw Mangoes are tender now. Add sugar, cumin, black salt and black pepper.
Add another 2 cups of cold water to cool the mixture and let it cool completely. Transfer mixture to a food processor.
Add mint. Blend for 2 minutes until smooth.
Strain the mixture to remove solid particles. (But this straining step is optional.)
Aam Panna, Keri sharbat, or raw green mango juice concentrate is ready.
To make sharbat fill ¼ glass with concentrate. Add 2 ice cubes. Fill the remaining glass with cold water. Mix well and serve.
Love Mango? Check these mango recipes.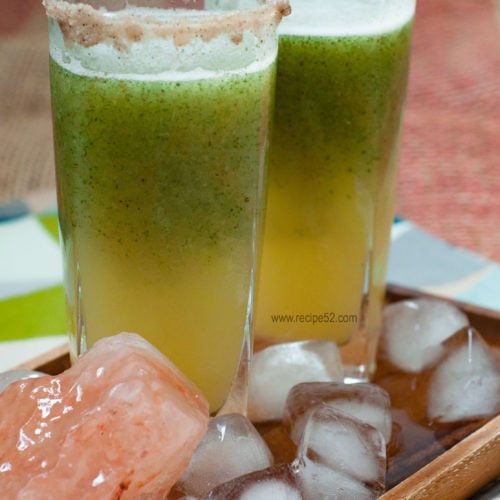 Aam Panna (Raw Mango Juice)
Refreshing, cooling drink for summers and iftar.
Print
Pin
Rate
Ingredients
4

(500 grams)

raw green Mango

,

(keri)

4

cups

water

,

divided

1¼

cup

sugar

,

sub with jaggery or brown sugar

1½

teaspoon

cumin seeds

,

roasted

¼

teaspoon

black pepper

1

teaspoon

black salt

2

fist full

mint leaves
Instructions
Wash and peel raw mango. Slice the pulp off the seed. Cut the pulp into pieces.

Boil pulp in 2 cups of water for 7- 10 minutes until tender, with lid covered.

Once tender, pour 2 cups of cold water to cool the mixture. Next, add sugar, black pepper, roasted cumin and black salt. Mix well and let it cool completely.

Transfer the raw mango mixture to the food processor, add mint leaves and blend into smooth pulp.

Transfer the pulp into a large vessel and strain the liquid in a coarse strainer.

Your sherbet concentrate is ready. Can be stored in the fridge for 2-3 days. You can freeze it too.
To make sherbat
Fill ¼ glass with concentrate. Add two cubes of ice and fill the remaining glass with water. Mix well. Serve with extra crushed pepper and black salt.
Nutrition Information
Serving:
1
glass
,
Calories:
82
kcal
,
Carbohydrates:
21
g
,
Protein:
1
g
,
Fat:
1
g
,
Saturated Fat:
1
g
,
Sodium:
198
mg
,
Potassium:
7
mg
,
Fiber:
1
g
,
Sugar:
21
g
,
Vitamin A:
14
IU
,
Vitamin C:
1
mg
,
Calcium:
6
mg
,
Iron:
1
mg