Heya! Looking for a spicy cornflakes chicken tender recipe that is crispy, juicy, and flavorful? This is one of those fried chicken recipes about which I'm super confident. These are meant to please. The double coating stays crisp and gives absolute crunch in every bite. The spicy level is also balanced and makes it a good starter or appetizer.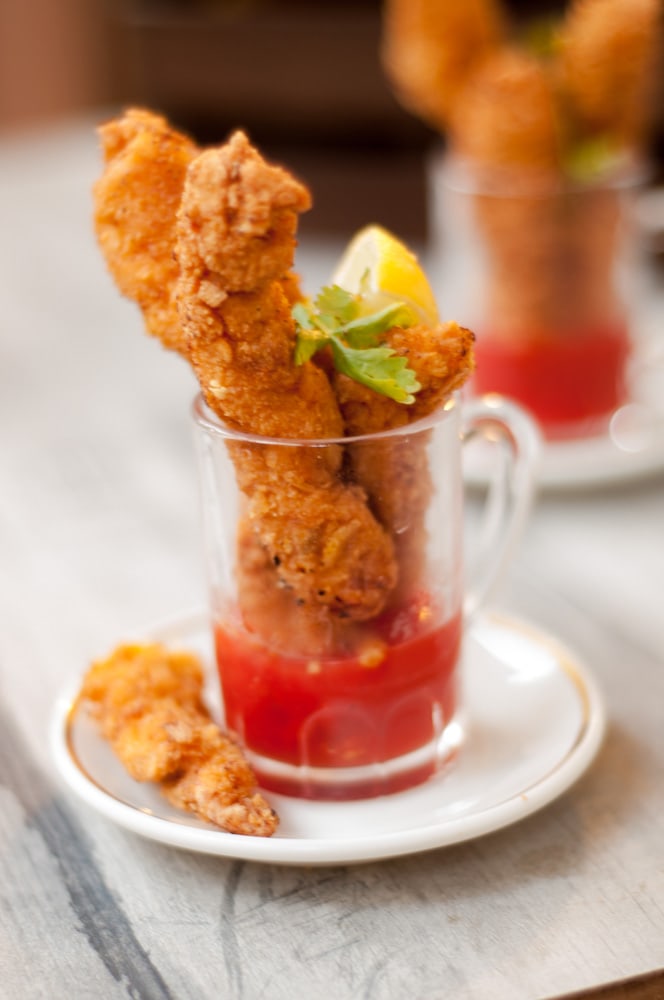 Baked or Fried or Air fryer Cornflakes Chicken
Obviously, fried cornflakes chicken fingers would taste best. But baked cornflakes coated chicken also stay crispy for long and taste great too with no compromise on health. Check the video for steps for baking chicken tenders. This recipe is also Air fryer friendly.
How to cut chicken strips?
To cut chicken strips out of the chicken breast. First, hammer each chicken breast lightly to flatten. Then cut the chicken breast diagonally. Divide longer strip into two. Also, slice thicker strips into two strips.
These strips will puff up slightly. The coating will also make them thick so make sure chicken strip have less than ½ inch thickness.
Why this Cornflakes chicken recipe works?
We marinate the chicken with spices and lemon juice which makes chicken flavorful and soft. Then we coat the chicken with cornflour that locks the juices in chicken and also form a sticky surface for cornflakes to stick. The cornflakes coating is plain so to balance that we add enough spice in marination and coatings. The taste is crispy and slightly spicy.
Gluten-free chicken tenders
If you want to make gluten free chicken tenders, simply substitute plain flour with more cornflour and use gluten free cornflakes. The ketchup used in the recipe should be gluten free.
Other variations:
You can roll these tender in any sauce like buffalo sauce, honey garlic or barbecue sauce to make juicy succulent chicken strips. Check this buffalo chicken recipe for inspiration.
How to make Spicy Cornflakes Chicken Recipe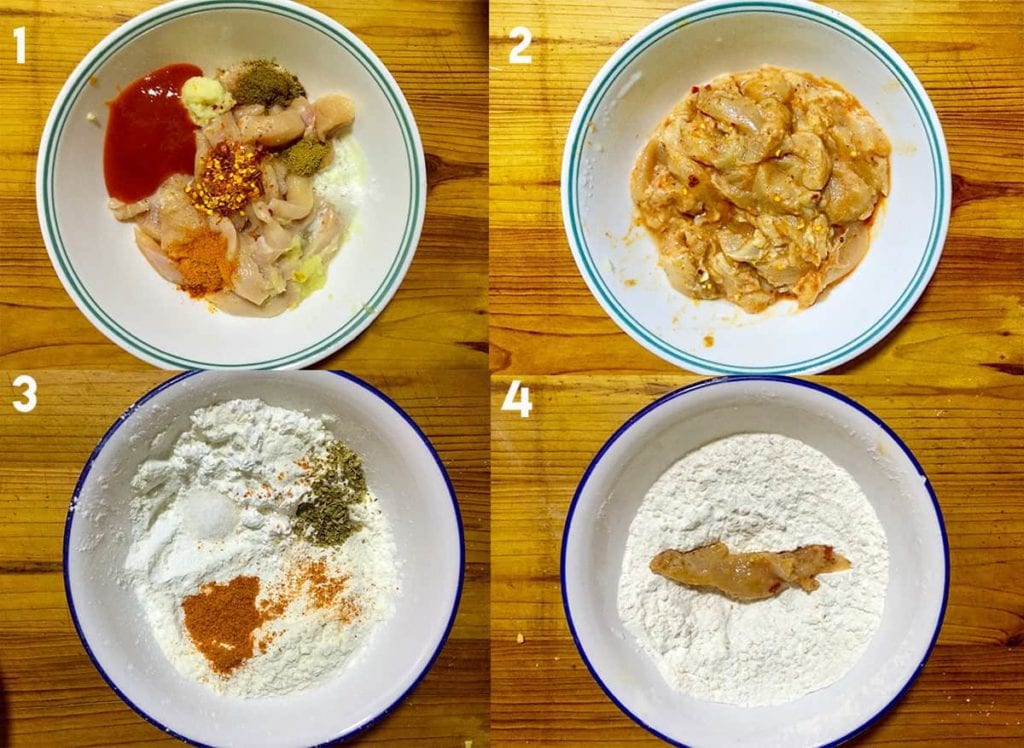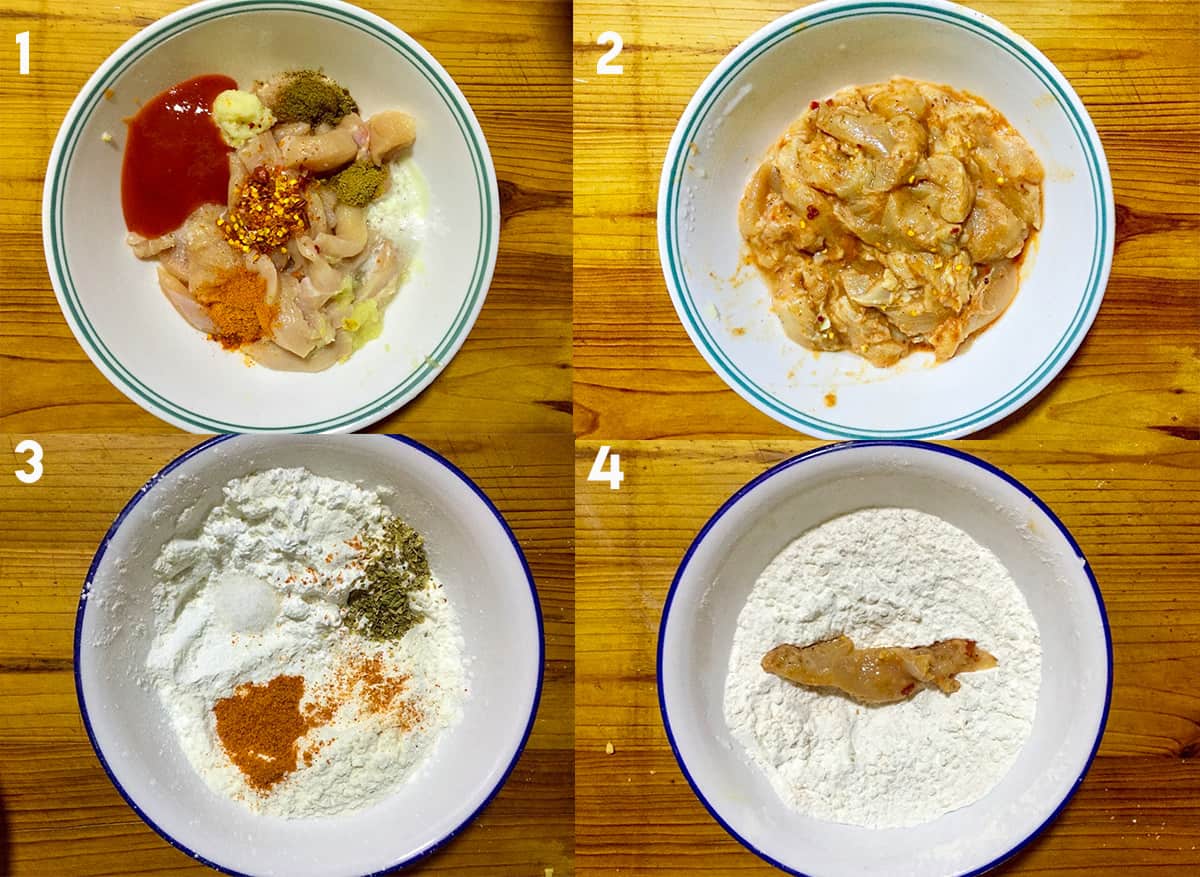 Put all ingredients to marinate the chicken in a bowl.
Mix well and let it rest for at least 30 minutes or preferably overnight in the fridge.
Mix seasoning in flour and cornflour and set aside. (Adjust red chilli powder to taste but remember cornflakes have no seasoning so we depend on this coating for taste boost.)
When chicken is marinated, coat each chicken strip in seasoned flour. Dust off any excess flour.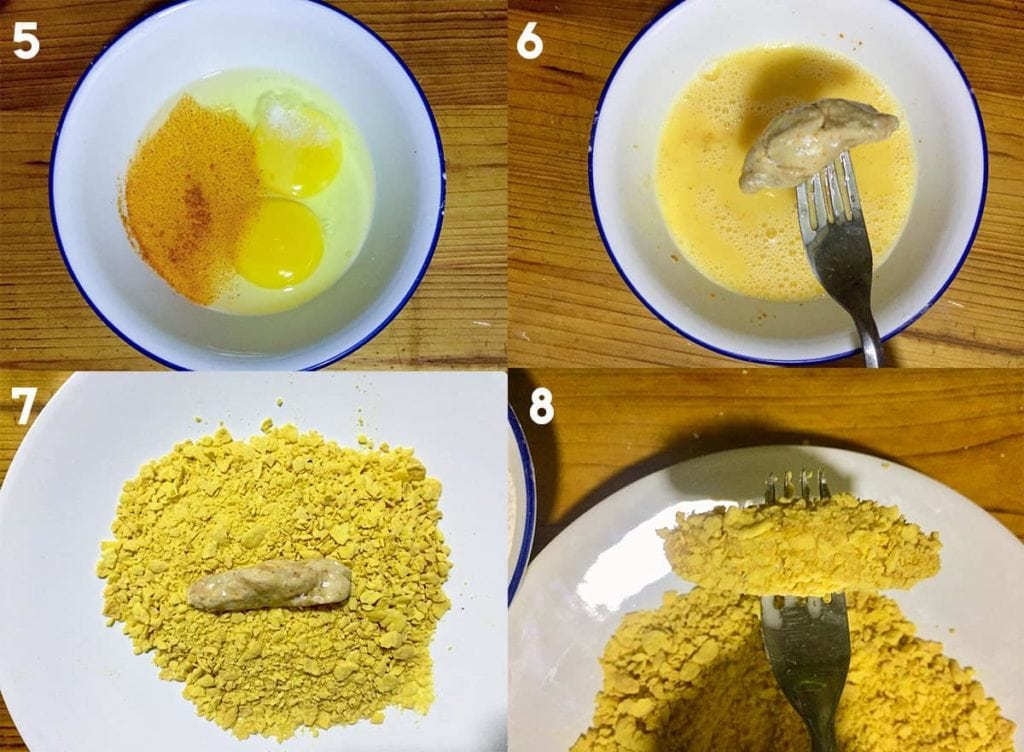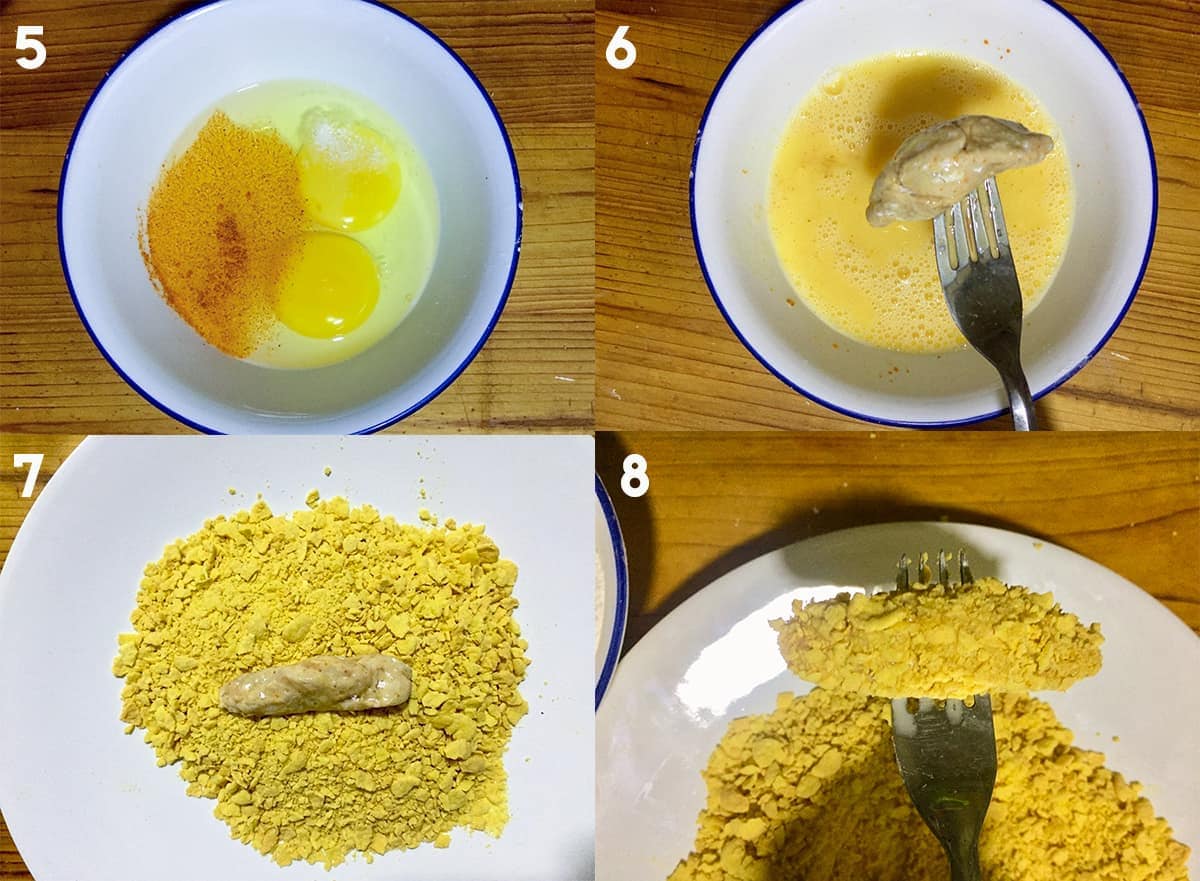 Beat eggs with red chili and salt.
Dip each flour-coated chicken in the egg mixture.
Finally, roll chicken strips in crushed cornflakes.
Flatten the chicken in a long strip shape while rolling and press the coating to stick firmly on the chicken strip. (At this stage you can freeze the chicken for later use. Freeze seperately in a tray for 2 hours or until hard then tranfer frozen strips in a freezer bag and freeze.)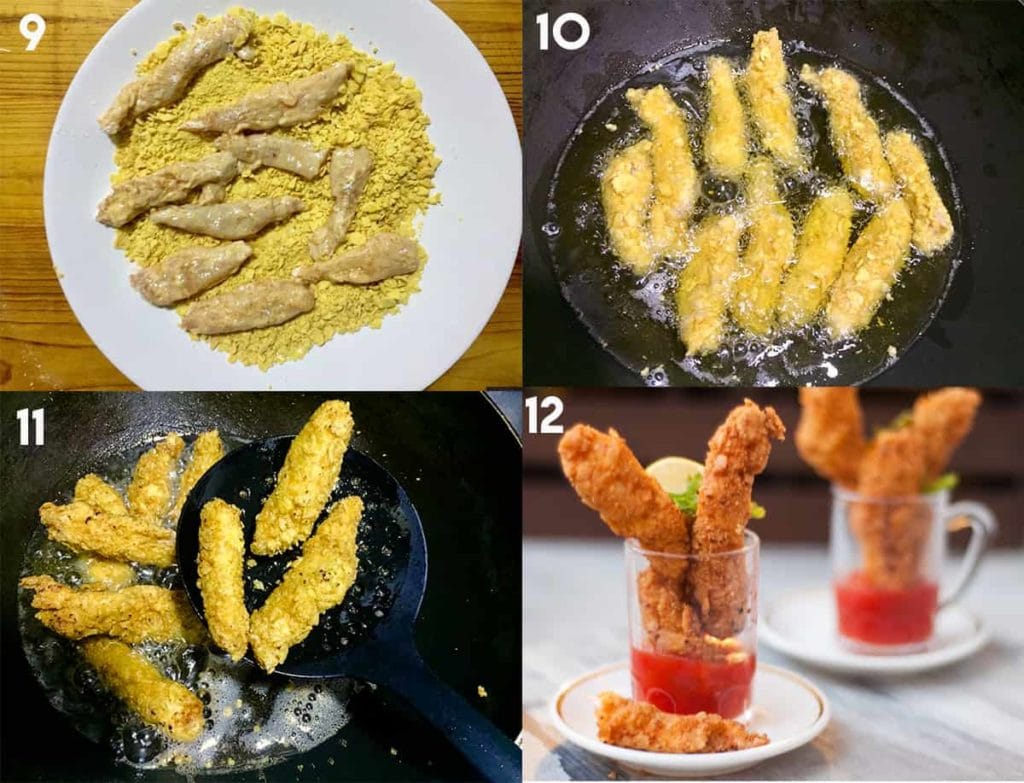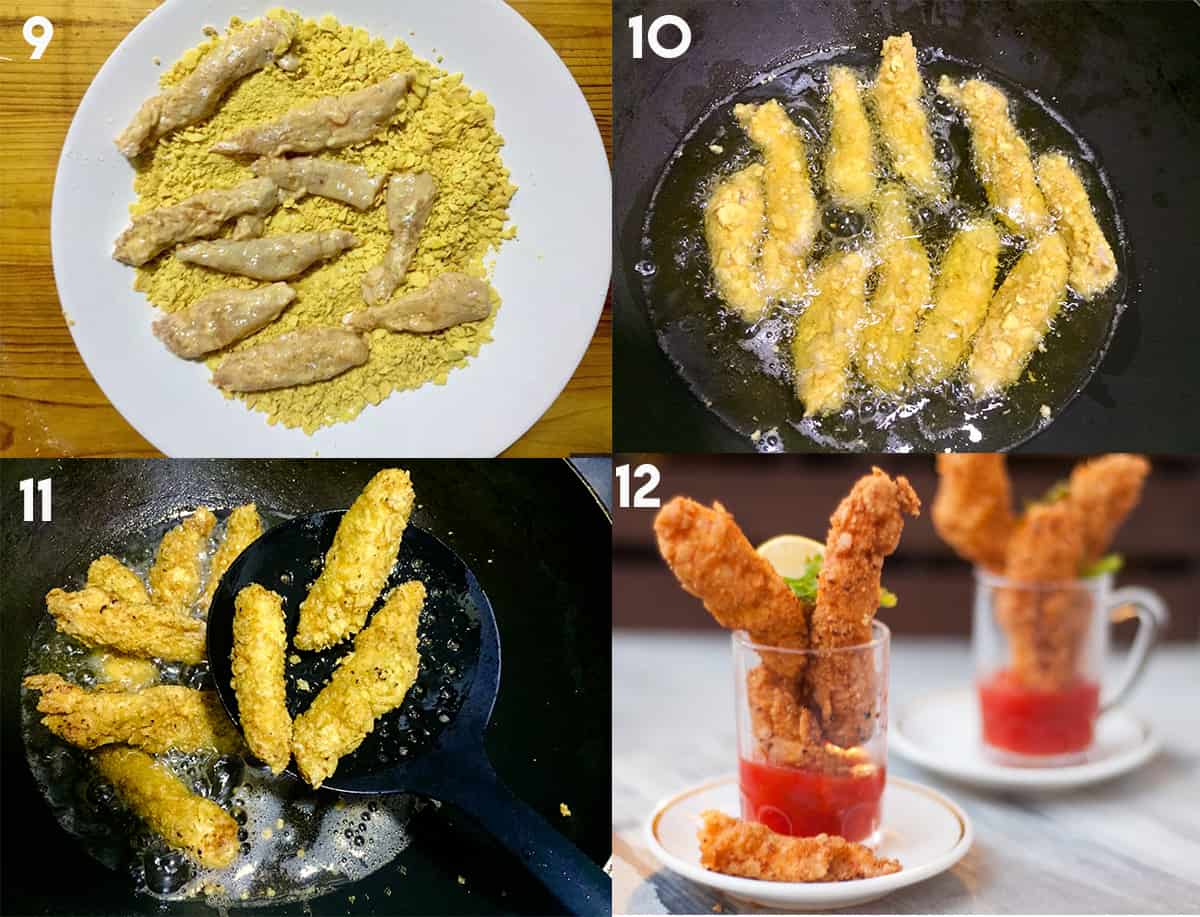 Repeat coating with all strips.
Deep fry on medium heat for 3-4 minutes until crispy.
Frying on medium heat is necessary as the chicken needs to be cooked throughly.
Remove from oil with a slotted spoon and keep on a kitchen towel. Serve hot with any sweet and sour dip or ketchup.
Hungry for more fried food? Try these.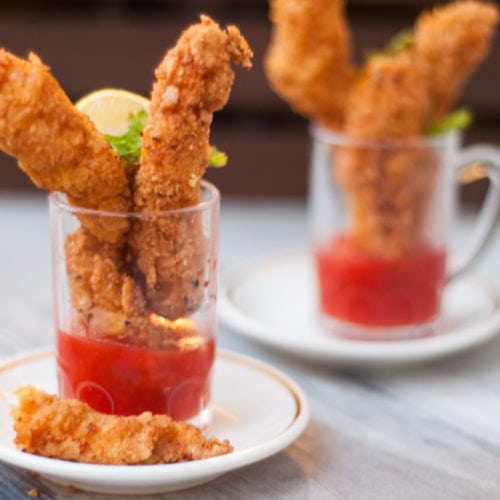 Cornflakes Chicken, Spicy (baked or fried)
The crispiest chicken tender you ever had. The recipe is bit spicy adjust if needed.
Print
Pin
Ingredients
Marinate Chicken
1

(450 gram)

chicken breast

,

, 450 gram, cut in strips

2

tablespoon

ketchup

2

tablespoon

lemon juice
Spices
1

tablespoon

garlic paste

1

tablespoon

red chilli flakes

½

tablespoon

red chilli powder

,

, adjust heat to taste

½

tablespoon

soy sauce

1

teaspoon

cumin powder

½

teaspoon

black pepper powder

¼

teaspoon

baking powder

½

teaspoon

salt

,

or to taste
Flour coating
½

cup

cornflour

⅓

cup

plain flour

,

substitute with cornflour for gluten free

¼

teaspoon

salt

½

teaspoon

red chilli powder

½

teaspoon

oregano

,

, optional
Cornflakes coating
2

eggs

¼

teaspoon

red chilli powder

¼

teaspoon

salt

3

cups

cornflakes

,

, crushed
Instructions
To Marinate
In a bowl mix all ingredients to marinate chicken. Set aside for 30 minutes or overnight in fridge.
To Coat
In a bowl mix ingredient of flour coating and set aside.

In another bowl beat egg with salt and red chilli set aside.

In another plate keep crushed cornflakes for coating.

First coat all chicken strips with flour mixture. Then dip each strip in egg mixture and coat with crushed cornflakes.
To fry
When all chicken are coated, in a wok deep fry them in small batches on medium heat for 4 minutes or until golden and crispy.
To Bake
Place coated chicken strip on baking tray. Spray gently with little oil. Bake in pre-heated often at 350 F for 10 minutes.
Notes
To freeze You can also freeze coated chicken tender. Place them separately on a tray and freeze them. When all tenders are frozen keep them in a box or freezer bag and freeze until needed. Do not thaw before frying. Frozen tenders will take longer to fry than fresh tenders.
Nutrition Information