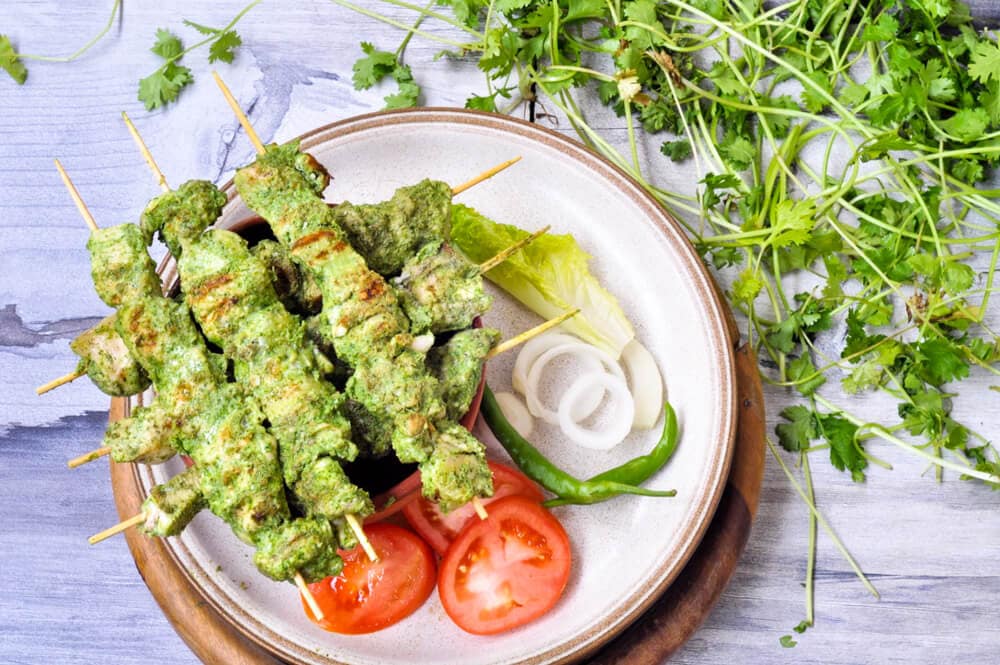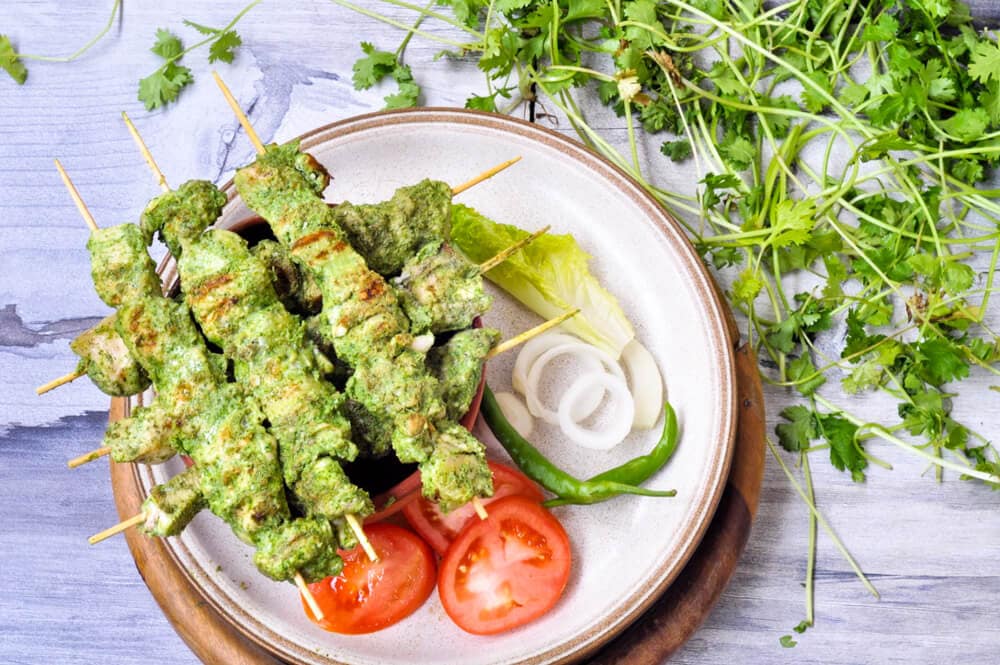 Here, I present steps to make Hariyali chicken tikka with pictorial and tips. The Indian Hariyali chicken can be made on regular pan, on grill pan, in oven or over barbecue pit. This is a very simple Indian recipe that requires very basic ingredients.
Origin of Hariyali Chicken
This delicious chicken originated in Northern India, in the region of Punjab. In this region cilantro and mint based green chutney (dipping sauce) is very popular. This chicken is extended version of green chutney. The word haryali literally mean greenery attributed to green color of this chicken. Since chicken is called murgh in Urdu and Hindi , Hariyali chicken and Hariyali murgh is the same thing.
Different versions of Hariyali Chicken
Haryali chicken is basically chicken marinated in cilantro and mint paste. You can turn this marinated chicken into a Hariyali chicken curry or Hariyali chicken tikka, hariyali paneer tikka, haryali murgh biryani or anything similar.
A tikka is usually a bite size grilled boneless meat or paneer (Indian cottage cheese).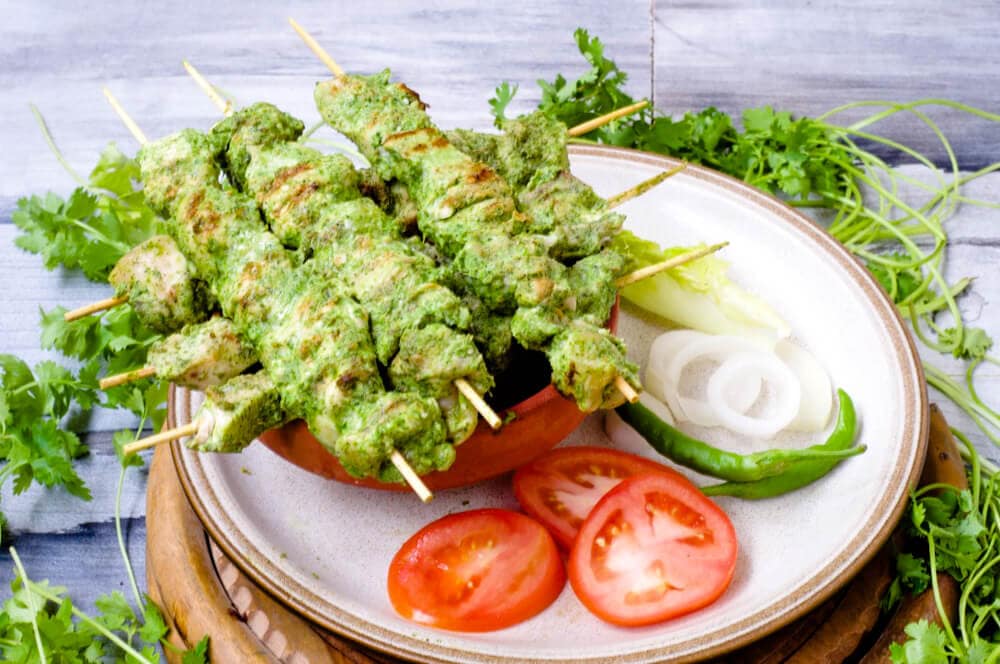 What to serve with Hariyali chicken?
The tikka version of Haryali chicken is great as starter or a protein side with biryani or any other Indian curry.
You can serve Haryali chicken tikka with a dip like mayo garlic sauce or creamy garlic yogurt sauce. If you serve haryali chicken tikka as a main course pair it with garlic naan, paratha or chapati and kachumber salad along with garlic yogurt dip (lahsooni raita).
Tips to grill tikka
Best way to make tikka is by grilling it on barbecue pit and serving it fresh and hot.
Soak your wooden skewers in water specially if you plan to grill on barbecue pit as soaked skewers do not catch fire.
If incase, you can't grill it outside. You can cook tikka skewers on a cast iron grill pan until charred on sides. Even a normal fry pan works well for this purpose. After cooking, we can smoke our tikka with hot charcoal for same grilled tikka aroma and flavors. Smoking is optional.
If you don't have time for skewering, you can simply cook your boneless tikka on a pan over high heat until water dries and tikka are a little charred here and there.
If you wish to bake haryali chicken tikka, just spread marinated chicken on baking dish, and cook for 15-20 minutes in a preheated oven at 350 F until water runs clear. Flip the tray after 10 minutes for even baking.
Dry roasting cumin is very easy. You just need to put cumin in a pan on medium heat and stir until cumin is fragrant. Cumin is roasted and you can use this roasted cumin instead normal cumin in all Indian dishes. And you'll be surprise this little step can make a huge difference in taste.
How to make Hariyali Chicken Tikka?
Pictorial
Have a look at ingredients for hariyali chicken tikka.
Transfer all ingredients of hariyali chicken paste to a blender. Also add oil. Use as little water to blend as possible, preferably just 2 tablespoon.
Wash and pat dry chicken breast. Cut it into cubes. Add the green paste to the chicken and apply all over throughly. (TIP:If you have few tablespoons of extra green paste left, you can mix it with mayonnaise or yogurt or sour cream to make your hariyali dip.)
Marinate for at least 30 minutes on counter or preferably 4 -12 hours in fridge for best results. (Tip: Simultaneously, soak your wooden skewers in water specially if you plan to grill on barbecue pit. Soaked skewers do not catch fire.
After marination thread the chicken into wooden skewers.
If you wish to smoke tikka then heat a piece of charcoal at this stage. (It takes sometime to turn red hot.)
Transfer skewers to a grill pan and cook on high heat for 8-10 minutes. Brush little oil on the chicken on both sides.
Cook for about 4-5 minutes on each side until golden or charred. Serve immediately or proceed to smoking.
(If cooking on barbecue pit, keep wooden skewers on the barbecue grill.)
To smoke, keep haryali tikka in a pot, keep a piece foil between chicken. Place the red hot charcoal carefully on foil. Drizzle few drops of oil and immediately cover the lid. (Lid should be tight and smoke shouldn't escape. You can also put a heavy object on the lid.) Smoke for 4-5 minutes at least. You can store hot tikka in a hot pot or foil until served.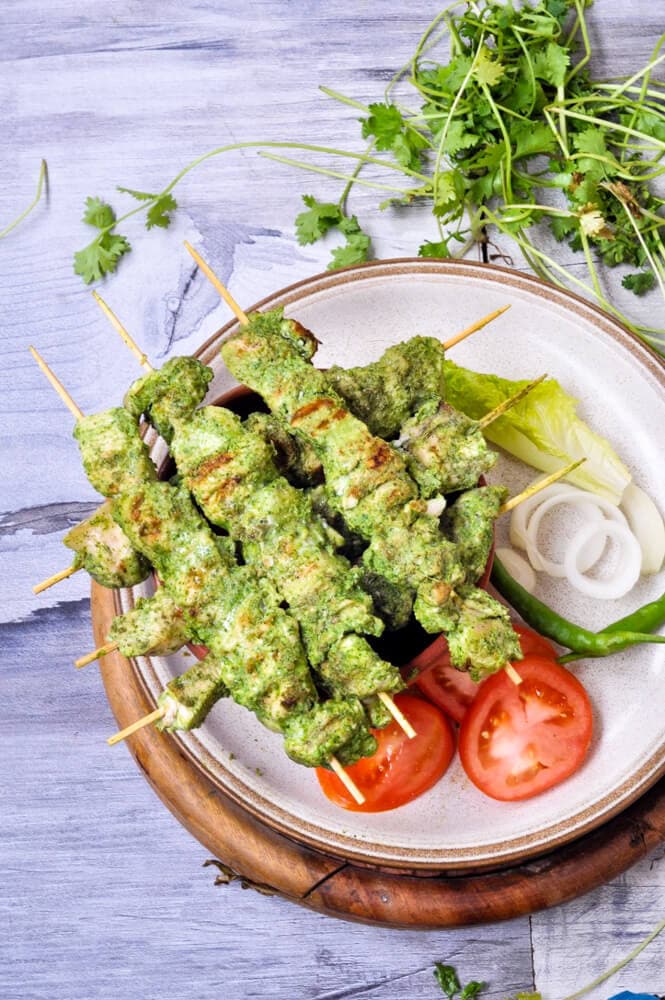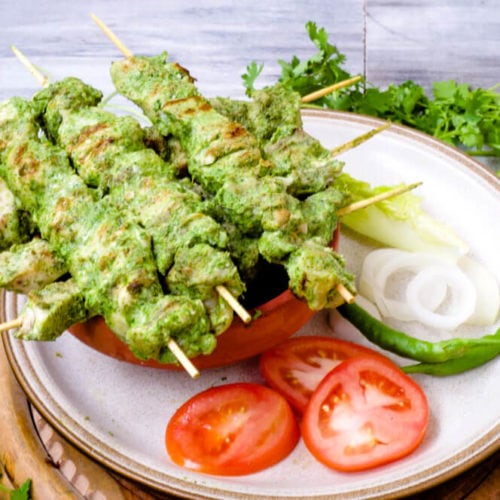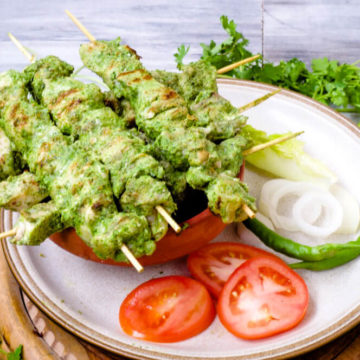 Hariyali Chicken Tikka Recipe
The taste of these tikka is very refreshing and aromatic, do check recipe notes spice guide.
Click stars to rate this recipe!
Print
Pin
Ingredients
2

chicken breast

–

,cut in to cubes (500 grams)
Green paste for marination
1

cup

cilantro leaves

–

,loosely packed

½

cup

mint leaves

–

,loosely packed

2-5

small

green chillies

–

or 1½ tablespoon green chilli paste ,adjust heat to taste

4-5

cloves

garlic

–

or ½ tablespoon garlic paste

1

inch

ginger

–

or ½ tablespoon ginger paste

1

teaspoon

dry roasted cumin seed*

¾

teaspoon

all spice powder

2

tablespoon

lemon juice

1

teaspoon

salt

–

or to taste

2

tablespoon

cream

–

,or yogurt for low fat

2

tablespoon

oil

–

,more to brush while cooking.

Little

water

–

for grinding
Instructions
Wash and pat dry chicken, set aside.

Grind all ingredients except chicken in the blender with as little water as possible.

Apply green marinade over the chicken and let it rest on kitchen counter for at least 20 minutes (or preferably for 4-12 hours in fridge.)

Thread the marinated chicken in wooden skewers. (optional)
To cook on pan
Heat a piece of charcoal until red hot.( If smoking)

Cook on high heat for 8-10 minutes on a grill pan and turn the chicken after 4 minutes. Haryali chicken is ready when you see charred lines on the chicken.

Smoke chicken by placing hot skewers in a pot. Place a the red charcoal over a foil in the pot. Drizzle few drops of oil on hot charcoal and immediately cover the pot. Let chicken rest for 4-5 minutes then serve with any garlic dip.
To bake in oven
Preheat oven at 350 F. Place chicken on the baking tray and bake for 15-20 minutes until water runs clear. Flip the chicken midway for even cooking. You may smoke the chicken after baking.
To grill over barbecue pit
(Make sure your wooden skewers are soaked in water for 4-6 hours, wooden skewers do not catch fire.)

Place chicken skewer on barbecue grill and cook for about 8 minutes until charred then serve immediately.
Notes
For dry roasting cumin just heat cumin in a pan on medium heat and stir until cumin is fragrant. Transfer cumin to a plate and use as needed.
hariyali chicken, hariyali chicken tikka
Hungry? Try
Hariyali Chicken Curry that can be eaten with rice.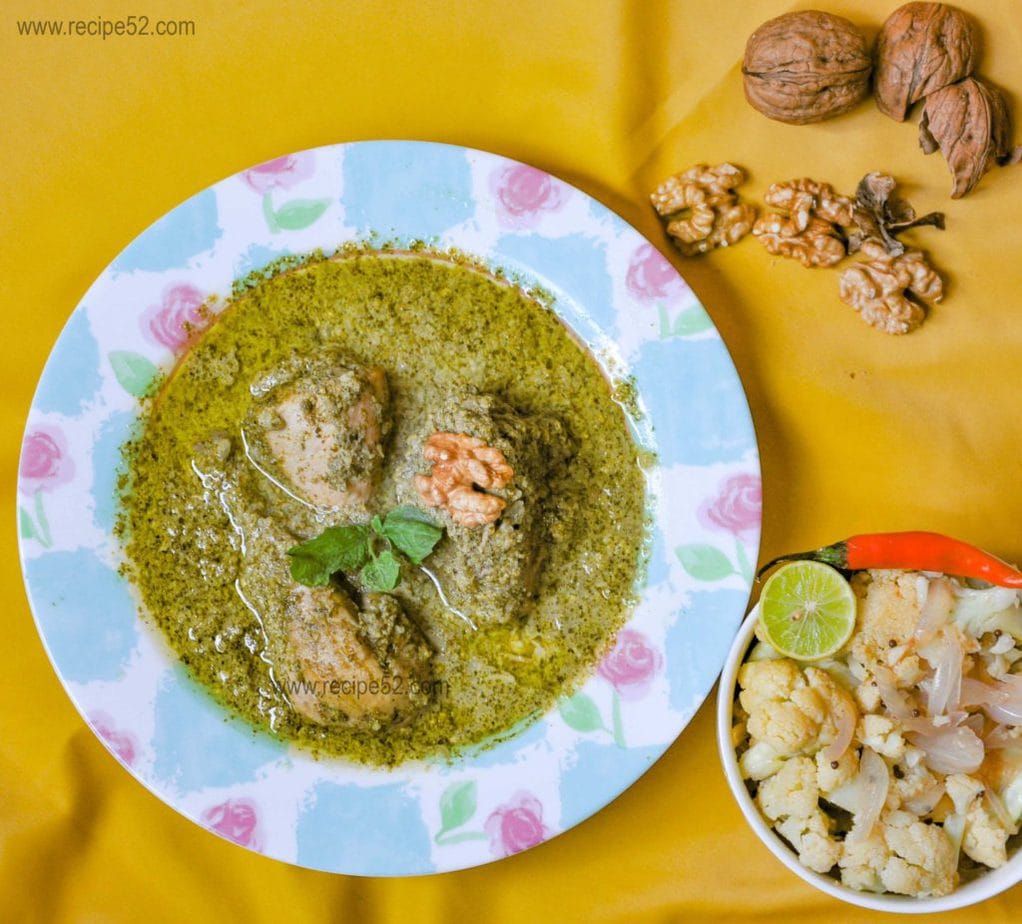 Persian Pomegranate Chicken Stew