Step by step Pakistani Chicken Biryani Recipe.
This is an easy recipe of Pakistani Chicken Biryani,and delicious too. But wait, if you are in any case looking for Pakistani or Karachi style degi Biryani that you had at a restaurant or on the street or in a wedding dinner; that is different. I will post a separate recipe for that.
This is home style, hearty biryani with delicious flavors full of herbs and aroma. I suggest, serve it hot right after dum (steaming) with raita and kachumber salad for best taste.
In Pakistani, specially Karachi, Biryani is often made on Fridays or on weekends; also in official dinners or weddings or picnic or whatever; biryani fits in all events. And, it's always good, never boring.
People of Karachi can't live without Biryani. Like, even if we are travelling somewhere in China or Far-east, we'll find a Pakistani restaurant or may be Indian restaurant and eat Biryani. And, the satisfaction is heavenly.
Indian Dum Biryani is similar (not same) to our Pakistani Biryani, but Karachi Wala's are king of Biryani making. Even Punjabis turn Biryani into pulao. So that's how important Biryani is to us. So be careful do not mess it. I'll try to share tip here and there all along.
Tips:
A good Biryani should have separate but fully cooked rice grains.
Salt is most crucial in flavor of every food make sure you use salt in all Step marination, soaking rice, cooking rice, gravy and frying potatoes. But that's doesn't mean you over do.
The oil, I used is least possible with authentic flavors but real biryani calls for even more oil. When traditionally mutton biryani is cooked fat pieces (riwaj) are also added for meaty flavours and greasy moisture .
Searing or bhonofying, that means cooking on high flame till all water dries and oil clearly separates on sides of pot. It is most crucial through out Pakistani cuisine. If you Bhunofy it correctly, it will be finger linking good. Only problem for bhonofying is you need to add a bit of extra oil.
Whole spices like pepper, bay leaves, cardamom are for aroma only, they release their juices and flavors in rice. Do not bite them. Just put aside like you do with bones.
Type of rice is important, use basmati rice or sella rice. Brown rice is good for pulao not Biryani.
If you don't have one or two spices like, bay leaves and black cardamom, it's ok. You can skip them.
If your rice are very hard when you assemble, you can add extra water in dum to soften but remember the gravy also has some water.
If your rice turn a bit softer, dry out your gravy a bit and add little water in colour.
A little common sense and bit of experience will make you pro biryani cook. Good Luck!
My other Biryani Recipes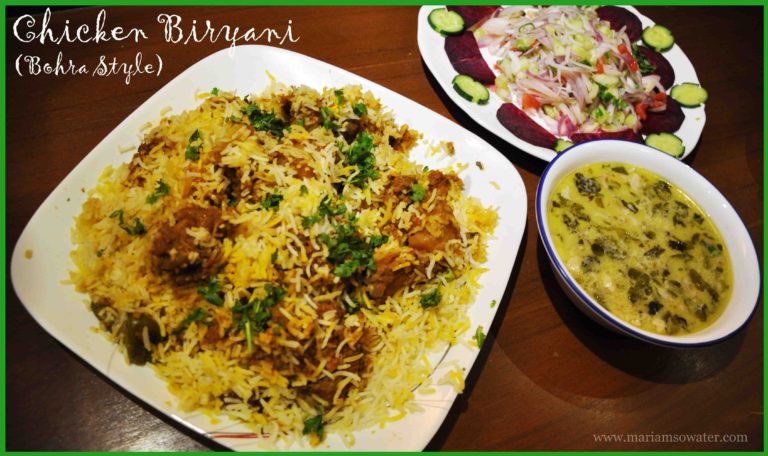 Pakistani Chicken Biryani Recipe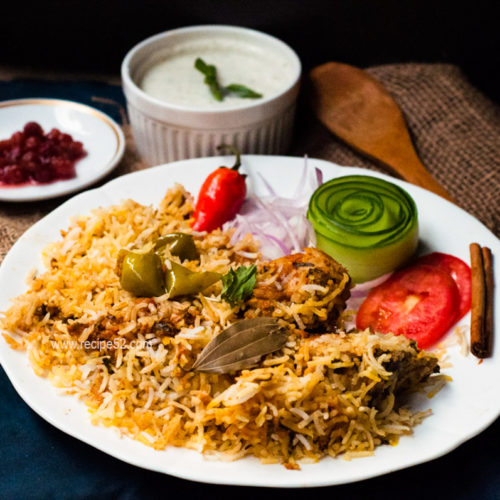 Pakistani Chicken Biryani Recipe
An easy home style delicious biryani. Serve freshly cooked with raita na kachumber.
Click stars to rate this recipe!
Print
Pin
Ingredients
For Rice
4

cup (700 grams)

basmati rice

–

, soaked in water for 10 minutes

½

teaspoon

cumin seeds

1

whole

bay leaf

6

black pepper

3-4

cloves

Water

–

, to boil rice

4

teaspoon

salt

–

or as required
Marinate Chicken
1

(750 gram)

chicken

–

, cut in 12 pieces

1

cup

yogurt

–

, divided
Spices
2

tablespoon

green chilli paste

3

tablespoon

ginger garlic paste

1

tablespoon

red chilli powder

1

tablespoon

coriander powder

1

teaspoon

cumin seeds

–

,roasted

¾

teaspoon

turmeric powder

2

inch

cinnamon

1/4

teaspoon

black pepper

1½

teaspoon

all spice powder

5

cloves

2

black cardamom

1

bay leaf

1

teaspoon

salt

–

or to taste
For gravy
Oil

–

to fry

5

(400 grams)

potatoes

–

, cut in large chunks

oil

–

to fry

4

(500 grams)

onion

–

, thinly sliced (or 1 cup fried onions packed)

4-5 to

(500 grams)

tomatoes

–

, raw pureed

¾

cup

yogurt

–

, whipped

4

prunes*

1-2

teaspoon

chat masala

–

(add only if you like spicy food)

1

fistful

coriander leaves

–

, chopped

1

fistful

mint leaves

–

, chopped

5

medium

green chillies
Assembling (Dum)
4

tablespoon

oil

–

divided

a pinch Saffron

–

soaked (or kewra essence)

A pinch yellow or orange color

½

cup

water for dum
Instructions
Marinate chicken with spices and 4 tablespoon yogurt and let it sit for 20 minutes.
For Rice
In a large pot for biryani take water, bay leaf, cumin, black pepper and salt. Bring water to boil then add soaked rice. Mix well so spices release flavors. Cook rice until 70% cooked then drain all water and keep rice in strainer until required. (Mix little oil in rice to avoid sticking.)
For gravy:
In a wok, fry potatoes with a pinch of salt until golden brown, transfer potatoes to paper towel and set aside.

In same oil, fry sliced onions until crispy golden. Drain oil on a paper towel and spread on a single layer to crisp. Crush onion with hand or in a food processor and mix in marinated chicken.

In same wok, leave only ½ cup oil and (remove extra oil ) cook marinated chicken for 7 minutes until color changes then add tomato puree and cook further for 10-15 until all tomato water dries and oil separates. Your chicken should be tender by now or cook further as needed. Sear chicken ( bhunofy) well for rich taste.

Now add whipped yogurt,and bring gravy to a boil. Now, mix in chat masala (if using) potato, prunes, mint, coriander and green chilles, mix well. Chicken gravy is ready.
Assembling
In the large thick bottom rice pot smear 2 tablespoon oil in bottom.

Make first layer of ⅓ rice in the bottom then add a layer of half of chicken gravy.

Now make second layer of ⅓ rice and another layer of chicken gravy dividing chicken and potato evenly in each layer.

Finally, add third layer of ⅓ rice. Add another 2 tablespoon of oil on top of rice.

Mix orange color, saffron and water together. Spread evenly over the rice. ( You may also add kewra water along with saffron)

Cover pot with foil to seal the steam. Cover with lid too. Keep the pot for dum for 15-20 minutes until rice are fully cooked and steam rises to the top when lid is removed.

Mix rice with a large flat spoon or a small plate. (Do not over mix to break grains.) And serve hot with raita and kachumber.
Notes
Rice are most important thing in biryani. Boil rice should be aromatic with spices. Make sure your are under-cooked when you boil because we'll cook again for 20 minutes.
Searing ( bhunofying) is most important step in making gravy.The yogurt you add later with restore water content of gravy but if your gravy is too dry add little extra water.
Pakistani Chicken Biryani Recipe
Step by step recipe of Pakistani Chicken Biryani recipe. (Home style)
Marinate Chicken:
Marinate with spices and just 4 tablespoons of yogurt. Mix well and let it sit for 20 minutes.
For Rice
Wash rice and soak in water for 10 minutes.
Boil water with all spices and salt. Mix well, add soaked rice. Cook until 70 % is cooked. (2 kaani chawal)
Put a little oil on rice so rice grains are well separated. Set side.
For gravy:
While rice cooks, fry your potatoes in oil with a pinch of salt.
Fry onions in same oil until golden, cool the until on kitchen towel then crush it with hand or grinder. ( You can also use 1 packed cup of fried onions in the recipe and skip this step.)
Mix onion also in the marinated chicken.
Remove extra oil from wok in which we fried potato and onions and leave only ½ cup oil. Fry marinated chicken in that oil for 10 minutes until oil separates.
You can a little oil has separated on the sides, cook for few more minutes and then add tomato puree.
After adding tomato puree, mix well and cook further for 10-15 minutes on high flame until water dries and oil separates. (Bhunofy) This step is important.
After oil has separated add remaining 3/4 cup yogurt in the chicken.
Mix well and let it boil again.
Mix all the remaining ingredients, herbs, fried potatoes, green chillies and prunes. Mix well.
At this stage, add gram masala powder for strong aroma. Gravy for biryani is ready.
For Layering
Smear some 2 tablespoon oil on the bottom of heavy based pot for crunchy khurchan. Then divide rice roughly in three parts. Spread ⅓ rice in bottom of pot.
Now divide chicken gravy into two parts. Add ½ gravy in this layer.
Again add ⅓ layer of rice. (In this photo you can clearly see my rice just 70% cooked and separated.)
Add second layer of remaining chicken gravy. (Divide the chicken and potatoes in proportion.)
Spread last layer of ⅓ rice.
On this layer, I add saffron soaked in ½ cup water. Make to spread evenly.
Then drizzle 4-6 tablespoons of oil all over the last layer of rice.
In Pakistani Biryani, Orange color mixed with water and kewra or saffron essence is also added add that too.
(We avoid color and essence for we love only natural stuff with no colors and no artificial flavors until really necessary.)
Seal the pot with foil, you can also use a damp cloth instead. Cover tightly with the lid. (This sealing technique of rice is called 'dum dena' in Urdu.) Dum helps the rice cook completely while absorbing the flavours of gravy and with drizzled oil.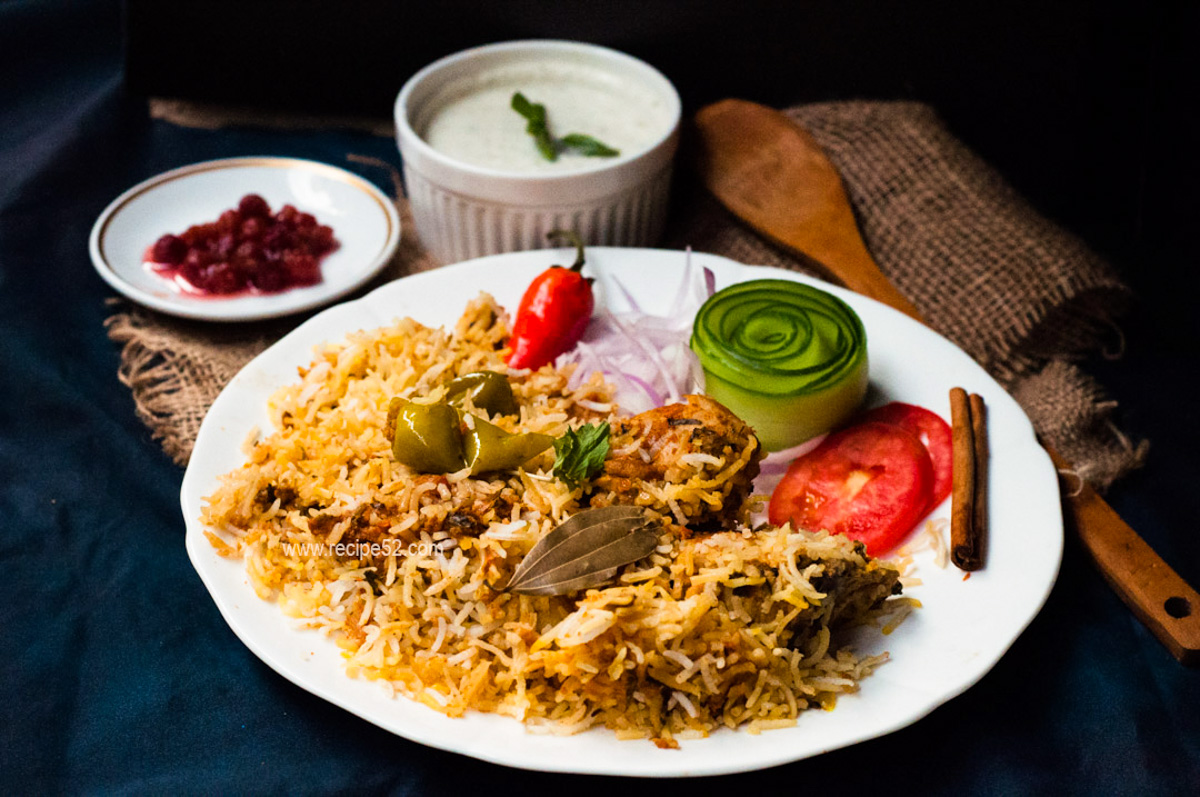 Serve hot with salads and chutney.
Like, Comment, Subscribe to let us know your opinion and request. We are working everyday to bring best taste with easiest recipe.