Whole egg mayonnaise recipe, that will become your favorite. It's super easy, has few ingredients, and is fool-proof. It's quick too.
Some people say it's French obviously. Others say it's Spanish from Mahon, an island in Manorca. It was developed as a substitute for cream. You can read more about the origin of basic mayonnaise here.
Jump to:
Ingredients
If you don't care about history like me then let's dig into ingredients. Mayonnaise has three ingredients, egg, neural flavored oil, and acid. That's it.
We use mustard in recipes as it is an emulsifier (something that helps mix oil and water). Vinegar or lemon juice is the acid we need. 
Sugar is completely optional and personal preference. (I almost always add sugar.)
Eggs: If found organic (desi) eggs make amazingly thick and creamy mayonnaise compared to watery farm eggs.
Any oil with neutral flavor works well. If you wish to use extra virgin olive oil, you should know it has intense flavor and it might bother you. So, use ½ cup of any neutral oil and ½ cup of olive oil for a more balanced flavor.
Personally, I almost always add ¼ teaspoon of pepper in mayonnaise for a spice kick, but you can skip it if you like.
Equipment
You can make mayonnaise in any food processor, immersion blender, hand mix, or just with your hand. Of course, with a hand means stronger muscles and soaring pain in arms.
Variations
I'm sharing basic recipe but you can take it further to make Ranch, honey mustard sauce or cilantro sauce, garlic mayonnaise, thousand island sauce and so on.
Do's -The foolproof secret
Basically, in mayonnaise, we homogenize oil and watery eggs. So a slight mistake can stop this process. and leave you a curdled liquid.
Avoid moisture: Always use clean dry utensil. And little extra water in recipe mess up everything. so wipe your utensil and then go ahead.
Room Temperature: Most chefs suggest oil and egg both should be at same temperature. So cold eggs sometimes cause trouble. Although, I often make mayonnaise with cold eggs. However, submerging in Luke warm to bring them to room temperature really helps.
A thin stream of oil: Once the mixture begins to thicken you are safe. Before that point add very slow stream of oil, literally drop by drop. Once the mayonnaise start to get creamy after adding about ¼ cup , you can go faster but still in thin stream.
Don'ts
One thing, I've learned is that never get tempted to add these extra ingredients prior to making mayonnaise. Like adding garlic along with mustard and egg together to make mayo garlic sauce.
The extra water from any of these ingredients can mess with your mayonnaise. So add these ingredients after the mayonnaise is ready.
Also, mix these ingredient with hands and do not blend  with food processor which can also alter the texture and thickness of the mayonnaise.
How to fix messy, curdled mayonnaise?
The trick that has worked for me is, to take an extra egg in the blender and blend it. Then little by little add you're curdled mayonnaise, just like you add oil to mayonnaise. The mayonnaise-will start to thicken and get shape and texture.
Things I make with this mayonnaise
📖 Recipe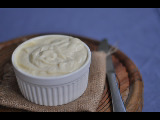 Mayonnaise Recipe
This is a simple recipe of basic mayonnaise that you can use to make dressings, dips, spreads and sauces. Always use clean dry utensil to make mayonnaise.
Print
Rate
Servings :
20
(Serving size 1 tablespoon)
Ingredients
1

egg

1

tablespoon

mustard sauce

1

tablespoon

vinegar

1

tablespoon

sugar

¼

teaspoon

salt

¼

teaspoon

pepper

,

optional

1

cup

neutral oil

,

(like corn oil)
Instructions
Place egg, mustard, vinegar, sugar, pepper and salt in a food processor (or bowl for immersion blender). Blend for 30 seconds.

Then with food processor switched on, add oil in very thin stream ( through the hole provided in processor for this purpose, if not stop processor at intervals and then add little oil each time and continue to blend). When mayonnaise start to thicken add all remaining oil little at a time.

Your mayonnaise is ready.
Notes
Store in fridge in air tight container and use within 5 days, the mayonnaise is good until it smells and tastes good.
Nutrition Information